Day 6: TRANSYLVANIAN DREAMS
It was 7:05am when I awoke, but Julie didn't get up until around 7:35am. Outside, it looked like the skies were threatening rain and when I started to load the car, it was drizzling and misting.
It was 8:30am when we finally left the Deerwoode Lodge. It was about an hour later than I would've liked, but we did have consecutive long days of touring so sleeping in a little bit on this day was warranted. I figured today would be a little lighter on the activities anyways.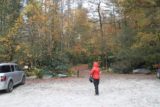 We'd eventually reach the well-signed car park for Hooker Falls. There were already a handful of cars, and even though it seemed like we were early, the truth was that we were probably late to the party. We could see that there were already plenty of people out and about, and we certainly didn't come close to beating the rush or being one of the first to be there.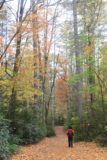 So the first order of business for the day was to hike the 1/4-mile or 0.3 miles (depending on which sign you believe) to Hooker Falls. The short and gentle descent over what seemed to be an old logging road led right down to a rocky shore where we could see the wide block waterfall with colorful fall foliage above it.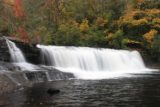 Julie commented that she had never seen so many people with tripods in one place for what we thought was a short (though pretty) waterfall. We spent some time chatting with some of the folks while also taking photos ourselves. One friendly local even pointed out to us his favorite spot and explained why it was favorite.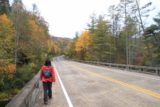 After having our fill of Hooker Falls, we then crossed the highway and then walked the half-mile or so towards Triple Falls. The walk started off along the river before it started to turn a corner and then climb pretty steeply. After a few minutes of walking the steep uphill, we got to an opening where we could see the Triple Falls coming down in successive cascades at angles to each other.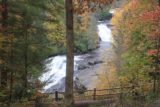 It wasn't easy getting a totally clean view of all the tiers together due to the foliage flanking the scene on both sides, but we at least got most of it. I couldn't help but wonder if this was the set of waterfalls that was partially seen in the background in the movie "The Hunger Games."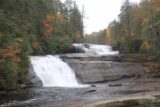 Anyways, we kept walking up the hill and saw a set of stairs that led to the top of the bottommost tier of Triple Falls. It was a little mistier down here, but the smooth rocks combined with wetness from a combination of spray and intermittent light rain conspired to make these rocks very slippery. I could totally see why people get badly hurt or die when getting close to these kinds of waterfalls.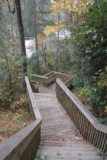 Next, we had a decision to make. We could continue walking another 1/2-mile or so to get to High Falls. Or, we could walk downhill back to the car park, then drive over to the car park for High Falls, and then make the 0.6-mile hike from there.
Ultimately, we opted to do the "lazy" way by going back to the car park. We passed by many people who were going towards Triple Falls as we were returning to the car park. Little did we realize that we'd see many of them again when approaching the High Falls from the other car park.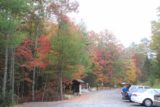 We were back at the car park at 10:35am. And by this time, the car park went from having a half-dozen or so vehicles to being a full lot with at least two-dozen vehicles or so. About five minutes later, we got to the quieter High Falls Access car park and promptly started the hike on a wide road that looked like it was closed off to vehicles (not sure how long ago that decision was made).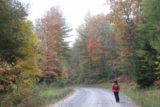 The broad hiking trail was flat as it was flanked by trees with reddish and orangish fall foliage sprinkled with others that still managed to hang onto their green. We saw one familiar-looking couple (from when we were returning to the car from Triple Falls) who recognized us and wondered if there was another way to get up here. That was when I had to confess that we cheated (though I wondered how much was this really cheating if it was faster to walk up here than to drive to the other lot and then walk down to High Falls).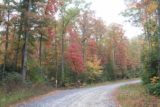 Not long after, we saw a signed junction pointing left for High Falls. We also noticed another sign saying it was another 1.9 miles to Bridal Veil Falls. I guess the jury was out on whether we should do that waterfall or see if there was a shorter way to do that hike.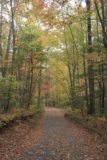 The trail narrowed to a more conventional foot trail where it started to descend towards the loud roar of High Falls. We had passed a junction where one of the paths led to a covered bridge. As we got closer to High Falls, we saw a few more familiar faces (again from when we left Triple Falls for the car park at Hooker Falls), and then we got to an opening where we could see the impressively tall and wide High Falls.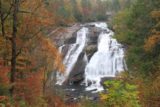 The best view I was able to get of this waterfall was from a higher vantage point, which was from a path to a picnic shelter above the main trail. It was from here that I could see the entirety of the falls flanked by colorful foliage and backed by a partial view of the covered bridge.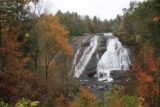 So we naturally took a few more photos and movies before I descended further in search of access to the base of High Falls.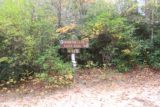 I'd eventually get to a signed junction where a sign indicated that the High Falls Trail continued to the left (going further away from the falls), which the River Bend Trail went to the right and towards the falls. There was another sign for the River Bend Trail saying it would dead-end at the base of High Falls and you're not allowed to shortcut your way back up to the main trail.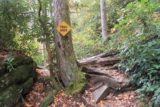 In any case, I took the River Bend Trail and followed it towards its sanctioned end where a sign discouraged further progress. Unfortunately, the view of the falls from here was mostly obstructed by foliage.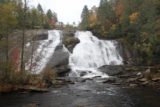 So I scrambled a little further past some downed trees and across some slippery rocks before I finally got at least somewhat of a decent view directly of the falls. I supposed that I could've kept going to get even closer to the falls, but I thought I got enough of this falls to not warrant additional risk-taking to get that unusual view or photo of the falls.
So I went back up the trail content with what I got to experience at High Falls, and we'd eventually return to the car at 12pm. During the return, it started to rain a little harder.
The next order of business was to see if we could do Bridal Veil Falls. However, it seemed like all the access roads that would've taken us very close to the falls happened to be closed to the public (they led to private lands). So it meant that we would have to hike at least 4 miles return to the falls, and for that much work, it better be worth it.
So we pulled over at a car park on the way back to the Highway (the name of that trailhead escapes me), then took out the laptop and did some quick offline research about Bridal Veil Falls. After determining that it wasn't going to be worth the time and effort, we continued on and returned to Brevard arriving in town at 12:45pm.
While in town, we killed some time to pick up another panini lunch while also filling up on gas near Ingles. Then at 1:05pm, we left to go to Looking Glass Falls. I had picked up a free map from the visitor center in Brevard and I saw that Moore Cove Falls and Slick Rock Falls weren't enough to entice us to get over our oncoming waterfall fatigue. So it was Looking Glass Falls and then on to Asheville.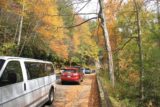 We arrived at Looking Glass Falls at 1:35pm, and by this time, the sun started to come out again. There was a very long pullout so there was enough parking for plenty of cars (at least on a weekday like today). This waterfall was busy, which was expected since it was essentially a roadside waterfall. So we took our time walking down the steps and getting different angles and views of the attractive waterfall.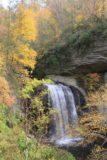 Once again, there were some fall colors around the falls, but it was hard to get the desired compositions given how many people were around the choice spots. Plus, there were lots of yellow jackets buzzing about making the experience even less comfortable. Perhaps the best spot to take photos of this waterfall was near a bench where angled views of the falls with Fall foliage was available. But once again, yellow jackets here were a nuissance thanks to a trash can near the bench that must've had a lot of sweet stuff to attract them.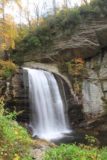 Anyways, we took our obligatory shots and videos before we returned to the car at 2pm. But just as we were about to gain some momentum to head over to Asheville, we made an impromptu stop at the Pisgah Visitor Center at 2:10pm.
While there, we picked up a non-free map with all the waterfalls in the area. It seemed like there was a table containing all the falls, keyed to the map, and had ratings with descriptions, hiking difficulties, etc. It was a nice little compact package and we opted to get this as a guide instead of a book.
Anyways, we finally left for Asheville at 2:30pm, and the drive was pretty uneventful as we arrived at the Red Roof Inn in West Asheville at 3:15pm. After briefly checking in and dropping off our bags, we left for town at 3:35pm. This time, we thought we could use the remaining time in the afternoon to check out the Biltmore Estate, which we heard was something worth doing.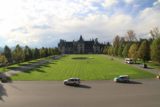 When we got to the Biltmore Estate at 3:50pm, we were shocked to learn that the admission price was $59 per adult. Since I was never into opulent castles and mansions, I hesitated to spend that kind of money for this, but I went ahead with the decision to do this anyways since we had to break up the waterfalling fatigue we were coming down with.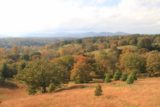 So we'd eventually get to the Biltmore House at 4:05pm. It was just then that Julie told me that we also had dinner reservations at 5pm at this place called the Corner Kitchen. That didn't leave us very much time to tour the house.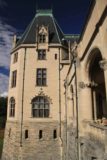 In any case, the house (as expected) was grand and almost had a very European flavor to it. In fact, we overheard that George Vanderbilt (originator of the home) was part of English nobility, which probably explained the obvious display of wealth and status.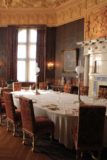 But a smart thing that the Biltmore Estate folks did was to furnish each room in a way that let us better appreciate how life must have been like in Colonial America at this estate. Indeed, it was like European aristocracy mixed with American Colonialism. We contrasted this with our Versailles experience in France where hardly any of the rooms were furnished, and we could see this Biltmore visit was interesting. The only bad thing was the inflated price, which was curiously twice the cost of say Versailles.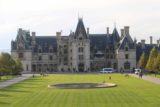 Well, we'd eventually return to our car at 5pm, and since the dinner place was near the Biltmore, we were hoping to only be slightly late to our reservation. But it turned out that it took at least 30 minutes to leave the estate thanks to a traffic jam. So it wasn't until 5:40pm that we got to the Corner Kitchen, and we ended up having to wait nearly 30 minutes before we finally got seated at the bar.
The dinner wasn't cheap, but it was delicious. It was pretty much upscale Southern food, and they even served authentic soufflee for dinner. But Julie had some blackberry-glazed pork chop while I had pecan-crusted mountain trout. We probably could've done without the chowder and the calamari since we left that place totally stuffed.
But we finally left at 7:45pm and got back to the Red Roof at 8pm. Thus, we ended what turned out to be another long day, though in this case, even when we tried to take it easy, circumstances (like waiting at the restaurant and getting stuck and ripped off at the Biltmore) dictated otherwise.
And tomorrow, we were going to have yet another long day to the northeast of Asheville along the Blue Ridge Parkway…