Day 7: SEEING RED ON THE BLUE RIDGE
It wasn't terribly difficult to wake up at 6:15am since our motel room was facing the I-40 so there was incessant noise from that freeway. At least we had a minimum of 6-7 hours of sleep so we didn't get up too groggy. And since we were spending another couple of nights in West Asheville, we were ready to go by 6:50am.
Even though it was still dark outside, I wasn't terribly worried about hitting deer due to the volume of high speed traffic on the freeways and highways here. So we were zooming along the I-40 east and then went north on the highway 221. As a result, we made great time on the drive up to Elk River Falls taking this alternate way instead of spending most of our time driving the Blue Ridge Parkway before veering north towards the Tennessee border.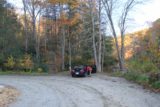 As we were nearing the North Carolina-Tennessee border (but not crossing it), the GPS had us turning right on a road that didn't exist. Fortunately, there was a signpost that had us go down a steep hump to get onto Old Mill Road. And from there, we followed some local roads while avoiding a couple of dogs that seemed to have no fear of vehicles (i.e. they wouldn't budge while sitting on the road despite us approaching). But when all was said and done, me made it to the Elk River Falls car park at 8:45am.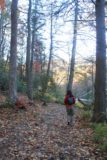 It was freezing cold at 37F when we got out of the car. But we knew it was a short walk to get to a view of the falls so we didn't put on hiking boots. We just took my tripod and our cameras and hastily made it to the falls, which was still mostly in shadow.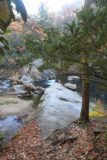 Once at the falls, there was a narrow slab of rock that we could walk onto to get right across from the large plunge pool of the falls. I'm sure that plunge pool might be inviting during a hot Summer's day, but no one in their right mind would get in the water this time of year!
But in taking the photos, my fingers were getting numb due to the cold temperatures. Still, the shadowy conditions made it possible to take decent tripod shots of the 40-50ft waterfall in long exposure. We even took a few couple shots with the tripod as we were the only ones here.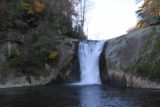 We were back at the car at 9:15am. And we promptly headed back south on the 221 towards the Linville Falls, whose sign we saw on the way up. So we at least had a clue on how to get there.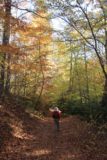 And by 9:50am, we arrived at an unpaved car park for the Linville Gorge and Wilderness Area. There were about a half dozen cars here already.
A sign at the trailhead here indicated that it was only 0.4 miles of hiking to get to the falls, but I had recalled in my research that this falls could be seen many different ways, and none I had recalled said it was only 0.4 miles.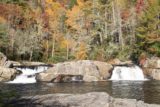 Anyways, the trail descended from the car park and hit a junction where there was a sign that said one path went to the US Forest Service car park (pointing behind the way we had just come) while the other path went to the National Park Service paved car park (to our left), which was accessible directly on the Blue Ridge Parkway. We didn't know if it made a difference which car park we chose, but we were curious whether we made life harder on ourselves with the approach that we took.
So we continued further along the trail when we hit another junction. This time, going left at this fork went a short distance to the "Upper Falls." Meanwhile, the right side went 0.3 miles to some Chimney Rock View while it also went 0.4 miles towards Erwin's View. We weren't sure what the other views meant, but we first went left to see what the Upper Linville Falls looked like.
When we got to the viewing area, we were surprised to see the quantity of people there. Clearly, they must've come from the NPS car park. However, the view of the falls here was not very impressive. There were a pair of small waterfalls with pronounced fall colors above them. Meanwhile, it was noisy because the stream narrowed and plunged unseen further downstream below the lookout area.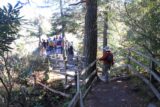 Thus, we continued to go the other way, which went uphill a short distance before we hit another trail junction next to some shelter. At 10:30am, we proceeded to go left, which led down a series of steps towards a pair of overlooks that looked like they were on top of pinnacles. Perhaps that was what they meant by Chimney Rock View. We wouldn't be viewing something that looked like a chimney rock, instead, we were standing on it.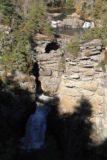 But the view from here was of a deep and shadowy gorge containing a high volume stream with lots of fall foliage trees covering the steep slopes on both sides of the gorge. At the head of the gorge was the main drop of Linville Falls.
It was too bad there were shadows because that wreaked havoc on our photos.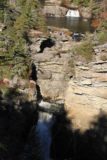 Anyways, when we got to the viewpoints, it was just in time for a very large group of teens to leave the area. We reckoned they must've been on some field trip or something. But when they left, the overlooks here got considerably quieter.
The thought occurred to both Julie and I that the signs were misleading as it seemed to suggest that the walk to the Upper Falls was the only path to view the waterfall (since it was the only path that explicitly mentioned the falls) while the other viewpoint names made no mention of views of the main falls. So we were very glad that we took the trouble to check out this viewpoint.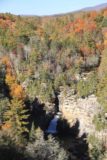 Next, we then walked the 800ft or so towards Erwin's View. Once again, there was a little bit more uphill walking to get there, and fortunately, the same group of teens were headed back down just as we showed up. It was about 10:50am when we got to the viewpoint.
That left us to share the Erwin's View with about six other folks. One of them couldn't contain his excitement at the scenery saying repeatedly, "Oh, Lord have mercy!"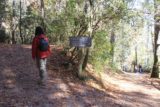 Up here at Erwin's View, we had a more distant but cleaner view of Linville Falls and the gorge downstream from it. We also noticed that there were some people way in the distance near the base of Linville Falls. Someone at the overlook told us that there was a path that went about 1.5 miles or so from the official NPS car park to get there. But given that this waterfall didn't exactly inspire us to spend more time than we needed to, we opted to go right back to the car.
So we returned to the car at 11:20am. This time, the unpaved car park had a lot more vehicles than when we started.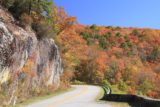 Now that the first two waterfall excursions were done, we could now drive the Blue Ridge Parkway heading towards Asheville. Even though we got to see part of the Blue Ridge Mountains on the way to the Graveyard Fields a few days ago, this was now another opportunity to see more Autumn colors with expansive views on both sides of the road (since this road was literally sitting atop the ridge of the Appalachian Range between Virginia and North Carolina).
We randomly stopped at a couple viewpoints though it was one of those things where it was better experienced than through photographs as most of the shots looked flat.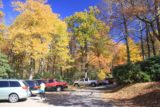 The next waterfall we went for was Crabtree Falls. And once again, we had to ignore the GPS as the waypoint was way off from the well-signposted visitor center (near the 339.5 mile post) and campground where we were supposed to start our hike. We ultimately arrived at the busy car park in front of the visitor center at 12:15pm.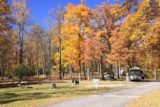 Once we got ready to go, we took a trail that went past an amphitheater (apparently for ranger programs for people camping here) and ultimately towards another car park after 10 minutes. Apparently, we could've cheated and parked closer to the real trailhead though the parking here was quite limited as the rest of the pavement here was more for registered campground occupants.
A sign here said it was 45 minutes to the falls. Another sign here said it was 1-mile to the falls, while it was 2 miles to do the entire loop. That seemed inconsistent with what the map signs were saying, but regardless, we were intending to do the falls as an out-and-back hike as we thought the loop hike was more like a minimum of 3 miles round trip.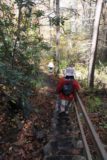 Anyways, the path started off by descending gently, but soon enough, we had to descend a few flights of steps before the trail descended even more steeply. We knew that on the way back to the car, we'd have to get back all this elevation loss. Thus, this upside-down hike was deceptively more tiring than the short hiking distance (1.5 miles one-way according to the sign at the Visitor Center) would suggest. Still, the lovely fall colors on the leaves high up above on the trees towering over us helped us take our minds off the physical exertion from time to time.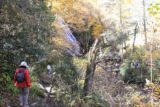 At 1:10pm, we arrived at the bridge right in front of the attractive Crabtree Falls. It was interesting how most of the hike was pretty quiet with a handful of people on the trail it seemed. But at the bridge, there were a lot more people. Still, it was a good thing that the bridge was there because I didn't bring my tripod. So I had to be opportunistic with the props in the area to take long exposure shots of this waterfall, which was a very long exposure-friendly waterfall.
In addition to the textured rippling of the water tumbling down its sloping cliffs, Crabtree Falls was also attractive thanks to the orange and yellow foliage immediately above the falls itself. So we easily spent a good bit of time taking photos in as many ways as possible before we headed back up towards the car park.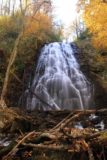 It was about 2:05pm when we finally made it back to the car park. After taking much needed bathroom breaks at the visitor center, we finally continued on the Blue Ridge Parkway at 2:20pm.
The drive went pretty uneventfully as we stayed the course on the road. As tempting as the plethora of overlooks were on both sides of the road, we only stayed for the overlook of Glassmine Falls near the milepost 361.2, which we arrived at 3:05pm.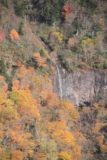 We didn't linger too long here since the thin ephemeral-looking waterfall wasn't terribly impressive (then again, maybe we were just jaded waterfallers at this point). But the Autumn colors surrounding the falls and in the valley below definitely made the scene very attractive.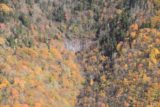 Once we were done with Glassmine Falls, we would eventually wrap up this section of the Blue Ridge Parkway and return to our accommodation in West Asheville at 4:05pm. That gave us enough time to get dressed in evening attire and head back towards downtown Asheville for a tapas dinner without reservations.
I had fretted about the lack of parking and the traffic here given last night's experience after the Biltmore Estate self-tour and dinner afterwards, so I had to believe that we were VERY lucky to have found free parking on a quiet side street (it was one-hour parking from 8am to 6pm) at 4:50pm. Clearly given the traffic and parking difficulties here, we reckoned that Asheville was once a small town that grew faster than it could handle and now had to deal with big city issues.
Nonetheless, as we walked towards this Spanish tapas place called Cúrate, we could see how downtown Asheville was a charming enough area that warranted some time spent strolling its streets and arcades. If not for the traffic and the parking (plus letting the main area be vehicle free), it could've been right up there with being a real charming and romantic place like most European centers and CBDs.
We were fortunate to have bar seating at Cúrate, and we tried out a variety of dishes from charcuterie-style meats, pan con tomates (bread with tomato spreads) to a raw trout drenched in lemon juice and lots of other herbs. We ended the dinner with a rosemary ice cream with sponge cake. However, there were so many other dishes we wished we could've tried (e.g. the Iberico Pork, fried eggplant, etc.), but we just didn't have the room in our stomachs anymore.
Julie and I knew that when it came to good fooding experiences, we preferred appetizers and starters versus mains that usually just filled you up with much less adventure and flavor. Thus, dining tapas style was the way to go.
But tapas this good in the South really caught us by surprise. I mean, tapas that could rival big city fine dining like in Los Angeles? In the South? For pretty reasonable prices for what you're getting? Who knew?!?
We made it back to our car at 6:20pm and twenty-minutes later were back at the Red Roof Inn to call it a day. For once, we had a less hectic day compared to each day of this trip up to this point, and we could finally wind down for the evening without infringing on our bedtimes.
Tomorrow, we would have another full day leaving and coming back to the Asheville area. However, this time we'd be headed southeast in the morning and then west of town in the midday-early afternoon time frame (or at least that was the plan). It's hard to say whether we could fit it all in before a 6pm dinner reservation, but we'll just play it by ear and see how that goes…