Day 8: CHEROKEES AND CHIMNEYS
It was 6:45am when we awoke. We had a pretty full slate of activities today, and we had a time constraint to be in time for our dinner reservations in downtown Asheville by 6pm.
After some last minute researching last night about today's activities, I had learned that there were opening hours for Pearson's Falls at 10am, and I wasn't sure when the gates would open for Chimney Rock and Hickory Nut Falls – two of the waterfall excursions we were planning on doing today.
So at the last minute, I decided we should head west towards the Great Smoky Mountains National Park near the Cherokee Native American Reservation in search of a pair of waterfalls (Mingo Falls and Soco Falls). I had even entertained the notion of taking a detour to Chataloochee Valley to see some wildlife (namely the introduced elk there).
So at 7:30am, we left the motel and headed west on the I-40. We then followed the GPS, which led us from the I-40 into a foothill town before it led us onto the far western end of the Blue Ridge Parkway. But with the morning light somewhat muted by partly cloudy skies, most of the views seemed either flat or didn't quite have as pronounced colors in the foliage as we had seen yesterday. Thus, we didn't really make any stops along this stretch of road.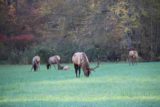 Eventually, we joined up with 441, where we turned right and noticed that there were quite a few cars parked alongside the road while the Oconaluftee Visitor Center car park looked quite busy. There were even quite a few folks standing in the grass area directing their attention towards something.
This seemed rather unusual considering it was only about 8:30am, but upon closer inspection of the commotion, we saw there was a herd of elk.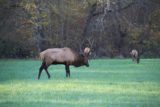 Anyways, the GPS had to look for Big Cove Road, but it was nowhere accessed from wherever we were at (near the Oconaluftee Visitor Center or somewhere north of there). So we returned to the Oconaluftee Visitor Center where I took this opportunity to photograph the elk (good thing our all-in-one lens could also do telephoto). Even though there were quite a few people who got rather close to the male elk (the one with the majestic antlers), I feared that it was either rutting season or bugling season or something so they might be aggressive.
I made sure I wasn't too close and so the photos I took respected their distance at the expense of the elk not dominating my compositions (good thing for the long zoom though). With my wildlife fix out of the way (with the elk but no bears unfortunately), I then went to the visitor center lobby where I asked how to get to Mingo Falls. That was when the lady told me that I was supposed to head south on the 441 towards Cherokee before turning left onto Big Cove Road. Once again, the GPS was misleading, but at least now we knew where we had to go.
At 8:50am, we left the Oconaluftee Visitor Center and followed the National Park Service Ranger's advice about getting to Mingo Falls. Eventually at 9:10am, we made it to the Mingo Falls car park though there was a sign that was rather confusing when it said something like "Mingo Falls 0.5 miles" with an arrow pointing to our right.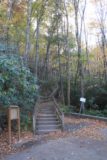 It turned out that the sign was really saying that the falls was 0.5 miles further up the road to the right and not 0.5 miles on our right. We almost drove into someone's driveway given our second interpretation of the sign, but fortunately, we kept going and eventually saw another sign near a stop sign that told us to go right, where we could see the set of stairs and a conspicuous car park up ahead after turning right at the junction.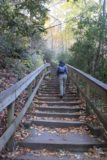 There was only one other car when we arrived. Julie and I wasted no time climbing up the stairs for several steps, and then the trail leveled out. From there, it was a narrow, flat walk leading to a bridge over the creek on which Mingo Falls flowed. That bridge was where we could best view the impressive lacy and tall waterfall.
There was a photographer who looked like he had some pro equipment with a graduated neutral density filter, a heavy-duty tripod, and perhaps even a remote trigger. He wasn't terribly talkative because I think we happened to walk in on his time to take pro shots.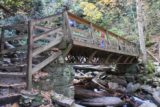 So we did our best to minimize the amount of walking on the bridge (so the bridge wouldn't shake) while we were doing our own photography of the impressive falls. The sun hadn't quite breached the cliff from which the falls fell, which was a good thing because we would've been looking against the sun had we come later.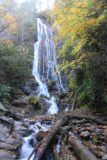 After a few minutes of the both of us doing our thing taking photos, an Asian family of five or six people (including two kids) showed up. I don't think they appreciated or were even aware of the pro photographer trying to get his shots as they stomped on the bridge and the photographer had to wait until they were gone. Unfortunately, one of the members of that family decided to scramble onto the stream and perhaps get into that photographer's line of sight (and hence in his photos).
I felt bad for that photographer as I was sure his photo session was ruined by this chain of events.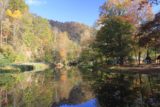 In any case, I headed back, and just as I left the bridge, I saw another couple of parties head towards the bridge. I guess Julie and I had beat the rush.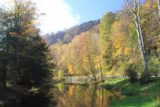 At 9:30am, we were back in the car. We then proceeded to drive towards the Native American town of Cherokee, which seemed to be the epicenter of the Cherokee Reservation here in the Great Smoky Mountains National Park. It seemed like quite a built-up town for a small town full of tourist amenities and Native American souvenir shops, museums, restaurants, etc.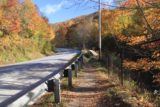 It took a while before we could finally get above the 20mph or 35mph speed zones, but eventually we got onto the 19 and twisted our way towards a pullout for Soco Falls at 10:05am.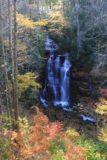 While there, we descended down towards a viewing deck, which revealed a short 30-40ft main falls, but we could see there was a second waterfall joining with it unseen from this deck. Fortunately for us, the sun just so happened to be concealed behind clouds for a moment so we could take photos from this deck. Otherwise, we could've looked totally against the sun and the falls wouldn't have been so photographable.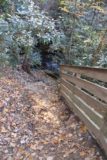 When we had our fill of this viewing deck, I descended down a steep and tricky scramble with the aid of the ropes there to get to the base of the falls. It was only at the bottom of this slippery descent that I was able to view both waterfalls in one shot. Unfortuately, I had no tripod with me so long exposure photographs were limited to my ability to both hold my breath and hold still long enough to minimize the camera shake.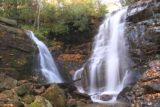 The scramble down to the base of the falls (and consequent climb back up) was definitely not for everyone. Since we noticed many seniors during our week of touring, I'd bet that such a descent would be dicey for them. However, it seemed like with some care and decent shoes, the descent wasn't as bad as I had anticipated.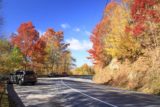 At 10:30am, I was back at the car. We proceeded to drive west on the Hwy 19 when an observation tower caught my eye. We decided to spend the 50 cents to go up that tower and enjoy the self-proclaimed "most photographed spot in the Smokies." Sure this tower seemed gimmicky, but for 50 cents, what the heck.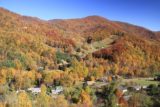 While the claim of "most photographed spot" could be disputed, what made this view attractive was that there were farms and other subjects fronting mountains draped in the fall foliage in close proximity so the photos didn't look too flat.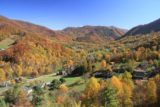 At 10:45am, we drove off and continued west on the Hwy 19 behind a train of vehicle traffic going way slower than the speed limit. That pretty much concluded our visit to the Great Smoky Mountains National Park, and now it was time to head back towards Asheville before heading southeast towards a pair of excursions in the vicinity of Hendersonville.
At 11:40am, we made a quick stop to Arby's for a pretty unsatisfying lunch. After another 20 minutes or so, we got off the I-26 near the town of Saluda. From there, we drove downhill on a very twisty road until we followed the signs for Pearson's Falls.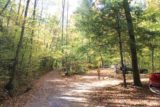 After paying our $5 admission per adult, we parked at the trailhead for Pearson's Falls (apparently still either privately owned or maintained by a garden club that needs the funds to keep the trail family friendly and protected. It was about 12:15pm when we got to the car park and roughly 5 minutes later when we started hiking.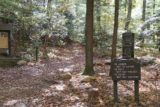 Near the trailhead, Julie noticed a sign that said, "Linger but don't litter, rest but don't molest, enjoy but don't destroy." Such true words.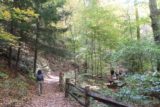 Anyways, the trail meandered alongside the stream for about 0.3 miles with a gentle uphill grade. Julie called this a relaxing and soothing trail thanks to the peaceful sounds of the running stream while walking beneath falling leaves that have changed color.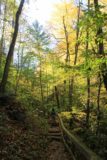 The trail was also family friendly (as a sign suggested) given the amount of families with kids and seniors that were on this trail.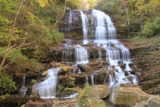 Once we were at the falls, we were treated to another waterfall with what Julie called "character." It had a rippling look as the water tumbled down its angled rock face. It was certainly a tripod friendly waterfall given such texture. However, taking the ultimate shots of this one wasn't very easy due to the quantity of people plus the limited about of unobstructed viewing space.
At 1:10pm, we were back at the car. It was finally time to head towards Chimney Rock, which was the last excursion of the day.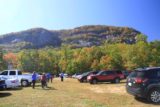 The drive to get up Chimney Rock town was mostly uneventful except for us following a long train of other cars in front of us (probably caused by a slow poke who refused to use the pullouts to let others pass). There was a pretty steep admission fee of $15 per adult, which led us to believe that this was obviously a private attraction. Then, we had to follow a line of cars up a narrow and winding road to a car park half-way up the overall ascent.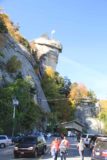 So it wasn't until about 2:10pm when we arrived at a grassy car park for Chimney Rock. They didn't let us go all the way to the top (probably because of how full it was up there) so we parked the car on the grass, then waited for a school bus to take us the rest of the way to the uppermost parking area.
Finally at 2;35pm, we were at the top area and were left to our own devices to explore.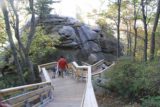 When we saw how big the queue was for the elevator to the top where they could get to Chimney Rock (we estimated it was a minimum of a half-hour wait or so), we opted to walk up the 400+ steps to the top. It was a bit tiring and sweaty, but I'd bet that we got up there faster than those who had to wait to get up via elevator.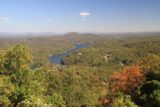 There were still more stairs to climb up besides the steps to get right up onto Chimney Rock if we wanted to get even more grand views (and less crowded) of both the Chimney Rock and the valley below. There was even a so-called Opera Box where we could duck into a little shelter and look out (trying not to bump the head onto the low overhang).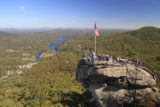 When we got the desired views, we quickly made our way back down the many steps, and then descended some more past the Moonshine Cave and ultimately near the trailhead for the Hickory Nut Falls – the last waterfall of the day. But it wasn't until about 3:25pm when we got the hike started.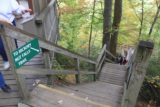 We knew we were cutting it close for our 6pm dinner reservation in downtown Asheville so we hastily walked the 0.75-mile hike (1.5-mile round trip), which was gradually uphill leading to the base of the waterfall. There were lots of people on the trail and even more people in the Chimney Rock section, and it prompted Julie to tell me that this place felt more like an amusement park than a Nature place.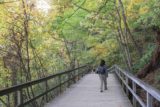 The trail was mostly under the shade of both the cliffs and the tree cover, but at the same time, we could see that the blue skies started to give way to some cloudy skies. There was also a section of trail that was said to have been washed out from a tropical storm several years ago, requiring the use of a newly-built wooden bridge section.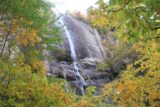 At 3:40pm we made it to the base of Hickory Nut Falls, where not surprisingly, there were many people. The falls was tall, but it had pretty light flow. I guess this waterfall was really more of an excuse to check out Chimney Rock, but if we had to pay $15 per adult for just the waterfall, it would've been quite the rip off (though the $59 per adult fee at the Biltmore was still the king of rip offs).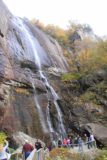 We managed to walk all the way to the end of the walk which was a viewing deck right beneath the main drop of the falls. Several people scrambled onto the stream to touch the water and feel falls' spray. And from this close vantage point, there was no way a normal zoom could capture the whole falls in one go.
After having our fill of this waterfall, we quickly made our way back to the shuttle stop. By 4:15pm, we were waiting for the shuttle, and at 4:35pm, we were finally back at the car.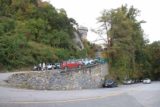 Next, we had to drive back down towards Chimney Rock town before going up two-lane highways following long lines of vehicles caused by someone going way below the speed limit and not using the pullouts to let others pass. This didn't help our cause in terms of trying to get back to our room, change, find parking, and then make our 6pm dinner reservation in downtown Asheville.
But when all was said and done, it was about 5:30pm when we returned to the Red Roof Inn we stayed at. And almost less than 10 minutes later, we were back in the car and drove towards downtown Asheville.
Given the traffic, I had to drop Julie off in front of the Table Restaurant so we wouldn't lose our dinner reservations. She made it in time, but I had to circle around looking a way to get into a parking structure that was right next to the restaurant.
It turned out that the Rankin entrance for the adjacent car park was inaccessible due to a broken machine. Fortunately after the second passby, I asked the workers there if the lot was closed. They told me that the lot was open and there was another entrance. So to make a long story short, I'd eventually attain parking at that parking structure at 6:10pm.
And so Julie and I had a little birthday dinner though the waitress completely forgot about Julie telling her about the birthday event. In any case, the food was expensive, but it wasn't as good as the price dictated. I guess it had a hard act to follow after the Cúrate dinner last night.
Still, we got to eat foie gras (which was recently banned in California) along with meat tartare plus some pulled pork main and beef short rib main. All this was followed up by a chocolate lava cake dessert.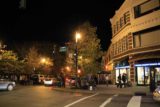 Fully stuffed, Julie and I briefly strolled a block of downtown Asheville, but there wasn't anything here that really caught our eye in terms of a bonafide city center where it would've been worth strolling around and feel like we were in the center of the action like in other cities we've been to in Europe and Oceania.
So at 7:45pm, we were back in the car. When we left the parking structure, we were shocked that we only had to pay 75 cents! That was probably the most reasonable parking price we could recall in a long time!
At 8:05pm, we were finally back at the Red Roof Inn to call an end to this busy day. We still had to pack and prepare for the second leg of our journey while also getting cleaned up. Nonetheless, the first half of our Appalachians trip was coming to an end. Tomorrow, we'd be entering Blue Grass Country where the trip would be more about arches, caves, and a little less concentrated on waterfalls than the waterfall saturation we went through this past week…