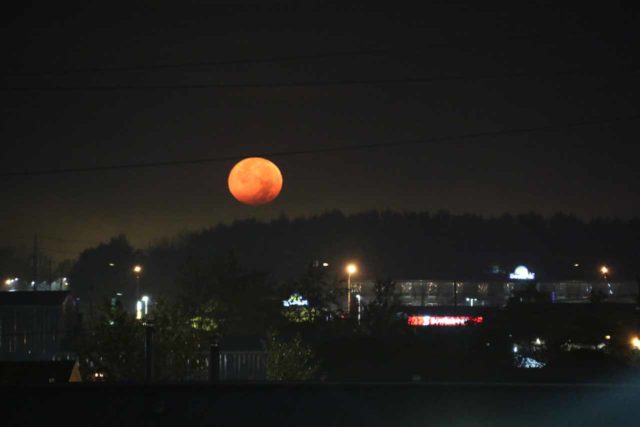 25-September 2015 to 2-October 2015:
I actually had to waste about a dozen matches before the paper finally caught fire and ignited the wood hovering over it. But once we were in business, we could now try to figure out how to make smores happen with the skewer sticks we were given. I realized that perhaps tongs would've been better to melt everything together in one shot. But trying to melt marshmallows and chocolate while balancing on the skewers was a tricky proposition at best.
In any case, we were enjoying the moment as we stared at the fire and watching the embers fly with the winds. As we took a break from roasting smores over the fire, we also looked up at the sky and noticed stars overhead.
Tahia thoroughly enjoyed the experience, and I knew that we were sharing one of those precious moments that I'm sure would stick in our minds for the rest of our lives. This was the kind of moment we live for, and it gave us the idea that perhaps we should do more real camping trips going forward in California or Southern Utah (provided the drought doesn't persist)…
Day 1 (September 25, 2015 – Minneapolis, Minnesota): "Divide and Conquer"
It was about 4am when we awoke to our alarms. Surprisingly, Tahia was cooperative when we had to put on her outside clothes at this early hour. And by 4:30am, we had the car all loaded up and ready to get to LAX.
By 5:40am, we had finally gotten through security and arrived at our gate for our Delta flight to Minneapolis-St Paul. It was amazing that we managed to save about $2000 just by using our miles for this non-stop flight (it was around $700 per person). Yet this was a very full flight so I guess even with the early start, that doesn't stop people from taking flights like this to at least have a half-day once we land in Minnesota.
That said, when we had to check in the large luggage that concatenated both Julie's and Tahia's stuff, that was when we realized that we goofed up by not bringing our car seat
. So now we had to reconcile what to do once we pick up the rental car. Should we pay Alamo to use the car seat for a couple of weeks, or should we just go to the nearest Wal-mart or Target and purchase a new car seat outright and try to assemble and secure it to the rental car right then and there?
Well, we had the 3.5-hour flight to think this over. After boarding the flight, Julie and Tahia sat one row ahead of me while I sat in the middle seat between two strangers behind them. Tahia seemed to enjoy her flight as she watched cartoons then conked out. Julie and I also had a brief moment of getting a little more caught up on sleep as well.
Eventually we would land at the Minneapolis-St Paul airport on time though the landing was a bit on the rough side. Anyways, after patiently waiting our turn to get off the plane, we eventually got to the Alamo kiosk, where we picked up the standard sized car, declined all the insurances (this time we're going with the Sapphire Credit Card insurance), and then promptly looked around the car for damages (especially the tires, where we tended to have a bad history with flats).
Once that was done, we then went to the nearby Target Superstore at 1:15pm, where we did our errand shopping as well as picked up a quick booster-baby car seat. At that point, Julie and Tahia walked over to the Chipotle for lunch while I was figuring out how to assemble the car seat. It took me a while to do it (especially with how humid and hot it was in the parking lot), but eventually I was done with it at 2:15pm! The car seat was a bit on the dodgy side as we had to rely on the default seat belt this time instead of using one of those sturdy clamps that hook up to the frame of the regular car seat.
After finishing our lunch, we would finally get to the Hyatt Place at 2:40pm. It turned out that they had hourly shuttle service to the nearby Mall of America so Julie and Tahia could wait there while I would go off on a couple of waterfall hunts for today on my own.
And so by 3:05pm, I left and the divide and conquer strategy was in effect.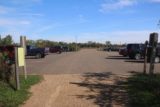 The first excursion of the day was to get to Willow Falls, which was in the Willow River State Park. It actually required me to drive some 30 miles east of Minneapolis on a bunch of interstates, which actually put me across the state border as the falls sat in Wisconsin!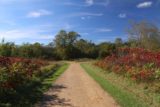 It wasn't until about 3:45pm when I parked the car at a small "Falls Lot", which was the next exit north of the main lot, which had some kind of entry kiosk and a bunch of cars. The road I was on (Hwy 12) was very busy. So it would be non-trivial to make left turns across all this traffic. Fortunately, I caught a break in the action so I was able to get across no problem.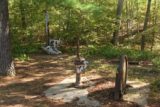 Then, I quickly commenced on my hike. At first, I veered right at the junction, which took me to the North Overlook. This short jaunt took me to a spot where there were some old machinery as well as a view downstream towards some dam infrastructure, where it seemed Willow Falls was located just out of sight from this vantage point.
I then backtracked to the junction and proceeded to follow the Falls Trail, which was a paved walkway that descended until it ultimately ran alongside the Willow River. Then, I saw the bridge and lookout spots for the impressively wide and multi-tiered Willow Falls at 4:05pm.
There were quite a few families and couples here enjoying the falls. There was even a couple with a photographer apparently doing engagement shots or something like that. The waterfall itself was bathed in mostly shadow while the adjacent cliffs were still in late afternoon light. The weather was on the muggy side even though it was said to be in the high 70s. It felt unexpectedly uncomfortably hot though not as extreme as the 90s and 100s we had been experiencing all summer long at home.
After taking some shots from the bridge fronting Willow Falls, I then crossed the bridge and noticed there was a wooden stairway leading high up to the top of the cliff with apparently a view looking right down at Willow Falls. So I went ahead and sweated some more to go up there, where I also managed to get some nice views of the forest below at 4:20pm. The view of the falls from up here were a bit on the obstructed and shadowy side, but it was a different perspective nonetheless.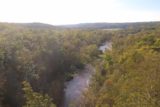 Something that was strange about the experience up here was that it kind of smelled like oil or grease or something. I figured that smell came from the water or the dam upstream of it or both. I wondered if the brown color of the river might also have something to do with the oil smell or not. In any case, I didn't linger here for long, then I headed back down.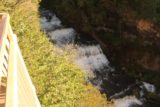 When I returned back down to the bridge, I took a few more shots of the falls, then shared with Julie what I saw on the iPhone that I had brought. Normally I don't have an iPhone so this was the first time that I was making use of Mom's hand-me-down on a trip like this.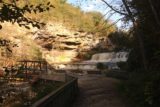 Eventually at 4:45pm, I made it back to the car park on the mostly paved trail. There were even more people (including a huge group) going the other way, which I guess attested to the popularity of this waterfall. And when I was back at the car, I was relieved that my car wasn't ticketed since I didn't pay the $10 non-Wisconsin license plate daily use fee, which I thought was quite steep for such a short visit (yeah, I know I chanced it).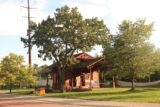 Now, with the sun coming down fast at this time of the afternoon, I then headed back the way I came on the interstates as I headed towards Minnehaha Falls. This one was actually pretty much in the Minneapolis area (so for all intents and purposes, it's an urban waterfall), and I fancied whether Julie and Tahia should see this falls given its close proximity to the airport and Mall of America area where we were staying.
But alas, I was on my own on this one. And by 5:30pm, I had found some street parking on Minnehaha Park Drive very close to the Minnehaha Depot. I wasn't sure where the proper places to park to minimize the walking distances, but it turned out that my guess on the GPS pre-trip waypointing was pretty close because I ended up being quite close to the falls (though I wouldn't know this until I got out of the car, paid my 75 cents for the hour, then walked towards Minnehaha Creek).
As I walked around the rim of the gorge, I could clearly see the 55ft waterfall plunging into the depths of the gorge below. There happened to be some young adults behind the waterfall, which made me wonder whether I could do the same thing. Anyways, I was also busy trying to soak up the atmosphere of this park, where there were picnic tables, large lawns, trees, and even the so-called Se Salt Eatery, where there was some kind of country-like performance live.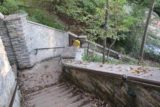 I spent some time getting my shots from different spots along the rim before I went down the steps and into the depths of the gorge where I managed to get more direct views of Minnehaha Falls. There was a No Trespassing sign right where I got the frontal view of the falls, and that was probably where those young adults must've hopped the fence to get right behind the waterfall. Meanwhile, across the creek, there was a mother and son posing on some slope. But when I took some time to explore that side of the creek (there was a bridge crossing it), I also saw that those folks also went beyond the fences to get there.
I guess rules are made to be broken in these parts.
After crossing the bridge and going all the way up the steps to the other side of the gorge, I had found myself almost back to where I had started. I then looked back across the gorge and saw there were still other overlooks and other possible viewing spots of the falls, so I went down and back up to explore those. But when I realized that those spots were looking directly against the setting sun plus the views of the falls were obstructed, I then returned to the best viewing spots along the rim (in front of Se Salt Eatery), and got a few more shots before texting Julie that I was now headed to MOA (Mall of America).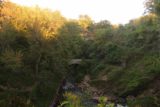 By 6:15pm, I was back at the car. And I just showed up when some enforcement officer was showing up looking to cite people whose spots had expired. I didn't have to worry since I had until 6:30pm. In any case, I was out and about and headed back south towards MOA.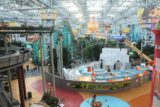 At 6:30pm, I found myself in a large structured car park by the Sears on the east side of the mall. Julie and I were busy calling each other until I would eventually find them at some food court on the opposite side of the mall. On the way there, I was passing through the Land of Nickelodeon, which was a very impressive indoor amusement park dead smack in the middle of the Mall of America. There were roller coaster rides, log rides, etc. It was almost like a bottled up Knott's Berry Farm or something like that.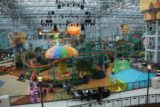 Julie had texted me some photos of Tahia driving bumper cars so I knew they were having a good time even though Tahia couldn't do any of the more interesting rides here.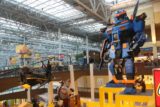 At 6:50pm, I had finally caught up with Julie and Tahia, and then we had ourselves a quick dinner at this place called Crave. I came to the realization that the entire third floor was the food court, and given the massive scale of the periphery of the Mall of America, this was a massive food court!
The food was pretty much like a typical American chain. Julie thought her lettuce wrap was a bit on the salty side, but we did have Norwegian crusted salmon, which we figured they'd do well here since there was quite a bit of Scandinavian heritage in this part of America. And sure enough, the salmon was quite good. Tahia had some California Rolls since that seemed to be what she was into these days. But she repeatedly expressed the desire to get back to the Hyatt Place since she was tired.
The nice waittress realized this and actually expedited her service to ensure we got the food and our check quickly. By about 8:25pm, we were finally leaving the Mall of America, but not before Julie and Tahia got some gelatos while I had an ice cream sandwich from Tollhouse (which actually wasn't that good).
Anyways, by 8:30pm, we were back at the Hyatt Place, where we could finally get settled. We know that tomorrow, we have a very long drive up to Thunder Bay, Ontario, Canada with a few waterfalls to visit along the way. We'll see how that will turn out as the first half of this trip would pretty much be all vagabonding…
Day 2 (September 26, 2015 – Thunder Bay, Ontario): "Foggy Views"
It was 5:35am when we reluctantly awoke (even after the 5am alarm had gone off). Still used to West Coast time, it was about 3:35am back at home so our body clocks were off. In any case, both Tahia and Julie stayed up last night and now they were paying for it. I also knew this didn't bode well for us since we had a long drive ahead of us to Thunder Bay, Ontario, Canada with still a few waterfalls to try to visit along the way.
Our original schedule had us checking into Duluth, Minnesota for two straight nights, and then doing a very long out-and-back trip to Thunder Bay starting tomorrow, but I had a sinking suspicion that such a plan was way too ambitious and involved too much backtracking. So the plan was to stay in Thunder Bay today and then Duluth tomorrow. Hopefully, that might ease things up in terms of what we were planning on seeing and doing today, but I still knew deep down that both today and tomorrow would be packed with activities.
After having a brekkie at the Hyatt Place, we wouldn't be leaving Minneapolis until about 7:10am. It was roughly an hour later than I had hoped, but I also hoped that my original trip planning left enough margin in there to absorb delays like this.
The drive north went pretty uneventfully though we were quite surprised to see fog being very persistent for much of the drive north towards Duluth. We would eventually leave the interstate and headed east on some country roads leading towards Pattison State Park, but at one point, GoogleMaps had us go on some dodgy country road instead of going straight to the WI-35E going south.
When we decided we weren't comfortable with the GoogleMaps suggestion, we then kept going the way MapSource had us going but then soon after turning right onto the WI-35E due south from Short Cut Road, we then saw a bunch of road work being done with a sign saying that there was a bridge wash out. So I guess GoogleMaps was right about this direct route being unavailable, and we wound up backtracking on the I-35E then following some orange detour signs to get to Pattison State Park and the Big and Little Manitou Falls.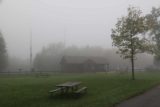 Finally at about 10am, we arrived at the main campground and ranger station for Pattison State Park. And like much of the drive up here, the fog was pretty thick so that made us concerned about how the viewing experience at the falls would be.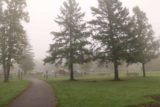 I wound up paying $5 for a one-hour visit, and I learned that the way the system worked here was that if we did multiple state park visits in the state, we were better off buying a daily pass for $10 then hit as many of the state parks on the same day as possible. But since Big and Little Manitou Falls were our only Wisconsin waterfalls to visit on this day, the one-hour visit was enough.
Anyways, we'd eventually park the car at the dedicated Big Manitou Falls Parking Lot at 10:20am, which was just on the other side of the bridge from the ranger station car park. We then got out of the car, walked across the road, then went into a serene little picnic area where the paved trail curled around the lawn before getting to a direct overlook of Big Manitou Falls (said to be Wisconsin's highest waterfall).
Unfortunately, the view of the falls was somewhat misty and obscured so it didn't show up very well on our photographs. I did notice that on the opposite side of the gorge, there was another viewpoint with people there, but the view looked quite angled with some tree obstructions. And with all the fog, we didn't feel up to extending this excursion by walking to that other overlook.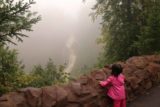 In any case, I got my photos while Tahia and Julie were catching up. Then I explored a short distance along the rim of the gorge, but the view of the falls became more and more obstructed. Besides, the fog wasn't relenting from these other vantage points anyways. When I returned to the main overlook, Julie and Tahia were busy taking checking out the misty view. They also didn't feel up to going to the other overlook. So eventually by 10:45am, we were back in the car.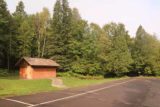 We then quickly drove further south on the WI-35E towards Little Manitou Falls. Surprising us, we saw that there was no fog around the turnoff and car park for this falls when we arrived at 10:50am. There was a picnic area as well as a restroom here, but what caught our eye was a sign indicating that this was the site of Camp Pattison, which was a Civilian Conservation Corp facility from 1935-1942.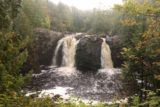 After having seen an FDR documentary (actually more like a Roosevelts documentary discussing Teddy, FDR, and Eleanor) by Ken Burns on Amazon Prime, I managed to gain a greater appreciation of how this program sought to put many of the unemployed during the Great Depression to work. Even though it was a government program, it seemed to start the momentum in starting the road to recovery for many of the afflicted people looking for work at the time.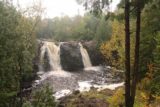 Anyways, we quickly walked to the viewpoints of the double-barreled Little Manitou Falls, which were merely a few paces from the car park. Even though we were looking against the morning sun, there was enough fog to keep the light from getting too intense most of the time. And given the Big Manitou Falls experience to this point, this seemed to be a more satisfying visit yielding more satisfying photos.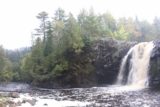 But it seemed like the lack of fog at Little Manitou Falls kind of gave me the hope that if we return to Big Manitou Falls, the fog would lift somewhat as it seemed like it was lifting around Little Manitou Falls.
At 11:15am, we were back at the car. Given our experiences so far, Julie and I thought Little Manitou Falls was probably worth a rating between 2 or 2.5. Big Manitou Falls looked impressive enough to be a solid 3 but given our subpar viewing experience with the fog, it should currently stand at 2.5.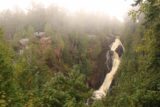 When we returned to the car park for Big Manitou Falls at 11:20am, we then quickly made our way down to the main overlook again. And as we had hoped, the fog was lifting (though it was still around). But at least we could see more of the waterfall and it was clearly showing up better on our photographs. So now that we were more satisfied with this viewing experience, we wouldn't feel compelled to make a return trip here when we'd be staying in Duluth tomorrow.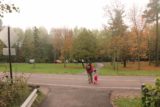 At 11:35am, we were back at the car. We were pretty much a little behind schedule, and we still had a long way to go to even make it up to Thunder Bay with the hope of seeing High Falls of the Baptism River as well as the High Falls of the Pigeon River on this day. It seemed more and more doubtful that we'd be able to do them both and still check into Thunder Bay at a reasonable hour. We'll see…
As we made our way around the detour then headed north on the WI-35E, we then entered the town of Superior, Wisconsin, which was apparently adjacent to Duluth, Minnesota. When Julie noticed a restaurant called Grizzly's, she Yelped it and noticed that they got some good reviews. So we turned around and wound up having lunch at this spot at 12:05pm.
My intent was to get something to go here, but this wasn't one of those places. Actually, it was more of a locals place in more of a bar type atmosphere with sit down tables. They were apparently known for their roasted chicken but their ribs were also good. So we wound up getting a combo meal of the ribs and chicken, plus we shared this delicious Johnny Appleseed Cider from St Louis, MO. When all was said and done, our lunch tab was only $31 with tax and tip, and we were raving about the tastiness of the cider.
At 1:05pm, we were back in the car. Now, it was time to keep driving along the north shore of Lake Superior. There was a lot of traffic on the MN-61, and most of the road was two lanes going in opposite directions. So we found ourselves frequently behind other cars, and the speed limit was pretty much 55mph throughout.
At just about every bridge, there seemed to be a lot of parked cars. Apparently many Minnesotans love their waterfalls because at many of them, there seemed to be some cascades viewable from the road. We didn't plan on seeing any of these, and we wondered if we'd have enough time to stop at them tomorrow on the way back to Duluth. So we continued on without stopping for them.
So on this day, we passed Gooseberry Falls and High Falls of the Baptism River (one goal for today, which I decided to punt for tomorrow given how behind schedule we were and how foggy it was). And we just gunned it for the Canadian border.
The drive on the MN-61 was scenic as it was mostly within view of Lake Superior. If it wasn't so foggy, I could foresee stopping at some of these spots just to experience the shores of this massive lake, which really felt more like an open sea than a freshwater lake. Clearly there had to have been giant glaciers from the Ice Age to even leave behind such deep and giant lakes.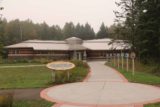 Eventually at 4:15pm, we finally stopped the car at the Grand Portage State Park just within view of the border station. Once we parked the car, we then proceeded to visit the "Welcome Center" where I spoke with the employees about this falls. They actually told me that the Minnesota side of this waterfall yielded more direct views while the Canada side was on a longer trail and had a more sideways view of the falls. In fact, it could go to the top of the falls, but there were no guardrails and it wouldn't be a good hike (2.4 miles round trip) for our little girl, especially given our time crunch on this day.
The park employee also said that this weather was very unusual for September. In fact, he said this fog was actually more of a June pattern. So when it came to perhaps punting this waterfall for tomorrow, it might not be a fruitful wait.
So based on that conversation, we decided to just go for the USA side of the High Falls of the Pigeon River then I might try to solo this hike on the Canada side tomorrow. And with that, we proceeded to do the quick half-mile hike (one mile round trip), which was on a combination of boardwalk and paved path. There were already some nice fall colors with some reds and oranges showing even under the fog.
As for all of the viewing spots, they were mostly mysterious and obscured by the thick fog. Eventually, we'd make it to the three viewing points of the High Falls of Pigeon Falls, and the viewing angles were pretty straight on as the employees had said. So we took some time documenting our experience here while we saw a handful of other folks on the Canadian side as well.
The fog was still quite thick so the viewing experience was akin to how the Big Manitou Falls was like earlier this morning (which was kind of a bummer), but at least it was visible enough to show up fairly well on our photos. Still, it would've been nice to see more Fall colors around the falls but with the fog, most of the trees were pretty much silhouettes.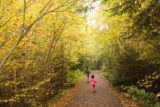 After having our fill of this impressively gushing waterfall (which was actually in much lower flow than what the signage here had indicated which was saying something about those conditions shown in the sign), we then headed back the way we came, eventually returning to the car at 5:20pm.
A few minutes later, we showed our passports and promptly crossed into the Canadian side. The border patrol officer was actually giving me a little bit of a tongue-in-cheek hard time as he wondered why we'd come all the way from Los Angeles to Thunder Bay. I know he was just doing his job, but I told him we were visiting waterfalls, which then prompted him to wonder why we'd go all the way out this way to see waterfalls.
Well, after seeing Tahia in the back seat, he then asked the obligatory questions about carrying firearms, smoking, drugs, alcohol, etc. After saying no to all these things, he then asked, "Are you in a rental car?" (just to trip me up I guess, haha!).
And with that, we continued on our way further north towards Thunder Bay. After passing by a sign saying that we were now on Eastern Time, that meant that we had lost yet another hour. So while our bodies were getting adjusted to Midwest time, this extra hour lost surely meant that we were be seeing Kakabeka Falls as well as checking in and even having dinner much later than we had anticipated.
So we ultimately decided to head straight for Kakabeka Falls before checking into the our accommodation at Thunder Bay. The GPS had us go on some crazy shortcut farm roads, which were graded but unpaved. And eventually after getting through this, we'd get to the Kakabeka Falls Provincial Park at 7:25pm, where there was still some light outside, but the sun had already sunk below the immediate hills.
That meant that our photos of the falls were at first moody with orange skies (speaking of which, the fog wasn't present here, and it was quite clear!) before the shadows had gotten darker.
The vantage point we were at nearest to the main car park was a bit at an angle, but it was very impressive and the falls itself was loud. We tried to get what photos that we could knowing that it appeared there was another side yielding an even more direct view of Kakabeka Falls.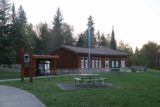 Eventually at about 7:40pm, we were back in the car, and we decided to drive across the bridge towards what appeared to be a campground near some visitor center (well closed by this time). And from there, we spent a few minutes more checking out the frontal view of Kakabeka Falls though now our photos were getting quite dark or affected by the darkness at this time.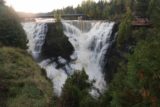 Tahia wanted me to make use of the tripod to take a family photo, but given how dark it was becoming, it was just becoming a time waster and a futile exercise. But we decided that perhaps we should come back here tomorrow morning when there's more light and see if we could get a more fulfilling experience instead of rushing things on this day. Of course, I was concerned about cramming too many thing in one day tomorrow, and doing Kakabeka Falls again as well as the Canadian side of the High Falls of the Pigeon River would surely put more pressure on us to also fit in High Falls of the Baptism River as well as the Upper Gooseberry Falls.
When we had our fill of Kakabeka Falls, we noticed that there was a pretty big and bright full moon hovering just above the trees. We took photos of it, but it was hard to show it in context, especially with this waterfall, which was facing in the other direction.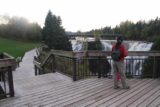 At 7:50pm, we were back in the car, and now we could finally head to Thunder Bay where we could check into the Holiday Inn Express.
After driving the 17 through the dark, we then got onto Carrick Street, where we were supposed to find the Holiday Inn Express, but after about 15-20 minutes of driving around Carrick Street aimlessly, Julie finally saw that the Holiday Inn Express was without its lights on! So we kept missing it until Julie made this realization.
But once Julie finally found this place, we then parked the car at 8:30pm and finally checked in. The receptionist recommended that we eat at Caribou, which was said to be a local dive. And when Julie Yelped the place on our Wi-Fi connection in our room, we then decided to just go to this place even though we wouldn't set foot into the Caribou Restaurant until about 9:05pm, which was quite late as far as dinnertime went and as far as we were concerned.
It turned out that this place had a bit of a noisy ambience though the place settings and the people dining here were quite upscale. Clearly, we were underdressed for the occasion. But in any case, we wound up sharing a maple-crusted salmon as well as some spicy sirloin beef, and these dishes were excellent! I guess the priciness of this restaurant was justified in that sense though the service was quite slow as it took them forever to take our order then we had spent a lot of time waiting for our check well after our dinner was finished.
Eventually by 10:25pm, we were finally back at the Holiday Inn Express, where we could finally call it a day. But given that Julie and Tahia would probably wanted to sleep in, we might run into the same problem of getting a late start and running out of daylight by the time we would show up in Duluth tomorrow. I guess we'll have to see how things go…
Day 3 (September 27, 2015 – Duluth, Minnesota): "Moon Shots"
It was 6:25am when we awoke to the alarm. Having lost another hour on yesterday when we first crossed into Ontario, Canada, our bodies must've still felt like it was 3:25am. When I noticed an orangish full moon as we looked out our hotel window looking towards the west, that kind of compelled us to get up out of bed and seize the moment in terms of capturing what we thought was a pretty rare sight (for us at least).
As the moon was continuing to sink on the horizon, we could see that it was turning from orange to red. Was this the blood red moon that we had heard about on the news last night? Well, we weren't that versed in astronomical happenings so we thought we had scored with this experience. Little did we realize that the real blood red moon was supposed to happen during some eclipse that was supposed to take place tonight!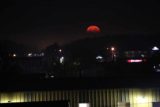 Eventually, Tahia reluctantly woke up after the red moon was over. Tahia asked about it after Julie and I were talking to each other about it. And, well, "you snooze, you lose", we told her.
At 7:30am, we finally went downstairs for a breakfast. There were loads of sugary stuff like cinnamon rolls and chocolate muffins with chocolate chip on them. But there was also the customary pancake machine, which we've come to expect from most of the Holiday Inns that we'd be staying at.
In any case, when the brekkie was done, we then went back upstairs to wrap up our packing. Then, by 8:25am, we were in the car, and ready to start what we knew was going to be a very busy day.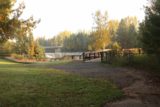 First up on this chilly morning, we headed west and towards Kakabeka Falls again. Having showed up past sunset yesterday evening, we were determined to get better looks on this morning. So we made haste and eventually got back to the familiar provincial park at 8:45am.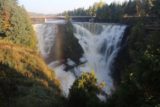 We started our visit by returning to the visitor center near the campsites where we got some frontal views of the giant waterfall. While there, the hazy morning sun produced some light rainbows in front of the left side of the falls. The light rainbow almost looked vertical. But looking in the other direction, the harsh morning sun pretty much blinded out the down-canyon view.
Now that we were getting some favorable morning light looking towards the falls somewhat, we managed to sneak in a few family shots with the tripod. That is, we did what we could since Tahia always likes to act the clown and really mess up our photos.
Julie then took Tahia back into the car so they could drive to the main side of Kakabeka Falls while I'd walk towards the bridge then reach the other side by foot. I figured I mind as well get some other views of the falls just to complete the experience.
At first, I was getting some interesting profile views of the falls, but once I got onto the bridge, I had to look directly against the sun towards the gorge beyond the brink of the falls. Eventually, I'd join up with Julie just as both of us were converging at the stairs leading to the viewing deck. Tahia stayed in the car while we were expecting to make this part of the visit brief.
Once we got to the familiar overlook, we could see that part of the falls was in shadow, which made photography a bit difficult. Still, we managed to see more of that morning rainbow (albeit light) so it added a bit more color and intrigue to our photos here. I'd reckon that perhaps the best light for photos overall would be an hour or two later when there wouldn't be any more shadow cast on the falls and the whole width of the falls should be lit up. That said, we weren't going to wait around for that to happen since we had a lot more waterfalls to do on this day.
Eventually, Julie wanted us to have more family shots from this side of the falls so she promptly went back to the car and get Tahia down here. Then, we took our obligatory shots before more people started to show up. At that point, it was time for us to go.
So at 9:50am, we were back at the car. We then backtracked towards River Road before going left on Barrier Drive, which ultimately hooked up with the Hwy 130. This was the route we should've taken yesterday (not those stupid unpaved farm roads that the GPS had put us on), and that might have saved a bit more time and even let us experience the falls with a few minutes more of reasonable late afternoon light.
Well, what was done was done. And we were pretty much cruising along Hwy 61 as we headed back south towards the Canadian-USA border again.
However, we then followed route 563, which branched away from Hwy 61. Apparently, the GPS thought the Pigeon River Provincial Park was somewhere along this route. However, it quickly became apparent that whatever infrastructure we thought was gonna happen here, was pretty much nothing. However, we did spot what appeared to be the Middle Falls.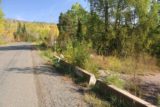 There was a small unsigned pullout area, where we then stopped the car at 10:45am, and walked past some road barricades towards the banks of the Pigeon River where we could get some decent views of the segmented waterfall. We knew that it would take around 3.1 miles round trip to see this falls from the Minnesota side, but it seemed pretty straightforward to see this falls from the Ontario side (though the lack of signage meant that you really had to look for it).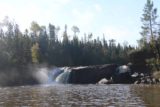 Once Julie and I had our fill of this riverside view of Middle Falls of the Pigeon River, I then scrambled from the pullout area, which led me right to the brink of the Middle Falls. And indeed, the view was precarious, but I got my profile views of the falls just to mix things up a bit.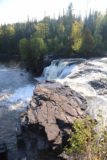 By about 10:55am, we were back at the car. Clearly the trail to the High Falls of the Pigeon River wasn't here. And so we would proceed to drive back to Hwy 61 then head south to the USA-Canadian border. Once we got towards the entrance of the border station, we saw the Pigeon Falls Provincial Park car park and visitor center at 11am.
Shortly thereafter, Julie and Tahia would go to some swings and monkey bars in front of the visitor center, while I'd proceed on the hike. It turned out that the kiddie facilities was perfect for keeping Tahia (and Julie) busy while I was busy doing the solo hike taking me out to the frontal views of High Falls of the Pigeon River as well as the ability to get right up the brink of the falls.
The signage here indicated that it would be about 1.2 miles one-way to get to the falls, and it would require another 1.2 miles or so to get back to the trailhead. But when I followed the boardwalk trail, which then went primitive as it branched into the damp forest, I made haste as I would eventually get near the underpass of the road bridge. Unfortunately, I saw that there was a shorter alternate trail leading directly back to the visitor center.
I guess my initial trail taken as it passed by the Finger Hill Lookout Trail turnoff was probably a short distance longer than it could've been had I come to the underpass directly from the visitor center due north. In any case, now that I was alone, I wasted no time continuing beneath the underpass then getting to yet another trail junction where I veered right to head straight for the High Falls of the Pigeon River.
The direct trail continued climbing as it started to leave the shades of the forest. The employees at the welcome center yesterday were right about this side being a bit more up-and-down and primitive. Yet eventually, I'd make it to the overlooks with an unobstructed view of the falls at about 11:45am. From there, I could see an attractive but light rainbow on the lower left side of this waterfall. I could also see that there were far more people on the Minnesota side of High Falls than on the Canadian side.
I spent some time trying to take more photos and movies but the challenge of taking the falls under the good weather was that the waterfall was quite bright. So for the most part, the falls was either too bright or the photo itself was quite dark.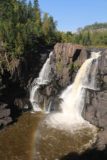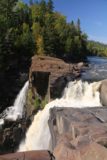 After having my fill of the falls from this vantage spot, I then headed towards the brink of High Falls a short distance upstream. While the view from the top of the falls wasn't terribly satisfying as there were cliffs kind of in the way and I could only get a sideways view of just part of the falls, I did get stomach butterflies given the dropoff exposure. I guess they were right in that this spot wasn't for bringing someone like Tahia who probably wouldn't have the judgment fully developed to stay back from such dropoffs.
Anways, at 11:15am, I completed the hike by following a more riverside trail where I got good views of the Pigeon River, passed by some spur to a Canadian heritage placard, and I further realized that I was pretty much alone on almost this entire hike.
Back at the visitor center, I saw there was a large group of Chinese folks speaking mandarin by the swings. None of them were Julie nor Tahia so I kept going towards the car thinking they were there. But when the car itself was empty, I then headed towards the Pigeon Bay boardwalk trail, which I had punted for later. It was on that trail that I saw Julie and Tahia heading back. They said the trail was short so I just went ahead while they returned to the car to wait for me.
Once I got to the end of the boardwalk, I saw there was a young Chinese couple who were on their way out. And so I had the Pigeon Bay view by myself. This view was of a sheltered bay of Lake Superior, but from a photographic standpoint, it seemed like there was nothing very extraordinary about it. So I got back to the car at about 12:30pm and resumed our drive.
Soon thereafter, we showed our passports to the USA-Canada border patrol, where the lady asked basic questions about where we live and why we were even at Thunder Bay in the first place. When I told her waterfalls, I got the same reaction as the Canadian guy at the other side yesterday. I guess it was either feigned surprise or incredulity wondering why anyone would come from LA to this border crossing just to see waterfalls. But now I wondered if it was just a test to see if they could trip me up with their brief interview.
She seemed familiar with some of the waterfalls in the area so as part of her test, she mentioned Gooseberry Falls. She also asked how many waterfalls I had seen so far. And that was when I ran off a handful of falls that we had seen in the past two days. Gooseberry Falls and the Baptism River waterfall were two of our targets for today. So with that, she let us through.
The drive going back was beautiful though we were on a mission to try to hit the waterfalls we had missed yesterday. What a contrast to the foggy conditions of yesterday! In any case, we couldn't stop for any of the lakeshore views, Grand Marais (which seemed like a quaint lakeshore town), nor the roadside waterfalls like the one at Cross River. We couldn't even stop for Ilgen Falls, which I had put on the itinerary as an option.
Julie and Tahia were napping for much of this 81-mile stretch of drive so I wasn't getting any external pressure to stop anyways.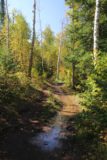 Eventually we'd find the turnoff for Tettegouche State Park where there was a very crowded car park and visitor center immediately at the turnoff from Hwy 61. But we kept driving along the park road, which twisted its way towards a dead-end where the hiking trail to High Falls of the Baptism River would begin. It was now 1:20pm.
After relieving our bladders at the pit toilet in this trailhead, all of us were now awake and ready to do the hike. The sign here said it was 0.7 miles so we weren't expecting a very long excursion. But the trail began with a climb and then it started getting muddy. Since Tahia was wearing her tennies, I would have to carry her over the muddy stretches.
After the trail kind of reached an apex, it then kind of slightly undulated before reaching some trail junction, where it seemed like Two Step Falls and some other campgrounds and sites were on the other branch. We then continued on the High Falls Trail, which eventually took us towards the top of the falls.
At first, each of the overlooks we'd encounter had limited space for viewing and they were all taken up by other folks checking out the falls from there so we'd keep hiking towards the bottom, which required us to continue upstream of the falls, then cross a swinging bridge before heading downstream past the falls on the other side, and then descending steps to the banks of the Baptism River for a frontal view of the falls at around 2:10pm.
Again, all the possible spots to view the falls along the trail were essentially "taken" so we started by just enjoying the distant frontal view of the High Falls of the Baptism River, which seemed like it was full. I think it was even more full than the internet photos that I had been seeing as part of my trip planning, which might be a testament to how much rain had fallen in the past week or something.
Tahia was busy checking small rocks at the river while both Julie and I were trying to keep an eye out on her while also documenting the falls. And eventually after having our fill of this spot, we then headed back up the steps and slowly stopped at each of the viewing spots of the falls along the way.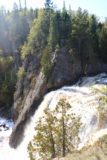 Our strategy of punting the viewpoints for later seemed to pay off as we were able to get to each spot without people hijacking them. And then we pretty much hiked back the way we came while once again trying to let Tahia test her ability to avoid the mud, and then carrying her over the stretches where the mud couldn't be avoided.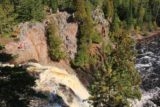 Eventually at 2:50pm, we were back at the car park. Even though the hike was 1.4 miles round trip (0.7 miles in each direction), it sure felt a lot longer than that. And I guess since we spent about 90 minutes on the trail, it kind of showed. Plus, this trail was very popular despite the distances and amount of hiking. I guess since today was still a Sunday and the weather was dramatically more beautiful, it made sense why this place was popular though I swore there were a lot of cars stopped along the road at scenic spots even during the foggy Saturday drive up to Canada yesterday.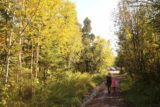 Next, we resumed our drive further south along the Hwy 61. When Julie realized that the restaurants (Betty's Pies seemed like one of the places worth stopping for since we noticed it yesterday on the way up) were actually further south of Gooseberry Falls State Park, we just headed straight for the falls, which kind of got both Tahia and Julie to turn against me for skipping lunch for this long.
Still, there wasn't much we could do, and it was getting late in the afternoon anyways. In order to return to Duluth at a reasonable hour, we had to stick with the plan. I guess in hindsight, we probably could've used another night in Duluth or one of the towns along the way just so we could better enjoy the lakeshore views and more fully appreciate the sights here.
At 3:30pm, we were finally at Gooseberry Falls State Park, which was even more crowded than Tettegouche State Park. We even skipped some other roadside waterfall near Big Bay further confirming that we probably could've used another night on the North Shore of Lake Superior. Anyways this time, there was a huge parking lot that seemed to be completely full though we were lucky to find a shady spot near the very end of the car park on the way out. Still, both Julie and Tahia were quite cranky, and I was mentally thinking that this had better be a short waterfalling visit.
So we proceeded to do the falls loop in a clockwise direction. I was thinking that Upper Gooseberry Falls would be the target of our visit since my trip research seemed to imply that the best waterfall was that one. But when we finally got to that falls, which was a short distance upstream from the underpass of Hwy 61, that was when I realized that we had to hike further downstream to get the classic view of the waterfall backed by the Hwy 61 bridge.
At the Upper Falls, there were a couple of small caves, which apparently were used by young workers from the Civilian Conservation Corp during the Great Depression. It was yet another such site as Pattison State Park in Wisconsin had this too at the Little Manitou Falls, which we had seen yesterday. I was starting to wonder about this FDR theme on this trip, which was unexpected.
Anyways, the trail was a little on the muddy side, and while Julie was busy taking photos, I kept going to the brink of the Upper Falls. Once there, I took more photos then started a movie where I'd follow the river from this waterfall then go all the way to the brink of the Middle Falls before stopping. Julie and Tahia followed me, then we decided to go up a level to the pedestrian underpass, which started beneath some wall that looked like it belonged to a castle, but was really beneath the Hwy 61 route.
We then were beneath the Hwy 61 where we managed to get a few more top down views of the Upper Gooseberry Falls before turning to the other side to look through the girders towards the brinks of both the Middle and Lower Gooseberry Falls as well as Lake Superior in the distance. Once on the primitive trail on the other side, we'd eventually get to what seemed to be the best viewing angles of both the Middle and Lower Falls.
In one spot, there was some of a small opening between the foliage where we got to see the Middle and Lower Falls as well as the multiple segments belonging to the Lower Falls. This was by far the best view though Julie and I wished it could've been more open to really get all the parts of the falls in one photo. But alas, that's how Nature works sometimes.
We then continued descending the Falls Loop Trail as it crossed over a couple of bridges. On one of the bridges, we managed to get a look at one of the Lower Falls before continuing to complete the loop near the brinks of both the Lower and Middle Falls. With all the different ways to experience this falls, Julie was openly wondering if this waterfalling experience was worth a 4 rating even though it lacked the thunder of Kakabeka Falls, which we thought was a solid 4.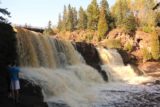 I was more in line into thinking the Gooseberry Falls experience was more like a 3.5 at best, but I could see Julie's point given how more "interactive" it seemed to be.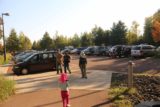 Well, it was about 4:45pm when we returned to the car, which was clearly much more time than we had anticipated going into this excursion. But at least Julie and Tahia were in much better moods given how this waterfall performed.
Next, when Julie was busy using her iPhone to check out Lunner or Dinner spots, we were having regrets about not eating lunch at this Angry Trout place in Grand Marais. There was even a place near Big Bay that Julie wished we had lunched. So once again this made us regret not having another night or more time to stop. Anyways, we did make a stop for this place called the Rustic Inn, where we enjoyed a pie or two.
Julie got a fruit pie of North Shore blueberry crumb, while Tahia and I shared a five-layered cream pie. I know it's not normal to have a dessert before dinner, but we had to see what the pie hype was all about anyways. So this indulgence kind of made a Betty's stop unnecessary and so we'd continue driving towards Duluth, where we decided to head straight for the Duluth Grill for dinner.
Julie had read this place had organic and vegan dishes as well as your typical diner type fair. But when we arrived at 6pm and saw the veggies and fruits grown right around the building, we had a sense this wasn't your typical diner.
And sure enough when we were having the dinner, we were blown away at Julie's paella as well as my Asian Steak in curry. Tahia was cranky and we got quesadillas for her, but that wasn't anything extraordinary. However, the mains as well as the ravioli that we got were awesome. This was easily the best dining experience of the trip so far, and who knew that such a diner would have these healthy yet tasty options in a state not named California? And in Minnesota of all places?!?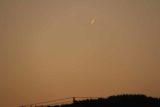 Even the Midnight Delight gluten free chocolate cake with ice cream was awesome. And we were totally devouring the entire dinner. By about 7:05pm we were back in the car. As I was busy filling up gas on the way to the Comfort Suites, I noticed some streak in the sky that might have been a comet or something, or it could just be a plane with streaks. But it seemed kind of otherworldly.
That said, in this twilight hour, we knew the moon would look big if we looked east. And sure enough, when we left and drove the I-35, we saw the impressive moon though it probably wasn't as red just as it would've been just above the horizon. Still, the moon was orangish like it was this morning though we knew it'd get brighter and brighter the higher on the horizon it'd go.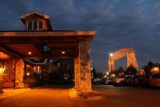 Next, we drove into downtown Duluth on the harbor front where we saw sort of this main night life area though there didn't seem to be that many pedestrians and there were more cars. Still, it seemed like a good place to go for a walk, and had we had more time, we would've done just that.
When we finally checked in at 7:20pm, we went looking for the full moon out our window over the lake, and that was when we were bumming that the moon was hiding behind the clouds. But still, we wanted to seize the moment and go for a walk anyways since we knew there'd be limited time to do this kind of exploration had we not done it now.
So by 7:50pm, we left our room and made a quick walk towards part of downtown Duluth before following the lakefront walk. While we were near the lighthouse, we saw that the moon was starting to get a shadow on it! At first, we thought it was from clouds, but upon closer inspection, it seemed like the moon was undergoing an eclipse!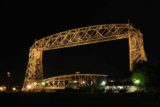 So from that point forward, we'd spend the rest of the evening trying to witness the event and take what photos that we could. Apparently, the rest of the city of Duluth was doing the same thing as it seemed like the walkways (especially by the canal) was full of people gazing at the moon.
But partway through as the moon was continuing to rise and the shadow grew longer, the moon then went into the clouds. So we walked north away from the lighthouse to see if we could see the moon again. Sure enough, we did, which was near some partially submerged ruin, and we managed to get more partila eclipse shots until once again it went hiding in the next batch of clouds.
At that point, Julie and Tahia decided to head back into the room (it was now about 8:45pm), while I now headed back towards the lighthouse again. And along the way, I could catch a fleeting glimpse of the blood red moon with a very slight bright sliver on its periphery before it disappeared for good behind the clouds.
There were fireworks in the distance, and I wondered if they were celebrating the eclipse. Anyways, I took the time to try to wait out the clouds, but they never relented. Or at least never to the point of letting the blood red moon reveal itself completely. So a lot of folks seemed disappointed by this and I had to settle for my couple of photos of the phenomenon in that fleeting moment.
In the mean time, I checked out the famous lighthouse as well as the bridge, which was raised to let some huge tanker or ship through. It was now 9:40pm. And by 9:55pm, I was back in the room to finally call it a night to this very long day. Maybe we might have time tomorrow morning to walk along the lake before leaving. We'll see…
Day 4 (September 28, 2015 – Paulding, Michigan): "The Small Town Feel"
It was 5:30am when I awoke. It was still dark outside so I went ahead and got a head start on getting ready for the day. Julie didn't wake up until about 6am though that was due to the multiple alarms going off (including her annoying one from her iPhone).
It was about 6:45am when we started to notice that the lake view from our room was bright enough to show that there were lots of clouds and we wouldn't be able to see a sunrise. That was a bummer because it's not often that you get to see the sun rise over Lake Superior. So not only did the clouds kind of nix the eclipse experience last night, but it also denied us a sunrise. I guess it just wasn't meant to be with our timing.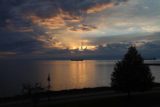 After a waffle breakfast and other sugary continental brekkie items, we then briefly took a few lakeshore shots from the Comfort Inn before getting into the car at 8:15am. Ten minutes later, we left.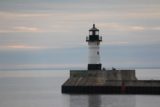 The drive was mostly uneventful as we crossed back over into the Wisconsin side. It looked like partly cloudy skies as we headed east, but then the weather turned towards rain. I guess the forecasts for sunny skies for the next several days was really more of a Minneapolis forecast. However, as far as Northern Wisconsin and the Upper Peninsula of Michigan, I guess some light rain was in the works.
Other than that, we would eventually get onto the Route 169 which deviated from the east-west Hwy 2. Not long thereafter on the Route 169, we then saw a small sign for the Potato River Falls, where we then took an unpaved road for the next 1.5 miles until we got to a parking area with some pit toilets and some picnic tables at 10:30am. The rain was coming down a little bit harder while we were getting ready for the excursion.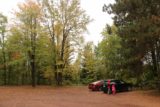 At first, we headed straight down an obvious path leading to an overlook. That view was of what appeared to be the Lower Potato Falls though we weren't quite sure if it was indeed the falls we were after because there was a lot of foliage blocking a more satisfying view of the falls.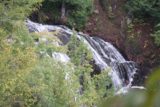 So we didn't linger here for long and then we backtracked to the car park before following the blue diamond path which led to some steps heading to a wooden platform of what appeared to be the Upper Potato Falls. There were a handful of spur trails of use, but they looked quite steep and rough. And with the wetness of the ground as well as the relative lack of size of the waterfalls on the Potato River, we opted not to go for improving the views by risking it on these scrambles.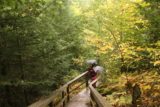 That said, there was another couple from Wisconsin that we chatted with while observing the Upper Potato Falls, and she encouraged us to visit the Copper Falls State Park. I didn't have this on my original itinerary, but given the fairly lackluster Potato Falls experience, we decided to go for the Coppper Falls.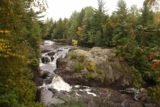 So at 11:15am, we were back at the car. By now, it had stopped raining. So the drive further south on the Route 169 was pretty uneventful as we passed by what appeared to be some local dairy farms. Eventually at 11:40am, we arrived at the very large car park for Copper Falls State Park. However, with this being Monday, the lot was mostly empty with perhaps a dozen or so other cars, while there was probably almost a hundred spaces or more here.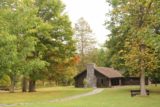 So we wasted no time getting out of the car and following the well-developed trail past some concessionaire building before reaching a junction by a bridge. We opted to keep right in the hopes of seeing Copper Falls before leaving. I didn't really have any intention of doing the entire 1.7-mile loop hike.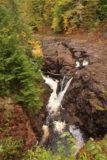 But after a few minutes, we would get to a bridge looking right down at part of Copper Falls. However, it didn't look all that impressive (and it was partially obstructed) from this vantage point. So Julie and Tahia had the intention of going back to the car. Meanwhile, I thought I could do a little more exploring down the trail just to see if there was anything else worth checking out at this state park.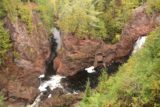 After a few minutes of hiking, I encountered a couple who seemed to be on their way to finishing off the entire looop hike. They totally encouraged me to do the whole thing though I also couldn't keep Tahia and Julie waiting in the car for too long. So as I proceeded further on the trail in a counterclockwise direction, I then saw that there was an impressive waterfall near an overlook. It turned out that this falls was Brownstone Falls, but it was fairly obstructed by cliffs and foliage from this viewing angle.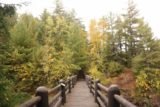 So I had to make a decision whether to keep going on the loop or run all the way back to the junction by the bridge, then take the trail in a clockwise direction just to check out Copper and Brownstone Falls (but not do the entire loop).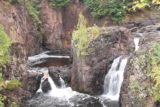 I ultimately decided to do the latter, and when I backtracked to the bridge, then crossed over and starting hiking in the clockwise direction, it didn't take long before I saw a sign and a pretty decent view directly at the last segmented tier of Copper Falls. I knew that this falls had two sides to it, and now I could see both of its sides (or split tiers). That was satisfying, but I also knew that there was still a little bit more of hiking to check out Brownstone Falls.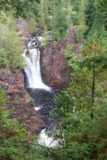 Eventually, I went up the 0.3-mile trail to the other overlook of Brownstone Falls, and when I was there, I could get a direct view of the impressive waterfall. I could also see that there was someone else on the loop trail going to the lookout platform right at the top of the falls.
At this point, I had no intention of getting to the Devil's Gate or the Tyler Cascades (where that other hiker atop Brownstone Falls would have seen to get to where he was at). So I had no idea what they looked like nor if I would regret the decision not to finish this loop. But whatever the case was, I had seen the two main highlights. So now it was time to return to the car where Julie and Tahia were waiting.
At 12:30pm, I was back at the car. If I had to do this excursion all over again, I would do the whole 1.7-mile loop in a clockwise direction. That would at least minimize the backtracking. But nonetheless, I could see why this state park would be popular. It was certainly better than the Potato Falls experience. So I would probably give the Copper Falls experience at least a 2 or 2.5 in rating.
Next, we drove back north on the Route 169 then east on the 2 before continuing north towards the southern shores of Lake Superior. It turned out that there was a sign for Superior Falls just as I had crossed over from Wisconsin to Michigan. Once we were at the car park, we encountered a hideous substation infrastructure that was completely fenced off. We wound up going on a short walk to the left side of the substation, and within a couple of minutes, that was where we looked down at the falls towards the Wisconsin side again as we stayed behind the fences to get this view.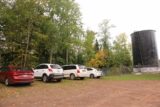 We had gotten there at around 1:15pm, but it turned out that it was also 2:15pm Michigan time, which was something we didn't realize until we saw that the GPS kept adding an extra hour to our estimated times of arrival.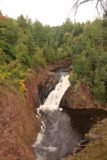 There wasn't a whole lot else to do with this falls unless we wanted to hike towards the top or upper tiers of Superior Falls. There was also a sign that said it went to the bottom of Superior Falls. Nevertheless, we didn't linger here for long, and now it was time to look for a spot for lunch.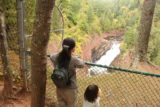 So at 1:35pm we were back in the car. Then, we continued driving towards Ironwood, Michigan. We thought we were arriving at the lunch spot at 2pm, but really it was 3pm because Michigan was on Eastern Time. So that probably explained why most of the places seemed closed except for this diner called the Pines Cafe.
This was more of a typical diner where we got some standard spaghetti with meat balls as well as some chicken stir fry. Their breadstick was delicious and almost donut-like in its crustiness. The garlic bread was also quite good. The waitress had this familiar oshkosh accent that was very endearing. Julie and I looked at each other and smiled when we heard her say to another customer, "Oh, you betcha!"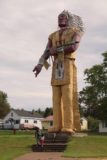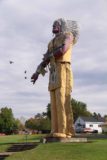 We left the diner after paying in cash. That probably explained why the prices here were so reasonable as it all costed us $21 including tax and tip. We then headed towards the Hiawatha statue which was said to be "the largest Indian statue in the world." Though I'm not so sure that's an accurate statement, we decided to check out the statue since we saw it from near the Pines Cafe anyways when we were looking for a bite to eat in town. By the way, perhaps it was probably more accurate to say that the Hiawatha statue was the largest Native American statue because we saw much bigger Shiva statues in India.
So now we were making good on paying it a visit and taking a few photos here before continuing on towards Paulding, Michigan, where we were to stay for the night. We had our fill of the statue at 4:05pm, and by about 5:20pm, we finally arrived at the Running Bear Resort. That was when we checked into the rustic cabin and after getting settled, we then headed out to Bond Falls at 5:20pm.
At 5:40pm, we arrived at the car park for Bond Falls. They wanted $9 for non-Michigan residents to pay and display, but we had to self-help since no one was manning the kiosk. Then, we quickly walked down to the boardwalk area which afforded us a plethora of views of the falls. Bond Falls was impressively wide with character. Julie was so impressed with this waterfall that she thought it was her favorite of the trip. But I thought the Fall colors further accentuated this falls.
It was quite a photo friendly one given its rivuleted appearance. And when I went up to the top of the falls, I saw over its brink that I could photograph the falling water with Fall colors as well! We then had this idea that we really ought to go back to the car to get the tripod, then come back and take family photos (something we hadn't really done all trip long).
Once we did that, we spent a few more minutes taking family shots before we then headed back towards Paulding for dinner at 6:55pm. We ate at this place called Char's Cafe, largely because it seemed to be the only place in Bruce Crossing with favorable reviews on TripAdvisor or Yelp.
So at 7:10pm, we showed up at Char's, which was pretty much like a local diner or cafe. We had ourselves some salmon filet and New York Steak. The food wasn't very good (and I wished I had tried their Philly Reubens Special which seemed like a particular version of Philly Cheesesteak Sandwich with sauerkraut). But I think this place more than made up for it by the small town charm and ambience. In fact, there was an elderly lady sitting next to us who made small talk with us (mostly because Tahia was always the conversation starter). Plus, it seemed like the waitress knew a lot of the people in the diner on first name basis.
We learned that the lady sitting next to us (also named Julie) lived nearby and she was advising us about Agate Falls, which we would have to do tomorrow as we had run out of time today. I learned from her that you pronounce it "AG-uht" and not "uh-GAIT". I learned from her that it was real easy to visit the falls by checking out the overlooks, but in order to improve the view, you had to scramble to the bottom, which sounded like it could be risky (wondering if it would be like the situation at Potato Falls today).
She was so sweet that she even made some boat oragami with a dollar bill, which she wanted to give to Tahia. She also suggested that we check out a local convenience store to look for post cards to see what Agate Falls would be like since she suggested that all of the different waterfalls comprising Agate Falls were captured in the post cards there.
When Julie heard her local accent, she asked about her ancestry thinking that there was probably some Scandinavian influence in there somewhere. Well, it turned out that her father was from Finland. So it wasn't Norway (or even Sweden) like we had expected, but the Scandinavian influence was definitely still there.
Meanwhile, after the dinner was over, we indulged in their dessert, which was chocolate fudge cake. All of us devoured that. As I was paying at the cashier, the waitress suggested that we should check out Okundekun Falls, which was north of Bruce Crossing but would require a little over a mile walk in each direction. I don't know if we would have the time to do this tomorrow since we had to go to Munising.
By the way, the waitress corrected me and said it's pronounced "MEW-ni-sing" and not "MUHN-ih-sing". She also recommended that we check out Mackinac Island, which was something we were already planning on doing in a couple of days.
And with that, we left the diner at 8:20pm, then we drove in the dark towards Paulding as it was time to return to the Running Bear Resort to finally settle down. We'd get there at 8:35pm, where the place looked much busier than it did earlier this afternoon. I'm guessing most of the guests here were either fisherman or hunters.
Regardless, there wasn't any deer jumping out in front of our car so I was relieved that for now we wouldn't have to deal with night driving any more. That said, it was getting quite chilly, which really contrasted with the warm and humid weather we were getting in Minnesota and Wisconsin. But now, apparently there was some frost warning for early tomorrow morning, so I'm sure black ice would be on my mind when we would be driving deeper into the Upper Peninsula.
And since we were in some basic accommodations (we also couldn't figure out how to turn on the heat), there wouldn't be distractions so we shouldn't have any problems catching some z's and being well-rested for tomorrow. We were going to sleep in a little bit since it doesn't even get light until probably around 8am or so. So for once, we wouldn't have to wake up at some crazy early hour like we had been doing for at least four days in a row now…
Day 5 (September 29, 2015 – Munising, Michigan): "Pictured Rocks Alternatives"
It was 7:50am when we awoke. Being in such a basic and rustic accommodation while we still couldn't get the heater working last night meant that it was also a very chilly morning. I guess that made it easier to sleep in on this day.
It seemed like this was the very first time that we felt the true onset of Autumn. All of our previous days in the Great Lakes area around Minnesota, Wisconsin, and Ontario were kind of on the muggy and warm side (even though the temperatures never really got high above the 60s). However, this morning, we knew that it was in the 30s. But since we were kind of forewarned by the forecasts last night, we suspected as much.
Anyways, we were out of the Running Bear Resort at 9am, and per the GPS instructions, we followed the Bond Falls Road towards Agate Falls. Along this road, we saw that there was a lake and hydroelectric dam upstream of where we knew Bond Falls was so the infrastructure also bore the name of Bond Falls Dam or something like that. That might explain some of the canal-like barricades built on the banks of the watercourse to ensure the water was funneled over the falls and not spilling onto the trail.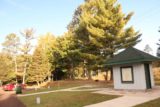 Eventually at 9:25am, we would arrive at the Agate Falls car park, which was well-signed off the main highway. We opted not to take the Bruce Crossing route since it seemed like the Bond Falls Road was shorter. Regardless, we parked the car and then we promptly braved the 40F morning as we put on jackets and quickly headed beneath the highway bridge and ultimately beneath the railroad bridge towards the overlook.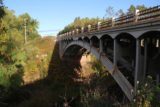 Once we were at the overlook, we were underwhelmed with the obstructed view above the top of Agate Falls. I saw that there was evidence of trails of use leaving the viewing platform. One path seemed to head upwards towards the railroad itself above us. The other path seemed to head towards the fencing below us. Not being familiar with this area, we weren't sure if we could get a better view of the falls, but I had recalled from my trip research that we knew it was possible. Even the lady we were chatting with at Char's last night also suggested that it was steep, but she was able to do it when she was younger.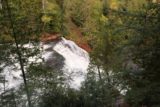 Nevertheless, I was still in Chacos and unprepared, and so we all headed back to the car. We got back at 9:50am, and that was when I promptly changed into hiking boots. Julie looked at the map at the trailhead, and she thought the Agate Park was where we should be going. But after looking at the laptop where I had stored my trip research, I knew that we were in the right place.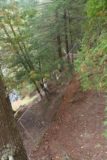 So I solo'ed all the way back to the overlook. Then I looked around for more evidence of going down to the bottom. When I got to the fence, I could see that there was indeed a trail of use that continued beyond the right side of the fence (but not going down the steep gully immediately behind it). I'm guessing that fence was put there to keep people from going down that steep and eroded gully. Instead, it seemed like the trail following along the cliff seemed reasonable.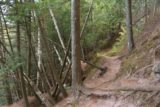 While there was some cliff exposure, it seemed like any other ledge-hugging trail that we've done before. I really thought they should improve the access to view this waterfall since all this trail scrambling was surely going to result in erosion over time. And everyone knows that overlook was pretty terrible so they'd be looking for ways to improve the experience. We saw that Bond Falls had excellent facilities, but this place seemed to lack it.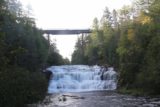 In any case, I continued on the gradually descending "trail" until I finally made it down to the bottom. Once there, I was along the river banks where I could get that satisfying view of Agate Falls backed by the railway bridge. I think given this experience, I would rate this falls something on the order of a 2.5 or 3.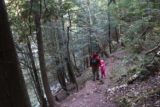 Once I had my fill documenting this falls, I then headed back up the trail to rejoin Julie and Tahia. However, before I had made it all the way back to the overlook, I heard Tahia yelling out "Daddy!". And sure enough, both Julie and Tahia had left the car and were already on their way down to get a better view of Agate Falls. I assured them that this was not a bad trail at all, and within minutes, we were at the same spot that I was chilling at earlier.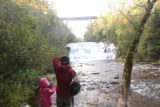 Now, we took advantage of family photos with the selfie stick as well as me taking a few more photos of the falls. I figured I mind as well because you never really know which photos or videos would turn out.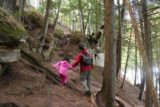 On our way back up, Julie and Tahia headed for the car. Meanwhile, I found an angled side view of the falls near some rock cliffs. I took a few more shots before continuing back up to the sanctioned walkway. There was a middle-aged couple that started their scramble down to the bottom, and they told me, "If a four-year-old could do it, we can too! She egged us on."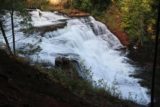 Clearly, they must've seen Julie and Tahia.
At 10:45am, we were finally back at the car again. I didn't expect to spend 90 minutes here, but it was a good thing that we managed to get the proper view without giving up. Now, we could finally head towards Munising.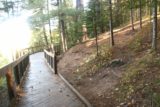 At 12:10pm, we showed up to the Target in Marquette, which seemed to be a pretty big town on the southern shores of Lake Superior. Julie wanted me to stop here so we could pick up more warm clothes for Tahia since it had gotten cold all of the sudden, and Julie wasn't sure about whether to bring warm weather clothes or cold weather clothes. She had brought half-and-half, and I guess she felt it wasn't enough for the remainder of this trip.
We also got myself a swimming trunk since I hadn't brought one on this trip. But after seeing an indoor swimming pool in a couple of the accommodations already, Tahia really wanted us to let her play in the pool so this would at least open the possibility of me being with her in the pool to play.
Then, we ate a sandwich at Togos further along in Marquette before we finally headed out at 1:10pm. We'd eventually arrive at the Holiday Inn Express on the outskirts of Munising at 1:50pm. So we promptly checked in, and left our luggages in the room. But then, we saw the lake view we were getting from our room and we decided to spend some time taking photos and taking advantage of the view under partly cloudy skies.
Eventually at 2:20pm, we were back in the car and headed into the town of Munising so we could try to catch a boat cruise of the Pictured Rocks. When we arrived at 2:30pm, we saw a sign on the door saying that all cruises today were cancelled due to high winds and big waves. I guess all those whitecaps and waves that we were seeing were a bad sign earlier on.
So at 2:40pm, we were back in the car, and then we decided to head over to the National Park Info Center at 2:45pm. While there, we managed to get a little brochure about waterfalls in the area as well as a map. Then, we essentially embarked on a local waterfalls self-guided tour since we had to find an alternate to the Pictured Rocks boat cruise anyways. And that also pretty much changed our plans for tomorrow as we'd have to linger in Munising for a bit longer until we could go on the cruise (hoping it wouldn't be cancelled again).
Then, that would put pressure on us to try to catch Tahquamenon Falls tomorrow afternoon since we probably wouldn't even be leaving Munising until probably 5pm! And if we couldn't do that waterfall tomorrow, then we'd have to do it the following day, which would impact how much time we could spend on Mackinac Island.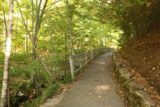 In any case, we drove off and headed to Munising Falls, which was only a couple miles away. And at 2:55pm, we parked at the Munising Falls trailhead. The parking lot here was huge, but it was also right by some hospital here. This place also seemed to be part of the Pictured Rocks National Lakeshore so we were seeing those familiar brown signs indicative of something administered by the National Park Service.
The 800ft well-developed walk was on a combination of boardwalk and well-defined trail beneath the shade of trees that hadn't quite changed color (though some were starting to). Meanwhile, there were a couple of branches of the trail leading higher in the small gorge. But I first headed directly to the end of the middle trail, which ended at an overlook of the impressive Munising Falls.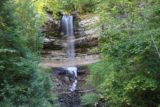 The falls had a light plunging tier before cascading down its remaining height into the creek below. While Julie and Tahia were still on the walkway many minutes behind, I went ahead and climbed up the stairs leading up to a very obstructed angled view of Munising Falls.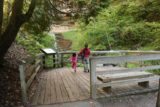 It looked like the trail was supposed to continue towards the backside of Munising Falls. However, they had erected barricades to make it harder to do that. So I headed back down the steps as Julie and Tahia had just arrived. We then spent some time taking family photos of the waterfall before we started to head back.
Julie and Tahia continued back towards the car, but I then took the other ascending path, which was actually interesting in that it followed some nice cliffs before ending at a fairly open angled view of Munising Falls. Again, there were barricades erected to keep me from getting behind the falls. So I documented what I could before heading back down to the car park.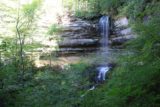 At 3:35pm, I was back at the car park, and then we headed towards Miner's Falls. The drive continued further to the east of Munising before going straight shot. Then, we turned left onto a forested road that was mostly straight. Then, we took a one-mile unpaved road leading to the car park for Miner's Falls trailhead.
Parking seemed limited at the trailhead as we were fortunate to have one spot available. Other cars showed up after us and they couldn't find parking. So they had to park where the trailers and RVs were. Anyways, we had arrived at 3:50pm, and we then promptly embarked on the 0.6-mile trail.
The trail itself was nice and mostly flat. Most of the trail was shady under some very tall trees. Again, it seemed like the Fall colors hadn't arrived in this part of the Upper Peninsula as the trees were still predominantly green. There were also some numbered posts along the trail, which were interpretive markers keyed to one of the trailhead signs.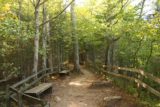 It was still windy with plenty of wind chill so that kept us moving quickly while also keeping entertained by saying hello to every passer-by (most of them willing to indulge since they found Tahia to be cute).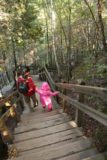 Once we arrived at the stairs leading to an overlook of Miner's Falls, there was only a couple of ladies taking photos. We joined them and took what photos and movies that we could for the brief moment we were able to in the limited space. However, it didn't take long before there was a much larger group that crowded the overlook and now it wasn't so easy to take photos here.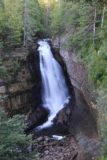 Some of the younger folks hopped the barricade and climbed further down the slope on what appeared to be a former trail or stairs. This seemed like yet another example of incomplete or deprecated infrastructure (just like at Munising Falls) and I wondered if this was now the common theme of National Parks infrastructure to keep people from suing the service for any injuries.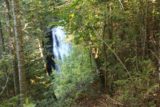 Anyways, that was our cue to head back to the car park, and we promptly did that. Eventually at 4:40pm, we were back at the trailhead. We suspected that the popularity of this trail largely had to do with the Pictured Rocks Cruises being cancelled today. That also got us in the mindset that perhaps we should go ahead and book our tickets for tomorrow since there might be more people on the cruises than normal given today's cancellations.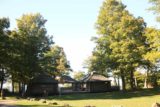 Ten minutes later at 4:50pm, we were at the car park for the Miner's Castle. Again, it was windy and bitterly cold, but when we got out to the upper lookout, we were quite impressed with the rock formation with cliffs forming a crescent below us. There seemed to be smaller arches and blowholes as water would be thrown sideways forcefully below us. In short, it was an awesome view!
Plus, it seemed like this time of day was the perfect time to take photos as the colors of the cliffs were brought out. I'm sure this view would've been even more divine had the leaves changed colors even more. But alas, that wasn't meant to be on this day.
For Julie and Tahia, their visit ended when Julie's phone died so we couldn't do any family selfie shots. Meanwhile, I lingered a little bit longer before walking to the lower lookout. It turned out that the lower lookout was basically near the Miner's Castle formation. There would've been a nice view of the cliffs beneath the upper lookout, but the trees kind of obstructed the view, and the late afternoon sun was against me.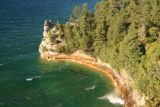 From reading some of the signage here, I learned that there was a Grand Portal Arch somewhere along the coast that collapsed in 1900. That arch looked really impressive as apparently ships could pass beneath it. I guess the turbulence of the Lake Superior waters, especially when it's windy like today exhibited the kind of violent forces involved that also created the Pictured Rocks that was so coveted in this area.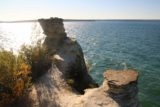 On my way back up to the car park, there was a group that was headed down to the lower lookout. One lady asked if I saw the eagle, and I was surprised by it. But when I returned to the upper lookout, I didn't see the eagle. However, I did see a bunch of more photographers donning SLRs and tripods trying to capture Miner's Castle in the warm late afternoon light. I'd have no prayer of trying to get more shots at this time as that platform was full of people.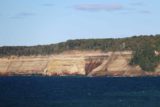 So at 5:25pm, I was back at the car park. We then drove all the way back to the cruise dock in Munising to buy the tickets that we probably should've bought when we first showed up earlier today. Once we secured our tickets for tomorrow at 2pm (the earlier we could do the Spray Falls Cruise) for a hefty price of $75 for all three of us, we then went looking for the last couple of waterfalls – Wagner Falls and Alger Falls.
At 6:05pm, we arrived at the Wagner Falls Trailhead, which was right off the Hwy 94. We saw Alger Falls right by the junction of the M-28 and M-94. But that waterfall was so small and weak that we didn't even bother stopping for it to photograph even though it was right off the road.
Anyways, when we arrived at the trailhead for Wagner Falls, Tahia was already out. So I made the first move to visit Wagner Falls. I brought an iPhone along to take photos for Julie. Meanwhile, it turned out that the developed walkway wasn't long at all (maybe less than five minutes), and I ultimately arrived at the limited-space viewing deck where there were already two folks with tripods there.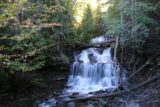 It felt like we were intruding on their photos when it came to taking our own photos so I tried to take photos from further down the walkway, which also meant that it was likely I'd be capturing the falls with that infrastructure there. However, I did manage to get a nice view of the falls inadvertently by composing the falls with a tree that happened to be getting some Autumn colors.
Anyways, I quickly did what I had to do to document this waterfall. Then, I promptly returned to the car park at 6:25pm. I knew that Julie was itching to have dinner, but it seemed like Munising didn't really have many dining options. And when I showed her my pictures of Wagner Falls, she decided we should just go for dinner now (instead of Julie taking her turn at checking out the falls).
We decided to drive back to the town of Christmas to check out Foggy's, which was perhaps the only real dining choice in this area. The main draw there was to try the Lake Superior Whitefish. It turned out to be not far from our Holiday Inn Express accommodation, and we'd arrive at 6:40pm.
We wound up with a simple dinner of Baby Back BBQ Ribs (so Tahia could eat it) as well as the Lake Superior Whitefish prepared with blackened seasoning. We could see the grill where the employee would grill the meats or the fish. I wished we could've also tried the Lake Trout as well, but I guess we could try that later in another place.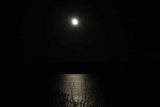 Anyways, at 7:55pm, we made it back to the Holiday Inn Express, where we'd spent the rest of the evening enjoying their pool area (Tahia was really looking forward to it), and then chillaxing in our room, where we also saw an attractive almost-full moon over Lake Superior. I'd bet that if we didn't go swimming in the pool here, we probably could've seen the moon appear bigger and closer to the lake, but hindsight's 20/20. We had already gotten our eclipse shots two days ago, and I'm sure the now-waning moon could still look attractive if we happen to show up in Paradise at twilight.
We'll see how things go now that we're in improvising mode given the weather cancellation today…
Day 6 (September 30, 2015 – Paradise, Michigan): "The Tahquamenon Phenomenon"
It was 6am when I awoke. It was still dark outside though it seemed like there was a bright star amongst a smattering of stars hovering over Lake Superior. I spent some time getting all packed up while tending to my hygiene. Then by 6:25am, I went downstairs to get the included breakfast.
There were probably a couple more people in the breakfast in addition to me. It seemed like I wasn't the only early riser. And by 7am, I went back up to the room for some last minute preparations then kissing Julie and Tahia good-bye for the time being as I was about to embark on my morning hike to Spray Falls while they could sleep in and enjoy the Holiday Inn Express Property until I get back.
My pre-trip research had me believe that it was probably around a five-mile hike to get to Spray Falls and back. So I expected to get back to the Holiday Inn by 10am.
At 7:10am, I drove off. The sun hadn't risen yet, but I could tell that the sunrise promised to be beautiful, especially since our room was facing the general direction of the sunrise.
The drive out east was mostly uneventful which was a good thing, especially since I didn't want to hit a deer knowing that they were probably active from dusk till dawn. Unfortunately, I missed out on the pink clouds as the sun had already gone up during the course of getting out to the start of the hike.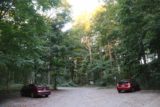 I was headed to the Beaver Lake Campground, which I had read from my pre-trip research that that was the nearest starting point for the shortest hike to a view of Spray Falls. I wound up getting to the trailhead at 7:50am. The drive ended with an unpaved three-mile stretch after turning off from the H-58. There was one car already at the trailhead, and it looked like the sun had already breached the horizon by now.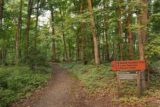 But when I looked at the signage, I knew right away that my initial feeling that this hike was only around 5 miles round trip or so was wrong. Instead, I realized that I had grossly underestimated the overall distance and that it was more like 8.2 miles round trip!
So at that point, I resigned myself to the fact that there was no way I was going be back at the Holiday Inn Express when I had expected somewhere between 10-11 this morning. Instead, it wouldn't be until closer to noon that I would have to shoot for. Moreover, I would have to trail run where I could to even make that deadline. The start of the hike was very cold (like 35F or something like that). So I had my jacket on and two bottles of water.
As I was going as fast as I could while the trail steeply descended towards some boardwalk alongside a creek, after about a mile, I saw a spur for Beaver Lake, but I noticed there was a view of some smaller "lake" or pond, which produced nice reflections. I took shots of that but I didn't go any further knowing that I now had to be efficient.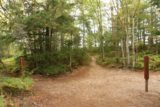 I also noticed what appeared to be tiny coves or caves and rock formations en route. Once again, I took what photos I could before continuing on since it was still somewhat dark as the sun's light hadn't yet penetrated the forest floor.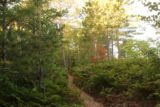 At 8:30am, I junctioned with the North County Trail (NCT), which was the Lake Superior shoreline trail. There was signage here indicating that this was the way back to the campgrounds and trailheads so that would make it easy to identify on the return. Anyways, I could see right away that there was beach access. I opted not to go down there right now since the lighting wasn't good.
Anyways, the NCT followed what seemed like mostly forested trail with a few opportunities for the trees to open up and reveal the lakeshore. I kept hearing waves splashing against the cliffs below or the beaches below, which made this feel more like a coastal walk along the ocean than a lakeshore walk. But that just illustrated how big Lake Superior was (that it was behaving more like an ocean than what I had normally thought for lakes).
In one small detour, I did get down to the beach for some views just to see what it would've been like to even be at a soft, sandy beach in the Great Lakes. It was certainly better than the convenient beaches at say Munising that we'd seen so far.
Along this 2.5-mile stretch of trail, I noticed spur trails going further inland towards camgrounds labeled "Covers". There were also a few more informal trails leading to more coves or caves. As I went further along this part of the NCT, the trail started to show more of the lakeshore (some parts were even hugging dropoffs though it was nothing like the Na Pali Coast hike in Kaua'i in terms of drop off exposure).
In a few sections, I had to climb up steps then descend steep paths. I knew those parts might be challenging on the return, especially if I was to make haste.
At 9:10am, I had passed the Cover's Group Campground. Still unsure of how much further the Spray Falls view would be, I kept trail running where I could. Then, finally at 9:25am, I saw a sign indicating Spray Falls.
The spur trail descended onto an open outcrop where I was finally able to get a distant view of Spray Falls itself. There were also dramatic cliffs between the falls and this outcrop I was standing on. Now I was keenly aware of how these cliff formations came to be so I'm sure it would only be a matter of time before even this overhanging outcrop might collapse. So that meant that I had to minimize the amount of time I'd be standing all the way at the end of the outcrop.
Although the view of the falls was distant, the photos were plenty satisfying. I wondered if the boat experience might yield similar photos of this calibur. That said, I suspected that the boat itself might be busy and there might be limited opportunities to take photos from the desired vantage points on the boat itself.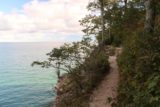 So I spent about 20 minutes documenting the falls and especially trying to convey the cliffs indicative of the Pictured Rocks while showing the waterfall at the same time. The sun's rays hadn't quite reached the waterfall but there were moments where some morning clouds had blocked the rays anyways.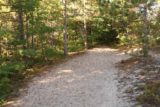 At 9:45am, it was time to go. Once again, I trail ran where I could though the roots and narrowness of the NCT kind of ensured that I could only run in bursts. Fifteen minutes later, I saw one other hiker along this stretch of trail, where we had a brief chat before I kept going. He was doing the long hike along the NCT all the way to Munising.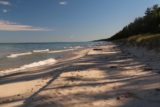 At 10:25am, I was back near the trail junction leading back along the White Pine Trail towards the trailhead and Beaver Lake. This time, I took the path down to the beach, which was very easy (albeit very sandy), and when I approached the beach, I saw a guy packing up his tripod and on his way out.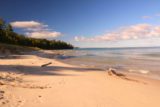 The sun had reached the beach partially now, so I took a few beach shots along the coast of Lake Superior. Once again, I had completely forgotten that I was on the shores of a lake and not the ocean though this place exhibited all the characteristics more typical of a beach at the ocean.
Once I had my fill of the beach, I continued trail running back to the trailhead. I even caught up to the guy taking photos at the beach and I managed to startle him as he wasn't expecting another hiker to be behind him.
By about 11am, I had finally made it back to the car park. Now, there were three cars at the car park instead of two. I suspect that second hiker must've drove that third car. When I got back inside the car, I noticed that the air temperate was now about 53F, which was 20 degrees hotter than when I had first showed up.
Anyways, now I had to make the fairly non-trivial drive all the way back to the Holiday Inn Express in Munising. It looked to be about a 40-minute drive so I was moving quickly on the unpaved and paved roads, which were surprisingly mostly straight shot.
And as expected, by 11:40am, I had made it back to the Holiday Inn. That was when I finally saw that twenty minutes ago, Julie had sent me a text on my rarely-used iPhone. I was well aware that check out was at 12pm so by virtue of me rushing to get back here, we were all ready to go before check out time. And sure enough by 11:45am, the car was all loaded up and now it was lunch time in Munising.
Our cruise wasn't until 2pm so we thought we could kill some time at this place called the Falling Rock Cafe. We'd get there at 11:50am, where all of us enjoyed some quinoa salad with a couple of sandwiches (avocado chicken sandwich and whitefish bagel). There was also a hot apple cider that was just right to offset the chilly day.
The ambience inside the cafe was as if we were eating in a converted library or bookstore or something. There was a certain small town charm about this place. Plus, we were even able to enjoy a post-lunch ice cream while looking out the windows at passer-bys (few on foot as it was mostly vehicular traffic) near the center of town.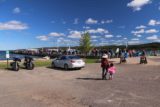 At 1pm, we were finally back at the car. Now, it was 56F as the day continued warming up. At 1:15pm, we were now at the boat dock but now we could see that there was huge line on the dock. Apparently, a bus tour had dropped off its passengers for this cruise, and it was clear to me that this was gonna be a crowded cruise boat as I had suspected.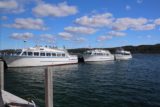 Still, these folks must've been here since 1pm at least since we were some 45 minutes early. That's crazy! We probably could've done without chilling out the extra time at the Falling Rock Cafe, but then we would've missed out on the slower pace of life here in Munising while enjoying that boutique small-town charm that seemed right for a place like this.
Eventually, the line was moving shortly before 2pm. This line wound up filling up two boats. Julie and Tahia had to settle for middle seats inside the boat while I had to settle for one of the middle seats on the top deck. It was a little on the chilly side, so it was a good thing that I was bundled up in my jacket that we had picked up in the UK last Summer.
Once the boat cruise started, the narrator did say that we could walk about on the aft deck, and that was pretty much where I had remained for the whole time the boat was going towards the Pictured Rocks. It quickly got pretty crowded there so I wasn't about to vacate my spot knowing that I'd then have to settle for looking over peoples' heads or between shoulders.
Anyways, the lighting was a bit on the harsh side when looking back towards the southwest. Some of the Pictured Rocks cliffs were in shadow at the time. Again, I really wished we could've done the 4pm cruise for Spray Falls, but that would mean driving in the dark to get all the way to Paradise. And we couldn't afford to risk a deer incident or something.
Some of the highlights as far as taking pictures were concerned were the rock formations like an arch formation known as Lover's Leap as well as the Grand Portal (or what was left of it since the full-sized arch that large boats could get through had collapsed in 1900).
Miner's Castle was also visible though it looked smaller compared to some of the adjacent cliffs. Plus, there were some red-streaked curvy cliffs as well as some coves and tiny caves in shade as well. In between the cliffy stretches, there were also beaches. The last of the scenic rock formations was Chapel Rock.
Finally, the boat went another mile beyond Chapel Rock towards Spray Falls. And as expected, we managed to get straight on views of the falls. Julie couldn't take any satisfying photos (too many heads and too much window glare) so she gave me my iPhone to take photos with it on her behalf. Meanwhile, I did what I could to document the experience taking a movie, and taking plenty of shots on my SLR.
Then, the boat turned around and headed back. Now the views of the Pictured Rocks were on the left side of the vessel. I didn't have much of a shot of being against the railing to take intimate shots on the way back. But I did manage to get back to an open seat on the top deck and try to take shots in moments peoples' heads, hands, and other things wouldn't be in the way.
As I had suspected, the lighting seemed to get better the later in the afternoon it became. Those folks in kayaks probably had the best opportunities to get those post card and framed shots we saw so often in any restaurant or accommodations. That definitely wouldn't happen on a crowded cruise.
And as far as lighting was concerned, definitely as far as Spray Falls cruises were concerned, the 4pm one was the right one. The sunset cruise at 5:15pm seemed to be such that it might be close to dark by the time the cruise was over. Plus, that last cruise wouldn't even go to Spray Falls. Oh well, Mother Nature decided we couldn't do the 4pm cruise yesterday given the high winds so that was the end of that.
The cruise seemed like it was moving much more slowly than it had been earlier on. So I guess that afforded more people opportunities to take what shots they could now that the left side of the boat was crowded with people. Eventually, the boat stopped before the lighthouse on Grand Island, which had this grayish schoolyard look to it.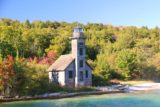 Then, at 4:45pm, the boat disembarked just as predicted. Indeed, this cruise was two hours and forty-five minutes and they seemed pretty spot on with the trip duration. At 5pm, it was time to leave, and make the long drive towards Paradise, MI. I was hoping along the way to do Tahquamenon Falls before it gets dark. We'll see how that goes…
We'd eventually make it to the Upper Tahquamenon Falls car park at 6:25pm. There were still a lot of cars this late in the day, plus there was even a restaurant. Indeed, this highlighted just how famous this falls was. I contended that it was probably the most famous waterfall in Michigan.
As the late afternoon light was fading on this day, we hastily rushed our way on the paved walkway towards the overlooks. There seemed to be quite a few families with lots of kids here, which further attested to the family friendliness of this place. When we got to a junction, we kept right to get closer to the brink of the falls. However, once we got to the two upper lookouts down at the falls, we were looking right against the late arvo sun.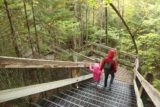 Julie and I knew that we'd have to come back tomorrow, which meant we'd be touring Mackinac Island a little later than we wanted. Still, we had to seize the moment and take what shots that we could right this instant.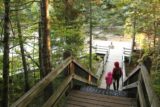 We then descended the 94 steps to the brink of the falls, where we could truly appreciate the power of the falls as it seemed to be running full. Now, we got the sense that this might be bigger than Cumberland Falls in Kentucky though it seemed to have a very similar characteristic to the Niagara of the South. And our Cumberland Falls experience was during the height of the Fall colors while this area in the UP still hadn't gotten to the peak of the Fall colors. It might require another week or so.
In any case, Julie told me this waterfall was a definite 4. We took what photos we could given the predominance of shadows. Then, we promptly went back up to the main walkway again. Julie and Tahia headed back to the car, while I would quickly tour the gorge views further downstream.
There was a nice top down view of the whole of Tahquamenon Falls along the way (though there were foliage obstructions). By now, the sun was pretty much beneath the horizon.
As I descended the 136 steps to get down into the gorge, I could see that darkness was coming on fast. Eventually, I'd get to the viewing decks from within the gorge, where I could see the entire width of Tahquamenon Falls. For sure, we'd have to come back here tomorrow for better light.
At 7:35pm, I was back at the car. Now, it was time to drive in semi-darkness knowing full well that deer could jump out onto the road at any moment. Thankfully, at 7:55pm, we were finally at the Magnuson Grand Hotel, where we could check in and have a late bite.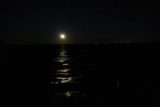 The restaurant and smokehouse was right in front of the hotel so we could walk there once we got all settled. The food we got there was a pork belly ribs and some pretzel-crusted whitefish as well as a bigo which was a hearty stew as an appetizer. The bigo and whitefish was good but the pork belly wasn't slow roasted for long enough so it was on the tougher side. They also ran out of smores so we didn't get dessert.
The staff here was very friendly, and they loved to interact with Tahia. In fact, that seemed to be the common theme in most of the restaurants we had eaten at. Though this place seemed to have a small local feel to it. We weren't the last to show up here, but we were definitely the last to leave as all the people left here seemed to work here.
By 9:30pm, we were back at the room. Now, it was time to unwind and get cleaned up on this very busy day. Then call it a night…
Day 7 (October 1, 2015 – Mackinaw City, Michigan): "Wisteria Lane"
It was 6am when I awoke to my alarm. Julie awoke at 6:30am. We spent the better part of this morning getting packed up and ready to go. At the same time, we noticed outside that the sun was about to rise as our room was facing east towards Lake Superior.
The red lights that we were seeing way in the distance last night turned out to be windmills (i.e. the energy-generating kind). I braved the bitterly cold morning as I went outside fully bundled up to try to take a few photos of the scene as the sun had not yet breached the horizon but it did leave some reddish and orangish glows on the horizon. The wind was strong and there were some really choppy waters splashing against the lakefront.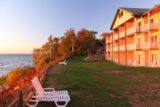 The sun didn't rise until about 7:40am. There weren't clouds around so the sunrise wasn't as interesting. Still, it was nice to see this as our other opportunity at seeing a sunrise was clouded over in Duluth, Minnesota (where the clouds also ensured we wouldn't be seeing the full eclipse either).
Shortly thereafter, we had our breakfast, and then we were in the car at 8:25am. It was still quite cold thanks to the windchill. Anyways, we decided we should head back to Tahquamenon Falls to take photos of the Upper Tahquamenon Falls in better lighting than yesterday afternoon.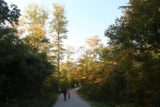 We ultimately got there at 8:45am, where we were the only ones there besides the park employees. We hastily went towards the overlooks, but right away we could see from the very first overlook that there was quite a bit of fog obscuring the waterfall. So given that, we didn't want to linger longer for the fog to burn off (it could take a couple of hours). And since we still had to get all the way to Mackinaw City and tour Mackinac Island, we couldn't linger for too long out here.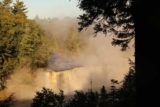 As we got back to the car at 9:05am where it was still 33 degrees F, we decided to head to the Lower Falls instead. Now, a lot of cars were starting to show up so we beat the rush. Howevr, these folks better be prepared to wait out the fog. Fog or no fog, we were going to at least check out this waterfall, especially when we learned that we wouldn't have to hike 4 miles to get to experience the falls.
At 9:20am, we were eventually at the car park for the Lower Falls. Along the way, the kiosk was actually open and we paid the $9 recreation passport fee. It was good for the day though I wasn't sure if there were other state park waterfalls worth visiting within the day to make it worth more than just an Upper Falls visit on top of this one.
It actually seemed more developed at the Lower Falls even though we knew that the Upper Falls was a far better waterfalling experience. We couldn't understand why that was the case other than perhaps there were campgrounds here. In any case, we quickly went towards the nearby overlooks where we saw the Tahquamenon River acting more like a lake with some of its network of falls visible in the shadows in the distance to the left while the falls to the right of an apparent island was mostly obstructed.
We saw signs indicating that the island could be visited during the warmer summer months when row boat rentals would be allowed so visitors could actually get onto the island for a few more close-up views of all five of the waterfalls comprising the Lower Tahquamenon Falls. It wasn't meant to be on this trip for us, but it didn't seem like something we would be missing out terribly on. Indeed, this falls was really more of a backdrop for recreational activities as opposed to a feast for the eyes and photographers like the Upper Falls was.
We proceeded along the boardwalk, which meandered for another 0.3 miles until we got to a closer lookout that allowed us to look down at a wide but short tier as well as a smaller one further upstream. And another minute of walking further upstream on the boardwalk yielded a closeup view of that uppermost tier as well.
We were kind of looking against the light and the shadows didn't make photography here easy. Still, once we had our fill of this falls, we then got back to the car park at 10:15am. On the way out, the fog seemed to have finally burned off so the view of the tiers in the shadowy distance were much clearer than they were when we first showed up. I'm sure if we had returned to the Upper Falls at this time, we'd be seeing that waterfall with the best light.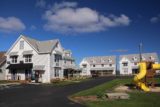 Next, the drive all the way to Mackinaw City was quite uneventful. We'd eventually get to the Clearwater Lakeshore Motel at 11:35am, but it was still too early to check in. Still, Julie managed to score some half-price tickets through the motel, and we wound up at Star Line Ferries at 12:15pm. We paid the $5 to park right in their lot by the dock since we had all our belongings at the time.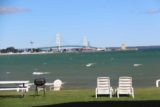 And with that, we patiently waited for the 1pm ferry. Once that happened, Julie and Tahia then went to the lower deck, while I was the only one freezing on the upper deck taking photos. The Mackinac Bridge looked small from the distance, but when you consider that it was five miles long, I guess the bridge had to look small and flat against the lake.
We'd ultimately arrive at Mackinac Island at around 1:25pm. Once we got past the dock area, the first thing we noticed was the horse smell. That was because it seemed like bicycles and horse-drawn carriages were the primary means of transportation on this island. We were also charmed by the colonial-style buildings that really reminded us of Provincetown in Cape Cod, Massachusetts. Heck, we even noticed a couple of Amish families on this island as well.
A few minutes later, we then went into the Seabiscuit Cafe for a lunch. Inside the cafe, there was a nice decor with Halloween decorations everywhere. We enjoyed the tomato bisque and whitefish chowder while also having a Lobster BLT sandwich (where they were generous with the lobster pieces) and pulled pork sandwich so Tahia could eat it.
At 2:15pm, we were finally done with our lunch. Then, we learned from the waitress that it was possible to take a tour of parts of the island, especially to try to get to Arch Rock, which was really our scenic goal of our time on this island. We ultimately decided to do one of those horse carriage tours, which costed us a hefty $28 per adult.
Our tour would begin at 3pm and it was still around 2:30pm so we took some time to try some Mackinac Island Fudge as well as some ice cream. I was bumming that we didn't get to try hot fudge sundae (with Mackinac Island fudge?), but we probably had enough of a sugar rush from our ice creams anyways.
I guess this tour took the climbing out of the excursion, and we learned quite a bit of the area. The horses did most of the work, and we managed to get a few snaps of some things that were a bit beyond the town by the ferry docks. We did one stop at the Surrey Hill area as well as another stop at the Arch Rock, which was reminiscent of a smaller version of what we saw in Capri, Italy.
Unlike the one in Capri, this one didn't require us to do any hiking. In fact, we were only given 5-7 minutes here, but it really wasn't necessary to linger here for too long anyways.
We then got to the Fort Mackinac at around 4:30pm, but they were closed. That was kind of a bummer since we were interested in going inside to see what it was about. And eventually, we were then dropped off by the governor's mansion since it was a real short walk downhill before the fort to get back into downtown. We didn't feel like staying on the carriage all the way back to Surrey Hill, then take the last carriage back down to town.
Once we were in town, we walked along Market Street, which Julie called Wisteria Lane since it reminded her of the homes in that show Desperate Housewives. However, in this case, they had more of a historical charm to it. So we killed some time taking photos of the charming homes as well as the post office where apparently, they don't deliver a single mail. They're more of an aggregator, which brings neighbors together since they all have to come here to get their mail.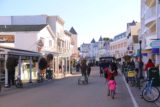 Eventually at around 5pm, we were waiting for the 5:30pm ferry back to Mackinaw City. And eventually by 6:05pm, we were back at the Clearwater Motel. Tahia and I dozed off in the ferry (so no late afternoon photos from the boat). I guess that was ok since I was pretty pooped on this day.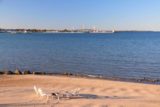 Now that we were able to check in, we dropped off our stuff in the room, then briefly checked out the little beach behind our motel room. Then, we headed over to Darrow's, which seemed to be one of the few places to have a decent meal in town. Once we got there, it was a bit busy so we had to wait in line for a few minutes before we were finally seated.
Once we were seated, we got a cajun-spiced whitefish as well as some kind of chicken breast. The food was quite decent, and even the four-berry Dutch pie a la mode was delicious, too. So by 8:20pm, we were finally back in the room, where we could be comfortable. We smelled the smoke of a campfire because there was one group of folks already gathered around one of those fire pits on the beach.
Once we were inside our room, Julie and Tahia got changed so they could brave the cold night to cross the parking lot and get to the pool. I guess with how bitterly cold it gets here, we didn't feel like going out of our way to make Smores on this night, but we were determined to make the attempt tomorrow. In fact, with the coldness here, we learned that quite a few services would be shut down for the year. For example, Darrow's would be closed for the season on October 18. Meanwhile, some of the horse-drawn carriages would be shut for the season this weekend.
I guess that was a testament as to how cold things get here in Northern Michigan; that snowmobiles would be the primary mode of transport. It was a good thing that we made our visit when we did. Otherwise, this place would really be dead and we'd have nothing to show for our visit…
Day 8 (October 2, 2015 – Mackinaw City, Michigan): "The Legend of the Sleeping Bear"
It was 6:30am when we awoke. Knowing that for the first time on this trip, we didn't have to pack up and leave, we took our time getting ready for the day. While this was going on, we were getting some pre-sunrise shots of the Mackinac Bridge from our room.
Once we were done getting dressed and ready for the day, we then got our free breakfast. The brekkie here included a waffle maker, which was something that Julie and I preferred over the pancake makers that we would typically get at the chain places like the Holiday Inn.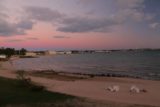 It wouldn't be until 8:15am when we were in the car and ready to embark on our day trip to the Sleeping Bear Dunes west of Traverse City, Michigan. It was at least a 2.5-hour drive in each direction so we knew that this would dominate our day.
The drive south on the I-75 was pretty uneventful though the GPS seemed to insist that we should take what appeared to be a scenic route southwest towards Traverse City. Instead, I thought it would be faster to remain on the I-75 until we got somewhere near the MI-72 headed west to Traverse City. Yet with all the motels, it also seemed like Traverse City was really more of a recreational destination for those looking to enjoy time on Lake Michigan. The main drive along the shores of Lake Michigan was scenic though we didn't take the time to just pull over in one of the car parks and take a photo.
And eventually at 10:40am, we finally stopped at a Target in Traverse City. We stopped at the Target because we sensed that as we'd go further south on this trip, we would start running into some rain that might be influenced by the tropical moisture from Hurricane Joaquin. So Julie wanted us to stop at the Target to replenish on some bottled water as well as to get Tahia some rain gear that we had failed to pack on this trip.
So this stop took us a little over a half-hour and it wasn't until about 11:15am when we were finally back in the car to resume our drive to the Sleeping Bear Dunes.
At 11:50am, we arrived at the visitor center of the Sleeping Bear Dunes. Since we weren't all that familiar with this place, we talked to a park employee who gave us a run down of what to do with a four-year-old. And the first suggestion was to do the Dune Climb.
Unfortunately, the scenic drive that would've afforded us views of the sand dune bluffs towards Lake Michigan was closed due to road construction. That was a real bummer. The employee did suggest to us to do the Empire Bluff Trail, which was said to be 1.7 miles round trip. I guess we'll see where we stand after doing the Dune Climb.
When we inquired about why the place was called Sleeping Bear, she told us about a Native American story about a mother bear and two cubs fleeing a fire in Wisconsin and tried to swim all the way across Lake Michigan to these dunes. Apparently, the mother made it to the other side and waited patiently for her cubs. Unfortunately, they didn't make it, but the mother never held out hope and she'd eventually lay on the dunes until she would rejoin the cubs in the afterlife.
Eventually at 12:05pm, we were back in the car after paying for our pass and then buying Tahia a bear doll. I guess it was good to support the National Parks since they seem to undergo a continuous onslaught from politicians wanting to cut back on their funding and their authority so unscrupulous folks could access the precious natural resources and exploit them at the expense of everyone else for their own selfish gains.
I don't know how much our dollars would put a dent in this effort, but I guess it felt good contributing to the NPS as a worthy cause.
At 12:15pm, we were finally at the Dune Climb. Right from the car park, we could see that people were already on the steep dune hill. We knew that Tahia would have a good time climbing this thing. And so we wasted no time parking, then going on the dune hill while taking photos to try to capture the precious moments.
This was essentially Tahia's free play time as she was chasing tumbling sagebrush twigs and even using them to create trails in the sand.
Out on a whim, we decided to climb the dunes all the way up to a bunch way up at the top of the hill. The higher we went on the dunes, the more we could see around us that there was a small lake nearby as well as some farms. And once we got to the very top, we were bombarded with very strong winds that threatened to blow our hats away.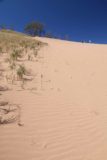 That said, from up here, we could see Lake Michigan in the distance beyond more dunes. But we were nowhere near getting those photos of the dunes descending into Lake Michigan.
Once we had our fill of taking family photos at the top of the dunes, we then quickly ran back down the steep sandy hill until we got back to our car at 1:25pm. By then, a giant group of school children showed up in buses as well as more elderly and family showing up to enjoy the clear blue skies and bright golden dunes.
Now, we drove towards Traverse City looking for lunch. Julie had her sights set on this place called Harvest, which seemed to offer up a surprisingly diverse series of fusion food that we were eager to try since we were pretty much eating American fare.
At 2:10pm, we made it to the city of Traverse City, and we were fortunate to find metered public parking in the Old Downtown area, where Harvest was located. Unfortunately, we didn't have spare change on us (and the meter maids here only took coins) so we had to go into Harvest hoping to get some change to feed the meter. When the worker here said she didn't have the change, some other lady was willing to exchange coins for Julie's dollar.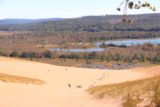 So that allowed us to feed the meter, and then we were able to eat with piece of mind. We tried Korean Taco, Pork Belly Lettuce Wrap with Kimchee, and Pho. It was enough to hold us over towards dinner, but I did want to try the pulled pork taco, which we refrained from doing. Tahia liked the pho noodles.
At 2:55pm, we were back in the car. Now, it was time to return to Mackinaw City. When we realized that we'd make it back to town at around 5pm, we decided to try to get close-up views of the Mackinac Bridge before going for dinner.
On the way out from Traverse City to Mackinaw City, we tried the GPS route along the 131 this time. Since this was primarily two-lane highway, we frequently had to follow behind long lines of cars until a passing lane would show up. But once we got onto the I-75, it was pretty smooth sailing. And by 5:05pm, we made it to the Fort Michillimackinac car park.
But given how empty the car park beneath the Mac Bridge was, we suspected that this place was closed. And indeed, it was closed at 5pm while the last entry was at 4pm. So we had no prayer of visiting the fort and getting a different view of the bridge that what we were getting from where our accommodation was. Tahia was bummed because she saw the playground, but that seemed to be part of the Michillimackinac Fort complex so she couldn't play there.
Nevertheless, we killed some time enjoying views of the bridge while also checking out the Old Lighthouse. There was a lot of poop on the lawns so we had to watch our step whenever we stepped off the concrete walkway. Plus, it was quite windy by the water so there was also that wind chill factor.
At 5:35pm, we were back at the car. Next, we drove to a nearby restaurant called Audie's. It turned out that there was a casual dining spot on one part of the restaurant as well as a more upscale dining spot at the Chippewa Room. After seeing the menu from the Chippewa Room, it was a no brainer for us to just go for the more upscale option as a celebration of our last night in the state of Michigan.
And indeed, the food was good as we tried a lobster tail with 5oz steak while adding on shrimp so Tahia would eat it. Plus, Julie got an almond-crusted whitefish. There were also breads accompanied with cheese as well as freshly made soft breads (in addition to the harder breads). We also drank some rum-spiked apple cider, which was pretty strong but sweet at the same time.
At 7:15pm, we were done with the delicious dinner, and then by 7:30pm, we were back at the Clearwater Motel. With all the smores gear that we had bought, we wasted no time getting some matches from the front desk, then going out back of our room to one of the vacant fire pits. There was already firewood in the circular pits. We just had to light up the wood and paper (acting as the tinder bundle) with the matches, then let the fire catch in the wind and do the rest.
I actually had to waste about a dozen matches before the paper finally caught fire and ignited the wood hovering over it. But once we were in business, we could now try to figure out how to make smores happen with the skewer sticks we were given. I realized that perhaps tongs would've been better to melt everything together in one shot. But trying to melt marshmallows and chocolate while balancing on the skewers was a tricky proposition at best.
In any case, we were enjoying the moment as we stared at the fire and watching the embers fly with the winds. As we took a break from roasting smores over the fire, we also looked up at the sky and noticed stars overhead.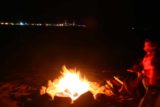 Tahia thoroughly enjoyed the experience, and I knew that we were sharing one of those precious moments that I'm sure would stick in our minds for the rest of our lives. This was the kind of moment we live for, and it gave us the idea that perhaps we should do more real camping trips going forward in California or Southern Utah (provided the drought doesn't persist).
Eventually at 9:40pm, we were finally back in our room. Time flew while we were around the beach pit fire, but it was getting late, and it also took us some time to smother out the flames with the neighboring sand. Had we possessed a bucket, I'm sure that would've been better for putting out the fire before smothering the remaining embers with sand.
In any case, we were finally able to call it a night, and thus end off the first half of our trip. Tomorrow, we'd have to make the really long drive across Michigan's Lower Peninsula before entering Ohio and eventually ending up in Cleveland. That would be the start of the second part of this Great Lakes Trip…
Visitor Comments:
Got something you'd like to share or say to keep the conversation going? Feel free to leave a comment below...
No users have replied to the content on this page