Day 1 (September 25, 2015 – Minneapolis, Minnesota): "Divide and Conquer"
It was about 4am when we awoke to our alarms. Surprisingly, Tahia was cooperative when we had to put on her outside clothes at this early hour. And by 4:30am, we had the car all loaded up and ready to get to LAX.
By 5:40am, we had finally gotten through security and arrived at our gate for our Delta flight to Minneapolis-St Paul. It was amazing that we managed to save about $2000 just by using our miles for this non-stop flight (it was around $700 per person). Yet this was a very full flight so I guess even with the early start, that doesn't stop people from taking flights like this to at least have a half-day once we land in Minnesota.
That said, when we had to check in the large luggage that concatenated both Julie's and Tahia's stuff, that was when we realized that we goofed up by not bringing our car seat
. So now we had to reconcile what to do once we pick up the rental car. Should we pay Alamo to use the car seat for a couple of weeks, or should we just go to the nearest Wal-mart or Target and purchase a new car seat outright and try to assemble and secure it to the rental car right then and there?
Well, we had the 3.5-hour flight to think this over. After boarding the flight, Julie and Tahia sat one row ahead of me while I sat in the middle seat between two strangers behind them. Tahia seemed to enjoy her flight as she watched cartoons then conked out. Julie and I also had a brief moment of getting a little more caught up on sleep as well.
Eventually we would land at the Minneapolis-St Paul airport on time though the landing was a bit on the rough side. Anyways, after patiently waiting our turn to get off the plane, we eventually got to the Alamo kiosk, where we picked up the standard sized car, declined all the insurances (this time we're going with the Sapphire Credit Card insurance), and then promptly looked around the car for damages (especially the tires, where we tended to have a bad history with flats).
Once that was done, we then went to the nearby Target Superstore at 1:15pm, where we did our errand shopping as well as picked up a quick booster-baby car seat. At that point, Julie and Tahia walked over to the Chipotle for lunch while I was figuring out how to assemble the car seat. It took me a while to do it (especially with how humid and hot it was in the parking lot), but eventually I was done with it at 2:15pm! The car seat was a bit on the dodgy side as we had to rely on the default seat belt this time instead of using one of those sturdy clamps that hook up to the frame of the regular car seat.
After finishing our lunch, we would finally get to the Hyatt Place at 2:40pm. It turned out that they had hourly shuttle service to the nearby Mall of America so Julie and Tahia could wait there while I would go off on a couple of waterfall hunts for today on my own.
And so by 3:05pm, I left and the divide and conquer strategy was in effect.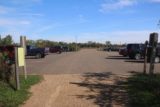 The first excursion of the day was to get to Willow Falls, which was in the Willow River State Park. It actually required me to drive some 30 miles east of Minneapolis on a bunch of interstates, which actually put me across the state border as the falls sat in Wisconsin!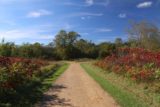 It wasn't until about 3:45pm when I parked the car at a small "Falls Lot", which was the next exit north of the main lot, which had some kind of entry kiosk and a bunch of cars. The road I was on (Hwy 12) was very busy. So it would be non-trivial to make left turns across all this traffic. Fortunately, I caught a break in the action so I was able to get across no problem.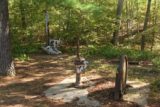 Then, I quickly commenced on my hike. At first, I veered right at the junction, which took me to the North Overlook. This short jaunt took me to a spot where there were some old machinery as well as a view downstream towards some dam infrastructure, where it seemed Willow Falls was located just out of sight from this vantage point.
I then backtracked to the junction and proceeded to follow the Falls Trail, which was a paved walkway that descended until it ultimately ran alongside the Willow River. Then, I saw the bridge and lookout spots for the impressively wide and multi-tiered Willow Falls at 4:05pm.
There were quite a few families and couples here enjoying the falls. There was even a couple with a photographer apparently doing engagement shots or something like that. The waterfall itself was bathed in mostly shadow while the adjacent cliffs were still in late afternoon light. The weather was on the muggy side even though it was said to be in the high 70s. It felt unexpectedly uncomfortably hot though not as extreme as the 90s and 100s we had been experiencing all summer long at home.
After taking some shots from the bridge fronting Willow Falls, I then crossed the bridge and noticed there was a wooden stairway leading high up to the top of the cliff with apparently a view looking right down at Willow Falls. So I went ahead and sweated some more to go up there, where I also managed to get some nice views of the forest below at 4:20pm. The view of the falls from up here were a bit on the obstructed and shadowy side, but it was a different perspective nonetheless.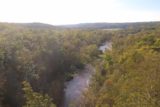 Something that was strange about the experience up here was that it kind of smelled like oil or grease or something. I figured that smell came from the water or the dam upstream of it or both. I wondered if the brown color of the river might also have something to do with the oil smell or not. In any case, I didn't linger here for long, then I headed back down.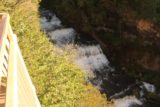 When I returned back down to the bridge, I took a few more shots of the falls, then shared with Julie what I saw on the iPhone that I had brought. Normally I don't have an iPhone so this was the first time that I was making use of Mom's hand-me-down on a trip like this.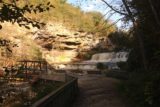 Eventually at 4:45pm, I made it back to the car park on the mostly paved trail. There were even more people (including a huge group) going the other way, which I guess attested to the popularity of this waterfall. And when I was back at the car, I was relieved that my car wasn't ticketed since I didn't pay the $10 non-Wisconsin license plate daily use fee, which I thought was quite steep for such a short visit (yeah, I know I chanced it).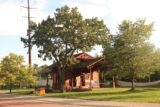 Now, with the sun coming down fast at this time of the afternoon, I then headed back the way I came on the interstates as I headed towards Minnehaha Falls. This one was actually pretty much in the Minneapolis area (so for all intents and purposes, it's an urban waterfall), and I fancied whether Julie and Tahia should see this falls given its close proximity to the airport and Mall of America area where we were staying.
But alas, I was on my own on this one. And by 5:30pm, I had found some street parking on Minnehaha Park Drive very close to the Minnehaha Depot. I wasn't sure where the proper places to park to minimize the walking distances, but it turned out that my guess on the GPS pre-trip waypointing was pretty close because I ended up being quite close to the falls (though I wouldn't know this until I got out of the car, paid my 75 cents for the hour, then walked towards Minnehaha Creek).
As I walked around the rim of the gorge, I could clearly see the 55ft waterfall plunging into the depths of the gorge below. There happened to be some young adults behind the waterfall, which made me wonder whether I could do the same thing. Anyways, I was also busy trying to soak up the atmosphere of this park, where there were picnic tables, large lawns, trees, and even the so-called Se Salt Eatery, where there was some kind of country-like performance live.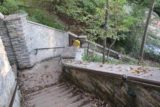 I spent some time getting my shots from different spots along the rim before I went down the steps and into the depths of the gorge where I managed to get more direct views of Minnehaha Falls. There was a No Trespassing sign right where I got the frontal view of the falls, and that was probably where those young adults must've hopped the fence to get right behind the waterfall. Meanwhile, across the creek, there was a mother and son posing on some slope. But when I took some time to explore that side of the creek (there was a bridge crossing it), I also saw that those folks also went beyond the fences to get there.
I guess rules are made to be broken in these parts.
After crossing the bridge and going all the way up the steps to the other side of the gorge, I had found myself almost back to where I had started. I then looked back across the gorge and saw there were still other overlooks and other possible viewing spots of the falls, so I went down and back up to explore those. But when I realized that those spots were looking directly against the setting sun plus the views of the falls were obstructed, I then returned to the best viewing spots along the rim (in front of Se Salt Eatery), and got a few more shots before texting Julie that I was now headed to MOA (Mall of America).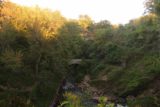 By 6:15pm, I was back at the car. And I just showed up when some enforcement officer was showing up looking to cite people whose spots had expired. I didn't have to worry since I had until 6:30pm. In any case, I was out and about and headed back south towards MOA.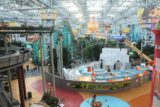 At 6:30pm, I found myself in a large structured car park by the Sears on the east side of the mall. Julie and I were busy calling each other until I would eventually find them at some food court on the opposite side of the mall. On the way there, I was passing through the Land of Nickelodeon, which was a very impressive indoor amusement park dead smack in the middle of the Mall of America. There were roller coaster rides, log rides, etc. It was almost like a bottled up Knott's Berry Farm or something like that.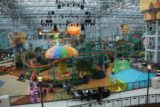 Julie had texted me some photos of Tahia driving bumper cars so I knew they were having a good time even though Tahia couldn't do any of the more interesting rides here.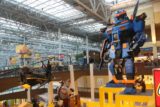 At 6:50pm, I had finally caught up with Julie and Tahia, and then we had ourselves a quick dinner at this place called Crave. I came to the realization that the entire third floor was the food court, and given the massive scale of the periphery of the Mall of America, this was a massive food court!
The food was pretty much like a typical American chain. Julie thought her lettuce wrap was a bit on the salty side, but we did have Norwegian crusted salmon, which we figured they'd do well here since there was quite a bit of Scandinavian heritage in this part of America. And sure enough, the salmon was quite good. Tahia had some California Rolls since that seemed to be what she was into these days. But she repeatedly expressed the desire to get back to the Hyatt Place since she was tired.
The nice waittress realized this and actually expedited her service to ensure we got the food and our check quickly. By about 8:25pm, we were finally leaving the Mall of America, but not before Julie and Tahia got some gelatos while I had an ice cream sandwich from Tollhouse (which actually wasn't that good).
Anyways, by 8:30pm, we were back at the Hyatt Place, where we could finally get settled. We know that tomorrow, we have a very long drive up to Thunder Bay, Ontario, Canada with a few waterfalls to visit along the way. We'll see how that will turn out as the first half of this trip would pretty much be all vagabonding…