Day 2 (September 26, 2015 – Thunder Bay, Ontario): "Foggy Views"
It was 5:35am when we reluctantly awoke (even after the 5am alarm had gone off). Still used to West Coast time, it was about 3:35am back at home so our body clocks were off. In any case, both Tahia and Julie stayed up last night and now they were paying for it. I also knew this didn't bode well for us since we had a long drive ahead of us to Thunder Bay, Ontario, Canada with still a few waterfalls to try to visit along the way.
Our original schedule had us checking into Duluth, Minnesota for two straight nights, and then doing a very long out-and-back trip to Thunder Bay starting tomorrow, but I had a sinking suspicion that such a plan was way too ambitious and involved too much backtracking. So the plan was to stay in Thunder Bay today and then Duluth tomorrow. Hopefully, that might ease things up in terms of what we were planning on seeing and doing today, but I still knew deep down that both today and tomorrow would be packed with activities.
After having a brekkie at the Hyatt Place, we wouldn't be leaving Minneapolis until about 7:10am. It was roughly an hour later than I had hoped, but I also hoped that my original trip planning left enough margin in there to absorb delays like this.
The drive north went pretty uneventfully though we were quite surprised to see fog being very persistent for much of the drive north towards Duluth. We would eventually leave the interstate and headed east on some country roads leading towards Pattison State Park, but at one point, GoogleMaps had us go on some dodgy country road instead of going straight to the WI-35E going south.
When we decided we weren't comfortable with the GoogleMaps suggestion, we then kept going the way MapSource had us going but then soon after turning right onto the WI-35E due south from Short Cut Road, we then saw a bunch of road work being done with a sign saying that there was a bridge wash out. So I guess GoogleMaps was right about this direct route being unavailable, and we wound up backtracking on the I-35E then following some orange detour signs to get to Pattison State Park and the Big and Little Manitou Falls.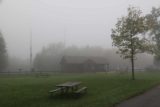 Finally at about 10am, we arrived at the main campground and ranger station for Pattison State Park. And like much of the drive up here, the fog was pretty thick so that made us concerned about how the viewing experience at the falls would be.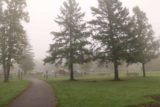 I wound up paying $5 for a one-hour visit, and I learned that the way the system worked here was that if we did multiple state park visits in the state, we were better off buying a daily pass for $10 then hit as many of the state parks on the same day as possible. But since Big and Little Manitou Falls were our only Wisconsin waterfalls to visit on this day, the one-hour visit was enough.
Anyways, we'd eventually park the car at the dedicated Big Manitou Falls Parking Lot at 10:20am, which was just on the other side of the bridge from the ranger station car park. We then got out of the car, walked across the road, then went into a serene little picnic area where the paved trail curled around the lawn before getting to a direct overlook of Big Manitou Falls (said to be Wisconsin's highest waterfall).
Unfortunately, the view of the falls was somewhat misty and obscured so it didn't show up very well on our photographs. I did notice that on the opposite side of the gorge, there was another viewpoint with people there, but the view looked quite angled with some tree obstructions. And with all the fog, we didn't feel up to extending this excursion by walking to that other overlook.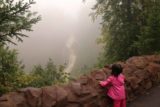 In any case, I got my photos while Tahia and Julie were catching up. Then I explored a short distance along the rim of the gorge, but the view of the falls became more and more obstructed. Besides, the fog wasn't relenting from these other vantage points anyways. When I returned to the main overlook, Julie and Tahia were busy taking checking out the misty view. They also didn't feel up to going to the other overlook. So eventually by 10:45am, we were back in the car.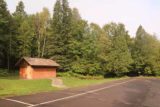 We then quickly drove further south on the WI-35E towards Little Manitou Falls. Surprising us, we saw that there was no fog around the turnoff and car park for this falls when we arrived at 10:50am. There was a picnic area as well as a restroom here, but what caught our eye was a sign indicating that this was the site of Camp Pattison, which was a Civilian Conservation Corp facility from 1935-1942.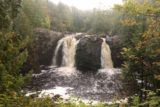 After having seen an FDR documentary (actually more like a Roosevelts documentary discussing Teddy, FDR, and Eleanor) by Ken Burns on Amazon Prime, I managed to gain a greater appreciation of how this program sought to put many of the unemployed during the Great Depression to work. Even though it was a government program, it seemed to start the momentum in starting the road to recovery for many of the afflicted people looking for work at the time.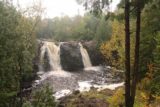 Anyways, we quickly walked to the viewpoints of the double-barreled Little Manitou Falls, which were merely a few paces from the car park. Even though we were looking against the morning sun, there was enough fog to keep the light from getting too intense most of the time. And given the Big Manitou Falls experience to this point, this seemed to be a more satisfying visit yielding more satisfying photos.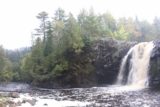 But it seemed like the lack of fog at Little Manitou Falls kind of gave me the hope that if we return to Big Manitou Falls, the fog would lift somewhat as it seemed like it was lifting around Little Manitou Falls.
At 11:15am, we were back at the car. Given our experiences so far, Julie and I thought Little Manitou Falls was probably worth a rating between 2 or 2.5. Big Manitou Falls looked impressive enough to be a solid 3 but given our subpar viewing experience with the fog, it should currently stand at 2.5.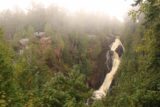 When we returned to the car park for Big Manitou Falls at 11:20am, we then quickly made our way down to the main overlook again. And as we had hoped, the fog was lifting (though it was still around). But at least we could see more of the waterfall and it was clearly showing up better on our photographs. So now that we were more satisfied with this viewing experience, we wouldn't feel compelled to make a return trip here when we'd be staying in Duluth tomorrow.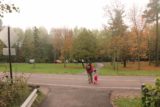 At 11:35am, we were back at the car. We were pretty much a little behind schedule, and we still had a long way to go to even make it up to Thunder Bay with the hope of seeing High Falls of the Baptism River as well as the High Falls of the Pigeon River on this day. It seemed more and more doubtful that we'd be able to do them both and still check into Thunder Bay at a reasonable hour. We'll see…
As we made our way around the detour then headed north on the WI-35E, we then entered the town of Superior, Wisconsin, which was apparently adjacent to Duluth, Minnesota. When Julie noticed a restaurant called Grizzly's, she Yelped it and noticed that they got some good reviews. So we turned around and wound up having lunch at this spot at 12:05pm.
My intent was to get something to go here, but this wasn't one of those places. Actually, it was more of a locals place in more of a bar type atmosphere with sit down tables. They were apparently known for their roasted chicken but their ribs were also good. So we wound up getting a combo meal of the ribs and chicken, plus we shared this delicious Johnny Appleseed Cider from St Louis, MO. When all was said and done, our lunch tab was only $31 with tax and tip, and we were raving about the tastiness of the cider.
At 1:05pm, we were back in the car. Now, it was time to keep driving along the north shore of Lake Superior. There was a lot of traffic on the MN-61, and most of the road was two lanes going in opposite directions. So we found ourselves frequently behind other cars, and the speed limit was pretty much 55mph throughout.
At just about every bridge, there seemed to be a lot of parked cars. Apparently many Minnesotans love their waterfalls because at many of them, there seemed to be some cascades viewable from the road. We didn't plan on seeing any of these, and we wondered if we'd have enough time to stop at them tomorrow on the way back to Duluth. So we continued on without stopping for them.
So on this day, we passed Gooseberry Falls and High Falls of the Baptism River (one goal for today, which I decided to punt for tomorrow given how behind schedule we were and how foggy it was). And we just gunned it for the Canadian border.
The drive on the MN-61 was scenic as it was mostly within view of Lake Superior. If it wasn't so foggy, I could foresee stopping at some of these spots just to experience the shores of this massive lake, which really felt more like an open sea than a freshwater lake. Clearly there had to have been giant glaciers from the Ice Age to even leave behind such deep and giant lakes.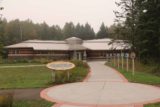 Eventually at 4:15pm, we finally stopped the car at the Grand Portage State Park just within view of the border station. Once we parked the car, we then proceeded to visit the "Welcome Center" where I spoke with the employees about this falls. They actually told me that the Minnesota side of this waterfall yielded more direct views while the Canada side was on a longer trail and had a more sideways view of the falls. In fact, it could go to the top of the falls, but there were no guardrails and it wouldn't be a good hike (2.4 miles round trip) for our little girl, especially given our time crunch on this day.
The park employee also said that this weather was very unusual for September. In fact, he said this fog was actually more of a June pattern. So when it came to perhaps punting this waterfall for tomorrow, it might not be a fruitful wait.
So based on that conversation, we decided to just go for the USA side of the High Falls of the Pigeon River then I might try to solo this hike on the Canada side tomorrow. And with that, we proceeded to do the quick half-mile hike (one mile round trip), which was on a combination of boardwalk and paved path. There were already some nice fall colors with some reds and oranges showing even under the fog.
As for all of the viewing spots, they were mostly mysterious and obscured by the thick fog. Eventually, we'd make it to the three viewing points of the High Falls of Pigeon Falls, and the viewing angles were pretty straight on as the employees had said. So we took some time documenting our experience here while we saw a handful of other folks on the Canadian side as well.
The fog was still quite thick so the viewing experience was akin to how the Big Manitou Falls was like earlier this morning (which was kind of a bummer), but at least it was visible enough to show up fairly well on our photos. Still, it would've been nice to see more Fall colors around the falls but with the fog, most of the trees were pretty much silhouettes.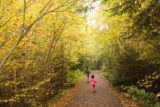 After having our fill of this impressively gushing waterfall (which was actually in much lower flow than what the signage here had indicated which was saying something about those conditions shown in the sign), we then headed back the way we came, eventually returning to the car at 5:20pm.
A few minutes later, we showed our passports and promptly crossed into the Canadian side. The border patrol officer was actually giving me a little bit of a tongue-in-cheek hard time as he wondered why we'd come all the way from Los Angeles to Thunder Bay. I know he was just doing his job, but I told him we were visiting waterfalls, which then prompted him to wonder why we'd go all the way out this way to see waterfalls.
Well, after seeing Tahia in the back seat, he then asked the obligatory questions about carrying firearms, smoking, drugs, alcohol, etc. After saying no to all these things, he then asked, "Are you in a rental car?" (just to trip me up I guess, haha!).
And with that, we continued on our way further north towards Thunder Bay. After passing by a sign saying that we were now on Eastern Time, that meant that we had lost yet another hour. So while our bodies were getting adjusted to Midwest time, this extra hour lost surely meant that we were be seeing Kakabeka Falls as well as checking in and even having dinner much later than we had anticipated.
So we ultimately decided to head straight for Kakabeka Falls before checking into the our accommodation at Thunder Bay. The GPS had us go on some crazy shortcut farm roads, which were graded but unpaved. And eventually after getting through this, we'd get to the Kakabeka Falls Provincial Park at 7:25pm, where there was still some light outside, but the sun had already sunk below the immediate hills.
That meant that our photos of the falls were at first moody with orange skies (speaking of which, the fog wasn't present here, and it was quite clear!) before the shadows had gotten darker.
The vantage point we were at nearest to the main car park was a bit at an angle, but it was very impressive and the falls itself was loud. We tried to get what photos that we could knowing that it appeared there was another side yielding an even more direct view of Kakabeka Falls.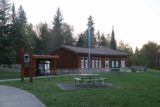 Eventually at about 7:40pm, we were back in the car, and we decided to drive across the bridge towards what appeared to be a campground near some visitor center (well closed by this time). And from there, we spent a few minutes more checking out the frontal view of Kakabeka Falls though now our photos were getting quite dark or affected by the darkness at this time.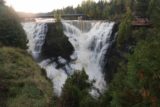 Tahia wanted me to make use of the tripod to take a family photo, but given how dark it was becoming, it was just becoming a time waster and a futile exercise. But we decided that perhaps we should come back here tomorrow morning when there's more light and see if we could get a more fulfilling experience instead of rushing things on this day. Of course, I was concerned about cramming too many thing in one day tomorrow, and doing Kakabeka Falls again as well as the Canadian side of the High Falls of the Pigeon River would surely put more pressure on us to also fit in High Falls of the Baptism River as well as the Upper Gooseberry Falls.
When we had our fill of Kakabeka Falls, we noticed that there was a pretty big and bright full moon hovering just above the trees. We took photos of it, but it was hard to show it in context, especially with this waterfall, which was facing in the other direction.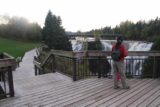 At 7:50pm, we were back in the car, and now we could finally head to Thunder Bay where we could check into the Holiday Inn Express.
After driving the 17 through the dark, we then got onto Carrick Street, where we were supposed to find the Holiday Inn Express, but after about 15-20 minutes of driving around Carrick Street aimlessly, Julie finally saw that the Holiday Inn Express was without its lights on! So we kept missing it until Julie made this realization.
But once Julie finally found this place, we then parked the car at 8:30pm and finally checked in. The receptionist recommended that we eat at Caribou, which was said to be a local dive. And when Julie Yelped the place on our Wi-Fi connection in our room, we then decided to just go to this place even though we wouldn't set foot into the Caribou Restaurant until about 9:05pm, which was quite late as far as dinnertime went and as far as we were concerned.
It turned out that this place had a bit of a noisy ambience though the place settings and the people dining here were quite upscale. Clearly, we were underdressed for the occasion. But in any case, we wound up sharing a maple-crusted salmon as well as some spicy sirloin beef, and these dishes were excellent! I guess the priciness of this restaurant was justified in that sense though the service was quite slow as it took them forever to take our order then we had spent a lot of time waiting for our check well after our dinner was finished.
Eventually by 10:25pm, we were finally back at the Holiday Inn Express, where we could finally call it a day. But given that Julie and Tahia would probably wanted to sleep in, we might run into the same problem of getting a late start and running out of daylight by the time we would show up in Duluth tomorrow. I guess we'll have to see how things go…