Day 4 (September 28, 2015 – Paulding, Michigan): "The Small Town Feel"
It was 5:30am when I awoke. It was still dark outside so I went ahead and got a head start on getting ready for the day. Julie didn't wake up until about 6am though that was due to the multiple alarms going off (including her annoying one from her iPhone).
It was about 6:45am when we started to notice that the lake view from our room was bright enough to show that there were lots of clouds and we wouldn't be able to see a sunrise. That was a bummer because it's not often that you get to see the sun rise over Lake Superior. So not only did the clouds kind of nix the eclipse experience last night, but it also denied us a sunrise. I guess it just wasn't meant to be with our timing.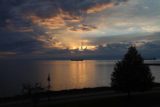 After a waffle breakfast and other sugary continental brekkie items, we then briefly took a few lakeshore shots from the Comfort Inn before getting into the car at 8:15am. Ten minutes later, we left.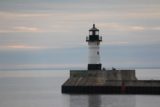 The drive was mostly uneventful as we crossed back over into the Wisconsin side. It looked like partly cloudy skies as we headed east, but then the weather turned towards rain. I guess the forecasts for sunny skies for the next several days was really more of a Minneapolis forecast. However, as far as Northern Wisconsin and the Upper Peninsula of Michigan, I guess some light rain was in the works.
Other than that, we would eventually get onto the Route 169 which deviated from the east-west Hwy 2. Not long thereafter on the Route 169, we then saw a small sign for the Potato River Falls, where we then took an unpaved road for the next 1.5 miles until we got to a parking area with some pit toilets and some picnic tables at 10:30am. The rain was coming down a little bit harder while we were getting ready for the excursion.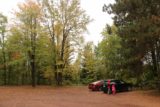 At first, we headed straight down an obvious path leading to an overlook. That view was of what appeared to be the Lower Potato Falls though we weren't quite sure if it was indeed the falls we were after because there was a lot of foliage blocking a more satisfying view of the falls.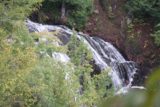 So we didn't linger here for long and then we backtracked to the car park before following the blue diamond path which led to some steps heading to a wooden platform of what appeared to be the Upper Potato Falls. There were a handful of spur trails of use, but they looked quite steep and rough. And with the wetness of the ground as well as the relative lack of size of the waterfalls on the Potato River, we opted not to go for improving the views by risking it on these scrambles.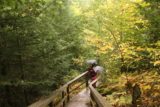 That said, there was another couple from Wisconsin that we chatted with while observing the Upper Potato Falls, and she encouraged us to visit the Copper Falls State Park. I didn't have this on my original itinerary, but given the fairly lackluster Potato Falls experience, we decided to go for the Coppper Falls.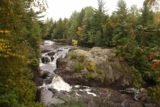 So at 11:15am, we were back at the car. By now, it had stopped raining. So the drive further south on the Route 169 was pretty uneventful as we passed by what appeared to be some local dairy farms. Eventually at 11:40am, we arrived at the very large car park for Copper Falls State Park. However, with this being Monday, the lot was mostly empty with perhaps a dozen or so other cars, while there was probably almost a hundred spaces or more here.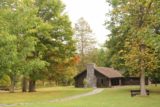 So we wasted no time getting out of the car and following the well-developed trail past some concessionaire building before reaching a junction by a bridge. We opted to keep right in the hopes of seeing Copper Falls before leaving. I didn't really have any intention of doing the entire 1.7-mile loop hike.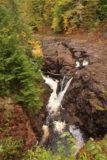 But after a few minutes, we would get to a bridge looking right down at part of Copper Falls. However, it didn't look all that impressive (and it was partially obstructed) from this vantage point. So Julie and Tahia had the intention of going back to the car. Meanwhile, I thought I could do a little more exploring down the trail just to see if there was anything else worth checking out at this state park.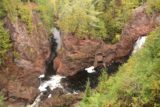 After a few minutes of hiking, I encountered a couple who seemed to be on their way to finishing off the entire looop hike. They totally encouraged me to do the whole thing though I also couldn't keep Tahia and Julie waiting in the car for too long. So as I proceeded further on the trail in a counterclockwise direction, I then saw that there was an impressive waterfall near an overlook. It turned out that this falls was Brownstone Falls, but it was fairly obstructed by cliffs and foliage from this viewing angle.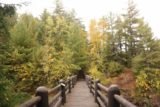 So I had to make a decision whether to keep going on the loop or run all the way back to the junction by the bridge, then take the trail in a clockwise direction just to check out Copper and Brownstone Falls (but not do the entire loop).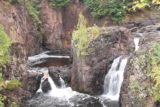 I ultimately decided to do the latter, and when I backtracked to the bridge, then crossed over and starting hiking in the clockwise direction, it didn't take long before I saw a sign and a pretty decent view directly at the last segmented tier of Copper Falls. I knew that this falls had two sides to it, and now I could see both of its sides (or split tiers). That was satisfying, but I also knew that there was still a little bit more of hiking to check out Brownstone Falls.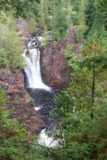 Eventually, I went up the 0.3-mile trail to the other overlook of Brownstone Falls, and when I was there, I could get a direct view of the impressive waterfall. I could also see that there was someone else on the loop trail going to the lookout platform right at the top of the falls.
At this point, I had no intention of getting to the Devil's Gate or the Tyler Cascades (where that other hiker atop Brownstone Falls would have seen to get to where he was at). So I had no idea what they looked like nor if I would regret the decision not to finish this loop. But whatever the case was, I had seen the two main highlights. So now it was time to return to the car where Julie and Tahia were waiting.
At 12:30pm, I was back at the car. If I had to do this excursion all over again, I would do the whole 1.7-mile loop in a clockwise direction. That would at least minimize the backtracking. But nonetheless, I could see why this state park would be popular. It was certainly better than the Potato Falls experience. So I would probably give the Copper Falls experience at least a 2 or 2.5 in rating.
Next, we drove back north on the Route 169 then east on the 2 before continuing north towards the southern shores of Lake Superior. It turned out that there was a sign for Superior Falls just as I had crossed over from Wisconsin to Michigan. Once we were at the car park, we encountered a hideous substation infrastructure that was completely fenced off. We wound up going on a short walk to the left side of the substation, and within a couple of minutes, that was where we looked down at the falls towards the Wisconsin side again as we stayed behind the fences to get this view.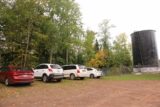 We had gotten there at around 1:15pm, but it turned out that it was also 2:15pm Michigan time, which was something we didn't realize until we saw that the GPS kept adding an extra hour to our estimated times of arrival.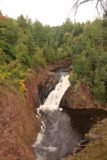 There wasn't a whole lot else to do with this falls unless we wanted to hike towards the top or upper tiers of Superior Falls. There was also a sign that said it went to the bottom of Superior Falls. Nevertheless, we didn't linger here for long, and now it was time to look for a spot for lunch.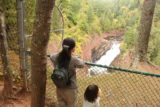 So at 1:35pm we were back in the car. Then, we continued driving towards Ironwood, Michigan. We thought we were arriving at the lunch spot at 2pm, but really it was 3pm because Michigan was on Eastern Time. So that probably explained why most of the places seemed closed except for this diner called the Pines Cafe.
This was more of a typical diner where we got some standard spaghetti with meat balls as well as some chicken stir fry. Their breadstick was delicious and almost donut-like in its crustiness. The garlic bread was also quite good. The waitress had this familiar oshkosh accent that was very endearing. Julie and I looked at each other and smiled when we heard her say to another customer, "Oh, you betcha!"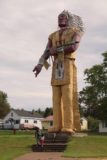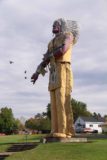 We left the diner after paying in cash. That probably explained why the prices here were so reasonable as it all costed us $21 including tax and tip. We then headed towards the Hiawatha statue which was said to be "the largest Indian statue in the world." Though I'm not so sure that's an accurate statement, we decided to check out the statue since we saw it from near the Pines Cafe anyways when we were looking for a bite to eat in town. By the way, perhaps it was probably more accurate to say that the Hiawatha statue was the largest Native American statue because we saw much bigger Shiva statues in India.
So now we were making good on paying it a visit and taking a few photos here before continuing on towards Paulding, Michigan, where we were to stay for the night. We had our fill of the statue at 4:05pm, and by about 5:20pm, we finally arrived at the Running Bear Resort. That was when we checked into the rustic cabin and after getting settled, we then headed out to Bond Falls at 5:20pm.
At 5:40pm, we arrived at the car park for Bond Falls. They wanted $9 for non-Michigan residents to pay and display, but we had to self-help since no one was manning the kiosk. Then, we quickly walked down to the boardwalk area which afforded us a plethora of views of the falls. Bond Falls was impressively wide with character. Julie was so impressed with this waterfall that she thought it was her favorite of the trip. But I thought the Fall colors further accentuated this falls.
It was quite a photo friendly one given its rivuleted appearance. And when I went up to the top of the falls, I saw over its brink that I could photograph the falling water with Fall colors as well! We then had this idea that we really ought to go back to the car to get the tripod, then come back and take family photos (something we hadn't really done all trip long).
Once we did that, we spent a few more minutes taking family shots before we then headed back towards Paulding for dinner at 6:55pm. We ate at this place called Char's Cafe, largely because it seemed to be the only place in Bruce Crossing with favorable reviews on TripAdvisor or Yelp.
So at 7:10pm, we showed up at Char's, which was pretty much like a local diner or cafe. We had ourselves some salmon filet and New York Steak. The food wasn't very good (and I wished I had tried their Philly Reubens Special which seemed like a particular version of Philly Cheesesteak Sandwich with sauerkraut). But I think this place more than made up for it by the small town charm and ambience. In fact, there was an elderly lady sitting next to us who made small talk with us (mostly because Tahia was always the conversation starter). Plus, it seemed like the waitress knew a lot of the people in the diner on first name basis.
We learned that the lady sitting next to us (also named Julie) lived nearby and she was advising us about Agate Falls, which we would have to do tomorrow as we had run out of time today. I learned from her that you pronounce it "AG-uht" and not "uh-GAIT". I learned from her that it was real easy to visit the falls by checking out the overlooks, but in order to improve the view, you had to scramble to the bottom, which sounded like it could be risky (wondering if it would be like the situation at Potato Falls today).
She was so sweet that she even made some boat oragami with a dollar bill, which she wanted to give to Tahia. She also suggested that we check out a local convenience store to look for post cards to see what Agate Falls would be like since she suggested that all of the different waterfalls comprising Agate Falls were captured in the post cards there.
When Julie heard her local accent, she asked about her ancestry thinking that there was probably some Scandinavian influence in there somewhere. Well, it turned out that her father was from Finland. So it wasn't Norway (or even Sweden) like we had expected, but the Scandinavian influence was definitely still there.
Meanwhile, after the dinner was over, we indulged in their dessert, which was chocolate fudge cake. All of us devoured that. As I was paying at the cashier, the waitress suggested that we should check out Okundekun Falls, which was north of Bruce Crossing but would require a little over a mile walk in each direction. I don't know if we would have the time to do this tomorrow since we had to go to Munising.
By the way, the waitress corrected me and said it's pronounced "MEW-ni-sing" and not "MUHN-ih-sing". She also recommended that we check out Mackinac Island, which was something we were already planning on doing in a couple of days.
And with that, we left the diner at 8:20pm, then we drove in the dark towards Paulding as it was time to return to the Running Bear Resort to finally settle down. We'd get there at 8:35pm, where the place looked much busier than it did earlier this afternoon. I'm guessing most of the guests here were either fisherman or hunters.
Regardless, there wasn't any deer jumping out in front of our car so I was relieved that for now we wouldn't have to deal with night driving any more. That said, it was getting quite chilly, which really contrasted with the warm and humid weather we were getting in Minnesota and Wisconsin. But now, apparently there was some frost warning for early tomorrow morning, so I'm sure black ice would be on my mind when we would be driving deeper into the Upper Peninsula.
And since we were in some basic accommodations (we also couldn't figure out how to turn on the heat), there wouldn't be distractions so we shouldn't have any problems catching some z's and being well-rested for tomorrow. We were going to sleep in a little bit since it doesn't even get light until probably around 8am or so. So for once, we wouldn't have to wake up at some crazy early hour like we had been doing for at least four days in a row now…
Visitor Comments:
Got something you'd like to share or say to keep the conversation going? Feel free to leave a comment below...
No users have replied to the content on this page