Day 5 (September 29, 2015 – Munising, Michigan): "Pictured Rocks Alternatives"
It was 7:50am when we awoke. Being in such a basic and rustic accommodation while we still couldn't get the heater working last night meant that it was also a very chilly morning. I guess that made it easier to sleep in on this day.
It seemed like this was the very first time that we felt the true onset of Autumn. All of our previous days in the Great Lakes area around Minnesota, Wisconsin, and Ontario were kind of on the muggy and warm side (even though the temperatures never really got high above the 60s). However, this morning, we knew that it was in the 30s. But since we were kind of forewarned by the forecasts last night, we suspected as much.
Anyways, we were out of the Running Bear Resort at 9am, and per the GPS instructions, we followed the Bond Falls Road towards Agate Falls. Along this road, we saw that there was a lake and hydroelectric dam upstream of where we knew Bond Falls was so the infrastructure also bore the name of Bond Falls Dam or something like that. That might explain some of the canal-like barricades built on the banks of the watercourse to ensure the water was funneled over the falls and not spilling onto the trail.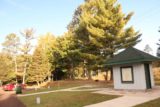 Eventually at 9:25am, we would arrive at the Agate Falls car park, which was well-signed off the main highway. We opted not to take the Bruce Crossing route since it seemed like the Bond Falls Road was shorter. Regardless, we parked the car and then we promptly braved the 40F morning as we put on jackets and quickly headed beneath the highway bridge and ultimately beneath the railroad bridge towards the overlook.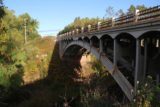 Once we were at the overlook, we were underwhelmed with the obstructed view above the top of Agate Falls. I saw that there was evidence of trails of use leaving the viewing platform. One path seemed to head upwards towards the railroad itself above us. The other path seemed to head towards the fencing below us. Not being familiar with this area, we weren't sure if we could get a better view of the falls, but I had recalled from my trip research that we knew it was possible. Even the lady we were chatting with at Char's last night also suggested that it was steep, but she was able to do it when she was younger.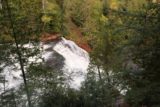 Nevertheless, I was still in Chacos and unprepared, and so we all headed back to the car. We got back at 9:50am, and that was when I promptly changed into hiking boots. Julie looked at the map at the trailhead, and she thought the Agate Park was where we should be going. But after looking at the laptop where I had stored my trip research, I knew that we were in the right place.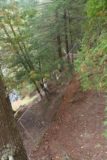 So I solo'ed all the way back to the overlook. Then I looked around for more evidence of going down to the bottom. When I got to the fence, I could see that there was indeed a trail of use that continued beyond the right side of the fence (but not going down the steep gully immediately behind it). I'm guessing that fence was put there to keep people from going down that steep and eroded gully. Instead, it seemed like the trail following along the cliff seemed reasonable.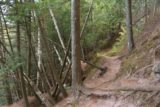 While there was some cliff exposure, it seemed like any other ledge-hugging trail that we've done before. I really thought they should improve the access to view this waterfall since all this trail scrambling was surely going to result in erosion over time. And everyone knows that overlook was pretty terrible so they'd be looking for ways to improve the experience. We saw that Bond Falls had excellent facilities, but this place seemed to lack it.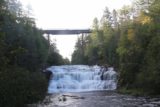 In any case, I continued on the gradually descending "trail" until I finally made it down to the bottom. Once there, I was along the river banks where I could get that satisfying view of Agate Falls backed by the railway bridge. I think given this experience, I would rate this falls something on the order of a 2.5 or 3.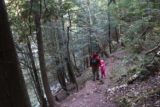 Once I had my fill documenting this falls, I then headed back up the trail to rejoin Julie and Tahia. However, before I had made it all the way back to the overlook, I heard Tahia yelling out "Daddy!". And sure enough, both Julie and Tahia had left the car and were already on their way down to get a better view of Agate Falls. I assured them that this was not a bad trail at all, and within minutes, we were at the same spot that I was chilling at earlier.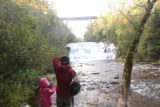 Now, we took advantage of family photos with the selfie stick as well as me taking a few more photos of the falls. I figured I mind as well because you never really know which photos or videos would turn out.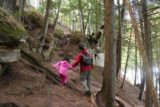 On our way back up, Julie and Tahia headed for the car. Meanwhile, I found an angled side view of the falls near some rock cliffs. I took a few more shots before continuing back up to the sanctioned walkway. There was a middle-aged couple that started their scramble down to the bottom, and they told me, "If a four-year-old could do it, we can too! She egged us on."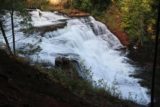 Clearly, they must've seen Julie and Tahia.
At 10:45am, we were finally back at the car again. I didn't expect to spend 90 minutes here, but it was a good thing that we managed to get the proper view without giving up. Now, we could finally head towards Munising.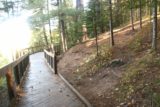 At 12:10pm, we showed up to the Target in Marquette, which seemed to be a pretty big town on the southern shores of Lake Superior. Julie wanted me to stop here so we could pick up more warm clothes for Tahia since it had gotten cold all of the sudden, and Julie wasn't sure about whether to bring warm weather clothes or cold weather clothes. She had brought half-and-half, and I guess she felt it wasn't enough for the remainder of this trip.
We also got myself a swimming trunk since I hadn't brought one on this trip. But after seeing an indoor swimming pool in a couple of the accommodations already, Tahia really wanted us to let her play in the pool so this would at least open the possibility of me being with her in the pool to play.
Then, we ate a sandwich at Togos further along in Marquette before we finally headed out at 1:10pm. We'd eventually arrive at the Holiday Inn Express on the outskirts of Munising at 1:50pm. So we promptly checked in, and left our luggages in the room. But then, we saw the lake view we were getting from our room and we decided to spend some time taking photos and taking advantage of the view under partly cloudy skies.
Eventually at 2:20pm, we were back in the car and headed into the town of Munising so we could try to catch a boat cruise of the Pictured Rocks. When we arrived at 2:30pm, we saw a sign on the door saying that all cruises today were cancelled due to high winds and big waves. I guess all those whitecaps and waves that we were seeing were a bad sign earlier on.
So at 2:40pm, we were back in the car, and then we decided to head over to the National Park Info Center at 2:45pm. While there, we managed to get a little brochure about waterfalls in the area as well as a map. Then, we essentially embarked on a local waterfalls self-guided tour since we had to find an alternate to the Pictured Rocks boat cruise anyways. And that also pretty much changed our plans for tomorrow as we'd have to linger in Munising for a bit longer until we could go on the cruise (hoping it wouldn't be cancelled again).
Then, that would put pressure on us to try to catch Tahquamenon Falls tomorrow afternoon since we probably wouldn't even be leaving Munising until probably 5pm! And if we couldn't do that waterfall tomorrow, then we'd have to do it the following day, which would impact how much time we could spend on Mackinac Island.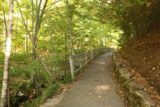 In any case, we drove off and headed to Munising Falls, which was only a couple miles away. And at 2:55pm, we parked at the Munising Falls trailhead. The parking lot here was huge, but it was also right by some hospital here. This place also seemed to be part of the Pictured Rocks National Lakeshore so we were seeing those familiar brown signs indicative of something administered by the National Park Service.
The 800ft well-developed walk was on a combination of boardwalk and well-defined trail beneath the shade of trees that hadn't quite changed color (though some were starting to). Meanwhile, there were a couple of branches of the trail leading higher in the small gorge. But I first headed directly to the end of the middle trail, which ended at an overlook of the impressive Munising Falls.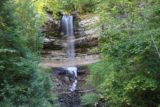 The falls had a light plunging tier before cascading down its remaining height into the creek below. While Julie and Tahia were still on the walkway many minutes behind, I went ahead and climbed up the stairs leading up to a very obstructed angled view of Munising Falls.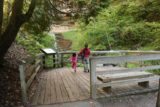 It looked like the trail was supposed to continue towards the backside of Munising Falls. However, they had erected barricades to make it harder to do that. So I headed back down the steps as Julie and Tahia had just arrived. We then spent some time taking family photos of the waterfall before we started to head back.
Julie and Tahia continued back towards the car, but I then took the other ascending path, which was actually interesting in that it followed some nice cliffs before ending at a fairly open angled view of Munising Falls. Again, there were barricades erected to keep me from getting behind the falls. So I documented what I could before heading back down to the car park.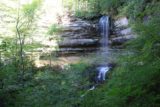 At 3:35pm, I was back at the car park, and then we headed towards Miner's Falls. The drive continued further to the east of Munising before going straight shot. Then, we turned left onto a forested road that was mostly straight. Then, we took a one-mile unpaved road leading to the car park for Miner's Falls trailhead.
Parking seemed limited at the trailhead as we were fortunate to have one spot available. Other cars showed up after us and they couldn't find parking. So they had to park where the trailers and RVs were. Anyways, we had arrived at 3:50pm, and we then promptly embarked on the 0.6-mile trail.
The trail itself was nice and mostly flat. Most of the trail was shady under some very tall trees. Again, it seemed like the Fall colors hadn't arrived in this part of the Upper Peninsula as the trees were still predominantly green. There were also some numbered posts along the trail, which were interpretive markers keyed to one of the trailhead signs.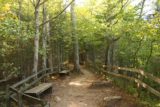 It was still windy with plenty of wind chill so that kept us moving quickly while also keeping entertained by saying hello to every passer-by (most of them willing to indulge since they found Tahia to be cute).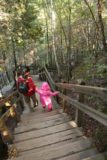 Once we arrived at the stairs leading to an overlook of Miner's Falls, there was only a couple of ladies taking photos. We joined them and took what photos and movies that we could for the brief moment we were able to in the limited space. However, it didn't take long before there was a much larger group that crowded the overlook and now it wasn't so easy to take photos here.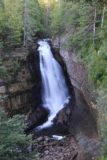 Some of the younger folks hopped the barricade and climbed further down the slope on what appeared to be a former trail or stairs. This seemed like yet another example of incomplete or deprecated infrastructure (just like at Munising Falls) and I wondered if this was now the common theme of National Parks infrastructure to keep people from suing the service for any injuries.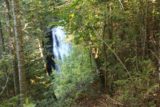 Anyways, that was our cue to head back to the car park, and we promptly did that. Eventually at 4:40pm, we were back at the trailhead. We suspected that the popularity of this trail largely had to do with the Pictured Rocks Cruises being cancelled today. That also got us in the mindset that perhaps we should go ahead and book our tickets for tomorrow since there might be more people on the cruises than normal given today's cancellations.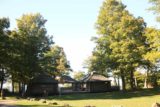 Ten minutes later at 4:50pm, we were at the car park for the Miner's Castle. Again, it was windy and bitterly cold, but when we got out to the upper lookout, we were quite impressed with the rock formation with cliffs forming a crescent below us. There seemed to be smaller arches and blowholes as water would be thrown sideways forcefully below us. In short, it was an awesome view!
Plus, it seemed like this time of day was the perfect time to take photos as the colors of the cliffs were brought out. I'm sure this view would've been even more divine had the leaves changed colors even more. But alas, that wasn't meant to be on this day.
For Julie and Tahia, their visit ended when Julie's phone died so we couldn't do any family selfie shots. Meanwhile, I lingered a little bit longer before walking to the lower lookout. It turned out that the lower lookout was basically near the Miner's Castle formation. There would've been a nice view of the cliffs beneath the upper lookout, but the trees kind of obstructed the view, and the late afternoon sun was against me.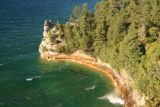 From reading some of the signage here, I learned that there was a Grand Portal Arch somewhere along the coast that collapsed in 1900. That arch looked really impressive as apparently ships could pass beneath it. I guess the turbulence of the Lake Superior waters, especially when it's windy like today exhibited the kind of violent forces involved that also created the Pictured Rocks that was so coveted in this area.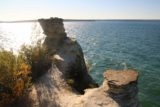 On my way back up to the car park, there was a group that was headed down to the lower lookout. One lady asked if I saw the eagle, and I was surprised by it. But when I returned to the upper lookout, I didn't see the eagle. However, I did see a bunch of more photographers donning SLRs and tripods trying to capture Miner's Castle in the warm late afternoon light. I'd have no prayer of trying to get more shots at this time as that platform was full of people.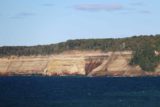 So at 5:25pm, I was back at the car park. We then drove all the way back to the cruise dock in Munising to buy the tickets that we probably should've bought when we first showed up earlier today. Once we secured our tickets for tomorrow at 2pm (the earlier we could do the Spray Falls Cruise) for a hefty price of $75 for all three of us, we then went looking for the last couple of waterfalls – Wagner Falls and Alger Falls.
At 6:05pm, we arrived at the Wagner Falls Trailhead, which was right off the Hwy 94. We saw Alger Falls right by the junction of the M-28 and M-94. But that waterfall was so small and weak that we didn't even bother stopping for it to photograph even though it was right off the road.
Anyways, when we arrived at the trailhead for Wagner Falls, Tahia was already out. So I made the first move to visit Wagner Falls. I brought an iPhone along to take photos for Julie. Meanwhile, it turned out that the developed walkway wasn't long at all (maybe less than five minutes), and I ultimately arrived at the limited-space viewing deck where there were already two folks with tripods there.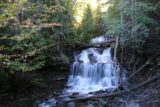 It felt like we were intruding on their photos when it came to taking our own photos so I tried to take photos from further down the walkway, which also meant that it was likely I'd be capturing the falls with that infrastructure there. However, I did manage to get a nice view of the falls inadvertently by composing the falls with a tree that happened to be getting some Autumn colors.
Anyways, I quickly did what I had to do to document this waterfall. Then, I promptly returned to the car park at 6:25pm. I knew that Julie was itching to have dinner, but it seemed like Munising didn't really have many dining options. And when I showed her my pictures of Wagner Falls, she decided we should just go for dinner now (instead of Julie taking her turn at checking out the falls).
We decided to drive back to the town of Christmas to check out Foggy's, which was perhaps the only real dining choice in this area. The main draw there was to try the Lake Superior Whitefish. It turned out to be not far from our Holiday Inn Express accommodation, and we'd arrive at 6:40pm.
We wound up with a simple dinner of Baby Back BBQ Ribs (so Tahia could eat it) as well as the Lake Superior Whitefish prepared with blackened seasoning. We could see the grill where the employee would grill the meats or the fish. I wished we could've also tried the Lake Trout as well, but I guess we could try that later in another place.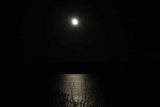 Anyways, at 7:55pm, we made it back to the Holiday Inn Express, where we'd spent the rest of the evening enjoying their pool area (Tahia was really looking forward to it), and then chillaxing in our room, where we also saw an attractive almost-full moon over Lake Superior. I'd bet that if we didn't go swimming in the pool here, we probably could've seen the moon appear bigger and closer to the lake, but hindsight's 20/20. We had already gotten our eclipse shots two days ago, and I'm sure the now-waning moon could still look attractive if we happen to show up in Paradise at twilight.
We'll see how things go now that we're in improvising mode given the weather cancellation today…
Visitor Comments:
Got something you'd like to share or say to keep the conversation going? Feel free to leave a comment below...
No users have replied to the content on this page