Day 6 (September 30, 2015 – Paradise, Michigan): "The Tahquamenon Phenomenon"
It was 6am when I awoke. It was still dark outside though it seemed like there was a bright star amongst a smattering of stars hovering over Lake Superior. I spent some time getting all packed up while tending to my hygiene. Then by 6:25am, I went downstairs to get the included breakfast.
There were probably a couple more people in the breakfast in addition to me. It seemed like I wasn't the only early riser. And by 7am, I went back up to the room for some last minute preparations then kissing Julie and Tahia good-bye for the time being as I was about to embark on my morning hike to Spray Falls while they could sleep in and enjoy the Holiday Inn Express Property until I get back.
My pre-trip research had me believe that it was probably around a five-mile hike to get to Spray Falls and back. So I expected to get back to the Holiday Inn by 10am.
At 7:10am, I drove off. The sun hadn't risen yet, but I could tell that the sunrise promised to be beautiful, especially since our room was facing the general direction of the sunrise.
The drive out east was mostly uneventful which was a good thing, especially since I didn't want to hit a deer knowing that they were probably active from dusk till dawn. Unfortunately, I missed out on the pink clouds as the sun had already gone up during the course of getting out to the start of the hike.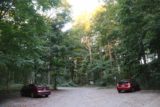 I was headed to the Beaver Lake Campground, which I had read from my pre-trip research that that was the nearest starting point for the shortest hike to a view of Spray Falls. I wound up getting to the trailhead at 7:50am. The drive ended with an unpaved three-mile stretch after turning off from the H-58. There was one car already at the trailhead, and it looked like the sun had already breached the horizon by now.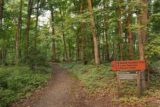 But when I looked at the signage, I knew right away that my initial feeling that this hike was only around 5 miles round trip or so was wrong. Instead, I realized that I had grossly underestimated the overall distance and that it was more like 8.2 miles round trip!
So at that point, I resigned myself to the fact that there was no way I was going be back at the Holiday Inn Express when I had expected somewhere between 10-11 this morning. Instead, it wouldn't be until closer to noon that I would have to shoot for. Moreover, I would have to trail run where I could to even make that deadline. The start of the hike was very cold (like 35F or something like that). So I had my jacket on and two bottles of water.
As I was going as fast as I could while the trail steeply descended towards some boardwalk alongside a creek, after about a mile, I saw a spur for Beaver Lake, but I noticed there was a view of some smaller "lake" or pond, which produced nice reflections. I took shots of that but I didn't go any further knowing that I now had to be efficient.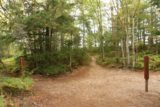 I also noticed what appeared to be tiny coves or caves and rock formations en route. Once again, I took what photos I could before continuing on since it was still somewhat dark as the sun's light hadn't yet penetrated the forest floor.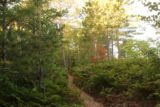 At 8:30am, I junctioned with the North County Trail (NCT), which was the Lake Superior shoreline trail. There was signage here indicating that this was the way back to the campgrounds and trailheads so that would make it easy to identify on the return. Anyways, I could see right away that there was beach access. I opted not to go down there right now since the lighting wasn't good.
Anyways, the NCT followed what seemed like mostly forested trail with a few opportunities for the trees to open up and reveal the lakeshore. I kept hearing waves splashing against the cliffs below or the beaches below, which made this feel more like a coastal walk along the ocean than a lakeshore walk. But that just illustrated how big Lake Superior was (that it was behaving more like an ocean than what I had normally thought for lakes).
In one small detour, I did get down to the beach for some views just to see what it would've been like to even be at a soft, sandy beach in the Great Lakes. It was certainly better than the convenient beaches at say Munising that we'd seen so far.
Along this 2.5-mile stretch of trail, I noticed spur trails going further inland towards camgrounds labeled "Covers". There were also a few more informal trails leading to more coves or caves. As I went further along this part of the NCT, the trail started to show more of the lakeshore (some parts were even hugging dropoffs though it was nothing like the Na Pali Coast hike in Kaua'i in terms of drop off exposure).
In a few sections, I had to climb up steps then descend steep paths. I knew those parts might be challenging on the return, especially if I was to make haste.
At 9:10am, I had passed the Cover's Group Campground. Still unsure of how much further the Spray Falls view would be, I kept trail running where I could. Then, finally at 9:25am, I saw a sign indicating Spray Falls.
The spur trail descended onto an open outcrop where I was finally able to get a distant view of Spray Falls itself. There were also dramatic cliffs between the falls and this outcrop I was standing on. Now I was keenly aware of how these cliff formations came to be so I'm sure it would only be a matter of time before even this overhanging outcrop might collapse. So that meant that I had to minimize the amount of time I'd be standing all the way at the end of the outcrop.
Although the view of the falls was distant, the photos were plenty satisfying. I wondered if the boat experience might yield similar photos of this calibur. That said, I suspected that the boat itself might be busy and there might be limited opportunities to take photos from the desired vantage points on the boat itself.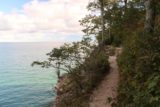 So I spent about 20 minutes documenting the falls and especially trying to convey the cliffs indicative of the Pictured Rocks while showing the waterfall at the same time. The sun's rays hadn't quite reached the waterfall but there were moments where some morning clouds had blocked the rays anyways.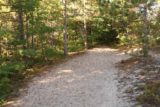 At 9:45am, it was time to go. Once again, I trail ran where I could though the roots and narrowness of the NCT kind of ensured that I could only run in bursts. Fifteen minutes later, I saw one other hiker along this stretch of trail, where we had a brief chat before I kept going. He was doing the long hike along the NCT all the way to Munising.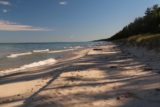 At 10:25am, I was back near the trail junction leading back along the White Pine Trail towards the trailhead and Beaver Lake. This time, I took the path down to the beach, which was very easy (albeit very sandy), and when I approached the beach, I saw a guy packing up his tripod and on his way out.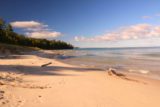 The sun had reached the beach partially now, so I took a few beach shots along the coast of Lake Superior. Once again, I had completely forgotten that I was on the shores of a lake and not the ocean though this place exhibited all the characteristics more typical of a beach at the ocean.
Once I had my fill of the beach, I continued trail running back to the trailhead. I even caught up to the guy taking photos at the beach and I managed to startle him as he wasn't expecting another hiker to be behind him.
By about 11am, I had finally made it back to the car park. Now, there were three cars at the car park instead of two. I suspect that second hiker must've drove that third car. When I got back inside the car, I noticed that the air temperate was now about 53F, which was 20 degrees hotter than when I had first showed up.
Anyways, now I had to make the fairly non-trivial drive all the way back to the Holiday Inn Express in Munising. It looked to be about a 40-minute drive so I was moving quickly on the unpaved and paved roads, which were surprisingly mostly straight shot.
And as expected, by 11:40am, I had made it back to the Holiday Inn. That was when I finally saw that twenty minutes ago, Julie had sent me a text on my rarely-used iPhone. I was well aware that check out was at 12pm so by virtue of me rushing to get back here, we were all ready to go before check out time. And sure enough by 11:45am, the car was all loaded up and now it was lunch time in Munising.
Our cruise wasn't until 2pm so we thought we could kill some time at this place called the Falling Rock Cafe. We'd get there at 11:50am, where all of us enjoyed some quinoa salad with a couple of sandwiches (avocado chicken sandwich and whitefish bagel). There was also a hot apple cider that was just right to offset the chilly day.
The ambience inside the cafe was as if we were eating in a converted library or bookstore or something. There was a certain small town charm about this place. Plus, we were even able to enjoy a post-lunch ice cream while looking out the windows at passer-bys (few on foot as it was mostly vehicular traffic) near the center of town.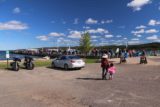 At 1pm, we were finally back at the car. Now, it was 56F as the day continued warming up. At 1:15pm, we were now at the boat dock but now we could see that there was huge line on the dock. Apparently, a bus tour had dropped off its passengers for this cruise, and it was clear to me that this was gonna be a crowded cruise boat as I had suspected.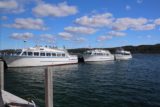 Still, these folks must've been here since 1pm at least since we were some 45 minutes early. That's crazy! We probably could've done without chilling out the extra time at the Falling Rock Cafe, but then we would've missed out on the slower pace of life here in Munising while enjoying that boutique small-town charm that seemed right for a place like this.
Eventually, the line was moving shortly before 2pm. This line wound up filling up two boats. Julie and Tahia had to settle for middle seats inside the boat while I had to settle for one of the middle seats on the top deck. It was a little on the chilly side, so it was a good thing that I was bundled up in my jacket that we had picked up in the UK last Summer.
Once the boat cruise started, the narrator did say that we could walk about on the aft deck, and that was pretty much where I had remained for the whole time the boat was going towards the Pictured Rocks. It quickly got pretty crowded there so I wasn't about to vacate my spot knowing that I'd then have to settle for looking over peoples' heads or between shoulders.
Anyways, the lighting was a bit on the harsh side when looking back towards the southwest. Some of the Pictured Rocks cliffs were in shadow at the time. Again, I really wished we could've done the 4pm cruise for Spray Falls, but that would mean driving in the dark to get all the way to Paradise. And we couldn't afford to risk a deer incident or something.
Some of the highlights as far as taking pictures were concerned were the rock formations like an arch formation known as Lover's Leap as well as the Grand Portal (or what was left of it since the full-sized arch that large boats could get through had collapsed in 1900).
Miner's Castle was also visible though it looked smaller compared to some of the adjacent cliffs. Plus, there were some red-streaked curvy cliffs as well as some coves and tiny caves in shade as well. In between the cliffy stretches, there were also beaches. The last of the scenic rock formations was Chapel Rock.
Finally, the boat went another mile beyond Chapel Rock towards Spray Falls. And as expected, we managed to get straight on views of the falls. Julie couldn't take any satisfying photos (too many heads and too much window glare) so she gave me my iPhone to take photos with it on her behalf. Meanwhile, I did what I could to document the experience taking a movie, and taking plenty of shots on my SLR.
Then, the boat turned around and headed back. Now the views of the Pictured Rocks were on the left side of the vessel. I didn't have much of a shot of being against the railing to take intimate shots on the way back. But I did manage to get back to an open seat on the top deck and try to take shots in moments peoples' heads, hands, and other things wouldn't be in the way.
As I had suspected, the lighting seemed to get better the later in the afternoon it became. Those folks in kayaks probably had the best opportunities to get those post card and framed shots we saw so often in any restaurant or accommodations. That definitely wouldn't happen on a crowded cruise.
And as far as lighting was concerned, definitely as far as Spray Falls cruises were concerned, the 4pm one was the right one. The sunset cruise at 5:15pm seemed to be such that it might be close to dark by the time the cruise was over. Plus, that last cruise wouldn't even go to Spray Falls. Oh well, Mother Nature decided we couldn't do the 4pm cruise yesterday given the high winds so that was the end of that.
The cruise seemed like it was moving much more slowly than it had been earlier on. So I guess that afforded more people opportunities to take what shots they could now that the left side of the boat was crowded with people. Eventually, the boat stopped before the lighthouse on Grand Island, which had this grayish schoolyard look to it.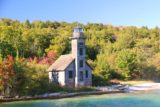 Then, at 4:45pm, the boat disembarked just as predicted. Indeed, this cruise was two hours and forty-five minutes and they seemed pretty spot on with the trip duration. At 5pm, it was time to leave, and make the long drive towards Paradise, MI. I was hoping along the way to do Tahquamenon Falls before it gets dark. We'll see how that goes…
We'd eventually make it to the Upper Tahquamenon Falls car park at 6:25pm. There were still a lot of cars this late in the day, plus there was even a restaurant. Indeed, this highlighted just how famous this falls was. I contended that it was probably the most famous waterfall in Michigan.
As the late afternoon light was fading on this day, we hastily rushed our way on the paved walkway towards the overlooks. There seemed to be quite a few families with lots of kids here, which further attested to the family friendliness of this place. When we got to a junction, we kept right to get closer to the brink of the falls. However, once we got to the two upper lookouts down at the falls, we were looking right against the late arvo sun.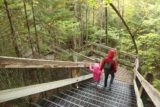 Julie and I knew that we'd have to come back tomorrow, which meant we'd be touring Mackinac Island a little later than we wanted. Still, we had to seize the moment and take what shots that we could right this instant.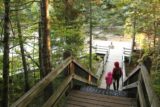 We then descended the 94 steps to the brink of the falls, where we could truly appreciate the power of the falls as it seemed to be running full. Now, we got the sense that this might be bigger than Cumberland Falls in Kentucky though it seemed to have a very similar characteristic to the Niagara of the South. And our Cumberland Falls experience was during the height of the Fall colors while this area in the UP still hadn't gotten to the peak of the Fall colors. It might require another week or so.
In any case, Julie told me this waterfall was a definite 4. We took what photos we could given the predominance of shadows. Then, we promptly went back up to the main walkway again. Julie and Tahia headed back to the car, while I would quickly tour the gorge views further downstream.
There was a nice top down view of the whole of Tahquamenon Falls along the way (though there were foliage obstructions). By now, the sun was pretty much beneath the horizon.
As I descended the 136 steps to get down into the gorge, I could see that darkness was coming on fast. Eventually, I'd get to the viewing decks from within the gorge, where I could see the entire width of Tahquamenon Falls. For sure, we'd have to come back here tomorrow for better light.
At 7:35pm, I was back at the car. Now, it was time to drive in semi-darkness knowing full well that deer could jump out onto the road at any moment. Thankfully, at 7:55pm, we were finally at the Magnuson Grand Hotel, where we could check in and have a late bite.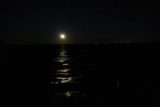 The restaurant and smokehouse was right in front of the hotel so we could walk there once we got all settled. The food we got there was a pork belly ribs and some pretzel-crusted whitefish as well as a bigo which was a hearty stew as an appetizer. The bigo and whitefish was good but the pork belly wasn't slow roasted for long enough so it was on the tougher side. They also ran out of smores so we didn't get dessert.
The staff here was very friendly, and they loved to interact with Tahia. In fact, that seemed to be the common theme in most of the restaurants we had eaten at. Though this place seemed to have a small local feel to it. We weren't the last to show up here, but we were definitely the last to leave as all the people left here seemed to work here.
By 9:30pm, we were back at the room. Now, it was time to unwind and get cleaned up on this very busy day. Then call it a night…
Visitor Comments:
Got something you'd like to share or say to keep the conversation going? Feel free to leave a comment below...
No users have replied to the content on this page