Day 7 (October 1, 2015 – Mackinaw City, Michigan): "Wisteria Lane"
It was 6am when I awoke to my alarm. Julie awoke at 6:30am. We spent the better part of this morning getting packed up and ready to go. At the same time, we noticed outside that the sun was about to rise as our room was facing east towards Lake Superior.
The red lights that we were seeing way in the distance last night turned out to be windmills (i.e. the energy-generating kind). I braved the bitterly cold morning as I went outside fully bundled up to try to take a few photos of the scene as the sun had not yet breached the horizon but it did leave some reddish and orangish glows on the horizon. The wind was strong and there were some really choppy waters splashing against the lakefront.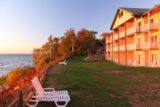 The sun didn't rise until about 7:40am. There weren't clouds around so the sunrise wasn't as interesting. Still, it was nice to see this as our other opportunity at seeing a sunrise was clouded over in Duluth, Minnesota (where the clouds also ensured we wouldn't be seeing the full eclipse either).
Shortly thereafter, we had our breakfast, and then we were in the car at 8:25am. It was still quite cold thanks to the windchill. Anyways, we decided we should head back to Tahquamenon Falls to take photos of the Upper Tahquamenon Falls in better lighting than yesterday afternoon.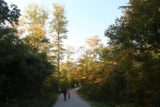 We ultimately got there at 8:45am, where we were the only ones there besides the park employees. We hastily went towards the overlooks, but right away we could see from the very first overlook that there was quite a bit of fog obscuring the waterfall. So given that, we didn't want to linger longer for the fog to burn off (it could take a couple of hours). And since we still had to get all the way to Mackinaw City and tour Mackinac Island, we couldn't linger for too long out here.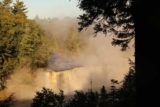 As we got back to the car at 9:05am where it was still 33 degrees F, we decided to head to the Lower Falls instead. Now, a lot of cars were starting to show up so we beat the rush. Howevr, these folks better be prepared to wait out the fog. Fog or no fog, we were going to at least check out this waterfall, especially when we learned that we wouldn't have to hike 4 miles to get to experience the falls.
At 9:20am, we were eventually at the car park for the Lower Falls. Along the way, the kiosk was actually open and we paid the $9 recreation passport fee. It was good for the day though I wasn't sure if there were other state park waterfalls worth visiting within the day to make it worth more than just an Upper Falls visit on top of this one.
It actually seemed more developed at the Lower Falls even though we knew that the Upper Falls was a far better waterfalling experience. We couldn't understand why that was the case other than perhaps there were campgrounds here. In any case, we quickly went towards the nearby overlooks where we saw the Tahquamenon River acting more like a lake with some of its network of falls visible in the shadows in the distance to the left while the falls to the right of an apparent island was mostly obstructed.
We saw signs indicating that the island could be visited during the warmer summer months when row boat rentals would be allowed so visitors could actually get onto the island for a few more close-up views of all five of the waterfalls comprising the Lower Tahquamenon Falls. It wasn't meant to be on this trip for us, but it didn't seem like something we would be missing out terribly on. Indeed, this falls was really more of a backdrop for recreational activities as opposed to a feast for the eyes and photographers like the Upper Falls was.
We proceeded along the boardwalk, which meandered for another 0.3 miles until we got to a closer lookout that allowed us to look down at a wide but short tier as well as a smaller one further upstream. And another minute of walking further upstream on the boardwalk yielded a closeup view of that uppermost tier as well.
We were kind of looking against the light and the shadows didn't make photography here easy. Still, once we had our fill of this falls, we then got back to the car park at 10:15am. On the way out, the fog seemed to have finally burned off so the view of the tiers in the shadowy distance were much clearer than they were when we first showed up. I'm sure if we had returned to the Upper Falls at this time, we'd be seeing that waterfall with the best light.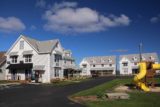 Next, the drive all the way to Mackinaw City was quite uneventful. We'd eventually get to the Clearwater Lakeshore Motel at 11:35am, but it was still too early to check in. Still, Julie managed to score some half-price tickets through the motel, and we wound up at Star Line Ferries at 12:15pm. We paid the $5 to park right in their lot by the dock since we had all our belongings at the time.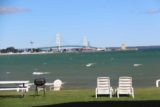 And with that, we patiently waited for the 1pm ferry. Once that happened, Julie and Tahia then went to the lower deck, while I was the only one freezing on the upper deck taking photos. The Mackinac Bridge looked small from the distance, but when you consider that it was five miles long, I guess the bridge had to look small and flat against the lake.
We'd ultimately arrive at Mackinac Island at around 1:25pm. Once we got past the dock area, the first thing we noticed was the horse smell. That was because it seemed like bicycles and horse-drawn carriages were the primary means of transportation on this island. We were also charmed by the colonial-style buildings that really reminded us of Provincetown in Cape Cod, Massachusetts. Heck, we even noticed a couple of Amish families on this island as well.
A few minutes later, we then went into the Seabiscuit Cafe for a lunch. Inside the cafe, there was a nice decor with Halloween decorations everywhere. We enjoyed the tomato bisque and whitefish chowder while also having a Lobster BLT sandwich (where they were generous with the lobster pieces) and pulled pork sandwich so Tahia could eat it.
At 2:15pm, we were finally done with our lunch. Then, we learned from the waitress that it was possible to take a tour of parts of the island, especially to try to get to Arch Rock, which was really our scenic goal of our time on this island. We ultimately decided to do one of those horse carriage tours, which costed us a hefty $28 per adult.
Our tour would begin at 3pm and it was still around 2:30pm so we took some time to try some Mackinac Island Fudge as well as some ice cream. I was bumming that we didn't get to try hot fudge sundae (with Mackinac Island fudge?), but we probably had enough of a sugar rush from our ice creams anyways.
I guess this tour took the climbing out of the excursion, and we learned quite a bit of the area. The horses did most of the work, and we managed to get a few snaps of some things that were a bit beyond the town by the ferry docks. We did one stop at the Surrey Hill area as well as another stop at the Arch Rock, which was reminiscent of a smaller version of what we saw in Capri, Italy.
Unlike the one in Capri, this one didn't require us to do any hiking. In fact, we were only given 5-7 minutes here, but it really wasn't necessary to linger here for too long anyways.
We then got to the Fort Mackinac at around 4:30pm, but they were closed. That was kind of a bummer since we were interested in going inside to see what it was about. And eventually, we were then dropped off by the governor's mansion since it was a real short walk downhill before the fort to get back into downtown. We didn't feel like staying on the carriage all the way back to Surrey Hill, then take the last carriage back down to town.
Once we were in town, we walked along Market Street, which Julie called Wisteria Lane since it reminded her of the homes in that show Desperate Housewives. However, in this case, they had more of a historical charm to it. So we killed some time taking photos of the charming homes as well as the post office where apparently, they don't deliver a single mail. They're more of an aggregator, which brings neighbors together since they all have to come here to get their mail.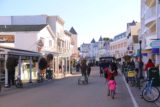 Eventually at around 5pm, we were waiting for the 5:30pm ferry back to Mackinaw City. And eventually by 6:05pm, we were back at the Clearwater Motel. Tahia and I dozed off in the ferry (so no late afternoon photos from the boat). I guess that was ok since I was pretty pooped on this day.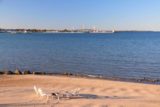 Now that we were able to check in, we dropped off our stuff in the room, then briefly checked out the little beach behind our motel room. Then, we headed over to Darrow's, which seemed to be one of the few places to have a decent meal in town. Once we got there, it was a bit busy so we had to wait in line for a few minutes before we were finally seated.
Once we were seated, we got a cajun-spiced whitefish as well as some kind of chicken breast. The food was quite decent, and even the four-berry Dutch pie a la mode was delicious, too. So by 8:20pm, we were finally back in the room, where we could be comfortable. We smelled the smoke of a campfire because there was one group of folks already gathered around one of those fire pits on the beach.
Once we were inside our room, Julie and Tahia got changed so they could brave the cold night to cross the parking lot and get to the pool. I guess with how bitterly cold it gets here, we didn't feel like going out of our way to make Smores on this night, but we were determined to make the attempt tomorrow. In fact, with the coldness here, we learned that quite a few services would be shut down for the year. For example, Darrow's would be closed for the season on October 18. Meanwhile, some of the horse-drawn carriages would be shut for the season this weekend.
I guess that was a testament as to how cold things get here in Northern Michigan; that snowmobiles would be the primary mode of transport. It was a good thing that we made our visit when we did. Otherwise, this place would really be dead and we'd have nothing to show for our visit…
Visitor Comments:
Got something you'd like to share or say to keep the conversation going? Feel free to leave a comment below...
No users have replied to the content on this page