Day 8 (October 2, 2015 – Mackinaw City, Michigan): "The Legend of the Sleeping Bear"
It was 6:30am when we awoke. Knowing that for the first time on this trip, we didn't have to pack up and leave, we took our time getting ready for the day. While this was going on, we were getting some pre-sunrise shots of the Mackinac Bridge from our room.
Once we were done getting dressed and ready for the day, we then got our free breakfast. The brekkie here included a waffle maker, which was something that Julie and I preferred over the pancake makers that we would typically get at the chain places like the Holiday Inn.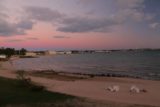 It wouldn't be until 8:15am when we were in the car and ready to embark on our day trip to the Sleeping Bear Dunes west of Traverse City, Michigan. It was at least a 2.5-hour drive in each direction so we knew that this would dominate our day.
The drive south on the I-75 was pretty uneventful though the GPS seemed to insist that we should take what appeared to be a scenic route southwest towards Traverse City. Instead, I thought it would be faster to remain on the I-75 until we got somewhere near the MI-72 headed west to Traverse City. Yet with all the motels, it also seemed like Traverse City was really more of a recreational destination for those looking to enjoy time on Lake Michigan. The main drive along the shores of Lake Michigan was scenic though we didn't take the time to just pull over in one of the car parks and take a photo.
And eventually at 10:40am, we finally stopped at a Target in Traverse City. We stopped at the Target because we sensed that as we'd go further south on this trip, we would start running into some rain that might be influenced by the tropical moisture from Hurricane Joaquin. So Julie wanted us to stop at the Target to replenish on some bottled water as well as to get Tahia some rain gear that we had failed to pack on this trip.
So this stop took us a little over a half-hour and it wasn't until about 11:15am when we were finally back in the car to resume our drive to the Sleeping Bear Dunes.
At 11:50am, we arrived at the visitor center of the Sleeping Bear Dunes. Since we weren't all that familiar with this place, we talked to a park employee who gave us a run down of what to do with a four-year-old. And the first suggestion was to do the Dune Climb.
Unfortunately, the scenic drive that would've afforded us views of the sand dune bluffs towards Lake Michigan was closed due to road construction. That was a real bummer. The employee did suggest to us to do the Empire Bluff Trail, which was said to be 1.7 miles round trip. I guess we'll see where we stand after doing the Dune Climb.
When we inquired about why the place was called Sleeping Bear, she told us about a Native American story about a mother bear and two cubs fleeing a fire in Wisconsin and tried to swim all the way across Lake Michigan to these dunes. Apparently, the mother made it to the other side and waited patiently for her cubs. Unfortunately, they didn't make it, but the mother never held out hope and she'd eventually lay on the dunes until she would rejoin the cubs in the afterlife.
Eventually at 12:05pm, we were back in the car after paying for our pass and then buying Tahia a bear doll. I guess it was good to support the National Parks since they seem to undergo a continuous onslaught from politicians wanting to cut back on their funding and their authority so unscrupulous folks could access the precious natural resources and exploit them at the expense of everyone else for their own selfish gains.
I don't know how much our dollars would put a dent in this effort, but I guess it felt good contributing to the NPS as a worthy cause.
At 12:15pm, we were finally at the Dune Climb. Right from the car park, we could see that people were already on the steep dune hill. We knew that Tahia would have a good time climbing this thing. And so we wasted no time parking, then going on the dune hill while taking photos to try to capture the precious moments.
This was essentially Tahia's free play time as she was chasing tumbling sagebrush twigs and even using them to create trails in the sand.
Out on a whim, we decided to climb the dunes all the way up to a bunch way up at the top of the hill. The higher we went on the dunes, the more we could see around us that there was a small lake nearby as well as some farms. And once we got to the very top, we were bombarded with very strong winds that threatened to blow our hats away.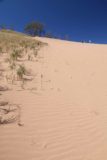 That said, from up here, we could see Lake Michigan in the distance beyond more dunes. But we were nowhere near getting those photos of the dunes descending into Lake Michigan.
Once we had our fill of taking family photos at the top of the dunes, we then quickly ran back down the steep sandy hill until we got back to our car at 1:25pm. By then, a giant group of school children showed up in buses as well as more elderly and family showing up to enjoy the clear blue skies and bright golden dunes.
Now, we drove towards Traverse City looking for lunch. Julie had her sights set on this place called Harvest, which seemed to offer up a surprisingly diverse series of fusion food that we were eager to try since we were pretty much eating American fare.
At 2:10pm, we made it to the city of Traverse City, and we were fortunate to find metered public parking in the Old Downtown area, where Harvest was located. Unfortunately, we didn't have spare change on us (and the meter maids here only took coins) so we had to go into Harvest hoping to get some change to feed the meter. When the worker here said she didn't have the change, some other lady was willing to exchange coins for Julie's dollar.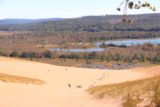 So that allowed us to feed the meter, and then we were able to eat with piece of mind. We tried Korean Taco, Pork Belly Lettuce Wrap with Kimchee, and Pho. It was enough to hold us over towards dinner, but I did want to try the pulled pork taco, which we refrained from doing. Tahia liked the pho noodles.
At 2:55pm, we were back in the car. Now, it was time to return to Mackinaw City. When we realized that we'd make it back to town at around 5pm, we decided to try to get close-up views of the Mackinac Bridge before going for dinner.
On the way out from Traverse City to Mackinaw City, we tried the GPS route along the 131 this time. Since this was primarily two-lane highway, we frequently had to follow behind long lines of cars until a passing lane would show up. But once we got onto the I-75, it was pretty smooth sailing. And by 5:05pm, we made it to the Fort Michillimackinac car park.
But given how empty the car park beneath the Mac Bridge was, we suspected that this place was closed. And indeed, it was closed at 5pm while the last entry was at 4pm. So we had no prayer of visiting the fort and getting a different view of the bridge that what we were getting from where our accommodation was. Tahia was bummed because she saw the playground, but that seemed to be part of the Michillimackinac Fort complex so she couldn't play there.
Nevertheless, we killed some time enjoying views of the bridge while also checking out the Old Lighthouse. There was a lot of poop on the lawns so we had to watch our step whenever we stepped off the concrete walkway. Plus, it was quite windy by the water so there was also that wind chill factor.
At 5:35pm, we were back at the car. Next, we drove to a nearby restaurant called Audie's. It turned out that there was a casual dining spot on one part of the restaurant as well as a more upscale dining spot at the Chippewa Room. After seeing the menu from the Chippewa Room, it was a no brainer for us to just go for the more upscale option as a celebration of our last night in the state of Michigan.
And indeed, the food was good as we tried a lobster tail with 5oz steak while adding on shrimp so Tahia would eat it. Plus, Julie got an almond-crusted whitefish. There were also breads accompanied with cheese as well as freshly made soft breads (in addition to the harder breads). We also drank some rum-spiked apple cider, which was pretty strong but sweet at the same time.
At 7:15pm, we were done with the delicious dinner, and then by 7:30pm, we were back at the Clearwater Motel. With all the smores gear that we had bought, we wasted no time getting some matches from the front desk, then going out back of our room to one of the vacant fire pits. There was already firewood in the circular pits. We just had to light up the wood and paper (acting as the tinder bundle) with the matches, then let the fire catch in the wind and do the rest.
I actually had to waste about a dozen matches before the paper finally caught fire and ignited the wood hovering over it. But once we were in business, we could now try to figure out how to make smores happen with the skewer sticks we were given. I realized that perhaps tongs would've been better to melt everything together in one shot. But trying to melt marshmallows and chocolate while balancing on the skewers was a tricky proposition at best.
In any case, we were enjoying the moment as we stared at the fire and watching the embers fly with the winds. As we took a break from roasting smores over the fire, we also looked up at the sky and noticed stars overhead.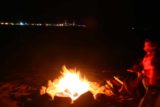 Tahia thoroughly enjoyed the experience, and I knew that we were sharing one of those precious moments that I'm sure would stick in our minds for the rest of our lives. This was the kind of moment we live for, and it gave us the idea that perhaps we should do more real camping trips going forward in California or Southern Utah (provided the drought doesn't persist).
Eventually at 9:40pm, we were finally back in our room. Time flew while we were around the beach pit fire, but it was getting late, and it also took us some time to smother out the flames with the neighboring sand. Had we possessed a bucket, I'm sure that would've been better for putting out the fire before smothering the remaining embers with sand.
In any case, we were finally able to call it a night, and thus end off the first half of our trip. Tomorrow, we'd have to make the really long drive across Michigan's Lower Peninsula before entering Ohio and eventually ending up in Cleveland. That would be the start of the second part of this Great Lakes Trip…
Visitor Comments:
Got something you'd like to share or say to keep the conversation going? Feel free to leave a comment below...
No users have replied to the content on this page