Day 10: ALL ABOUT THE ARCHES
It was 6:45am when both Julie and I awoke. This time, we slept through our alarms and woke up past REM sleep.
So today was shaping up to be a pretty light day activity-wise. Thus, we really didn't have much sense of urgency getting out the door as soon as possible. The delay was even more pronounced when we learned that the Cumberland Inn also served breakfast that was included in our room rate. Who knew that we would be getting such a good value in this accommodation?
Thus, we loaded up on yogurt, oatmeal, scrambled eggs, sausages, toast, and even waffles. And when all was said and done, we eventually left the Cumberland Inn to begin the day's activities at 8:30am.
I had anticipated a long drive to get towards the hiking that we were planning on doing today in the Big South Fork National Recreation Area. It turned out that these attractions were in Tennessee, so this was really more like our Tennessee teaser before we visit the state in earnest starting tomorrow afternoon when we should be arriving in Nashville.
The drive started on Hwy 92 going southwest of Williamsburg (where we were staying) on what looked like a newly built or improved highway. Thus, the drive went surprisingly quickly along this 20-mile stretch until we junctioned with the Hwy 27. We'd take this highway south towards a surprisingly fair-sized town on the Tennessee side called Oneida.
From there, we took a smaller highway 297 west out of town and towards some rural country scenery. When we got into the Big South Fork area, the road narrowed and wound even more with 10mph hairpins and steep inclines/declines. This section of road went down then up before flattening out and joining up with the Hwy 154, which we took north.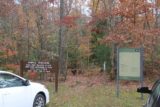 Next, we then turned right onto Divide Rd, which immediately started off unpaved. We took Divide Rd towards Fork Ridge Rd, which veered to the right and got narrower as signs indicated we were sharing this road with carriages, horseback riders, bikers, and hikers. It wasn't long on this road when we eventually arrived at the Sawmill Trailhead, where we would start our hike for Slave Falls and Needle Arch. It was about 9:45am (EST) when we arrived at the trailhead.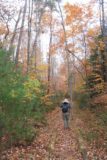 It turned out from looking at the map sign at the trailhead that there was a seemingly shorter (though not by much) and more direct path to Slave Falls further down the road. However, when we took a few minutes to investigate (by briefly driving) the alternate start for Slave Falls, we learned that there were no "legal" parking spots besides the gravel road. So we returned to the Sawmill Trailhead and finally began hiking at 10:05am (EST).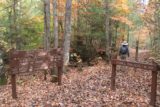 One thing that was unusual about today's hike was that this was the very first time all trip long that we had to put on bug repellant. That was because we had gnats or little mosquitoes persistently hovering about our faces at the trailhead.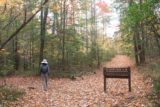 Anyways, we went ahead with the hike past the sign indicating that it was 1.3 miles from here to Slave Falls. The hike was on a pretty easy-to-follow path despite fallen leaves covering the trail. Speaking of which, there seemed to be a little more green on this trail than we had seen since the beginning of the trip though there were plenty of Autumn colors to be seen as well.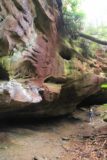 After going left at a Y intersection where was 0.2 miles to the left for Slave Falls and 0.2 miles to the right for Needle Arch, the path descended into a wet alcove area. At first we thought it was Slave Falls that had gone dry, but we knew 0.2 miles was a lot longer than what we had just walked.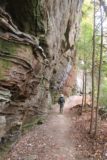 So Julie kept going when we found the trail hugging overhanging rocks and cliffs to our left. And eventually after a few more minutes of hiking, we reached a dead-end where we could see Slave Falls trickling as it fell freely from the lip of its alcove opening.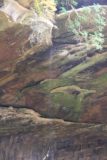 The trickle of water was very much like our Yahoo Falls experience yesterday afternoon, and I started to wonder if we had started to hit those areas where last year's drought was affecting this area.
So we took our obligatory photos and movies of this trickle, but we didn't want to linger here long given the crappy photos but also the presence of mosquitos.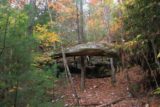 We hastily hiked back towards the Y intersection (passing by a couple of women headed to the falls whom we suspected would probably be just as disappointed as we were) then hung a left to go the 0.2 miles to Needle Arch.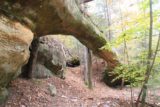 In a few minutes we got to the signposted diminutive arch which had a longer span than it was tall. There were lots of trees growing around the arch so it was not easy to photograph in the same way that Utah's sandstone arches in wide open scenery were more attractive.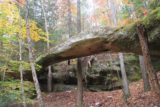 So this hike didn't exactly put Julie in a good mood thinking that I chose a dud, but sometimes all the research in the world can't prepare you to decide whether to skip an attraction or not since we hadn't known how rainfall patterns had occurred here this year. After all, up to this point, we had seen very good flows throughout the eastern side of the Appalachians. But it appeared that two of the three waterfall excursions we had been to on the western side of the Appalachians were on the disappointing side.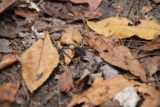 Anyways, made haste to get back to the trailhead. There was a fair-sized spider that seemed to be on the hairy side that we noticed on the trail. But aside from that diversion, we finally made it back to the trailhead at 11:50am (EST) to complete the 2.8 miles of round trip hiking.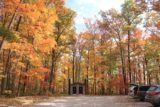 Next, we continued driving the unpaved roads back towards Divide Rd, and then took Divide Rd towards the Twin Arches Rd, which got a little narrower and rougher in much the same manner that Ridge Fork Rd was. There were a couple of small sections of rough potholed and rutted areas, but it still posed no real problems for our low clearance Chevy Malibu rental vehicle.
And by 12:10pm (EST), we were at the much busier car park for the Twin Arches, where we saw at least a half-dozen other vehicles and some folks chillin' out at the picnic table at the trailhead.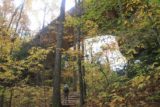 The signs here indicated that it was only 0.7 miles to the Twin Arches so that gave us some relief in the sense that we wouldn't have to do more strenuous hiking than we desired (after having done such hiking for several days in a row now).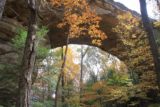 So we did the loop trail to the arches and back in a clockwise manner. There were some steep stairs leading further down into the colorful forest (thanks to the Fall colors) before we ultimately reached the North Arch. During the hike, I had noticed a mozzie bite on my left elbow so certainly there were stil skeeters in the area.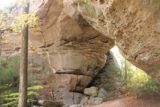 Once again, it wasn't easy to photograph this impressive arch, which must've been at least 100ft wide and somewhere close to that in height. Even though we could get somewhat distant views of this arch for better photographs, there were many trees conspiring to reveal a clean look of the arch that we were used to enjoying for the Utah ones (which we hadn't seen in years).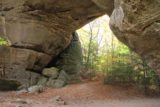 We did what we could to exploit as many angles and vantage points at this arch, and then we continued further south on the trail to check out the adjacent South Arch, which was the other half of the Twin Arches.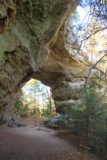 Like the North Arch, the South Arch looked pretty similar in shape. However, the trail got real close to this one so it was difficult to get decent photos of the arch without a wide angle lens (which my DSLR could somewhat accommodate except for the built-in zoom for EOS cameras).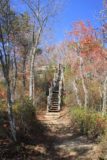 Still, this arch was impressive and it seemed to have lightened up our moods given the disappointment at Slave Falls. And just as we were about to leave, we spoke to some folks who had just arrived, who seemed to exhibit a distinctly different Southern accent than what we were used to in the Carolinas. Anyways, after talking about how we needed the ability to stitch photos to take in these arches, we headed up some steps in between the Twin Arches.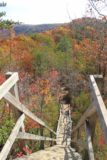 And at the top of the stairs, we could immediately see that we could walk over the arches. Well, we only walked over the North Arch en route to get back to the trailhead. Of course up here, there weren't any real photo ops since it just looked like we were walking on a ridge. But it wasn't often that we could say we could set foot on an arch (though I did walk over the Yahoo Arch yesterday).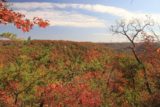 After going up a few more steep stairs, there were some opportunities to get views of the colorful forest below the trail. And after some more walking uphill towards the car park, we chatted with a couple of fellows resting besides the trail with backpacking gear on.
In a similar Western Appalachian Southern accent that our ears were starting to pick up, they said "hi" to us and we said "hi" back. Then, we talked a bit about the Twin Arches before one of the backpackers (seemed like a senior father and son combo) talked with us about the history of this place.
He mentioned that the Charit Creek Lodge further down the trail used to be private hunter's lodge. And that previous owner used to introduce species for hunting, which included Russian wild boar. Well, now those boars were apparently pests, and they were essentially like natural roto tillers to the vegetation there. So he mentioned that it was open hunting season to eliminate them though I doubt there could be enough hunting to get rid of them.
As for other species, he said it depended on the time of the season whether you could hunt with bow-and-arrows, guns, or full on rifles.
Anyways, he also told us that much of this area in the 18th century used to be settled and inhabited. Places like Jake's Place showed evidence of past clearing. It was amazing to think how pioneers back in the day had to blaze their own trails and tried to figure out the path of least resistance to get through the mountains or find places to make a new life.
After the history lesson and pleasantries were over with, we let the backpackers head back to the trailhead much faster than we could despite them carrying easily 50lbs or so of gear.
At 1:30pm (EST), we were finally back at the car. Since I had brought a laptop, Julie and I took a look at our research notes to see if it was worth checking out Split Bow Arch and/or Natural Bridges State Park, which was far away to the southeast of Lexington, KY (home of the University of Kentucky Wildcats).
It turned out that after an unsuccessful half-hearted attempt at checking out Split Bow Arch (we pretty much gave up when the roads got worse and there didn't seem to be signs indicating where to find this arch), we continued back on the Hwy 92 towards Williamsburg.
At 3:30pm, we made it to the Wal-mart in Williamburg where we picked up some fruits and even a late Subway lunch. And at 4:25pm, we were back at the Cumberland Inn where we called it a day. Indeed, this was one of the shorter days of activities on this trip, but we could certainly use the rest knowing that tomorrow would be a very long day of driving to the Mammoth Caves National Park before heading south to Nashville, Tennessee…