Day 11: CLOCKS
It was 6am when we awoke. We knew that for today we would have a long drive ahead of us. So to power up for the day, we had ourselves one last complimentary breakfast at the Cumberland Inn before we would head further west in Kentucky.
At 7:20am, we left the inn. Though it was still mostly dark at this time of day, it was starting to get light as the sun was close to breaching the horizon.
The drive went pretty uneventfully and smoothly along a combination of the Hwy 92 and the Hwy 90. The nearest interstates were too far away from these highways so we stuck with them with average speeds of around 55mph.
Eventually we'd get through the town of Monticello and head west of there. Then, we'd turn right onto the Hwy 3062. And immediately after making a right, we made another right onto Hwy 754. Our GPS said this was Seventy Six Falls Road, but there was no signage indicating as such so we were concerned about whether we were going the right way or not.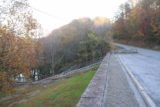 At 8:55am (EST), we made it to an empty car park (more like a paved pullout besides the 754). There were no signs indicating there was a waterfall here, but we did see there was a picnic area and some sounds of moving water nearby. So that was a good sign.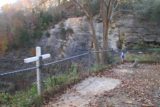 So after parking the car, I went ahead and crossed the bridge then approached the picnic area. From there, I could see immediately that there were two shrines at an overlook. And when I peered over the overlook, I could see downstream of what appeared to be the brink of a waterfall. Unfortunately, the falls wasn't visible here.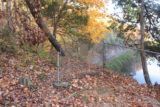 But I did notice some faint trails going past the end of the fence for an angled (albeit precarious) view of the falls. I (foolishly) went on that path and even went past a fence with a sign that said "restricted area." But the severe drop-off hazard next to the narrow ledge covered with fallen leaves and hovering mosquitoes made me wonder if I was wise to even attempt this.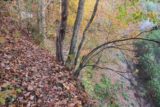 In any case, I just took some quick photos and movies, but I wasn't at all comfortable with where I was. So I quickly returned back to the sanctioned picnic area. I wasn't terribly happy with the views of the falls from where I was at anyways.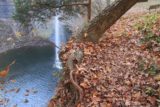 But given the precariousness of the views of the falls from this dangerous spot next to the picnic area, I began to put two and two together and realized that perhaps some people died here trying to improve their views of Seventy Six Falls. Maybe those two shrines that I saw at the overlook might have been related to my foolish attempt to improve my view of Seventy Six Falls.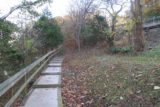 When I had enough of the view of the falls and the picnic area from this side, I then noticed that there was a trail and stairs heading uphill on the opposite of the stream with the falls. So I pursued that trail and eventually got to a more distant overlook with a different but similar view of Seventy Six Falls. There was still some overgrowth conspiring to obstruct the views of part of the falls, but at least most of the waterfall was visible.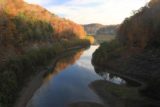 By the way, the falls did have decent flow considering it was in Autumn. Plus, further downstream, I could see that there was a lake (possibly Lake Cumberland). I thought I had heard some motor sounds in the background, and that was when I realized that it might have been a houseboat on the lake.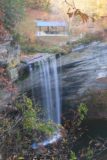 Julie eventually was done reading her book when I returned to the car. And so we both went to the official overlook on the right side of the stream. So we took what photos we could before we got back to the car at 9:50am (EST). Just as we were about to get into the car, I saw yet another shrine across the highway from the car park.
Apparently, that must've been at least the third victim at this waterfall!
All the shrines here definitely made this place feel somewhat ominous. Now I was starting to see why there weren't obvious signs for Seventy Six Falls. Maybe some people didn't want this place to be that well known given the apparent tragic history here.
Anyways, it was now time to continue our long drive. Next up, we were headed to the Mammoth Caves National Park. This would be the first caving of this trip to mix things up a bit. And we were going out of our way to get to this series of caves.
Eventually after driving through more rural roads along highway 90 (noticing many religious signs saying "pray to end abortion," "marriage is between a man and a woman," and "Jesus is coming, are you prepared?" among others), we eventually made it to the Mammoth Caves Visitor Center area at 11:25am (EST).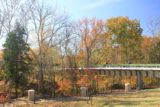 We were trying to figure out which cave tour to do (it was between the Historic Cave Tour and the Frozen Niagara Tour or New Entrance Tour), and we'd eventually settle on the Historic Cave Tour since it was the most general and popular one ($12 per person for 2 miles and 2 hours of touring). So we mind as well do what this cave was most known for, especially since we were already familiar with cave formations from visiting several other caves in our travels. It was a good thing another ranger helped us out by showing the context of the tours on a relief map of the cave network here.
Anyways, the next tour wasn't until 12:15pm.
So we had some time to kill before our cave tour and we used this time checking out the museum area. Within the educational museum area, there was a very interesting display showing how the climate of North America changed in over 380 million years. In that display, we could see the conditions that gave rise to the Mammoth Cave system, but we could also see why the climate during the time of dinosaurs was more tropical (because North America was by the equator back then), and we could even see how the last Ice Age gave rise to the Great Lakes!
But while I was wrapping my head around all the educational stuff regarding the caves, Julie started to notice the times on the clocks at the visitor center.
And they were all an hour behind!
That was when it dawned on me that we must be on Central Time!
So all that time that we thought the GPS was screwed up, it was really us that was screwed up! Some folks overheard our conversation and reinforced to us that indeed this part of Kentucky was on Central Time and so was Tennessee. I found it strange that parts of Kentucky were on a different time zone than other parts of the state (e.g. Cumberland Inn was on Eastern Time). I had to believe that other visitors must have also had similar confusions with time zones.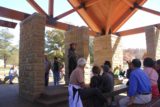 Thus, we had a lot of time on our hands and we decided to have ourselves a lunch at the diner by the visitor center. A charming waitress in her Kentucky accent waited us and added the word "Hon" after every sentence she said. It was kind of reminiscent of waitresses in roadside diners you might see in the movies or in the sitcom "Alice," and this was the first time I genuinely saw it live and not contrived.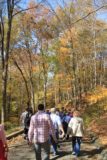 Finally at 12:15pm (central time), a pair of rangers came to greet us awaiting our tour. We had a pretty sizable group so clearly it wasn't one of the more intimate tours we've done.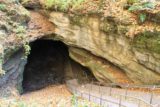 We walked from the visitor center and downhill towards a pretty large cave entrance at the base of some stairs. We could feel cool air (probably in the 50s or 60s) rushing out of the cave entrance, which totally contrasted the warm midday air (must be in the 80s) on the outside.
All of us filed into the long entrance of the cave walking by a trickling weeping waterfall at the mouth of the cave itself. Then, the bright daylight quickly gave way into sporadic darkness broken only by strategically placed lights throughout the cave so we could at least see where we were going without flashlights.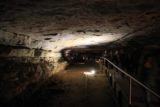 The tour was a mix of long stretches of walking with some stoppage so the head ranger could give talks about some relevant history concerning the spots we were stopped at.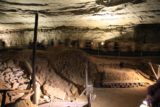 In particular, we saw remnants of saltpeter mining apparatus in the beginning where we learned that the water from that weeping waterfall at the mouth was used to help dissolve and extract saltpeter so gunpowder could be made. Saltpeter was very valuable when the War of 1812 happened, which was just a year after the mining operation started.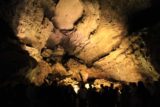 Continuing further in the cave (which was like walking through a subway as the tubular passages were very tall and long), we could see evidence of graffiti all over the cave. From looking at some of that graffiti, we saw some dated 1839 and 1855 among others.
The tour kept descending gradually until we were roughly 310ft below the surface after a long "fat mans misery" section between very narrow passageways all while ducking our heads throughout the section. After that, we had to climb up several steps eventually getting to the bottomless pit.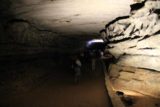 The ranger mentioned that Stephen Bishop (one of the slaves who gave guided tours of the cave in pre-Civil War times) left his own graffiti which gave glimpses into how these caves might have offered some momentary freedom from the life of slavery above ground.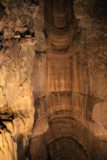 Somewhere along this ascending stretch, we could hear the soft sounds of falling water. Clearly, there was a waterfall here, but it wasn't very photographable (the falling water was too much of a trickle). But I did take a movie to prove it existed.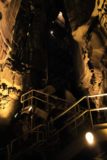 Then, we ascended the bottomless pit up a long tower of stairs. And it was during this ascent that we had perhaps our most interesting photos of cave formations here.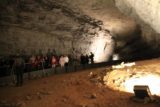 At the end of the climb, the path looped back towards the large subway-like area near the start of the Discovery Cave Tour entrance (which we weren't going to do), and then exited the cave through the same way we came in.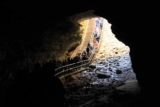 And when we left the cave and went up the stairs, we left the cool air of the cave and were reacquainted with the warm 85F temperatures of the overworld.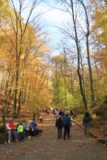 At 2:30pm (central time), we were back in the car. Now, it was time to make the long drive to Nashville where we were spending this night. We'd eventually get to our accommodation (Best Western Music Row) at 4:15pm. And once we got settled, we made it a point to have dinner and then walk around Broadway and 5th where it was suggested would be a good place to check out the bars where lots of live country-style musical acts would be playing.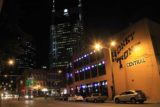 After a pretty expensive Happy Hour dinner at Sambucas, we then found parking near Broadway and 5th at around 7pm.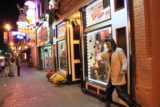 We could see there was some bit of atmosphere in this stretch of downtown Nashville where loud neon signs lined Broadway in a way that was reminiscent of Vegas. However, each of the bars here had live bands playing.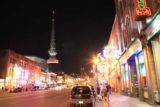 Country music wasn't our type of genre, but it was definitely a unique experience in our travels to go from one bar to the next hearing loud country-style music being played. The only thing that kind of kept our experience in this part of Music City were the homeless people loitering about. It seemed like some claimed they were war veterans, which would be real tragic. However, we couldn't be sure if they were genuine with these stories or if it was an act to trick unknowing tourists into charity.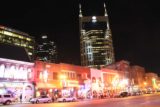 Whatever the case, Julie and I got the general flavor of this place and decided to head back to our hotel a little after 8pm.
And so that brought an end to today's rather diverse series of activities mixed in with long drives. Tomorrow, we would go back to waterfalling in Eastern Tennessee…
Visitor Comments:
No users have replied to the content on this page