Day 12: DEAD DEER
For some reason, I was aroused and woke up at 4:50am. It turned out that Julie had slept early last night and must've woken up earlier on then couldn't go back to sleep. So she was looking at her iPhone and that was when I must've caught a glimpse of some kind of light from her iPhone screen that caused me to wake up (I'm a light sleeper).
So with the inadvertent wake-up, we spent much of the next hour or so getting packed and loading up the car. At 6:30am, we had another one of those complimentary breakfasts of eggs, sausage, and even self-made waffles. We also got some yogurt, oatmeal, and toast.
At 7:15am, we left the Best Western Music Row, and quickly got onto the I-40 due east towards Knoxville. Since we were headed east, we were looking against the morning sun almost the entire time we were west of Cookeville.
It would be roughly 8:10am when we arrived at Cookeville, which was where we were going to stay this night. However, it was way too early to check in so we just kept going east on the I-40 in search of two waterfalls in Cumberland County not far from Knoxville.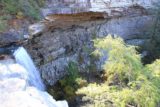 Eventually, the smooth and monotonous interstate driving came to an end when we arrived at the Ozone Falls car park at 9:20am. We probably could have been there ten minutes earlier had we obeyed the GPS, which told us to exit the I-40 at some ramp that would've taken us to the Hwy 70. But for some reason we were under the impression that the trailhead for Ozone Falls would be right off the interstate so we incorrectly thought we had outsmarted the GPS.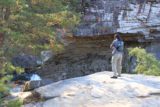 Truth was that we had to first get on the Hwy 70 and then park the car at the Ozone Falls.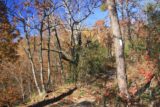 We had researched that this was going to be a short excursion so we didn't wear hiking boots. And when we immediately walked towards the falls, we were right on top of Ozone Falls. And while the vertigo-inducing views were interesting, we still didn't get a very satisfactory view of the falls itself from up here.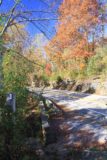 So we continued following the trail leading to the base of the falls. The trail actually rejoined the Hwy 70 (though from a different spot than the official car park).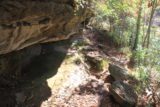 But then from there, the trail descended steeply towards the base of the falls. Neither of us didn't feel like going back to the car to change into hiking boots so Julie headed back to the car (not wanting to hike in her street shoes) while I was still able to do some hiking in the Chacos I brought with me on this trip.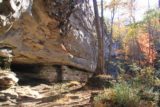 The descent towards the base hugged some overhanging cliffs and alcoves. They were interesting to check out, but knowing we had a full day today, I continued on with the somewhat steep descent until I was able to get a pretty clean look of the falls. However, my view was hindered by the fact that the sun was practically against my line of sight so I tried to use the trees around the area to screen it out.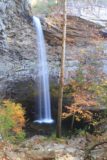 I probably could have continued further on to the shadowy and misty base of Ozone Falls, but I was happy enough with my view most of the way down. I had heard that this waterfall was in a Disney work called "Jungle Book." Since I hadn't seen it, I can't say for sure. But if it was the case, then I'd say this falls was a pretty scenic choice given its height and somewhat satisfactory flow. I thought Julie missed out on this one.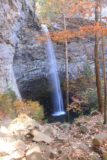 At 9:50am, I was back at the car. Next up was the Upper and Lower Piney Falls, which we knew wasn't far from Ozone Falls. However, the GPS claimed that we wouldn't get there until around 11:20am, which led me to believe that the vicinity of the Piney Waterfalls must be back on Eastern time. And so once again, we were in a situation where there was a time zone change in the same state. How confusing is that?!?
So after driving on the Hwy 70 towards Cox Valley Rd, and then using that to connect with Hwy 68, we'd eventually turn right onto Firetower Rd, which started off with some fairly deep potholes, but then rejoined a smoother gravel road (it turned out that this gravel road also connected with Hwy 68).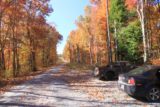 While continuing along Firetower Road, we saw one deer run across the road and another deer already waiting on the other side of the road before it ran off, too. I believe that was the first time we saw a deer on this trip since the Bad Creek Rd by the Duke Energy facility en route to Lower Whitewater Falls in South Carolina.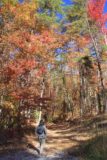 It was about 10:25am (central time) when we arrived at a small little car park with a camouflaged truck already parked there. A small sign pointing towards the trail saying "Piney Waterfalls" gave us the confidence that we indeed stopped at the right place.
Julie was concerned about the camouflaged truck since her instincts told her that someone might be on this trail with weapons.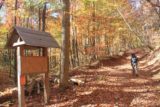 The trail descended from the car park towards a bend where there was a board but no sign. A lot of etchings were on that board indicating some peoples' past experiences with this falls (namely one warning others about dangerous paths "on the right"). That didn't exactly give us confidence about this hike, but we pushed forward anyways beneath the now-standard colorful trees dropping orange and yellow leaves as if they were snowflakes.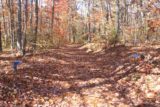 After crossing some kind of rope across the trail (we had no idea why that was there, but it planted seeds of doubt as to whether we were on the right track), we hit a trail junction with some reassuring signs. To the left, it said "to the bottom of Upper Falls" while the right said "to the top of Upper Falls."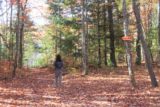 Since we were short on time and not interested in going to the top of the falls, we didn't hesitate to take the left path.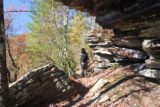 The trail continued to descend some more with some more signs and markings to help with some trouble spots.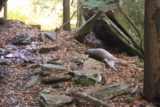 Eventually, the trail started to hug some interesting cliff walls. But it was somewhere at this point that we spotted a deer carcass right next to the hiking trail. The carcass looked like it was a new kill.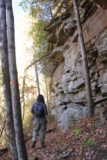 This freaked Julie out as she treated the dead deer as if it was like spotting a dead human body next to the trail. And not long after accepting that the deer was there and we'd have to go by it, there were a couple of guys in camouflage gear further up the trail. We suspected that they probably shot the deer, and now Julie was concerned that these folks might be up to no good (i.e. that we might be their next targets).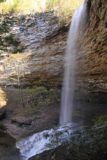 In fact, it could very well be that this deer might have been related to the two deer that we saw across the road to get to the trailhead.
But we trusted these folks were just out doing their own business and don't have a malicious agenda towards non-locals so we eventually pushed forward and said "good morning" to the camouflaged guys as we passed by them.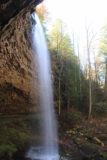 Not long afterwards, we finally made it to the base of Upper Piney Falls. Like Ozone Falls, it was tall though not as tall Ozone. However, we were able to walk behind this waterfall and try to take as many photos as we could despite the non-optimal lighting conditions thanks to the harsh light against dark shadows. In fact, when I positioned my self on the other side to look back at the front of the falls, the sun was directly in my line of sight.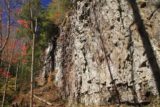 The overhanging cliffs here looked like there might have been hints of some kind of basaltic rock, but it was hard to tell since the hexagonal columns weren't nearly as obvious (if indeed they do exist here). Plus, some of these cliff walls were also dropping water.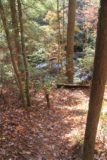 When we had our fill of this waterfall, we headed back to the trailhead. However, the thought did cross our minds that we might have to see the camouflaged guys again.
Just when we arrived at a signed trail junction with the Lower Falls spur, I went ahead and took a very steep descent towards it. Even though the signs suggested this was a trail, it was really more like a steep scramble.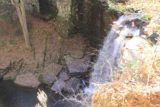 Anyways, right at the base of this scramble, I was near the top of Lower Piney Falls. It was clear that there was no way to the bottom of this waterfall (at least no obvious one), and the bright and hot sun was right against my line of sight while also yielding terrible light and dark zones in my photos.
So there was no reason to linger here longer than needed while Julie was waiting back at the trail junction. So I made the steep climb (steep enough in a couple of instances for me to use my hands as well) and rejoined Julie.
As we walked back on the trail, we noticed one couple that was headed to the falls. At least that gave us some reassurance from our fear that we wouldn't be victimized by those camouflaged folks whose intentions might not be good (whether true or not).
At 12pm (central time), we were back at the car. The camouflaged folks were also back at their truck. We didn't exchange any more words. I think we just wanted to put our stuff in the car and drive off, which we promptly did.
Now, we were headed back towards Cookeville.
By 1:05pm, we arrived at La Quinta Inn in Cookeville, where we were able to check-in and drop off our stuff. The day was quite warm today (about 80F), especially in town.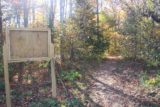 After getting settled, we left La Quinta Inn at 1:50pm. After a quick Quiznos sandwich, we then followed the GPS instructions to go through a rather busy and surprisingly big town of Cookeville, before rejoining the Hwy 290, which wound towards Cummins Mill Road. Making a right on Cummins Mill Road, we then followed some signs until we were directed to turn left and then another left past some wooden fence and into an unpaved car park.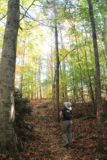 Cummins Falls State Park was said to be Tennessee's newest state park in 2011. I had read stories about how this waterfall almost fell into the hands of developers. However, locals banded together so raise enough money for the state to buy the private property and thus eventually save this falls from succumbing to development at its expense.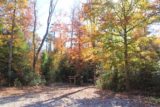 We were at the car park at 2:35pm. There were a handful of vehicles already parked here, suggesting that a place like this could see a lot more people if it wasn't dead smack in the middle of the workweek today.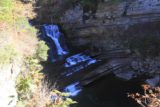 Anyways, I came prepared to get wet in an attempt to see the falls from the base, but only after seeing the falls from the overlook. Apparently Travel & Leisure rating this watefall as one of America's top swimming holes so surely it must be worth getting to the base of the falls, right?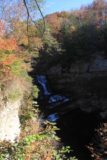 The nearly half-mile down-and-up walk crossed a couple of what seemed to be roads, but we doubted they were accessible to private vehicles from the public. And not much later, we'd eventually arrive at the overlook of Cummins Falls. Unfortunately, there was really only one good spot from which to see and take photos of the main section of the falls. And that spot was only good for one photographer at a time.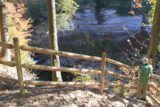 So after waiting turns to take photos of the Cummins Falls (which was in shadow and juxtaposed against very bright cliffs), I decided to scout out the quick descent towards the base of Cummins Falls. But it was clear that the authorities here had put signs pointing you towards the Downstream Trail in order to access the base of Cummins Falls. There must have been a reason why.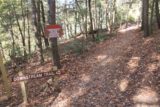 Nonetheless, I followed some little pink and yellow flags before I saw the steep descent towards the base of the falls. After investigating this route, I saw a pretty nasty vertical drop that just didn't seem like it was very safe to do without some kind of climbing gear or rope. So I went back up and decided not this falls wasn't worth it. Plus, I wasn't about to hike an additional 3.2 miles round trip where half of this would be wading and bouldering the stream towards Cummins Falls' base.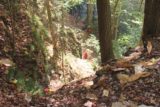 I was wondering why Travel & Leisure chose this waterfall as one of the best swimming holes in the US when accessing the base of the falls wasn't easy. It started to make me wonder whether the writer of that article did his/her research, or did he/she just look at a bunch of photos and some blurbs in the literature about whether it was possible to swim there or not, and then base the decisions off these "sources." If you ask me, that was either lazy travel writing or maybe the difficulty in accessing the base of the falls might have been a plus since few people would do it and overwhelm the place.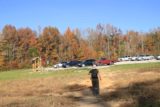 So that was the end of our Cummins Falls visit. We were back at the car park at 3:30pm. Next up was the long-awaited Burgess Falls.
This time we took the Hwy 56 south to the I-40, then took that interstate east for a mile before going south on a rather busy Hwy 135. After about 8 miles or so, we'd eventually reach the turnoff for Burgess Falls. And not long after getting onto this road, we saw a ranger closing the gate to the office.
At first I thought he was closing the park to the public, which I thought would be strange since it was pretty early in the afternoon (the sun still had another couple of hours to set). But we talked to him and he said that he was about to close the gates in another hour and 15 minutes.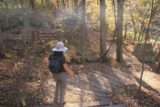 At 4:15pm, we finally made it to the Burgess Falls car park. There were still quite a few cars parked in this fair-sized lot, but we knew that we didn't have a whole lot of time to visit Burgess Falls before the ranger closed the gate. So we hauled ass as fast as we could.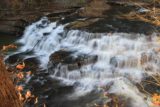 We still had some time to hastily take photos and movies of the Upper Falls and the Middle Falls. Both of these falls were very wide and photogenic. It helped that the afternoon sun was low enough to keep the waterfalls in shadow to facilitate long exposure shots.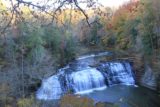 When we got to the overlook of the Big Falls, we could see that Burgess Falls was half in shadow. Moreover, while its waterflow was adequately satisfying, it didn't have enough volume to cover the entire pyramidal rock face with water.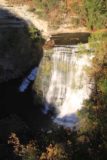 Had it done that, it would've made me consider this waterfall as a poor man's Union Falls in Yellowstone National Park (a waterfall that would be very high on my wish list if only I could find the right circumstance to do extended hiking in the Bechler Backcountry).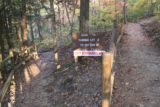 It was about 4:40pm when I had my fill of taking photos and movies at the main overlook. And that was when I bolted my way down the steep trail to the base of Burgess Falls.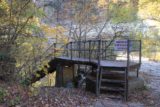 The path was fairly straightforward in the beginning. Then, there were stairs with a caged canopy (my guess was that it prevented rocks from pelting the stairway) that began right at the same level as the brink of Burgess Falls.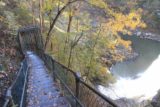 Once the stairs were done, the trail then entered a wet and misty zone where the rocks were very slippery and the trail was very conducive towards taking a spill if not careful with the footing. But I eventually made it to the bottom where I took photos of the falls in as wide an angle as I could possibly due.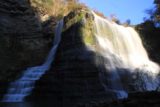 Even though only half the waterfall was in the warm afternoon light, there was a faint rainbow.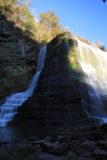 When it got to near 5pm, I ran my way back up the path to rejoin Julie. Sweating profusely, we both hastily made our way back up the same trail that we went down. Now we did see a handful of people go in the opposite direction, which made us wonder if they'd get locked in by the ranger or not. We were certain these folks wouldn't make it out if they tried to go the 3/4-mile all the way to the overlook of the main waterfall.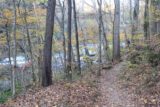 At 5:20pm, we were finally back at the car park. So we still had around 10 minutes left to spare. But given how rushed today's visit was, we decided we'd come back here first when it first opens at 8am so we could enjoy this waterfall with a bit of a more relaxed pace.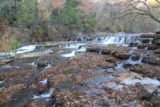 We were back in Cookeville at 5:45pm, but we spent the next couple of hours picking up some more water at the local Wal-mart, and then dinner at Crawdaddy's, which was better than what we expected.
At 7:30pm, we were finally back at our room and called it a day… and another long one at that!
Visitor Comments:
No users have replied to the content on this page