Day 13: TAKE ME TO ANOTHER PLACE, TAKE ME TO ANOTHER LAND…
It was 6:45am when I awoke, but Julie slept in another half-hour or so. It was another sunny and warm day, which was apparent when I took our belongings to our parked car. And ever since we left North Carolina, we swore that the air on this side of the Appalachians was generally warmer. Thus, more sweat and we couldn't really let stuff sit in our car and let it act as a refrigerator overnight.
After a lengthy bit of packing and having another complimentary continental breakfast, we finally left the motel at 8:25am.
We headed back towards Burgess Falls hoping that perhaps we could have a more relaxed experience there while hoping the shadows of the morning would help make Burgess Falls more photo friendly than yesterday.
So at 8:40am, we returned to the Burgess Falls car park. It was nice and quiet as only one other vehicle was parked here.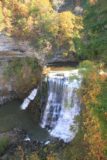 Instead of the riverside trail that we took yesterday afternoon, we took the maintenance road this time. The walk wasn't any shorter than the path we took yesterday, but it was a lot flatter and wider. Julie and I were constantly mesmerized by the leaves gently falling to the ground like snowflakes. It helped pass the time as we were hiking the 0.75 miles to the main waterfall.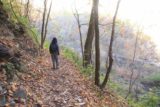 Once we got to the main falls, we could see that the morning light had already started to breach the very top of Burgess Falls. We knew that it would be prone to wreaking havoc on our photos given its propensity to create highly contrasted light and dark zones that the camera would be unable to resolve. I started to wonder if the lighting would've been better had we arrived at the park right when it opened at 8am.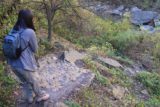 Nonetheless, we spent some time taking photos at the top in both long exposure and fast exposure. Then, we descended to the base together. And like yesterday, the descent to the very bottom was a bit slippery and wet, but Julie seemed to get down without a problem.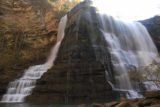 Then, we wasted no time taking what photos we could until the sun's light got even worse than it was now. Equipped with the tripod, I did my best to take in the entire scenery, but it was clear that without wading in the water, there was no way I could get completely frontal views of the falls. Besides, the morning sun would've shone directly in the line of sight from there (it was already washing out the very top of the falls in my photos).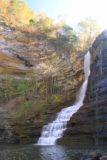 We also took advantage of the tripod to take couple shots in long exposure down here as well. We'd eventually be done with the scene when a few other folks joined us in taking photos of the falls' base.
By 10am, we were back at the car.
Next, we drove further south towards the town of Sparta. And once we passed that town while driving south on the TN-111, we followed the GPS hoping to find Lost Creek Falls somewhere southeast of town.
Our meanderings would eventually lead us to the 287, which we then took to Hickory Valley Rd, then to Big Bottom Rd (which was also White Cave Rd). At some point, we must've overshot the spot for Lost Creek Falls because we kept going north and eventually hit Lost Creek Rd. Turning right on Lost Creek Rd, we eventually reached a dead-end at someone's residence. So in backtracking, I took some time to stop the car, look at our research notes, and then conclude that we had gone the right way before overshooting it.
So we headed back onto the White Caves Rd. now going south.
Eventually, we'd be back where the GPS told us to stop. However, there was a white truck with doors opened parked beneath the elevated unpaved road we were on. I could see that we were probably supposed to be parked where they were, but Julie was spooked by that truck in much the same way she was spooked by the camouflaged truck at Upper Piney Falls.
It was too bad Lost Creek Falls had no signs or anything indicating its whereabouts nor its protection. That would've saved us a heap of uncertainty.
Anyways, not wanting to tempt fate by a possible confrontation with armed people (which was definitely on our minds back at Upper Piney Falls yesterday), we decided against doing Lost Creek Falls and the Lost Creek Cave. So at 11:20am, we continued back towards the TN-111 and continued south towards Falls Creek Falls State Park.
There were actually two ways of getting there (one on the 30 and the other via the 111 we stayed on). So we continued going south of the town of Spencer and through some road work going on here.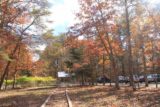 Eventually, we'd get to the Hwy 285, which we followed all the way into the main part of the state resort park. It felt like there was a bit of a maze of roads criss-crossing every which way. But we made sure that we stayed on the main road until we saw signs pointing the way to the main waterfall itself.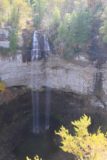 By 12:10pm, we made it to the car park for the Falls Creek Falls Overlook. The place was quite busy for a weekday. It was also partly cloudy, which was a good thing for blocking out the sun in photographs.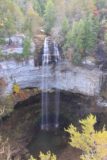 That was because when we walked to the overlook, we could see right away that the sun created really bad lighting conditions for photographing the 256ft waterfall. Not even its companion waterfall was flowing given the pretty low volume of water on the main falls.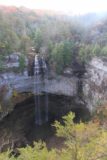 I had read that the man-made down further upstream (and that we drove over en route to get here) ensured that Falls Creek Falls would flow year-round. But without this waterfall in full stream, it really wasn't all that impressive (at least compared to something like Burgess Falls).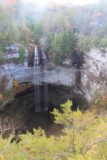 It was a good thing that the sun was blocked by the clouds from time to time. I tried to capitalize on it when such an event occurred, but the best viewing spot at the overlook (where the foliage below wasn't getting in the way) was almost never vacated.
At 12:40pm, Julie returned to the car. She let me go ahead and take the descending trail to the base of Falls Creek Falls.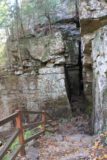 The trail was fairly straightforward at first. But soon enough, it followed a rather rocky and uneven path as it continued its steep descent into the cooler depths of the gorge.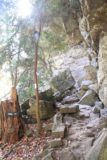 Eventually, the trail would traverse a series of rocks, which I was sure came from the cliffs above. In fact, this trail followed most of the cliffs and even beneath overhangs, which I was sure posed a threat to hiker safety as long as we were by the cliffs (the evidene of rockfalls were all around).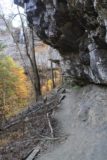 There was even a small section on the steps next to the cliffs where I swore I felt some kind of cool draft just as the stairs was turning in a different direction. Given the Mammoth Caves experience a couple of days ago, I reckoned that there must be a cave somewhere near there, but I couldn't say for sure since I wasn't interested in off-trail scrambling to find it.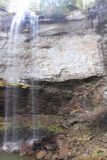 At the bottom of the falls, there were some folks that were just about to leave. Another couple was also down here, and they actually went closer to the point where the falls smacked to the ground.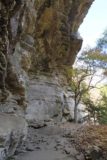 Once I had my fill of the falls from this spot, I eventually returned to Julie and the car at 1:30pm. It was roughly 3/4-mile each way (1.5 miles round trip) to get to the bottom of Falls Creek Falls. I'm sure it probably felt a little longer thanks to the uneven surface and the amount of climbing that was necessary.
Next, we drove off and continued the loop road from the Falls Creek Falls Overlook and towards the Piney Gorge (it was a one-way road anyways so it wasn't like we had to go out of our way to see what was in the Piney Gorge area).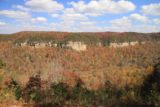 At about 1:35pm, we made a brief stop by a "5" marker. That stop revealed a view of fall colors and part of the gorge itself.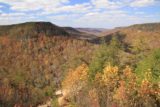 Five minutes later, we found Milliken's Overlook, where we could see more fall colors plus a hint of a valley in the background.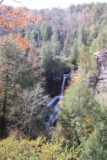 The drive continued until we made it to a little cul-de-sac for Piney Falls and Suspension Bridge at 1:45pm. After getting out of the car, we first took the path to the Piney Falls Overlook. And we could see from that distant view that the falls dropped in a thin plunge before hitting a sloping wall nearly half-way down and spreading out like a fan.
After getting our fill of this vantage point, we proceeded back up to the car park.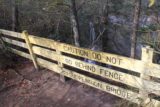 Next, we walked the other path towards the Suspension Bridge. Somwhere along this route, we saw a yellow fence with perhaps the closest view of Piney Falls. Unfortunately, lots of vegetation blocked the line-of-sight and thus rendered photographing Piney Falls from this trail was not practical.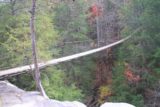 Continuing on this trail, it would eventually hit the namesake suspension bridge. Unfortunately, there were no views of Piney Falls from here. Plus, the suspension bridge eventually reached some signpost indicating that the Lower Loop continued. Not interested in continuing the hike, Julie and I headed back to the car and got there at around 2:10pm.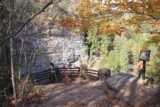 Next, we drove out of the Falls Creek Falls and Piney Falls road spur and returned back to the main park road. From there, we followed the main road towards the Nature Center. Once we arrived at the car park at 2:20pm, we followed the signs to the Cane Creek Falls.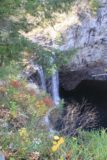 But it turned out that the view at this overlook was a dud. We could only see Rockhouse Creek Falls to our right, but Cane Creek Falls down below to our left was practically blocked by vegetation. So we took our obligatory photos and movies from here, but we were left wanting more.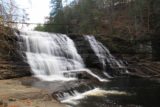 So next, I went to the Cane Creek Cascades further upstream. This waterfall was definitely more swimmer- and bather-friendly as I saw many folks playing in the water here, despite the water being very cold. I was also busy trying to hold my breath as I took long exposure photographs of the falls without the tripod.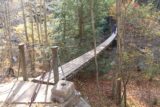 When I had my fill of photographing Cane Creek Cascades and the suspension bridge above it, I then opted to continue hiking on the trail that went about 1.2 miles from here to a view of the Falls Creek Falls itself. That trail crossed that suspension bridge just upstream from Cane Creek Cascades.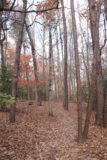 Thankfully, I didn't have to go all the way to see an overlook for the gorge and quite possibly a view of the front of Cane Creek Falls.
And eventually, I'd make it to the overlook where both Rockhouse Creek Falls and Falls Creek Falls were visible. It ended up being about a mile each way and roughly half-way between Falls Creek and the Nature Center.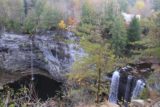 The view from this side was much better than the side by the Nature Center. But it was still difficult to take photos of Cane Creek Falls satisfactorily. After talking with the worker inside the Nature Center before going off on my own to do this hike, he mentioned that there was a "cable trail" that descended a vertical cliff with the aid of a cable to hold on to.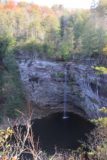 t sounded dangerous to me and it was one of those things where I had to evaluate whether a waterfall is really worth that much risk-taking with your own life. And like with Cummins Falls, I opted not to go down to the base for this one either.
In any case, I got my movies and my views (including photos where both Rockhouse Creek and Cane Creek Falls were visible in one go). And at that point, I headed back towards an awaiting Julie by the Nature Center. And by 3:35pm, we were back in the car and ready to head on over to McMinnville.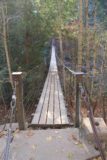 The drive to leave Falls Creek Falls State Resort Park and onto Hwy 30 going west was a bit slow going because there was a tour bus that held everyone up (easily a line of a dozen cars or so) by now using any of the pullouts (maybe none of them were long enough for such a large vehicle?).
And when all was said and done, we checked into the Best Western Tree City in McMinnville at 4:30pm. We could see that this town was small and there wasn't much going for it in terms of food. Nonetheless, we headed out for an early dinner at 5pm.
We just went with a chain restaurant like Applebee's and ended up with food that we weren't too fond of. I suppose it was either chain food or crap fast food like KFC, Mickie D's, BK, Wendy's, Arby's, etc. So I guess our low expectations were pretty much on par with the reality of the Applebee's food. Not wanting to spend more money than we needed to, we refrained from getting anything more than our mains and a chips and salsa appetizer.
By about 6pm, we were back at the Best Western, where we called it a day and looked forward to talking with our daughter via Skype. There were still two full days left on this trip, but our desire to cuddle with our little girl was very strong as we had gone nearly two weeks without her on this trip…
Visitor Comments:
No users have replied to the content on this page