Day 14: RACING AGAINST THE RUSH
It was 5:30am when I awoke, and Julie got up roughly 15 minutes later. After reading TripAdvisor last night about Ruby Falls, it was clear that we had better be on one of the first tours of the day. Otherwise, it wouldn't be the experience we were looking forward to. Thus, it was decided that we'd skip Foster Falls and head straight for Ruby Falls since we'd also be losing an hour thanks to the time zone shift from central time to eastern time.
So after a quick brekkie, we left McMinnville at 6:15am. Sure it was dark, but the highways had many vehicles (especially big rig trucks) so I wasn't too worried about deer jumping out in front of us. And when we finally got onto the I-24 due east to Chattanooga, it was pretty much 70mph except for a few speed trap zones where the speed limit was down to 55mph (we did see a couple of instances where cops pulled over someone for speeding).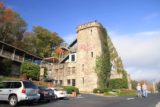 So the drive went by pretty uneventfully and rather smoothly. We'd eventually get into Chattanooga before following the signs towards Lookout Mountain. We'd eventually reach the car park for Ruby Falls at about 8:45am (EST; recall that we had lost an hour so the drive was really 90 minutes).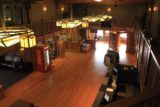 After buying a double play to see both Ruby Falls and Rock City, we awaited our tour, which eventually started at 9am.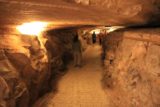 After descending an elevator some 260ft below the surface of Lookout Mountain, we followed a corridor towards a spot where cheezy photos were taken, and then after all eight of our tour group showed up, we started the tour.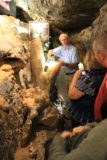 I had read about large groups of at least 24 or even 36 people so both Julie and I were quite glad with our eight people. According to our guide Bill, he said we were on a "VIP Tour."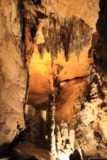 So the tour was pretty much a mix of walking for stretches and then stopping at several spots for some cave geology as well as some weird formations. There was a video at the very start followed by some strategic sound effects and music in the cave.
Indeed, the tour did feel a bit commercialized and quite unlike the let-things-be mentality championed at the Mammoth Caves National Park, but given that our tour was intimate, we didn't feel too rushed to take photos and soak in the subterranean scenery.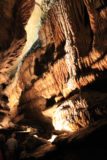 A good chunk of the cave tour involved looking at the crawl spaces that the founder (Leo) had to have gone through in order to reach the waterfall. Leo's wife Ruby managed to follow Leo through some six hours of spelunking towards the waterfall, and so it wasn't hard to imagine why the waterfall was named after Leo's wife.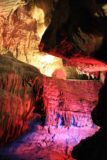 We had lost track of time, but it must have been at least an hour or so before we finally arrived at the waterfall we paid the admission to see. The room started off dark where it was only flanked by some dark red lighting. We could definitely hear the falls, but until the guide turned on the lights (and the music), nothing could be seen (or at least photographed).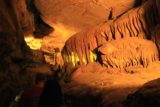 But once the theatrics started, we went nuts taking what photos and movies that we could. I could imagine how chaotic the scene would be if there were more people, but the eight people in our group allowed us ample time to enjoy the falls before the guide turned off the lights.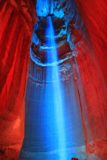 We weren't able to go around the base of the falls like I had seen it done in the past. There were rope barricades preventing us from doing that. Still, the 145ft falls was impressive and every bit as beautiful as we had anticipated.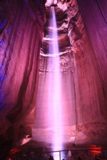 When we left the waterfall, we walked back in the direction that we came from via some slightly different passages. Some of the old favorite formations and features (e.g. a mirror pool) afforded us additional opportunities to take more photos.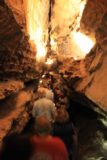 And as we left, we started to see other tour groups heading the other way towards the falls. The guides referred to us (or any other group that was done seeing the waterfall) as "survivors." But given the size of the immediate groups that went after us, we were so glad that we went as early as we did. For the next group after us must have been at least two dozen people. Then the next three groups we saw after that each contained at least 20-30 kids.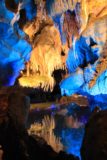 I could totally see why visitors complained about the experience if they happened to be caught in one of the rushed mega tours.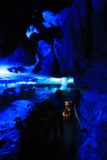 Anyways, once we left the cave and tipped Bill, we took a few more minutes to take some photos of Chattanooga from the observation tower directly above the Ruby Falls gift shop. It was a little hazy this morning and there were power lines towards the bottom of our line of sight, but all this was just icing on the cake. For we finally got to see the lovely Ruby Falls in a way that allowed us to appreciate it as well as the cave itself.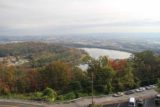 We were back at the car at 10:40am After following some signs towards Rock City, we'd eventually reach that car park at about 10:55am. It was interesting how we crossed into the Georgia state line even though we were still driving about on Lookout Mountain.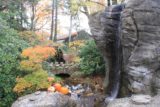 So we wasted no time using our tickets to get right onto the Enchanted Trail, which mazed its way throughout the combination of botannical garden, vistas, slot canyons, and caverns.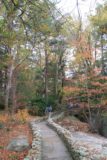 The beginning of the walk felt like a quiet walk in a garden with some added sound effects of bird life. There were also some Christmas lights on some of the surrounding trees.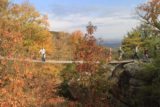 After a few more minutes of quickly walking along the Enchanted Trail, we'd eventually be on the Stone Bridge above the Lover's Leap. It was here that we saw the waterfall (man-made) that fronted a lovely backdrop of trees and farms below. But it was clear that we had to proceed further in order to get a frontal view of that waterfall.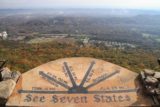 As we continued on, we'd eventually get to the lookout area with birdseye views away from Lookout Mountain. There was even a sign here claiming that we could see seven states from this area. However, spotting South Carolina, North Carolina, and Kentucky might have been a bit of a stretch.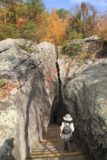 Beyond this, the trail then descended through some mini-tunnels and cave-like passages with gnome statues becoming even more apparent.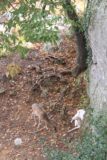 After passing by a deer park, the path then went behind some stained glass windows before finally emerging near a platform providing a frontal view of the High Falls. The problem was that the sun was against us and so we patiently waiting for a cloud patch to hide the sun. Once it did, we took a few more photos and movies before we kept going.
Towards the end of the Enchanted Trail, we got into some caves ("Fairyland Caverns"?). Unfortunately, during this part of the walk, we saw more gnomes, rather contrived cave rocks, and some real cheezy fairy tale displays that were every bit reminiscent of a Disneyland ride than something that brought us back to Nature.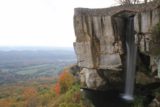 As much as we were put off by the kitschy Disneyland theme park atmosphere of the Rock City experience, we were aware that there were plenty of people who preferred Rock City of Ruby Falls.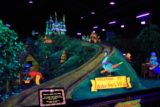 Hey, to each their own!
At 12:35pm, we returned to our car. The place seemed much busier now than when we first showed up. I guess it further reinforced my Mom's saying that "the early bird gets the worm."
With the time nearing check-in time for our accommodation in Chattanooga, we decided to drive towards the Residence Inn hoping we could check in and leave our stuff before going back out on the road for a little more waterfalling.
After some traffic on the I-24/I-75 interchange, it became apparent that there was a nasty wreck on the westbound I-24 that essentially stopped traffic on the other side and caused the lookie-loo traffic jam on our side.
One of the cars in the multi-vehicle accident was upside down!
And as we continued driving in the opposite direction of the accident, we could see many of the vehicles caught in the stopped traffic have open doors with people out of their cars (suggesting that they might have been waiting in the traffic jam for a while).
Given this event, I decided that instead of backtracking towards Foster Falls (the one we skipped this morning), we mind as well continue going northeast towards Bald River Falls once we were done checking in. That way, we wouldn't have to go through that nightmarish traffic jam!
Finally at 1:15pm, we arrived at the rather hidden Residence Inn where we blown away by the spaciousness of our room. Actually, there were two main rooms (one bedroom, one living area) plus a full kitchen. It really made me wish we had spent two nights here instead of last night at McMinnville and tonight in Chattanooga. But then again, we couldn't have foreseen that we'd skip Lost Creek Cave and Falls yesterday nor could we have anticipated such a nice accommodation in Chattanooga.
Nonetheless, we did our business of dropping off our luggage and travelling light for the afternoon excursion. So by 1:25pm, we were back in the car and out on the road again.
The drive towards Bald River Falls involved a combination of driving the I-75 interstate plus some local highways (e.g. Mecca Pike) before passing through the town of Tellico Plains and then along the Tellico River itself as we entered the Cherokee National Forest (this time on the Tennessee side instead of the North Carolina side like earlier on this trip).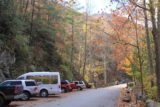 There were quite a few bikers on this stretch of road as well as a constant supply of slow moving vehicles causing lines on the twisting mountain roads. The last 6 miles were on River Rd, which supported bi-directional traffic, but there were no center dividing lines (ala Norway).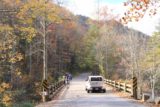 Eventually, we'd arrive at the Bald River Falls at 3:15pm. There were many people standing on the bridge fronting the falls so it was clear that that was the best place to view it. I suppose one wouldn't even have to get out of their car to see the falls.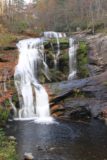 Nonetheless, we took plenty of photos and movies from the bridge. We even tried to use the railings on the bridge as pseudo-tripods. The fall colors flanking the falls definitely made this waterfall attractive. And even though the sun was getting close to hiding behind the surrounding mountains, we still had to position ourselves towards the far side of the bridge to ensure that we weren't looking against the sun in our photos.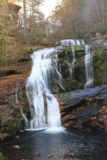 At 3:35pm, we had our fill of the rather busy yet picturesque cascade, but now it was time to head back to Chattanooga to wind down the day. Clearly, we wouldn't be able to fit in Foster Falls on this day, and it would have to be punted for tomorrow morning.
And after a pretty long drive, we finally returned to the Residence Inn at 5:15pm.
Julie and I unwound very briefly before we finally settled on a place for dinner tonight. It turned out that Julie Yelped some Italian place (called Alleia) in downtown Chattanooga and so we checked it out (despite the horrendous traffic that nearly caused us to be late for our 6:30pm dinner reservation).
It turned out that our dinner was delicious and on par with LA quality Italian dining. We really enjoyed the pork shoulder main plus the beef carpaccio appetizer. Even the tiramisu for dessert was good. And all that plus a couple of OK dishes that amounted to less than $70 with tax and tip included. Clearly, this was probably half the price of most decent quality California establishments, but the quality here definitely rivaled those we were exposed to back at home.
At about 8:30pm, we finally returned to the Residence Inn to give our daughter a videoconference call before finally winding down and ending the day. Tomorrow would be our last full day in the South, and it would also include our very last waterfall of the trip at Foster Falls…
Visitor Comments:
No users have replied to the content on this page