Day 1: GETTING TO KNOW REAGAN
Today got started off with a 4am wake-up. Tahia refused to sleep early last night so all of us woke up reluctantly to our alarms. Tahia was unsurprisingly very cranky, but at least the promise of going to Washington DC to see statues and monuments seemed to improve her mood and coerced her into fighting her reluctance to get out of bed. After all, she had asked to go to Washington DC all weekend long not aware that we were scheduled to fly there on Monday morning.
In any case, we got our stuff that had been packed the last couple of days, loaded up the car, and headed out. By about 5am, we got to LAX where I dropped Julie and Tahia off (along with the car seat) at the American Airlines terminal, which was already busy at this time of day. It turned out that they had to catch a separate flight from me because we used our miles to fly them out there and it was a very last minute decision to get them out to DC (as of this past Sunday). I had booked my flight about a month ago for business, but I had no idea that we were flying into Reagan as opposed to Dulles, and some of my coworkers encouraged me to turn this business trip into a sightseeing scouting trip.
But Julie was thinking out of the box and thought we should use our miles to seize this opportunity to do a little sightseeing as a family when I wasn't working. Plus, they would get to tour the museums on the day when I had to work.
Speaking of which, this was the first time we did a trip like this. I couldn't wait to join them on the sightseeing once my work stuff was over. However, until then, my mind was elsewhere not the least of which involved hoping that Julie and Tahia would make it safely to the Reagan airport without delay. After all, they had to connect in O'Hare before getting to DC, so their 6am flight was earlier than my 7:30am flight, but they were supposed to arrive at 4:30pm which was an hour later than my arrival.
So I saw them off for their 6am flight after taking care of the parking situation (the Wally Park on Sepulveda was misleadingly close to the Lot C signs so I was fooled into going there instead of Lot C), and then I had to wait patiently for my flight.
My flight took off on time, and it turned out that it arrived in Reagan on time just before 3:30pm so now it was time to wait for Julie and Tahia to arrive. I was concerned that my throat started to feel scratchy and that I might be coming down with a cold. The timing was terrible as I had to make a presentation tomorrow. In any case, I was determined to push through the work and the sightseeing regardless of how crappy I knew that I would feel if I was indeed coming down with a full blown cold. Who knows when this opportunity would present itself again?
That said, the rest of my coworkers who were on the flight with me went ahead to the hotel without me. But I was a bit disappointed to see that Julie and Tahia's flight was already 45 minutes late (from 4:30pm to 5:17pm). So I had to suck it up and spend more time at the Reagan Airport than I wanted.
So I took this time to have a late lunch while taking advantage of the free Wi-Fi in the airport, but that still left me well over an hour of waiting for Julie and Tahia to arrive – especially when I saw that the delay increased from a 5:17pm arrival to a 5:27pm arrival time! It was still around 4pm at the time so I had to find another way to kill time at the airport.
As I was aimlessly meandering about the terminals and concourses, I noticed on a directory that there was some kind of Heritage Hall section of the airport. Perhaps that might help me kill some time while also learning a little bit about the history of this airport and of aviation in this region, I guess. So I slowly made my way towards what appeared to be an annexed or satellite part of the airport at gates 1-9, and at first I was disappointed at the lack of displays and information when I got to the entrance of that terminal.
But as I was turning around and ready to head back to the main concourse, I noticed a series of steps leading up to a glass double-door that appeared to have a few more displays and signs. So I went up there and that was when I realized that this was the heritage hall section the directory must have been talking about. The funny thing was that the whole time I was here, I was the only one. Either most of the airport patrons didn't care about this place or perhaps it was not that easy to find.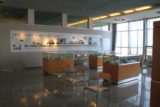 Whatever the case, I was getting some information about things like the Ages of Abingdon, which seemed to have something to do with trade in the earlier colonial days of the region. I spent the time to take photos of the signs so I could read about them later, as reading through all of the signs in real-time would take way too much time.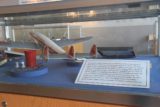 There were also some models of the airport as well as early models of airplanes as well as a TV set with a handful of chairs facing it. The TV was off though. Apparently, this Reagan airport dated back to the 1930s when it was sanctioned by congressional action to begin construction.
When I had my fill of this place, it was about 4:45pm. I still had a good 45 minutes to go! So I decided to go downstairs towards the baggage claim where I expected Julie and Tahia's checked stuff would show up. Julie had left me a series of text messages so I could see that their flight didn't take off from Chicago until around 2:15pm because the original pilot had called in sick. I guess we were never one to have much luck with O'Hare since I remembered on our 2005 trip to Norway, our roughest landing ever was at O'Hare (when the plane literally bounced on the runway, got some air, before finally settling into the runway).
Finally at around 5:30pm, I saw that the carousel for Julie's flight started to move. Apparently, they were delayed further after landing because the gate they were supposed to go into was occupied. So it wasn't until almost 6pm when I finally saw Tahia and Julie in the flesh, but not before I managed to pick up their stuff from the baggage claim carousel.
So with the car seat and our two carry-on rollerboards in our possession, we then faced the humidity and took the shuttle to the rental car area, and by 6:30pm, we finally got our rental car and started leaving the airport. Clearly, we could have used the time ate up by the delay to do some National Mall sightseeing, but what was done was done. Still we were determined to salvage something from today so once we checked into the Residence Inn after having driven by the Pentagon, we got into our sightseeing clothes, and proceeded to head out.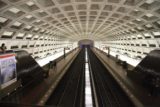 It turned out that it was about a four-block walk to the metro stop at Ballston-MU. Apparently, that was the nearest entrance to the metro from where we were staying, but the humidity made this hike turn out to be a bit more strenuous than what we had thought. Eventually, we would get into the metro stop at around 7:30pm where we saw that we had to wait another 7 minutes for the next train on the Orange Line, which seemed to be a bit of a long wait compared to what we saw in New York or even Boston.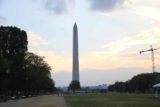 In any case, we took the train to the Smithsonian stop, which we thought was the appropriate stop for the National Mall. This National Mall itself was a very long lawn area that seemed to be at the center of all the historical attractions like the Lincoln Memorial, the Washington Monument, the White House, all the Smithsonian Museums, Capitol Hill, and more.
When we got back up to the surface and right onto the National Mall area, we could see just how extensive this area was! Even walking to the Washington Monument took quite a bit of time (and sweat thanks to the humidity), and that was the nearest noticeable monument that drew our attention; it was really hard to miss! There were also tents placed everywhere on the lawn (due to some kind of festival) so that kind of obstructed our views of Capitol Hill or the Lincoln Memorial on opposite ends of the National Mall.
Julie thought this massive lawn area was very reminiscent of the big lawn area surrounding the Eiffel Tower in Paris, France. But somehow I sensed that this lawn area was even more extensive than what I could recall from our France trip a couple of years ago. Perhaps this reminded me more of the Garden of Tuilleries which was a large lawn area between the Champs d'Elysees and I think the Louvre.
It was already getting dark, and I had hoped to make it all the way to the Lincoln Memorial to get twilight views of the honest Abe statue itself in lights, but it turned out to be too far of a walk. It was about 8pm when we came to realization that this recommended foodie place called Luke's Lobster was closing at 9pm. And we had quite a bit of a walk to get from the Washington Monument to get to the Penn Quarter where Julie's Google Maps app on her phone guided us.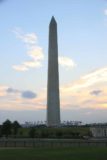 We'd ultimately make it to the Maine-style seafood place where Tahia was very tired and essentially forced me to carry her for most of the walk before arriving at the restaurant. Lesson learned here was to bring the child carrier when in doubt so at least my hips could support her weight instead of my arms and back. Anyways, we still had about 15 minutes to go before they closed up shop.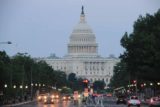 Having to eat awkwardly since Tahia was in no mood to change her position with head on my shoulder while clinging onto me (so we couldn't disturb her nap in any way), I was trying not to get cocktail sauce or lobster scraps onto her as I was shoveling food into my mouth with the utensils having to travel above her to get from cardboard to mouth.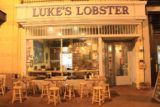 The food was pretty fresh and good though Julie said she liked Cousin's Maine Lobster better (a foodie truck that would swing by near our home in LA). She also liked the Maine Lobster rolls that we had while we were checking out the Portland Head Lighthouse last October.
In any case, the food hit the spot. However, we were pretty dehydrated from having insufficient water. Plus, I knew that my cold was getting worse so I had to savor the flavor of the food before my congestion would ultimately mess up my ability to taste this or any other kind of food.
Eventually after finishing up with our dinner, we left Luke's Lobster at around 9:30pm, and then we walked over to this gelato place called Pitango. Julie had yelped it and apparently it had gotten good reviews. So we went over there for our dessert.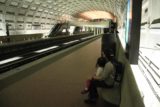 By this time, Tahia was wide awake again as the promise of Italian ice cream really got her juices flowing. Julie ended up getting some sorbets, which she said was very good. I got my vanilla and cream flavors, which Julie thought Grom's was better for those flavors. But whatever the case, we enjoyed our gelato, and shortly thereafter, we caught the metro stop at Archives, which we ultimately took back to the Ballston stop.
It turned out that we were short a few cents when we left the Ballston stop, and since we had put $6 each in our tickets, that meant the round-trip distance was a little over $6 and therefore pretty pricey! Since Julie and Tahia were going to have all day at the National Mall tomorrow, I encouraged Julie to go ahead and buy a day pass (at $14).
By about 10:35pm, we were finally back at the Residence Inn. We didn't do as much sightseeing as I had hoped on this day, so that meant that tomorrow would be all or nothing in terms of National Mall touring. Hopefully my work-related stuff would conclude earlier rather than later in the afternoon so I could join Julie and Tahia for some sightseeing fun.
In any case, I definitely felt like I was coming down with something as my congestion was now stuffing my nose for good. Fortunately, I was so tired that I was ultimately able to sleep despite the discomfort. Besides, I knew that I would get perhaps an hour or more of sleep on this night than I had been getting in the past two weeks, and this was despite my 5:30am wakeup tomorrow (or 2:30am in west coast time!)…