Day 3: THE WATERFALLING EXCUSE OF DC
It was 8am when I finally pried myself out of bed. With some chest congestion and a runny nose, I knew that my cold wasn't going to get any better on this day. Actually, Julie had been up since about 6:30am and she was dismayed that it was pouring rain outside at the time knowing that today was supposed to be our waterfalling day.
But by around 8am, the ground was still a bit wet, yet the cloudy skies were lightening up and I swore I started to see a hint of sun starting to break through the thin layer of clouds.
In any case, it was about 8:30am when we finally got ourselves ready to go downstairs and have ourselves the brekkie that Julie and Tahia had overslept and missed out on yesterday. Sure enough, Julie got to do the whole waffle thing, which to her was a sign of a good continental breakfast that was included in the room fare.
So all three of us were happily having our brekkie, and I also noticed some coworkers who were sticking around to do more work as their meeting would continue on Friday. I also saw some clients around as well. It felt strange to be in total casual mode while everyone else was working, so I tried to make sure to not rub it in while keeping to ourselves unless prompted.
At 10:15am, we were finally packed up and ready to go. We loaded up the car, and I proceeded to go back upstairs to check out. I saw the room rates and realized that there was another $100 or so tacked on to the original room rate totally in taxes and the $15 per day parking fee. Boy does that stuff really creep up on you.
At 10:35am, we were already well on our way out of the Washington DC area as we were driving past Dulles Airport (after paying a $1 toll) and then we were in what appeared to be the woods as we were making our way towards the Great Falls Park. Apparently, it was only 15 miles from DC to the entrance of the park, but man it really felt like another world as we saw a lot more trees and nature than buildings.
At 10:45am, after having paid our $5 vehicle admission, we parked at the busy car park for the falls and proceeded to walk towards the Visitor Center. Actually, the restrooms were closed and we had to use portajohns, which Tahia didn't like very much as they were pretty disgusting.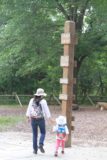 I was pretty surprised at how busy this place was for a weekday. Yet as we were making our way towards the last of the Overlooks (the so-called Overlook 3), it seemed like the crowds thinned out and we got our first glimpse of the impressive Great Falls of the Potomac, which had a brownish color and was more of a large series of cascades wrapped around a pair of rocky islands.
Before getting to the overlook, Tahia and Julie approached this high water mark pole, which showed over the years where the highest water levels in recorded history were. It has hard to believe that even as late as the mid 1990s, this overlook was under water!
Apparently, this place had some historical significance because it was a barrier to trade. So the Chesapeake and Ohio Canal Company built a canal to go around it, and apparently that was on the Maryland side. I was hoping to check out the falls from that side, but I somehow got the sense that we were running out of time to do that along with the Jefferson Memorial and that we had to choose one or the other. Julie already put in her vote that this falls wasn't significant enough to go out of our way to see it from the other C&O side.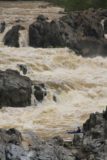 Anyways, we could see the overlook on the Maryland side, and it really looked like there would only be just the one lookout whereas we had three on the Virginia side. This third lookout was the most distant of the three lookouts yet it was said to be the most contextual. It was hard to photograph the falls since its width made the falls appear flat if I tried to get it all in the frame.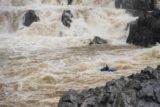 It was almost as if I had to be selective in the way I framed the falls in order to get a pleasing photo of it.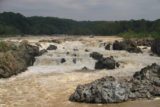 In the mean time, we noticed there was a kayaker who was scaling some rocks with his kayak at the lowermost section of the falls, and eventually he put in at the top of the rocks. It was fun to see him navigate through even this seemingly class 5 stretch of whitewater as he was dwarfed by the rushing waterfall all around him. I wondered if there would be more extreme kayakers who would attempt to run the entire drop of the falls.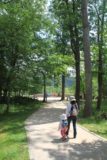 There were also some herons that were chilling out by the falls or at least circling above. Their long wingspans were definitely noticeable and quite unlike the run-of-the-mill birds we were so used to seeing.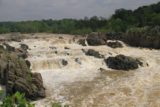 Once we had our fill of this lookout, the timing was right as there was a very large crowd that descended upon this overlook. So while that was going on, we headed backwards towards the Overlook #2. Once we got past the drowning signs, we got to the tame overlook which got us a little closer to the falls, and it seemed to have a fairly satisfactory view of the Great Falls as well.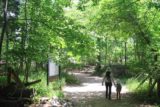 However, it also seemed like there were foreground rocks and foliage that conspired to conceal part of the falls so I could see why the park signs said Overlook 3 was supposedly the best.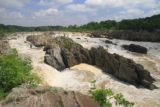 In any case, we got our fill of this overlook and got our movies and photos. Julie and Tahia were trying to chill out in the shade as the heat and humidity of the day was really starting to take its toll despite the fact that we really didn't walk all that far.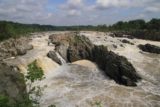 Even though I was curious about seeing some other waterfalls on the Potomac like Stubblefield Falls and Seneca Falls, I knew that we didn't have much time nor were we willing to spend the energy knowing that they both were more rapids than impressive falls.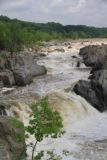 Next, we proceeded along the footpath as we backtracked towards Overlook 1. This time, the overlook was a bit rockier as the park signs had warned us. The views of the falls were partial (also as the park signs warned us), but at least we were close enough to the cascades to really hear and essentially feel their power. The overlook was a bit on the rough side for Tahia, but she merely saw that as a challenge to keep climbing since she didn't seem to have a fear of heights.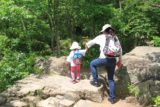 All that did was to make us worry about where she was intending to go as we wouldn't want her to fall over the rails.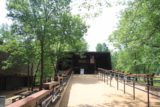 There really wasn't much of an opportunity to do a family photo here so I got my photos and movies like at the other two overlooks, while also observing a couple of folks where were painting the falls.
At 11:55am, we were back at the car park all smelly and sweaty as we had anticipated. The cool AC of the car was very welcome but my runny nose and chest congestion was not.
And so it was definitely decided at this time that we were going to go find a place for lunch before visiting the Jefferson Memorial on the way to the Reagan airport. I pretty much relinquished the shot at visiting the C&O Historial Park on the Maryland side of the Great Falls. Maybe I might get lucky and do this again the next time I'm in the DC area.
So we followed Julie's Google Apps map and ultimately found this place called the Amsterdam Falafel. Apparently, this place was well liked by Yelpers and locals using Yelp. So we decided to give it a go. Too bad the parking situation was very bad so we ultimately settled for structured parking at $10 for the first hour! Ouch!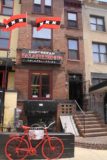 That said, we promptly walked into the tight hole-in-the-wall place and got ourselves a couple of falafels. Once we got them, we then used the Falafel bar to put toppings on them, essentially letting us customize our falafel the way we liked it.
I knew the falafel would be messy, which it was. And in my congested state, I was able to taste the food, but I really couldn't say that I was able to enjoy it. Tahia wasn't very crazy about the falafel ball we gave her, but she didn't mind eating Julie's pita.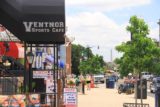 Once we had our fill of this falafel place, we then briefly checked out this charming neighborhood that this falafel bar was located in. Indeed, there were some rounded towers and facades that made it seem like we were somehow in a charming part of Europe or something, and when we looked in the other direction, we could see the Washington Monument in the distance.
This was definitely an unexpected surprise and it was too bad that I didn't feel like paying another $10 to extend our parking so we quickly made our way back to the car and left.
After making a short stop at a different Pitango Gelato shop than the one in the Penn Quarter, we then proceeded to fight some of the traffic on our way towards the Jefferson Memorial. This was the one National Mall attraction that seemed pretty difficult to reach on foot from any of the metro stops, so we decided long ago that we were going to drive here.
Sure enough, we parked the car and then walked to the memorial at 2:20pm. With our 4:55pm flight looming, we knew that we didn't have very much time to enjoy this Jefferson Memorial as we still had to check in our car seat as well as return the rental car and hop on the shuttle to the airport terminal for American.
Anyways, as we were walking towards the Jefferson Memorial, I could see across the Potomac the impressive Washington Monument pointing towards the dark and threatening storm clouds above. As we got closer to the steps of the Jefferson Memorial, we joined quite a crowd of people enjoying the attraction, while also enjoying the shade that the memorial itself provided.
We even took an elevator downstairs towards some restroom where the AC there was very welcome.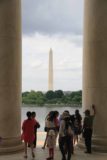 So when we were back up in front of the dark Jefferson statue in its circular room, I was busy trying to compose photos that conveyed its grandeur as well as the crowds of people checking it out. Indeed, even on a weekday like this, the monument itself drew quite an audience.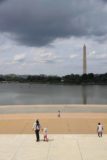 At about 3:10pm, we had finally finished touring the memorial and made it back to the sanctioned car park. With about 90 minutes to go before our flight, we couldn't waste any more time pursuing other matters (including filling up on gas) so we headed right back to the Reagan Airport, returned the car, got all of our belongings, took the shuttle, and ultimately got into the air-conditioned confines of the American terminal at Reagan.
The ticketing lady enjoyed looking at Tahia after doing an ID check of her passport, and noted to us that her middle name was appropriately named "pretty" in French. I think she was the only third party person that noted that about her in all of our travels so far.
Anyways, by about 4:15pm, we were waiting to board the plane, and it was a good thing that Julie and Tahia were in group 2 so we would at least have a shot at putting our carry-ons in the overhead bins.
Our plane was actually about 30 minutes delayed because some pop-up thunderstorms halted departing flights from Reagan, but when we were finally allowed to take off, they even changed the route to essentially go around the nasty weather further west and I'd imagine that might have prolonged our flight into something that was closer to 6 hours than 4.5 hours.
Well, whatever the case, we finally made it home at around 9:30pm, and Tahia was quite excited to see grandma again. It was a short but sweet trip, but now it was time to get back to the normal ebb and flow of life; of course I still had this issue about getting over my worsened cough and congestion – a fair price to pay for seizing the moment and sightseeing in a place we don't get to very often…