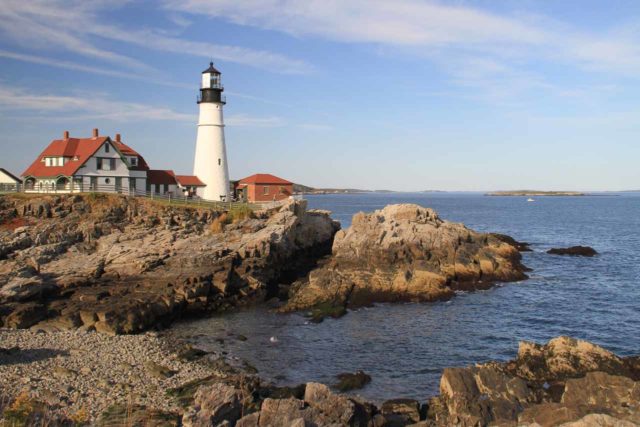 25-September 2013 to 4-October 2013:
During the 80 minutes of driving to this point, I was talking with Julie about the prospect of going all the way out to Bar Harbor and not being able to visit Acadia National Park thanks to the government shutdown.
When Julie saw that Acadia National Park did indeed become closed (from her cell phone reception in North Conway), we at first were cursing our luck that we wouldn't get to do this. And yet it was such a long drive to get there, that all of the sudden, we were wondering whether it was even worth it anymore….
Day 1: FEAR OF STATUES
It was 6:20am when we finally de-planed and went to the restroom to try to relieve our groggy selves from not having gone to the bathroom for the entire 6-hour flight. None of us had a very restful flight as Tahia had been fussy though nowhere near as cholic as the Tahiti red-eye flight last December. In this instance, we were able to console her for the most part and she was able to listen to our instructions as well as give us some feedback (besides crying) on what she wanted.
It probably helped a little that she was small enough to be able to sleep horizontally between us though she did have a tendency to toss and turn throughout the night, and we were cognizant of her rolling off the seat and falling to the floor.
The flight was quite uncomfortable as the seats seemed to be harder than we could recall on previous red-eye flights. Plus, the leg room was practically non-existent (especially for a long cross-country flight like this).
Julie and I were hoping that the hotel would let us check in early so we could get some sleep in the morning before touring Boston in the afternoon. Usually check-ins weren't until 2pm, but that was still another 7-8 hours away!
The original plan was to use this entire day to explore the city, but the combination of jetlag and lack of sleep really made it undesirable for us to hit the ground running.
Something that I found a little surprising was that American Airlines didn't seem to give any priority to families needing to board. In fact, they gave priority to passengers who weren't going to use the overhead bins (irregardless of group number besides Group 1). They also made us check in at the gate the blue carry-on we'd always been bringing on domestic flights though they didn't charge us for it.
Anyways, when all was said and done, we managed to recover all of our luggage at the baggage claim – the car seat, the carry-on they made us check in, and the big blue bag we paid $25 to check-in back at LAX. We also picked up the child carrier back at the gate as soon as we de-planed. That child carrier was basically our stroller without wheels, which we knew would come in handy in tight quarters (like mass transit) or us having our hands full carrying and rolling luggage as well as on hikes where strollers would be useless.
Next, we walked straight to the bus shuttles which whisked us from our domestic terminal to the subway stop free of charge. From there, we purchased a day pass for the subway at about $11 per person (Tahia was free), and we did the familiar drill of relying on the subway to get from place to place throughout the city – just like in New York City, just like in Paris, just like in Hong Kong, and just like in Rome. Now why can't more American cities be efficient like this?
The only tricky thing about our public transportation jaunt was that we were carrying Tahia as well as lots of luggage. On a crowded commuter line, that was a non-trivial task, but it wasn't impossible. We just had to get by without getting in other peoples' way (as awkward as that often became).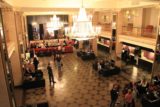 By about 7:25am, we managed to arrive at the Park Plaza Hotel, which looked quite historic. It had a grand entrance and lobby area (a foyer?) with mezzanine, and a decor that kind of had that Roaring 20s feel to it. After Julie talked with the receptionist, we were relieved to learn that we were able to check in early. So immediately, we got up to our room, dropped off our luggages, brushed our teeth, and then headed back downstairs for a quick breakfast courtesy of Starbucks at the lobby area.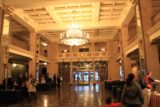 It still felt like the city hadn't quite woken up yet (or at least we weren't in the mindset to go touring at this time), so after quickly having our brekkie of croissants, brioches, fruits, and a yogurt, we then went back upstairs for our nap to at least try to recover the lost sleep from the unrestful flight from LAX to Boston's Logan Airport.
At 8:30am, we finally got into bed and tried to sleep. It felt weird going to sleep knowing that the day was getting brighter. Plus, it didn't help that the cheapest room in the place that we booked also just so happened to be right next to the elevators (where we could hear the rumbling of the elevator cars going up and down through the walls). At first I thought we were close to the airport and all that rumbling was from the airport, but with the frequency of the rumbling, that was when I realized that they were the rolling sounds of the elevator cars responding to people pressing buttons to go up or down.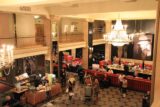 In any case, we slept and got up at 11:15am. We easily slept through the 10:30am alarm. And even at the 11:15am wakeup, we had to fight the urge of continuing to sleep in longer.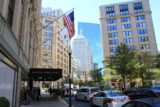 It took a while for Julie to get ready, and Tahia and I were also a little restless waiting for her. So we went downstairs first and checked out the lobby area, and then walked around the hotel building thinking that by the time we returned, we'd see Julie at the lobby.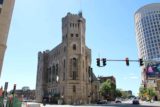 We checked out some castle-looking building on a street corner on the backside of the hotel as well as some interesting-looking apartment buildings right across the street. We also noticed some protestors near the backside of the hotel protesting the Israeli government of evicting Bedouin Arabs from their own lands.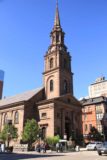 Well, it turned out that when we returned a few minutes later, Julie was not in the lobby. We then went upstairs back to the room, and it turned out Julie wasn't there either. It was like deja vu again (like in Rome earlier this year) where now one of us had to stay put until the other one would come back.
And it wasn't until about 12:30pm when an unhappy Julie found us at the hotel lobby and we finally started to tour Boston (much much later than I had hoped for)!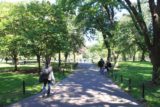 First and foremost, we went right to the Boston Public Garden, which turned out to be just a few minutes of walking from our hotel (right across the street from some interesting-looking church). While we were there, we checked out some attractive lake with ducks swimming in them while noting the interesting contrast between city skyscrapers and the greenery of this public garden. It was certainly New York City Central Park-like.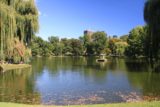 The primary goal of doing this jaunt into the Boston Public Garden was to see the George Washington riding on a horse statue. Unfortunately, what should've been a pretty cool photo op in this part of the city turned out to be a fright fest for Tahia. For some reason, ever since a few months ago, she developed a terrifying phobia of any kind of statue (especially human statues).
So she wasn't terribly pleased that we wanted to pose next to it and get our "I was there" photograph before continuing on.
When we had our fill of this part of the garden, we then headed back to the T (Boston's subways) by the Arlington Station, and took the Green Line for a few stops to the Government Stop. There, we then transferred onto the Blue Line, but not before we had to wait at least some 15 minutes or more for that train! That was unusually slow for a subway, we thought! It was 1:40pm when we were still waiting for the next train!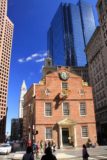 It made me wonder whether we were better off just walking to the Old State House (said to be the site of the Boston Massacre), which was where Julie wanted to go next. After all, we were only going to go for one stop, and we could easily cover that distance on foot in less than 15 minutes. But Julie protested, and we'd eventually get onto the Blue subway line train when it finally showed up and we'd promptly get off barely a minute or two later.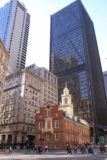 Once we were up at the street level, we were surrounded by high rises. It turned out that we were right next to the Old State House, which was interesting in that it was literally surrounded by fancy high rise glass-exterior buildings belonging to Boston's financial district. It was an interesting juxtaposition of old and new.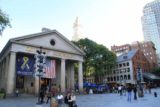 We didn't bother doing the museum tour as we were more focused on photo ops than doing tours given that this was probably the only day we'd be touring the city.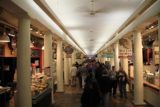 After having our fill of the Old State House, we then followed signs for the so-called "Freedom Trail" which then led us to the Faneuil Hall Marketplace. There, we saw an interesting-looking Pikes Place-like arcade beneath a historical-looking building labeled Quincy Market while there was an adjacent building saying North Market.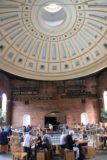 We went through the Quincy Market since we saw there was food in there, and we were hungry for some lunch. Tahia was definitely starting to fuss at this point probably due to her hunger.
So it wasn't until about 2:10pm that we finally chowed down on our lunch, which consisted of some creamy New England Clam Chowder, a lobster roll sandwich, some shrimp, and some Mediterranean-style lunch that Julie bought strictly for Tahia to eat (though I'd end up cleaning up when she'd gotten to a point where she refused to eat further).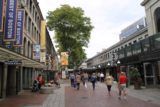 When we were done eating at 3pm, we walked a little more through the Quincy Market, which turned out to be historical in that it was said to be a public marketplace serving the public since the mid 1800s. Indeed, Boston seemed to surprise us with its historical charm that we didn't recall was very prevalent in our multi-day self-tour of New York.
In fact, Julie and I quickly started realizing that Boston had a charm all its own that seemed to be understated and not that well known. This was evident since we didn't give ourselves that much time (only a half-day) to tour the city based on the paucity of information we felt we could act on.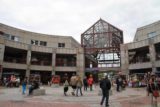 Sure we did the TripAdvisor thing, but there was something missing in the information as it was merely presented to us in a list of favorites in which we just didn't get the gist of each thing we had bother to click on. There wasn't anything at-a-glance that we felt we could immediately compare and act upon in TA. Thus, we were in the miscalculation that we found ourselves in. Perhaps there was a lesson learned in there about how we should re-organize the information in our website for people like us who needed access to the right information at the right time in the least amount of time and trouble.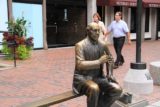 As we were walking towards the end of the Faneuil Hall Marketplace, we chanced upon a statue of a man sitting down holding a cigar. There was a bronze replica of the large sneakers of Larry Bird besides the sitting statue. And it took some time before I finally realized that that sitting statue happened to be of the legendary late Red Auerbach. As much as I wanted to have my photo op with the legendary basketball coach, Tahia was screaming bloody murder (and drawing attention from many of the other passerbys) at the sight of the statue so we didn't longer for much longer.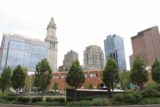 Anyways after we left the Faneuil Hall Marketplace, we then walked towards the North End part of town. The goal here was to see both the Paul Revere House as well as the Old North Church. We were meandering about some quiet streets almost along the waterfront, but the walk seemed to lack some of that historical charm that we were enchanted by earlier in the day.
It wasn't until we got to Fleet Street that we cut across and then eventually to the cobblestoned triangular piazza where Paul Revere's House was located. It was around 3:50pm when we decided to go ahead and spend $7 for all three of us to check out the small but very authentic home of Paul Revere.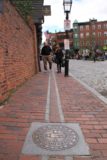 There was an employee in there who was itching to answer questions and tell people things we might not have known about Revere nor this place. And he offered us an interesting factoid concerning how Revere used his master bedroom and adjacent "great room" as sort of a parlor. He also told us that the word parlor came from the French word parler, which I knew meant "to speak" from my informal French lessons. And so the parlor was the venue where Revere did some socializing with guests to his house.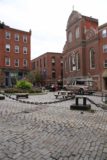 Tahia was once again getting antsy complaining that the Revere House was too dark, but it was clear that it wasn't dark at all. Perhaps she felt a little claustrophobic or something. In any case, we made a hasty visit as Tahia made it uncomfortable for us and probably others in the venue.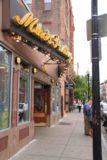 After visiting the Revere House, we then found our way towards this place called Mike's Pastries. Apparently this place specialized in cannolis, but in this case, Julie and I thought it was overrated and overpriced. Perhaps we just weren't fans of cannolis because I didn't recall it was anything that special while we were having them in Italy earlier this year.
Speaking of Italy, we noticed that just about all the businesses (especially restaurants) had a bit of an Italian theme here. Did we stumble into the Little Italy of Boston? It seemed kind of ironic or fitting that we had just gone to the real Italy months earlier, and here we were getting re-acquainted with Italian words and the overall Italian theme of this neighborhood.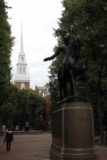 But whatever the case, we continued along the familiar red stripes of the Freedom Trail, and then found ourselves besides a Paul Revere on horseback statue, which seemed to be between a pair of churches. The church that was facing the Revere statue seemed to have an interestingly grand facade but didn't seem to be a very significant landmark. However, the church behind both the Revere statue and some fountain seemed to be the Old North Church, which seemed to have some kind of historical significance (especially after flipping through some post cards at the gift shop at the Park Plaza Hotel in downtown Boston) and was a main sight of our North Hill sightseeing tour.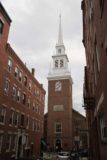 Once again, Tahia was freaking out about yet another statue. This time, it was Paul Revere's turn to freak out our daughter. So there wouldn't be much of an opportunity for the photo op by this statue as she was screaming bloody murder at making eye contact with the inanimate object.
In any case, the church itself looked quite imposing and tall, but that was because we were too close to it. So we walked up one of the ascending streets facing the front steeple of the church. And that was where we probably got our best photographs of the exterior of the church.
Upon closer inspection of the church, there was a sign on the steeple saying something to the effect that Paul Revere went up the steeple to light up lanterns to warn people of the impending attack on Lexington and Concord by the British. It kind of gave us a bit of an appreciation of the significance of this church that otherwise might have just been another fancy colonial building.
After having our fill of the church, Julie noticed some red stripe on the sidewalk. It took us until now to realize that the red stripe below our feet was keyed to the red stripes on our city map! In fact, that red stripe was the Freedom Trail itself! Perhaps that should've been our walking tour all along! We definitely would've saved ourselves some random meanderings throughout the day! Oh well, you live and learn.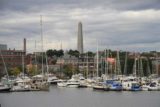 Next, we then noticed some triangular-looking bridge as we continued walking up the hill and out towards the waterfront and/or Charles River. We had passed by some interesting-looking cemetery, but without doing any prior trip research about Boston, we didn't go in there. Unfortunately, we didn't realize until it was too late that this graveyard was the resting place of people like Paul Revere, John Hancock, Samuel Adams, and Ben Franklin's parents. Julie thought it was freaky to go into a cemetery anyways, but something that historically significant surely should've warranted a visit, right?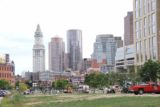 Anyways, we then walked onto a bridge that looked towards the triangular bridge flanked by the TD Garden, which I'd imagine was where basketball and hockey games were played (i.e. no more Boston Garden). The view wasn't great since there were cars before us and the view wasn't very wide open across the road bridge we were on. So we didn't go far up the bridge before heading back down.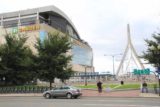 However, we did notice that right in front of the TD Garden, there was a more interesting view of the sports complex juxtaposed with a more frontal view of that triangular bridge behind it. It was quite a scenically situated sports arena to say the least.
After having our fill of this area, we went to the CVS to buy a few more essentials (mostly for Tahia), and then we took the T towards Boston Commons. While we were chilling out at the other half of the public park at 5:30pm, Tahia was out napping while Julie as talking on the cell phone trying to see if there was any issues back at home.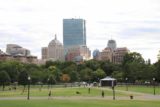 As Julie was doing this while keeping an eye on the sleeping Tahia, I took the opportunity to explore some of Boston Common, which had an interesting statue of a revolutionary (of whom I forgot was about). The place kind of wreaked of marijuana as there were plenty of loiterers toking.
Anyways, as I was soaking in the atmosphere of this place, I couldn't help but really think of Central Park. I guess it was funny how we never really heard of Boston Common prior to coming here, but now we could totally see how similar it was to Central Park (at least in terms of that juxtaposition of a city surrounding a green oasis of parkland).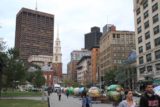 It was about 5:55pm when we were leaving Boston Common. Tahia had woken up around 20 minutes or so earlier, and she was in quite the fussy mood upon her waking up. She expressed the desire to go home (of course home was not possible in the short term) so we tried to ensure she equated the hotel room with the temporary "home." Anyways, it wasn't until some squirrels in the park distracted her short attention span to the point of putting her in a bit of a better mood.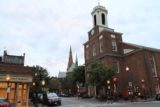 When we took the red line towards the MCG Station, we pretty much followed the signs for the Esplanade and Beacon Hill. And first up was Beacon Hill, which we found ourselves walking through a bit of an antique arcade neighborhood. Mixed in with the charming historical-looking shops, there seemed like a charming little upscale series of streets and residences, but Julie and I wondered if we were indeed going in the right direction for the Back Bay, where Julie thought was the venue for the Back Bay Esplanade where the happening shops would be. She also assumed that it might also make it possible for us to take some broad skylight shots across the Charles River or some reflective waterfront (though I suspected already that we should've crossed the bridge to the Kendal Hill/MIT stop a little further on the red line).
Julie and I got a bit concerned when we realized that we had walked across Beacon Hill and towards the north end of Boston Common again. We were a bit incredulous that we had taken the train in one direction and almost completely walked back in the other direction!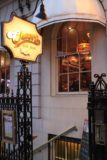 But after consulting the map, we then walked in a westerly direction where we then happened to stumble upon the original Cheers sign inspired the show "Cheers", which I used to watch when I was younger in high school. I instantly recognized the familiar stairs leading down to the bar beneath the neighboring hotel, and it brought back memories of me watching re-runs of that show.
Anyways, by now, it was about 6:40pm with twilight well underway.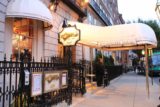 It turned out that the sign and entrance for the Cheers bar was genuine, but the interior was pretty much like any other ordinary bar and restaurant (ala BJ's or Westwood Brewery, or some other place like that). There was definitely no old school counter with Woody and Sam schlepping beers to Norm and Cliff with Carla waiting tables and either Diane or Rebecca tending to other things at the place where everybody knows your name. Indeed, that familiar scene where most of the show took place was probably just a set.
So I guess at least this accidental find was one benefit of trying to find the happening parts of the Back Bay that Julie apparently mistakenly had us going on this wild goose chase.
We were getting discouraged as we were walking block after block of what seemed to be affluent but quiet neighborhoods in search of the Esplanade. There were far more people jogging and students loitering about (perhaps this area was a dorm or university housing area?), and it wouldn't be until we finally headed back south towards the T somewhere near Copley Street that we'd finally find out that the worthwhile part of the Back Bay was actually away from the river all along!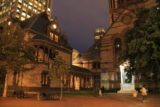 Thus, it was only by realizing that we probably should've followed the green trail on the city map in hindsight that we had made a grave miscalculation all along. So we probably wasted a few more hours doing this goose chase and didn't allow ourselves time to check out the Boston Public Library or to check out the Trinity Church during the day. Again, we live and learn from this suboptimal turnout of our time in Boston.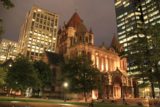 So we had to be content with checking out the attractive church in the low light of the dark, which was still attractive nonetheless.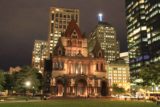 Then, we finally had our dinner at this place called Boloco, which served up some internationally-inspired burritos. So that was where we had some tikka masala burrito as well as some kind of thai burrito while Tahia had her traditional mini Mexican burrito. And that was the understated dinner that we were looking for especially after unnecessarily piling on calories with the overrated cannolis from Mike's.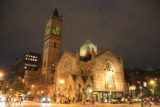 After the dinner, we then took the subway one stop back from Copley to the Arlington Station, and within minutes, we were finally back at the hotel room at 8:30pm. It was only then that Julie did some post-mortem TripAdvisoring and Yelping that we realized that missing out on the Boston Public Library was a big miss and missing out on the cemetery was also a bit of a miss.
We probably should've given ourselves another night in Boston to check out the Boston Tea Partly location as well as other sights to see at a more leisurely pace. But the bottom line was that we decided we might have a go at the grand Boston Public Library first thing tomorrow morning before checking out. So that would mean that instead of getting to Cape Cod around noon time, we might not get there until maybe around 2-3pm.
I guess we'll see what tomorrow brings. But one thing was for sure. It turned out that Boston crept up on us as it exceeded our expectations (though they were lowered expectations). It was one of those instances where of all the American cities we had been to, this was the one that seemed to retain its historical feel. We felt that such ambience was only prevalent in places outside the US, but it appeared that we had finally found a place that did the same in the good 'ol US of A.
We definitely didn't do this place justice, and I'm sure we'd have to come back here again one of these days.
It was still a toss up whether to check out the Boston Public Library prior to going to Cape Cod tomorrow. But whatever we would end up doing, we were for sure going to leave the city and head towards the beaches and lighthouses of Cape Cod.
But for now, it was time to go to sleep and try not to succumb to jetlag, which conspired to keep us from sleeping and getting up early tomorrow morning…
Day 2: CAPE COD INTRO
It was about 7:05am when we awoke. Even though the alarm went off at 6:30am, fat chance that anyone would be getting up at that time since it was still 3:30am PST.
After getting through the obligatory errands of personal hygiene and packing, we then woke up Tahia, changed her diaper, and were finally ready to at least get out of the hotel room.
By this time, it was 8:30am, and we decided to walk straight to the Hertz office, which was right around the corner. We didn't want to come here later and chance us missing out on our rental car.
When we got to the Hertz desk, there was fortunately no line. Once we got through all the formalities, we got the keys, and proceeded to get right to the Chevy Cruze. That was when we noticed that the rental car was full of dents and scratches that were way more severe than anything we had seen before in all the rental cars that we had hired previously.
On the one hand, it was a good thing that this should give us a pass on any new nicks and scratches we might introduce over the next three weeks of driving. On the other hand, who knows what kind of abuse this car was put through that might make us break down in the middle of nowhere?
Well, after the clerk noted all the dents and scratches (albeit not terribly clearly on the form), we locked up the car and walked back to the hotel. We had ourselves a breakfast at an Au Bon Pain place near the protest site that Tahia and I chanced upon yesterday. And the brekkie was pretty fresh and satisfying though it did take some time to eat and get out given how picky Tahia was with her food.
It wasn't until around 10am when we were finally done eating brekkie, then got our belongings, and checked out of the Park Plaza Hotel. We ended up deciding against squeezing in a Boston Public Library visit and instead focused on getting our stuff into the rental car and get ourselves out of the city and towards the quaint seaside towns of Cape Cod.
While it was quite sunny in Boston on this morning, we could see that darker clouds were looming ahead of us as we were headed towards the Cape.
At around 11:05am, we saw that there was an Independence Mall where we decided to leave the main highway and detour to the Target that was over there. That was when we picked up some diapers, water, munchos (i.e. junk food), plus some extra clothes for Tahia. It was pretty much our shopping run hopefully to cover much of the remainder of our trip.
By 11:55am, we were finally out of the mall and continued on the highway to Cape Cod.
At about 12:35pm, we found ourselves having lunch at this place called Cafe Chew in the town of Sandwich. Perhaps fittingly, this cafe specialized in sandwiches so we had ourselves one as well as a pretty giant salad.
It wasn't until about 1:30pm when we finally left the cafe. We were hoping to find some kind of boardwalk area in the town of Sandwich to chill out for a bit and let Tahia soak in the atmosphere. But after a few minutes of futilely driving on Ed Moffet Drive towards some canal, we realized that we should probably just continue on towards Chatham, where we'd be staying for the next couple of nights.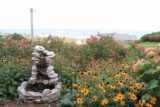 Finally at around 2:25pm, we made it to the Hawthorne in Chatham at last.
It was a bit chilly and overcast when we arrived. And we spent the next hour or so trying to figure out what we should be doing for the remainder of this day while also getting settled.
Upon looking at the oceanfront, it prompted Julie to say, "Now THAT'S what I'm talking about!" when it came to a waterfront worth checking out and spending valuable vacation time at. Forget the canal at the disappointing Sandwich.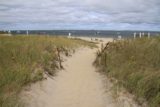 As Julie and Tahia were trying to get some rest (in which none of us were really in the mood to do so), I spent some time scoping out the scenic property while also checking out the beach right below the property.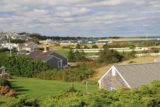 The beach itself was very quiet. The overcast skies muted the color of the scenery and pretty much made the area not very photogenic though it definitely fit the mold of a scenic and relaxing getaway from the urban life of Boston or other built-up centers of New England.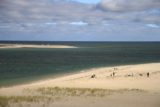 At 3:40pm, we decided to drive towards the Chatham Lighthouse before looking for a place to have a bit of a walk and/or dinner. It was kind of an unplanned whatever evening though the lighthouse promised to be the first real sightseeing attraction of Cape Cod that we'd encounter.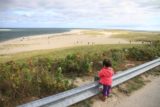 It was only 5 minutes further south of where we were staying to get to the rather busy beach fronting the lighthouse.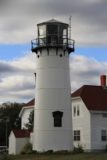 The lighthouse itself was closed because a sign there indicated that it was only open for a couple of hours in the early afternoon on the first and third Wednesdays of some months out of the year.
The sun was busy playing hide-and-seek with the patchy dark clouds stubbornly clinging to the immediate area. When the sun would come out, the sand was glowing a bright orangish yellow.
There were quite a few folks sitting on lawn chairs just chilling at the sandy beach. One of them offered and took a family photo of Julie, Tahia, and I, and the guy did a really good job of it.
But given how cold and subdued it was, we left at around 4:10pm though Tahia was protesting as she didn't want to leave the sand.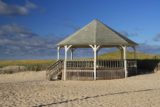 Next, we drove towards Nauset Beach though for some reason we thought both the beach and the lighthouse by the same name were next to each other. But when we showed up to the mostly empty beach by 4:45pm, we realized that the lighthouse was actually much further up north on the cape. I guess we'd have to do that one tomorrow.
In the mean time, we checked out the wide sandy Nauset Beach. The beach was so wide that it appeared they allowed off-road vehicles to drive onto the otherwise mostly quiet and naturesque beach. The waves were a bit turbulent and strong so there was no way we were going to let Tahia get anywhere near the water. Besides, the water and the weather was quite cold, and we'd imagine this was really more of a Summer destination rather than an Autumn one.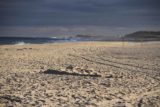 I did recall seeing signs indicating how to spot a Great White Shark versus a Bask Shark. I guess these sharks frequented these waters so that was yet another reason for us to not bother going into the water.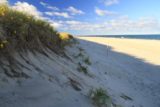 One thing Julie noted was that there were dunes dropping towards the main part of the beach. She thought it was quintessential Cape Cod though I couldn't really tell how that was different than some of the beaches we had seen on the West Coast.
At 5:05pm, we made it back to the car. By this time, Julie had already made a booking at this place called the Del Mar in Chatham. So that meant that we had to go back to town and meet our 5:45pm dinner reservation.
After a pretty uneventful drive, we found ourselves at the Del Mar, which seemed to be one of those semi-fine-dining joints. I guess we'll see how Tahia would behave under such an environment though the staff made things easier on us by giving her some crayons so she could draw on the paper table mat.
The dinner was pretty inventive as I had some pork shank with granny smith apples and some other interesting veggies. Julie had a seared ahi tuna which was also pretty good. However, the foie gras that they served up (more like a pate) was something we could've done without. I guess we were a bit too spoiled with our France experience and the smoothness of the foie gras over there. Also, the dessert was another thing we could've done without.
All in all, we paid over $100 for the dinner that probably wasn't worth spending that much, but it was still pretty good. But before we knew it, it wasn't until around 7:25pm when we finally made it back to our room.
Now it was finally time to unwind, and we looked forward to sleeping in for a bit as we'd spend another night here tomorrow. And with no real set agenda other than checking out more lighthouses, beaches, and perhaps a charming walking town here and there, tomorrow promised to be laid back.
It had better be because the next day after that would involve us with a lot of driving and the start of the serious waterfalling of the New England region…
Day 3: CAPE COD CHARM AT LAST!
It wasn't until 8:15am when we all awoke. We slept in assuming that today was going to be a leisurely day at the Cape. We didn't really have a set itinerary on this day, so I guess that contributed to the laissez-faire attitude. However, we did set out to see a few lighthouses and beaches in the hopes of spending lunch and early afternoon in Provincetown, where we knew there ought to be a lunch spot as well as a possible place for Tahia to play at the Provincetown Public Library.
So given the late start, it wasn't until about 9:35am when we finally got into the rental car and headed out for the day. On the way north, we went into Orleans and had ourselves a breakfast at this place called JoMama's Bagels.
Since Tahia was being very picky with her food, it wasn't until about 10:30am when we finally continued driving. The skies were still overcast so it wasn't like we were in that much hurry to do anything, but at the same time, it did feel like we were losing the entire morning with nothing to show for it.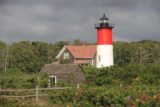 At about 10:45am, we followed the GPS directions to the Nauset Lighthouse. Our pre-trip research didn't really turn out anything we felt were must-see (at least we didn't get that vibe from reading TripAdvisor reviews), but we did see something to the effect of the top lighthouses on the Cape, and this was one of them (Chatham Lighthouse, which we saw yesterday was also another one of them).
It turned out that the lighthouse was perched a bit further inland so we couldn't get that lighthouse juxtaposed with the beach shot.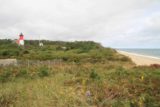 And with the overcast skies, it kind of muted what would've otherwise been a very beautiful and photogenic landscape.
Nonetheless, it was a bit windy and chilly and we took our time taking what photos that we could where the grey skies along with the bright sands conspired to make my photos look darker than they were supposed to be.
Tahia was having some fun playing in the sand though Julie and I were keeping a close eye on her to make sure she got nowhere near the rough waters. We could clearly see that Tahia was ruining her little imitation Ugg boots by getting sand in them, but we could clearly see that she didn't care and that she was having lots of fun. She was definitely upset when it was time for us to go.
After having our fill of the beach, we then walked closer to the lighthouse. This was another one of those lighthouses where there were infrequent tours mostly in the Summer and on the shoulder seasons. The next one was supposed to be on September 29, but that was still two days away for us, and there'd be no way we'd extend our stay here when we'd be well into the waterfalling portion of our trip by tomorrow morning.
Anyways, the lighthouse was quaint and interesting. We noticed there was a sign here that indicated that this was one place where the Trans-Atlantic Cable was routed to this spot thereby providing a medium for financial information to traverse the Atlantic. Indeed, it was yet another instance of history making itself known and felt in this trip that was turning out to be full of pleasant surprises.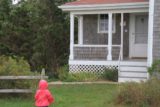 The house next to the lighthouse was the residence of the keeper, and they had put a fake dog looking out the window, which got Tahia thinking she was looking at a live dog. I started to suspect something was up when the dog wasn't moving one bit.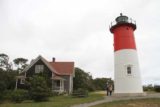 We were doing our best to take what photos we could of the lighthouse despite the difficult lighting conditions thanks to the dreary overcast conditions and the muted lighting as a result of it. Apparently, this lighthouse was moved across the road from its original spot because it was in danger of getting eroded into the sea from natural cliff erosion.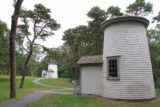 When we had our fill of the lighthouse, we then returned to the car and kept moving at 11:45am. We did make a brief stop further up the Cable Road to where the Three Sisters Light was located.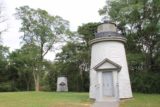 There, I briefly got out of the car to check out the three small towers where only the middle one had the lantern above it. It seemed like they were only there for show as this was well inland and was probably not useful for navigational purposes at least as far as sea vessels were concerned.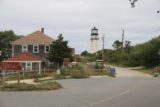 Next, we continued driving north further along the crescent of Cape Cod. The drive was surprisingly long, and it wasn't until about 12:15pm that we made it to the Highland Light (also known as the Cape Cod Light or Lighthouse) where this one seemed to let people go up to the rotating lantern. We made it here after a short detour off the Route 6.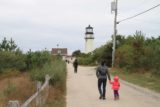 It looked like there was a golf course surrounding the area between the car park and the lighthouse.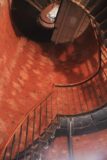 But with the overcast skies, we were skeptical of whether the views would be any better than what we had already seen to this point.
Nonetheless, we headed straight for the lighthouse so we could make our way up the tower. Unfortunately, there was a 48″ height requirement, which Tahia couldn't meet. Thus, we took turns going up the tower with the other person keeping an eye on Tahia. So Julie went up first while I was trying to keep our little girl occupied.
After Julie came down, it was my turn to pay the $4 admission and go up. In the mean time, Julie and Tahia headed out to the observation deck further out closer to the sea cliffs flanked by more of the surrounding golf course.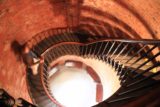 There were only a few flights of steps though there were a couple of tight spots where I had to do the limbo so as to not knock my head on the low clearance.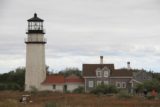 On the next to topmost floor, there was a watcher there keeping an eye out on things. He opened up a window so I could take photos looking northeast I think. But with the muted colors of the dreary overcast skies, I only took a handful of shots before I continued climbing up the last flight of steps towards the lantern room.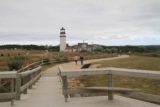 At the top, I was able to look out in all directions but the glass caused some glare. Thus, the photos of the surrounding landscape weren't as ideal as a photographer would've liked, but I did appreciate the interpretive signs explaining what I was seeing in each direction.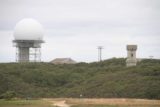 I was definitely able to see in the direction of Provincetown where there was an impressive tower perched high up above the town. The town was only 8 miles from this lighthouse, and I couldn't wait to get there for a bit of sightseeing and to grab a bite for lunch.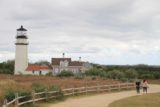 Looking in the other directions, I did notice a dome situated next to what looked like an old castle-looking tower. The sign indicated that the dome was a radar dome for early detection.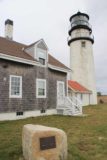 When I had my fill of the lighthouse, I rejoined Julie and Tahia at the viewing deck in the blustery winds. But from out there, we couldn't really see any beach or any other interesting coastal views given the high foliage. But we did get some interesting views back in the direction of the lighthouse.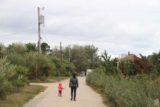 At 12:55pm, we were back at the car. It was starting to get past lunch time so we had to make a little haste to get into Provincetown in order to have lunch.
As we got into the town looking for a place to park, we chanced upon a very happening street called Commercial Street. That got Julie to exclaim, "Now THIS IS A CHARMING WALKING PLACE!"
Indeed, the parking was adjacent to Commercial Street near the pier. And although the parking rate was a rather steep $3 per hour, we figured this was the place to be, finally.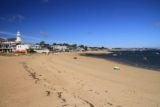 So at 1:15pm, we parked and left the car. And now it was time to soak in the charm of Cape Cod that was Provincetown! On top of that, the sun and blue skies had finally come out in earnest as well!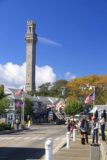 Since Julie had found this South African place while Yelping on the way up here, we headed east on Commercial Street in search of this place. And by about 1:40pm, we went into this place called the Karoo Kafe, which was the South African joint that Julie had read about.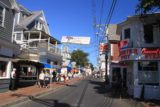 Although having authentic South African fare was the last thing we'd expect to be doing while near the tip of Cape Cod, the peri peri infused curries on my rice stew dish really hit the spot.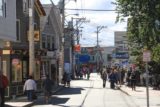 I insisted on having the real authentic food being as spicy as the locals liked it. I didn't want the blander version of the food.
Meanwhile, Julie got some shrimp infused with a mild peri peri sauce while we got Tahia some kind of crab cakes, which was actually very delicious. Apparently, Tahia thought so too as she had no trouble downing the food despite her very picky palette.
Tahia had some anxious moments here because she was freaked out by the many animal statues. But as long as she wasn't looking right at them while she was eating, she was fine. I guess that kind of blew away my theory that Tahia was bothered by human statues only.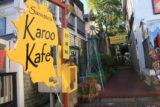 After having our fill of the South African food, we continued to walk further east on Commercial Street where we briefly unwound at the Provincetown Public Library.
The historical white and tall building looked beautiful as it was juxtaposed against the cloudless blue skies.
We wasted no time getting inside the library where we had to keep Tahia from disturbing the peace and quiet of the first floor of the library. So we went up to the second floor where we saw an interesting boat with mast inside that floor. There was also a play area where we knew Tahia would have some fun.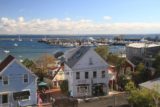 So at 2:45pm, we spent some time just chilling out as planned. I took a few photos through the windows of the mezzanine level where I peered out towards the Cape Cod Bay. But I was also intrigued by the intriguing juxtaposition of museum artifacts with the books lined up like a typical library. Who knew that such an interesting sight to see was in a public library in Cape Cod?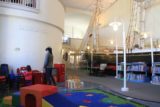 Apparently there was a bit of history attached to this place as well since this was said to be one of the first public libraries in the United States. I guess that kind of explained why this was a historical building.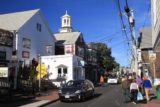 Once we had our fill of the library, we then walked in the westerly direction on the happening Commercial Street. At 3:35pm, we indulged in our sweet tooth at this gelato place called the Purple Feather, which Tahia was happy to share in our gelatos (or the plural gelati in Italian).
Then, we meandered pretty much aimlessly further west as we crossed before the Provincetown Town Hall before going a bit further along Commercial Street where it seemed like the foot traffic and activity didn't really die down anytime soon.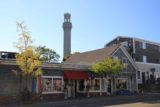 Since we were in the mindset to find a way to get closer to that big Pilgrim Tower, we didn't proceed any further west and backtracked towards the town hall.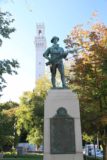 From there, we then followed some signs indicating where parking for the Pilgrim Tower was supposed to be.
We didn't see anything indicating that pedestrians were welcome, but we nonetheless followed the roads to get there, eventually arriving at the car park.
Then, I noticed there were some signs indicating that parking was $10 and that it also made admission free.
We weren't sure if pedestrians would be somehow rewarded for walking instead of driving up here, but it turned out that once we were at the gift shop, we had to pay $24 ($12 per adult).
We were probably better off driving here (or even asking to pay the $10) and then going through the gift shop for free and thus save $14. Seemed like a perverse incentive to waste gas and drive up here instead of walking, but I guess we should've known better.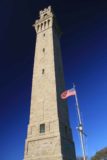 Nonetheless, we had to deal with the 116 steps or so as there was no elevator to get up there. And with Tahia, we'd have to give ourselves a workout carrying her up in our arms while negotiating the many steps. The height of the tower seemed daunting, but since we had already made it out here, we mind as well suck it up and make it to the top.
We finally made it to the top at 4:30pm. It was a little breezy up here, but it felt good considering that we had worked up a sweat doing the stairmaster workout combined with some arm workouts from carrying Tahia.
But once we were up there, we could see in all directions (through glass unfortunately) where to the north we could see the Race Point Light (which we knew we weren't going to see by foot), the tip of the cape to the southwest, over the beach facing Cape Cod Bay to the southeast, and right over the rest of Provincetown right below us to the south.
I don't think Tahia realized that she was up this high as she simply wanted to roam around. But eventually we all had our fill and we let Tahia make her way down the tower with the watchful eye of Julie. Once we made it to the bottom, we took a few more shots of the imposing tower juxtaposed against the deep blue skies, and then we bought some Native American statues as sort of the keepsakes that typically would go onto our souvenir collection.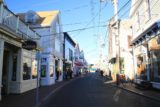 At 5pm, we left the Pilgrim Monument and finally returned to the car at 5:20pm. So as we left, it turned out that our parking bill was $12 since we spent about 4 hours here.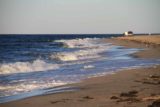 Next, we drove towards the Race Point Beach. It was the last destination for the day though it was getting quite late in the day. But with the clear skies, we figured why not go out there and see what this beach was all about.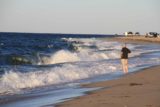 We eventually got there at 5:35pm. It was interesting to pass through a grove of beech forest before the trees gave way to impressive sand dunes ultimately leading up to the big car park behind a toll station that wasn't manned.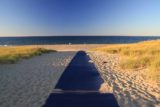 We then got out of the car and walked on a matted walkway that made it really easy to get to the fine-sanded beach without the strenuous workout of sand walking over a small hill. With the low light of the setting late afternoon sun, long shadows were cast and the sand was glowing orange.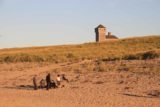 The seas were rough here so once again, we had to keep a close eye on Tahia to ensure she would go nowhere near the water. Even though it was late in the day, there were still lots of people here.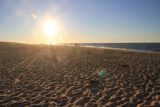 Far off in the easterly direction, we saw there were at least three of four high clearance 4wd vehicles off in the distance. We thought it was kind of ghetto that they let vehicles drive on such a pretty beach such as this. But then again, maybe there was a reason why this beach was called Race Point to begin with, and it might have had something to do with letting cars race on the beaches here.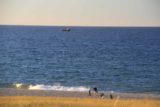 Looking in the westerly direction, there was another large wheeled vehicle parked way off in the distance as well. But I wondered if that vehicle had something to do with whisking people to and from the remote Race Point Lighthouse and the civilization that we were in.
Anyways, after having our fill of the beach, we then headed back over the hill towards the parking lot on that blue mat that made it easy to sandwalk. While Julie and Tahia were waiting in the car, I spent a few more moments to walk behind the restrooms and towards some kind of Old Heritage Museum and Life Saver Building.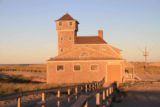 Once there, I took advantage of the soft orange light being cast on the building. Meanwhile, I also looked in the direction of the beach where there was one vessel with a mast sailing across on the horizon in the choppy waters.
Finally at 6:10pm, we left the Race Point Beach area and drove towards Orleans in earnest. We had never really had a chance to do a walking tour of Orleans, but of what we had seen of the town so far, there really didn't seem to be an obvious walking central area like there was at Provincetown.
In any case, Julie managed to Yelp and decide that we should eat at this place called the Rock House Grill. But I was afraid that by the time we'd finally get there, it might be very crowded and involve an hour-long wait or something.
By about 6:55pm, we did indeed make it to the Rock House Grill, but as expected, the parking lot was packed. And when we had to wake Tahia up to go inside (which got her to be real fussy and in a bad mood), we not surprisingly were told that it was a 45-minute wait.
The hostesses told us that we could order out and it would be only a 20-minute wait. So we went ahead and ordered from their take-out menu. The food eventually came to us probably a half-hour later, but at least we saved ourselves the tip expense and the extra wait. But we also knew that takeaway food tended to get soggy.
So at 7:35pm, we left the Rock House Grill, and at 7:55pm, we had finally made it back to our room at the Hawthorne. And as expected, the food was soggy, but at least the lobster roll was way better than the one we had at the Faneuil Market in Boston. In fact, the lobster roll we had at the moment (as soggy as it was) made it feel like the one we had in Boston was a total rip off even though the Rock House Grill charged $22 for their roll.
We also downed some lukewarm BBQ chicken pizza as well as some soggy sweet potato fries. Tahia wasn't terribly picky on this meal as I'd imagine she was pretty hungry. But in any case, we finally had our dinner, and we could finally get cleaned up and put a wrap on this day that turned out to be a far more eventful day than we had anticipated when we woke up with the laissez-faire mentality.
Tomorrow, we had a lot of driving to get done, and it would also mark the beginning of the waterfalling portion of the trip. Funny how the skies had finally cleared up when it was almost time for us to leave Cape Cod. Now why couldn't it be that way yesterday?
Anyways, the weather was something we couldn't control, but we looked forward to getting down to business. Hopefully, Tahia would like that activity as much as she enjoyed the Cape…
Day 4: INTERSTATE WATERFALLING
It was 5:30am when I awoke, but it was to darkness. I was tempted to once again sleep in, but I knew that today we had a lot of driving ahead of us. So while Tahia was still asleep, I figured I mind as well start packing to somewhat streamline the list of chores to do in the morning before we'd finally have to leave Chatham.
Julie woke up about 15 minutes or so later, and she was also of the same mindset. So we tended to our oral hygiene, and then I was pretty much done with my packing not much later after that. Julie still had more stuff to do so I knew that I mind as well start loading up the car with my own luggage and belongings to get a head start.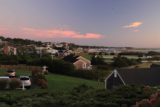 And as I was doing this at around 6:15am, I realized that the sun was about to rise. There were a few other people staying at the Hawthorne that also noticed this and I saw them out and about with their own point-and-shoot cameras to capture the spectacle of a Cape Cod sunrise.
The whole time I was engaging in this activity, I was kind of bumming that we couldn't have had this weather at the outset on Thursday nor Friday. That would've really made our Cape Cod experience. But as it was, we had to settle for the half-day of good weather while we were in the happening Provincetown.
Anyways, with today's good weather, it was going to be a shame that we'd have to spend most of it inside the car as we'd pretty much be driving a long ways west out of Cape Cod, then through Providence, Rhode Island, before going all the way to the northwest end of Connecticut.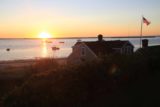 I managed to get some decent shots of the boats silhouetted against the orange globe of the rising sun against the hazy but calm seas east of Chatham. Then, I returned to our room where Julie was still getting ready.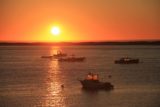 Eventually, it was almost 7am, and that was when we had to wake Tahia up. And after her initial fussing, she was in a surprisingly alert and good mood. And it was a good thing as I had to pack up her Pea Pod and then carry Julie's luggage to the rental car.
By about 7:25am, we had finally left the Hawthorne. The morning wasn't chilly at all so my theory about leaving the water in the car hoping to let the natural night air refrigerate the stuff in the car didn't pan out.
And so the long drive began. It took some time to get out of the Cape Cod area. And it wasn't until about 8:20am when we found a gas stop somewhere west of the Cape Cod peninsula.
The next couple hours of driving was pretty much uneventful driving on the interstates so we were making good speed as the speed limits were primarily 65 mph. The GPS eventually got us to take some side roads into the Devil's Hopyard State Park's north end where we stumbled upon a large but partially filled car park signposted for Chapman Falls.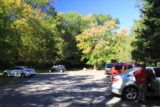 We arrived here at about 10:30am. Tahia had been in the car for quite a while and she was itching to get out of the car. And we were eager to bring her to her first waterfall of the trip.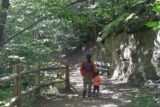 So we crossed the road and went past some signage before following a pretty wide path. It skirted alongside the top of the falls and then around its drop. We then went left onto a fairly steep and uneven path where Julie had to carry Tahia to ensure that she didn't take a nasty tumble on the rocky surface to get down to what seemed to be the main viewing area for the multi-tiered falls.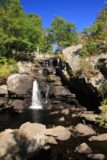 The falls itself seemed like it was in low to average flow (at least lower flow than the pictures that I had seen in the literature). However, a few of the trees above the falls had already started to change color, which gave the scenery a bit of color. And since the sun was out, there were also shadows to contend with.
In any case, we got our shots, tried to get some family photos in there, and then Julie and Tahia promptly returned to the rental car.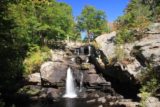 Meanwhile, I lingered a little while longer to take a few more tripod shots before I continued along the descending wide path towards what seemed to be a large picnic area and a main car park. There was even some restrooms here, which I sorely needed after spending over three- to four hours on the road.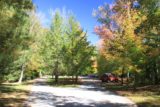 The motivation for going down this was way the off chance that I might stumble upon the potholes that gave the park its name – Devil's Hopyard where the devil himself hopped around and caused the indentations.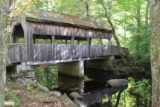 Well, I didn't find the potholes, but I did find the main picnic and car park area, and perhaps this was the part where we should have gone into in the first place had we followed more conventional roads instead of the GPS-suggested side routes. Nonetheless, I lingered around here and even passed through a covered bridge where on the other side, I saw there was an alternate trail that led 0.2 miles to Chapman Falls. There was also another trail that went 0.7 miles towards a vista, but with Julie and Tahia waiting, I didn't want to go out there and then come back, which surely would've taken at least another 30 minutes or more.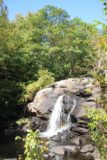 Anyways, since I knew I was on the other side of the stream, I wondered what the falls experience would be like on this less traveled path. After a few more minutes of walking through the forested terrain with dirt surface, I then got onto a narrow rocky ledge area where I descended towards the pool beneath the lowest tiers of Chapman Falls.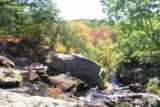 I took a few photos from here and even chanced upon a faint ranbow besides one of the lower tiers. Then, I rock hopped my way towards the middle of the stream where I got a few more photos of Chapman Falls from the lower perspective. Then, I scrambled back up to the view we were at earlier, and from there, I followed the way back to the car and the awaiting Julie and Tahia.
Julie wondered what took me so long, but I explained to her about how I had found the restrooms and the real starting point and car park area.
So with that, we continued on the long drive to the next accommodation at 11:20am. The next leg of the drive was pretty much on some rural highways before getting onto the next series of interstates. Tahia was starting to get restless from hunger, and Julie was too. So we decided to exit the freeway at some random exit in the town of Torrington. Then, we found ourselves at some corner deli that had a lot of people waiting for their order for subway sandwiches.
When we took our number and got our order, Julie and I were shocked at how thick the 12″ subs were here! The sandwich alone could've easily fed an entire family of 5!
I had to try to keep Tahia occupied while Julie was busy placing and waiting for the order. But Tahia still managed to damage a jar of capers after it fell to the ground. So I had to bring Tahia outside and keep her busy out there to ensure she wouldn't break anything more inside this neighborhood liquor store and deli.
We then got back in the car at 1:05pm, but with the subs being way too big to each like a normal sandwich, Julie decided to use a spoon and try to feed Tahia some of the Italian meatballs with the spoon while we still had to drive towards Kent Falls. It was still a good 30 minutes at least to get to the town of Kent so that was the reason why we had to just have this mammoth sandwich from Torrington.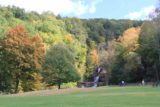 At 1:50pm, we finally made it to the Kent Falls picnic area. Unfortunately, the vehicle fee to enter the park was a colossal $15! Even for Connecticut residents, it costed $9 which was rather steep for a single-waterfall reserve. There were whole national parks that costed $20 and there was far more to see and done in those places.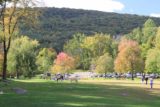 Nonetheless, we saw there were many picnic tables and a very wide lawn area that we knew would keep Tahia occupied while Julie and I tried to finish the super sub. It wasn't the most relaxing picnic lunch because there were some pretty annoying black gnat-like flies buzzing all around us. And even Tahia was annoyed by them.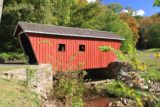 After Julie and I were thoroughly stuffed eating just the cheese and meatballs (leaving the soggy bread behind), we then headed towards the multi-tiered Kent Falls, which was clearly visible from the car park and picnic area. Once we got there, we took the obligatory photos, which seemed very friendly to tripod photos. We even used the device to take some family portraits in front of the falls.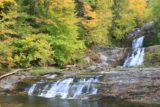 And after having our fill of this very busy section of the park, Julie and Tahia decided to linger here while I continued up a steep and stair-stepped trail leading alongside the cascading stream. And as I ascended further up the trail, I noticed there were more tiers of Kent Falls though most of these tiers were of the really tiny and inconsequential variety.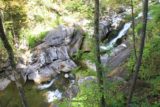 Lots of other people were also sharing the trail with me as well as the many overlooks. Most of the falls encountered were interesting, but they weren't anything particularly striking until I made it up to the uppermost pair of tiers which fell vertically and split into a segmented lower tier.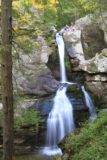 There were quite a few people chilling out at the very top of the falls, and I took my time taking long exposure photos while also using those people as subjects to convey the scale of this part of the falls. I was also trying to figure out how to use some of the changing fall foliage with the falls though the shadows from the sunny weather conspired to wash out or darken out parts of the photo. It was hard to strike a balance between the two zones.
I turned around and headed back down towards the awaiting Tahia and Julie once I made it to the very top of the falls where I saw there were even more people playing by the stream. I couldn't continued crossing the stream then taking the red and/or orange trail alongside the other side of the stream, but I opted not to do that though I did notice other people were trying to do that longer loop.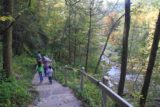 And by 3:40pm, we were finally back in the car. I had to make a little pit stop in the relatively clean bathrooms here (they'd better be for the $15 admission fee), and as I crossed over the creek to get back to the car after having done my business, someone pointed out that there was a snake on a rock besides the creek below the bridge.
And sure enough, when I looked below, I saw the curled up dark brown snake. Someone thought it was a water snake or a water moccasin, but I wasn't sure if they were poisonous or not. Whatever the case, it was a chilling thought considering that there were many kids and families at play here, and so it was a sobering reminder of how one needs to be respectful of the hazards that Nature can throw at you regardless of how friendly and inviting a place as developed and popular as this can be.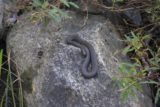 So we drove off and headed towards our accommodation for the night near the town of Norfolk, CT. We'd ultimately arrive in the town of Canaan where we made a stop at a grocery store at 4:20pm. While there, I kept Tahia company while Julie went in there herself to do some grocery shopping. When Julie came back, she was surprised at how much organic and farm fresh produce was available at this place.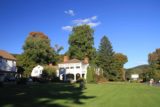 We continued on at 4:35pm, and barely ten minutes later, we finally arrived at the Blackberry River Inn somewhere at either East Canaan or the western end of Norfolk. The place actually looked like a pretty charming little spot, and we were glad that we were able to stay here because it seemed like everywhere else we looked in this vicinity, there was a two-night minimum stay on the weekends. This place let us stay for just the night.
So we got settled in and unpacked. I spent some quality father and daughter time swinging on the swing bench near the backside of the property. Tahia had fun, but I was mindful of the spider webs and how poisonous spider bites could put a damper on things if Tahia (or myself) happened to put her hands in the wrong place at the wrong time.
At 6:25pm, we drove east towards the town of Norfolk to eat at this place called the Infinity Music Hall & Bistro. It turned out that this was a recommendation from the receptionist at the Blackberry River Inn.
When we got there at around 6:30pm, we noticed that there were many cars parked here. There was one moment where someone pulled out in front of us to vacate one of the view marked parking spots, but a black SUV in front of us and well past this spot rudely backed up and backed into the spot just as we were making our move. Oh well, I knew that there was more street parking on the main highway in front of the Infinity Hall Restaurant so I didn't sweat this potential road rage incident.
But underscoring the many cars here, we knew that we might have a similar situation to yesterday at the Rock House Grill in Orleans where the wait was an hour or so. But when we walked in without reservations, we were fortunate to have gotten a small table to fit the two of us plus Tahia in a high chair.
Julie and I noticed that the Infinity Hall was established in 1883. In fact, the town of Norfolk itself seemed to be a charming little piece of history in the woods of northwestern Connecticut. Indeed, New England seemed to be full of historical places like this, and it further reinforced the whole heritage and historical theme that started right off the bat in Boston and continued in Cape Cod and onto this part of the trip.
In any case, we were stuffed with our mains of crab cakes and pork ribs with pork belly. Tahia seemed to get a lot attention from the waitress as well as other passerbys. Tahia ate most of her plate of stuff that we gave to her (she had no choice but to eat what we were eating on this trip), and by about 7:45pm, we left the Infinity Hall and returned to our accommodation.
And so ended this rather long day where nearly seven or eight hours of it was spent driving across three states (Massachusetts, Rhode Island, and Connecticut) as well as several more interstate highways. But such is the activity of waterfalling sometimes as the most scenic places in the world often require a bit of driving away from civilization to reach. So here we were in the Appalachian Mountains where most of the New England Waterfalls were to be found on this trip, and we were about to embark on several consecutive days of this type of waterfalling and driving until we'd reach Bar Harbor in Maine's Acadia National Park.
Day 5: SERENDIPITOUS FIND
It was 6am when I awoke to my alarm clock. Both Tahia and Julie were still asleep and it was still dark outside. That said, I was starting to see daylight starting to pierce through the darkness, and it looked like it was going to be another clear day.
So I took my time brushing my teeth and getting started on the day. I managed to finish packing my own belongings then loading up the car by 6:30am. And through all that, nobody woke up. So as planned, I went out to do a quick Campbell Falls jaunt before the 8am breakfast at the Blackberry River Inn.
After driving in the darkness of dawn, I eventually headed towards Norfolk, then headed north along Norfolk Road (Route 272). After going about four miles on this road, I then saw small signposts for Campbell Falls veering to the left.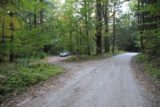 Once I got on the Campbell Falls Road, the road became unpaved but fairly smooth. At first, I must've missed the car park and trailhead for the waterfall because I noticed that the GPS said I was there, but as I couldn't see anything obvious that I was expecting to be a car park and trailhead. So I kept going.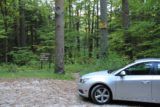 But after a few minutes more of fruitless driving through forest, I turned around and backtracked to where the falls was supposed to be. And it turned out that there was a narrow clearing between a bunch of trees, and that was where I was supposed to be.
So I arrived at 6:50am to a rather frigid and partially foggy morning. I could hear some birds calling in the distance, and the darkness was continuing to give way to the light of the sun that hasn't quite breached the tops of the surrounding mountains.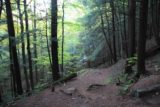 I got my camera, a bottled water, and a tripod, knowing that the New England Waterfalls book said this was a friendly waterfall for photo buffs.
So onto the trail I went, which prompty descended and curved amongst some tall trees.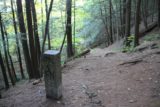 I could hear the waterfall getting louder the lower I went, and on what appeared to be the final descent to the base on the rather wide dirt path, I saw a small concrete pillar that turned out to be a state border marker.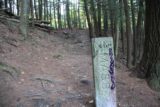 Apparently, the falls was on the Massachusetts side while I was coming in from the Connecticut side. This was made apparent as the side of the pillar facing south said "MASS" while the side of the pillar facing north said "CONN".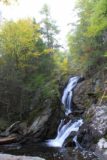 Anyways, once I made it down to the bottom, I could see that the two-tiered twisting waterfall was indeed attractive. It was probably at least as attractive as Kent Falls, which we saw yesterday. However, instead of being many cascades, this one had a more dramatic drop.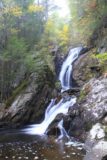 And given the low light of the morning, I had no choice but to use the tripod to ensure that I wasn't shooting at a ridiculously high ISO or that the shot wasn't going to blurry if I did try to shoot with a more reasonable ISO. Of course, that meant that all of my photos of this falls would pretty much be in long exposure.
After taking photos of the pair of falls twisting against one another on their descent, I noticed there was a somewhat reasonable scramble against the rock wall that allowed me to ascend above the lower waterfall and have a closer look at the taller upper tier.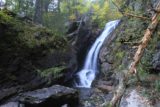 Once again, the lighting was too low for steady shots without a tripod, but I didn't bother bringing the tripod on this scramble. So I had to use one of the tall rocks here as sort of a steadying camera hold to take the roughly 1/2-second to full-second exposures of the falls.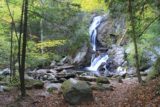 It was about 7:40am when I decided that it was time to head back up to the car. I had in my mind to return to the Blackberry River Inn by 8am, which would be in time for the included breakfast at the bed and breakfast.
It was about 7:50am when I finally made it back to the car. The New England Waterfalls book said that it was about 0.2 miles each way on this hike, but I swore that it probably wasn't as long as that given how short the ascent was.
Anyways, I managed to get back to the Blackberry River Inn at 8:05am. And when I got back to our room, I was surprised to see that Julie was still in pajamas and Tahia was still sleeping! Since breakfast was supposed to be done at 9am (or at least we were told they'd stop serving by then), we had to make sure that we finished our packing and get to the breakfast room in time.
And after all the errands were done, we managed to get into the breakfast room at around 8:30am, just after I loaded up the car with our belongings.
The breakfast was pretty much standard stuff consisting of a choice of omelettes, eggs, pancakes, and toast. There was also some cereal. But at least this breakfast was much more decent than any of the breakfasts that we've had on this trip up to this point.
The worker reminded me of the guy on the Social Network movie, who we suspected was European given the way he spoke English. He seemed to be overworked as he was the lone guy running the breakfast and just about all the tables in the immediate room were occupied with customers.
So we knew that the service would be slow, and we kind of helped ourselves to the drinks and other things for those things that we didn't need him to bring out to us. I think he even had to tell some of the guests to wait when they showed up closer to 9am as he was simply too swamped.
We eventually left the keys and drove off at 9:30am. I left the Social Network guy a $5 tip since gratuities weren't included, and I figured he was overworked anyways.
The GPS made me think that getting up to Bash Bish Falls was going to be a piece of cake. Apparently, it was only supposed to take around 30 minutes or so to get there.
So we followed the GPS going north on Route 7 leaving North Canaan and eventually veering off the highway at Berkshire School Road. It seemed like a rather random road to be taking, but when I saw that the paved road was indeed the shortest path without having to go all the way north to the Route 71, we then headed north on Under Mountain Road before joining up with the Route 23 heading west towards New York.
But as we were on the Route 23, I saw a small brown sign indicating that Bash Bish Falls was 6 miles left turn on Jug End Road. So we went ahead and followed the sign (disobeying the GPS which had us go all the way to Route 22 on the New York side).
However, as we followed this road, apparently I went the wrong way after going straight at a four-way intersection. When I realized that we were eventually going to go back to the Under Mountain Road, I turned around and turned left when I returned to the four-way intersection to go onto Mt Washington Road.
Part of the confusion was that there was a sign indicating some State Forest but it pointed in two directions. The way I took originally seemed to suggest that it was valid.
In any case, we not went on some more rural roads curving around to the south until we'd eventually get onto Hatch Hill Road, which ultimately joined up with East St. In a rather worrying development, we encountered a white sign suggesting that Bash Bish Falls was still another 6 miles. But wasn't there a sign saying it was already 6 miles back at the Jug End Rd turnoff from Hwy 23?!? Clearly one of these signs was wrong!
Then, we turned right to get onto Cross Rd, which then went onto West St. As the Bash Bish Falls signs showed the remaining distances were getting smaller, at least I felt better that we were on the right track.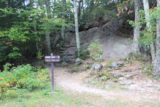 Eventually, we were on the Falls Rd, and finally by 10:30am, we made it to the Bash Bish Falls car park. Indeed, what probably should've been 30 minutes or so turned out to be an hour.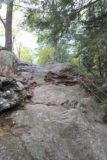 Anyways, this excursion looked like it required at least a 0.4-mile hike in each direction to the falls, and the terrain looked like it would involve a rather steep descent. So we got out the child carrier and got Tahia loaded up.
I briefly made a steep scramble past a sign indicating that there was a scenic vista near the car park. There was no way I would take Tahia on this rugged path so I made haste to get the vista on my own then get back down to the car park.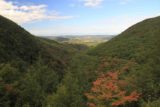 Well, the vista was quite nice though there were some clouds above us that casted shadows on the V-shaped landscape.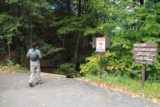 Immediately upon my return to the car park, I strapped on Tahia in the child carrier, and Julie and I promptly made our steep descent on the trail to Bash Bish Falls.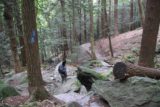 The descent seemed to be somewhat long, especially with me carrying precious cargo on my back and waist. And when we went down the last flight of steps, we saw straight away that there was a wider trail that seemed to follow along the river responsible for Bash Bish Falls.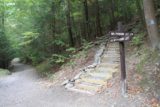 There was a sign at the base of the steps pointing in two directions. The path along the river said "NY Parking Lot". The path that we had just taken said "MA Parking Lot".
That was when Julie and I realized that we had probably taken a much more difficult path as it was steeper even though it was shorter. At least it did offer the chance to get a nice vista.
On the flip side, the NY path was all along the river, and it seemed to be much more family friendly. Even though it was said to be 0.75 miles in each direction instead of 0.4 miles in each direction, it was probably a case where distances were deceiving.
Anyways, what was done was done. Now, it was time to enjoy the segmented waterfall, which was beautifully situated beneath some trees with fall colors while the pool below the falls seemed to have a deep emerald hue.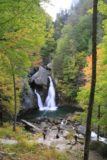 There were already quite a handful of people enjoying this waterfall, which attested to its popularity. Tahia seemed genuinely happy to see this waterfall. So Julie took Tahia out of the carrier and they went down to the base of the falls together, where Tahia seemed to enjoy petting a dog who was brought here by its owner who had already made it here before us.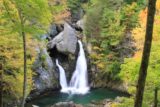 Shortly after I joined them, the sun started to peek away from the clouds and that wreaked havoc on our photos as we were pretty much looking against it towards the falls. So the photos had to wait until the clouds would cover up the sun again.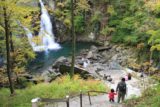 And given all the waiting and the urge to photograph the falls from as many different positions as I could imagine, we'd finally start heading back up to the car park as the next wave of people started to show up.
As expected, the hike back up to the upper car park was strenuous with Tahia on my back. It wasn't until 11:55am when we finally made it back to the car park. I was sweating bullets thanks to this workout, and it took me some time to get into the car to start the ignition and turn on the AC.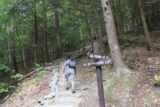 In the mean time, I was fighting a few mosquitoes outside the car while Julie was changing Tahia's diaper and giving her the veggie straws that she promised her. We also had to check each other for deer ticks since we saw a sign saying this place was deer tick habitat. After having gone through two tick bites in the past, we were taking any chances at not checking before taking off.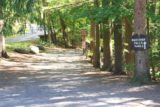 So as we drove off, this time we followed the GPS. Actually, we also had the Hertz Never Lost navigation system on as well. But for the initial part of the drive, they agreed with each other in that they had us drive west into the state of New York, then going north for quite a ways on Highway 22, which took us through what appeared to be the rolling hills of Berkshire Valley.
Julie was paying attention to the windows of many of the houses that we saw while driving this highway, because it gave her some ideas and inspiration on how we ought to be doing (or should have done) windows on our home. In fact, this was yet another example where it seemed like she got her ideas and inspiration from our travels, where we'd like to integrate them into our lifestyle.
So it wasn't until we got to somewhere around New Lebanon Town that the two navigation systems started to disagree with each other.
Our Garmin unit had us continue north on the Hwy 22. Meanwhile, the Hertz unit had us turn right and go onto Route 20 into Pittsfield. We ultimately decided on going with the Hertz navigation system since we trusted that it might be more up-to-date than our Garmin (after all it was more correct when we were navigating through Cape Cod earlier on in this trip).
Yet as we were doing this, our GPS claimed that the arrival time went from 1:15pm to 1:30pm. Somewhere its suggested route was 15 minutes shorter?!?
Well whatever the case, we went through the rather large town of Pittsfield (and its many traffic lights) before we followed a long caravan of cars into the town of Adams.
Eventually, we'd end up in North Adams, but we decided that perhaps we should look for a place to eat first before checking in. After all, the lunch would be late again.
But as Julie's iPhone took us on some roundabout routes to get to the main part of town, we lost even more minutes, and when we saw that there was a Sunday market that closed off half of Main Street in North Adams, we decided to just go to the Holiday Inn and check in before grabbing a late lunch.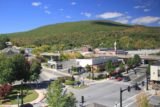 So after 2pm, we finally checked in and dropped off our luggage in what turned out to be a rather spacious room. It was probably the most spacious room we stayed in on this trip so far. When we looked out the window of our room, we could see that the hills backing North Adams were starting to explode with Fall colors. It wasn't quite there yet, but flashes of our Southern Appalachian road trip last year were coming to mind.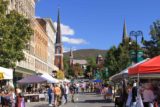 Anyways, after doing that errand, we walked into town where we decided to eat at this place called Medi Terra. But before going into the restaurant, I tried to soak in the atmosphere of this Sunday Market, where it was nestled in the center of North Adams, which turned out to be a surprisingly charming town, especially as this street faced several churches with tall steeples as well as some historic-looking line of buildings alongside Main Street itself.
Indeed, North Adams was supposed to be a logistical stopover point for us when we planned out this trip. Who knew that it would be such a serendipitous find!
Anyways, we promptly had the Mediterranean style food for lunch, but this place also looked like it was understaffed as the waitress was doing the cashier duties as well as the waiting on her own while the pair of dudes at the kitchen were working on preparing the foods (and probably getting orders wrong given what I overheard from the waitress' exchange with them).
So the food came out slow (and they got our appetizer order wrong), but since we were running out of time on this day, we just hastily had our lunch and finally left the joint eventually returning to our car at 3:15pm.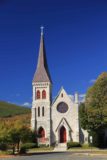 But before we would continue on to go to the Natural Bridge, which was the next attraction for the day (and it was closing at 5pm), Julie needed a new pair of shoes since the ones she brought were falling apart (the soles were coming off at the bottom).
So after making a stop at the town's mall (which happened to have yet another church sharing its parking lot), we finally headed out at 3:35pm.
As the GPS guided us towards the Natural Bridge, it eventually took us towards a road that didn't exist. So after that fruitless detour, we followed Julie's directions on her iPhone, which ultimately got us to the car park for the Natural Bridge at 3:50pm.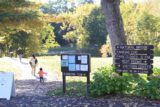 After paying the $2 parking fee, Julie, Tahia, and I all followed the signs towards the Natural Bridge. But along the way, we checked out each interpretive sign explaining that this place was once known for having a marble quarry.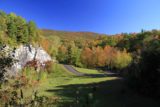 And this abundance of marble here was quite apparent as it was on the trail itself, we saw a large wall of marble (probably the quarry site) from one of the overlooks, and there was even a man-made dam of marble, which caused a waterfall that ultimately spilled further into a narrow gorge that had even more mini-waterfalls surrounded by fluted cliffs and potholes that were typical of slot canyons.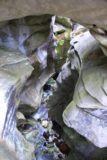 We took our time exploring the premises while also keeping a watchful eye on Tahia to make sure she wasn't in any excessive danger of falling into the steep gorges here. Somehow Julie got Tahia into picking up leaves and tossing them through the holes in the fences to see how far they'd float their way down into the gorge below.
Plus, the abundance of marble here also inspired Julie in terms of the material to use for kitchen and bathroom counters. It's funny how these things become relevant when other aspects of your life have to do with it – kind of like noticing Toyotas only after having bought one.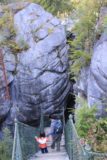 When we saw the natural bridge, which was the only one in the country that was made of marble, we found it rather difficult to photograph despite there being viewpoints on both sides of it. We couldn't get that meaningful shot where there was sky behind the span of the arch to provide definitive proof in a photograph that it was a bonafide natural arch or bridge.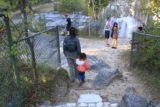 As the shadows grew longer and the employee reminded the remaining visitors of the park's pending closure for the day, we returned to the car at 4:45pm. I'm sure the vistas here would've been nicer without the shadows, especially since many of the hills here were showing brilliant orange and yellow hues with a hint of reds in some patches.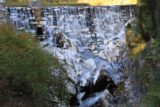 At 5:05pm, we were back at the Holiday Inn. I took some time to self-tour North Adams by foot, especially as I tried to see if there were photo ops along Church Street, which was aptly named as there had to have been at least four or five big churches on this road, including the two flanking Main Street.
I then walked towards the gastro-pub called Public, and when I noticed that they were open and it was walking distance from our room, I returned to our room by 5:50pm, and shortly thereafter, we all walked back into town as a family by 6:15pm.
We ended up having some salmon, chicken tenders, Autumn bisque, and an ice cream sandwich of chocolate chip cookies with fudge toppings and whipped cream. Julie also got an apple cider that she contended might have been better than the Brittany/Normandie applie ciders in France due to the sweetness of the one we had.
In any case, this was probably the best meal we had had on this trip. Indeed, it seemed to be working out that North Adams and other aspects of the trip around here were working out for us. Hopefully, this wouldn't mean that the trip would peak from here on out though we had no reason to believe it should work out that way (though the weather could do much to mess that up quickly).
At 7:30pm, we were back in the Holiday Inn. And so ended this day where we were well into the momentum of waterfalling New England. Tomorrow promised to be a bit more intense as we intended to bag at least three waterfalls and possibly even a fourth time permitting. But given how traveling with a kid conspired to slow things down a bit, we'll see how much might actually get accomplished…
Day 6: A STOP WE NEVER SAW COMING
It was 6:15am when I awoke. Once again, it was dark, but I could see out the window that daybreak was definitely coming out as the dark skies were starting to turn from black to dark blue.
Based on yesterday's experience, I knew that I could be out the door in less than 30 minutes. And after going down the elevator followed by a pair of people in work clothes asking the obvious question if I was hiking, I got into the car with my gear and headed out while Tahia and Julie were still asleep by 6:40am.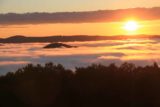 The GPS indicated that it was only about 8 miles from North Adams to the falls, but I was a little surprised to see that it would still take about 30 minutes to get there despit the short distance.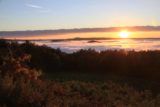 As I was headed east on highway 2, I got to the town of Florida by this place called Eastern Summit by 7am. While there, there was a pullout by a business or something with a lookout facing east right towards the glowing orange rising sun above some rolling misty hills draped in fog below. It was one of those picturesque scenes that can only happen for those who get up early enough in the morning to experience it (weather permitting of course), and it already made me glad to take the initiative to do the Tannery Falls hike this early morning.
About ten minutes later, Highway 2 descended and curved as it got to the very easy-to-miss Black Brood Road turnoff at the very base of the descent. Unfortunately, there were concrete barricades erected that blocked further progress, and it was clear that the road was closed.
Since the New England Waterfalls book placed Tannery Falls amongst its top 10 of the New England region, I figured it was worth the effort to find another way around the closure to get there. I had recalled earlier on in the drive just east of North Adams that there were brown signs pointing the way south to Savoy Mountain State Forest. So I figured I should at least go back to that turnoff and try my luck going towards the falls.
Of course, this put me in a little bit of a bind because I had left Julie a note before I left promising to return by 9am. It looked like the drive to get there might be at least another 30 minutes or so, and I wasn't sure if I would require another hour or so of hiking.
Anyways, I backtracked to what turned out to be the Central Shaft Road. The road went through a bunch of residences mixed in with woods with changing colors on the foliage. Then, I had to leave the road to take New State Road which was still paved but was riddled with some deep potholes so that forced me to slow down a bit or risk getting a flat tire.
Then, the paved road gave way to unpaved road, but it was fairly smooth (or at least it was easier driving than the paved potholed New State Road). Apparently, the unpaved road coincided with my entry into the Savoy Mountain State Forest. So I knew that I must be getting close.
Then, the GPS had me turn left onto Tannery Falls Road. While the road had a promising name (indicating to me that I was indeed in the right place), the kicker was the road was unmaintained. Boy did I hope this falls was worth it because those two words scared the heck out of me, especially since we were driving a rental without the insurance through the car hire company (and we were still wondering if the Hertz in White Plains, New York would recognize the markings by the inspector at Hertz, Boston Park Plaza indicating that this car was full of dents and obvious scratches on top of the nicks and chips before we even started our rental).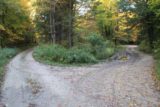 Anyways, I was somewhat comforted by the fact that it was about a two-mile drive on this unmaintained road. But there were already some hairy moments where rocks were jutting out of the narrow road that seemed more suitable for ATVs. Plus, there were some water-damaged spots on the road that forced me to inch very slowly to avoid scraping the undercarriage of the car.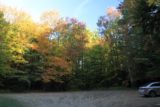 Mercifully, I eventually made it to the car park for Tannery Falls at 7:45am. At first, I wasn't sure about the clearing that I saw near a bridge, but when I did a little more exploring then doubling back, that was when I saw a Tannery Falls sign, which was only visible coming in from the east. Since I was coming in from the west (heading east), I guess that indicated to me that Tannery Falls wasn't typically accessed by the route that I took.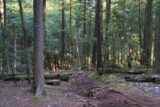 So with my gear and camera ready, I promptly followed the blue blaze marks painted on selected tree trunks marking the route. Even initially, there seemed to be some false trails so it wasn't at all that obvious which was I was supposed to take, but I eventually followed a somewhat obvious path that descended alongside some wooden fences skirting one of the streams with a handful of small cascades.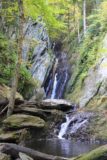 It also seemed like there was another creek on the other side of the descending trail so indeed it was as if the trail was descending a sloping ridge splitting a pair of brooks (one of them being Tannery or Ross while other one was probably Parker).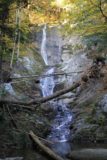 When I finally made it down to the bottom of the descent along a combination of sloping dirt and stair steps, I was surprised at how quickly I saw one of the tall cascades that appeared to be on the Parker Brook. This one was a multi-tiered cascade that was thin, and from recalling the description in the New England Waterfalls book, I concluded that it must've been the Parker Brook Falls.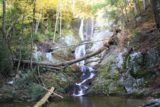 Just a steps beyond the end of the stair steps, I then saw a more substantial (but not by much) waterfall that was steeper and had some rock cairns on some flatter rocks beneath some fallen logs. I presumed that this must've been the Tannery Falls, and I wondered if there were more cascades further downstream because while it was pretty, it didn't seem significant enough to expect that it was a New England Top 10, which the authors of the book claimed this was.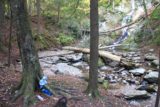 So I continued a little further downstream since I saw some trees with blue blazes on them on the other side of the Parker Brook. But at that point, I didn't see any more trees with blue blazes and the trail was definitely less defined (because apparently they weren't really trails to begin with).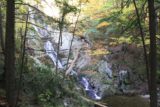 So after a few more minutes to convince myself that I indeed get to the end of the hike, I then headed back up towards the car. And by the time I returned to the car park, it was 8:35am.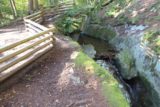 There was still the drama of trying to get out of the Tannery Falls Road unscathed, but I was already thinking that this falls wasn't worth the trouble to get here. Perhaps it was the somewhat low flow that made my experience underwhelming compared to what the authors of the New England Waterfalls (NEW) book might have experienced.
Well whatever the case, it was now time to return to North Adams and pick up Tahia, Julie, and all of our belongings. There was going to be a pretty long drive ahead of us, so it was imperative that I got back to North Adams as close as possible to the 9am promised time (knowing that I would probably be going over that time but hopefully not by long).
After going through more hairy moments on the Tannery Falls Road, I then turned left (as the GPS had me taking a different route back), and I eventually got to Adams Road, which then got me into the center of that charming town before I then headed north on the Highway 8.
By about 9:15am, I returned to our room in the Holiday Inn at North Adams. Julie and Tahia still weren't all packed up and ready to go, which was disappointing, but I did finally have a breakfast of bagels and grapes.
It wasn't until about 9:45am that we were finally all checked out and ready to go.
The drive out of North Adams, Massachusetts to Bennington, Vermont was pretty uneventful other than we made a stop at a Wal-mart in Bennington so Julie could pick up more diapers for Tahia while also getting her Play-Doh to keep her occupied. We got there at around 10:25am, but we didn't leave until 10:45am because Julie couldn't find a single can of Play-Doh and she didn't want to overbuy packs of four cans. So she ended up getting some kind of putty for her, but it was sticky and got on Tahia's car seat as well as her blanket, and it was very difficult to get off. So we considered this purchase to be a waste of money and time.
Anyways, the drive continued uneventfully as we headed into the rather large town of Rutland, Vermont at 11:45am. Since we had already been sitting in the car for a couple of hours, we got Pannera Bread as a takeaway lunch.
Then, we continued driving north on a combination of Highway 7, then Highway 4, then Highway 100. Most of the driving on these highways were on two lanes and we found ourselves behind slower drivers (especially trucks) while on the VT-100 with limited opportunities to pass.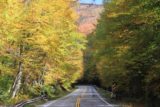 On the bright side, we were passing through more rolling valleys with some prevalent Fall colors, which Radio Vermont was confirming was peaking in the northern parts of the state, which was where it seemed like we were in. So indeed, whatever we were seeing around us that reminded us of last year's Southern Appalachians trip was coming alive on this trip here on the last week of September.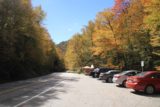 Finally at 12:45pm, we made it to the Moss Glen Falls by the town of Granville, Vermont. We knew from our pre-trip research that this was a roadside waterfall, but this break couldn't have come at a better time because by now, we had been in the car over three hours!
So all of us were eager to check out this falls. We got out the car, checked out the Fall colors flanking and hovering above the VT-100 road right besides the car park for the falls, and held Tahia by the hand so we could make the short walk to the falls.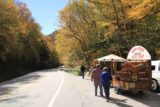 After passing by someone who had set up a stand to sell maple syrup (seemed like everyone was selling this stuff these days), we got onto the "unmaintained" boardwalk, which seemed like it was in pretty good shape.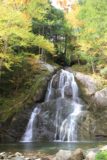 There was some signage near the start of the walk with a hard-to-see cascade deep in the overgrown shadows in the distance that looked like it ought to get a better lookout than it currently had, but it was obvious that the path continued for a few more paces to its end.
And as we got to the end, we could see the attractive Moss Glen Falls, which was technically visible from the VT-100 itself. However, in order to see that, one would really have to slow down and pay close attention because it wasn't like it was wide open to the road given the trees in between the falls and the road.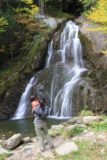 Anyways, there was a guy here with a tripod taking photos from the platform. He kind of had the best viewing spot so I had to take my shots around him.
Then, I saw someone go around the viewing deck and onto the rocks fronting the falls itself. So I took that as a cue to do this myself and get even more frontal views of the falls. Now since I didn't bring a tripod, I had to do my best to hold my breath to make the falls silky, but I also wanted to capture the Fall foliage colors around the falls as well.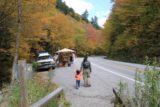 Tahia was enjoying herself though we had to keep a close eye on her so she wouldn't take a hard spill onto the hard rocks and the uneven footing. Clearly she was oblivious to the inherent dangers here.
At 1:15pm, we were back in the car. Now with our legs all stretched out and with our spirits somewhat recharged, we now had to make the last bit of the long drive to get to Stowe, Vermont. That was where we'd be spending this night.
Of course, there were still some local waterfalls around Stowe that we wanted to visit before continuing on to New Hampshire tomorrow, and that meant getting to Stowe earlier than later would mean we wouldn't run out of time and/or energy to bag those falls.
But then as we were continuing north on the VT-100 towards the town of Waterbury, we stumbled upon a Ben & Jerry's factory. It was a good thing for Julie that she didn't have her eyes buried on her e-reader because when we noticed it, she immediately had me turn around and make a spontaneous stop over there.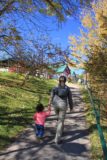 I never in my life thought I'd give up waterfalling for a poor-man's Willy Wonka-like tour for Ben & Jerry's Ice Cream, but that was exactly what we did.
So we stopped over there at 2pm, and apparently there were many other people thinking the same thing because this place was quite the busy place.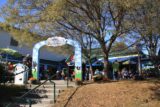 We showed up in time for a 2:20pm tour of their factory. So while we waited for the tour to get started, I took some photos of the main eating area as well as some of the surrounding Autumn colors. Clearly, this part of Vermont was getting the peak explosion of Fall colors.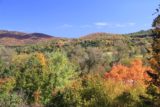 And when the tour began, we were brought up to some movie room to watch a 7-minute movie. Everyone knew Tahia would get bored with the movie, and sure enough, she managed to talk over the movie quite a bit.
I guess I didn't mind it so much because I didn't feel like being fed some corporate spiel about CSR (Corporate Social Responsibility) whether true or not because I knew in the grand scheme of things that it didn't amount to much until the rules of the game changed so the natural acts of those who played by the rules would naturally do environmental and social responsibility as a result of the forcing function of the basic rules that would've reflected those values that everyone would've collectively agreed upon.
At least the story of Ben & Jerry's was interesting.
After the movie was over, we then went to some viewing area above the factory floor, but there really wasn't much to see there unless you were genuinely interested in how ice cream was made.
Personally, I did find it interesting in that the quality of ice cream was more of a function of how much air was in the ice cream as well as the size of the ice crystals. That was pretty much the reason why leftover ice cream wasn't quite the same as when it was new, and that was why B&J's only sold pint sized containers.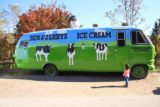 Anyways, the tour then ended with a tasting, and it wasn't a dinky tasting. It was actually a small cup of some seasonal flavor that wasn't available on the market due to this seasonality. It was some kind of cinnamon and chocolate flavor that we never had before, and I guess that alone helped with the price of admission of $4 per adult.
At 3:20pm, the tour was done, and we bought ourselves a cup of ice cream from the main entrance area. And so ended our time here, which I never thought I'd ever do, especially since I don't really eat Ben & Jerry's ice cream.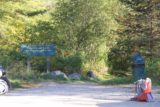 Finally at 3:45pm, we checked into the Stowe Motel where we prompty dropped off our luggage, and then headed back out 15 minutes later to see at least one waterfall before it got dark.
By about 4:15pm, we got to the car park for the Moss Glen Falls at Stowe. It was funny that we happened to be seeing two waterfalls with the same name in the same state on the same day.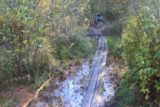 Well, with this one, we needed the child carrier, and then we walked about 10 minutes or so on a makeshift boardwalk to keep us from slogging through a swampy and boggy terrain. Then, after briefly following the stream, we made a steep climb up to some kind of ridge with a view down towards the Moss Glen Falls itself in its narrow and shadowy gorge.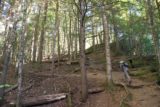 There were a couple of guys sitting by the choicest viewing spot speaking French, except it must've been Canadian French because there was something different about the way they spoke the language that I couldn't quite put my finger on it. I guess now I could better understand why one of Julie's cousins who lived in Paris could detect the difference.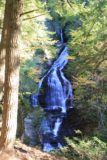 So that kind of made things a little awkward to take photos and enjoy the scene because it almost felt like we were intruding on their conversation even though they didn't own the spot. There also wasn't much real estate on the narrow ridge so it made things a little tricky for people to go around and through.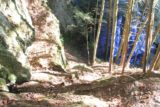 In any case, we were content to get our glimpse of the falls from here as we saw that the steep descent to get to the base of the falls looked way too dicey to even try.
There was also no way I'd drop the pack and let Tahia roam free as this place was full of dropoffs all around us.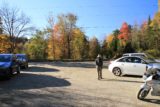 There were also some families that kept going up the ridge towards the top of the falls. And as much as I was tempted to go do this, I was carrying Tahia on my back, and I knew it was be strenuous to continue the climb with that weight on me.
So in the end, we returned to the car at 4:55pm, and we knew at this point that we pretty much would call it a day in terms of waterfalling. I did want to do Bingham Falls, but that would have to be for tomorrow morning time permitting.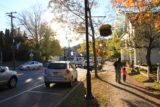 At 5:05pm, we decided to park on Main Street and just randomly walk around this historical block just to soak in the historical charm of Stowe.
But after a brief visit to the visitor center, we got a recommendation to try out Harrison's which was just two doors down the block. The other recommended spot was up Mountain Road, and it wasn't within walking distance.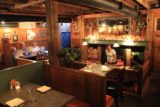 So managed to have an early dinner, which consisted of Apple Cider Chicken as well as some kind of Ahi Tuna, and Tahia got some crab cakes. The meal was pretty good, and we left pretty satisfied.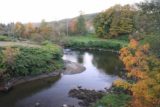 When we left dinner, the activity in this part of Stowe was dying down as the sun had already set. This was probably a very good time to take photos given that there was still enough light without a need for a tripod, but there was also colors from inside lighting from buildings needing to illuminate the darkening interiors. So I went ahead and took advantage of this while Julie and Tahia headed straight for the parked car.
So in the end, we got back to the car at 6:40pm, and less than 10 minutes later, we returned to the motel to call it an end to this very long day.
Day 7: WATERFALLING THE WHITE MOUNTAINS
Julie and I awoke at 6:45am and the light was definitely out at this time. And there was enough light to notice that we were surrounded by fog, which was predicted by the weather reports we chanced upon while listening to the radio while channel surfing during the long drives.
Anyways, roughly an hour later that we finally got Tahia to wake up. This was significant because while I had originally hoped to visit Bingham Falls this morning, I finally decided that perhaps we should just go straight to New Hampshire and continue our waterfalling there after having our included continental brekkie.
I wasn't sure if this was a decision that I would regret (especially since our Vermont collection of waterfalls consisted of only a pair of waterfalls with the exact same names), but I figured there were bigger fish to fry so-to-speak in New Hampshire.
So it basically became a decision where I'd much rather go see the more impressive (at least according to the trip research) waterfalls in New Hampshire than chase smaller ones even though Bingham Falls was less than 6 miles from our accommodation in Stowe, Vermont.
Our continental brekkie was pretty much do-it-yourself muffins and cereal. Tahia was behaving and eating her breakfast, and while she was at it, she definitely attracted quite a bit of attention (probably from her cuteness) from both staff and other guests in the brekkie area at the time. Nonetheless, it wasn't until 8:40am when we had finally left the motel.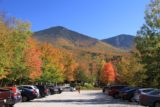 The drive out of Stowe and towards the Flume in the Franconia Notch State Park (part of the White Mountain National Forest in New Hampshire) was pretty uneventful. The weather was a mix of early morning fog before it had burned off for good the closer we got to the car park for the Flume.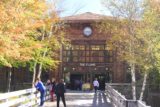 At 10:35am, we made it to the car park for the well-signed Flume, and it was amazing to see the car park as busy as it was for a Tuesday morning.
Well, we could easily see why as the car park was surrounded by beautiful Autumn colors that appeared to have peaked (or at least be very close to it). The temptation was great to keep trying to capture such a mosaic of colors juxtaposed against the cloudless skies at every opportunity we got (including the car park).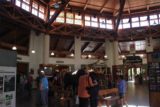 After entering the visitor center, we strapped Tahia into our child carrier, brought some bottled water with us, then paid the steep $15 per adult admission price to get through to the backside of the facility and start the hike.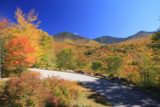 Even behind the visitor center, there was a vista of gorgeous fall colors on the mountains immediately before us.
The well-signed trail lead us on a paved path towards a glacial boulder next to a three-way junction.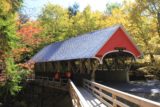 We turned right at the junction where the trail descended towards an attractive covered bridge. Apparently, this was a very New England thing though it might have some functionality to shield bridges from snow or other weather effects conspiring to weaken the bridge even quicker without this intervention.
After the bridge, the trail briefly climbed past another structure that looked like it housed a gift shop or museum of some sort while also serving as the other end of the shuttle bus (shuttling between the back of the visitor center and this building), which we didn't take.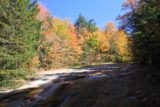 Not long afterwards, the path continued climbing alongside a stream featuring a sliding cascade at a spot known as Table Rock. It was one of those things that was pretty cool to experience in person, but the photos simply didn't do it justice.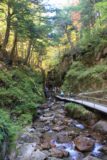 Towards the top of this sliding cascade, we saw some rocks that were seemingly strategically placed, and that the stream ran over these rocks while being briefly kicked up into the air. In other words, there were waterwheels (albeit miniature ones) that was quite an unusual sight here.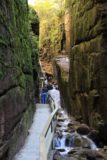 Continuing on with the hike, the path then entered a narrowing gorge where the path that was once alongside the stream now started crossing it over bridges. It then got to a point where the bridges persisted as the path was pretty much above the stream while hanging on a ledge.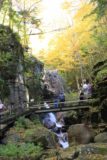 It was here that we thought the scenery was very pretty but not easy to photograph given a combination of the low light and the awkward positioning to take photos. Add to that the high traffic on this trail along with the narrow path themselves, and I found myself frequently holding people up behind me as I was trying to take photos.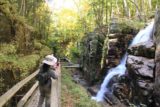 Towards the head of this narrow gorge, there were stairs that climbed alongside a 40ft or so waterfall.
Once at the top of the steps, there were more ledges and bridges revealing more cascades further upstream.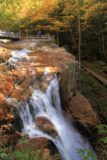 And then as we continued further up this boardwalk past these attractive but tiny cascades, there was a slightly uphill straightaway going right in front of the main waterfall of this section known as Avalanche Falls.
Again, it wasn't an easy waterfall to photograph so we had to get a little creative with the composition while also not holding up the traffic.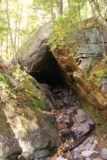 Just as the boardwalk was curling around to its end, we saw there was a cave signposted "bear cave". It was interesting, and we wondered if bears would use this cave as shelter for their hibernation during the winter months.
Before continuing on with the trail, there was a bit more boardwalk taking us right to the top of Avalanche Falls. So we briefly chilled out here to take photos before we started to hold us the next wave of visitors politely waiting for us to vacate the premises.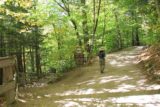 Next, we walked along the so-called Ridge Trail. We weren't sure why it was so named because it didn't feel like we were on a ridge. We pretty much were in a forest setting and the trail seemed to be descending overall.
Eventually, we got to a bridge crossing over the Liberty Cascade. At first, this seemed to be a rather underwhelming cascade as it wasn't photo friendly from here. However, as we continued walking, we could see that there was a signposted spur path leading down some steps towards a small lookout directly at the most attractive part of the Liberty Cascade.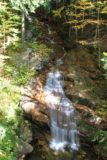 Much better!
After having our fill of this cascade, we then followed the trail towards a lookout for the so-called Pool. From up at this vantage point, it was all about juxtapositing the dark surface of the pool below with some Autumn colors.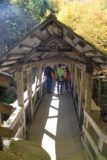 Then, we descended towards the so-called Sentinel Covered Pine Bridge, which was an uncolored covered bridge spanning across the gorge containing the Pool.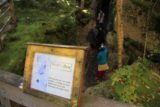 After the bridge, we saw that there was a one-way trail going into the Wolf Den. It looked like there was absolutely no way I could go in there with Tahia on my back in the child carrier. So we passed on it.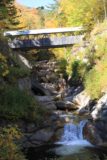 Then, we took a spur path leading down to the Pool again, but this time, we noticed that there were signs showing drawings displaying a cascade fronting the covered bridge we had just crossed. So based on that drawing, we figured we mind as well check out this spot even though it meant going downhill and then back uphill again after having gotten our fill of the view.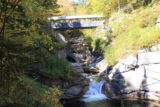 The problem was that I was getting a little tired carrying Tahia all this way, but then again, I just sucked it up and figured I could worry about recovering from this hike at any time. But seeing sights you don't often see, that was too precious to pass up.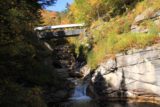 And sure enough, when we made it to the lookout, we pretty much saw a live version of those drawings. The only bad thing was that there were shadows kind of making photography here not that great despite the scenic juxtaposition of falls and bridge.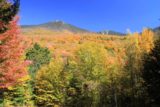 Tahia was also fussing as she complained she was getting tired, and we also figured she might have also been getting hungry since we had been on the trail well over an hour at this point.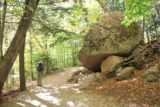 Next, the trail started climbing again. I had operated under the assumption that we'd be descending all the way back down to the visitor center via this Woodlands part of the trail. So this fairly surprising climb was a bit demoralizing, especially since I was carrying Tahia's weight.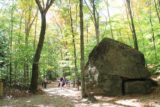 But eventually, we got to the final descent, then went past the familiar boulder at the three-way junction, and by 1:20pm, we were eating a pretty greasy lunch at the food court in the visitor center.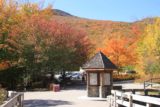 By 1:45pm, we were back in the car. Next, we'd be driving on local highways instead of the interstate as we took the Hwy 112 over a pass, and eventually towards Sabbaday Falls.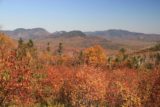 However along the way, there were several lookouts and vistas showing off mountains and beautiful Autumn colors. But it wasn't until we traversed the pass did we stop at the next vista that happened to be a bit crowded with cars as well as a tour bus.
I guess it was a good thing we stopped when we did at 2:20pm because I was starting to get sleepy behind the wheel. So this little photo stop was just what we needed to get us to the Sabbaday Falls car park (also very busy) by 2:30pm.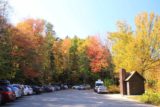 With both Julie and Tahia taking afternoon naps in the car, I went ahead and did this hike solo. But I didn't bother bringing my tripod since I thought time was of the essence as we were running out of daylight to both check-in in Conway as well as trying to bag two more waterfalls after Sabbaday Falls.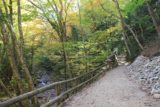 The hike was pretty straightforward on a dirt surface as it followed alongside the stream responsible for the falls. And after 0.3 miles or so, I got to the signposted Emerald Pool, which seemed to be an apt name for it as its clear pool seemed to turn out green according to my camera.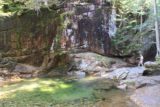 Then, I climbed up steps and followed a gorge-hugging boardwalk and trail looking down into the gorge as well as the two main tiers of Sabbaday Falls. According to a sign here, the narrowness of the gorge was the result of a fault here in its geologic history.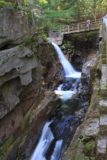 Like with the Flume, there were a lot of people on this trail so that made photography a little tricky since it involved taking turns or trying to manage the shaking of people walking on the boardwalk.
The uppermost tier was probably the most attractive one, but it wasn't that easy to photograph since the boardwalk with the direct view was too close to it. However, I did get creative by going past the falls, then looking back down the gorge showing the falls spilling into the gorge in my photo composition.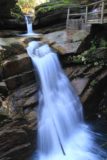 I went up to the very top of this part of the trail, and I recalled seeing a sign claiming that the best viewing spot was this overgrown view looking down towards the bridge I had just crossed on the trail as well as a partial view of the uppermost Sabbaday Falls partially hidden behind that bridge.
I didn't know where the signmakers came up with the claim that this was a better viewing spot, but I didn't believe it.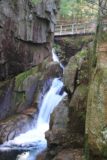 And after having my fill of this spot, I descended back down the way I came on those steps and ledges.
And when I made it back to the Emerald Pool, I did one last bit of scrambling just to see if the views of the pair of Sabbaday Falls would be worth it from down there.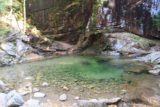 Well, it wasn't that great of a view as the upper Sabbaday Falls was difficult to see given the narrowness of the gorge and how the gorge walls concealed a good chunk of the other waterfall.
So I had to be content with what was before me, and then I returned to the car by 3:20pm.
With that falls out of the way, we now decided to head straight for our lodging at Conway to check in quickly. But by the time we finally found the Saco River Motor Lodge at 4pm, we only realized at this point that we probably made a gross miscalculation staying at this place instead of North Conway as this highway was prone to both traffic and distance from the center of the action (not to mention a bit further from the waterfalls we were supposed to be visiting in this area).
Ten minutes later, after dropping off our luggage at the somewhat dumpy place and traveling a bit lighter, we were determined to spend the remainder of the daylight hours of this day hunting down both Glen Ellis Falls and Crystal Cascade – both waterfalls, which rated high on the NEW book.
Tahia was still sleeping so we never took her out of the car. But as we were driving north on Hwy 302, we quickly saw the full extent of our miscalculation as North Conway was definitely a more tourist friendly place, and there were even some chain accommodations that we would've preferred to stay at.
Oh well, we couldn't cry over spilled milk, and we just had to suck it up.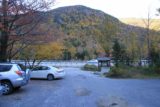 The drive to Glen Ellis Falls was excruciatingly slow because of several instances of drivers who went way below the speed limit thereby causing a long line of cars behind it. I concluded that they must be elder drivers, and that this part of the country must be mostly populated with seniors, which was evident given the types of radio stations available here (e.g. mostly political talk or really old musical tunes from a very bygone era).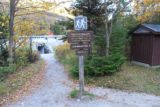 At 4:50pm, we finally got to the signposted Glen Ellis Falls car park, and even though the sunlight was quite low and long shadows had already dominated the immediate area, we were quite surprised to see that the car park was still very full of cars.
Once again, Julie and Tahia stayed in the car to nap, especially since we all knew that we wouldn't have enough daylight hours to make a family affair out of this excursion while trying to fit in the next one.
So I wasted no time getting the tripod (due to the low lighting conditions) and the obligatory camera out.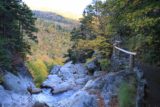 The well-signed path had me go under the highway before the somewhat wet and slightly muddy trail skirted the brook responsible for Glen Ellis Falls.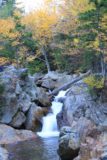 There were once again beautiful Fall colors all around the river and across the valley. It was like the Great Smoky Mountains experience of last year all over again. However, with the low light, the colors and juxtaposition with the blue skies weren't possible.
So I took what shots that I could along the trail, which revealed some smaller cascades, before I got to an upper overlook right above the top of the falls. Here, it wasn't easy to take waterfall photos so I just took a movie.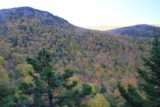 Then, I descended several flights of steps leading down to another pair of overlooks. The photography for both of these overlooks were a bit awkward, but the 64ft falls was definitely flowing well and looked quite scenic.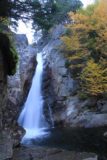 However, there was quite a bit of mist thrown in my direction when I got to the bottommost overlook. And while most of the people were waiting their turn taking photos from the sanctioned spot, I went off trail a little to get below all the commotion and try to take tripod shots against some mist on the wet flat rocks.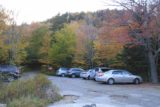 After having my fill of this attractive waterfall, I quickly made my way back up before returning to the car at 5:25pm. There was still some daylight left though the sun seemed to be long gone by this point (though it might've been because of clouds right above me muting the warm afternoon light).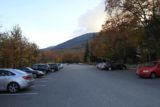 Five minutes later, we drove and arrived at the Pinkham Notch Visitor Center, which definitely saw quite a bit of cars as well even for this late in the day. Apparently, there were some accommodations here as well as the visitor center itself.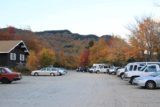 But I knew from my pre-trip research that it was only a 0.3-mile (0.6-mile return) hike from the car park to the Crystal Cascade. And once again, I solo'ed this hike with tripod and camera ready.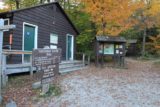 Unlike the Glen Ellis Falls hike, the footing on this hike was a bit rockier and more uneven. Apparently, I was walking on an old jeep trail or something, and I can imagine that this must've been on bumpy ride back when vehicles were allowed on it.
Anyways, after crossing a bridge where I had a pretty nice downstream view of the Fall foliage across the valley, it only took me a couple minutes more before I encountered some steps leading up to an overlook of the Crystal Cascade.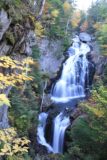 I was impressed with this waterfall given its multi-tiered characteristic as well as the plethora of Autumn colors surrounding it. This might've been my favorite waterfall of the day so I made sure to take as many photos that I could (just in case) to improve the odds at that at least one or more photos turned out.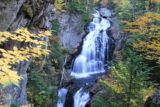 There wasn't much space to use the tripod that I carried with me. So instead, I used the somewhat tall stone barricades as makeshift tripods (or something to steady the camera) thereby enabling the low-level photography that was necessary to satisfactorily capture this impressive waterfall.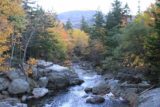 After having my fill of this beautiful waterfall (probably deserving of a strong 2.5 or a weak 3), I then quickly descended back to the car park to rejoin Tahia and Julie. And after having gotten there by 6:05pm, it was time to drive back into North Conway to look for dinner.
Julie had us go to this place called the White Mountain Cider Company Restaurant, and we managed to get there by 6:25pm. However, when we were told that the next available seating for us wasn't until 8pm, we decided to make a reservation for tomorrow since we were spending another night at the sleepeazy Saco River Motor Lodge.
So by 6:45pm, we got to this other restaurant deeper in the central part of North Conway called Maestros. And fortunately, we were able to be seated right away, and we ended up with a meal of a creative bruschetta-like antipasta, a breaded veal that was said to be featured on some New Hampshire magazine, plus a classic pasta a la bolognese.
It wasn't until 7:50pm when we left the restaurant fully stuffed. The food was ok, though we probably wouldn't have gotten their signature veal had we known it was breaded. Anyways, now it was time to return to the motor lodge, and given the long distances, it wouldn't be until 8:10pm that we could finally call an end to this very busy and long day.
Day 8: HASHES
It was 6:30am when we awoke, but strangely, it was Julie who got up before me. That was because there was quite a bit of truck traffic noise coming through into the room, and that was probably the last straw as far as she was concerned. There would be no way that we'd be staying here another night.
I guess the hits just kept piling up. So in addition to the highway noise, there was no hair dryer (a big no no with Julie), the Wi-Fi wasn't working, the accommodation was not clean and even more basic than a Motel 6, and it was located way out of the main part of town in North Conway. Plus, it was over $200 per night to boot.
So right off the bat, Julie called the Holiday Inn Express, which we noticed as we were driving on the White Mountain Hwy (Hwy 302) through North Conway yesterday. When she was told that there was a room available, she jumped at the chance to book it. Not only that, but the rate for the Holiday Inn Express was only $180 per night. Really?!? Cheaper than the dump we had just spent the night?!?
Anyways, it was about 7:45am when we were all packed up and loaded up the car ready to leave. But that wasn't until after there was a heated exchange between Julie and the Indian lady working the reception. Apparently, we weren't going to be refunded this second night that we weren't going to be spending with them. Julie told me that the lady kept reciting the cancellation policy, which did little to mitigate the false advertisements of what we were supposed to be getting at the motel plus the TripAdvisor reviews where we were now suspecting that there were planted 5 stars to inflate the ratings.
So it could very well be that this second night's stay in the town of North Conway or Conway might equate to something on the order of $400 for the night (from paying double room rates – the place we didn't stay plus the new place at the Holiday Inn Express).
As we left, Julie was in a very bad mood. So she was stewing as we were driving north on the Hwy 302, and that kind of put a damper on the mood in the car. Still, Tahia was oblivious to it all.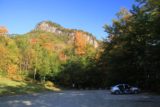 So the drive through North Conway then continuing on north along the Hwy 302 west then north into the Crawford Notch was pretty uneventful. It wasn't until about 8:40am when we saw the signpost and car park for Arethusa Falls.
At first, we thought we were the very first ones doing the hike, but when I started to look at the signs, I couldn't see where the trail to the falls happened. On top of that, I pulled out the NEW book and saw that the trail was supposed to start on the other side of railroad tracks.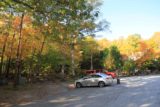 So we got back in the car and then drove a short distance further up the spur Arethusa Falls Road where we saw another area for parking and we were the fourth vehicle to show up as three were already parked here.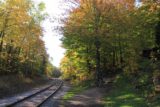 So much for being the first ones on the trail. It was about 9am when we finally started hiking.
What was kind of cool about this trailhead besides the railroad tracks were the Autumn foliage being very prevalent here, and we were also able to see the Frankenstein Cliffs above the foliage in the distance to the north.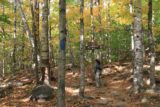 There were trails also going to the Frankenstein Cliffs, but there was no way we'd be doing that plus the Arethusa Falls Trail, which we knew was going to be tough, especially with me carrying Tahia.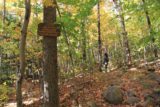 After climbing almost immediately as we left the railroad tracks, we encountered a trail junction – one for Bemis Brook on the left and the other for the Arethusa Falls Trail on the right. We knew that the Bemis Brook Trail would rejoin the Arethusa Falls Trail later on, and the NEW book said that it was worth the detour along Bemis Brook to see a couple of waterfalls.
At least they recommended doing that trail on the way up as apparently going back down somehow wasn't palatable for reasons that we weren't clear about at the time.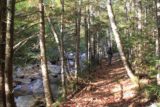 So we continued along the Bemis Brook Trail (against Julie's skepticism) where the trail was a little bit rougher and narrower as it hugged the brook while the terrain was a bit rooty and rocky. Some parts looked a little exposed to erosion and dropoffs so I had to be extra cautious with the precious cargo on my back.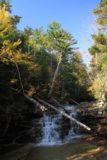 After a few minutes of hiking, there was a signpost for Bemis Falls, and that was where we saw a small waterfall (maybe 5-10ft) with a mix of light and shadows plus some sporadic Autumn foliage and rock benches.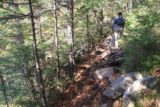 Then, we continued along the Bemis Brook Trail where after a few more minutes of narrow ledge hiking and hopping rocks and roots, we encountered Coliseum Falls, which was a very attractive multi-tiered cascade on the Bemis Brook.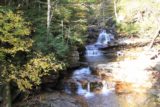 Due to its multi-tiered cascade over a series of flat rock benches, we spent quite a bit of time trying to take photos and movies even in the high contrast conditions of bright light juxtaposed with dark shadows.
When it came to trying to take long exposure photos, it wasn't easy as Tahia would keep kicking me or knocking my head. I guess that was one of the hazards of bringing our daughter along for this non-trivial waterfall hike.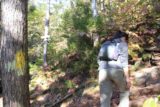 After having our fill of Coliseum Falls, we had difficulty trying to figure our where the trail continued next.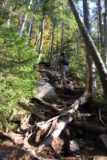 When we followed the brook further upstream, we got to a point where there was some rock hopping on a ledge with drop offs with overgrowth reducing the already limited real estate even more. That looked way too dicey to continue on, especially since the yellow blazes or hashes were absent.
However, when we looked uphill, we saw some trees with the yellow blazes, and unfortunately, that trail didn't look easy as it was very steep, rooty, and most likely would require the use of all of our limbs to make the climb.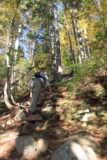 With Tahia weighing me down plus with the danger of some pretty bad consequences if there was a fall on this trail, this made the ascent even more difficult and tiring.
So Julie and I reluctantly did the ascent, and Julie kept reminding me that doing this was a bad idea.
But now that we were committed to the Bemis Brook detour, we just had to suck it up and keep going.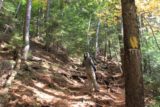 The climb seemed like it took forever (the yellow hashes helped us confirm that we were going the right way), and with my thighs getting even more sore and were burning from the strenuous exercise, we finally made it up to the Arethusa Falls Trail again at 9:55am. We happened to show up while there were a foursome of people conversing amongst themselves.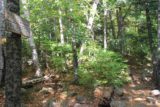 One lady in that group told us that the way we took was way harder than the one they took. I guess that was really stating the obvious.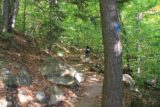 But now that the dangerous and hard part of the trail was over, we could now focus on the remainder of the Arethusa Falls Trail where the terrain was gentler and more obvious to follow, but we were still going uphill for the most part. And with Tahia on my back, I could feel every uphill stretch no matter how flat or how short. Even the high steps that were above my knees weren't easy to get up.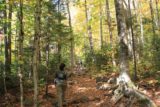 This part of the trail seemed like it went on forever. We were catching up to some other hikers that were ahead of us (probably because some people with devices to assist seniors with walking were in their party more so than us hiking faster with Tahia).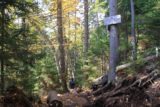 Eventually, we got to the final trail junction where we veered left to make a fairly steep descent down to the rocky lookout spots for Arethusa Falls. It wasn't easy to find a spot where we could comfortably photograph and view the falls so Tahia stayed in the child carrier on my back. This was a bit too rugged to have her roaming around on her own.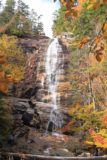 So that created difficulties whenever I needed to hold still for a long exposure photo as she would find ways to make me shake.
Anyways, the falls was definitely an impressive sight. Julie and I were apt to give it a 3 because it was surrounded by a plethora of Autumn colors. Even the rock wall the falls was tumbling over had some of that color as well.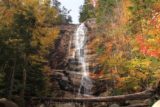 So we took many photos from our somewhat distant vantage point, which was sufficient for our purposes in terms of viewing and photographing. We didn't bother scrambling on the big boulders in the stream bed to get closer. With Tahia on my back, I felt it wasn't worth the risk and I didn't think the views would improve much anyways.
We conversed with some of the folks who also made it to the falls with us as Tahia always made for an easy conversation starter. We learned from these conversations that each person we met up with were from different parts of the country!
Indeed, one guy was from Florida while another was from Alaska. Others were from New Hampshire while there were still others from Texas. Indeed, it felt like our waterfalling excuse for coming her got us to realize that perhaps the White Mountain area of New Hampshire with its Fall colors was a fairly famous destination even though we really didn't know it going into this trip.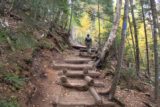 When we had our fill of the impressive Arethusa Falls, we made the sweaty uphill climb back up to the last junction, and then the flat was mostly either flat or downhill on the way back to the trailhead.
Tahia was keeping us busy by identifying all the blue hashes on the trees while also enjoying anytime I had to make a hop or a long step downwards as she felt it was like a 4wd off-roading experience.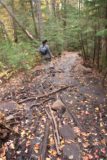 In one stretch on the return, we had to go through once again a muddy section. Unfortunately, Julie in her newly bought shoes (since her old one on this trip was falling apart) happened to step into the mud so she had to take a break to try to wipe off as much of the gunk as she could at 11:15am.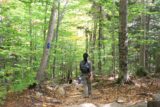 Finally, we made it back to the car park at 11:50am. The skies went from being mostly sunny in the morning to being mostly overcast at this time.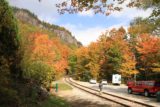 I swore the weather forecast called for clearing skies in the afternoon, but it really looked like the skies were starting to threaten rain after having had several straight days of good weather.
With Tahia finally off my back, my legs and hips felt relief. Of course, I still had to keep my hiking boots on because next up was Ripley Falls, which was only a mile or so drive north from where we were at.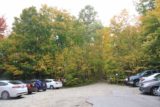 Tahia was tired so she already started to nap in the car as we started heading out. Julie was done with this hike and expressed no interest in doing Ripley Falls right after Arethusa Falls.
So by 12:05pm, we arrived at the busy car park for Ripley Falls. We were lucky that one guy just pulled out as we were about to park in some unsanctioned spot so that helped us in terms of risking damage to the rental just to find parking in the limited spaces here.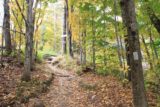 Now that I was going solo on this hike, I definitely felt better hiking with 30 lbs less on my body. I still had to wear the child carrier anyways since I didn't feel like bringing out the day pack from the trunk and moving things around just for this hike.
I'm sure it must've looked kind of funny wearing an empty child carrier with a GPS strapped to one of the shoulder straps.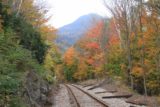 But whatever. I basically jammed my way up the initial uphill, then marveled at the Fall colors flanking the familiar railroad tracks before having to cross it and go another long climb on a hike that very much reminded me of the conditions for the Arethusa Falls Trail. After all, it was uneven with lots of rocks plus it was pretty relentlessly steeply uphill.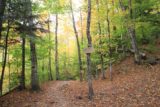 It looked like part of this trail coincided with the Ethan Pond Trail, which apparently was part of the Appalachian Trail (AT). Like the John Muir Trail, the AT was a multi-day trek where some carefully-planned supply drop-offs or real self-sufficiency in the wilderness were in order to pull it off. The AT had white hashes on the trees alongside its trail. But since I stayed on the Ripley Falls Trail, I noticed that blue hashes stayed with me during that hike.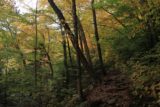 Eventually, the trail flattened out for a bit before making a final descent towards Ripley Falls. This descent was quite steep as well as it almost seemed like I was descending exposed roots or something that passed as a trail.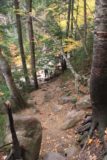 Once I was at the falls, there were already a pair of people taking photos here. There was also another pair of people joining us shortly after I arrived.
So we all took our time admiring this interesting cascade, which was a tall twisting angular cascade where the water sliding on the rocky slope made it appear like it had some kind veiled appearance before reaching the final plunge.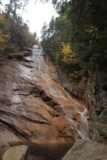 Once again since I didn't have my tripod with me, I had to improvise with one of the giant boulders that had already become part of the stream bed. It wasn't perfect, but I wasn't about to go through bringing a tripod to this hike plus taking the time setting things up, especially with Tahia and Julie waiting in the car.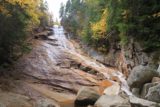 When I had my fill of the falls, I had to be careful when I left because the way out was up the steep trail that I had forgotten that I had descended to get here. It was a good thing there were those familiar blue hashes painted on selected trees. Otherwise, I could've very well hiked downstream and not find the way back up.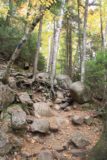 It wasn't until about 12:55pm that I finally made it back to the car. By this time, the dark clouds really looked like they threatened rain, but as we were driving off, it didn't seem like they'd deliver.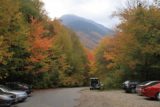 Julie was a bit waterfall-fatigued, but we still had one more to bag before returning to North Conway and calling it a day.
So we took off and arrived at the large car park areas for the roadside Silver Cascade further up the Route 320 at 1:05pm. There were already a lot of people taking photos here, which was expected. Many of them had tripods and those familiar white L-series telephoto zoom lenses ready.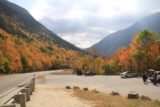 There were still other people who managed to cross the road (full of speeding vehicles going by over 60mph or so) and then scramble their way further up the falls. Those people became photo subjects to communicate some sense of scale of how tall the cascade really was.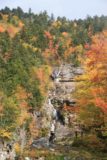 At 1:15pm, both Julie and I had our fill of this waterfall. The whole time we were enjoying this falls, Tahia was left in the car to sleep. We didn't like leaving our little girl in the car alone like that, but we knew that we were within eyesight of the car and her the whole time we were out of the car.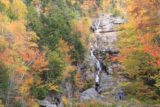 At 1:45pm, we arrived at this humble sandwich spot called the Island Chef. We enjoyed the pressed Cuban sandwich as well as the salad, which was quite big. Tahia really enjoyed the sandwich but not so much the greens.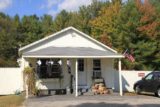 The proprietress here mentioned some kind of Fryeburg Fair, which was just east of the location of the Saco River Motor Inn Lodge that we shunned on this night. Perhaps that was the reason why the sleepeazy motel we were at was so expensive at over $200 per night.
So with the late lunch out of the way at 2:25pm, we finally headed back into North Conway to check into the Holiday Inn Express (where we should've stayed in the first place) at 3pm. And then once we checked in, we got settled and pretty much called it a day in terms of the sightseeing in the Conway area.
Julie took care of business calling up the credit card to file a dispute regarding the refusal of the Saco River Motor Inn to refund us the night we weren't staying.
Eventually, we killed time and got back out on the road to fulfill our 6:15pm reservation for the White Mountain Cider Company restaurant. The dinner wasn't cheap, but it was pretty delicious.
It consisted of some kind of apple cider sour (which the place didn't do anymore, but we asked for it anyways), and then we had some truffle fries, crab cakes, salad, and an apple braised pork.
The dinner was pretty long, and it wasn't until about 7:45pm or so that we finally left.
Next, we had to do a quick grocery run knowing that we were in for a lot of long drives in the state of Maine for the next two or three days. However, we had some trouble finding a grocery store on Hwy 320, and we even went as far as the Hwy 16 and Hwy 113 junction in Center Conway.
Eventually, we went on the Hwy 320 heading back towards the East Conway area, and that was where we found this supermarket called Shaws. That was when we got more grapes, bananas, strawberries, and some new much needed waters.
Finally by 8:45pm, we were back at the Holiday Inn Express to unwind and call it an end to this day that was full of exercise and more White Mountain beauty.
Day 9: GOVERNMENT SHUTDOWN, PLAN B
We woke up to my alarms at 5:30am. I was anticipating a very long drive all the way out to Bar Harbor for an anticipated visit to Acadia National Park after visiting a pair of waterfalls in the far northwest part of Maine. It was going to be a long day so the early start was imperative.
I was anxious about this day because I came to realize that given the pace at which we were hiking and driving and visiting sights altogether, I might have bitten off more than I can chew with today's itinerary of visiting Dunn Falls, Angel Falls, and then checking in to Bar Harbor to spend two nights.
We were pretty much all packed and ready to drive off before 7am, but we decided to have the continental breakfast, which consisted of scrambled eggs, cereal, sausage, and even cinnamon rolls. Unfortunately, the waffle maker wasn't working, but if it had, we might have been there for a pretty long time because the brekkie room was very busy with what appeared to be Fryeburg Fair visitors.
The news that was on while we were eating brekkie pretty much talked about the government shutdown that had started two days ago (Tuesday). It just dawned on me that there was a possibility that we wouldn't be able to visit Acadia National Park thanks to its closure.
Anyways, we left the Holiday Inn at 7:20am and promptly headed north on the Hwy 320 then the Hwy 16 as we left the soon-to-be-intensifying traffic of North Conway and headed right into the seemingly quiet roads of Northwestern Maine.
During the 80 minutes of driving to this point, I was talking with Julie about the prospect of going all the way out to Bar Harbor and not being able to visit Acadia National Park thanks to the government shutdown.
When Julie saw that Acadia National Park did indeed become closed (from her cell phone reception in North Conway), we at first were cursing our luck that we wouldn't get to do this. And yet it was such a long drive to get there, that all of the sudden, we were wondering whether it was even worth it anymore.
It was times like these when nonsensical partisan politics adversely affected our lives. They already intervene in our lives with taxes that never really go back to services we as citizens have paid for (at least not proportional to the amount we put in as law-abiding citizens).
Instead, the partisan politics from Republicans and Democrats pretty much ensured that only their respective voter bases would be catered to as long as they keep getting votes from those specific demographics. And so instead of running a country based on long term sustainability, we get special interests on both sides of the fence that only serve small slivers of the overall population while screwing everyone else.
It was a very short-term focus, and why I came to realize that as long as the balance of power rests within either of the two major parties, nothing would get done to address real problems, and all we'd get left would be the inevitable train wreck that everyone knows is coming but no one is quite sure how bad the fallout would get.
The only real solutions come from independent parties (e.g. Libertarian and/or Green Parties), but they lack the campaign finance (i.e. bribes) to stay in the public conscience to make a difference in the polls. I guess this government shutdown was yet another reminder of how the dysfunctions taking place continue to creep more and more into our lives with nothing we could do about it.
So with the eventual acceptance of the situation hitting us, we came to realize that we can only control how we react to these things. And we ultimately decided to cancel the Bar Harbor two-nights stay (possibly forcing us to swallow the full price of the accommodation at around $320 total) and immediately look for a more strategic place to stay before going into Canada one day earlier (possibly to try to get there before the anticipated bad weather would hit).
We figured that, yes, throwing away over $300 was painful, but we also knew that time was precious and wasting at least two full days on an inaccessible National Park just didn't make sense. So we were determined to be proactive about salvaging the lost two days due to the government shutdown.
If successful, the remainder of the New England section of the trip as well as the first part of the Canada section of our trip in the next few days would now look like:
Stay in Portland, Maine for tonight (was stay in Bar Harbor for 2 nights starting tonight)
Stay in Quebec City for 3 nights starting a day earlier (same number of nights as before)
Stay in Montreal for 2 nights (was stay in Montreal for 1 night)
Stay in Ottawa for 1 night (same as before)
There was quite a bit of rearranging to do, so as soon as we finally got cell phone service again at 8:40am (near Bethel, Maine after heaving Hwy 16 to get onto Hwy 2), we found some random place at someone's employee parking area to pull over and allow Julie to start making phone calls. I was a little nervous about being considered trespassers to this property, but we didn't want to be on the side of the road and risk getting hit by high speed trucks and other motorists on Hwy 16.
The booking of the Holiday Inn in Portland, Maine was a cinch. However, it was also $249 for the night. Ouch! Still, we were pushing forward with it because when we discovered that there was an attractive lighthouse there, we decided we mind as well salvage some kind of lighthouse scenery if we weren't going to get it in Acadia.
Then, Julie called the accommodation in Quebec City, and the lady who picked up seemed to be able to accommodate us for moving our block of three nights up one night earlier. Great!
Next, Julie called the accommodation in Montreal. The guy who picked up couldn't really talk on the phone because he was on the road. So Julie told him that she would just go right to the website and try to book another night in Montreal on-line then talk to him in person so he can recognize that the two different bookings were from us (essentially making it a two-night stay). And Julie didn't have problems getting the additional night one night earlier at around $130 Canadian Dollars.
So now the plan was set. I didn't feel as stressed out about the long driving across the state of Maine. However, there was still a lot of driving to do just to even see some of the targeted waterfalls before even getting down to Portland, Maine.
We finally started driving again at 9:15am. It was barely a mile further on Hwy 2 did we realize that there was a rest area where we could've made all these calls instead of worrying about trespassing.
Anyways, the drive persisted as we actually headed further north away from Portland as we left Hwy 2 to go onto Route 5, and then ultimately onto Route 120 (Newton Rd, I believe) as we were in pursuit of Dunn Falls. In fact, it seemed like this waterfall was out in the middle of nowhere as the nearest towns were very small, and we were driving in a pretty long stretch of what looked like wilderness with the odd residence mostly hidden from the somewhat beat-up paved road on route 120.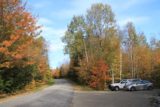 Eventually, we'd get to a humble-looking unsigned pullout at 9:55am where there was already a car parked there. There didn't seem to be much space, and I recalled the NEW book said there was only room for three cars or so. That looked about right.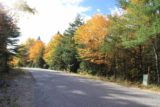 I then got out of the car, and per the NEW book instructions, looked for the Appalachian Trail (AT). I found the trail on both sides of the road (one side was the continuation of the Appalachian Trail North), and after I returned to the car to prepare myself for this hike, I then went across the road and took the opposite trail downhill towards the trail junction of the AT and the Cascade Trail.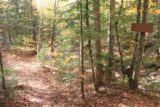 Right at the bottom of the descent, the Cascade Trail veered to the left (leaving the AT Trail) and followed the brook as the waters tumbled over a handful for small cascades (probably no more than 5 geet tall).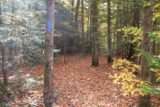 Now that I was on the Cascade Trail, I had to pay close attention to the blue hash or blazes to help keep me oriented as it was very easy to veer off the trail thanks to the plethora of tree cover as well as the floor being blanketed with fallen leaves. I also recognized that there were two fairly wide brook crossings that might conspire to get into my gore-tex hiking boots. In preparation for the worst case of these stream crossings, I packed my Chacos in my day pack (adding a significant amount of extra weight).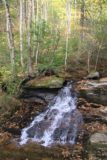 I was able to keep my feet dry on the first stream crossing, which occurred after passing by a handful of minor waterfalls alongside the stream-hugging route. I'd imagine with this being Autumn season, most streams were probably at their lowest flows for the year, and in this instance, the lower flow made things a bit easier on me to cross the stream simply by rock hopping.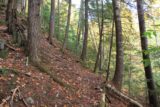 After the first stream crossing, the trail climbed steeply onto a ridge. It was a moment of uncertainty because the trail was just about as steep as the Bemis Brook/Arethusa Falls Trail Connector. It was a good thing that there were blue blazes to assure me that I was in deed going the right way.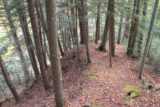 When the climb peaked, the trail promptly descended steeply as it then got to a flat area before reaching the next stream crossing.
Like the first stream crossing, the second crossing was able to be traversed with some nifty rock hopping. And after this second stream crossing, the trail continued a few more paces before hitting another trail junction (easily identified by at least four trees with blue blazes on them).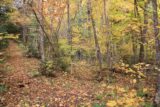 This time, there was a path that climbed to the left, and another path that went to the right towards some stream. I stayed on the right knowing that the NEW book indicated that this was the spur trail leading to the Lower Dunn Falls.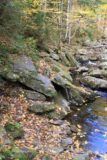 This spur trail wasn't very easy as I was glad I had my hiking boots on. There was quite a bit of erosion on the edges of the official trail while at the same time some large boulders required some nifty scrambling to get past them. The footing was also awkward in spots given all the rocky terrain flanking the waterfall's stream.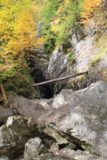 Ultimately, I got to the end of the spur trail where the Lower Dunn Falls could be heard but not seen. But then I decided to scramble onto some wide boulders, which ultimately gave me access to the view looking into the narrow gorge with Lower Dunn Falls tumbling over three drops.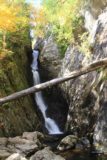 At 11:10am, I finally managed to pry myself away from the Lower Dunn Falls and continue the loop hike. The next section of trail climbed up towards the top of the Lower Dunn Falls.
Next, I noticed a combination of white and blue hashes. But it didn't take long before realizing that I should continue on the blue blazes path, and that meant crossing the stream right above the narrow gorge waterfall.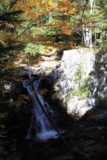 In the low flow conditions, this stream crossing was a breeze. However, I could imagine how a slip and fall here could possibly be fatal since the main plunge of Lower Dunn Falls was just right around the corner below me.
As I was on the other side of the stream, I then scrambled up a rather eroded embankment where I then hit another trail junction. This time I saw a steep path ahead of me with white blazes, which must've been part of the Appalachian Trail. Meanwhile, there was a sign for another path that continued further upstream for what it said to be 0.2 miles further to the Upper Dunn Falls.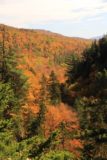 But before I continued hiking, I saw a gorgeous vista looking further downstream, where there was an explosion of Autumn colors against a cloudless sky with some green foliage flanking the valley before me. I spent some time taking photos of this pretty neat sight before continuing on.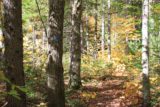 As I proceeded towards the Upper Dunn Falls, I guess the reported short distance made me think that I'd get there very quickly, but I swore that the path seemed a bit longer than I had expected. There was one or two short sections that required little steep mini-scrambles, but with the blazes seemingly placed properly, I ultimately made it to the base of a small waterfall with a wide and very inviting pool for a swim.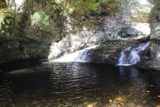 When I was busy taking photos of this spot (wondering if I had indeed reached the Upper Dunn Falls), I then noticed that there was still more of the falls hidden behind foliage further upstream. And it looked like I would have to scramble a bit up a pretty steep and rough section to get closer to it.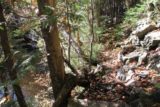 In any case, that steep and rough section was also very narrow with some dropoff exposure.
And given this obstacles along with some of the other obstacles encountered, the thought on my mind was that I made the right choice doing this hike solo and not bringing Tahia along. This would've been a pretty killer hike with the extra precious cargo on my back.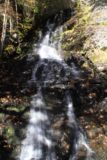 As I finally made it closer to the upper waterfall, I saw that it was partially in the sun and partially in shadow. That made most of the photos I took of the falls look pretty terrible as I would have dark and washed out areas of the falls all in one shot.
It was getting late as I looked at my watch and it said 11:40am. I had promised Julie that I'd return to the car by 12pm, and I had a feeling that I still had a ways to go to return to the trailhead, especially given how difficult this hike was relative to the other hikes we had been doing on this trip thus far.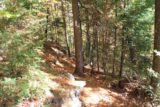 So I returned back to the top of the Lower Dunn Falls, then followed the white blazes up another steep section of trail. At least this part wasn't so steep that required me to use my hands to climb, but it was steep enough to really burn my already burning thighs.
The whole time I kept thinking to myself, if this was the AT and people spend multiple several weeks at a time on the trail with a heavy pack, how on earth do they do it with such rugged terrain that even day hikers would have a hard time with?
Indeed, I was sweating bullets and breathing heavy by the time I made it up to the top of this ascent. Then, I kept looking for the white hashes to ensure that I was going the right way, and more often than not, I saw then so I knew that I was going the way that I should.
At this point, I was seemingly on some ridge where there were always rolling dropoffs on one side and sometimes sloping terrain on the other. I was hoping that the climb that I just finished would be the end of the hard climbing, but it turned out that this ridge was undulating, and that there were at least a couple other steep climbing sections.
I could hear faint hissings of water down below, and I wondered if I was now even higher than where I was earlier with all those brook crossings.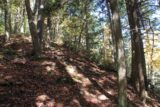 It was now getting a bit late as it was 12:05pm and it still felt like there was no end in sight. But eventually after yet another steep climb, I finally went down a pretty steep decline and then I saw a reassuring AT sign with trailhead register just on the other side of the brook that the trail briefly followed at the base of its descent.
And after making this final crossing, I was back at the familiar Cascade Trail/AT junction.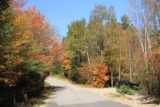 By 12:15pm, I was finally back at the trailhead where there was now a black SUV parked next to us instead of the pickup truck that we had parked next to earlier. And when I got back to our rental car, Tahia said loudly, "Daddy! You're back!"
That made me smile broadly.
Anyways, after dumping my stuff in the car, it wasn't until about 12:30pm when we had finally started driving off. We made the executive decision to not pursue Angel Falls, which would've taken at least another two hours of driving and hiking, and we still wanted to get to Portland, Maine while there was still light in the day.
All this was making me realize that the Bar Harbor decision might have been the right one logistically anyways as we would've still needed more time on this day.
So we headed directly south as we knew it would be at least a couple hours of driving to get there.
The drive was pretty uneventful as we rejoined Hwy 2 and then quickly got onto the Hwy 232, but there were orange signs indicating that Route 232 was closed a mile further from where we just had gotten onto it. There were detour signs pointing us around this closure, which didn't seem to be too bad. However, it was funny that there was one orange sign that said, "DO NOT USE GPS".
Ha, they must've been talking about us!
Well, it turned out that the GPS was correct anyways as we followed the detour and the GPS agreed.
Eventually, we would get onto Hwy 26 as we were making pretty good progress again.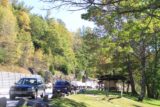 Then, at about 1:20pm, we stumbled upon a rest area that was labeled Snow Falls. It looked like a pretty straightforward roadside stop with picnic tables and a few cars already parked here, so we figured what the heck. Why not make this stop and document the falls that was here. We mind as well since we were here and it wouldn't cost us much time.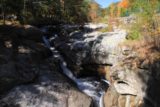 Tahia was asleep once again so we couldn't take the time to enjoy this as a family. Basically Julie and I took turns photographing and taking a movie of the falls, which was a sloping cascade in a narrow ravine that wasn't very tall, but it was somewhat forceful given how the river was channeled.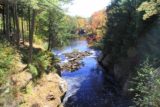 There was a bridge above this mini-gorge where looking downstream yielded a very pretty and calm lake or pond. And as I continued past the bridge, I saw there was another tiny waterfall beneath some man-made wall arch, which made me wonder if there was some diversion or something before this part of the stream rejoined the main one further downstream.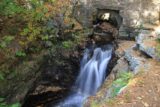 This was about the extent of my exploration of this area as it seemed like the trail continuing upstream kept going.
The picnic tables here also seemed inviting, and this would've been a nice spot for such a takeaway picnic, but we didn't have food with us, and Julie was asking me to make a lunch stop as she was getting hungry.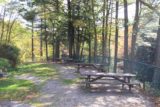 Anyways, at 1:30pm, we took off again. I guess this was one benefit of driving to Portland, Maine because we wouldn't have seen this falls had we not gone this way.
Continuing on, we then found ourselves in the town of Paris, Maine, which was actually a pretty big and busy town. There was traffic here, and after having passed by a KFC that Julie wanted me to stop at, we then found Yianni's Homemade Pizza, which seemed like a decent lunch stop since they also sold subs and other things that we could take on the go.
So I stopped the car at 1:45pm, and it wasn't until 2:15pm when we finally left again. I guess mom and pop shops like this made their food so it took time. We ended up eating a meatball sandwich which was delicious as well as some chicken tenders for Tahia (who was fussing because she didn't feel like eating it), and some buffalo wings.
We had to pass through a pretty extensive area of development as the town of Paris was also adjacent to the town of Norway, Maine. But then we eventually continued on Route 26 after filling up on gas for $3.31/gal, which was by far the cheapest we had spent on it on this trip so far.
The drive seemed like it went on for a long time, and we even got to the point where Tahia was complaining that her diaper was wet as we were driving south on the I-95 (which actually required a $1.50 toll).
The GPS had us get off at the 100, when truthfully, we could've continued on the I-95 towards the 320, but we had to find a place to pull over and change her diaper.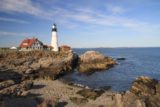 So after doing that, we then had to drive on a bunch of local roads with traffic lights and lots of traffic. So it took us a while before we finally got into the town of Portland, which we realized was actually more of a full on city!
Julie decided that instead of checking in first, we should just head to the Portland Head Lighthouse as we had read that parking was $10/night and there might not be in-and-out priviledges.
So eventually after what seemed like a longer-than-expected drive, we made it into South Portland, and finally parked at the Portland Head Light at 3:45pm.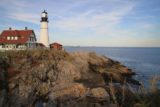 Immediately, we saw that the lighthouse was pretty close to the ocean. I'm sure both Julie and Tahia couldn't wait to get out of the car because they had been sitting in it for the whole day!
Still, the afternoon light with a few scattered high clouds painted the lighthouse a warm orangish hue. And as we had hoped, this lighthouse was very photogenic in that it was the only one we saw on this trip where we could show the ocean with the lighthouse in one shot. Indeed, it was the best one of the lot.
It was crazy to think that we would've missed this lighthouse had the government shutdown not happened. Though I wondered what the Bass Harbor Light would've been like, which was in Acadia NP.
I guess we'll never know until we come back to the New England area, which might be when Tahia gets old enough to start understanding American history when it might actually mean something more to her.
In any case, we thoroughly enjoyed ourselves while at the Portland Head Light. We even had a lobster roll picnic at one of the picnic tables overlooking the lighthouse on a grassy lawn above the cul-de-sac fronting the lighthouse. The lobster rolls were pretty good, as they were from the well-positioned lunch truck on the way to the car park. The truck I believe was called "Bite into Maine".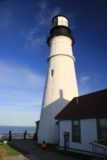 My arms were itching a bit from apparent mosquito bites (there were mozzies here?!?), but there were only a couple.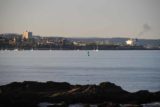 When we finished having our very late lunch, we spent a few moments more taking more family pictures with the tripod as well as taking a short walk around the lighthouse itself. I guess we missed the 4pm museum tour, which might've been worth our while.
Anyways, it was about 5:25pm when we returned to the car. And about 20 minutes later, we finally checked in at the Holiday Inn.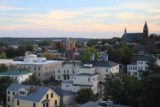 This time, Julie used her Ambassador membership to get us upgraded for free, and boy was it worth it in this case as we had quite a spacious corner room on the 7th floor with a nice view towards the harbor.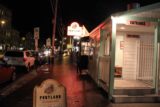 It wasn't until about 7pm when we headed back down into town. I thought we could've walked to town, but Julie insisted that we drive. And so we drove down to Commercial Street where we found public parking at a flat rate of $8 cash.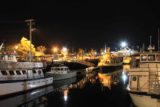 I wasn't in any mood to go fishing for hard-to-find street parking so I just sucked it up and parked.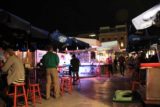 As we left the car, I could hear some music being played at joint next door to the car park. It turned out to come from the Portland Lobster Company, which was featuring the band "The Lucid".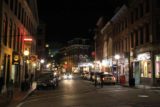 Julie had already made up her mind to come to this spot so we went in there to share a lobster dinner (realizing that we were still fairly full from our lobster rolls) as a family.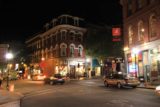 Tahia and I were digging the smooth, groovy rock (my kind of music) that was being played live, which really added to the mood and ambience of the lobster dinner we were having. Even Tahia was attracting attention clapping her hands when the band was done playing a particular song.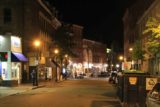 When dinner was over, we decided to walk around a little bit just to soak in the flavor of Commercial Street. I'm sure the window shopping here and the activity would've been neat to check out, but the activity was mostly concentrated within pubs, some restaurants, and even some dessert joints. With most of the stores closed, it kind of muted the activity.
Speaking of desserts, we had some pretty delicious ice cream at this place called Sam's Homemade Ice Cream. We just shared a regular of Cookies 'n Cream as well as some kind of Madagascar Vanilla with Bischoff cookies (more like graham crackers) called the Seabiscuit. Tahia loved sharing the ice cream with us and even tried to help herself without us feeding her.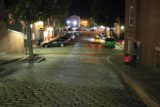 When we left this spot, we kept strolling around an adjacent street that seemed narrowing and more charming than Commercial Street. That was when Julie saw there were two more gelato joints, and we ended up eating at the "non-Italian" gelato spot because they had more selection than the Milanese one.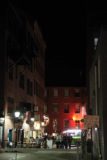 So we had a second helping of ice cream as Julie got some unique Stawberry balsamic flavor with mago, while I got another helping of Cookies 'n Cream, which Tahia preferred over Julie's. Julie kept saying that Tahia was like a mini-me because she liked the flavors that I tended to like.
And with the ice cream overload finally over, we were back in the room at 9pm. And that pretty much concluded what turned out to be a fortunate misfortune (if there ever could be one) on this very busy day.
Tomorrow, we were looking forward to spending our final day in New England as we were about to cross the border and head into Canada.
Day 10: THE OLD CANADA ROAD
Today, was supposed to be the full day at Acadia National Park. The problem was that we had to execute plan B given the government shutdown of all National Parks. So that meant that today would become a very long driving day. And thus, we had to get up (albeit reluctantly) to our 5:30am alarm.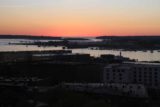 It took some time for us to get ready since we had checked in fairly late to the Holiday Inn last night, and we stayed up fairly late given the evening was the only time we had available to check out the main happening part of Portland, ME at both Commercial St and an adjacent street just one block over as well as having the obligatory Maine Lobster dinner.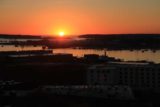 During our packing and preparations for the day, we got to see the sunrise from our 7th floor suite, which was quite a treat. We saw the sky go from a bold orange to the bright glow of the rising sun.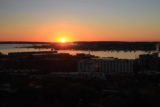 Eventually, we got our stuff together and Tahia woke up reluctantly, but she was not in a fussy mood (which would usually be the case when she was woken up against her will).
Since breakfast wasn't included at this Holiday Inn, we were able to leave Portland at 7:55am. We immediately went onto the I-295 and then drove onto the turnpike I-95 (they charged $1 toll this time) before heading north on the Hwy 104 (though we could've and should've gone north on the Hwy 201).
It kind of slowed us down due to the plethora of towns and traffic lights as well as road construction going on, but we eventually merged into the Hwy 201 at this town called Skowhegan where Julie picked up a bagel breakfast to go from Tim Horton's at 9:30am.
The long drive continued as we were going into what appeared to be a long stretch of forest with lots of Autumn foliage colors as well as many ponds and lakes flanking both sides of the road. We could totally see why moose would love this place, and why we had to be very cautious of any moose crossings because moose could certainly disable the rental car if we happened to run into one.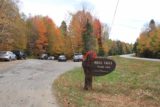 It wasn't until about 10:50am when we finally made it to the car park for Moxie Falls. The NEW book kind of threw me off because the directions had mistaken the Old Canada Highway for Lake Moxie Road. So on a fruitless 10-minute detour, I was busy trying to find a Moxie Falls sign right off Hwy 201. However, I eventually figured that that sign we were looking for should be off the Moxie Rd.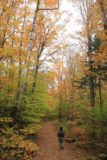 Anyways, after having been seated in the rental car for about 3 hours, we decided to carry Tahia in the carrier for this hike. There were already quite a few vehicles parked here, so it gave us the impression that this place was quite well-known and popular for a place that seemed to be quite out-of-the-way.
As we were getting ready for the hike, we were swarmed by gnat-like black flies. They didn't seem like the biting kind, but they sure were annoying. Even Tahia noticed them and was instinctively swatting at them.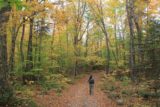 So with the precious cargo on the child carrier, we promptly went on the mostly descending trail that seemed to be quite wide for a trail as remote as this. And like the other hikes we had been on to this point, we were surrounded by gorgeous Autumn colors.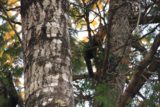 About 1/3 of the way into the hike, we noticed some kind of small furry mammal climb a tree. We weren't sure what it was, but we were certain it wasn't a squirrel. It was probably some kind of ferret because it was way too small to be a fox, we reckoned.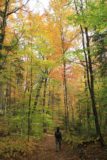 After taking photos of it while pointing it out to Tahia, she wouldn't shut up about it for the rest of the hike.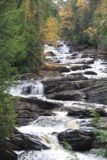 As we got near the end of the hike, we had to descend many steps, and I knew that I would be sweating out this part while carrying Tahia's weight. In fact, I'd be feeling every uphill no matter how small.
Eventually, we got to a point where boardwalks were dominating the trail along with the wooden steps.
We encountered some multi-tiered upper cascades, but we knew that wasn't the main falls. So we kept walking downstream on the boardwalk until we reached a pair of overlooks looking right down at the impressive crashing Moxie Falls.
With Autumn colors flanking the falls and some railings to act as makeshift tripods, I took quite a few long exposure photographs, which wasn't easy when Tahia kept trying to rock on my back.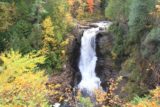 I managed to follow another pair of hikers to investigate where the rest of this trail went. We were wondering if there was a sanctioned way to make it to the bottom of Moxie Falls, but it turned out that there weren't any in our brief survey. There were only dropoffs.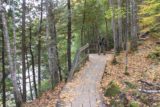 Anyways, we eventually had our fill of this falls, and then came the time to make the climb back out towards the car.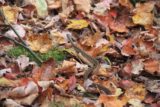 On the way out, Julie was startled when she noticed a snake moving off the trail. We managed to take photos of it while it appeared like it was playing possum. But in any case, it was a tiny snake though we could never be sure if it would be poisonous or not.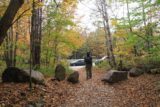 The remainder of the hike was pretty uneventful, and we'd ultimately get back to the buggy trailhead at 12:25pm. I was a hot and sweaty mess, but the hike was fulfilling, and now it was time to try to make a beeline for Quebec City further up the Route 201.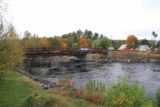 At around 1pm, we stopped at a rest area called Attean View, which afforded us a view towards some lakes in the distance surrounded by Autumn colors.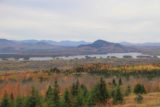 The interpretive signs here indicated that there were mountains defining two main drainage directions that ultimately decided the US-Canada border. The drainage that would ultimately feed into the St Lawrence River basin was the Canada side. Meanwhile, the drainage that would ultimately drain towards the Kennepac River and other rivers would ultimately drain towards the Atlantic.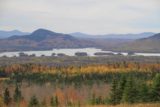 The power lines kind of took away from the panorama (that otherwise would've been a wonderful sight), but we took our family photos, and then continued on.
Eventually, we'd reach the US-Canada border station at 1:40pm. There were about four cars still in front of us, so we knew that it might take a while before it would be our turn to cross into Canada.
When we finally got to the Canadian officer, we were asked questions about where we were going to Canada, where we came from, what I do for work, where I worked, and other things like that. I guess they were kind of intrusive questions without seemingly a real need to know, but I guess the tone and the line of questioning got more lighthearted when the officer saw Tahia's passport and then he saw Tahia sitting in the back seat.
I guess Tahia tended to have that effect on people. Everyone seemed to call her beautiful.
And so we were finally through the border station at around 1:55pm. And so ended our stint in New England. Now it was time for Canada for the next week. Hopefully, the weather would hold up like it had been for us in New England…
Visitor Comments:
Got something you'd like to share or say to keep the conversation going? Feel free to leave a comment below...
No users have replied to the content on this page