Day 9: GOVERNMENT SHUTDOWN, PLAN B
We woke up to my alarms at 5:30am. I was anticipating a very long drive all the way out to Bar Harbor for an anticipated visit to Acadia National Park after visiting a pair of waterfalls in the far northwest part of Maine. It was going to be a long day so the early start was imperative.
I was anxious about this day because I came to realize that given the pace at which we were hiking and driving and visiting sights altogether, I might have bitten off more than I can chew with today's itinerary of visiting Dunn Falls, Angel Falls, and then checking in to Bar Harbor to spend two nights.
We were pretty much all packed and ready to drive off before 7am, but we decided to have the continental breakfast, which consisted of scrambled eggs, cereal, sausage, and even cinnamon rolls. Unfortunately, the waffle maker wasn't working, but if it had, we might have been there for a pretty long time because the brekkie room was very busy with what appeared to be Fryeburg Fair visitors.
The news that was on while we were eating brekkie pretty much talked about the government shutdown that had started two days ago (Tuesday). It just dawned on me that there was a possibility that we wouldn't be able to visit Acadia National Park thanks to its closure.
Anyways, we left the Holiday Inn at 7:20am and promptly headed north on the Hwy 320 then the Hwy 16 as we left the soon-to-be-intensifying traffic of North Conway and headed right into the seemingly quiet roads of Northwestern Maine.
During the 80 minutes of driving to this point, I was talking with Julie about the prospect of going all the way out to Bar Harbor and not being able to visit Acadia National Park thanks to the government shutdown.
When Julie saw that Acadia National Park did indeed become closed (from her cell phone reception in North Conway), we at first were cursing our luck that we wouldn't get to do this. And yet it was such a long drive to get there, that all of the sudden, we were wondering whether it was even worth it anymore.
It was times like these when nonsensical partisan politics adversely affected our lives. They already intervene in our lives with taxes that never really go back to services we as citizens have paid for (at least not proportional to the amount we put in as law-abiding citizens).
Instead, the partisan politics from Republicans and Democrats pretty much ensured that only their respective voter bases would be catered to as long as they keep getting votes from those specific demographics. And so instead of running a country based on long term sustainability, we get special interests on both sides of the fence that only serve small slivers of the overall population while screwing everyone else.
It was a very short-term focus, and why I came to realize that as long as the balance of power rests within either of the two major parties, nothing would get done to address real problems, and all we'd get left would be the inevitable train wreck that everyone knows is coming but no one is quite sure how bad the fallout would get.
The only real solutions come from independent parties (e.g. Libertarian and/or Green Parties), but they lack the campaign finance (i.e. bribes) to stay in the public conscience to make a difference in the polls. I guess this government shutdown was yet another reminder of how the dysfunctions taking place continue to creep more and more into our lives with nothing we could do about it.
So with the eventual acceptance of the situation hitting us, we came to realize that we can only control how we react to these things. And we ultimately decided to cancel the Bar Harbor two-nights stay (possibly forcing us to swallow the full price of the accommodation at around $320 total) and immediately look for a more strategic place to stay before going into Canada one day earlier (possibly to try to get there before the anticipated bad weather would hit).
We figured that, yes, throwing away over $300 was painful, but we also knew that time was precious and wasting at least two full days on an inaccessible National Park just didn't make sense. So we were determined to be proactive about salvaging the lost two days due to the government shutdown.
If successful, the remainder of the New England section of the trip as well as the first part of the Canada section of our trip in the next few days would now look like:
Stay in Portland, Maine for tonight (was stay in Bar Harbor for 2 nights starting tonight)
Stay in Quebec City for 3 nights starting a day earlier (same number of nights as before)
Stay in Montreal for 2 nights (was stay in Montreal for 1 night)
Stay in Ottawa for 1 night (same as before)
There was quite a bit of rearranging to do, so as soon as we finally got cell phone service again at 8:40am (near Bethel, Maine after heaving Hwy 16 to get onto Hwy 2), we found some random place at someone's employee parking area to pull over and allow Julie to start making phone calls. I was a little nervous about being considered trespassers to this property, but we didn't want to be on the side of the road and risk getting hit by high speed trucks and other motorists on Hwy 16.
The booking of the Holiday Inn in Portland, Maine was a cinch. However, it was also $249 for the night. Ouch! Still, we were pushing forward with it because when we discovered that there was an attractive lighthouse there, we decided we mind as well salvage some kind of lighthouse scenery if we weren't going to get it in Acadia.
Then, Julie called the accommodation in Quebec City, and the lady who picked up seemed to be able to accommodate us for moving our block of three nights up one night earlier. Great!
Next, Julie called the accommodation in Montreal. The guy who picked up couldn't really talk on the phone because he was on the road. So Julie told him that she would just go right to the website and try to book another night in Montreal on-line then talk to him in person so he can recognize that the two different bookings were from us (essentially making it a two-night stay). And Julie didn't have problems getting the additional night one night earlier at around $130 Canadian Dollars.
So now the plan was set. I didn't feel as stressed out about the long driving across the state of Maine. However, there was still a lot of driving to do just to even see some of the targeted waterfalls before even getting down to Portland, Maine.
We finally started driving again at 9:15am. It was barely a mile further on Hwy 2 did we realize that there was a rest area where we could've made all these calls instead of worrying about trespassing.
Anyways, the drive persisted as we actually headed further north away from Portland as we left Hwy 2 to go onto Route 5, and then ultimately onto Route 120 (Newton Rd, I believe) as we were in pursuit of Dunn Falls. In fact, it seemed like this waterfall was out in the middle of nowhere as the nearest towns were very small, and we were driving in a pretty long stretch of what looked like wilderness with the odd residence mostly hidden from the somewhat beat-up paved road on route 120.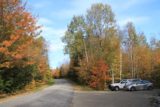 Eventually, we'd get to a humble-looking unsigned pullout at 9:55am where there was already a car parked there. There didn't seem to be much space, and I recalled the NEW book said there was only room for three cars or so. That looked about right.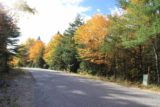 I then got out of the car, and per the NEW book instructions, looked for the Appalachian Trail (AT). I found the trail on both sides of the road (one side was the continuation of the Appalachian Trail North), and after I returned to the car to prepare myself for this hike, I then went across the road and took the opposite trail downhill towards the trail junction of the AT and the Cascade Trail.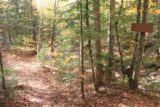 Right at the bottom of the descent, the Cascade Trail veered to the left (leaving the AT Trail) and followed the brook as the waters tumbled over a handful for small cascades (probably no more than 5 geet tall).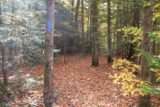 Now that I was on the Cascade Trail, I had to pay close attention to the blue hash or blazes to help keep me oriented as it was very easy to veer off the trail thanks to the plethora of tree cover as well as the floor being blanketed with fallen leaves. I also recognized that there were two fairly wide brook crossings that might conspire to get into my gore-tex hiking boots. In preparation for the worst case of these stream crossings, I packed my Chacos in my day pack (adding a significant amount of extra weight).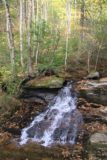 I was able to keep my feet dry on the first stream crossing, which occurred after passing by a handful of minor waterfalls alongside the stream-hugging route. I'd imagine with this being Autumn season, most streams were probably at their lowest flows for the year, and in this instance, the lower flow made things a bit easier on me to cross the stream simply by rock hopping.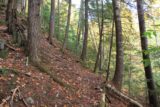 After the first stream crossing, the trail climbed steeply onto a ridge. It was a moment of uncertainty because the trail was just about as steep as the Bemis Brook/Arethusa Falls Trail Connector. It was a good thing that there were blue blazes to assure me that I was in deed going the right way.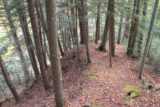 When the climb peaked, the trail promptly descended steeply as it then got to a flat area before reaching the next stream crossing.
Like the first stream crossing, the second crossing was able to be traversed with some nifty rock hopping. And after this second stream crossing, the trail continued a few more paces before hitting another trail junction (easily identified by at least four trees with blue blazes on them).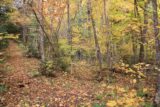 This time, there was a path that climbed to the left, and another path that went to the right towards some stream. I stayed on the right knowing that the NEW book indicated that this was the spur trail leading to the Lower Dunn Falls.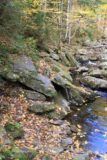 This spur trail wasn't very easy as I was glad I had my hiking boots on. There was quite a bit of erosion on the edges of the official trail while at the same time some large boulders required some nifty scrambling to get past them. The footing was also awkward in spots given all the rocky terrain flanking the waterfall's stream.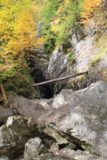 Ultimately, I got to the end of the spur trail where the Lower Dunn Falls could be heard but not seen. But then I decided to scramble onto some wide boulders, which ultimately gave me access to the view looking into the narrow gorge with Lower Dunn Falls tumbling over three drops.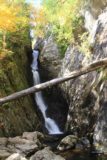 At 11:10am, I finally managed to pry myself away from the Lower Dunn Falls and continue the loop hike. The next section of trail climbed up towards the top of the Lower Dunn Falls.
Next, I noticed a combination of white and blue hashes. But it didn't take long before realizing that I should continue on the blue blazes path, and that meant crossing the stream right above the narrow gorge waterfall.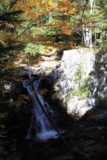 In the low flow conditions, this stream crossing was a breeze. However, I could imagine how a slip and fall here could possibly be fatal since the main plunge of Lower Dunn Falls was just right around the corner below me.
As I was on the other side of the stream, I then scrambled up a rather eroded embankment where I then hit another trail junction. This time I saw a steep path ahead of me with white blazes, which must've been part of the Appalachian Trail. Meanwhile, there was a sign for another path that continued further upstream for what it said to be 0.2 miles further to the Upper Dunn Falls.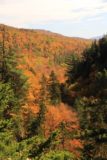 But before I continued hiking, I saw a gorgeous vista looking further downstream, where there was an explosion of Autumn colors against a cloudless sky with some green foliage flanking the valley before me. I spent some time taking photos of this pretty neat sight before continuing on.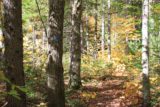 As I proceeded towards the Upper Dunn Falls, I guess the reported short distance made me think that I'd get there very quickly, but I swore that the path seemed a bit longer than I had expected. There was one or two short sections that required little steep mini-scrambles, but with the blazes seemingly placed properly, I ultimately made it to the base of a small waterfall with a wide and very inviting pool for a swim.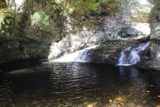 When I was busy taking photos of this spot (wondering if I had indeed reached the Upper Dunn Falls), I then noticed that there was still more of the falls hidden behind foliage further upstream. And it looked like I would have to scramble a bit up a pretty steep and rough section to get closer to it.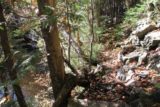 In any case, that steep and rough section was also very narrow with some dropoff exposure.
And given this obstacles along with some of the other obstacles encountered, the thought on my mind was that I made the right choice doing this hike solo and not bringing Tahia along. This would've been a pretty killer hike with the extra precious cargo on my back.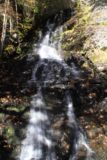 As I finally made it closer to the upper waterfall, I saw that it was partially in the sun and partially in shadow. That made most of the photos I took of the falls look pretty terrible as I would have dark and washed out areas of the falls all in one shot.
It was getting late as I looked at my watch and it said 11:40am. I had promised Julie that I'd return to the car by 12pm, and I had a feeling that I still had a ways to go to return to the trailhead, especially given how difficult this hike was relative to the other hikes we had been doing on this trip thus far.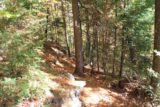 So I returned back to the top of the Lower Dunn Falls, then followed the white blazes up another steep section of trail. At least this part wasn't so steep that required me to use my hands to climb, but it was steep enough to really burn my already burning thighs.
The whole time I kept thinking to myself, if this was the AT and people spend multiple several weeks at a time on the trail with a heavy pack, how on earth do they do it with such rugged terrain that even day hikers would have a hard time with?
Indeed, I was sweating bullets and breathing heavy by the time I made it up to the top of this ascent. Then, I kept looking for the white hashes to ensure that I was going the right way, and more often than not, I saw then so I knew that I was going the way that I should.
At this point, I was seemingly on some ridge where there were always rolling dropoffs on one side and sometimes sloping terrain on the other. I was hoping that the climb that I just finished would be the end of the hard climbing, but it turned out that this ridge was undulating, and that there were at least a couple other steep climbing sections.
I could hear faint hissings of water down below, and I wondered if I was now even higher than where I was earlier with all those brook crossings.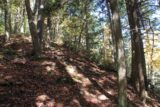 It was now getting a bit late as it was 12:05pm and it still felt like there was no end in sight. But eventually after yet another steep climb, I finally went down a pretty steep decline and then I saw a reassuring AT sign with trailhead register just on the other side of the brook that the trail briefly followed at the base of its descent.
And after making this final crossing, I was back at the familiar Cascade Trail/AT junction.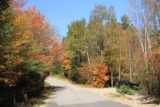 By 12:15pm, I was finally back at the trailhead where there was now a black SUV parked next to us instead of the pickup truck that we had parked next to earlier. And when I got back to our rental car, Tahia said loudly, "Daddy! You're back!"
That made me smile broadly.
Anyways, after dumping my stuff in the car, it wasn't until about 12:30pm when we had finally started driving off. We made the executive decision to not pursue Angel Falls, which would've taken at least another two hours of driving and hiking, and we still wanted to get to Portland, Maine while there was still light in the day.
All this was making me realize that the Bar Harbor decision might have been the right one logistically anyways as we would've still needed more time on this day.
So we headed directly south as we knew it would be at least a couple hours of driving to get there.
The drive was pretty uneventful as we rejoined Hwy 2 and then quickly got onto the Hwy 232, but there were orange signs indicating that Route 232 was closed a mile further from where we just had gotten onto it. There were detour signs pointing us around this closure, which didn't seem to be too bad. However, it was funny that there was one orange sign that said, "DO NOT USE GPS".
Ha, they must've been talking about us!
Well, it turned out that the GPS was correct anyways as we followed the detour and the GPS agreed.
Eventually, we would get onto Hwy 26 as we were making pretty good progress again.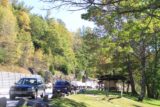 Then, at about 1:20pm, we stumbled upon a rest area that was labeled Snow Falls. It looked like a pretty straightforward roadside stop with picnic tables and a few cars already parked here, so we figured what the heck. Why not make this stop and document the falls that was here. We mind as well since we were here and it wouldn't cost us much time.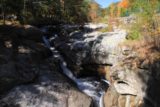 Tahia was asleep once again so we couldn't take the time to enjoy this as a family. Basically Julie and I took turns photographing and taking a movie of the falls, which was a sloping cascade in a narrow ravine that wasn't very tall, but it was somewhat forceful given how the river was channeled.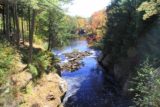 There was a bridge above this mini-gorge where looking downstream yielded a very pretty and calm lake or pond. And as I continued past the bridge, I saw there was another tiny waterfall beneath some man-made wall arch, which made me wonder if there was some diversion or something before this part of the stream rejoined the main one further downstream.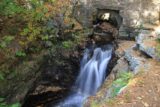 This was about the extent of my exploration of this area as it seemed like the trail continuing upstream kept going.
The picnic tables here also seemed inviting, and this would've been a nice spot for such a takeaway picnic, but we didn't have food with us, and Julie was asking me to make a lunch stop as she was getting hungry.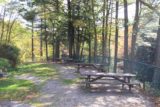 Anyways, at 1:30pm, we took off again. I guess this was one benefit of driving to Portland, Maine because we wouldn't have seen this falls had we not gone this way.
Continuing on, we then found ourselves in the town of Paris, Maine, which was actually a pretty big and busy town. There was traffic here, and after having passed by a KFC that Julie wanted me to stop at, we then found Yianni's Homemade Pizza, which seemed like a decent lunch stop since they also sold subs and other things that we could take on the go.
So I stopped the car at 1:45pm, and it wasn't until 2:15pm when we finally left again. I guess mom and pop shops like this made their food so it took time. We ended up eating a meatball sandwich which was delicious as well as some chicken tenders for Tahia (who was fussing because she didn't feel like eating it), and some buffalo wings.
We had to pass through a pretty extensive area of development as the town of Paris was also adjacent to the town of Norway, Maine. But then we eventually continued on Route 26 after filling up on gas for $3.31/gal, which was by far the cheapest we had spent on it on this trip so far.
The drive seemed like it went on for a long time, and we even got to the point where Tahia was complaining that her diaper was wet as we were driving south on the I-95 (which actually required a $1.50 toll).
The GPS had us get off at the 100, when truthfully, we could've continued on the I-95 towards the 320, but we had to find a place to pull over and change her diaper.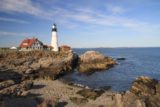 So after doing that, we then had to drive on a bunch of local roads with traffic lights and lots of traffic. So it took us a while before we finally got into the town of Portland, which we realized was actually more of a full on city!
Julie decided that instead of checking in first, we should just head to the Portland Head Lighthouse as we had read that parking was $10/night and there might not be in-and-out priviledges.
So eventually after what seemed like a longer-than-expected drive, we made it into South Portland, and finally parked at the Portland Head Light at 3:45pm.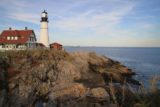 Immediately, we saw that the lighthouse was pretty close to the ocean. I'm sure both Julie and Tahia couldn't wait to get out of the car because they had been sitting in it for the whole day!
Still, the afternoon light with a few scattered high clouds painted the lighthouse a warm orangish hue. And as we had hoped, this lighthouse was very photogenic in that it was the only one we saw on this trip where we could show the ocean with the lighthouse in one shot. Indeed, it was the best one of the lot.
It was crazy to think that we would've missed this lighthouse had the government shutdown not happened. Though I wondered what the Bass Harbor Light would've been like, which was in Acadia NP.
I guess we'll never know until we come back to the New England area, which might be when Tahia gets old enough to start understanding American history when it might actually mean something more to her.
In any case, we thoroughly enjoyed ourselves while at the Portland Head Light. We even had a lobster roll picnic at one of the picnic tables overlooking the lighthouse on a grassy lawn above the cul-de-sac fronting the lighthouse. The lobster rolls were pretty good, as they were from the well-positioned lunch truck on the way to the car park. The truck I believe was called "Bite into Maine".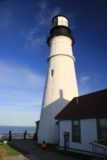 My arms were itching a bit from apparent mosquito bites (there were mozzies here?!?), but there were only a couple.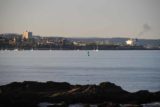 When we finished having our very late lunch, we spent a few moments more taking more family pictures with the tripod as well as taking a short walk around the lighthouse itself. I guess we missed the 4pm museum tour, which might've been worth our while.
Anyways, it was about 5:25pm when we returned to the car. And about 20 minutes later, we finally checked in at the Holiday Inn.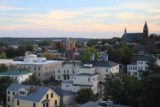 This time, Julie used her Ambassador membership to get us upgraded for free, and boy was it worth it in this case as we had quite a spacious corner room on the 7th floor with a nice view towards the harbor.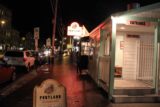 It wasn't until about 7pm when we headed back down into town. I thought we could've walked to town, but Julie insisted that we drive. And so we drove down to Commercial Street where we found public parking at a flat rate of $8 cash.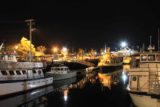 I wasn't in any mood to go fishing for hard-to-find street parking so I just sucked it up and parked.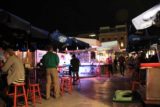 As we left the car, I could hear some music being played at joint next door to the car park. It turned out to come from the Portland Lobster Company, which was featuring the band "The Lucid".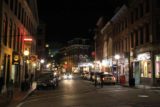 Julie had already made up her mind to come to this spot so we went in there to share a lobster dinner (realizing that we were still fairly full from our lobster rolls) as a family.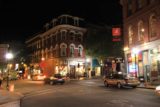 Tahia and I were digging the smooth, groovy rock (my kind of music) that was being played live, which really added to the mood and ambience of the lobster dinner we were having. Even Tahia was attracting attention clapping her hands when the band was done playing a particular song.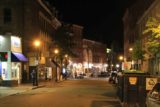 When dinner was over, we decided to walk around a little bit just to soak in the flavor of Commercial Street. I'm sure the window shopping here and the activity would've been neat to check out, but the activity was mostly concentrated within pubs, some restaurants, and even some dessert joints. With most of the stores closed, it kind of muted the activity.
Speaking of desserts, we had some pretty delicious ice cream at this place called Sam's Homemade Ice Cream. We just shared a regular of Cookies 'n Cream as well as some kind of Madagascar Vanilla with Bischoff cookies (more like graham crackers) called the Seabiscuit. Tahia loved sharing the ice cream with us and even tried to help herself without us feeding her.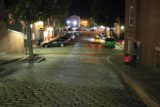 When we left this spot, we kept strolling around an adjacent street that seemed narrowing and more charming than Commercial Street. That was when Julie saw there were two more gelato joints, and we ended up eating at the "non-Italian" gelato spot because they had more selection than the Milanese one.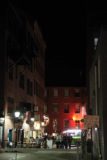 So we had a second helping of ice cream as Julie got some unique Stawberry balsamic flavor with mago, while I got another helping of Cookies 'n Cream, which Tahia preferred over Julie's. Julie kept saying that Tahia was like a mini-me because she liked the flavors that I tended to like.
And with the ice cream overload finally over, we were back in the room at 9pm. And that pretty much concluded what turned out to be a fortunate misfortune (if there ever could be one) on this very busy day.
Tomorrow, we were looking forward to spending our final day in New England as we were about to cross the border and head into Canada.