Day 10: THE OLD CANADA ROAD
Today, was supposed to be the full day at Acadia National Park. The problem was that we had to execute plan B given the government shutdown of all National Parks. So that meant that today would become a very long driving day. And thus, we had to get up (albeit reluctantly) to our 5:30am alarm.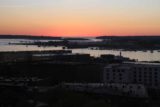 It took some time for us to get ready since we had checked in fairly late to the Holiday Inn last night, and we stayed up fairly late given the evening was the only time we had available to check out the main happening part of Portland, ME at both Commercial St and an adjacent street just one block over as well as having the obligatory Maine Lobster dinner.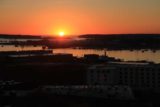 During our packing and preparations for the day, we got to see the sunrise from our 7th floor suite, which was quite a treat. We saw the sky go from a bold orange to the bright glow of the rising sun.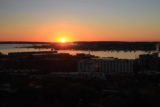 Eventually, we got our stuff together and Tahia woke up reluctantly, but she was not in a fussy mood (which would usually be the case when she was woken up against her will).
Since breakfast wasn't included at this Holiday Inn, we were able to leave Portland at 7:55am. We immediately went onto the I-295 and then drove onto the turnpike I-95 (they charged $1 toll this time) before heading north on the Hwy 104 (though we could've and should've gone north on the Hwy 201).
It kind of slowed us down due to the plethora of towns and traffic lights as well as road construction going on, but we eventually merged into the Hwy 201 at this town called Skowhegan where Julie picked up a bagel breakfast to go from Tim Horton's at 9:30am.
The long drive continued as we were going into what appeared to be a long stretch of forest with lots of Autumn foliage colors as well as many ponds and lakes flanking both sides of the road. We could totally see why moose would love this place, and why we had to be very cautious of any moose crossings because moose could certainly disable the rental car if we happened to run into one.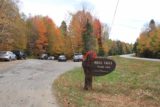 It wasn't until about 10:50am when we finally made it to the car park for Moxie Falls. The NEW book kind of threw me off because the directions had mistaken the Old Canada Highway for Lake Moxie Road. So on a fruitless 10-minute detour, I was busy trying to find a Moxie Falls sign right off Hwy 201. However, I eventually figured that that sign we were looking for should be off the Moxie Rd.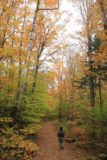 Anyways, after having been seated in the rental car for about 3 hours, we decided to carry Tahia in the carrier for this hike. There were already quite a few vehicles parked here, so it gave us the impression that this place was quite well-known and popular for a place that seemed to be quite out-of-the-way.
As we were getting ready for the hike, we were swarmed by gnat-like black flies. They didn't seem like the biting kind, but they sure were annoying. Even Tahia noticed them and was instinctively swatting at them.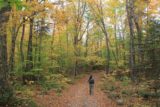 So with the precious cargo on the child carrier, we promptly went on the mostly descending trail that seemed to be quite wide for a trail as remote as this. And like the other hikes we had been on to this point, we were surrounded by gorgeous Autumn colors.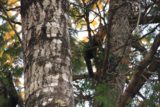 About 1/3 of the way into the hike, we noticed some kind of small furry mammal climb a tree. We weren't sure what it was, but we were certain it wasn't a squirrel. It was probably some kind of ferret because it was way too small to be a fox, we reckoned.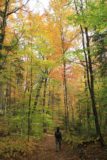 After taking photos of it while pointing it out to Tahia, she wouldn't shut up about it for the rest of the hike.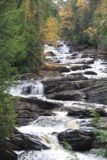 As we got near the end of the hike, we had to descend many steps, and I knew that I would be sweating out this part while carrying Tahia's weight. In fact, I'd be feeling every uphill no matter how small.
Eventually, we got to a point where boardwalks were dominating the trail along with the wooden steps.
We encountered some multi-tiered upper cascades, but we knew that wasn't the main falls. So we kept walking downstream on the boardwalk until we reached a pair of overlooks looking right down at the impressive crashing Moxie Falls.
With Autumn colors flanking the falls and some railings to act as makeshift tripods, I took quite a few long exposure photographs, which wasn't easy when Tahia kept trying to rock on my back.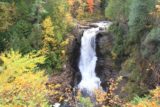 I managed to follow another pair of hikers to investigate where the rest of this trail went. We were wondering if there was a sanctioned way to make it to the bottom of Moxie Falls, but it turned out that there weren't any in our brief survey. There were only dropoffs.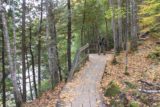 Anyways, we eventually had our fill of this falls, and then came the time to make the climb back out towards the car.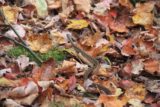 On the way out, Julie was startled when she noticed a snake moving off the trail. We managed to take photos of it while it appeared like it was playing possum. But in any case, it was a tiny snake though we could never be sure if it would be poisonous or not.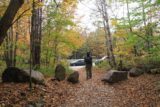 The remainder of the hike was pretty uneventful, and we'd ultimately get back to the buggy trailhead at 12:25pm. I was a hot and sweaty mess, but the hike was fulfilling, and now it was time to try to make a beeline for Quebec City further up the Route 201.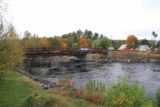 At around 1pm, we stopped at a rest area called Attean View, which afforded us a view towards some lakes in the distance surrounded by Autumn colors.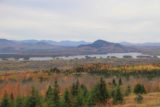 The interpretive signs here indicated that there were mountains defining two main drainage directions that ultimately decided the US-Canada border. The drainage that would ultimately feed into the St Lawrence River basin was the Canada side. Meanwhile, the drainage that would ultimately drain towards the Kennepac River and other rivers would ultimately drain towards the Atlantic.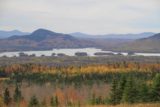 The power lines kind of took away from the panorama (that otherwise would've been a wonderful sight), but we took our family photos, and then continued on.
Eventually, we'd reach the US-Canada border station at 1:40pm. There were about four cars still in front of us, so we knew that it might take a while before it would be our turn to cross into Canada.
When we finally got to the Canadian officer, we were asked questions about where we were going to Canada, where we came from, what I do for work, where I worked, and other things like that. I guess they were kind of intrusive questions without seemingly a real need to know, but I guess the tone and the line of questioning got more lighthearted when the officer saw Tahia's passport and then he saw Tahia sitting in the back seat.
I guess Tahia tended to have that effect on people. Everyone seemed to call her beautiful.
And so we were finally through the border station at around 1:55pm. And so ended our stint in New England. Now it was time for Canada for the next week. Hopefully, the weather would hold up like it had been for us in New England…