Day 1: FEAR OF STATUES
It was 6:20am when we finally de-planed and went to the restroom to try to relieve our groggy selves from not having gone to the bathroom for the entire 6-hour flight. None of us had a very restful flight as Tahia had been fussy though nowhere near as cholic as the Tahiti red-eye flight last December. In this instance, we were able to console her for the most part and she was able to listen to our instructions as well as give us some feedback (besides crying) on what she wanted.
It probably helped a little that she was small enough to be able to sleep horizontally between us though she did have a tendency to toss and turn throughout the night, and we were cognizant of her rolling off the seat and falling to the floor.
The flight was quite uncomfortable as the seats seemed to be harder than we could recall on previous red-eye flights. Plus, the leg room was practically non-existent (especially for a long cross-country flight like this).
Julie and I were hoping that the hotel would let us check in early so we could get some sleep in the morning before touring Boston in the afternoon. Usually check-ins weren't until 2pm, but that was still another 7-8 hours away!
The original plan was to use this entire day to explore the city, but the combination of jetlag and lack of sleep really made it undesirable for us to hit the ground running.
Something that I found a little surprising was that American Airlines didn't seem to give any priority to families needing to board. In fact, they gave priority to passengers who weren't going to use the overhead bins (irregardless of group number besides Group 1). They also made us check in at the gate the blue carry-on we'd always been bringing on domestic flights though they didn't charge us for it.
Anyways, when all was said and done, we managed to recover all of our luggage at the baggage claim – the car seat, the carry-on they made us check in, and the big blue bag we paid $25 to check-in back at LAX. We also picked up the child carrier back at the gate as soon as we de-planed. That child carrier was basically our stroller without wheels, which we knew would come in handy in tight quarters (like mass transit) or us having our hands full carrying and rolling luggage as well as on hikes where strollers would be useless.
Next, we walked straight to the bus shuttles which whisked us from our domestic terminal to the subway stop free of charge. From there, we purchased a day pass for the subway at about $11 per person (Tahia was free), and we did the familiar drill of relying on the subway to get from place to place throughout the city – just like in New York City, just like in Paris, just like in Hong Kong, and just like in Rome. Now why can't more American cities be efficient like this?
The only tricky thing about our public transportation jaunt was that we were carrying Tahia as well as lots of luggage. On a crowded commuter line, that was a non-trivial task, but it wasn't impossible. We just had to get by without getting in other peoples' way (as awkward as that often became).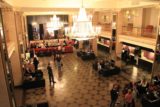 By about 7:25am, we managed to arrive at the Park Plaza Hotel, which looked quite historic. It had a grand entrance and lobby area (a foyer?) with mezzanine, and a decor that kind of had that Roaring 20s feel to it. After Julie talked with the receptionist, we were relieved to learn that we were able to check in early. So immediately, we got up to our room, dropped off our luggages, brushed our teeth, and then headed back downstairs for a quick breakfast courtesy of Starbucks at the lobby area.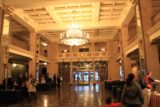 It still felt like the city hadn't quite woken up yet (or at least we weren't in the mindset to go touring at this time), so after quickly having our brekkie of croissants, brioches, fruits, and a yogurt, we then went back upstairs for our nap to at least try to recover the lost sleep from the unrestful flight from LAX to Boston's Logan Airport.
At 8:30am, we finally got into bed and tried to sleep. It felt weird going to sleep knowing that the day was getting brighter. Plus, it didn't help that the cheapest room in the place that we booked also just so happened to be right next to the elevators (where we could hear the rumbling of the elevator cars going up and down through the walls). At first I thought we were close to the airport and all that rumbling was from the airport, but with the frequency of the rumbling, that was when I realized that they were the rolling sounds of the elevator cars responding to people pressing buttons to go up or down.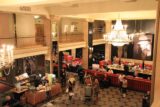 In any case, we slept and got up at 11:15am. We easily slept through the 10:30am alarm. And even at the 11:15am wakeup, we had to fight the urge of continuing to sleep in longer.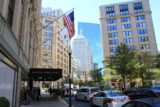 It took a while for Julie to get ready, and Tahia and I were also a little restless waiting for her. So we went downstairs first and checked out the lobby area, and then walked around the hotel building thinking that by the time we returned, we'd see Julie at the lobby.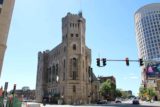 We checked out some castle-looking building on a street corner on the backside of the hotel as well as some interesting-looking apartment buildings right across the street. We also noticed some protestors near the backside of the hotel protesting the Israeli government of evicting Bedouin Arabs from their own lands.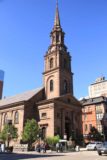 Well, it turned out that when we returned a few minutes later, Julie was not in the lobby. We then went upstairs back to the room, and it turned out Julie wasn't there either. It was like deja vu again (like in Rome earlier this year) where now one of us had to stay put until the other one would come back.
And it wasn't until about 12:30pm when an unhappy Julie found us at the hotel lobby and we finally started to tour Boston (much much later than I had hoped for)!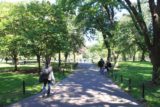 First and foremost, we went right to the Boston Public Garden, which turned out to be just a few minutes of walking from our hotel (right across the street from some interesting-looking church). While we were there, we checked out some attractive lake with ducks swimming in them while noting the interesting contrast between city skyscrapers and the greenery of this public garden. It was certainly New York City Central Park-like.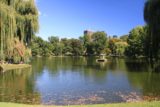 The primary goal of doing this jaunt into the Boston Public Garden was to see the George Washington riding on a horse statue. Unfortunately, what should've been a pretty cool photo op in this part of the city turned out to be a fright fest for Tahia. For some reason, ever since a few months ago, she developed a terrifying phobia of any kind of statue (especially human statues).
So she wasn't terribly pleased that we wanted to pose next to it and get our "I was there" photograph before continuing on.
When we had our fill of this part of the garden, we then headed back to the T (Boston's subways) by the Arlington Station, and took the Green Line for a few stops to the Government Stop. There, we then transferred onto the Blue Line, but not before we had to wait at least some 15 minutes or more for that train! That was unusually slow for a subway, we thought! It was 1:40pm when we were still waiting for the next train!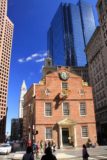 It made me wonder whether we were better off just walking to the Old State House (said to be the site of the Boston Massacre), which was where Julie wanted to go next. After all, we were only going to go for one stop, and we could easily cover that distance on foot in less than 15 minutes. But Julie protested, and we'd eventually get onto the Blue subway line train when it finally showed up and we'd promptly get off barely a minute or two later.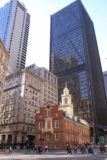 Once we were up at the street level, we were surrounded by high rises. It turned out that we were right next to the Old State House, which was interesting in that it was literally surrounded by fancy high rise glass-exterior buildings belonging to Boston's financial district. It was an interesting juxtaposition of old and new.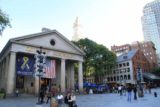 We didn't bother doing the museum tour as we were more focused on photo ops than doing tours given that this was probably the only day we'd be touring the city.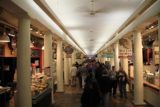 After having our fill of the Old State House, we then followed signs for the so-called "Freedom Trail" which then led us to the Faneuil Hall Marketplace. There, we saw an interesting-looking Pikes Place-like arcade beneath a historical-looking building labeled Quincy Market while there was an adjacent building saying North Market.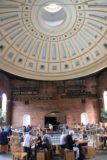 We went through the Quincy Market since we saw there was food in there, and we were hungry for some lunch. Tahia was definitely starting to fuss at this point probably due to her hunger.
So it wasn't until about 2:10pm that we finally chowed down on our lunch, which consisted of some creamy New England Clam Chowder, a lobster roll sandwich, some shrimp, and some Mediterranean-style lunch that Julie bought strictly for Tahia to eat (though I'd end up cleaning up when she'd gotten to a point where she refused to eat further).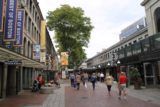 When we were done eating at 3pm, we walked a little more through the Quincy Market, which turned out to be historical in that it was said to be a public marketplace serving the public since the mid 1800s. Indeed, Boston seemed to surprise us with its historical charm that we didn't recall was very prevalent in our multi-day self-tour of New York.
In fact, Julie and I quickly started realizing that Boston had a charm all its own that seemed to be understated and not that well known. This was evident since we didn't give ourselves that much time (only a half-day) to tour the city based on the paucity of information we felt we could act on.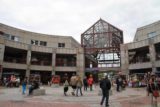 Sure we did the TripAdvisor thing, but there was something missing in the information as it was merely presented to us in a list of favorites in which we just didn't get the gist of each thing we had bother to click on. There wasn't anything at-a-glance that we felt we could immediately compare and act upon in TA. Thus, we were in the miscalculation that we found ourselves in. Perhaps there was a lesson learned in there about how we should re-organize the information in our website for people like us who needed access to the right information at the right time in the least amount of time and trouble.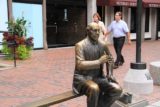 As we were walking towards the end of the Faneuil Hall Marketplace, we chanced upon a statue of a man sitting down holding a cigar. There was a bronze replica of the large sneakers of Larry Bird besides the sitting statue. And it took some time before I finally realized that that sitting statue happened to be of the legendary late Red Auerbach. As much as I wanted to have my photo op with the legendary basketball coach, Tahia was screaming bloody murder (and drawing attention from many of the other passerbys) at the sight of the statue so we didn't longer for much longer.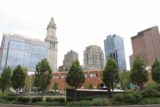 Anyways after we left the Faneuil Hall Marketplace, we then walked towards the North End part of town. The goal here was to see both the Paul Revere House as well as the Old North Church. We were meandering about some quiet streets almost along the waterfront, but the walk seemed to lack some of that historical charm that we were enchanted by earlier in the day.
It wasn't until we got to Fleet Street that we cut across and then eventually to the cobblestoned triangular piazza where Paul Revere's House was located. It was around 3:50pm when we decided to go ahead and spend $7 for all three of us to check out the small but very authentic home of Paul Revere.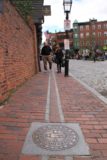 There was an employee in there who was itching to answer questions and tell people things we might not have known about Revere nor this place. And he offered us an interesting factoid concerning how Revere used his master bedroom and adjacent "great room" as sort of a parlor. He also told us that the word parlor came from the French word parler, which I knew meant "to speak" from my informal French lessons. And so the parlor was the venue where Revere did some socializing with guests to his house.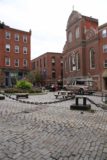 Tahia was once again getting antsy complaining that the Revere House was too dark, but it was clear that it wasn't dark at all. Perhaps she felt a little claustrophobic or something. In any case, we made a hasty visit as Tahia made it uncomfortable for us and probably others in the venue.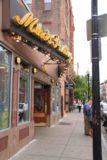 After visiting the Revere House, we then found our way towards this place called Mike's Pastries. Apparently this place specialized in cannolis, but in this case, Julie and I thought it was overrated and overpriced. Perhaps we just weren't fans of cannolis because I didn't recall it was anything that special while we were having them in Italy earlier this year.
Speaking of Italy, we noticed that just about all the businesses (especially restaurants) had a bit of an Italian theme here. Did we stumble into the Little Italy of Boston? It seemed kind of ironic or fitting that we had just gone to the real Italy months earlier, and here we were getting re-acquainted with Italian words and the overall Italian theme of this neighborhood.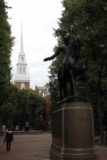 But whatever the case, we continued along the familiar red stripes of the Freedom Trail, and then found ourselves besides a Paul Revere on horseback statue, which seemed to be between a pair of churches. The church that was facing the Revere statue seemed to have an interestingly grand facade but didn't seem to be a very significant landmark. However, the church behind both the Revere statue and some fountain seemed to be the Old North Church, which seemed to have some kind of historical significance (especially after flipping through some post cards at the gift shop at the Park Plaza Hotel in downtown Boston) and was a main sight of our North Hill sightseeing tour.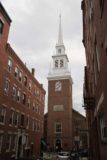 Once again, Tahia was freaking out about yet another statue. This time, it was Paul Revere's turn to freak out our daughter. So there wouldn't be much of an opportunity for the photo op by this statue as she was screaming bloody murder at making eye contact with the inanimate object.
In any case, the church itself looked quite imposing and tall, but that was because we were too close to it. So we walked up one of the ascending streets facing the front steeple of the church. And that was where we probably got our best photographs of the exterior of the church.
Upon closer inspection of the church, there was a sign on the steeple saying something to the effect that Paul Revere went up the steeple to light up lanterns to warn people of the impending attack on Lexington and Concord by the British. It kind of gave us a bit of an appreciation of the significance of this church that otherwise might have just been another fancy colonial building.
After having our fill of the church, Julie noticed some red stripe on the sidewalk. It took us until now to realize that the red stripe below our feet was keyed to the red stripes on our city map! In fact, that red stripe was the Freedom Trail itself! Perhaps that should've been our walking tour all along! We definitely would've saved ourselves some random meanderings throughout the day! Oh well, you live and learn.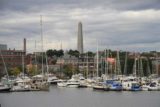 Next, we then noticed some triangular-looking bridge as we continued walking up the hill and out towards the waterfront and/or Charles River. We had passed by some interesting-looking cemetery, but without doing any prior trip research about Boston, we didn't go in there. Unfortunately, we didn't realize until it was too late that this graveyard was the resting place of people like Paul Revere, John Hancock, Samuel Adams, and Ben Franklin's parents. Julie thought it was freaky to go into a cemetery anyways, but something that historically significant surely should've warranted a visit, right?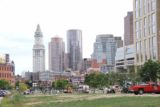 Anyways, we then walked onto a bridge that looked towards the triangular bridge flanked by the TD Garden, which I'd imagine was where basketball and hockey games were played (i.e. no more Boston Garden). The view wasn't great since there were cars before us and the view wasn't very wide open across the road bridge we were on. So we didn't go far up the bridge before heading back down.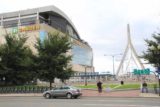 However, we did notice that right in front of the TD Garden, there was a more interesting view of the sports complex juxtaposed with a more frontal view of that triangular bridge behind it. It was quite a scenically situated sports arena to say the least.
After having our fill of this area, we went to the CVS to buy a few more essentials (mostly for Tahia), and then we took the T towards Boston Commons. While we were chilling out at the other half of the public park at 5:30pm, Tahia was out napping while Julie as talking on the cell phone trying to see if there was any issues back at home.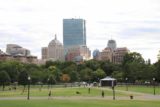 As Julie was doing this while keeping an eye on the sleeping Tahia, I took the opportunity to explore some of Boston Common, which had an interesting statue of a revolutionary (of whom I forgot was about). The place kind of wreaked of marijuana as there were plenty of loiterers toking.
Anyways, as I was soaking in the atmosphere of this place, I couldn't help but really think of Central Park. I guess it was funny how we never really heard of Boston Common prior to coming here, but now we could totally see how similar it was to Central Park (at least in terms of that juxtaposition of a city surrounding a green oasis of parkland).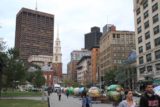 It was about 5:55pm when we were leaving Boston Common. Tahia had woken up around 20 minutes or so earlier, and she was in quite the fussy mood upon her waking up. She expressed the desire to go home (of course home was not possible in the short term) so we tried to ensure she equated the hotel room with the temporary "home." Anyways, it wasn't until some squirrels in the park distracted her short attention span to the point of putting her in a bit of a better mood.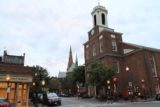 When we took the red line towards the MCG Station, we pretty much followed the signs for the Esplanade and Beacon Hill. And first up was Beacon Hill, which we found ourselves walking through a bit of an antique arcade neighborhood. Mixed in with the charming historical-looking shops, there seemed like a charming little upscale series of streets and residences, but Julie and I wondered if we were indeed going in the right direction for the Back Bay, where Julie thought was the venue for the Back Bay Esplanade where the happening shops would be. She also assumed that it might also make it possible for us to take some broad skylight shots across the Charles River or some reflective waterfront (though I suspected already that we should've crossed the bridge to the Kendal Hill/MIT stop a little further on the red line).
Julie and I got a bit concerned when we realized that we had walked across Beacon Hill and towards the north end of Boston Common again. We were a bit incredulous that we had taken the train in one direction and almost completely walked back in the other direction!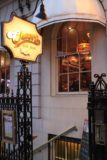 But after consulting the map, we then walked in a westerly direction where we then happened to stumble upon the original Cheers sign inspired the show "Cheers", which I used to watch when I was younger in high school. I instantly recognized the familiar stairs leading down to the bar beneath the neighboring hotel, and it brought back memories of me watching re-runs of that show.
Anyways, by now, it was about 6:40pm with twilight well underway.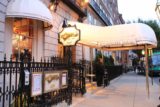 It turned out that the sign and entrance for the Cheers bar was genuine, but the interior was pretty much like any other ordinary bar and restaurant (ala BJ's or Westwood Brewery, or some other place like that). There was definitely no old school counter with Woody and Sam schlepping beers to Norm and Cliff with Carla waiting tables and either Diane or Rebecca tending to other things at the place where everybody knows your name. Indeed, that familiar scene where most of the show took place was probably just a set.
So I guess at least this accidental find was one benefit of trying to find the happening parts of the Back Bay that Julie apparently mistakenly had us going on this wild goose chase.
We were getting discouraged as we were walking block after block of what seemed to be affluent but quiet neighborhoods in search of the Esplanade. There were far more people jogging and students loitering about (perhaps this area was a dorm or university housing area?), and it wouldn't be until we finally headed back south towards the T somewhere near Copley Street that we'd finally find out that the worthwhile part of the Back Bay was actually away from the river all along!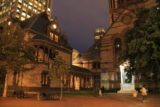 Thus, it was only by realizing that we probably should've followed the green trail on the city map in hindsight that we had made a grave miscalculation all along. So we probably wasted a few more hours doing this goose chase and didn't allow ourselves time to check out the Boston Public Library or to check out the Trinity Church during the day. Again, we live and learn from this suboptimal turnout of our time in Boston.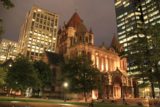 So we had to be content with checking out the attractive church in the low light of the dark, which was still attractive nonetheless.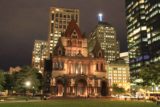 Then, we finally had our dinner at this place called Boloco, which served up some internationally-inspired burritos. So that was where we had some tikka masala burrito as well as some kind of thai burrito while Tahia had her traditional mini Mexican burrito. And that was the understated dinner that we were looking for especially after unnecessarily piling on calories with the overrated cannolis from Mike's.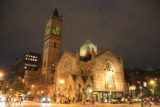 After the dinner, we then took the subway one stop back from Copley to the Arlington Station, and within minutes, we were finally back at the hotel room at 8:30pm. It was only then that Julie did some post-mortem TripAdvisoring and Yelping that we realized that missing out on the Boston Public Library was a big miss and missing out on the cemetery was also a bit of a miss.
We probably should've given ourselves another night in Boston to check out the Boston Tea Partly location as well as other sights to see at a more leisurely pace. But the bottom line was that we decided we might have a go at the grand Boston Public Library first thing tomorrow morning before checking out. So that would mean that instead of getting to Cape Cod around noon time, we might not get there until maybe around 2-3pm.
I guess we'll see what tomorrow brings. But one thing was for sure. It turned out that Boston crept up on us as it exceeded our expectations (though they were lowered expectations). It was one of those instances where of all the American cities we had been to, this was the one that seemed to retain its historical feel. We felt that such ambience was only prevalent in places outside the US, but it appeared that we had finally found a place that did the same in the good 'ol US of A.
We definitely didn't do this place justice, and I'm sure we'd have to come back here again one of these days.
It was still a toss up whether to check out the Boston Public Library prior to going to Cape Cod tomorrow. But whatever we would end up doing, we were for sure going to leave the city and head towards the beaches and lighthouses of Cape Cod.
But for now, it was time to go to sleep and try not to succumb to jetlag, which conspired to keep us from sleeping and getting up early tomorrow morning…