Day 2: CAPE COD INTRO
It was about 7:05am when we awoke. Even though the alarm went off at 6:30am, fat chance that anyone would be getting up at that time since it was still 3:30am PST.
After getting through the obligatory errands of personal hygiene and packing, we then woke up Tahia, changed her diaper, and were finally ready to at least get out of the hotel room.
By this time, it was 8:30am, and we decided to walk straight to the Hertz office, which was right around the corner. We didn't want to come here later and chance us missing out on our rental car.
When we got to the Hertz desk, there was fortunately no line. Once we got through all the formalities, we got the keys, and proceeded to get right to the Chevy Cruze. That was when we noticed that the rental car was full of dents and scratches that were way more severe than anything we had seen before in all the rental cars that we had hired previously.
On the one hand, it was a good thing that this should give us a pass on any new nicks and scratches we might introduce over the next three weeks of driving. On the other hand, who knows what kind of abuse this car was put through that might make us break down in the middle of nowhere?
Well, after the clerk noted all the dents and scratches (albeit not terribly clearly on the form), we locked up the car and walked back to the hotel. We had ourselves a breakfast at an Au Bon Pain place near the protest site that Tahia and I chanced upon yesterday. And the brekkie was pretty fresh and satisfying though it did take some time to eat and get out given how picky Tahia was with her food.
It wasn't until around 10am when we were finally done eating brekkie, then got our belongings, and checked out of the Park Plaza Hotel. We ended up deciding against squeezing in a Boston Public Library visit and instead focused on getting our stuff into the rental car and get ourselves out of the city and towards the quaint seaside towns of Cape Cod.
While it was quite sunny in Boston on this morning, we could see that darker clouds were looming ahead of us as we were headed towards the Cape.
At around 11:05am, we saw that there was an Independence Mall where we decided to leave the main highway and detour to the Target that was over there. That was when we picked up some diapers, water, munchos (i.e. junk food), plus some extra clothes for Tahia. It was pretty much our shopping run hopefully to cover much of the remainder of our trip.
By 11:55am, we were finally out of the mall and continued on the highway to Cape Cod.
At about 12:35pm, we found ourselves having lunch at this place called Cafe Chew in the town of Sandwich. Perhaps fittingly, this cafe specialized in sandwiches so we had ourselves one as well as a pretty giant salad.
It wasn't until about 1:30pm when we finally left the cafe. We were hoping to find some kind of boardwalk area in the town of Sandwich to chill out for a bit and let Tahia soak in the atmosphere. But after a few minutes of futilely driving on Ed Moffet Drive towards some canal, we realized that we should probably just continue on towards Chatham, where we'd be staying for the next couple of nights.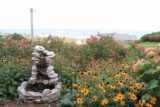 Finally at around 2:25pm, we made it to the Hawthorne in Chatham at last.
It was a bit chilly and overcast when we arrived. And we spent the next hour or so trying to figure out what we should be doing for the remainder of this day while also getting settled.
Upon looking at the oceanfront, it prompted Julie to say, "Now THAT'S what I'm talking about!" when it came to a waterfront worth checking out and spending valuable vacation time at. Forget the canal at the disappointing Sandwich.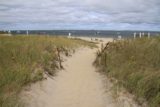 As Julie and Tahia were trying to get some rest (in which none of us were really in the mood to do so), I spent some time scoping out the scenic property while also checking out the beach right below the property.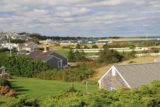 The beach itself was very quiet. The overcast skies muted the color of the scenery and pretty much made the area not very photogenic though it definitely fit the mold of a scenic and relaxing getaway from the urban life of Boston or other built-up centers of New England.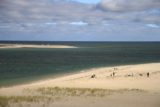 At 3:40pm, we decided to drive towards the Chatham Lighthouse before looking for a place to have a bit of a walk and/or dinner. It was kind of an unplanned whatever evening though the lighthouse promised to be the first real sightseeing attraction of Cape Cod that we'd encounter.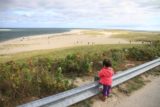 It was only 5 minutes further south of where we were staying to get to the rather busy beach fronting the lighthouse.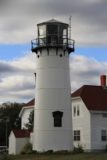 The lighthouse itself was closed because a sign there indicated that it was only open for a couple of hours in the early afternoon on the first and third Wednesdays of some months out of the year.
The sun was busy playing hide-and-seek with the patchy dark clouds stubbornly clinging to the immediate area. When the sun would come out, the sand was glowing a bright orangish yellow.
There were quite a few folks sitting on lawn chairs just chilling at the sandy beach. One of them offered and took a family photo of Julie, Tahia, and I, and the guy did a really good job of it.
But given how cold and subdued it was, we left at around 4:10pm though Tahia was protesting as she didn't want to leave the sand.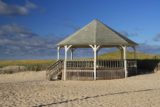 Next, we drove towards Nauset Beach though for some reason we thought both the beach and the lighthouse by the same name were next to each other. But when we showed up to the mostly empty beach by 4:45pm, we realized that the lighthouse was actually much further up north on the cape. I guess we'd have to do that one tomorrow.
In the mean time, we checked out the wide sandy Nauset Beach. The beach was so wide that it appeared they allowed off-road vehicles to drive onto the otherwise mostly quiet and naturesque beach. The waves were a bit turbulent and strong so there was no way we were going to let Tahia get anywhere near the water. Besides, the water and the weather was quite cold, and we'd imagine this was really more of a Summer destination rather than an Autumn one.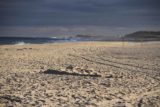 I did recall seeing signs indicating how to spot a Great White Shark versus a Bask Shark. I guess these sharks frequented these waters so that was yet another reason for us to not bother going into the water.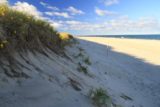 One thing Julie noted was that there were dunes dropping towards the main part of the beach. She thought it was quintessential Cape Cod though I couldn't really tell how that was different than some of the beaches we had seen on the West Coast.
At 5:05pm, we made it back to the car. By this time, Julie had already made a booking at this place called the Del Mar in Chatham. So that meant that we had to go back to town and meet our 5:45pm dinner reservation.
After a pretty uneventful drive, we found ourselves at the Del Mar, which seemed to be one of those semi-fine-dining joints. I guess we'll see how Tahia would behave under such an environment though the staff made things easier on us by giving her some crayons so she could draw on the paper table mat.
The dinner was pretty inventive as I had some pork shank with granny smith apples and some other interesting veggies. Julie had a seared ahi tuna which was also pretty good. However, the foie gras that they served up (more like a pate) was something we could've done without. I guess we were a bit too spoiled with our France experience and the smoothness of the foie gras over there. Also, the dessert was another thing we could've done without.
All in all, we paid over $100 for the dinner that probably wasn't worth spending that much, but it was still pretty good. But before we knew it, it wasn't until around 7:25pm when we finally made it back to our room.
Now it was finally time to unwind, and we looked forward to sleeping in for a bit as we'd spend another night here tomorrow. And with no real set agenda other than checking out more lighthouses, beaches, and perhaps a charming walking town here and there, tomorrow promised to be laid back.
It had better be because the next day after that would involve us with a lot of driving and the start of the serious waterfalling of the New England region…