Day 3: CAPE COD CHARM AT LAST!
It wasn't until 8:15am when we all awoke. We slept in assuming that today was going to be a leisurely day at the Cape. We didn't really have a set itinerary on this day, so I guess that contributed to the laissez-faire attitude. However, we did set out to see a few lighthouses and beaches in the hopes of spending lunch and early afternoon in Provincetown, where we knew there ought to be a lunch spot as well as a possible place for Tahia to play at the Provincetown Public Library.
So given the late start, it wasn't until about 9:35am when we finally got into the rental car and headed out for the day. On the way north, we went into Orleans and had ourselves a breakfast at this place called JoMama's Bagels.
Since Tahia was being very picky with her food, it wasn't until about 10:30am when we finally continued driving. The skies were still overcast so it wasn't like we were in that much hurry to do anything, but at the same time, it did feel like we were losing the entire morning with nothing to show for it.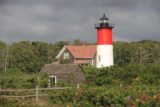 At about 10:45am, we followed the GPS directions to the Nauset Lighthouse. Our pre-trip research didn't really turn out anything we felt were must-see (at least we didn't get that vibe from reading TripAdvisor reviews), but we did see something to the effect of the top lighthouses on the Cape, and this was one of them (Chatham Lighthouse, which we saw yesterday was also another one of them).
It turned out that the lighthouse was perched a bit further inland so we couldn't get that lighthouse juxtaposed with the beach shot.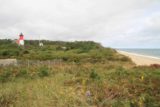 And with the overcast skies, it kind of muted what would've otherwise been a very beautiful and photogenic landscape.
Nonetheless, it was a bit windy and chilly and we took our time taking what photos that we could where the grey skies along with the bright sands conspired to make my photos look darker than they were supposed to be.
Tahia was having some fun playing in the sand though Julie and I were keeping a close eye on her to make sure she got nowhere near the rough waters. We could clearly see that Tahia was ruining her little imitation Ugg boots by getting sand in them, but we could clearly see that she didn't care and that she was having lots of fun. She was definitely upset when it was time for us to go.
After having our fill of the beach, we then walked closer to the lighthouse. This was another one of those lighthouses where there were infrequent tours mostly in the Summer and on the shoulder seasons. The next one was supposed to be on September 29, but that was still two days away for us, and there'd be no way we'd extend our stay here when we'd be well into the waterfalling portion of our trip by tomorrow morning.
Anyways, the lighthouse was quaint and interesting. We noticed there was a sign here that indicated that this was one place where the Trans-Atlantic Cable was routed to this spot thereby providing a medium for financial information to traverse the Atlantic. Indeed, it was yet another instance of history making itself known and felt in this trip that was turning out to be full of pleasant surprises.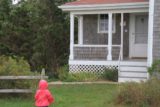 The house next to the lighthouse was the residence of the keeper, and they had put a fake dog looking out the window, which got Tahia thinking she was looking at a live dog. I started to suspect something was up when the dog wasn't moving one bit.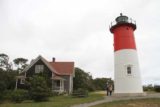 We were doing our best to take what photos we could of the lighthouse despite the difficult lighting conditions thanks to the dreary overcast conditions and the muted lighting as a result of it. Apparently, this lighthouse was moved across the road from its original spot because it was in danger of getting eroded into the sea from natural cliff erosion.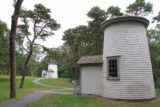 When we had our fill of the lighthouse, we then returned to the car and kept moving at 11:45am. We did make a brief stop further up the Cable Road to where the Three Sisters Light was located.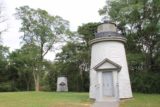 There, I briefly got out of the car to check out the three small towers where only the middle one had the lantern above it. It seemed like they were only there for show as this was well inland and was probably not useful for navigational purposes at least as far as sea vessels were concerned.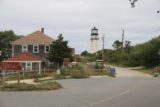 Next, we continued driving north further along the crescent of Cape Cod. The drive was surprisingly long, and it wasn't until about 12:15pm that we made it to the Highland Light (also known as the Cape Cod Light or Lighthouse) where this one seemed to let people go up to the rotating lantern. We made it here after a short detour off the Route 6.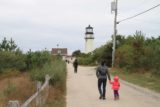 It looked like there was a golf course surrounding the area between the car park and the lighthouse.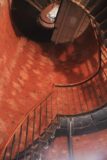 But with the overcast skies, we were skeptical of whether the views would be any better than what we had already seen to this point.
Nonetheless, we headed straight for the lighthouse so we could make our way up the tower. Unfortunately, there was a 48″ height requirement, which Tahia couldn't meet. Thus, we took turns going up the tower with the other person keeping an eye on Tahia. So Julie went up first while I was trying to keep our little girl occupied.
After Julie came down, it was my turn to pay the $4 admission and go up. In the mean time, Julie and Tahia headed out to the observation deck further out closer to the sea cliffs flanked by more of the surrounding golf course.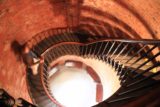 There were only a few flights of steps though there were a couple of tight spots where I had to do the limbo so as to not knock my head on the low clearance.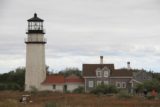 On the next to topmost floor, there was a watcher there keeping an eye out on things. He opened up a window so I could take photos looking northeast I think. But with the muted colors of the dreary overcast skies, I only took a handful of shots before I continued climbing up the last flight of steps towards the lantern room.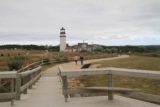 At the top, I was able to look out in all directions but the glass caused some glare. Thus, the photos of the surrounding landscape weren't as ideal as a photographer would've liked, but I did appreciate the interpretive signs explaining what I was seeing in each direction.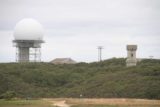 I was definitely able to see in the direction of Provincetown where there was an impressive tower perched high up above the town. The town was only 8 miles from this lighthouse, and I couldn't wait to get there for a bit of sightseeing and to grab a bite for lunch.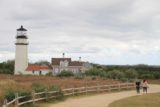 Looking in the other directions, I did notice a dome situated next to what looked like an old castle-looking tower. The sign indicated that the dome was a radar dome for early detection.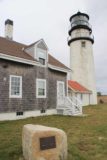 When I had my fill of the lighthouse, I rejoined Julie and Tahia at the viewing deck in the blustery winds. But from out there, we couldn't really see any beach or any other interesting coastal views given the high foliage. But we did get some interesting views back in the direction of the lighthouse.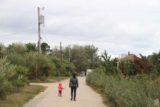 At 12:55pm, we were back at the car. It was starting to get past lunch time so we had to make a little haste to get into Provincetown in order to have lunch.
As we got into the town looking for a place to park, we chanced upon a very happening street called Commercial Street. That got Julie to exclaim, "Now THIS IS A CHARMING WALKING PLACE!"
Indeed, the parking was adjacent to Commercial Street near the pier. And although the parking rate was a rather steep $3 per hour, we figured this was the place to be, finally.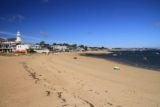 So at 1:15pm, we parked and left the car. And now it was time to soak in the charm of Cape Cod that was Provincetown! On top of that, the sun and blue skies had finally come out in earnest as well!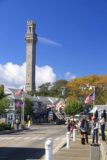 Since Julie had found this South African place while Yelping on the way up here, we headed east on Commercial Street in search of this place. And by about 1:40pm, we went into this place called the Karoo Kafe, which was the South African joint that Julie had read about.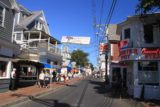 Although having authentic South African fare was the last thing we'd expect to be doing while near the tip of Cape Cod, the peri peri infused curries on my rice stew dish really hit the spot.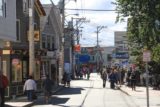 I insisted on having the real authentic food being as spicy as the locals liked it. I didn't want the blander version of the food.
Meanwhile, Julie got some shrimp infused with a mild peri peri sauce while we got Tahia some kind of crab cakes, which was actually very delicious. Apparently, Tahia thought so too as she had no trouble downing the food despite her very picky palette.
Tahia had some anxious moments here because she was freaked out by the many animal statues. But as long as she wasn't looking right at them while she was eating, she was fine. I guess that kind of blew away my theory that Tahia was bothered by human statues only.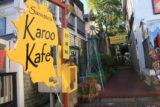 After having our fill of the South African food, we continued to walk further east on Commercial Street where we briefly unwound at the Provincetown Public Library.
The historical white and tall building looked beautiful as it was juxtaposed against the cloudless blue skies.
We wasted no time getting inside the library where we had to keep Tahia from disturbing the peace and quiet of the first floor of the library. So we went up to the second floor where we saw an interesting boat with mast inside that floor. There was also a play area where we knew Tahia would have some fun.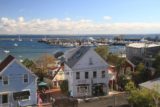 So at 2:45pm, we spent some time just chilling out as planned. I took a few photos through the windows of the mezzanine level where I peered out towards the Cape Cod Bay. But I was also intrigued by the intriguing juxtaposition of museum artifacts with the books lined up like a typical library. Who knew that such an interesting sight to see was in a public library in Cape Cod?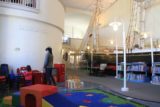 Apparently there was a bit of history attached to this place as well since this was said to be one of the first public libraries in the United States. I guess that kind of explained why this was a historical building.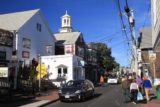 Once we had our fill of the library, we then walked in the westerly direction on the happening Commercial Street. At 3:35pm, we indulged in our sweet tooth at this gelato place called the Purple Feather, which Tahia was happy to share in our gelatos (or the plural gelati in Italian).
Then, we meandered pretty much aimlessly further west as we crossed before the Provincetown Town Hall before going a bit further along Commercial Street where it seemed like the foot traffic and activity didn't really die down anytime soon.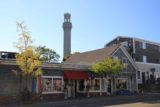 Since we were in the mindset to find a way to get closer to that big Pilgrim Tower, we didn't proceed any further west and backtracked towards the town hall.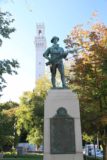 From there, we then followed some signs indicating where parking for the Pilgrim Tower was supposed to be.
We didn't see anything indicating that pedestrians were welcome, but we nonetheless followed the roads to get there, eventually arriving at the car park.
Then, I noticed there were some signs indicating that parking was $10 and that it also made admission free.
We weren't sure if pedestrians would be somehow rewarded for walking instead of driving up here, but it turned out that once we were at the gift shop, we had to pay $24 ($12 per adult).
We were probably better off driving here (or even asking to pay the $10) and then going through the gift shop for free and thus save $14. Seemed like a perverse incentive to waste gas and drive up here instead of walking, but I guess we should've known better.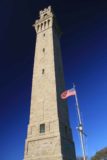 Nonetheless, we had to deal with the 116 steps or so as there was no elevator to get up there. And with Tahia, we'd have to give ourselves a workout carrying her up in our arms while negotiating the many steps. The height of the tower seemed daunting, but since we had already made it out here, we mind as well suck it up and make it to the top.
We finally made it to the top at 4:30pm. It was a little breezy up here, but it felt good considering that we had worked up a sweat doing the stairmaster workout combined with some arm workouts from carrying Tahia.
But once we were up there, we could see in all directions (through glass unfortunately) where to the north we could see the Race Point Light (which we knew we weren't going to see by foot), the tip of the cape to the southwest, over the beach facing Cape Cod Bay to the southeast, and right over the rest of Provincetown right below us to the south.
I don't think Tahia realized that she was up this high as she simply wanted to roam around. But eventually we all had our fill and we let Tahia make her way down the tower with the watchful eye of Julie. Once we made it to the bottom, we took a few more shots of the imposing tower juxtaposed against the deep blue skies, and then we bought some Native American statues as sort of the keepsakes that typically would go onto our souvenir collection.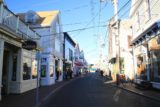 At 5pm, we left the Pilgrim Monument and finally returned to the car at 5:20pm. So as we left, it turned out that our parking bill was $12 since we spent about 4 hours here.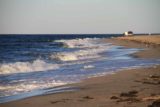 Next, we drove towards the Race Point Beach. It was the last destination for the day though it was getting quite late in the day. But with the clear skies, we figured why not go out there and see what this beach was all about.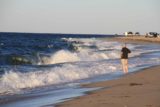 We eventually got there at 5:35pm. It was interesting to pass through a grove of beech forest before the trees gave way to impressive sand dunes ultimately leading up to the big car park behind a toll station that wasn't manned.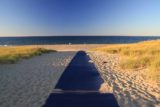 We then got out of the car and walked on a matted walkway that made it really easy to get to the fine-sanded beach without the strenuous workout of sand walking over a small hill. With the low light of the setting late afternoon sun, long shadows were cast and the sand was glowing orange.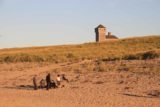 The seas were rough here so once again, we had to keep a close eye on Tahia to ensure she would go nowhere near the water. Even though it was late in the day, there were still lots of people here.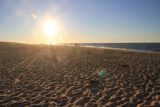 Far off in the easterly direction, we saw there were at least three of four high clearance 4wd vehicles off in the distance. We thought it was kind of ghetto that they let vehicles drive on such a pretty beach such as this. But then again, maybe there was a reason why this beach was called Race Point to begin with, and it might have had something to do with letting cars race on the beaches here.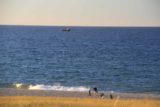 Looking in the westerly direction, there was another large wheeled vehicle parked way off in the distance as well. But I wondered if that vehicle had something to do with whisking people to and from the remote Race Point Lighthouse and the civilization that we were in.
Anyways, after having our fill of the beach, we then headed back over the hill towards the parking lot on that blue mat that made it easy to sandwalk. While Julie and Tahia were waiting in the car, I spent a few more moments to walk behind the restrooms and towards some kind of Old Heritage Museum and Life Saver Building.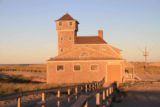 Once there, I took advantage of the soft orange light being cast on the building. Meanwhile, I also looked in the direction of the beach where there was one vessel with a mast sailing across on the horizon in the choppy waters.
Finally at 6:10pm, we left the Race Point Beach area and drove towards Orleans in earnest. We had never really had a chance to do a walking tour of Orleans, but of what we had seen of the town so far, there really didn't seem to be an obvious walking central area like there was at Provincetown.
In any case, Julie managed to Yelp and decide that we should eat at this place called the Rock House Grill. But I was afraid that by the time we'd finally get there, it might be very crowded and involve an hour-long wait or something.
By about 6:55pm, we did indeed make it to the Rock House Grill, but as expected, the parking lot was packed. And when we had to wake Tahia up to go inside (which got her to be real fussy and in a bad mood), we not surprisingly were told that it was a 45-minute wait.
The hostesses told us that we could order out and it would be only a 20-minute wait. So we went ahead and ordered from their take-out menu. The food eventually came to us probably a half-hour later, but at least we saved ourselves the tip expense and the extra wait. But we also knew that takeaway food tended to get soggy.
So at 7:35pm, we left the Rock House Grill, and at 7:55pm, we had finally made it back to our room at the Hawthorne. And as expected, the food was soggy, but at least the lobster roll was way better than the one we had at the Faneuil Market in Boston. In fact, the lobster roll we had at the moment (as soggy as it was) made it feel like the one we had in Boston was a total rip off even though the Rock House Grill charged $22 for their roll.
We also downed some lukewarm BBQ chicken pizza as well as some soggy sweet potato fries. Tahia wasn't terribly picky on this meal as I'd imagine she was pretty hungry. But in any case, we finally had our dinner, and we could finally get cleaned up and put a wrap on this day that turned out to be a far more eventful day than we had anticipated when we woke up with the laissez-faire mentality.
Tomorrow, we had a lot of driving to get done, and it would also mark the beginning of the waterfalling portion of the trip. Funny how the skies had finally cleared up when it was almost time for us to leave Cape Cod. Now why couldn't it be that way yesterday?
Anyways, the weather was something we couldn't control, but we looked forward to getting down to business. Hopefully, Tahia would like that activity as much as she enjoyed the Cape…