Day 4: INTERSTATE WATERFALLING
It was 5:30am when I awoke, but it was to darkness. I was tempted to once again sleep in, but I knew that today we had a lot of driving ahead of us. So while Tahia was still asleep, I figured I mind as well start packing to somewhat streamline the list of chores to do in the morning before we'd finally have to leave Chatham.
Julie woke up about 15 minutes or so later, and she was also of the same mindset. So we tended to our oral hygiene, and then I was pretty much done with my packing not much later after that. Julie still had more stuff to do so I knew that I mind as well start loading up the car with my own luggage and belongings to get a head start.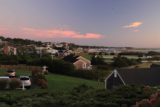 And as I was doing this at around 6:15am, I realized that the sun was about to rise. There were a few other people staying at the Hawthorne that also noticed this and I saw them out and about with their own point-and-shoot cameras to capture the spectacle of a Cape Cod sunrise.
The whole time I was engaging in this activity, I was kind of bumming that we couldn't have had this weather at the outset on Thursday nor Friday. That would've really made our Cape Cod experience. But as it was, we had to settle for the half-day of good weather while we were in the happening Provincetown.
Anyways, with today's good weather, it was going to be a shame that we'd have to spend most of it inside the car as we'd pretty much be driving a long ways west out of Cape Cod, then through Providence, Rhode Island, before going all the way to the northwest end of Connecticut.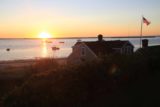 I managed to get some decent shots of the boats silhouetted against the orange globe of the rising sun against the hazy but calm seas east of Chatham. Then, I returned to our room where Julie was still getting ready.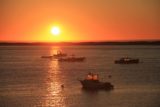 Eventually, it was almost 7am, and that was when we had to wake Tahia up. And after her initial fussing, she was in a surprisingly alert and good mood. And it was a good thing as I had to pack up her Pea Pod and then carry Julie's luggage to the rental car.
By about 7:25am, we had finally left the Hawthorne. The morning wasn't chilly at all so my theory about leaving the water in the car hoping to let the natural night air refrigerate the stuff in the car didn't pan out.
And so the long drive began. It took some time to get out of the Cape Cod area. And it wasn't until about 8:20am when we found a gas stop somewhere west of the Cape Cod peninsula.
The next couple hours of driving was pretty much uneventful driving on the interstates so we were making good speed as the speed limits were primarily 65 mph. The GPS eventually got us to take some side roads into the Devil's Hopyard State Park's north end where we stumbled upon a large but partially filled car park signposted for Chapman Falls.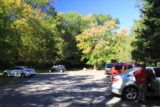 We arrived here at about 10:30am. Tahia had been in the car for quite a while and she was itching to get out of the car. And we were eager to bring her to her first waterfall of the trip.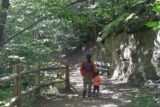 So we crossed the road and went past some signage before following a pretty wide path. It skirted alongside the top of the falls and then around its drop. We then went left onto a fairly steep and uneven path where Julie had to carry Tahia to ensure that she didn't take a nasty tumble on the rocky surface to get down to what seemed to be the main viewing area for the multi-tiered falls.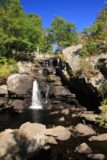 The falls itself seemed like it was in low to average flow (at least lower flow than the pictures that I had seen in the literature). However, a few of the trees above the falls had already started to change color, which gave the scenery a bit of color. And since the sun was out, there were also shadows to contend with.
In any case, we got our shots, tried to get some family photos in there, and then Julie and Tahia promptly returned to the rental car.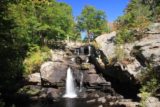 Meanwhile, I lingered a little while longer to take a few more tripod shots before I continued along the descending wide path towards what seemed to be a large picnic area and a main car park. There was even some restrooms here, which I sorely needed after spending over three- to four hours on the road.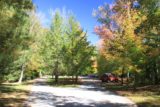 The motivation for going down this was way the off chance that I might stumble upon the potholes that gave the park its name – Devil's Hopyard where the devil himself hopped around and caused the indentations.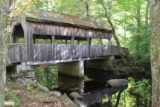 Well, I didn't find the potholes, but I did find the main picnic and car park area, and perhaps this was the part where we should have gone into in the first place had we followed more conventional roads instead of the GPS-suggested side routes. Nonetheless, I lingered around here and even passed through a covered bridge where on the other side, I saw there was an alternate trail that led 0.2 miles to Chapman Falls. There was also another trail that went 0.7 miles towards a vista, but with Julie and Tahia waiting, I didn't want to go out there and then come back, which surely would've taken at least another 30 minutes or more.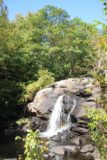 Anyways, since I knew I was on the other side of the stream, I wondered what the falls experience would be like on this less traveled path. After a few more minutes of walking through the forested terrain with dirt surface, I then got onto a narrow rocky ledge area where I descended towards the pool beneath the lowest tiers of Chapman Falls.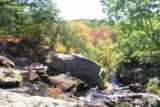 I took a few photos from here and even chanced upon a faint ranbow besides one of the lower tiers. Then, I rock hopped my way towards the middle of the stream where I got a few more photos of Chapman Falls from the lower perspective. Then, I scrambled back up to the view we were at earlier, and from there, I followed the way back to the car and the awaiting Julie and Tahia.
Julie wondered what took me so long, but I explained to her about how I had found the restrooms and the real starting point and car park area.
So with that, we continued on the long drive to the next accommodation at 11:20am. The next leg of the drive was pretty much on some rural highways before getting onto the next series of interstates. Tahia was starting to get restless from hunger, and Julie was too. So we decided to exit the freeway at some random exit in the town of Torrington. Then, we found ourselves at some corner deli that had a lot of people waiting for their order for subway sandwiches.
When we took our number and got our order, Julie and I were shocked at how thick the 12″ subs were here! The sandwich alone could've easily fed an entire family of 5!
I had to try to keep Tahia occupied while Julie was busy placing and waiting for the order. But Tahia still managed to damage a jar of capers after it fell to the ground. So I had to bring Tahia outside and keep her busy out there to ensure she wouldn't break anything more inside this neighborhood liquor store and deli.
We then got back in the car at 1:05pm, but with the subs being way too big to each like a normal sandwich, Julie decided to use a spoon and try to feed Tahia some of the Italian meatballs with the spoon while we still had to drive towards Kent Falls. It was still a good 30 minutes at least to get to the town of Kent so that was the reason why we had to just have this mammoth sandwich from Torrington.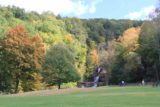 At 1:50pm, we finally made it to the Kent Falls picnic area. Unfortunately, the vehicle fee to enter the park was a colossal $15! Even for Connecticut residents, it costed $9 which was rather steep for a single-waterfall reserve. There were whole national parks that costed $20 and there was far more to see and done in those places.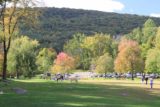 Nonetheless, we saw there were many picnic tables and a very wide lawn area that we knew would keep Tahia occupied while Julie and I tried to finish the super sub. It wasn't the most relaxing picnic lunch because there were some pretty annoying black gnat-like flies buzzing all around us. And even Tahia was annoyed by them.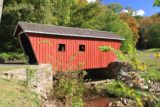 After Julie and I were thoroughly stuffed eating just the cheese and meatballs (leaving the soggy bread behind), we then headed towards the multi-tiered Kent Falls, which was clearly visible from the car park and picnic area. Once we got there, we took the obligatory photos, which seemed very friendly to tripod photos. We even used the device to take some family portraits in front of the falls.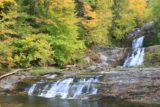 And after having our fill of this very busy section of the park, Julie and Tahia decided to linger here while I continued up a steep and stair-stepped trail leading alongside the cascading stream. And as I ascended further up the trail, I noticed there were more tiers of Kent Falls though most of these tiers were of the really tiny and inconsequential variety.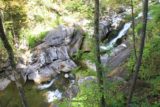 Lots of other people were also sharing the trail with me as well as the many overlooks. Most of the falls encountered were interesting, but they weren't anything particularly striking until I made it up to the uppermost pair of tiers which fell vertically and split into a segmented lower tier.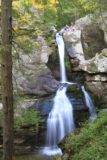 There were quite a few people chilling out at the very top of the falls, and I took my time taking long exposure photos while also using those people as subjects to convey the scale of this part of the falls. I was also trying to figure out how to use some of the changing fall foliage with the falls though the shadows from the sunny weather conspired to wash out or darken out parts of the photo. It was hard to strike a balance between the two zones.
I turned around and headed back down towards the awaiting Tahia and Julie once I made it to the very top of the falls where I saw there were even more people playing by the stream. I couldn't continued crossing the stream then taking the red and/or orange trail alongside the other side of the stream, but I opted not to do that though I did notice other people were trying to do that longer loop.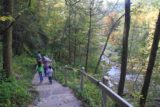 And by 3:40pm, we were finally back in the car. I had to make a little pit stop in the relatively clean bathrooms here (they'd better be for the $15 admission fee), and as I crossed over the creek to get back to the car after having done my business, someone pointed out that there was a snake on a rock besides the creek below the bridge.
And sure enough, when I looked below, I saw the curled up dark brown snake. Someone thought it was a water snake or a water moccasin, but I wasn't sure if they were poisonous or not. Whatever the case, it was a chilling thought considering that there were many kids and families at play here, and so it was a sobering reminder of how one needs to be respectful of the hazards that Nature can throw at you regardless of how friendly and inviting a place as developed and popular as this can be.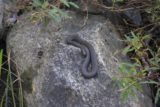 So we drove off and headed towards our accommodation for the night near the town of Norfolk, CT. We'd ultimately arrive in the town of Canaan where we made a stop at a grocery store at 4:20pm. While there, I kept Tahia company while Julie went in there herself to do some grocery shopping. When Julie came back, she was surprised at how much organic and farm fresh produce was available at this place.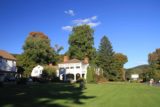 We continued on at 4:35pm, and barely ten minutes later, we finally arrived at the Blackberry River Inn somewhere at either East Canaan or the western end of Norfolk. The place actually looked like a pretty charming little spot, and we were glad that we were able to stay here because it seemed like everywhere else we looked in this vicinity, there was a two-night minimum stay on the weekends. This place let us stay for just the night.
So we got settled in and unpacked. I spent some quality father and daughter time swinging on the swing bench near the backside of the property. Tahia had fun, but I was mindful of the spider webs and how poisonous spider bites could put a damper on things if Tahia (or myself) happened to put her hands in the wrong place at the wrong time.
At 6:25pm, we drove east towards the town of Norfolk to eat at this place called the Infinity Music Hall & Bistro. It turned out that this was a recommendation from the receptionist at the Blackberry River Inn.
When we got there at around 6:30pm, we noticed that there were many cars parked here. There was one moment where someone pulled out in front of us to vacate one of the view marked parking spots, but a black SUV in front of us and well past this spot rudely backed up and backed into the spot just as we were making our move. Oh well, I knew that there was more street parking on the main highway in front of the Infinity Hall Restaurant so I didn't sweat this potential road rage incident.
But underscoring the many cars here, we knew that we might have a similar situation to yesterday at the Rock House Grill in Orleans where the wait was an hour or so. But when we walked in without reservations, we were fortunate to have gotten a small table to fit the two of us plus Tahia in a high chair.
Julie and I noticed that the Infinity Hall was established in 1883. In fact, the town of Norfolk itself seemed to be a charming little piece of history in the woods of northwestern Connecticut. Indeed, New England seemed to be full of historical places like this, and it further reinforced the whole heritage and historical theme that started right off the bat in Boston and continued in Cape Cod and onto this part of the trip.
In any case, we were stuffed with our mains of crab cakes and pork ribs with pork belly. Tahia seemed to get a lot attention from the waitress as well as other passerbys. Tahia ate most of her plate of stuff that we gave to her (she had no choice but to eat what we were eating on this trip), and by about 7:45pm, we left the Infinity Hall and returned to our accommodation.
And so ended this rather long day where nearly seven or eight hours of it was spent driving across three states (Massachusetts, Rhode Island, and Connecticut) as well as several more interstate highways. But such is the activity of waterfalling sometimes as the most scenic places in the world often require a bit of driving away from civilization to reach. So here we were in the Appalachian Mountains where most of the New England Waterfalls were to be found on this trip, and we were about to embark on several consecutive days of this type of waterfalling and driving until we'd reach Bar Harbor in Maine's Acadia National Park.
Visitor Comments:
No users have replied to the content on this page