Day 5: SERENDIPITOUS FIND
It was 6am when I awoke to my alarm clock. Both Tahia and Julie were still asleep and it was still dark outside. That said, I was starting to see daylight starting to pierce through the darkness, and it looked like it was going to be another clear day.
So I took my time brushing my teeth and getting started on the day. I managed to finish packing my own belongings then loading up the car by 6:30am. And through all that, nobody woke up. So as planned, I went out to do a quick Campbell Falls jaunt before the 8am breakfast at the Blackberry River Inn.
After driving in the darkness of dawn, I eventually headed towards Norfolk, then headed north along Norfolk Road (Route 272). After going about four miles on this road, I then saw small signposts for Campbell Falls veering to the left.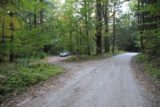 Once I got on the Campbell Falls Road, the road became unpaved but fairly smooth. At first, I must've missed the car park and trailhead for the waterfall because I noticed that the GPS said I was there, but as I couldn't see anything obvious that I was expecting to be a car park and trailhead. So I kept going.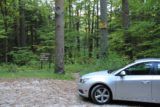 But after a few minutes more of fruitless driving through forest, I turned around and backtracked to where the falls was supposed to be. And it turned out that there was a narrow clearing between a bunch of trees, and that was where I was supposed to be.
So I arrived at 6:50am to a rather frigid and partially foggy morning. I could hear some birds calling in the distance, and the darkness was continuing to give way to the light of the sun that hasn't quite breached the tops of the surrounding mountains.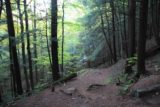 I got my camera, a bottled water, and a tripod, knowing that the New England Waterfalls book said this was a friendly waterfall for photo buffs.
So onto the trail I went, which prompty descended and curved amongst some tall trees.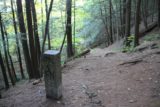 I could hear the waterfall getting louder the lower I went, and on what appeared to be the final descent to the base on the rather wide dirt path, I saw a small concrete pillar that turned out to be a state border marker.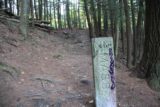 Apparently, the falls was on the Massachusetts side while I was coming in from the Connecticut side. This was made apparent as the side of the pillar facing south said "MASS" while the side of the pillar facing north said "CONN".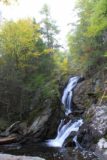 Anyways, once I made it down to the bottom, I could see that the two-tiered twisting waterfall was indeed attractive. It was probably at least as attractive as Kent Falls, which we saw yesterday. However, instead of being many cascades, this one had a more dramatic drop.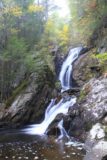 And given the low light of the morning, I had no choice but to use the tripod to ensure that I wasn't shooting at a ridiculously high ISO or that the shot wasn't going to blurry if I did try to shoot with a more reasonable ISO. Of course, that meant that all of my photos of this falls would pretty much be in long exposure.
After taking photos of the pair of falls twisting against one another on their descent, I noticed there was a somewhat reasonable scramble against the rock wall that allowed me to ascend above the lower waterfall and have a closer look at the taller upper tier.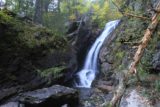 Once again, the lighting was too low for steady shots without a tripod, but I didn't bother bringing the tripod on this scramble. So I had to use one of the tall rocks here as sort of a steadying camera hold to take the roughly 1/2-second to full-second exposures of the falls.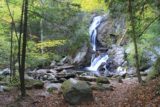 It was about 7:40am when I decided that it was time to head back up to the car. I had in my mind to return to the Blackberry River Inn by 8am, which would be in time for the included breakfast at the bed and breakfast.
It was about 7:50am when I finally made it back to the car. The New England Waterfalls book said that it was about 0.2 miles each way on this hike, but I swore that it probably wasn't as long as that given how short the ascent was.
Anyways, I managed to get back to the Blackberry River Inn at 8:05am. And when I got back to our room, I was surprised to see that Julie was still in pajamas and Tahia was still sleeping! Since breakfast was supposed to be done at 9am (or at least we were told they'd stop serving by then), we had to make sure that we finished our packing and get to the breakfast room in time.
And after all the errands were done, we managed to get into the breakfast room at around 8:30am, just after I loaded up the car with our belongings.
The breakfast was pretty much standard stuff consisting of a choice of omelettes, eggs, pancakes, and toast. There was also some cereal. But at least this breakfast was much more decent than any of the breakfasts that we've had on this trip up to this point.
The worker reminded me of the guy on the Social Network movie, who we suspected was European given the way he spoke English. He seemed to be overworked as he was the lone guy running the breakfast and just about all the tables in the immediate room were occupied with customers.
So we knew that the service would be slow, and we kind of helped ourselves to the drinks and other things for those things that we didn't need him to bring out to us. I think he even had to tell some of the guests to wait when they showed up closer to 9am as he was simply too swamped.
We eventually left the keys and drove off at 9:30am. I left the Social Network guy a $5 tip since gratuities weren't included, and I figured he was overworked anyways.
The GPS made me think that getting up to Bash Bish Falls was going to be a piece of cake. Apparently, it was only supposed to take around 30 minutes or so to get there.
So we followed the GPS going north on Route 7 leaving North Canaan and eventually veering off the highway at Berkshire School Road. It seemed like a rather random road to be taking, but when I saw that the paved road was indeed the shortest path without having to go all the way north to the Route 71, we then headed north on Under Mountain Road before joining up with the Route 23 heading west towards New York.
But as we were on the Route 23, I saw a small brown sign indicating that Bash Bish Falls was 6 miles left turn on Jug End Road. So we went ahead and followed the sign (disobeying the GPS which had us go all the way to Route 22 on the New York side).
However, as we followed this road, apparently I went the wrong way after going straight at a four-way intersection. When I realized that we were eventually going to go back to the Under Mountain Road, I turned around and turned left when I returned to the four-way intersection to go onto Mt Washington Road.
Part of the confusion was that there was a sign indicating some State Forest but it pointed in two directions. The way I took originally seemed to suggest that it was valid.
In any case, we not went on some more rural roads curving around to the south until we'd eventually get onto Hatch Hill Road, which ultimately joined up with East St. In a rather worrying development, we encountered a white sign suggesting that Bash Bish Falls was still another 6 miles. But wasn't there a sign saying it was already 6 miles back at the Jug End Rd turnoff from Hwy 23?!? Clearly one of these signs was wrong!
Then, we turned right to get onto Cross Rd, which then went onto West St. As the Bash Bish Falls signs showed the remaining distances were getting smaller, at least I felt better that we were on the right track.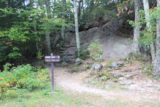 Eventually, we were on the Falls Rd, and finally by 10:30am, we made it to the Bash Bish Falls car park. Indeed, what probably should've been 30 minutes or so turned out to be an hour.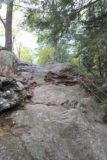 Anyways, this excursion looked like it required at least a 0.4-mile hike in each direction to the falls, and the terrain looked like it would involve a rather steep descent. So we got out the child carrier and got Tahia loaded up.
I briefly made a steep scramble past a sign indicating that there was a scenic vista near the car park. There was no way I would take Tahia on this rugged path so I made haste to get the vista on my own then get back down to the car park.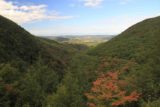 Well, the vista was quite nice though there were some clouds above us that casted shadows on the V-shaped landscape.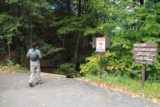 Immediately upon my return to the car park, I strapped on Tahia in the child carrier, and Julie and I promptly made our steep descent on the trail to Bash Bish Falls.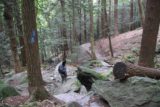 The descent seemed to be somewhat long, especially with me carrying precious cargo on my back and waist. And when we went down the last flight of steps, we saw straight away that there was a wider trail that seemed to follow along the river responsible for Bash Bish Falls.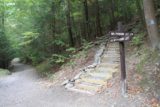 There was a sign at the base of the steps pointing in two directions. The path along the river said "NY Parking Lot". The path that we had just taken said "MA Parking Lot".
That was when Julie and I realized that we had probably taken a much more difficult path as it was steeper even though it was shorter. At least it did offer the chance to get a nice vista.
On the flip side, the NY path was all along the river, and it seemed to be much more family friendly. Even though it was said to be 0.75 miles in each direction instead of 0.4 miles in each direction, it was probably a case where distances were deceiving.
Anyways, what was done was done. Now, it was time to enjoy the segmented waterfall, which was beautifully situated beneath some trees with fall colors while the pool below the falls seemed to have a deep emerald hue.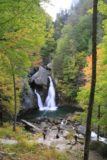 There were already quite a handful of people enjoying this waterfall, which attested to its popularity. Tahia seemed genuinely happy to see this waterfall. So Julie took Tahia out of the carrier and they went down to the base of the falls together, where Tahia seemed to enjoy petting a dog who was brought here by its owner who had already made it here before us.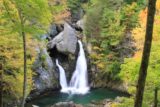 Shortly after I joined them, the sun started to peek away from the clouds and that wreaked havoc on our photos as we were pretty much looking against it towards the falls. So the photos had to wait until the clouds would cover up the sun again.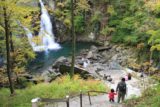 And given all the waiting and the urge to photograph the falls from as many different positions as I could imagine, we'd finally start heading back up to the car park as the next wave of people started to show up.
As expected, the hike back up to the upper car park was strenuous with Tahia on my back. It wasn't until 11:55am when we finally made it back to the car park. I was sweating bullets thanks to this workout, and it took me some time to get into the car to start the ignition and turn on the AC.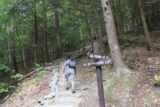 In the mean time, I was fighting a few mosquitoes outside the car while Julie was changing Tahia's diaper and giving her the veggie straws that she promised her. We also had to check each other for deer ticks since we saw a sign saying this place was deer tick habitat. After having gone through two tick bites in the past, we were taking any chances at not checking before taking off.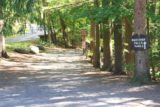 So as we drove off, this time we followed the GPS. Actually, we also had the Hertz Never Lost navigation system on as well. But for the initial part of the drive, they agreed with each other in that they had us drive west into the state of New York, then going north for quite a ways on Highway 22, which took us through what appeared to be the rolling hills of Berkshire Valley.
Julie was paying attention to the windows of many of the houses that we saw while driving this highway, because it gave her some ideas and inspiration on how we ought to be doing (or should have done) windows on our home. In fact, this was yet another example where it seemed like she got her ideas and inspiration from our travels, where we'd like to integrate them into our lifestyle.
So it wasn't until we got to somewhere around New Lebanon Town that the two navigation systems started to disagree with each other.
Our Garmin unit had us continue north on the Hwy 22. Meanwhile, the Hertz unit had us turn right and go onto Route 20 into Pittsfield. We ultimately decided on going with the Hertz navigation system since we trusted that it might be more up-to-date than our Garmin (after all it was more correct when we were navigating through Cape Cod earlier on in this trip).
Yet as we were doing this, our GPS claimed that the arrival time went from 1:15pm to 1:30pm. Somewhere its suggested route was 15 minutes shorter?!?
Well whatever the case, we went through the rather large town of Pittsfield (and its many traffic lights) before we followed a long caravan of cars into the town of Adams.
Eventually, we'd end up in North Adams, but we decided that perhaps we should look for a place to eat first before checking in. After all, the lunch would be late again.
But as Julie's iPhone took us on some roundabout routes to get to the main part of town, we lost even more minutes, and when we saw that there was a Sunday market that closed off half of Main Street in North Adams, we decided to just go to the Holiday Inn and check in before grabbing a late lunch.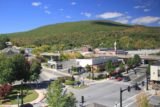 So after 2pm, we finally checked in and dropped off our luggage in what turned out to be a rather spacious room. It was probably the most spacious room we stayed in on this trip so far. When we looked out the window of our room, we could see that the hills backing North Adams were starting to explode with Fall colors. It wasn't quite there yet, but flashes of our Southern Appalachian road trip last year were coming to mind.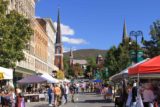 Anyways, after doing that errand, we walked into town where we decided to eat at this place called Medi Terra. But before going into the restaurant, I tried to soak in the atmosphere of this Sunday Market, where it was nestled in the center of North Adams, which turned out to be a surprisingly charming town, especially as this street faced several churches with tall steeples as well as some historic-looking line of buildings alongside Main Street itself.
Indeed, North Adams was supposed to be a logistical stopover point for us when we planned out this trip. Who knew that it would be such a serendipitous find!
Anyways, we promptly had the Mediterranean style food for lunch, but this place also looked like it was understaffed as the waitress was doing the cashier duties as well as the waiting on her own while the pair of dudes at the kitchen were working on preparing the foods (and probably getting orders wrong given what I overheard from the waitress' exchange with them).
So the food came out slow (and they got our appetizer order wrong), but since we were running out of time on this day, we just hastily had our lunch and finally left the joint eventually returning to our car at 3:15pm.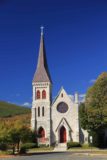 But before we would continue on to go to the Natural Bridge, which was the next attraction for the day (and it was closing at 5pm), Julie needed a new pair of shoes since the ones she brought were falling apart (the soles were coming off at the bottom).
So after making a stop at the town's mall (which happened to have yet another church sharing its parking lot), we finally headed out at 3:35pm.
As the GPS guided us towards the Natural Bridge, it eventually took us towards a road that didn't exist. So after that fruitless detour, we followed Julie's directions on her iPhone, which ultimately got us to the car park for the Natural Bridge at 3:50pm.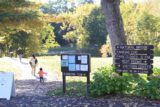 After paying the $2 parking fee, Julie, Tahia, and I all followed the signs towards the Natural Bridge. But along the way, we checked out each interpretive sign explaining that this place was once known for having a marble quarry.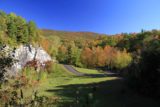 And this abundance of marble here was quite apparent as it was on the trail itself, we saw a large wall of marble (probably the quarry site) from one of the overlooks, and there was even a man-made dam of marble, which caused a waterfall that ultimately spilled further into a narrow gorge that had even more mini-waterfalls surrounded by fluted cliffs and potholes that were typical of slot canyons.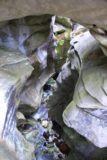 We took our time exploring the premises while also keeping a watchful eye on Tahia to make sure she wasn't in any excessive danger of falling into the steep gorges here. Somehow Julie got Tahia into picking up leaves and tossing them through the holes in the fences to see how far they'd float their way down into the gorge below.
Plus, the abundance of marble here also inspired Julie in terms of the material to use for kitchen and bathroom counters. It's funny how these things become relevant when other aspects of your life have to do with it – kind of like noticing Toyotas only after having bought one.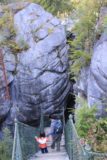 When we saw the natural bridge, which was the only one in the country that was made of marble, we found it rather difficult to photograph despite there being viewpoints on both sides of it. We couldn't get that meaningful shot where there was sky behind the span of the arch to provide definitive proof in a photograph that it was a bonafide natural arch or bridge.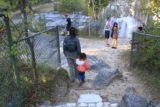 As the shadows grew longer and the employee reminded the remaining visitors of the park's pending closure for the day, we returned to the car at 4:45pm. I'm sure the vistas here would've been nicer without the shadows, especially since many of the hills here were showing brilliant orange and yellow hues with a hint of reds in some patches.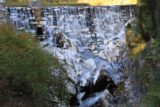 At 5:05pm, we were back at the Holiday Inn. I took some time to self-tour North Adams by foot, especially as I tried to see if there were photo ops along Church Street, which was aptly named as there had to have been at least four or five big churches on this road, including the two flanking Main Street.
I then walked towards the gastro-pub called Public, and when I noticed that they were open and it was walking distance from our room, I returned to our room by 5:50pm, and shortly thereafter, we all walked back into town as a family by 6:15pm.
We ended up having some salmon, chicken tenders, Autumn bisque, and an ice cream sandwich of chocolate chip cookies with fudge toppings and whipped cream. Julie also got an apple cider that she contended might have been better than the Brittany/Normandie applie ciders in France due to the sweetness of the one we had.
In any case, this was probably the best meal we had had on this trip. Indeed, it seemed to be working out that North Adams and other aspects of the trip around here were working out for us. Hopefully, this wouldn't mean that the trip would peak from here on out though we had no reason to believe it should work out that way (though the weather could do much to mess that up quickly).
At 7:30pm, we were back in the Holiday Inn. And so ended this day where we were well into the momentum of waterfalling New England. Tomorrow promised to be a bit more intense as we intended to bag at least three waterfalls and possibly even a fourth time permitting. But given how traveling with a kid conspired to slow things down a bit, we'll see how much might actually get accomplished…