Day 6: A STOP WE NEVER SAW COMING
It was 6:15am when I awoke. Once again, it was dark, but I could see out the window that daybreak was definitely coming out as the dark skies were starting to turn from black to dark blue.
Based on yesterday's experience, I knew that I could be out the door in less than 30 minutes. And after going down the elevator followed by a pair of people in work clothes asking the obvious question if I was hiking, I got into the car with my gear and headed out while Tahia and Julie were still asleep by 6:40am.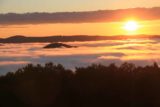 The GPS indicated that it was only about 8 miles from North Adams to the falls, but I was a little surprised to see that it would still take about 30 minutes to get there despit the short distance.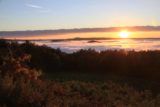 As I was headed east on highway 2, I got to the town of Florida by this place called Eastern Summit by 7am. While there, there was a pullout by a business or something with a lookout facing east right towards the glowing orange rising sun above some rolling misty hills draped in fog below. It was one of those picturesque scenes that can only happen for those who get up early enough in the morning to experience it (weather permitting of course), and it already made me glad to take the initiative to do the Tannery Falls hike this early morning.
About ten minutes later, Highway 2 descended and curved as it got to the very easy-to-miss Black Brood Road turnoff at the very base of the descent. Unfortunately, there were concrete barricades erected that blocked further progress, and it was clear that the road was closed.
Since the New England Waterfalls book placed Tannery Falls amongst its top 10 of the New England region, I figured it was worth the effort to find another way around the closure to get there. I had recalled earlier on in the drive just east of North Adams that there were brown signs pointing the way south to Savoy Mountain State Forest. So I figured I should at least go back to that turnoff and try my luck going towards the falls.
Of course, this put me in a little bit of a bind because I had left Julie a note before I left promising to return by 9am. It looked like the drive to get there might be at least another 30 minutes or so, and I wasn't sure if I would require another hour or so of hiking.
Anyways, I backtracked to what turned out to be the Central Shaft Road. The road went through a bunch of residences mixed in with woods with changing colors on the foliage. Then, I had to leave the road to take New State Road which was still paved but was riddled with some deep potholes so that forced me to slow down a bit or risk getting a flat tire.
Then, the paved road gave way to unpaved road, but it was fairly smooth (or at least it was easier driving than the paved potholed New State Road). Apparently, the unpaved road coincided with my entry into the Savoy Mountain State Forest. So I knew that I must be getting close.
Then, the GPS had me turn left onto Tannery Falls Road. While the road had a promising name (indicating to me that I was indeed in the right place), the kicker was the road was unmaintained. Boy did I hope this falls was worth it because those two words scared the heck out of me, especially since we were driving a rental without the insurance through the car hire company (and we were still wondering if the Hertz in White Plains, New York would recognize the markings by the inspector at Hertz, Boston Park Plaza indicating that this car was full of dents and obvious scratches on top of the nicks and chips before we even started our rental).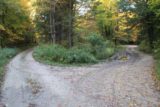 Anyways, I was somewhat comforted by the fact that it was about a two-mile drive on this unmaintained road. But there were already some hairy moments where rocks were jutting out of the narrow road that seemed more suitable for ATVs. Plus, there were some water-damaged spots on the road that forced me to inch very slowly to avoid scraping the undercarriage of the car.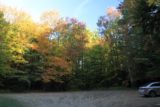 Mercifully, I eventually made it to the car park for Tannery Falls at 7:45am. At first, I wasn't sure about the clearing that I saw near a bridge, but when I did a little more exploring then doubling back, that was when I saw a Tannery Falls sign, which was only visible coming in from the east. Since I was coming in from the west (heading east), I guess that indicated to me that Tannery Falls wasn't typically accessed by the route that I took.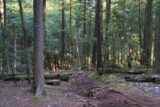 So with my gear and camera ready, I promptly followed the blue blaze marks painted on selected tree trunks marking the route. Even initially, there seemed to be some false trails so it wasn't at all that obvious which was I was supposed to take, but I eventually followed a somewhat obvious path that descended alongside some wooden fences skirting one of the streams with a handful of small cascades.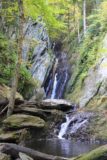 It also seemed like there was another creek on the other side of the descending trail so indeed it was as if the trail was descending a sloping ridge splitting a pair of brooks (one of them being Tannery or Ross while other one was probably Parker).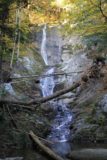 When I finally made it down to the bottom of the descent along a combination of sloping dirt and stair steps, I was surprised at how quickly I saw one of the tall cascades that appeared to be on the Parker Brook. This one was a multi-tiered cascade that was thin, and from recalling the description in the New England Waterfalls book, I concluded that it must've been the Parker Brook Falls.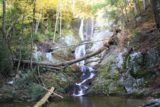 Just a steps beyond the end of the stair steps, I then saw a more substantial (but not by much) waterfall that was steeper and had some rock cairns on some flatter rocks beneath some fallen logs. I presumed that this must've been the Tannery Falls, and I wondered if there were more cascades further downstream because while it was pretty, it didn't seem significant enough to expect that it was a New England Top 10, which the authors of the book claimed this was.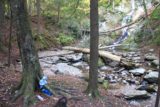 So I continued a little further downstream since I saw some trees with blue blazes on them on the other side of the Parker Brook. But at that point, I didn't see any more trees with blue blazes and the trail was definitely less defined (because apparently they weren't really trails to begin with).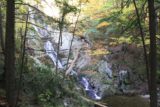 So after a few more minutes to convince myself that I indeed get to the end of the hike, I then headed back up towards the car. And by the time I returned to the car park, it was 8:35am.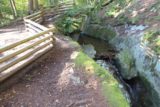 There was still the drama of trying to get out of the Tannery Falls Road unscathed, but I was already thinking that this falls wasn't worth the trouble to get here. Perhaps it was the somewhat low flow that made my experience underwhelming compared to what the authors of the New England Waterfalls (NEW) book might have experienced.
Well whatever the case, it was now time to return to North Adams and pick up Tahia, Julie, and all of our belongings. There was going to be a pretty long drive ahead of us, so it was imperative that I got back to North Adams as close as possible to the 9am promised time (knowing that I would probably be going over that time but hopefully not by long).
After going through more hairy moments on the Tannery Falls Road, I then turned left (as the GPS had me taking a different route back), and I eventually got to Adams Road, which then got me into the center of that charming town before I then headed north on the Highway 8.
By about 9:15am, I returned to our room in the Holiday Inn at North Adams. Julie and Tahia still weren't all packed up and ready to go, which was disappointing, but I did finally have a breakfast of bagels and grapes.
It wasn't until about 9:45am that we were finally all checked out and ready to go.
The drive out of North Adams, Massachusetts to Bennington, Vermont was pretty uneventful other than we made a stop at a Wal-mart in Bennington so Julie could pick up more diapers for Tahia while also getting her Play-Doh to keep her occupied. We got there at around 10:25am, but we didn't leave until 10:45am because Julie couldn't find a single can of Play-Doh and she didn't want to overbuy packs of four cans. So she ended up getting some kind of putty for her, but it was sticky and got on Tahia's car seat as well as her blanket, and it was very difficult to get off. So we considered this purchase to be a waste of money and time.
Anyways, the drive continued uneventfully as we headed into the rather large town of Rutland, Vermont at 11:45am. Since we had already been sitting in the car for a couple of hours, we got Pannera Bread as a takeaway lunch.
Then, we continued driving north on a combination of Highway 7, then Highway 4, then Highway 100. Most of the driving on these highways were on two lanes and we found ourselves behind slower drivers (especially trucks) while on the VT-100 with limited opportunities to pass.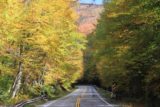 On the bright side, we were passing through more rolling valleys with some prevalent Fall colors, which Radio Vermont was confirming was peaking in the northern parts of the state, which was where it seemed like we were in. So indeed, whatever we were seeing around us that reminded us of last year's Southern Appalachians trip was coming alive on this trip here on the last week of September.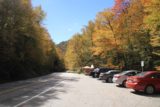 Finally at 12:45pm, we made it to the Moss Glen Falls by the town of Granville, Vermont. We knew from our pre-trip research that this was a roadside waterfall, but this break couldn't have come at a better time because by now, we had been in the car over three hours!
So all of us were eager to check out this falls. We got out the car, checked out the Fall colors flanking and hovering above the VT-100 road right besides the car park for the falls, and held Tahia by the hand so we could make the short walk to the falls.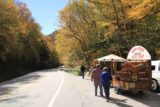 After passing by someone who had set up a stand to sell maple syrup (seemed like everyone was selling this stuff these days), we got onto the "unmaintained" boardwalk, which seemed like it was in pretty good shape.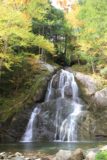 There was some signage near the start of the walk with a hard-to-see cascade deep in the overgrown shadows in the distance that looked like it ought to get a better lookout than it currently had, but it was obvious that the path continued for a few more paces to its end.
And as we got to the end, we could see the attractive Moss Glen Falls, which was technically visible from the VT-100 itself. However, in order to see that, one would really have to slow down and pay close attention because it wasn't like it was wide open to the road given the trees in between the falls and the road.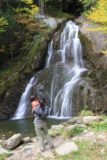 Anyways, there was a guy here with a tripod taking photos from the platform. He kind of had the best viewing spot so I had to take my shots around him.
Then, I saw someone go around the viewing deck and onto the rocks fronting the falls itself. So I took that as a cue to do this myself and get even more frontal views of the falls. Now since I didn't bring a tripod, I had to do my best to hold my breath to make the falls silky, but I also wanted to capture the Fall foliage colors around the falls as well.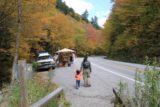 Tahia was enjoying herself though we had to keep a close eye on her so she wouldn't take a hard spill onto the hard rocks and the uneven footing. Clearly she was oblivious to the inherent dangers here.
At 1:15pm, we were back in the car. Now with our legs all stretched out and with our spirits somewhat recharged, we now had to make the last bit of the long drive to get to Stowe, Vermont. That was where we'd be spending this night.
Of course, there were still some local waterfalls around Stowe that we wanted to visit before continuing on to New Hampshire tomorrow, and that meant getting to Stowe earlier than later would mean we wouldn't run out of time and/or energy to bag those falls.
But then as we were continuing north on the VT-100 towards the town of Waterbury, we stumbled upon a Ben & Jerry's factory. It was a good thing for Julie that she didn't have her eyes buried on her e-reader because when we noticed it, she immediately had me turn around and make a spontaneous stop over there.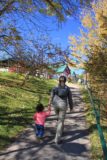 I never in my life thought I'd give up waterfalling for a poor-man's Willy Wonka-like tour for Ben & Jerry's Ice Cream, but that was exactly what we did.
So we stopped over there at 2pm, and apparently there were many other people thinking the same thing because this place was quite the busy place.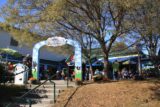 We showed up in time for a 2:20pm tour of their factory. So while we waited for the tour to get started, I took some photos of the main eating area as well as some of the surrounding Autumn colors. Clearly, this part of Vermont was getting the peak explosion of Fall colors.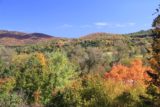 And when the tour began, we were brought up to some movie room to watch a 7-minute movie. Everyone knew Tahia would get bored with the movie, and sure enough, she managed to talk over the movie quite a bit.
I guess I didn't mind it so much because I didn't feel like being fed some corporate spiel about CSR (Corporate Social Responsibility) whether true or not because I knew in the grand scheme of things that it didn't amount to much until the rules of the game changed so the natural acts of those who played by the rules would naturally do environmental and social responsibility as a result of the forcing function of the basic rules that would've reflected those values that everyone would've collectively agreed upon.
At least the story of Ben & Jerry's was interesting.
After the movie was over, we then went to some viewing area above the factory floor, but there really wasn't much to see there unless you were genuinely interested in how ice cream was made.
Personally, I did find it interesting in that the quality of ice cream was more of a function of how much air was in the ice cream as well as the size of the ice crystals. That was pretty much the reason why leftover ice cream wasn't quite the same as when it was new, and that was why B&J's only sold pint sized containers.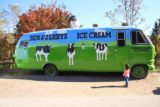 Anyways, the tour then ended with a tasting, and it wasn't a dinky tasting. It was actually a small cup of some seasonal flavor that wasn't available on the market due to this seasonality. It was some kind of cinnamon and chocolate flavor that we never had before, and I guess that alone helped with the price of admission of $4 per adult.
At 3:20pm, the tour was done, and we bought ourselves a cup of ice cream from the main entrance area. And so ended our time here, which I never thought I'd ever do, especially since I don't really eat Ben & Jerry's ice cream.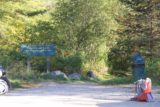 Finally at 3:45pm, we checked into the Stowe Motel where we prompty dropped off our luggage, and then headed back out 15 minutes later to see at least one waterfall before it got dark.
By about 4:15pm, we got to the car park for the Moss Glen Falls at Stowe. It was funny that we happened to be seeing two waterfalls with the same name in the same state on the same day.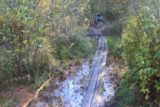 Well, with this one, we needed the child carrier, and then we walked about 10 minutes or so on a makeshift boardwalk to keep us from slogging through a swampy and boggy terrain. Then, after briefly following the stream, we made a steep climb up to some kind of ridge with a view down towards the Moss Glen Falls itself in its narrow and shadowy gorge.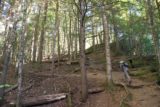 There were a couple of guys sitting by the choicest viewing spot speaking French, except it must've been Canadian French because there was something different about the way they spoke the language that I couldn't quite put my finger on it. I guess now I could better understand why one of Julie's cousins who lived in Paris could detect the difference.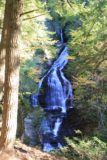 So that kind of made things a little awkward to take photos and enjoy the scene because it almost felt like we were intruding on their conversation even though they didn't own the spot. There also wasn't much real estate on the narrow ridge so it made things a little tricky for people to go around and through.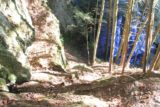 In any case, we were content to get our glimpse of the falls from here as we saw that the steep descent to get to the base of the falls looked way too dicey to even try.
There was also no way I'd drop the pack and let Tahia roam free as this place was full of dropoffs all around us.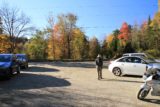 There were also some families that kept going up the ridge towards the top of the falls. And as much as I was tempted to go do this, I was carrying Tahia on my back, and I knew it was be strenuous to continue the climb with that weight on me.
So in the end, we returned to the car at 4:55pm, and we knew at this point that we pretty much would call it a day in terms of waterfalling. I did want to do Bingham Falls, but that would have to be for tomorrow morning time permitting.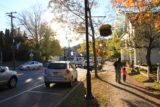 At 5:05pm, we decided to park on Main Street and just randomly walk around this historical block just to soak in the historical charm of Stowe.
But after a brief visit to the visitor center, we got a recommendation to try out Harrison's which was just two doors down the block. The other recommended spot was up Mountain Road, and it wasn't within walking distance.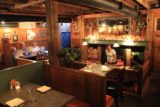 So managed to have an early dinner, which consisted of Apple Cider Chicken as well as some kind of Ahi Tuna, and Tahia got some crab cakes. The meal was pretty good, and we left pretty satisfied.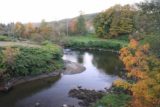 When we left dinner, the activity in this part of Stowe was dying down as the sun had already set. This was probably a very good time to take photos given that there was still enough light without a need for a tripod, but there was also colors from inside lighting from buildings needing to illuminate the darkening interiors. So I went ahead and took advantage of this while Julie and Tahia headed straight for the parked car.
So in the end, we got back to the car at 6:40pm, and less than 10 minutes later, we returned to the motel to call it an end to this very long day.