Day 7: WATERFALLING THE WHITE MOUNTAINS
Julie and I awoke at 6:45am and the light was definitely out at this time. And there was enough light to notice that we were surrounded by fog, which was predicted by the weather reports we chanced upon while listening to the radio while channel surfing during the long drives.
Anyways, roughly an hour later that we finally got Tahia to wake up. This was significant because while I had originally hoped to visit Bingham Falls this morning, I finally decided that perhaps we should just go straight to New Hampshire and continue our waterfalling there after having our included continental brekkie.
I wasn't sure if this was a decision that I would regret (especially since our Vermont collection of waterfalls consisted of only a pair of waterfalls with the exact same names), but I figured there were bigger fish to fry so-to-speak in New Hampshire.
So it basically became a decision where I'd much rather go see the more impressive (at least according to the trip research) waterfalls in New Hampshire than chase smaller ones even though Bingham Falls was less than 6 miles from our accommodation in Stowe, Vermont.
Our continental brekkie was pretty much do-it-yourself muffins and cereal. Tahia was behaving and eating her breakfast, and while she was at it, she definitely attracted quite a bit of attention (probably from her cuteness) from both staff and other guests in the brekkie area at the time. Nonetheless, it wasn't until 8:40am when we had finally left the motel.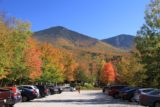 The drive out of Stowe and towards the Flume in the Franconia Notch State Park (part of the White Mountain National Forest in New Hampshire) was pretty uneventful. The weather was a mix of early morning fog before it had burned off for good the closer we got to the car park for the Flume.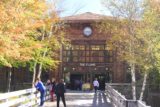 At 10:35am, we made it to the car park for the well-signed Flume, and it was amazing to see the car park as busy as it was for a Tuesday morning.
Well, we could easily see why as the car park was surrounded by beautiful Autumn colors that appeared to have peaked (or at least be very close to it). The temptation was great to keep trying to capture such a mosaic of colors juxtaposed against the cloudless skies at every opportunity we got (including the car park).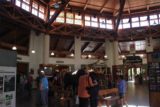 After entering the visitor center, we strapped Tahia into our child carrier, brought some bottled water with us, then paid the steep $15 per adult admission price to get through to the backside of the facility and start the hike.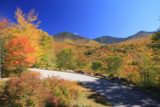 Even behind the visitor center, there was a vista of gorgeous fall colors on the mountains immediately before us.
The well-signed trail lead us on a paved path towards a glacial boulder next to a three-way junction.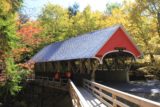 We turned right at the junction where the trail descended towards an attractive covered bridge. Apparently, this was a very New England thing though it might have some functionality to shield bridges from snow or other weather effects conspiring to weaken the bridge even quicker without this intervention.
After the bridge, the trail briefly climbed past another structure that looked like it housed a gift shop or museum of some sort while also serving as the other end of the shuttle bus (shuttling between the back of the visitor center and this building), which we didn't take.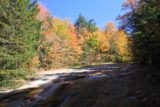 Not long afterwards, the path continued climbing alongside a stream featuring a sliding cascade at a spot known as Table Rock. It was one of those things that was pretty cool to experience in person, but the photos simply didn't do it justice.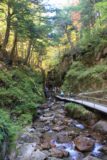 Towards the top of this sliding cascade, we saw some rocks that were seemingly strategically placed, and that the stream ran over these rocks while being briefly kicked up into the air. In other words, there were waterwheels (albeit miniature ones) that was quite an unusual sight here.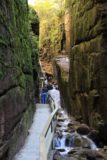 Continuing on with the hike, the path then entered a narrowing gorge where the path that was once alongside the stream now started crossing it over bridges. It then got to a point where the bridges persisted as the path was pretty much above the stream while hanging on a ledge.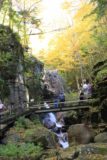 It was here that we thought the scenery was very pretty but not easy to photograph given a combination of the low light and the awkward positioning to take photos. Add to that the high traffic on this trail along with the narrow path themselves, and I found myself frequently holding people up behind me as I was trying to take photos.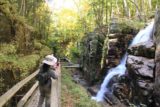 Towards the head of this narrow gorge, there were stairs that climbed alongside a 40ft or so waterfall.
Once at the top of the steps, there were more ledges and bridges revealing more cascades further upstream.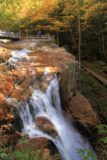 And then as we continued further up this boardwalk past these attractive but tiny cascades, there was a slightly uphill straightaway going right in front of the main waterfall of this section known as Avalanche Falls.
Again, it wasn't an easy waterfall to photograph so we had to get a little creative with the composition while also not holding up the traffic.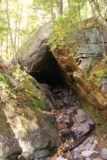 Just as the boardwalk was curling around to its end, we saw there was a cave signposted "bear cave". It was interesting, and we wondered if bears would use this cave as shelter for their hibernation during the winter months.
Before continuing on with the trail, there was a bit more boardwalk taking us right to the top of Avalanche Falls. So we briefly chilled out here to take photos before we started to hold us the next wave of visitors politely waiting for us to vacate the premises.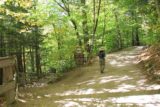 Next, we walked along the so-called Ridge Trail. We weren't sure why it was so named because it didn't feel like we were on a ridge. We pretty much were in a forest setting and the trail seemed to be descending overall.
Eventually, we got to a bridge crossing over the Liberty Cascade. At first, this seemed to be a rather underwhelming cascade as it wasn't photo friendly from here. However, as we continued walking, we could see that there was a signposted spur path leading down some steps towards a small lookout directly at the most attractive part of the Liberty Cascade.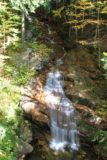 Much better!
After having our fill of this cascade, we then followed the trail towards a lookout for the so-called Pool. From up at this vantage point, it was all about juxtapositing the dark surface of the pool below with some Autumn colors.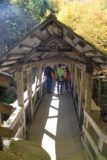 Then, we descended towards the so-called Sentinel Covered Pine Bridge, which was an uncolored covered bridge spanning across the gorge containing the Pool.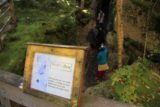 After the bridge, we saw that there was a one-way trail going into the Wolf Den. It looked like there was absolutely no way I could go in there with Tahia on my back in the child carrier. So we passed on it.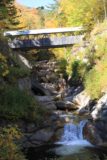 Then, we took a spur path leading down to the Pool again, but this time, we noticed that there were signs showing drawings displaying a cascade fronting the covered bridge we had just crossed. So based on that drawing, we figured we mind as well check out this spot even though it meant going downhill and then back uphill again after having gotten our fill of the view.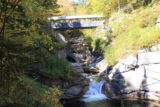 The problem was that I was getting a little tired carrying Tahia all this way, but then again, I just sucked it up and figured I could worry about recovering from this hike at any time. But seeing sights you don't often see, that was too precious to pass up.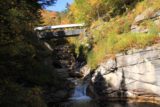 And sure enough, when we made it to the lookout, we pretty much saw a live version of those drawings. The only bad thing was that there were shadows kind of making photography here not that great despite the scenic juxtaposition of falls and bridge.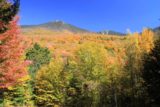 Tahia was also fussing as she complained she was getting tired, and we also figured she might have also been getting hungry since we had been on the trail well over an hour at this point.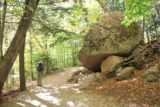 Next, the trail started climbing again. I had operated under the assumption that we'd be descending all the way back down to the visitor center via this Woodlands part of the trail. So this fairly surprising climb was a bit demoralizing, especially since I was carrying Tahia's weight.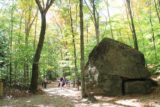 But eventually, we got to the final descent, then went past the familiar boulder at the three-way junction, and by 1:20pm, we were eating a pretty greasy lunch at the food court in the visitor center.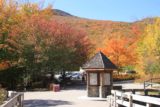 By 1:45pm, we were back in the car. Next, we'd be driving on local highways instead of the interstate as we took the Hwy 112 over a pass, and eventually towards Sabbaday Falls.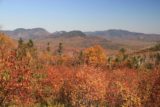 However along the way, there were several lookouts and vistas showing off mountains and beautiful Autumn colors. But it wasn't until we traversed the pass did we stop at the next vista that happened to be a bit crowded with cars as well as a tour bus.
I guess it was a good thing we stopped when we did at 2:20pm because I was starting to get sleepy behind the wheel. So this little photo stop was just what we needed to get us to the Sabbaday Falls car park (also very busy) by 2:30pm.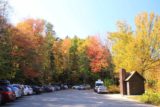 With both Julie and Tahia taking afternoon naps in the car, I went ahead and did this hike solo. But I didn't bother bringing my tripod since I thought time was of the essence as we were running out of daylight to both check-in in Conway as well as trying to bag two more waterfalls after Sabbaday Falls.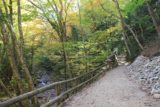 The hike was pretty straightforward on a dirt surface as it followed alongside the stream responsible for the falls. And after 0.3 miles or so, I got to the signposted Emerald Pool, which seemed to be an apt name for it as its clear pool seemed to turn out green according to my camera.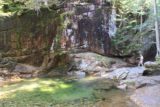 Then, I climbed up steps and followed a gorge-hugging boardwalk and trail looking down into the gorge as well as the two main tiers of Sabbaday Falls. According to a sign here, the narrowness of the gorge was the result of a fault here in its geologic history.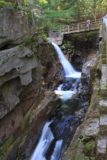 Like with the Flume, there were a lot of people on this trail so that made photography a little tricky since it involved taking turns or trying to manage the shaking of people walking on the boardwalk.
The uppermost tier was probably the most attractive one, but it wasn't that easy to photograph since the boardwalk with the direct view was too close to it. However, I did get creative by going past the falls, then looking back down the gorge showing the falls spilling into the gorge in my photo composition.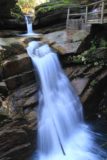 I went up to the very top of this part of the trail, and I recalled seeing a sign claiming that the best viewing spot was this overgrown view looking down towards the bridge I had just crossed on the trail as well as a partial view of the uppermost Sabbaday Falls partially hidden behind that bridge.
I didn't know where the signmakers came up with the claim that this was a better viewing spot, but I didn't believe it.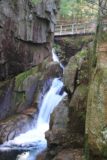 And after having my fill of this spot, I descended back down the way I came on those steps and ledges.
And when I made it back to the Emerald Pool, I did one last bit of scrambling just to see if the views of the pair of Sabbaday Falls would be worth it from down there.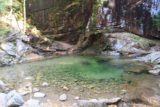 Well, it wasn't that great of a view as the upper Sabbaday Falls was difficult to see given the narrowness of the gorge and how the gorge walls concealed a good chunk of the other waterfall.
So I had to be content with what was before me, and then I returned to the car by 3:20pm.
With that falls out of the way, we now decided to head straight for our lodging at Conway to check in quickly. But by the time we finally found the Saco River Motor Lodge at 4pm, we only realized at this point that we probably made a gross miscalculation staying at this place instead of North Conway as this highway was prone to both traffic and distance from the center of the action (not to mention a bit further from the waterfalls we were supposed to be visiting in this area).
Ten minutes later, after dropping off our luggage at the somewhat dumpy place and traveling a bit lighter, we were determined to spend the remainder of the daylight hours of this day hunting down both Glen Ellis Falls and Crystal Cascade – both waterfalls, which rated high on the NEW book.
Tahia was still sleeping so we never took her out of the car. But as we were driving north on Hwy 302, we quickly saw the full extent of our miscalculation as North Conway was definitely a more tourist friendly place, and there were even some chain accommodations that we would've preferred to stay at.
Oh well, we couldn't cry over spilled milk, and we just had to suck it up.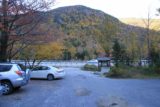 The drive to Glen Ellis Falls was excruciatingly slow because of several instances of drivers who went way below the speed limit thereby causing a long line of cars behind it. I concluded that they must be elder drivers, and that this part of the country must be mostly populated with seniors, which was evident given the types of radio stations available here (e.g. mostly political talk or really old musical tunes from a very bygone era).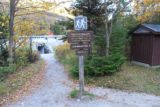 At 4:50pm, we finally got to the signposted Glen Ellis Falls car park, and even though the sunlight was quite low and long shadows had already dominated the immediate area, we were quite surprised to see that the car park was still very full of cars.
Once again, Julie and Tahia stayed in the car to nap, especially since we all knew that we wouldn't have enough daylight hours to make a family affair out of this excursion while trying to fit in the next one.
So I wasted no time getting the tripod (due to the low lighting conditions) and the obligatory camera out.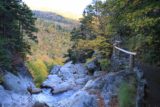 The well-signed path had me go under the highway before the somewhat wet and slightly muddy trail skirted the brook responsible for Glen Ellis Falls.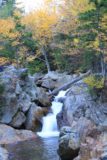 There were once again beautiful Fall colors all around the river and across the valley. It was like the Great Smoky Mountains experience of last year all over again. However, with the low light, the colors and juxtaposition with the blue skies weren't possible.
So I took what shots that I could along the trail, which revealed some smaller cascades, before I got to an upper overlook right above the top of the falls. Here, it wasn't easy to take waterfall photos so I just took a movie.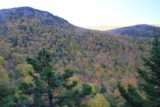 Then, I descended several flights of steps leading down to another pair of overlooks. The photography for both of these overlooks were a bit awkward, but the 64ft falls was definitely flowing well and looked quite scenic.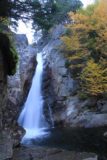 However, there was quite a bit of mist thrown in my direction when I got to the bottommost overlook. And while most of the people were waiting their turn taking photos from the sanctioned spot, I went off trail a little to get below all the commotion and try to take tripod shots against some mist on the wet flat rocks.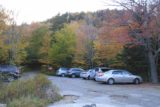 After having my fill of this attractive waterfall, I quickly made my way back up before returning to the car at 5:25pm. There was still some daylight left though the sun seemed to be long gone by this point (though it might've been because of clouds right above me muting the warm afternoon light).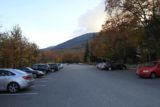 Five minutes later, we drove and arrived at the Pinkham Notch Visitor Center, which definitely saw quite a bit of cars as well even for this late in the day. Apparently, there were some accommodations here as well as the visitor center itself.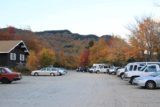 But I knew from my pre-trip research that it was only a 0.3-mile (0.6-mile return) hike from the car park to the Crystal Cascade. And once again, I solo'ed this hike with tripod and camera ready.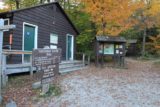 Unlike the Glen Ellis Falls hike, the footing on this hike was a bit rockier and more uneven. Apparently, I was walking on an old jeep trail or something, and I can imagine that this must've been on bumpy ride back when vehicles were allowed on it.
Anyways, after crossing a bridge where I had a pretty nice downstream view of the Fall foliage across the valley, it only took me a couple minutes more before I encountered some steps leading up to an overlook of the Crystal Cascade.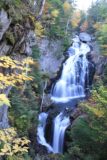 I was impressed with this waterfall given its multi-tiered characteristic as well as the plethora of Autumn colors surrounding it. This might've been my favorite waterfall of the day so I made sure to take as many photos that I could (just in case) to improve the odds at that at least one or more photos turned out.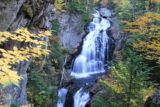 There wasn't much space to use the tripod that I carried with me. So instead, I used the somewhat tall stone barricades as makeshift tripods (or something to steady the camera) thereby enabling the low-level photography that was necessary to satisfactorily capture this impressive waterfall.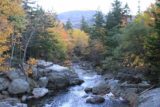 After having my fill of this beautiful waterfall (probably deserving of a strong 2.5 or a weak 3), I then quickly descended back to the car park to rejoin Tahia and Julie. And after having gotten there by 6:05pm, it was time to drive back into North Conway to look for dinner.
Julie had us go to this place called the White Mountain Cider Company Restaurant, and we managed to get there by 6:25pm. However, when we were told that the next available seating for us wasn't until 8pm, we decided to make a reservation for tomorrow since we were spending another night at the sleepeazy Saco River Motor Lodge.
So by 6:45pm, we got to this other restaurant deeper in the central part of North Conway called Maestros. And fortunately, we were able to be seated right away, and we ended up with a meal of a creative bruschetta-like antipasta, a breaded veal that was said to be featured on some New Hampshire magazine, plus a classic pasta a la bolognese.
It wasn't until 7:50pm when we left the restaurant fully stuffed. The food was ok, though we probably wouldn't have gotten their signature veal had we known it was breaded. Anyways, now it was time to return to the motor lodge, and given the long distances, it wouldn't be until 8:10pm that we could finally call an end to this very busy and long day.