Day 8: HASHES
It was 6:30am when we awoke, but strangely, it was Julie who got up before me. That was because there was quite a bit of truck traffic noise coming through into the room, and that was probably the last straw as far as she was concerned. There would be no way that we'd be staying here another night.
I guess the hits just kept piling up. So in addition to the highway noise, there was no hair dryer (a big no no with Julie), the Wi-Fi wasn't working, the accommodation was not clean and even more basic than a Motel 6, and it was located way out of the main part of town in North Conway. Plus, it was over $200 per night to boot.
So right off the bat, Julie called the Holiday Inn Express, which we noticed as we were driving on the White Mountain Hwy (Hwy 302) through North Conway yesterday. When she was told that there was a room available, she jumped at the chance to book it. Not only that, but the rate for the Holiday Inn Express was only $180 per night. Really?!? Cheaper than the dump we had just spent the night?!?
Anyways, it was about 7:45am when we were all packed up and loaded up the car ready to leave. But that wasn't until after there was a heated exchange between Julie and the Indian lady working the reception. Apparently, we weren't going to be refunded this second night that we weren't going to be spending with them. Julie told me that the lady kept reciting the cancellation policy, which did little to mitigate the false advertisements of what we were supposed to be getting at the motel plus the TripAdvisor reviews where we were now suspecting that there were planted 5 stars to inflate the ratings.
So it could very well be that this second night's stay in the town of North Conway or Conway might equate to something on the order of $400 for the night (from paying double room rates – the place we didn't stay plus the new place at the Holiday Inn Express).
As we left, Julie was in a very bad mood. So she was stewing as we were driving north on the Hwy 302, and that kind of put a damper on the mood in the car. Still, Tahia was oblivious to it all.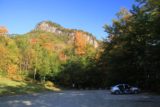 So the drive through North Conway then continuing on north along the Hwy 302 west then north into the Crawford Notch was pretty uneventful. It wasn't until about 8:40am when we saw the signpost and car park for Arethusa Falls.
At first, we thought we were the very first ones doing the hike, but when I started to look at the signs, I couldn't see where the trail to the falls happened. On top of that, I pulled out the NEW book and saw that the trail was supposed to start on the other side of railroad tracks.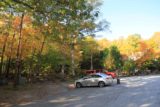 So we got back in the car and then drove a short distance further up the spur Arethusa Falls Road where we saw another area for parking and we were the fourth vehicle to show up as three were already parked here.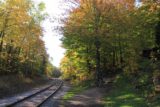 So much for being the first ones on the trail. It was about 9am when we finally started hiking.
What was kind of cool about this trailhead besides the railroad tracks were the Autumn foliage being very prevalent here, and we were also able to see the Frankenstein Cliffs above the foliage in the distance to the north.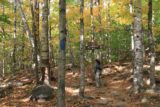 There were trails also going to the Frankenstein Cliffs, but there was no way we'd be doing that plus the Arethusa Falls Trail, which we knew was going to be tough, especially with me carrying Tahia.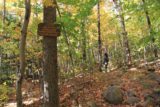 After climbing almost immediately as we left the railroad tracks, we encountered a trail junction – one for Bemis Brook on the left and the other for the Arethusa Falls Trail on the right. We knew that the Bemis Brook Trail would rejoin the Arethusa Falls Trail later on, and the NEW book said that it was worth the detour along Bemis Brook to see a couple of waterfalls.
At least they recommended doing that trail on the way up as apparently going back down somehow wasn't palatable for reasons that we weren't clear about at the time.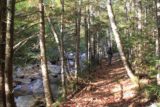 So we continued along the Bemis Brook Trail (against Julie's skepticism) where the trail was a little bit rougher and narrower as it hugged the brook while the terrain was a bit rooty and rocky. Some parts looked a little exposed to erosion and dropoffs so I had to be extra cautious with the precious cargo on my back.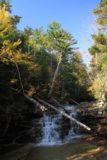 After a few minutes of hiking, there was a signpost for Bemis Falls, and that was where we saw a small waterfall (maybe 5-10ft) with a mix of light and shadows plus some sporadic Autumn foliage and rock benches.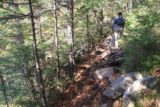 Then, we continued along the Bemis Brook Trail where after a few more minutes of narrow ledge hiking and hopping rocks and roots, we encountered Coliseum Falls, which was a very attractive multi-tiered cascade on the Bemis Brook.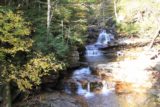 Due to its multi-tiered cascade over a series of flat rock benches, we spent quite a bit of time trying to take photos and movies even in the high contrast conditions of bright light juxtaposed with dark shadows.
When it came to trying to take long exposure photos, it wasn't easy as Tahia would keep kicking me or knocking my head. I guess that was one of the hazards of bringing our daughter along for this non-trivial waterfall hike.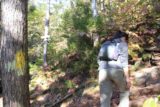 After having our fill of Coliseum Falls, we had difficulty trying to figure our where the trail continued next.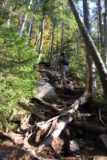 When we followed the brook further upstream, we got to a point where there was some rock hopping on a ledge with drop offs with overgrowth reducing the already limited real estate even more. That looked way too dicey to continue on, especially since the yellow blazes or hashes were absent.
However, when we looked uphill, we saw some trees with the yellow blazes, and unfortunately, that trail didn't look easy as it was very steep, rooty, and most likely would require the use of all of our limbs to make the climb.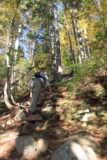 With Tahia weighing me down plus with the danger of some pretty bad consequences if there was a fall on this trail, this made the ascent even more difficult and tiring.
So Julie and I reluctantly did the ascent, and Julie kept reminding me that doing this was a bad idea.
But now that we were committed to the Bemis Brook detour, we just had to suck it up and keep going.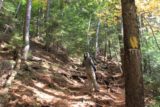 The climb seemed like it took forever (the yellow hashes helped us confirm that we were going the right way), and with my thighs getting even more sore and were burning from the strenuous exercise, we finally made it up to the Arethusa Falls Trail again at 9:55am. We happened to show up while there were a foursome of people conversing amongst themselves.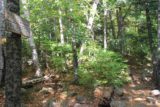 One lady in that group told us that the way we took was way harder than the one they took. I guess that was really stating the obvious.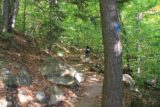 But now that the dangerous and hard part of the trail was over, we could now focus on the remainder of the Arethusa Falls Trail where the terrain was gentler and more obvious to follow, but we were still going uphill for the most part. And with Tahia on my back, I could feel every uphill stretch no matter how flat or how short. Even the high steps that were above my knees weren't easy to get up.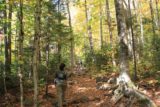 This part of the trail seemed like it went on forever. We were catching up to some other hikers that were ahead of us (probably because some people with devices to assist seniors with walking were in their party more so than us hiking faster with Tahia).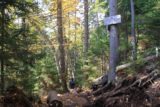 Eventually, we got to the final trail junction where we veered left to make a fairly steep descent down to the rocky lookout spots for Arethusa Falls. It wasn't easy to find a spot where we could comfortably photograph and view the falls so Tahia stayed in the child carrier on my back. This was a bit too rugged to have her roaming around on her own.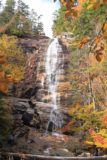 So that created difficulties whenever I needed to hold still for a long exposure photo as she would find ways to make me shake.
Anyways, the falls was definitely an impressive sight. Julie and I were apt to give it a 3 because it was surrounded by a plethora of Autumn colors. Even the rock wall the falls was tumbling over had some of that color as well.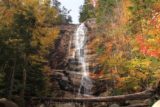 So we took many photos from our somewhat distant vantage point, which was sufficient for our purposes in terms of viewing and photographing. We didn't bother scrambling on the big boulders in the stream bed to get closer. With Tahia on my back, I felt it wasn't worth the risk and I didn't think the views would improve much anyways.
We conversed with some of the folks who also made it to the falls with us as Tahia always made for an easy conversation starter. We learned from these conversations that each person we met up with were from different parts of the country!
Indeed, one guy was from Florida while another was from Alaska. Others were from New Hampshire while there were still others from Texas. Indeed, it felt like our waterfalling excuse for coming her got us to realize that perhaps the White Mountain area of New Hampshire with its Fall colors was a fairly famous destination even though we really didn't know it going into this trip.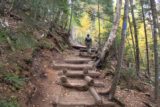 When we had our fill of the impressive Arethusa Falls, we made the sweaty uphill climb back up to the last junction, and then the flat was mostly either flat or downhill on the way back to the trailhead.
Tahia was keeping us busy by identifying all the blue hashes on the trees while also enjoying anytime I had to make a hop or a long step downwards as she felt it was like a 4wd off-roading experience.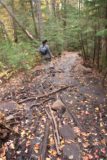 In one stretch on the return, we had to go through once again a muddy section. Unfortunately, Julie in her newly bought shoes (since her old one on this trip was falling apart) happened to step into the mud so she had to take a break to try to wipe off as much of the gunk as she could at 11:15am.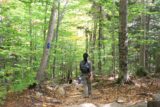 Finally, we made it back to the car park at 11:50am. The skies went from being mostly sunny in the morning to being mostly overcast at this time.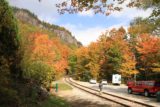 I swore the weather forecast called for clearing skies in the afternoon, but it really looked like the skies were starting to threaten rain after having had several straight days of good weather.
With Tahia finally off my back, my legs and hips felt relief. Of course, I still had to keep my hiking boots on because next up was Ripley Falls, which was only a mile or so drive north from where we were at.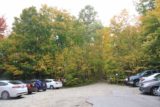 Tahia was tired so she already started to nap in the car as we started heading out. Julie was done with this hike and expressed no interest in doing Ripley Falls right after Arethusa Falls.
So by 12:05pm, we arrived at the busy car park for Ripley Falls. We were lucky that one guy just pulled out as we were about to park in some unsanctioned spot so that helped us in terms of risking damage to the rental just to find parking in the limited spaces here.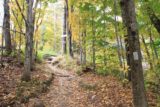 Now that I was going solo on this hike, I definitely felt better hiking with 30 lbs less on my body. I still had to wear the child carrier anyways since I didn't feel like bringing out the day pack from the trunk and moving things around just for this hike.
I'm sure it must've looked kind of funny wearing an empty child carrier with a GPS strapped to one of the shoulder straps.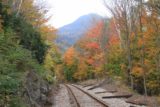 But whatever. I basically jammed my way up the initial uphill, then marveled at the Fall colors flanking the familiar railroad tracks before having to cross it and go another long climb on a hike that very much reminded me of the conditions for the Arethusa Falls Trail. After all, it was uneven with lots of rocks plus it was pretty relentlessly steeply uphill.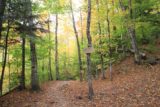 It looked like part of this trail coincided with the Ethan Pond Trail, which apparently was part of the Appalachian Trail (AT). Like the John Muir Trail, the AT was a multi-day trek where some carefully-planned supply drop-offs or real self-sufficiency in the wilderness were in order to pull it off. The AT had white hashes on the trees alongside its trail. But since I stayed on the Ripley Falls Trail, I noticed that blue hashes stayed with me during that hike.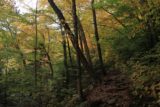 Eventually, the trail flattened out for a bit before making a final descent towards Ripley Falls. This descent was quite steep as well as it almost seemed like I was descending exposed roots or something that passed as a trail.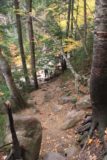 Once I was at the falls, there were already a pair of people taking photos here. There was also another pair of people joining us shortly after I arrived.
So we all took our time admiring this interesting cascade, which was a tall twisting angular cascade where the water sliding on the rocky slope made it appear like it had some kind veiled appearance before reaching the final plunge.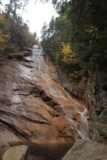 Once again since I didn't have my tripod with me, I had to improvise with one of the giant boulders that had already become part of the stream bed. It wasn't perfect, but I wasn't about to go through bringing a tripod to this hike plus taking the time setting things up, especially with Tahia and Julie waiting in the car.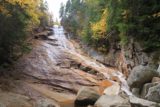 When I had my fill of the falls, I had to be careful when I left because the way out was up the steep trail that I had forgotten that I had descended to get here. It was a good thing there were those familiar blue hashes painted on selected trees. Otherwise, I could've very well hiked downstream and not find the way back up.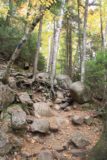 It wasn't until about 12:55pm that I finally made it back to the car. By this time, the dark clouds really looked like they threatened rain, but as we were driving off, it didn't seem like they'd deliver.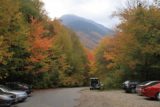 Julie was a bit waterfall-fatigued, but we still had one more to bag before returning to North Conway and calling it a day.
So we took off and arrived at the large car park areas for the roadside Silver Cascade further up the Route 320 at 1:05pm. There were already a lot of people taking photos here, which was expected. Many of them had tripods and those familiar white L-series telephoto zoom lenses ready.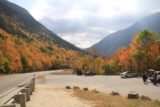 There were still other people who managed to cross the road (full of speeding vehicles going by over 60mph or so) and then scramble their way further up the falls. Those people became photo subjects to communicate some sense of scale of how tall the cascade really was.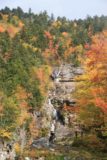 At 1:15pm, both Julie and I had our fill of this waterfall. The whole time we were enjoying this falls, Tahia was left in the car to sleep. We didn't like leaving our little girl in the car alone like that, but we knew that we were within eyesight of the car and her the whole time we were out of the car.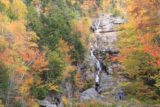 At 1:45pm, we arrived at this humble sandwich spot called the Island Chef. We enjoyed the pressed Cuban sandwich as well as the salad, which was quite big. Tahia really enjoyed the sandwich but not so much the greens.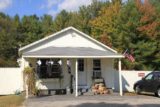 The proprietress here mentioned some kind of Fryeburg Fair, which was just east of the location of the Saco River Motor Inn Lodge that we shunned on this night. Perhaps that was the reason why the sleepeazy motel we were at was so expensive at over $200 per night.
So with the late lunch out of the way at 2:25pm, we finally headed back into North Conway to check into the Holiday Inn Express (where we should've stayed in the first place) at 3pm. And then once we checked in, we got settled and pretty much called it a day in terms of the sightseeing in the Conway area.
Julie took care of business calling up the credit card to file a dispute regarding the refusal of the Saco River Motor Inn to refund us the night we weren't staying.
Eventually, we killed time and got back out on the road to fulfill our 6:15pm reservation for the White Mountain Cider Company restaurant. The dinner wasn't cheap, but it was pretty delicious.
It consisted of some kind of apple cider sour (which the place didn't do anymore, but we asked for it anyways), and then we had some truffle fries, crab cakes, salad, and an apple braised pork.
The dinner was pretty long, and it wasn't until about 7:45pm or so that we finally left.
Next, we had to do a quick grocery run knowing that we were in for a lot of long drives in the state of Maine for the next two or three days. However, we had some trouble finding a grocery store on Hwy 320, and we even went as far as the Hwy 16 and Hwy 113 junction in Center Conway.
Eventually, we went on the Hwy 320 heading back towards the East Conway area, and that was where we found this supermarket called Shaws. That was when we got more grapes, bananas, strawberries, and some new much needed waters.
Finally by 8:45pm, we were back at the Holiday Inn Express to unwind and call it an end to this day that was full of exercise and more White Mountain beauty.