Day 9 (October 3, 2015 – Cleveland, Ohio): "5 O'clock World"
It was 6am when Julie and I awoke. Knowing that we had a long day of driving ahead of us to get from Mackinaw City, Michigan to Cleveland, Ohio, we were motivated to get packing and out the door as soon as possible. As we looked out the window, we could see there were more clouds above us.
We suspected that it was probably going to rain when we get into Ohio on this day, and the clouds made it seem like that was indeed going to be the case. Of course, the benefit of having these clouds in the morning was that the sunrises (or sunsets if at the end of the day) would be better than if there weren't any clouds.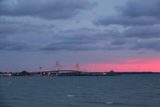 And sure enough, we were getting purples and pinks in the skies thanks to the clouds and the yet-to-breach-the-horizon sun.
After having the included breakfast once again, we were in the car at 8am. At that point, the long drive commenced as we headed south on the I-75. The first 90 minutes of the drive was familiar as we had done it yesterday before heading west to Traverse City. However, this time, we were headed south as we were set to leave Michigan for Ohio.
The drive was pretty uneventful though I was trying to get sports talk radio and the reception seemed to be worse than it was yesterday. In any case, it wasn't until about 12pm when we decided to have lunch in Ann Arbor, Michigan. Knowing that this was a college town for the University of Michigan, we figured that there must be a good mix of trendy eateries with ethnic fusion rolled in there given the student populations.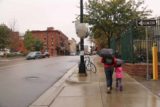 At this time of the day, it was definitely raining. Julie was busy Yelping for restaurants while I was busy driving, and we wound up eating at this place called Frita Batidos. Apparently, this place was a Cuban street food place with a bit of a fusion flair to it. It was definitely a bustling place where most of the clientelle were students, of course. However, we did notice families and even some parents, who must've been here visiting their child who was an attendee of U of M.
We had ourselves a pretty good Gulf Shrimp sandwich as well as a good pulled pork sandwich. Julie also got the so-called "Best Snack Ever" cup, which was a cheese-covered beans with some spices. We enjoyed our food and continued on the road by 12:50pm.
The rain was really coming down as we went further south on the interstates. There were definitely a lot more cars on the road as we had been used to driving the relatively quiet highways and interstates in the Upper Peninsula.
When we got close to Toledo, Ohio, we had to make a toilet break as Tahia did her usual last-minute "I have to go peepee right now!" warning, and so we had to go a little out of the way to a McDonald's that happened to be at least 3.5 miles away from the interstate. That was annoying.
Anyways, the driving continued on the Ohio Turnpike, but I was also fighting road fatigue at the time. In a couple of instances, I had drifted into the adjacent lane, but fortunately, no one was around. I would eventually recover once we paid $5.25 for the turnpike toll (not bad considering that we had been driving from one side of the state all the way to the other).
Given the rain and foul weather, we opted to go straight to our hotel instead of going to Paine Falls before checking into our hotel. I worried about putting too many things to do for tomorrow, but we figured that with such the long drive and the bad weather, we just weren't up for extending our time in the car for much longer on this day.
Eventually by 4pm, we parked in the Public Parking structure next to the Hyatt in Cleveland. The city of Cleveland looked a bit rough as we were heading downtown, then we saw that there seemed to be some significant construction going on. Anyways, once we parked and checked in, we could see that the hotel featured a very attractive atrium or arcade as apparently it used to be a mall seemingly reminding us of the kind we saw in Milan, Italy.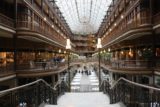 And as we had suspected, there was a wedding going on in that atrium. Since we had arrived and checked in before 5pm, we were able to move about the atrium. Unfortunately, since it was also getting close to 5pm when most of the museums would close, we'd have no shot at doing things like the art museum nor the rock and roll hall of fame (about 15 minutes walk away). So we'd have to stuff those activities somehow into tomorrow.
Also, the wedding party would begin after 5pm, and the atrium would be off limits to public access until 11pm. Julie and I figured that this hotel must be making a killing on this place being a wedding venue. They could probably care less about the guests since the big money maker was this wedding gig. I don't think this Hyatt would do away with that arcade anytime soon.
Anyways, it seemed like things would be shut at 5'o clock, which reminded me of the Drew Carey Show song "5 O'clock World".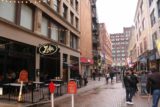 Well, once we were settled in to our spacious maple-smelling room, we then went back downstairs at 4:45pm. At that point, we walked into this narrow walking street, where we would ultimately find the restaurant called "Lola". Apparently, it was a famous restaurant because the chef was said to have been on Iron Chef or one of those programs on the Food Network.
So we decided to give it a go and dine in right when they opened for dining at 5pm. The food was priced like fine dining, but it would turn out that it was surprisingly casual despite the dimly-lit decor. We stuffed ourselves with 3-4 appetizers and one main. The appetizers were some crudo of hamachi (yellow-tail), beef cheek pierrogi, foie gras truchon, and butternut squash soup. Julie also got some green beans.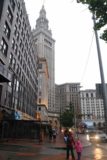 Needless to say that for the $125 we spent on this meal, we were stuffed. However, the food itself didn't seem to be anything that extraordinary to us. So we decided that for tomorrow, we were probably going for the pho place that we saw a couple doors down from Lola.
At 6:30pm, we were done eating, and we decided to spend some time walking around the downtown Cleveland area since it looked very charming in a surprisingly old school kind of way. It was kind of reminiscent of how Boston was like given that there was church surrounded by high rise buildings, and there were some of the classic buildings like the Tower at the Horseshoe, which was very attractive to photograph.
We went into the Tower, where it appeared that there was a mall in there. Yet the interior also looked grand in a very Grand Central kind of way. The further into the mall we went, we noticed there were large courtyards with fountains and tall ceilings. Indeed, we were surprised by the charm of this area, and it was definitely not the "mistake by the lake" we thought Cleveland would be.
In any case, it was getting dark, and with all the drifters out and about in this downtown area, we were concerned about safety. So by 7:40pm, we were back in the room. It was a shame that the public square was under construction because it could've been even more charming and worth spending more time lingering about even despite the rain and the cold.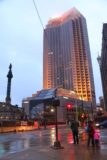 Finally, after checking out the atrium and the wedding reception going on down there, we noticed that any room beneath the 6th floor seemed to be quite noisy thanks to all that commotion down there. Good thing we were given a room on the 7th floor on the Euclid Tower so we wouldn't have to deal with finding alternate routes to get to our room as the Superior Tower seemed to be where most of the commotion was going on.
At 8:15pm, we were finally back in the room again. And that pretty much ended the day. It looked like we're going to have a lot of activities for tomorrow, and that would begin with Paine Falls, then Brandywine Falls. After that, we'd have decisions to make about whether we should pursue Cuyahoga Falls and Lanternman Falls before going back to Cleveland to try to catch the Rock and Roll Hall of Fame or other museums so Tahia would have something to do. At least we knew from today that most of those places would be closed at 5pm. Now it's another question whether they'd be open on Sunday…
Whatever the case is, it's going to be a really busy day!
At about 10:30pm, we heard a lot of commotion outside, and when we peered towards Jacob's field, we saw fireworks were going off. At first I thought it was a one-off because the home team hit a home run. But then the show kept going on. That was when I realized that perhaps they were throwing a big fireworks show because it was probably the last homestand or last game of the baseball season. I know the Cleveland Indians were playing a home game today, and so this commotion must've been related to that.
And so ended this day. I wonder what other surprises Cleveland would have in store for us…