Day 10 (October 4, 2015 – Cleveland, Ohio): "Cleveland Rocks"
It was 7am when we awoke. It was still dark outside, but it was quickly starting to get lighter. There were still clouds above us, and I wondered if the forecasts were wrong in that it was supposed to be sunny today.
In any case, we had a pretty stacked day (in terms of activities) so after getting freshened up at 7:45am, we quickly made our way downstairs, walked through the now-ghost-town-like arcade (Julie picked up a croissant for a quick brekkie) before getting to our car at 8:05am.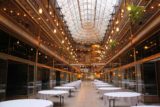 It was chilly this morning, but somehow it didn't feel as frigid as it had been during our time in the UP. Still, we needed our thick jackets. And as we were driving east on the I-90, I was cognizant of black ice. And as we made this sharp 35mph turn on the I-90, we saw that there were cops around some totaled car that must've taken this turn too quickly and slammed into the wall.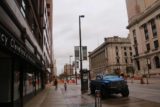 Aside from that, we uneventfully headed east on the I-90. We continued following the GPS as it led us onto the Vrooman Road exit, where we saw clear signposts for Paine Falls (as well as other sights like the Indian Rock Point or something like that). As we got to Carter Road, we saw another brown sign pointing the way to Paine Falls. Eventually, we'd find the Paine Falls Park and stop the car at 8:50am.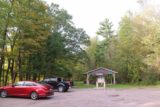 We could see that even though the I-90 freeway was right next door to this park, it still couldn't be accessed immediately from the highway. So that meant that this park was pretty quiet though we did smell something like gas or exhaust-related fumes given the proximity to the interstate. After a couple who were already here had left, we pretty much had this park to ourselves. And after a short 0.12-mile descent on some steps, we'd get to the lookout platform where we finally were able to see the elegant Paine Falls beneath the road bridge we had just crossed to get to the car park a few minutes earlier.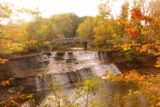 Adding to the scenic allure were Fall colors. Even though it wasn't quite peak colors yet, there was enough at this waterfall to make it appear real attractive. It turned out that the lookout was the best place to see the falls because everywhere else that was sanctioned pretty much yielded obstructed views of Paine Falls.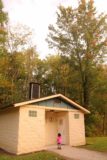 By 9:20am, we were back at the car. We noticed that the toilets here also doubled as tornado shelters. It was interesting that even in these parts, apparently tornados were a real possibility.
Next, we drove along some local roads as we continued following the GPS as it led us towards Lanternman's Falls, which was the next waterfall we targeted today. Eventually, we'd connect with the route 322, and then that led us straight to the Hwy 11, which was two lanes in each direction. So that allowed us to go pretty fast as we headed south towards Youngstown.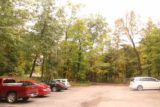 Although the GPS had us go on a somewhat indirect route to get to the Mill Creek Park, we did eventually get to the car park for Lanternman's Mill and Covered Bridge at 10:35am. It seemed quite busy for something that didn't seem to be all that well-signed, but perhaps it was because we either followed the wrong route or it was a Sunday or something. But whatever the case was, we managed to claim one of the few remaining spots in the limited car park.
The short walk to the falls was beneath some pretty Autumn foliage before passing beneath the road bridge, where on the other side, we finally saw the impressive waterfall adjacent to the historic mill. While Julie and Tahia used the facilities, I took advantage of the time to take photos from the covered bridge just upstream of the falls as well as learn that the mill actually costed $2 to go inside and tour.
Well, we were pretty content to take our family shots as well as to document the falls, and so we didn't feel the need to go inside. It turned out that we managed to get more balanced views of the waterfall, mill, and surrounding foliage from the road bridge above the small gorge. And even though this waterfall seemed to be a little on the small side (probably around 30-40ft), it had good volume, and it had nice surroundings.
Once we had our fill of the falls, we were back at the car at 11:25am. As we were making our way back to the interstates, we saw that much of the buildings in Youngstown seemed to be run down. So we started to get this impression that perhaps Youngstown might have been a casualty of the shift of factory-related jobs to overseas where third world labor could be exploited as first world wages could be circumvented to keep up profit margins that ultimately keep executives richer and middle classes squeezed.
Next, we targeted Brandywine Falls as the last waterfalling excursion for the day before returning to Cleveland. Originally, we had contemplated visiting Quakertown Falls in Pennsylvania as well as Cuyahoga Falls near Akron. But there were still museums we wanted to visit, and I had this curiosity about visiting the Rock and Roll Hall of Fame.
Anyways, the drive on the Ohio Turnpike on the I-80 west was pretty straightforward. However, once we got off the toll road near the Cuyahoga Valley National Park, it appeared that the I-271 was under some construction. That meant that practically all the exits near the reserve were closed. And so we were on this ridiculous detour that had us going some 5-6 miles north on the OH-8 then we had to go back on the OH-8 in the other direction before eventually getting off for East Boston Mills Road.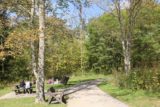 When we finally wound up in the very busy car park for Brandywine Falls, it turned out that the detour we were on had taken a whopping 20 minutes!
Anyways, the walking to get a view of Brandywine Falls was pretty straightforward as it was pretty much almost entirely on boardwalk. After checking out the falls from its top and near its brink (where we saw that this falls was once harnessed using water power for electricity), we then went down to the main lookout deck where we got nice angled views of the falls.
There were already a handful of people here, and Julie and I tried to take what photos and movies that we could. I had even brought a tripod so we could take some family shots (especially since Julie's selfie-stick seemed to have stopped working). But when we were done doing our deeds (it took longer than we wanted because Tahia wasn't really cooperating), the lookout platform was now quite crowded with people from numerous other people wielding tripods and DSLRs as well as groups of people belonging to large families.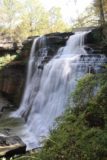 Considering that this reserve seemed to revolve around protecting the heritage and natural scenery of the falls and perhaps the Cuyahoga Valley as a whole, Julie had read on TripAdvisor that this place really should be a state park instead of a national park. And I guess I could totally see their point. It seemed like a pretty frivolous use of federal funds, but then we figured that whoever lobbied for this protection must've done quite a good job.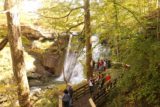 At 1:25pm, we were back at the car. Now, the day was quite warm as the sun was pretty much out. The thermometer in the car said that the outside temperature was now in the low 70s! That was actually quite warm considering that we had been used to highs less than 60 degree F!
In any case, we now drove towards the eastern side of Cleveland as Julie had a Vietnamese food craving. We'd eventually be at this pho place at 1:55pm. The food was the typical Vietnamese fare though it was nothing like what we were spoiled with in Little Saigon in Santa Ana. The meat nem nuong was strange in that the meat itself had food coloring on it (almost bright red like what they do with non-authentic Tandoori Chicken in the Indian Food places).
We were back in the car at 2:35pm. Next, we continued going east on the I-90 until we would eventually find street parking at 2:50pm (and save $10 for not having to park in a structure) as we pursued the Museum of Art. We had read that this place was free, and we figured that we mind as well spend a few minutes checking this place out.
In any case, we made a quick visit primarily dominated by the main floor. We didn't go upstairs nor downstairs, and Tahia started getting antsy. Still, we were surprised at some of the art exhibits and treasures and trinkets that were on display. One thing that I thought was striking about this place was that we were allowed to take whatever photos we needed. But in Europe, I could totally see how photos would be prohibited here.
At 3:20pm, we were back in the car. As we exited, we enjoyed the fountains and park area nearby. But time was running short as we knew that most museums would close at 5pm (though the Rock and Roll Hall of Fame was set to close at 5:30pm).
We would eventually make it back to the car park next to the Hyatt at 3:45pm. Then, we promptly got back up to the room to change into city clothes while also relieving our bladders and guts.
At 4:15pm, we were back downstairs where we next sought out both the Science Center as well as the Rock and Roll Hall of Fame. Along the way, we noticed some church as well as the Cleveland Brown's Stadium. Since it was getting real close to 5pm and it took us at least 15 minutes to get to at least the Rock and Roll Hall of Fame, we decided to divide and conquer where I'd visit the Rock and Roll Hall of Fame solo (to save on their steep ticket price of nearly $24 per adult).
This had better be good, I thought.
Anyways, Julie and Tahia were going to check out the commotion on the lakefront near the museum. I figured they might also check out the Science Center while we were doing this dividing and conquering again. Meanwhile, inside the Rock and Roll Hall of Fame, I found myself in a giant pyramid-shaped building where I promptly bought my tickets and was quickly reminded that I only had until 5:30pm to get my visit done and over with.
I wound up with the suggestion to try the lower level exhibits first, where they focused on the evolution of rock and roll. The exhibit down here was quite extensive as they covered the usual suspects like the Beattles, Rolling Stones, Madonna, Michael Jackson, etc.
Going through these exhibits was kind of like that feeling of deja vu where I was essentially walking through a VH1 documentary of rock and roll now presented in a series of displays in a museum. Anyways, they also delved into the Midwest influence to rock as apparently Cleveland was the birthplace of rock and roll.
Once I had my fill of the downstairs area, I then went upstairs to check out the Hall of Fame inductees as well as the strange Pink Floyd Wall and even some photography exhibits of rock icons. With all of these cultural icons essentially defining what's cool or rebellious, it was strange to see these things now in museums, which really made me feel a bit on the old side.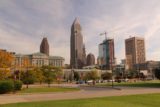 By 5:30pm, I was kicked out of the facility as they were closing and that was when Julie and Tahia were waiting for me right outside the door.
So with that, we then slowly walked towards the Greenhouse Tavern, but we embarked on a surprisingly nice walk across a lawn area near the Key Tower, where there was some green statue looking up at the sky. Continuing on this walk, we were back around the construction site. We could see from the mock ups that this place was going to be huge once the work would be over by Summer 2016. Right now, the construction equipment and fences were unsightly, but I'm sure this place would be tremendously transformed when finished.
Julie thought that the early adopters and investors of this remodeling effort would probably stand to benefit the most. Indeed, Julie thought Cleveland had great bones with all this history and attractive greenspaces amidst skyscrapers. The question then becomes how in the world did this place be allowed to decay so deeply in the first place?
At 6:15pm, we found ourselves at the Greenhouse Tavern. Even though Julie's reservation was for 7pm, it turned out that they could seat us at this moment. It was a strange place where bicycles were precariously hanging from very tall ceilings. We ended up getting this really delicious chicken wings as well as this very rich Flintstones Short Rib. That rib had three giant shanks, and it was full of fat. We knew there'd be no way we could finish this meal. Not only that, but this short ribs dish was a bit over the top, and it didn't have the contrasting bold flavors we came to expect from dishes priced over $50 like this!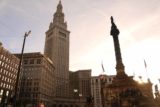 Meanwhile, Tahia was napping as she hadn't taken a nap all day long. So we would have to go back to our room and try to feed her there and bring leftover food with us. Eventually when we paid our bills and were ready to leave the joint, Tahia woke up cranky and that was the time to get back up to our room. Now, it was 7:45pm.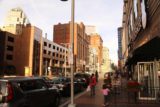 Back at our room, Julie was busy feeding Tahia the leftover short ribs. Meanwhile, the TV was on and Tahia was captivated by the Disney Channel (as opposed to Disney Jr).
We made one last indulgence for dessert at 9pm where we wound up eating fudge and cookie sundae while Julie and Tahia were sharing the fondue of chocolate dipped strawberries. The fudge was a bit on the chewy (almost peanut-butter or caramel-like) and it wasn't like the hot chocolate fudge sundae that I was hoping for.
Once we were back at the room at around 9:35pm, we were finally able to cease activities and call it a day. Although there were some things we wanted to do in and around Cleveland, we felt that we had gotten a pretty good sampling of the highlights of the Cleveland area.
Tomorrow, we were faced with another long drive but to Indianapolis this time. Sunday night also seemed dead in the downtown area. Jacob's Field was lights out as well. So I guess those fireworks we saw yesterday was to honor the conclusion of the 2015 season for the Cleveland Indians. Hopefully, we'll be able to visit our lone waterfall in Indiana while also checking in at a reasonable hour as well come tomorrow…