Day 11 (October 5, 2015 – Indianapolis, Indiana): "National Mall Indy Style"
It was 6am when Julie and I awoke. Knowing that we had a very long drive ahead of us, we were motivated to get our stuff together so Julie could go to "Pour" downstairs and across the street to satisfy her coffee craving. That place had been closed on Sunday as well as late Saturday afternoon when we first showed up to Cleveland so she was itching to give this place a try, especially since she had Yelped that they had gotten really good reviews.
Anyways by 7:25am, I had loaded up the car while Julie and Tahia went to Pour. I could see that Cleveland was a much busier place than it had been all weekend simply based on how many cars were pulling into the car park that we were parked at. I guess the city of Cleveland really comes alive on the weekdays.
It would be about 7:45am when we finally got into the car and were on our way out of Cleveland. The drive out west was mostly along the I-70 after going south on the 271 in the direction of Columbus, Ohio. Along the way, we could see the long line of traffic heading towards downtown Cleveland. Meanwhile, we were moving away from the city so traffic was comparatively light though still much busier than what we had faced while in the Upper Peninsula of Michigan earlier on in this trip.
At 12:30pm, we stopped at this place called Goose The Market in Indianapolis. It was still too early to check in, and we had feared that the parking situation wouldn't be conducive to going in and out. And since we still had to visit Cataract Falls before checking in, we would continue with our waterfalling for the day before finally checking in later.
Anyways, Goose was a sandwich deli that had apparently gotten really good reviews. They actually had quite wholesome food as well as healthy stuff. And when we got our "Goose" sandwich and "Batali" sandwich, they turned out to be quite tasty as expected. The Batali sandwich was actually on the spicy side so Tahia couldn't have that one, but they were all pretty good.
We also noticed many different professionals coming in for the lunch break. So apparently this place hit that sweet spot of healthy and tasty yet quick. So we felt good about eating at this place (as if we had stumbled upon a nice local boutique joint), and when we were done at 1:10pm, we were energized and ready for the hour-long drive from Indy to Cataract Falls before returning to Indy to check in.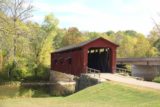 At 2:10pm, we finally made it to the Cataract Falls State Recreation Area. We first pulled up to the closest car park, which was signposted for the Upper Falls. We also immediately saw that there was a covered bridge. And that playground in the picnic area nearby didn't escape Tahia as she was totally looking forward to playing in it.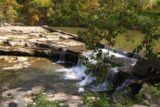 The lookouts of the Upper Falls were angled and profiled. From what we could see, it was pretty clear that the falls had seen higher flow before. Right now, the falls' seemingly lower-than-average flow was segmented. I guess the rains from two days ago weren't enough to make the falls flow even more fully than what we were hoping. But at least the falls did have somewhat satisfactory flow regardless. Regardless, it wasn't anything like what our pre-trip research was indicating.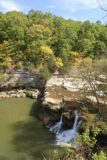 That said, since this was towards the end of the year, we'd imagine that this must be a year-round waterfall. So even though the flow wasn't what we thought it could be, it was still saying something that this falls could flow year-round. I mean, back at home, we're dealing with drought for several straight years, and it has prevented us from finishing off our California Waterfalls survey in the far north of our state.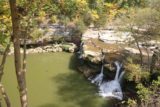 Furthermore, Cataract Falls was probably the only waterfall in the state of Indiana when we did our pre-trip research as we considered what was worth visiting within reach for our Midwest trip. I had also considered visiting Clifty Falls, but that was closer to Kentucky, and that was way too far south of where we were going.
After getting my fill of the lookouts for Upper Cataract Falls, Julie and Tahia went to the playground. And during that time, I followed a trail of use that ultimately descended to the banks of the river, where I then scrambled along the riverbed until I got a more frontal look at the Upper Cataract Falls. It was a little bit slippery and muddy in stretches, which I'd imagine would be much trickier when wet.
However, with today being a hot day (at least by Midwest standards since it was like 78 degrees F), I made that descent and subsequent ascent without issue. I was just a bit sweaty when I finally got back on the sanctioned area.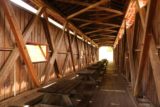 At 2:50pm, I rejoined Julie and Tahia at the covered bridge, where we took a few more shots before returning to the parked car. We saw that there was a sign indicating there was a Lower Falls so we drove the car and followed the other road towards its car park, where we'd arrive at 2:55pm.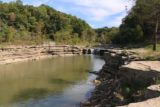 And like the Upper Falls car park, this Lower Falls car park was pretty quiet. There was one other car here, and it appeared that it belonged to some Hispanic guys where a lady was sitting in their truck waiting for them. The two guys were actually fishing both at the top of the Lower Falls as well as further downstream from it. And they were doing this despite the signs prohibiting fishing.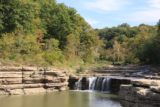 Anyways, this waterfall was similar in size and character as the Upper Falls. However, reaching the banks of the river for a more frontal view of the Lower Falls seemed to be more easily accessed than the Upper Falls. With the fading light of the afternoon, there was quite a bit of shadow around the falls.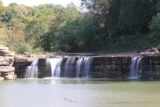 And so we spent time documenting the falls while a handful of other people managed to pull up and also examine the falls. It didn't take long before we had our fill of the falls and decided to head back to the car. We tried to take a potty break at the bathroom here, but the toilets were disgusting (probably amongst the dirtiest we've seen). In any case, we were back at the car at 3:20pm.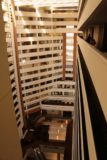 Now, we could finally head towards downtown Indianapolis so we could check into the Hyatt then explore the city. At 4:20pm, we had finally parked at the structure beneath the Hyatt and the PNC Bank (both sharing the same building), and then we were checked into our room at 4:40pm. They had put us up on the 17th floor, and since the room was facing the atrium with the railings being only waist high, looking over the railing definitely induced butterflies in the stomach as we could see it was a very long way down to the atrium floor.
After getting settled, we then headed back downstairs at 5:15pm. With the fading afternoon light, we wanted to at least see the best of downtown Indy before having dinner. And so we walked past the Capitol Building before heading towards the Indianapolis World War Memorial, which was an impressive structure. We got there at around 5:50pm, and that was when we saw there were a lot of people working out doing burpees at the top of the steps, then running down and back up the stairs!
I guess with all the heavy eating that we've been doing on this Midwest Trip (where large portions seemed to be the norm), perhaps that workout regimen would be what we needed. I know I'm due to resuming cross training like that when I get back to work. In any case, we were running out of time as the shadows were growing longer. So we took photos of the memorial, then walked behind the memorial where we saw an obelisk.
Beyond the obelisk, there seemed to be a Lincoln Memorial-like building with columns across a long stretch of lawn. And this place really reminded me of the National Mall in Washington DC except this was done Indy style (i.e. smaller scale). Anyways, it didn't take long before we had our fill of this place, and it was time to get dinner.
So we left the obelisk at around 6pm, and then we walked towards the impressive Memorial Circle, where there was a large statue in the middle of a circle surrounded by tall buildings as well as a church on one side. There were horse-drawn carriages that Tahia said were like Cinderella.
By about 6:45pm after going back and forth between places like Palomino or Yard House, we eventually decided to dine at Oceanaire. I was getting toxic burp from something bad I must've eaten in the last couple of days, but I really wasn't feeling the effects until this morning. Fortunately, I wasn't nauseous as the toxic burp was the only symptom I was having. So we were in the mood for something light and not terribly heavy like last night.
And so at Oceanaire, we had ourselves escargot, twin tail lobster tails (not the freshest, but the $39 deal they had was too good to pass up), and a pretty good Hawaiian seared ahi tuna. We got Tahia some kid-sized shrimp with broccolis. Then, we topped it all off with sticky toffee pudding, which was the kind of dessert that we hadn't had since the UK a couple of summers ago.
It turned out that we wouldn't leave the restaurant until about 8:20pm (which meant the dinner was at least 90 minutes long). In any case, we weren't in any particular hurry on this night, and eventually by 8:35pm, we were back at the room at the Hyatt. And so ended this pretty long day of driving and our lone waterfalling experience for the day (which would also be our lone waterfalling experience in the state of Indiana).
Tomorrow, we were headed to Chicago to end off our Midwest trip. But not before checking out Cascade Falls in a similar arrangement like today, where we'd visit a waterfall before checking into our hotel. Though we'd also be dropping off the car before settling in Chicago so we'd be on our own with mass transit for our final three days starting tomorrow…