Day 12 (October 6, 2015 – Chicago, Illinois): "Road Works"
It was 6am when we awoke. Once again, we tried to get an early start to the day so we could wrap up our packing and get to our rental car so we could leave Indy and head towards Chicago by way of Mathiessen State Park, where we'd try to witness the last waterfall of this trip. That said, I was kind of apprehensive about this one because I recognized that Cascade Falls was on a very temporary stream. I was just hoping that the rains prior to our arrival on this Midwest Trip might give this falls some life.
That said, we were delayed because it seemed like the elevators weren't coming up. We probably waited around 15-20 minutes before someone took the initiative and pushed the "up" button even though we were going "down". And that turned out to do the trick as one of the elevator doors finally swung open and we all packed into the elevator.
Anyways, it wouldn't be until about 7:35am that we finally paid the $26 to enable our ticket to exit the PNC Bank car park, and then start loading up the car. Julie finally rejoined us at 7:45am after she was done checking out and picking up a coffee from the Starbucks in the atrium.
Then, we faced a little bit of the Indianapolis traffic on our way out of downtown as we navigated the local streets before getting onto the highways. It took us a bit of time to get onto the correct highways before we finally got onto the I-74 headed northwest into Illinois.
The drive was somewhat uneventful except for a couple of things. First, the drive was through fog. Even though the speed limit was 70mph, we were hesitant to go faster than that given the limited visibility. At the same time, we kept running through sections where there was road work, where the lanes would narrow down to a single lane and the speed limits went from 70 mph to 45 or 55 mph depending on the kind of road work going on. In fact, we noticed this in a lot of spots yesterday and the day before as well.
We don't know what the deal with all this road construction was, but somehow it seemed to be occurring much more frequently in both Ohio and Indiana. But now that we were heading into Illinois, it appeared that these annoying road work zones (some of them were due to lawn mowing) were quite annoying and even more frequent. I wondered if this was what federal stimulus dollars were being spent on, and like all government-related work, there was no worthwhile incentive to get the work done on time so they just drag out the work.
At 10am, we had made it to Champagne-Urbana, which I knew was where the University of Illinois was. Of course, we weren't visiting the campus here though I was reminded of a co-worker who went to school here. In any case, we wound up doing a bagel stop that was kind of spontaneous as we were really looking for a restroom break. Instead, we went to this place called Einstein Brothers Bagels. We picked up a Nova Lox (salmon bagel) while Julie and Tahia got plain bagels.
Bagels aren't usually my thing, but this was pretty good. At 10:15am, we left.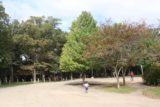 The drive continued for a while (going by even more sections of road work and lane closures) until we finally wound up at the Mathiessen State Park at 11am. When we saw on the GPS that we had driven nearly two hours more but the clock only showed 45 minutes, we knew that we had fallen back another hour. So we had to go through yet another time change on this trip! But at least we were getting back an hour.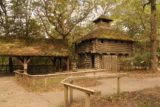 There were quite a few cars already parked here so that kind of indicated to us that this was a pretty popular spot.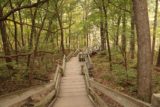 That said, there were some unnerving signs here indicating that there had been recent incidents of burglary even when stuff was hiding in the trunk of the car. So for sure, we would be making this visit as short as we could make it. We'll just have to see how the falls experience turns out.
There were quite a few families already in the car park either going on the trail or coming back. There were some picnic tables, some restroom facilities with a soda machine, and an interesting log cabin that I had seen a kid go in and look out the window (so I was wondering if it was like a play house or something). Still, we kept going, where we then saw a series of wooden steps.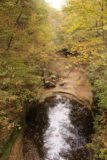 Once we got down to the bottom of the steps at 11:25am, there was a bridge. On the far end of the bridge, there were signs pointing the way to the Upper Dell and the Lower Dell. While on the bridge, there was a sign that said "Cascade Falls" facing downstream. That was when I recognized that I was above the brink of the falls. However, since there was no sound, I knew that this waterfall had no water.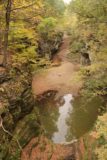 Then, I noticed that there were people at the bottom of the gorge. I made a mental note to get down there by following the trail further downstream along the rim of the gorge. I figured there had to be a way down there because there were more than a handful of people down within the gorge.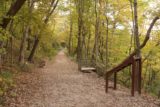 When Julie and Tahia noticed that there was no water, they immediately headed back up to the car park. Julie figured that while I would be busy finding a way down into the gorge, she and Tahia could go back up to the car park to tidy it up since we would be returning the car before winding up in Chicago after this excursion.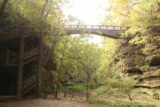 She also speculated that this waterfall might have had a longer life in the past, but the surrounding area was all corn fields, which surely must've robbed most of the water feeding this creek. Thus, she might be right in thinking that the waterfall might be more of an ephemeral phenomenon or maybe lasting just during the early Spring months. I've read in other trip reports that by July or August, this falls would typically have nothing left. But I was holding out hope that the rains that hit the northern Midwest and quite possibly this area might have given this waterfall some renewed life. I guess it just wasn't meant to be on this visit.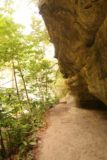 Anyways, I followed the trail always looking for a way down. But it was clear that there were drop offs and I was better off continuing on this trail towards what appeared to be this thing that the maps labeled as Strawberry Rock. Along the way, I had noticed that some of the trees had already exhibited some attractive Autumn colors.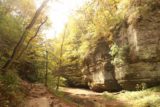 Shortly after a horshoe bend, where it appeared there might have been a scrambling path down, there was a labeled series of steps leading to another bridge as well as more steps leading down to the bottom of the gorge. At last!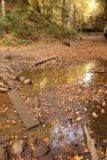 Once I was in the bottom of the gorge, I was immediately impressed with the curved walls giving me the sensation that I had somehow stumbled into something that was reminiscent of what I might find in the slot canyons of Southern Utah. After all, I had noticed coves and striated patterns on the gorge walls. Within the silence of the gorge, I heard some sudden splashing sounds in the standing water beneath the curved walls.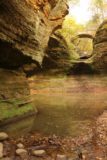 I couldn't see what was causing the splash given how murky the standing water was. However, I figured they were probably frogs or something.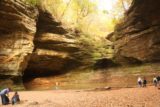 Hiking within the gorge pretty much followed along the right side of the gorge walls, which was fairly straightforward (though somewhat rough) hiking. However, there was one small section where I had to cross over a muddy stretch that I'd imagine would have been a stream crossing had there been more water here.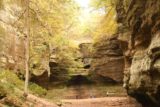 Once I got past the muddy crossing, I was then at the dead-end, which was fronted by a larger body of water, which I'd imagine to be the plunge pool of Cascade Falls. There was even a fence put above where the brink of the falls would be, which I'd imagine would prevent people who had accessed the Upper Dell to try to get down to the Lower Dell via this unsafe shortcut.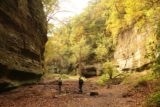 Anyways, it was too bad there wasn't any water flowing here, because it was in such a scenic spot as it was surrounded by the curvaceous gorge walls with overhanging cliffs as well as alcoves. I was glad I went down here to witness this spot even though this was the one waterfall fail on this trip.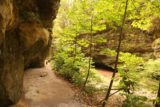 But it didn't take long before I had my fill of this spot, and now I had to get back up to the car park to rejoin Julie and Tahia so we could finally make our way to Chicago. At 12:15pm, I was back at the car, and now it was time to get moving.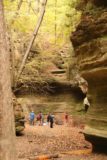 We started off by following the I-80 due east. Once again, there was more road work going on, and there were even stretches of stoppages. I knew that this would mean we wouldn't get into Chicago as soon as I was hoping for.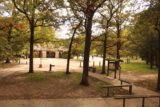 Eventually, we'd leave the I-80 then get onto the I-55. When we got onto the I-294, we recognized that we had gotten onto toll roads, but unfortunately, none of these toll stations took credit cards. There was one that only took coins, and it only costed 60 cents. Fortunately, we were allowed 7 days to pay IllinoisTollways online so we didn't have to fret about this inconvenience of not having change on us.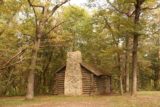 At 2:10pm, we made a stop at a Target after exiting the I-294 at Balmoral Avenue. There were hardly any exits along the way, and Balmoral was the only one we could do. Then, we had to drive another 5 miles or so on very busy surface streets before getting to the store. We had to make this stop because we had to return the car seat that we couldn't take with us to the plane on the flight home. If they had a car seat bag, then we could've checked it in. But instead, Julie was determined to pick up such a backup child seat online when we get home – probably from Target again.
It took some time to disassemble the car seat, then 15 minutes later, Julie returned successfully. At 2:35pm, we finally left. We made one quick stop to fill up the tank of the rental car, then by 2:55pm, we finally made it to the Alamo Rental Car Return at the O'Hare Airport.
After emptying out the car, we took the shuttle to the Terminal 2 at the O'Hare Airport, then we mulled over taking the Airport Express before we were told that all there weren't enough seats to accommodate us and our luggage. It would've costed $29 "for the two of yous", said the guy we spoke with. But we opted to take the CTA to the city.
At 3:25pm, we finally found our way into the CTA station, which was considerably hotter and muggier than the rest of the airport. We wound up buying a pair of $25 transit tap cards, which was good for unlimited use for 3 days (Tahia was free). I sure hoped that this would last through Friday morning when we'd have to return to O'Hare from downtown and within the 72-hour window. We were never really sure whether this 3-day pass worked for only three calendar days as opposed to 72 hours. But if this would work out, we would get the round trip price included in our transit ticket plus we could use the transit system at will while touring Chicago for the next two days. Then, I'd say this pass would really be worth it (especially when you consider each single-use ticket was like $3 a pop). Then, by 3:45pm, we boarded the blue line and were on our way to "The Loop" in downtown Chicago.
It took a while to get to the Monroe Stop (some 18 stops or so), where I then had to carry up the luggages up a long flight of steps before finally reaching street level. And within a couple blocks walk, we were in the Hyatt Centric The Loop Hotel. At 4:30pm, we finally checked into the room, where we managed to get a room on the 21st floor where we got two queen-sized beds, which was perfect for us.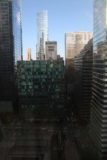 I was glad that we were finally car free and free to move about Chicago. Julie's suggestion of dropping off the car at the airport first, was a good one. I had originally thought it might've been wise to check in first, then return the car, but after seeing the amount of traffic heading into the city throughout this train ride, it was nice to know that I didn't have to fight all that traffic.
Once we got dressed into our street clothes, we then decided to taxi to the Girl and the Goat Restaurant. We were told that it was either a one-mile walk, or that the trains weren't that close to the restaurant. So we thought we could take the taxi and pay $10 to get there. Well, we were newbies at hailing taxis, and the porter saw our struggles and helped us hail one.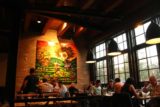 We wound up being at the Girl and the Goat at around 5:15pm. It turned out that our fare was $12.65, which was a bit more than the $10 the receptionist had predicted. I found it troubling to see that the meter had said $9.65 plus $1.00 in "extras". I guess the extra dollar was because we used credit card since we didn't have exact change on us. So that experience pretty much convinced Julie and I that we should give "the L" (what the locals call the mass transit system here) a try on the way back (btw, Julie was told not to call it a "Metro" because they sounded like "Metra" which were different train lines going to the suburbs).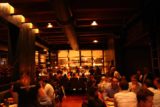 Even though Julie had made reservations for 9:45pm, we walked in to the restaurant early so we wouldn't have to wait so long for dinner. Julie had called on the way there when she was told that they do accommodate walk-ins though we knew that the closer to prime time you get, the more infeasible that that strategy would become.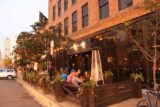 And it turned out that we were able to be seated straight away. We wound up getting diver scallops, crudo, pig's face, chick pea fritters, and goat belly. We even got roasted cauliflower. And then we capped it all off with a dessert that was chocolate truffle cake.
The food was a wonderful blend of textures as well as unique blending of flavors. Even the dessert was very good, which used coconut gelato, which we could hardly tell it wasn't vanilla. In fact, I was hesitant to get this dessert because I wasn't into coconut gelato as opposed to vanilla a la mode. But we were glad we got this dessert. Even Tahia got into the act with the dessert. It was that good!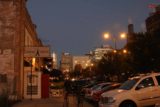 By 6:30pm, we were done with the dinner. I'd have to say that my co-worker's recommendation at trying this restaurant was pretty spot on. Julie and I still didn't think it was as good as Bazaar (Jose Andreas), but it was pretty close in quality and we didn't spend as much money (though it was still nearly $150 total with tax and tip). I guess Julie and I like bold contrasting flavors, and that was probably due to our propensity for a southeast Asian palette. The Midwest palette was a bit more bland and too hearty for our liking, but this was definitely one of the best if not the best of the restaurants we've tried on this trip.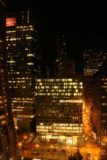 Once we left the restaurant, we walked over to the Morgan Station, which was only about three blocks or so away. Perhaps the most annoying thing about this walk was having to cross Randolph Street, where it seemed like vehicles driving by don't stop for pedestrians crossing the crosswalk. They really should have traffic lights here.
Anyways, by 7:20pm, we were back at the Hyatt. We took the Pink Line to the Blue Line, and it wasn't that bad. So from here on out, we were going to take trains to get around town now that we were getting the hang of this experience.
And with that, we were done with this day. But now we looked forward to the next two full days of checking out Chicago without having to vagabond it. Plus, I could use a couple of mornings of sleeping in as well. And so begins the last leg of our Midwest Trip…