Day 13 (October 7, 2015 – Chicago, Illinois): "Wild Card Sightseeing"
It was about 6:55am when I awoke. I didn't need an alarm as I had allowed myself to sleep in knowing that we didn't need to drive anywhere on this day. Julie had already been up, and she was busy trying to do last minute research on places to go to see as well as places to eat since she was pretty much in charge of the activities in the city. So with all this going on, it took a while to get out of the room as Julie was continuing to do her research while Tahia was taking her time to wake up.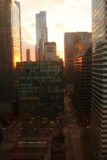 It wasn't until about 8:15am when we finally went downstairs. And about ten minutes later (seems like with high rise buildings like this Hyatt, elevators tend to be bottlenecks), we ate at the adjacent restaurant called Cochon Volant (which probably means "flying pig" in French). Julie and I don't really understand the obsession with pigs as we'd observed pig-related themes in other restaurants in Chicago as well as in Indianapolis and in Cleveland. So we figured that it must be a Midwest thing.
The brekkie we had was a bit more high class fare compared to the chain hotel brekkies we had been having the entire trip. So we wound up eating something like avocado with poached eggs and toast along with some kind of ham with poached eggs under Hollandaise sauce. We were tempted to get chocolate fudge waffles, but we refrained.
At 9:05am, we were done eating and finally we were ready to start the day.
From our hotel, we walked a few blocks all the way to the Millenium Park, arriving there at 9:35am. We were aiming to see the reflective giant bean, but we were pleasantly surprised by how this park was surrounded by attractive high rise buildings. And along the way to the bean, we were also intrigued by this fountain with two big blocks of animated faces (and for one instant, spitting out water out of puckered lips showing on the screen). It was pretty funny, and Tahia was laughing at it, too.
The bean as expected was popular. A lot of people were trying to take photos of it – whether they be fun shots of trying to hold up the bean or trying to somehow take advantage of the reflections, or even trying to take context shots with the skyscrapers towering above this giant bean.
Next, we walked towards some kiddie park another block or two towards Lake Michigan but not quite getting all the way to the lake (which turned out to be called the Maggie Daley Park). While on the way towards the park, we were once again impressed with the skyline looking back towards downtown Chicago. We thought the toddler playground by the Brooklyn Bridge in New York was one of the most scenic urban playgrounds, but this one here in Chicago seemed to be much bigger and better. In fact, I had never seen anything quite like this, and the amazing thing was that this giant playground was free!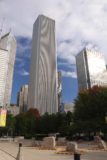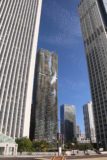 In any case, Tahia was itching to play in the massive playgrounds here, especially a pair of giant slides. And play time commenced at 10:15am.
The first thing Tahia spent time at was this big lighthouse with an enclosed twisting slide that was taller and longer than any slide that Tahia had previously been on before. So she was chomping at the bit to ascend the lighthouse then go down the slide (though she tended to slow herself down while in the tube). She managed to go down a little faster when I taught her to cross her arms. Apparently, she also took her time between some slide attempts as she was having fun with the vortex at the very top of the lighthouse.
When she had her fill of the lighthouse, she then headed over to this suspension bridge-looking contraption with two big towers. At the top of one of the towers was another slide that was even taller and longer than the lighthouse. However, Tahia first went up the tower without the slide, and when she realized there was nowhere else to go up there, she had a little trouble descending the ladders.
I tried to coerce her to figure it out, but when she got to the last level before the bridge level, I had to assist her down. Anyways, she then went up and down the huge slide, and it looked like so much fun that I even joined her up to that slide even though I was a bit oversized for it. So after she had her fun sliding down, I made my attempt, but I think my extended legs got caught and I eventually emerged from the covered slide upside down.
I guess there's a reason why there's an age limit (of 12 years) for things like this.
Anyways, play time ended when Julie saw on her iPhone that this Chicago deep dish pizza place was known for having long lines and it was said to be better than Gino's so she wanted us to have an early lunch there. And thus, we left the Maggie Daley Park (Julie said that last contraption was reminiscent of the Brooklyn Bridge), walked across this Guggenheim-Bilbao-like bridge (mostly because of the shiny curvy things flanking the bridge itself) over some highway, then wound up back at the Millenium Park, where we then continued walking towards the nearest L line stop at Randolph.
We then took the train towards Merchant Line or something like that, where we left some mall and walked north towards this place called Lou Malnati's. We got there at 11:30am, and we were able to be seated right away. Apparently, we had beaten the lunch rush just as Julie had hoped for. And we were told by the waitress that the pizza would take about 40 minutes to prepare.
So we stuck with the classic deep dish on butter crust. We also got some salad that had a nice texture to it thanks to the inclusion of bacon bits. When we were done eating the lunch at 1pm, neither Julie nor I were impressed with the pizza as it was high on cheese but light on the sauce. And I guess Julie was chasing that saucy pizza that she last had at Gino's some 20 years ago.
We were debating whether to try another deep dish lunch tomorrow, but right now, we were fully stuffed and we needed to walk it off.
So next, we walked towards the Chicago River Walk, which was basically several blocks of impressive high rise skyscrapers flanking the Chicago River. Perhaps the most iconic shot was the view towards the Chicago Tribune building looking in one direction or the Trump Tower and some parking structures looking in the other direction.
We probably spent quite a bit of time in this area, especially noticing other things like abstract statues of a group of folks carrying umbrellas as well as another one where there was a group of businessmen.
Next, we continued walking along Michigan Avenue, where we went looking for the famed 900 block. We weren't sure what this was all about so we just kept on walking along the street while paying attention to the tall skyscrapers here. I didn't know what the Sears Tower looked like, but there appeared to be this Water Tower (actually, it was the John Hancock Tower) that was this black trapezoidal tall building where its top floors were now started to get covered in clouds as apparently some fog was rolling in from Lake Michigan.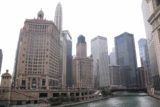 Meanwhile, we also noticed some castle-looking buildings that were apparently from the Chicago Water Works. Plus, there were some other skyscrapers but I honestly couldn't tell one building from the next. So in the end, Julie decided we shouldn't bother with the 360, which was on her list of things to do, but with the clouds rolling in, it seemed like a waste of money on this afternoon.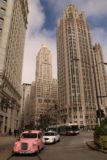 And when we came to that realization, we then made our way back to the nearest mass transit stop, where we then took it back towards the Loop, where we'd eventually be back at the Hyatt Centric at 3:30pm.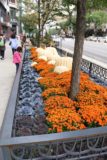 All of us had taken siestas as one point or another, and it wouldn't be until about 6:20pm when we were finally leaving the room once again. It seemed like any hopes of catching the Chicago skyline at twilight was not going to happen, especially if we were going to have dinner first thing. And we ultiately decided on eating at the Cochon Volant again, which we got to at 6:25pm.
This time, we had ourselves an escargot (seems like in the Midwest, they like to cover the escargot with bread and cheese, which was a style we didn't really care for). Then, we had whitefish with capers as well as a duck confit with a couple toast with foie gras moose (nice) as well as some kind of hearty stew with the remainder of the duck. We were stuffed, but we still treated ourselves to smooth creme brulee dessert where they actually used real vanilla bean custard.
At 7:10pm, we were done with the dinner. Now, we could go back to the river walk for night shots of the iconic skyline flanking the Chicago River. Once we got there, we were basically using the bridges and railings to help steady the SLR camera for long exposure night shots. That was fun, especially with some of the skyscrapers putting out purple or orange colors.
When we had our fill of the night time skyline shots at a little before 9pm, we then took the train towards the State/Lake stop, where we then tried to photograph the iconic Chicago Theater. We took a few moments of doing that at around 9:30pm before we finally got back to our room at 9:55pm.
We noticed from some of the TV screens in the Hyatt Centric that the Chicago Cubs had won their one-and-done Wild Card Playoff Baseball Game against the Pittsburgh Pirates. So that created a bit of a buzz in Wrigleyville, which Julie commented that she wondered why there were so many cops out on the streets, and now she knew why.
Still, we weren't anywhere near Wrigley Field though it looked like tomorrow we might be as we'd be seeking out more activities for Tahia to do in addition to some sightseeing that we didn't get a chance to do today.
Now, we could finally call it a night on this very busy day. However, we still had to stay in the moment tomorrow as it looked to be yet another busy day; the last full day of our Midwest trip…