Day 14 (October 8, 2015 – Chicago, Illinois): "Marathon Diversions"
It was 7am when I awoke to the alarm. Having slept at around 2am last night, I probably could've slept in a little longer. But when I saw there were pink clouds kind of hiding behind the high rises around our 21st floor room at the Hyatt Centric, that kind of motivated me to get the camera and take some morning shots to start off the day.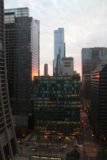 Speaking of pink clouds, it was definitely cloudier this morning than yesterday morning. So we were fearful that our 360 experience this morning might not be worth doing.
Anyways, it was about 8:15am when we went downstairs to the Cochon Volant restaurant again. This time, we had ourselves the avocado toast, kale-mushroom-gruyere omelette, and a nutella waffle. With this being our second time eating breakfast here, we noticed once again that there were lots of business meetings going on around us. Indeed, it seemed like we were underdressed here as most of the clientelle were dressed like what my co-workers would refer to as "ballers". In any case, the food was delicious, and by 9am, we were done eating and ready to start the day.
We went through the familiar transit lines, and by 9:45am, we made it to the 360 at the John Hancock Tower. This time, as we looked up towards the top of the building, we could clearly see that there were no clouds around. So for sure, we were going to make the visit up to the observation deck.
Once we paid the money to get in (probably close to $50), we then went through a slow moving queue mostly because they made everyone go through some photo booth. Boy were they really making sure the captive audience was going to get the sell on. In any case, we had no intention of buying any of these green screen photos so we just sucked it up and then eventually made our way to the elevator going up to the 94th floor.
Once at the top of the elevator, we were now on the observation deck, which was indoors. And so we got to look in all directions over the city of Chicago. Perhaps the most compelling views were towards the north where the morning light was perfect for looking down at the beaches against Lake Michigan just to the north of the downtown of the city. Looking kind of towards the sun, we were looking down at the impressive skyscrapers along Michigan Avenue.
We also saw in one section of the observation floor that there was a sky walk area, which was really nothing more than an indoor part with a netting instead of windows, which allowed us to hear the sounds of the city. In an adjacent section, there was this thing called "Tilt", which consisted of people leaning against a window as it tilted and allowed the riders to look right down at the ground through the tilting window.
It seemed kind of gimmicky, and we wouldn't bother with it.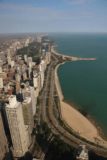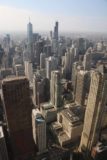 So with nothing else left to do up at the 360, we were back down at street level at 10:35am. We then walked towards Downtown Dogs thinking that we might go for a Chicago Dog before eating at Eataly. But it turned out that we were too early (it was 10:50am when they didn't open until 11am) to eat at the Downtown Dogs, and we wound up continuing our walk towards Eataly.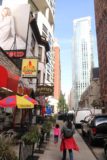 We got to Eataly at 11:10am, and it was clear that we had beaten the rush. There was a huge food court on the second floor, and we ended up eating at this area called La Pizza, where we got ourselves a Napolitano-style pizza as well as some mini foldover raviolis.
After having this meal, we then went back downstairs where we each got ourselves a gelato at 11:55am. By 12:10pm, we were finally done with the gelato and we then decided to head back to our room at the Hyatt in order to check in our flight since we had forgotten to do it earlier this morning.
We got back to our room at 12:50pm, and fortunately, we were able to change my seats so we all could sit on the same row. It was just that we were all separated as we were now assigned in seats A, C, and D. But we could just have Tahia sit in B and give someone assigned that seat our aisle seat on D. So we were pretty certain that we'd all be sitting together.
Once that was done, we were headed back downstairs at 1pm. We were at the blue line stop near Monroe, but it seemed to take forever for an O'Hare train to show up. In fact, it wasn't until about 1:40pm that we had finally seen a train show up. I don't know what the deal with these blue line trains were, but they always seemed to take at a minimum of 15 minutes or longer.
So it wouldn't be until about 2:30pm when we had finally arrived at the Field Museum. We had to take the Blue Line to the Orange Line, which then allowed us to get all the way to the Roosevelt stop. From there, we had walked quite a ways to the Field Museum, but that was when we started to notice fencings and infrastructure being set up for the Chicago Marathon that was taking place this weekend.
From the Field Museum North Entrance, we could see part of Lake Michigan in the distance. There was also the Adler Planetarium as well as a nice garden area. But with time running out on this day (Julie still wanted to see the Art Institute later on), we then went into the Field Museum, pay the near $50 in admission for all three of us, and then promptly start exploring the exhibits that didn't require us special tickets for the "special exhibits".
We noticed while waiting in the queue to pay and get into the museum itself that the screens were sneaky about not even mentioning the basic entrance rates as they only revealed the Discovery Pass and the All Access Pass or something like that. It was only because we had done research on-line that we knew there was a basic ticket. Kind of unethical if you ask us.
Anyways, we then started with the Egyptian exhibit before checking out the Children's Play Lab just before their last entry cutoff at 3pm. Then, we checked out the really neat Evolving Earth exhibit, which walked us through the history of life on the planet while also walking through six mass extinctions, where the sixth one was the one that's going on right now as it's caused by humans.
Julie found the exhibit to be quite informative as she hadn't been aware of multiple mass extinctions in the evolution of life. So she got just as much out of this experience as Tahia had gotten, I bet.
At 3:50pm, we were done with the exhibit, and soon thereafter, we left the Field Museum.
The afternoon skies were now a bit cloudier though it was still on the warm side. We then decided to walk towards the Art Institute though Tahia was really looking forward to playing in the playground at the Maggie Daley Park (the same one we had played at yesterday morning). However, we wound up walking at least over a mile or more as we had to go around the marathon setup work-related closures.
Along the way, we had finally found the Buckingham Fountain though it was not running (and it hadn't been running since September 26). It was said to be a seasonal stoppage of water, but there also seemed to be some work going on. That was a shame since there were nice skyline views with the fountain acting as the foreground.
At 4:45pm, we were near the Art Institute. We decided on doing a divide and conquer approach (like what we did on the very first day of our trip in Minneapolis) so Julie went to the museum on her own while Tahia and I returned to the Maggie Daley Park. We spent some time doing all of the giant slides (including one that we hadn't done yesterday just to the corner beyond the Brooklyn Bridge-like apparatus) before Tahia spent the majority of her time on the ship while interacting with other kids.
By about 5:30pm, Julie texted us that she was done with the museum. So now we were leaving the park and rejoining Julie a few minutes later. At 6:05pm, we would eventually make it to Gino's East, which was our last try at Chicago Deep Dish Pizza since we weren't very impressed with Lou Malnati's yesterday. We were hoping that at least the pizza here would be saucier.
Anyways, I had resigned myself to the fact that we weren't going to get twilight river walk shots as the twilight hour was pretty much now. And sure enough, by 7:30pm, we were finally done with dinner though it seemed that our pizza took forever to get out (it seemed to be way longer than the requisite 45 minutes for the Chicago Deep Dish).
At least this pizza was saucier than Lou's as we had hoped, but it wasn't as saucy as the Tony's Pizza in Fullerton that we recalled having back at home. And when we left the restaurant, it was dark outside so for sure there'd be no more checking out the river walk.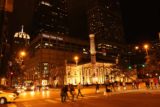 On our way to the Chicago Station stop, we tried some Chicago Dogs at Downtown Dog, which was ok. Their dogs came with a bag of potato chips though none of us had the room to eat it. So we brought it along thinking that it might have use when we're on the plane tomorrow.
As we were about to cross the street right before the stairs leading down to the subway, there was a beggar that we had passed by. We had seen a lot of these throughout both Cleveland, Indianapolis, and especially Chicago. We couldn't have stopped for every person and given something away for we'd have nothing left if we stood by the principle of leaving no one without anything. In a way, it's kind of a damning testament to the system we have that we can't take care of our own or have a system that ensures everyone lives within their means and you don't have a system that continues to concentrate wealth to the very few who also get to call the shots.
In any case, Julie had the bright idea of having Tahia hand over the bag of potato chips to the homeless person. His reaction to Tahia's gesture was priceless. He smiled widely, and called Tahia "Little Princess." He gladly took the potato chips and kept smiling as we said good-bye to each other.
There was a lesson learned here. While Tahia was a little apprehensive at first, in the end, we asked Tahia how she felt after doing the selfless gesture to the homeless person. She said it felt "good" and we didn't even put the words in her mouth. She came up with the answer herself. So there was a fundamental principle behind helping people and making them feel better. It wound up making her feel good about herself, and this was one of those life lessons you simply don't get in the classroom. Who knows what other intangible things she picked up on this trip?
By 7:50pm, we took the red line and some connecting lines towards the Randolph/Wabash stop so we could indulge in our last dessert at Mrs Fields cookies. We opted not to have a dessert at Gino's and we figured that we ought to indulge our sweet tooth this one last time before ending off our trip as this was our final evening.
When we left Mrs Fields cookies, it started to rain. And by 8:50pm, we had finally made it back to the room. On the walk back from the Monroe Station to the Hyatt Centric, it was now definitely raining a bit harder. But at least we didn't have far to walk, and we could finally call it a day as we were quite tired from this very full and busy day of sightseeing. I guess with this being our last full day on this trip (let alone Chicago), we made it count as best as we could…