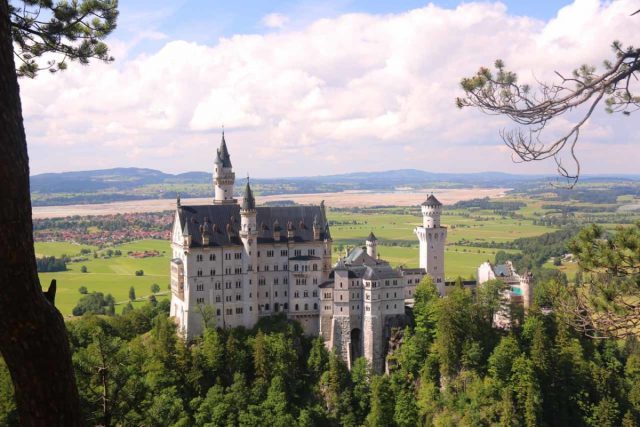 21-June 2018 to 1-July 2018:
At this point, I then walked back through the village and started asking people if they had seen "eine frau und eine tochter". The firefighters near the trailhead said they hadn't seen them.
However, when I eventually went up to the Cafe Gumpe Bistro Bar, the proprietor there who spoke perfect English said that the "wife and cute kid" went looking for me about 15 minutes ago. So that at least gave me some idea that perhaps they might have started hiking just after I was going up and down the trail looking for them.
After going back to the car one last time to see if they might have returned (and not seeing them there), I then finally went back to the trailhead one last time. This time, I saw other hikers, and I asked them, "Haben Sie eine frau und eine tochter gesehen?" (i.e. "Have your seen a woman and daughter?")…
Day 9 (June 21, 2018 – Freiburg, Germany): "Going Cuckoo For Cuckoo Clocks"
It was about 5am when I awoke. I was still tired from getting only three hours of sleep last night as I hadn't gone to bed until about 2am. The sleep was further interrupted by some outside banter that had to have gone on in the early morning hours between midnight and pre-dawn.
Julie would get up nearly an hour later, but with her late start, I was afraid that something was going to give in terms of today's itinerary (i.e. we wouldn't be able to fit the target sights planned for this day). And those target sights included the Triberger Waterfalls, Titisee, and the Hell Valley Gorge.
It still took me quite a while to wrap up the blogging from a very eventful and drama-filled day yesterday. Meanwhile, Julie prepared some bacon, eggs, avocado, and tomatoes in addition to pouring some kefir topped with some fresh berries.
It wouldn't be until about 8:20am when we returned to the car and paid for last night's stay. Then, we were finally headed into the Black Forest for some touring for the day. In hindsight, I wondered if I would have been better off doing some early morning touring of the Todtnauer Waterfall while letting Julie and Tahia sleep in. But it didn't work out that way, and I needed some cash just in case something required cash payment if I was going it alone.
Anyways, the streets were already busy at this hour. Even when we headed out as we drove north of town on the Route 3, we were behind slower cars and buses causing a bit of a backup for long stretches. Eventually, when we veered onto the Route 294, I managed to pass a slow tour bus and then I was pretty much home free driving within the forested terrain of the Schwarzwald.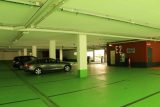 The drive was pretty uneventful until we eventually entered the town of Triberg and parked in a structured parking garage named Wasserfalle at 9:25am. Being only one of two cars in this somewhat spacious car park made me wonder if we made the right move by parking here, but I also knew that it was a warm day and being in the structure meant that nothing would heat up too much that was left in the car.
I'm sure the parking rates here would be pretty expensive though I wasn't sure if there were cheaper alternatives.
When we walked out of the car park, we weren't totally sure which way we were supposed to walk. However, we saw a large group of students going uphill and that was where we determined we ought to be going.
Sure enough, we saw signage past some of the moai statues pointing the way to the "highest waterfalls in Germany". And after crossing the busy street, we then walked further up the hill towards the eingang, where we paid 10 euros for the whole family (Tahia was free).
At that point, the scenery shifted from development to a much cooler forested terrain. The paved path continued to ramp uphill revealing partial views of the Triberg Waterfalls, and as we continued our ascent, we saw that there appeared to be more tiers further upstream.
Eventually after going up a couple of short switchbacks, we then took a shorter steeper path that got us quickly to the spur to the lookouts at the base of the waterfall. This appeared to be the most impressive and tallest series of drops so they were quite photogenic.
However, with shadows creeping onto the falls, I wanted the budding thunderclouds overhead to cover the sun for the most optimal photographs thanks to the more even lighting and disappearance of shadows. There were some moments where the clouds cooperated, but it did so only for short stretches.
After having our fill of the base of the falls, we then gradually made our way up to successive lookouts. Then, we continued climbing higher as we started to see more hidden tiers that weren't as readily visible from the base or from the first few lookouts.
There were also bridges spanning the higher tiers so that kind of spurred us on to continue climbing to experience more of the falls. However, we opted not to do any of the other trails (one went to some church and another continued climbing steeply towards some hydro facilities way uphill and upstream).
So when we determined that we had reached the top tier of the Triberger Waterfalls, we then quickly made our way back down to the exit. Indeed, this place was quite popular as there seemed to be a bit of an international feel to the falls as German wasn't the only language being spoken in this attraction.
In fact, there were a group of elderly ladies having a seat near the lowermost tier of the falls and I greeted then with "Guten morgen". Then they returned the "Morgen" before they then said "Bon jour" after a pause. I then said that back to them since I was a bit more comfortable with my French than my German at this point.
At 11:05am, I was chilling out while watching Tahia and Julie playing around with some tall swings at the Spielplatz near the ausgang (exit).
Afterwards, we slowly made our way to the parkingplatz though we spent a few minutes checking out this shop that had wooden bears performing something right above the shop entrance. I think the place was called something like 1000 Clocks, and it harbored an impressive collection of the wooden cuckoo clocks, which really captured Tahia's imagination.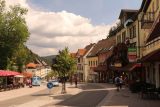 In fact, she wanted us to explore the whole shop and I'm sure she wanted us to spend hundreds of euros to buy one. Of course, we refrained. Yet there was one particular jeweled cuckoo clock that was around 23k euros. We figured that was probably for baller Chinese people with money to burn. I even wondered how such an intricate device like the cuckoo would survive the journey overseas.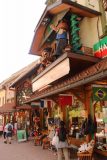 There were also other neighboring cuckoo clock shops though none were as successful as the 1000 Clocks joint. I guess that's how much the work on the entrance made all the difference in terms of taking the lions share of the business or not.
So, it wouldn't be until about 11:30am when we returned to the car, where we had to pay 4.5 euros for the couple of hours that we were parked in the sheltered lot. The upper deck that was exposed to the sun was full. I wondered if the possible disparity in parking rate was why the sheltered lot was emptier.
Oh well, what's done was done.
Next, we then drove towards Titisee, which was where we planned on having a lunch while checking out the attractive and popular lake. It wouldn't be until around 12:40pm when we finally made it to Titisee, but that wasn't before we were forced to take a somewhat costly (time wise) 7km detour that was due to road construction that blocked off the main throughfare along the B500.
Nonetheless, we managed to find parking near the pedestrian zone, and then we proceeded to walk it towards the lakefront. Eventually, we ate at this place called Bergsee Restaurant, where Julie was convinced that they ought to have some gluten free options.
Once we got seated, we got some pretty nice views out towards the lake while also being treated to a meal of steak, local lake trout, and a hamburger (for Tahia). For dessert, we managed to try out the Black Forest Cake, which was quite a bit creamier than I had envisioned, but for sure, the cake itself had enough of a rum taste in it (as well as that alcoholic sting). The raspberry layer was also a bit of a difference maker, and I could see the hype behind the famous cake that was known in the Schwarzwald.
There was also an apparent medical emergency as an ambulance showed up down by the foot traffic area, where Julie noticed that some Asian tourist was reclined on the ground. That seemed to have caused quite a bit of a scene both amongst restaurant patrons as well as passer-bys on the fussgangerzonen (pedestrian zone).
When we paid the bill, we were surprised that we were charged 2 euros by the large glass for tap water. I think that was the first time that we were ever charged for it. We were probably better off buying multiple half-liter bottles of mineral water if that was the case.
Anyways, we managed to chill out a bit on the shores of Titisee, where Tahia got to put her foot in the water and examine some of the young trout that were in the lake and even swimming around the shore near her.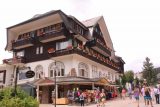 On the way back to the car, we made more stops into some cuckoo clock shops at Tahia's urging. Julie also picked up some kind of Bratkartoffeln which was a sour cream combo with some crispy fried potato medallions or pieces. Julie tried only a few pieces but I wound up eating the rest, which was making me really full. I was also afraid of getting sleepy on the drive back to Freiburg given all this potential food coma.
Then, Julie managed to let Tahia have some machine-operated popcorn since Julie thought that Germany had banned GMO corn so it might be an opportunity to enjoy corn once again (especially since the US was pretty much ruled by Monsanto regarding the corn issue).
By about 2:35pm, we finally made it back to the car, where we wound up paying about 4 euros for the two hours that we were there. Once again, it was pretty pricey, but then again, perhaps it shouldn't have been so surprising as apparently Titisee was a well-touristed spot.
Next, we drove the 31 all the way back into Freiburg. Along the way, I had originally planned to make a stop and explore the Hollensteig and Ravennaschluct, but we figured that we were short on time and opted not to do it. I hoped that I wouldn't be regretting this decision.
Instead, we found ourselves stuck in traffic entering Freiburg as we were stuck in a long tunnel for what seemed like forever. I was getting sleepy behind the wheel during this congestion and Julie even caught me about to rear-end a stopped truck as I was edging forward unconsciously. So she fed me cherries that we had kept in the car this day until now.
Eventually at 3:30pm, we finally returned to the Karlsbau parking garage, where there were definitely a lot more cars in there than last night.
At 3:45pm, we made it back to our apartment, where we dropped off some of the stuff we had brought with us to our circular tour of the Schwarzwald as we were preparing to tour Freiburg for the remainder of the evening. We held out hope that we might visit Staufen after dinner, but I wasn't sure how likely that might be.
Anyways, we headed back downstairs at 4:05pm. The first order of business was to walk towards the large cathedral at the Munsterplatz. We figured that given the massive size of the building as seen from the outside last night, the interior ought to be quite grand as well.
Sure enough, when we went in, there were stained glass windows flanking the sides of the hallway while there was a huge altar with a hanging crucifix with Jesus on it above the altar. We also took advantage of Tahia giving both Julie and I little massages while we were resting on some of the church benches. Her gesture was kind of cute.
In any case, our visit was short, and we then spent the next hour or so meandering around following the Rick Steves tour pretty much. Tahia was enjoying herself walking in any of the gutters or canals that had water in it. She was too busy trying to kick water at us with her wet shoes.
As she did this she got the news that the water wasn't as polluted as we had thought. Actually, those canals were firefighting mechanisms from back in the day, where the easy access to water meant that the wooden structures or buildings wouldn't be burning for long or at least not be spreading.
As we were starting to get tired from our day of touring, we eventually finally found the Schusterstrasse, which ultimately led us towards the visitor center. This time, the motivation of our visit was to seek out a place to exchange some cash for euros, which was something that was turning out to be quite the difficult find.
We were eventually directed to go to the Sparkasse, which was a bank and not really a bureau de change though apparently they did offer this service. It was somewhat hidden away in one of the streets we hadn't explored previously, and we thought to ourselves like it was little wonder that we had little luck in finding such places with good exchange rates.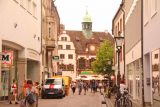 Speaking of the rates, they were charging some $1.205 USD for each euro, which was actually a pretty good rate. They did charge 5 euro commission since we weren't members of the bank, but that still didn't up the rate too much and so we changed the rest of our US notes in possession at this moment since it seemed like so many places accepting payment only took cash.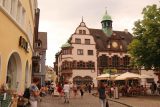 After finally getting the injection of euros, we then went to the Alnatural organic supermarket, where we picked up some fruits, some chicken, kefir, and a few other snacks. Eventually, we pulled a divide and conquer where I took the organic goods back to the apartment while Julie and Tahia did some additional shopping at the next door Rewe.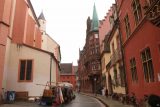 That afforded me some time to be back at the apartment at 6:25pm to try to tend to some blogging on the day (using the new flow which was frustratingly suboptimal though at least I could still do stuff mostly independent of the old laptop that was unable to charge up using power).
Julie and Tahia eventually got back to the apartment at around 7:30pm, and that was when Tahia started to draw and enjoy some time out on the balcony of the apartment while Julie was making dinner. She could at least control what went into the abendessen (dinner) while also saving a bit of money from eating out, which was proving to be quite expensive on the week-and-half that we've been on this trip so far.
And so ended this day. Tomorrow, I was intending to do the divide-and-conquer approach for the first time on this trip, where I'd go out to pursue the Todtnau Waterfalls solo and let Julie and Tahia sleep in, which was something that was missing from this trip also.
Day 10 (June 22, 2018 – Baden Baden, Germany): "Black Forest Business"
It was about 5:40am when I awoke. This was about 40 minutes later than I expected to get up because I didn't hear the alarm. The issue was that Julie had closed the door to the room that I was sleeping in as Tahia and I traded places. She was apparently too scared after seeing something on TV that really scared her while I was randomly flipping channels last night.
So I quickly ate some kefir with berries and banana, and then I was quickly out the door. By 6:15am, I had recovered the car, paid about 17.8 euros for the amount of time parked last night, and then I headed out on my own.
The traffic was somewhat light at this time of the morning though it did seem as if the city was starting to come alive with commuters as the streets weren't totally empty. Regardless, it didn't take much time before I found myself on a twisty mountain road on the most direct path south towards Todtnau.
I had originally contemplated heading southwest towards Staufen am Breisgau, but it was too far out of the way for the limited time in the morning that I was going to be out and about while Julie and Tahia were allowed to sleep in.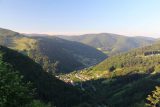 The drive went by pretty smoothly, though the GPS managed to route me onto a spur road that ascended to the top of the Todtnauer Waterfall, where the road was headed up to the town of Todtnauerberg. I managed to get there at 6:55am, and it was quite chilly as the car had indicated that it got as low as 3 degrees C.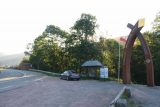 There was a little bit of a windchill. Yet, I took the time to look at a large map signboard that suggested that there was quite a ways to go down to the bottom of the falls, and I suspected that this upper starting point wasn't the most optimal.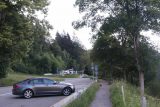 So I returned to the car, then went back down the way I went up before turning towards the town of Todtnau. At one of the hairpin turns on the descent, I saw the cafe doubling as the entrance spot for the waterfall. There was also a very long pullout where I could park the car, then follow a footpath right back towards the waterfall trail entrance.
At 7:05am, that was where I stopped the car, quickly got my gear, and then started the walk.
I could see that this place would normally collect a fee, but the gate itself wasn't closed or anything, and it was pretty much open access to continue the slightly uphill walk leading right to the falls after about 6 minutes.
There was a shelter as well as a few of these wooden lay-down chairs (for lack of a better term) to recline and enjoy the sounds of the falling water. Regardless, I could see that this waterfall was impressively tall, and it was quite unlike the Triberg Waterfalls that we saw yesterday in that this was more of a singular waterfall (Triberg's Waterfall was more of a multi-part affair).
I didn't bother with any of the other connecting trails switchbacked their way up alongside the falls to the top, and neither did I take the traiil going down all the way to town. Indeed, I just enjoyed the falls all alone while the sun remained behind the surrounding cliffs so it wouldn't force me to virtually look against the sun at the falls.
By about 7:55am, I was back in the car. Along the way, there was one other lady who was about to go on her own walk to the falls. So even though I was alone for the entire time, I noticed that it probably wouldn't be that way for long.
Next, I drove back to Freiburg even though I had contemplated taking a detour towards Staufen again. But with so many waterfalls that I had planned to see on this day, I continued heading back towards Freiburg along a wider but similarly twisty road along the L126, which eventually took me back onto the expressway at the 31 between Hollensteig and Freiburg.
I eventually entered the city from the east like yesterday before returning to the Karlsbau parking structure at 8:30am. When I made it back to the apartment, I saw that Julie and Tahia were still in the middle of having breakfast and they still weren't packed. And it wouldn't be until about 9:45am when we finally made it back to the car to start the day.
This made me wonder if I could have gone to Staufen after all. Oh well, what was done was done. There was still lots to do on this day and the first order of business was to drive north out of Freiburg along the 3 then on the 294 behind a long caravan of slow drivers again (just like it was when we headed to Triberg yesterday).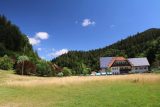 We'd eventually leave the long tunnel just east of Wolfach, and that was where we finally left the 294 and continued north towards Bad Rippoldsau, where we'd finally arrive at the signed car park for the Burgbach Waterfall at 11:10am.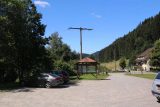 The car park had only a few cars, and we still managed to score a somewhat shady spot.
From my trip research, I thought that I was in for a bit of an extended walk. So I let Julie and Tahia stay in the car and keep on catching some Zs napping while I was doing this hike solo.
The hike itself was pretty straightforward as I followed a local's road up past some homes before the trail deviated from the road. After about 20 minutes, I was then on a more conventional narrow footpath though it climbed even more steeply than the uphill road that I had walked to get to that point.
Eventually, I joined up with another trail junction where the signs pointed me to continue left and make the final uphill towards the base of the Burgbach Waterfall.
Unfortunately, once I got there at 11:45am, the lighting on this falls was pretty much right up against the sun. That said, there were some trees blocking the sun's rays somewhat though I really had to position myself strategically to take advantage of it.
I also tried to compose photos of the falls from higher up the steep slope though that scrambling was a bit on the awkward side, and the further away I got from the falls, the more the sun became a nuissance.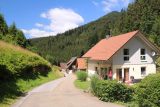 So after getting my fill of the falls, I quickly made my way back down to the car park at 12:10pm. That was when the car park was suddenly full of cars. Apparently, this place was quite the popular spot.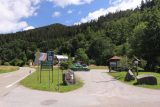 Next, we continued our drive towards Oppenau. The GPS had routed me to take the B500 then cut across towards the town as well as the next targeted waterfall at Allerheiligen. However, Julie's phone navigation took me on a much more roundabout path.
That costly detour probably left about a half-hour or so on the road. Regardless, we'd get to the town of Oppenau at 12:55pm, and we managed to find the restaurant that Julie had targeted to eat lunch at. This place was called Balhaus Rebstock, and it was in a pretty charming building protruding out onto the neighboring canal or stream passing through town.
The interior of the restaurant had quite a bit of an old-world charm to it, and the food we ended up eating was a nice blend of beef rump steak along with some local trout. Tahia shared what we were having.
I had to use a bit of my German to get by on the communication issues, especially since we had to make sure that Julie couldn't have anything with gluten in it (which was turning out to be quite the challenge in our travels throughout Germany so far). And we also started to take better advantage of using Google Translate though it still helps to know some of the German grammar so the Google Translate can be even more powerful than just blindly entering in an expression and trying to repeat it to a German-speaking person with limited English.
It wouldn't be until about 2:25pm when we returned to the car. By this time, the sun seemed to have disappeared behind a thicker layer of clouds.
Next, we drove towards the Allerheiligen Waterfall, which was just a short distance north of town. The falls itself was well-signed, and we eventually arrived at a fairly spacious car park at a hairpin turn at around 2:35pm.
We then entered the trail, where a sign indicated that it was merely 0.4km to get to the falls, but it was 1.3km to get up to the Roman cloister ruins (or klosterruine). However, the falls was really more of a series of waterfalls that the trail went besides.
The first couple of waterfalls were small and attractive, but it was really the third waterfall that had an impressive pair of drops. We kept walking up the steps to see if there were any more waterfalls, and after getting up to what I called the fourth waterfall (which were really more smaller cascades), we pretty much turned around when we saw that the trail had flattened out.
By about 3:35pm, we were back in the car, then we continued driving up the road and eventually parking at the well-signed P1/P2 lot by the Klosterruine Allerheiligen at 3:40pm. We then promptly walked a short distance along the small access road to get up to the ruins themselves, where there was a cafe next door to it.
Tahia figured out that these ruins were Roman because she saw Roman numerals on some of the inscriptions of the artifacts on display there.
At 4:10pm, we returned to the car, and then we continued driving towards Baden-Baden. Eventually, after passing by a busy scene at the Mittersee (wasn't sure what that was but there were tour buses there), we then arrived at a signpost for the Geroldsauer Wasserfall at 4:50pm.
However, when I saw that there was some guesthouse, and that it was a 1.4km walk to the falls from here, I realized that there ought to be a closer trailhead and access point than that.
So we continued driving, and we'd eventually get onto the narrow Geroldsaustrasse, which was pretty much 30km/h through the small village before we got onto a forested road leading us to a pullout with room for perhaps less than half-dozen cars. There were two vehicles already there when we pulled up.
From there, we backtracked down the road until we saw the "Zum Wasserfall" signs pointing the way down to the waterfall itself. There was a shelter there where a family was chilling out. The smell of cigarette smoke was strong as someone in that family was lighting up.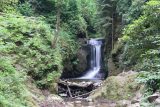 Meanwhile, we managed to view the falls from a distance from the bridge over the stream near the shelter as well as from a lookout that was much closer.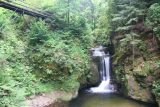 This was an easy waterfall to visit though it was probably one of the smaller ones as well. Still, there was an air of intimacy with this quaint falls, and if it weren't for the cigarette smoke in the air, it would probably be quite the place to chillax for a while.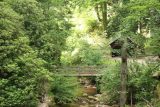 Regardless, we were back in the car at 5:20pm, and then we continued driving into Baden-Baden.
It wouldn't be until about 5:40pm when we finally made it to the Vicentistrasse Car Park, which was on the northeastern end of the zentrum of Baden-Baden.
From there, we had to walk down the cobblestoned streets and sidewalks as we had a little trouble finding the apartment. It wasn't until Julie asked a local that we realized that we were on the wrong side of the street.
Eventually, we got to the Royal Apartments and followed the email instructions to get the key out of the mailbox, and then get into the building. But once we got into the interior of our room, that was when we saw just how baller it was.
Indeed, the yellow rugs with elegant wallpapered walls and shiny brass frames mixed with wooden furniture made this place seem like we had just stepped into some aristocratic abode. And it added to the high culture that Baden-Baden was known for (or at least its famous casino at the Kurhaus).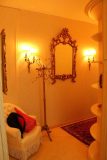 It was about 6:20pm when we were getting settled in the apartment, and then Julie and Tahia went downstairs to the local supermarket to buy some food for dinner and breakfast. However, when they returned at 7:35pm, Julie was disappointed that they didn't have any meats. In fact, we would have to drive well out of town to find a bigger town with such products.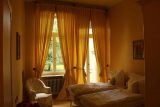 I guess Baden-Baden wasn't exactly meant for self-catering in that manner, and so we had to settle for eating out for dinner.
Eventually at 7:40pm, we started walking around town looking for this Thai-Vietnamese restaurant as we were getting a bit tired of German food (or at least the gluten free steaks and insert other meat here like fish, chicken, pork, etc.). This place was called Zamui, and it seemed like we were the only ones there.
The food was relatively reasonably priced compared to how much we had spent eating out throughout this trip, and the crispy duck curry that I got along with Julie's king prawns curry, and Tahia's goi guong definitely hit the spot.
After the dinner, it was starting to get chilly, but we still seized the moment and walked around town exploring the shopping arcades and cafes as we tried to see what we could get away with at the Casino. When we'd eventually make it to that Kurhaus Casino, we were only able to explore the lobby.
Unfortunately with Tahia in tow and our peasant-like attire, we knew that we would be unable to experience the action and the old world high-roller ambience that we were aware was going on inside.
Afterwards, as the skies were continuing to get darker, we then went over to the nearby Trinkhaller, which was an impressive building fronted by arches and a hallway with some frescoes. Even with the low light, there was a bit of an intimate glow to our photos from here.
Then, Julie and Tahia were getting tired so they started to retreat back to the apartment. Meanwhile, I was determined to check out the Lichtentaller Allee, which was said to be the top thing to do in Baden-Baden without doing any of the baths or the casino.
As I made it to the streamside outdoor walk, which was lined with trees and some baller-looking hotels on the other side of the stream, I tried to soak in the ambience.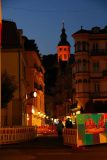 Normally, being out alone in a park like this at night wouldn't be the wisest thing to do, but I didn't feel such a threat to my own safety here as many couples were going out for romantic strolls while the younger ones were busy causing trouble by honking their horns and creating attention to themselves over some World Cup related thing.
Perhaps I had to keep playing tourist in order to disarm any perceived notion of me being that creep loitering around the Lichtentaller Allee alone and up to no good or something like that.
By about 10:25pm, I had finally returned to the apartment after the end of my whirlwind tour of Baden-Baden. Julie and Tahia actually waited for me to return because the doors were locked and only they had the key. So in hindsight, they probably should have gone with me to the Lichtentaller Allee to really soak in the experience and seize the moment as they were probably waiting for me for about a half-hour as they were getting worried about me.
And with that, we spent the rest of the night getting cleaned up and trying not to make more noise than necessary as the floors had that wooden creak to it, which meant that the neighbors below could probably hear our footsteps.
The shower felt comfortable, and even though Tahia insisted that she sleep on the twin bed next to Julie, I was fine sleeping in the living room couch (as I couldn't figure out how to pull out the bed part underneath)…
Day 11 (June 23, 2018 – Ulm, Germany): "Working From Behind"
It was about 5:35am when I awoke. While I did hear the alarm that went off at 5am, I thought that I could sleep in for a bit since I didn't need to visit the Geroldsauer Waterfall this morning after having done it the day before.
I spent the better part of the morning getting caught up on the blogging, and that was when I noticed that Julie didn't get up until about 6:30am. She didn't get started with the breakfast preparations until after 7am, and at that point, I knew that we were running late as we were supposed to be out the door at around 8am.
I was willing to make concessions with Julie since all of the sudden she changed her mind about doing one of the spas in town though she wouldn't be able to do the Roman Irish bath but the Curacalla modern bath instead. Apparently, Tahia was old enough to go in while accompanied by Julie or something like that. However, I think Tahia's expectations were that of a kiddie pool, and like with most of Baden-Baden's attractions, it really wasn't catered towards kids.
Anyways, it wouldn't be until about 9:40am when we finally got into the car. Before we left, I thought that we could go to the Konig Bakery to try some high end Black Forest cake, but Julie had this expectation that we could drive in front of it, which was totally false. And instead of letting me street park a little bit set back from the U-turn spot, we ultimately got in a bit of an argument over Julie's wishy-washiness, and we simply decided to forget about having the cake and keep moving.
By now, we were 2 hours behind, and I was really worried about having a rushed day trying to visit the Bad Uracher Waterfall as well as the Lichtenstein Castle, and then try to visit the Ulm Muenster before they closed their doors (some website said that they were closed at 4:45pm today, or something like that).
So once we left Baden-Baden, we then headed north towards Karlsruhe on the A5 (where I kept hearing about traffic announcements on the German radio stations). And sure enough, there was some stop and go traffic en route to Karlsruhe before we finally headed east on the famous A8, which was an east-west corridor that connected say Karlsruhe all the way east to Munich and even going beyond towards Vienna, I believe.
It didn't take long before we ran into more congestion on this stretch of freeway, and that further exacerbated our tardiness in getting to the Bad Urach area.
That said, there were also stretches of the autobahn where there were no speed limits. And while such stretches of the high speed motorways could be opportunities to test how fast one can drive, the truth was that these stretches weren't that extensive. So in my mind, they really weren't that big of a deal.
After a few more stretches of high speed driving and some slow down stretches, we'd eventually leave the A8 and then head south on some route towards Bad Urach. The Bad meant "bath", which suggested that this was a spa town.
However, the main reason for us to go there was to visit the Bad Uracher Waterfall. We were also planning to visit the Lichenstein Castle, which was kind of an unplanned attraction except it was close enough to the Bad Urach Waterfall that we mind as well visit it. In fact, little did I realize that this castle was a popular one apparently due to its resemblance to the Rapunzel Castle with a tall tower from which she would have to climb down using her own hair.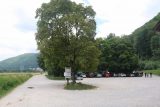 Nevertheless, it wouldn't be until about 11:35am when we finally arrived at the P23 car park, which was very busy. We drove all the way towards the end of the road, where I saw some signage suggesting that there was one waterfall that was over 4km away while another waterfall was under 2km in each direction.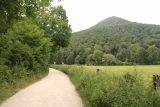 Some website blogs suggested that this hike was only about 30 minutes in each direction. And so Julie and I decided that I should solo the hike while Julie and Tahia went looking for a lunch while they were waiting for me.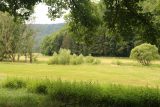 It was a shame that I couldn't do the whole 10km loop to take in the Bad Uracher Waterfall as well as the Gutersteiner Waterfall. Indeed, I had to stick to the plan and just get to the Uracher Waterfall only.
The hike was quite flat and pleasant as there were numerous families with both elders and kids sharing the same wide and flat track. Many of the families made frequent stops along the trail so the kids could go into the stream that was alongside one side of the trail.
There were plenty of spots that afforded me views across the green value with some cattle grazing in the distance. After a bit of similar scenery walking, there was one last pair of turns before I saw the Uracher Waterfall up in the distance where a tall plunging tier was most visible from the trail with lots of people gathered around the base, where I suspect it was possible to make a viewing there.
As I got closer to the base of the falls, the upper tiers were becoming blocked by trees in the foreground. But once I got at the base of the steps, I saw that I could get a fairly clean view of the upper drop of the Uracher Falls as well as some percolating cascades further downstream.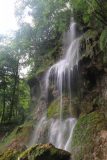 This waterfall kind of reminded me of the Escondido Falls back home in California, where it was kind of a mix of limestone waterfall with lots of algae and long-haired grasses growing in the stream creating that weeping look and feel.
As I climbed up the steps to get up to where a bunch of people were chilling out near the base of the falls, I managed to get different angles of the falls. And when I got up towards the top, there was a daughter and father that had already made it to the end before I did.
From that vantage point, it was possible to say you were behind the Uracher Waterfall though I'd argue that could be a bit of a stretch.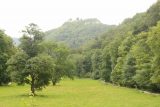 Once I had my fill of the precarious backside of the main drop of the falls, I then made my way back down the steps. I purposefully ignored the spur paths that seemed to continue the trail or go elsewhere. I ultimately made it back down to the bottom of the steps, where I made one last look back up at the Uracher Waterfall before going back the way I came on the wider track.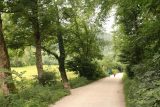 It wouldn't be until around 12:55pm when I made it back to the car park, where I saw our rental car, but no one was inside. So that meant that Julie and Tahia were probably still eating lunch somewhere, and now I had to look around to see.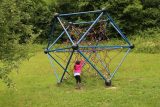 Fortunately, the search didn't take long as I saw Julie and Tahia waving at me from the Maisentalstuble Restaurant (actually more of a beer garden). When I got to them, Julie was still taking supplements while Tahia was too busy playing on some jungle gym that she could hang from. Meanwhile, they left me some leftovers of the wieners sold there as well as some cooked sauerkraut.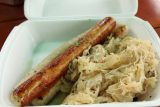 Julie said that she had some local trout, which she liked. When I tasted the leftovers, I also liked the food, and it was surprisingly good considering how much we had paid for the fare (only around 20 euros, which was dirt cheap compared to anything other time we've eaten out, which tended to be in the 40 euros and up range).
So it wouldn't be until about 1:10pm when we were back in the car. I actually left some of the leftovers since I wanted to try the kraut with mustard that we had left in the car.
Anyways, we next had to make our way quickly to the Lichtenstein Castle. As we were still behind by 2 hours, I was afraid that time was running out.
And as we were driving away from Bad Urach, it seemed like we were headed further to the west, which made me think that perhaps I had made a mistake going to the waterfall first. We probably should have gone to the castle first, and then go to the Uracher Waterfall later since now it seemed like we were backtracking. So I felt that we were losing more precious minutes as the aim was to climb the Ulm Muenster before closing time.
Anyways, it wasn't until about 1:35pm when we arrived at a car park near the Schloss Lichtenstein. We paid 2 euros to park in one of the spots by the cafe we first noticed while driving up. There was a speed trap in one of the small villages on the way to get here, and I was worried that I might have triggered it in my haste to get to the castle.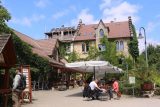 When we got out of the car, we then continued walking uphill along the road. And that was when we found another car park that actually had some spaces! Not only that, but that car park was free!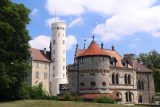 Oh well, in the grand scheme of things, I guess 2 euros wouldn't make a whole lot of difference, but it wasn't a good feeling knowing that we paid for something that wasn't necessary.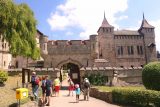 There was another restaurant up at this lot, but we had no time for a sit down place. Plus, we were looking for that black forest cake, but this place didn't have it (at least it wasn't shown on the menu that was on display there).
We then went up a walking path that headed towards the Lichtenstein Castle, finally. As we walked further towards the entrance gate, we could see the tall "Rapunzel" tower, and it hastened our steps even more.
Next, we paid about 13.5 euros (each adult was 5 euros and the child was 3.5 euros for just the courtyard; the guided tours of the interior were only in German), and then we promptly walked the grounds and went to the famous lookout spot that was looking back at the impressively tall but narrow castle perched right on an outcrop above a tall cliff.
Without a whole lot to do in the grounds, we spent most of our time taking pictures from this vantage point. Then, we briefly walked around and checked out some of the other buildings in the courtyard before we headed back down to the car. We managed to get there at around 2:20pm, and that was when I ate the rest of the leftovers from the Maisentalstuble back at the Uracher Waterfall car park.
It wouldn't be until about 2:30pm when we finally left and headed towards Ulm.
The drive back out was a bit of a hasty affair as we were taking a series of local roads (mostly the 465) before we finally got back onto the main road leading towards the A8 autobahn. Then, we continued on the freeway until we followed the signs (and the GPSes) right into the city center of Ulm. Eventually at around 3:30pm, we made it right next to the Hotel Rote Lowe in Ulm, which was where we were staying.
The parking lot that we found was what we assumed was for the hotel, and it was tight. So we promptly got out of the car, got our belongings out, and then checked in. When I saw the security cameras in the lobby, I noticed that the car park surveillance videos looked nothing like what we had just parked at. So I knew that we'd have to move the car.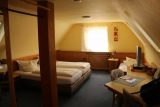 After getting settled into our room, I then moved the car into the actual hotel garage, and eventually at 4pm, I could finally rejoin Julie and Tahia back at our hotel room, which was actually a room at the very top floor. There was one flight of stairs that we had to lug the belongings in, which was a bit of a challenge, but we managed (quite par for the course in Europe).
At this point, Julie had already called the Ulm visitor information center and we were told that the last admission in the Ulm Muenster Tower was actually at 6pm and not at 4:45pm (or before) as the internet had previously led me to believe. So perhaps we rushed unnecessarily. But you never know with these things, and I knew that doing this cathedral was a must in town.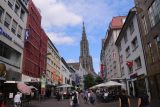 So it wouldn't be until about 4:15pm when we left our room and headed right for the Ulm Muenster. Julie actually wanted to go to the supermarket, but the way she asked the receptionist, she thought Julie was going for an ordinary market or shopping lane because she asked "Where is the market?" So she only marked the Hirschstrasse but when we were down there, there was no supermarket on the busy walking street to be found.
However, we did see the info center itself, and they indicated that it was not in the immediate city center. Thus, we wouldn't have water to go up the Ulm Muenster.
It wouldn't be until about 4:40pm that we finally used the coin op machine to get our tickets and get up the Ulm Muenster Tower. It was already a pretty tight spiral, but it also seemed like it was one-way traffic so we were able to go up with pretty descent speed. Tahia was busy claiming that this climb was easy (even before making it to the top).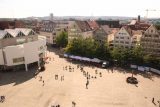 It wouldn't be until about 4:50pm when we finally made it to the first "rest stop", which was basically the end of the initial set of spiral steps while we were checking out some opening looking down at a church bell while also looking through cages to see how high up we were. There were directions leading us to the next set of spiral steps though we had to avoid going down a different set of steps that led the way down.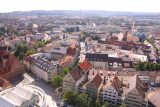 And so we continued our ascent, which kept going up and up. There was an Indian couple that was really struggling in this series of steps. So Julie, Tahia, and I had to pass them.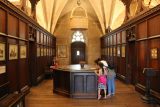 The ascent continued pretty much seemingly endlessly as we started to notice things like human-like gargoyles stretched out overlooking some spire with the Ulm buildings looking really tiny beneath.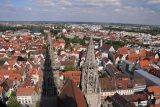 It wouldn't be until about 5pm when we finally made it up to the second "rest stop", where it seemed like we were literally on some slanted rooftop. There was a warden up here, who was apparently directing traffic. Apparently, the last series of steps was bi-directional so he was trying to minimize the amount of traffic jams up there.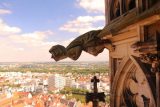 Thus, we had some time to chat with the warden, who was a young lad interested in our American accents. He (like someone else we spoke with) said that the Texas drawl was difficult to understand. He also said that he liked the Scottish accent. Apparently, he hadn't visited the US yet, and he spoke longingly of wanting to travel to our country.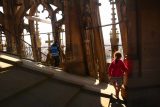 He also asked what we were doing in Ulm as apparently he wasn't used to seeing many American tourists. That was when I told him that I had a co-worker who used to work in Munich, and that he recommended that we check out Ulm due to Einstein and that cathedral, which we were standing in right this instant. I knew that we wouldn't have the bandwidth to do the Einstein stuff, but the cathedral was the top priority and then the Fisher's Quarter.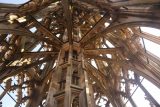 Eventually, he let us through to go up the last series of steps. After going up perhaps about half-way or more, there were a couple spots of traffic jams where we had to let people coming down squeeze through. However, by 5:10pm, we ultimately made it up to the top, where even up here, there was limited real-estate.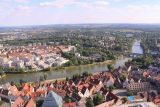 So we pretty much made a loop of the top in the clockwise direction taking in the views. Perhaps the most interesting views were over the Donau River. However, even though it was sunny and beautiful on this day, we couldn't see any of the Alps in the distance as apparently there was either too much haze, too many clouds in the distance, or a combination of both. I guess this was another case of the internet creating unrealistic or inaccurate expectations.
Still, it was pretty cool to be looking down at everything from this vantage point. There weren't that many cathedrals in our experiences that let us experience the city from such a high vantage point where Tahia thought everything down below looked as small as candy bars.
When we finally had our fill of the top, we then made our way down the spiral steps. Once again, there was a group of people making their way up, but we once again paused to let them pass. And when we made it to the bottom (or "rest stop 2"), we then saw that there were lots of people waiting to get up.
Next, we continued making our way down the steps towards the "rest stop 1" as we got there at about 5:30pm. And it wouldn't be until about 5:50pm that we were deposited into a gift shop (ala Disneyland style) where we then entered the main hall of the cathedral, and we were quite impressed with the collection of stain-glass windows, frescoes, and statues inside the grand interior.
This was turning out to be one of the better cathedral visits that we had been on given how much we were allowed to experience and how impressive its interior was. We even noticed an Ulm Muenster replica made out of Legos, which was certainly something we wouldn't be seeing in Legoland.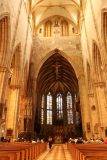 And after all the drama and haste of getting here, we were glad to finally get this out of the way, and we were certainly glad to have finally done the Ulm Muenster. Now, we could do the rest of the sightseeing of the city as well as get groceries, and looking for a dinner spot.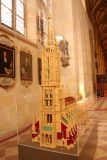 It wouldn't be until about 6:30pm when we got back to our hotel room to put things away. We really had to discipline ourselves to not buy anything that wouldn't keep since we had such a small refrigerator, and it would be difficult to keep things from spoiling after another long day of driving and touring tomorrow.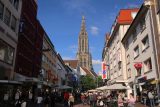 Further complicating the issue was that tomorrow was Sunday, where even the supermarkets would be closed. So that was going to pose quite a bit of a challenge in terms of what we could and couldn't eat tomorrow. I guess we'll have to cross that bridge when we get there.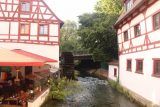 Regardless, with that out of the way, we then went back downstairs and into the Fischersviertel (Fisher's Quarter) in the historic part of Ulm. There were already people starting to gather in the bars and around the big screens to watch the World Cup match where we knew that Germany was going to play today. Even the plaza around the Ulm Muenster was starting to be cordoned off by security people as apparently they were setting up for some kind of live event there (we saw the stage being set up and the barriers surrounding the plaza).
Eventually, we got into the charming Fisher's Quarter which involved some old half-timbered houses flanking the canal passing through. It already drew camera clicks from us, but we still had to find a place to eat.
Julie's first choice was to eat at this place called Zum Forelle. However, they were booked out. So we wound up going to this other place called Zunfthaus, which was inside another historical 15th century building so its interior was quite interesting and quaint.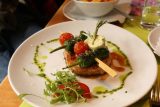 We wound up getting some pretty good food consisting of Swabian Pork Steak as well as a local trout. We couldn't get leitungswasser (tap water) unless I ordered a drink, so I got a local beer recommended by the waitress.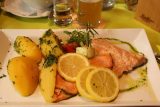 When I wound up drinking the beer, it was actually quite smooth and foamy. As for the taste, I was never a big fan of drinking beer and this still had that yeasty beer taste, but it was quite good. It was certainly nothing like Sam Adams, or any of the cheaper beer brands back at home that I would have a much harder time tolerating.
From the limited German that I knew, the waitress explained that the pork was raised 9 months out of the year to be free roaming in the forest. However, they would be captive the remaining 3 months out of the year. So this way of naturally raising the pork was the method of Swabian-style pork, and we could certainly taste the difference.
It wouldn't be until around 8pm that we were finally done with our meal. We asked the waitress about termites or how buildings can stay intact after so many centuries, and she told us that there were fire-resistant chemicals as well as insect-resistent chemicals to treat the structures. They didn't really have termite problems, but they did have wood worms.
Afterwards, we wandered around the Fischersviertel some more, and we'd eventually find the old tilting house, which was said to be dated from around the mid 1400s. It looked like you could actually stay here, as this building was said to have been reinforced in the 19th century to keep it from falling into the canal.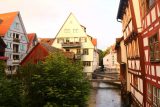 We'd continue taking our time slowly walking and photographing the Fischersviertel before we got back into the commotion of the World Cup as large crowds were gathered at each bar in the quarter, and of course, there was the big viewing going on at the Ulm Muenster's plaza.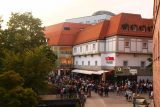 It wouldn't be until about 9:10pm when we finally returned to our hotel room. We happened to show up just in time to see Germany tie the score against Sweden.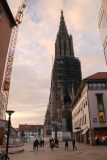 And with our day ending, we then let Tahia play in the small indoor swimming pool since she had not had the opportunity to play in a pool on this trip to this point.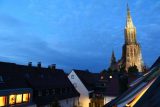 Eventually by 10pm, we were back up in the room, and that was when we finally cleaned up and called it a day. With a lot of noise going on outside, we had to close some of the windows to keep most of the TV noise and banter to a minimum, but we also had to let some heat out as it could get quite stuffy up here.
Before we knew it, we crashed and slept some time after 11:30pm as it was the end of another long and busy day of touring. Yet the hits wouldn't stop as we were in for more sightseeing action tomorrow as we'd have to drive to Fussen but not before taking the time to check out Lindau in Lake Constance as well as checking out some waterfalls en route…
Day 12 (June 24, 2018 – Fussen, Germany): "Lost And Found"
It was 4am when I woke up. In this instance, I didn't even need my alarm because there was quite a bit of chatter going on outside.
I guess some people didn't sleep all night as they were probably busy celebrating the Germany versus Sweden World Cup soccer match, which was quite a big deal.
As if that weren't enough, then the Ulm Muenster church bells well off shortly thereafter, and that pretty much made it so I couldn't go back to sleep.
So the next couple of hours were spent getting all packed and ready to go. Julie got up at 5am, and we got Tahia up to at least get brushed and ready to go. She could sleep in the car.
So by 6:15am, we got into the car and started to leave the quiet town of Ulm. Actually, it was quiet because today was a Sunday, and that kind of worked to our detriment because we knew that we couldn't do any grocery shopping on this day (Julie really wanted to self cook and not eat out tonight), and that the cheap gas stations (we were looking at about 1.21 euros per liter) that we stumbled upon on the way out of town were closed until at least 9am or 10am.
Thus, we headed right onto the A7 then the A96. And on this morning's drive, the autobahn was mostly without a speed limit so we were flying at over 160km/h though we could have pushed it more if we wanted to. I just wasn't comfortable with the consequences of going too fast with the precious cargo in the car with me.
Indeed, this was what guys back at home dream about, where you can fly in a car with not much restrictions on how fast you can go. Still, there were some sections with construction and/or tunnels that meant we had to slow down or else get caught by one of the traffic cameras. But other than that, this drive was uneventful as we eventually left the A96 at B308 and then headed east away from Lindau towards the Scheidegger Waterfalls.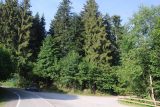 We got there at about 7:45am, which was early as we were the first ones to arrive. Julie and Tahia still wanted to stay asleep so I geared up and headed towards the waterfalls. However, there was an admission fee to pay, technically. It was just that no one was there and there was a drop slot that accepted 2 euros; yet I didn't have anything smaller than a 5 euro note. So I kept going in.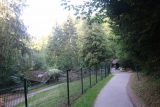 The gate was locked at the animal farm so I kept to the right and descended into a playground area with some interpretive signs about someone who harnessed hydroelectric power. Since all the signs were in German, I couldn't readily read them in real-time. But I knew enough and saw enough to realize that it had a role here.
Anyways, I first headed to the waterfall panorama, and after a few minutes of walking, I got to a spoint where I not only saw one of the drops of the "big" waterfall, but I also saw a lower drop though that one was harder to see due to overgrowth. I wondered how people were able to see that lower falls with less foliage obstructions given that the route appeared to end at this point.
I then backtracked and took a different path on the other side of the Scheibenbach (or is it the Rickenbach?) where I had to look against the sun for a top down view of the upper drop of the "big" waterfall, and then I had to climb up before going down a bunch of steps (part of the 273 total steps if my German interpretation was correct) towards several lookouts.
I noticed there was another family that showed up just as I started to check out the overlooks on this side of the creek. So I wasn't totally alone on this visit.
Next, I continued descending until I found myself in front of the lower drop of the "big" waterfall. There were some interesting rock formations hinting at the geology behind the formation of this falls. And this was the lowest point of the hike. So then I returned back the way I came, and when I got back to the playground area, I then followed the path to the "small" waterfall.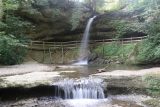 This time, I was on a longer path that took me upstream along the Scheibenbach (or is it the Rickenbach?) until I eventually crossed a bridge then followed it towards the small drop that I knew was close to the car park. It also appeared that the bridge and the small falls were on separate streams so perhaps the waterfall was on the Scheibenbach but the stream beneath the bridge and the combined streams for the larger waterfalls was the Rickenbach.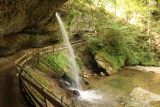 Regardless, the smaller waterfall let me go behind it. However, on the other side, there was a locked gate that probably passed into the animal farm before returning to the playground area and kiosk/cafe. In order not to go back on the same long hike to leave, I scrambled up a very steep (but clearly well-used) path leading back up to the car park at 8:50am.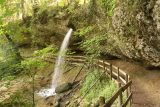 At this point, I felt like I needed to use the toilet so I went back to the kiosk, where it appeared that the owners had finally showed up. I gave them my 5 euros so I could get change back and pay for my visit. However, they told me that the toilet was not ready for a while as they had just started opening shop.
I guess we could have taken off without paying, but my search for the toilet break at least cleared my conscience.
Next, we drove back west towards the town of Lindau. This was my excuse to visit the Bodensee (Lake Constance) area, and the town of Lindau was on an island that promised to offer nice views of the lake, which was fringed by the Alps on the eastern and southern end of the lake. Unfortunately, that was also where we were looking against the sun.
After a bit of driving around, we managed to park the car near the lighthouse and lion statue at about 9:20am.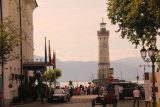 There was a pay-and-display machine that didn't work that was charging 0.55 euros per half-hour, but since the parking was enforced everyday, we had to go to another machine that was working, but it was charging double the price. On top of that, it didn't give back any change so we wound up paying about 3.5 euros (instead of 3.3 euros) for 90 minutes.
There was also a rail station here with public toilets that were free so we took advantage of that too.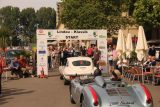 Finally at around 9:30am, we were able to start touring Lindau. The first thing we noticed besides the attractive small lighthouse and lion statue was that there was a crowd of people gathered around the start of a "race" where various cars you see in "Herbie Goes Bananas" were waiting to get their start.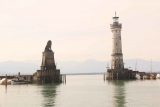 It was apparently called the Lindau Classic according to the signage around the starting point. In my mind, this was probably more of an exhibition of these cars than it was an actual race.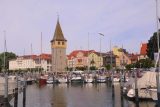 Regardless, we managed to catch the very end of this "race" before the crowd dispersed and the waterfront we were on was back to its normal self for a Sunday.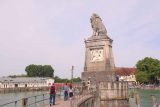 I took some time to walk onto the jetty where I could get up to the Lion Statue and look back towards the tower and the pastel-colored buildings backing the marina and the outdoor cafes.
This place definitely felt a little more touristy as there were Chinese visitors as well as Spanish being audible (probably from visitors from Spain).
We then walked randomly down some alleyways before we encountered the old town hall building (rathaus) that looked quite decorative. We checked it out from the side where cars could drive, but once we passed towards its other side, that was when we saw how attractive it was. And not surprisingly, we saw people already starting to take pictures of it.
There were also people carrying musical instruments as they were going upstairs and into the rathaus. I wasn't sure if they were performing something or if they were rehearsing.
Anyways, we then continued to walk more of the pedestrian zone (though some vehicles were driving through here), as it was lined with shops, and there was already a performer on stilts painted silver and looking for tips.
We'd ultimately stop at a plaza where there were two churches as well as a statue and a museum. We took some time to check out the church, which apparently would have some kind of service going on at 11am (it was about 10:45am by now), and then go next door into the slightly bigger cathedral, which was a bit more ornate and grander looking than the church we had stepped into earlier.
The church bells then went off at around 10:50am, which was a bit of a raucous clanging, and I wondered if that was to gather the people for worship as it was clearly nothing to do about letting everyone know the time.
This pretty much ended our walking tour, and then we headed back towards the rathaus, where Julie decided to eat at this place called Zum Altes Rathaus. By now, it was about 11:20am, and Julie and Tahia went ahead and got seated while I hiked back to our car to feed the meter once again. This time, I paid about 2.5 euros, which was good until about 12:22pm, which I figured ought to be enough time to allow us to eat lunch.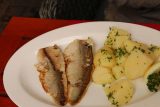 When I returned to the restaurant at 11:25am, Julie had already ordered some trout and some pork as well as a small bottle of mineralwasser as apparently they didn't do leitungswasser here.
The meal was German though this place had a decidedly Italian feel to it. In fact, we noticed lots of German-Italian restaurants and cafes. And if it weren't for Julie's gluten avoidance, we'd probably be eating a lot more Italian food when we'd get sick of German food.
After the meal (and not a moment too soon as someone sitting next to us started smoking), we then walked back through the busy pedestrian zone as many more people were now out and about by now. We made a quick stop at a gelateria, where I noticed black vanilla. I tried it out and the taste was definitely vanilla.
However, I wound up getting some cookies (and cream) flavor as well as standard vanilla. Tahia got lemon sorbet, which she was loving and asking for each time we'd stop for gelatos.
It wasn't until about 12:25pm when we finally got back to the car, and now we could head to the next waterfall on the way to Fussen (or at least around there).
The GPS was acting up and never really acquiring anything while it kept going to random places. So I couldn't rely on that and had to navigate with the GoogleMaps app on my cell phone. I eventually had to shut off the Garmin unit and then turn it back on in order to finally reacquire and behave properly. And by then, we were already on the B12 moving at a fairly good clip until we then headed south on the B19.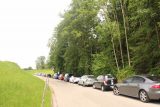 We then got off the highway and headed towards Altstaden, and eventually to the small village of Hinang. Once there, we had to circle through town as the GPS apparently wanted us to drive up some really narrow alleyway. It didn't seem right, and when we eventually got back onto the main road and backtracked, we saw that there were parked cars below the bridge we were on, and I knew that had to be the trailhead for the Hinanger Waterfall.
So we then went back into the Hinang town, and then followed Hochweilerstrasse, which then went beneath the highway we were on before we found some shoulder parking behind the already packed line of cars here at 2pm.
We then geared up and proceeded to walk onto the initially paved path as it passed by some mill or some big group of chopped logs. Around this spot, there was a sign pointing the way to continue the hike to the waterfall as it crossed a bridge over the Hinangerbach before following this stream.
Eventually, the path ascended up some steps, and that was when we started to see parts of the waterfall as it was cascading through several steps that could only be seen partially. However, looking up ahead towards the top, I could see the main drop through the trees.
The ascent ultimately took us right in front of the main drop, where it was flanked by percolating weeping springs as well as some alcoves that appeared to house a tiny natural bridge and a tinier natural arch. For Julie and Tahia, this was the end of the line as they were captivated by the characteristics of this falls that had all the properties of limestone waterfalls that we were pretty familiar with back at home.
Meanwhile, I went a little further to see where the trail went as it was now hugging some overhanging cliffs. I would eventually make it to a stile on the other end as the cliffs ended, and I decided that that was the end of the line for this excursion so I went back.
Back at the falls, there was a slight rainbow in the weeping part of the falls. The main drop of the falls was tall enough and the viewing was close enough that it was hard to get it all in one shot.
There were other families and visitors here as this was apparently quite a popular spot (at least on a Sunday). Yet it didn't seem like there were many foreign tourists in these parts.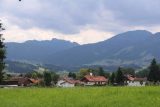 After having our fill of this interesting falls, we then returned to the car at 3:05pm. The weather remained partly cloudy though the sun was bright enough to break through create those bright cloudy skies. Yet in the distance, we could clearly see that there were darker clouds, and I had a feeling that the weather was going to turn after we had been enjoying pretty good weather for this first 1.5 weeks of our epic Germany/Austria trip.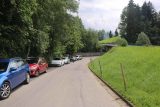 Next, we continued to drive in the direction of Fussen as we then caught the B308 east. However, we then took a detour near Bad Hindelang towards the Zipfielsbach Waterfall except there was road construction that killed off the direct route on Ostrachstrasse.
And after some aimless driving around trying to figure out how to get past this detour, we'd eventually get onto the Ostrachstrasse after going through Bad Oberdorf.
By about 3:45pm, we made it to the Zipfielsbach Falls car park, which was between the town church and some firefighter area/non-functioning brewhouse. The lot here was a pay and display with 3 hours max, I think. However, we saw that there was free parking closer to the school for 2 hours. I didn't expect that we'd be here for that long.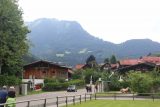 I went ahead and geared up and started walking at around 3:50am. Apparently Julie and Tahia said they were going to check out the falls since the research notes suggested that this was a 15-minute hike, but they'd have to do it on their own since I was taking off first.
I could already see parts of the tall Zipfielsbach Waterfall from town, which was impressively tall, and it made me wonder if it should challenge the notion that the Triberg Waterfall was the tallest in Germany. Still, it was hard to see satisfactorily from way down here given the trees and the buildings that could be in the way.
In any case, the town was a classical picturesque alpine village and I could see nice jagged peaks (some still with a little snow on them) and that kind of let us know that we were indeed in the (Bavarian) Alps.
Anyways, I went ahead and ascended the path, which quickly went into the forest. At a junction before a bridge, I then ascended a steeper rockier path, and it didn't take long before I made it to the lowest of the Zipfielsbach Waterfall.
This drop didn't appear to be that visible from town but it was attractive though a bit steep to get down to from the sanctioned path. I spent some time here, and then I headed back down to the trailhead before I took some time to explore a bit of the scene around town, especially further to the south where I got some decent valley shots.
When I returned to the parked car at around 4:45pm, I noticed that Julie and Tahia weren't in the car. Since Julie had both the mobile with the sim card and the car keys, plus there wasn't a note left or anything, I presumed that perhaps I went down a different path from the first falls and missed them going up for that first falls. So I then headed back up to see if they were there.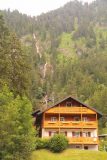 So within the next 15 minutes, I was back up at that first waterfall, and Julie and Tahia were still not there. So I then returned to the bottom and then went back to the car park by around 5pm and still didn't see neither Julie nor Tahia. Now, I was starting to get worried.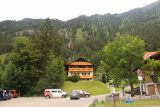 As my nervousness grew, I then started to wonder if they foolishly tried to go up past the first waterfall. So I next went back up to that first waterfall (I was getting sick of seeing this by now), and then I continued ascending up the steeper path. I wasn't sure where it was going, and I wasn't sure how much time I should invest in this chase, but I just kept pushing on not sure if I'd find Julie or Tahia way up here.
Ultimately, I'd arrive at a bridge fronting the impressive second waterfall, which featured an attractive vertical plunge as well as more cascades further downstream. There were also hints of nice top down views over the town of Hinterstein though the trees around me kind of ensure that the views weren't sweeping.
Even though I was a bit distressed at not finding Julie nor Tahia (as well as not seeing any note or anything of the sort at the car letting me know where they went), I still tried to stay in the moment and savor this unexpected bit of sightseeing. In fact, when I got up here, I was not alone as there was a lone middle-aged German visitor as well as a group of younger guys up here as well.
Anyways, I was not a hot and sweaty mess, and I then promptly headed back down the trail, eventually going past the first waterfall yet again, and then ultimately back down to the village. When I returned to the rental car yet again, Julie and Tahia were still nowhere to be found.
At this point, I then walked back through the village and started asking people if they had seen "eine frau und eine tochter". The firefighters near the trailhead said they hadn't seen them.
However, when I eventually went up to the Cafe Gumpe Bistro Bar, the proprietor there who spoke perfect English said that the "wife and cute kid" went looking for me about 15 minutes ago. So that at least gave me some idea that perhaps they might have started hiking just after I was going up and down the trail looking for them.
After going back to the car one last time to see if they might have returned (and not seeing them there), I then finally went back to the trailhead one last time. This time, I saw other hikers, and I asked them, "Haben Sie eine frau und eine tochter gesehen?" (i.e. "Have your seen a woman and daughter?")
When one family who didn't speak English confirmed it, and then another family who did speak some English confirmed it, too, then I proceeded to walk up yet again but this time with confidence.
When I heard Tahia screaming for me, I then returned the reply, and before long, I saw Julie and Tahia descending the track while busy picking wild strawberries. Apparently, Julie and Tahia had spent time eating at the cafe and assumed that I would go there to meet them. Little did she know that the path by the cafe wasn't the only path to take on the hike.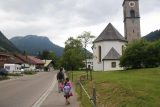 Anyways, she said she liked the food there and it was reasonably priced. I would have liked to have eaten there, too, as I had run out of water and I was getting hungry. However, it was now about 6pm and we were worried about getting shut out for checking into our apartment in the Fussen area since the check-in was said to be closing at around 8pm.
So instead of going back there to the Gumpe Cafe to eat, we decided to eat at the restaurant by the accommodation, which I knew wasn't going to be cheap.
At least the wild strawberries that Julie and Tahia were busy finding were quite good and sweet even though they were bright and tiny. Given their wild nature, I knew we wouldn't have to contend with pesticides.
Eventually at 6:05pm, we returned to the car, and then we headed out. As we were driving on the B308 near Bad Oberdorf, it was starting to rain. As we climbed higher up the mountain road, I could see there was a cloud burst in the valley below, and that definitely made me realize that the weather was turning.
After the first 1.5 weeks of at least decent weather throughout this trip so far, we were now going to have to deal with rain. And with tomorrow being the planned visit to the famous Ludwig Castles, we had to accept the fact that our visit was going to have to be in the rain.
Finally at 6:55pm, we arrived at the Appartement-Hotel Seespitz, which was where we were staying. It wasn't actually in the town of Fussen, which would have been more convenient location wise (it was actually in the small town of Oberkirch on the western shore of Weissensee). However, Julie picked this place because it was supposedly more kiddie friendly.
There were definitely signs of rain when we arrived, but it wasn't really raining at the moment.
So it seemed like we had to self-check-in essentially then lug our stuff into our aparthotel, where we'd be staying for the next four nights. For the first time on this trip (with the exception of Freiburg and Bacharach), we were not vagabonding in Germany, and we should finally be able to enjoy the benefits of staying in an apartment.
After getting settled and finally figuring out how to open the garage so I could park the car, we then ate at the Osteria.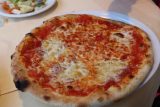 We were deceived by the waitress that the lamb dish I got wasn't a lot of food. Julie also got some kind of prawns dish (pretty good). However, given that deception, we also got a full-sized pizza so I could finish what Tahia couldn't.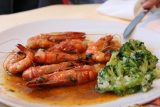 Yet when the food came out, we had enough food to feed a lot of people. Not only that, but we had to pay nearly 50 euros in cash as they didn't take credit card here. So that wasn't good at all, and it kind of left a bad taste on the overall experience. In hindsight, we definitely should have eaten more at the Gumpe Bistro back in Hinterstein, which was far more reasonably-priced and probably with friendlier people.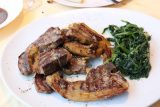 In fact, this was something I had noticed in the past few days – that in smaller towns that aren't as well touristed by foreigners, we do get friendlier people and better attention like at Ulm last night and apparently at the Gumpe cafe in Hinterstein. However, in more touristed places like Fussen and surroundings, no such dice. I guess that's kind of universal, and it's yet another benefit to going off the beaten path to find waterfalls.
Finally at 8:35pm, we were back in the room to call it a night. I was getting pretty tired from all the hiking (especially the back-and-forth search for Julie and Tahia at the Zipfielsbach Waterfall), but Tahia and Julie still wanted to use the pool room downstairs.
Since Julie wanted to use the sauna, I had to supervise Tahia in the swimming pool. Unfortunately for me, the room was quite warm, and I felt like I wanted to pass out given that I was also probably dehydrated.
Eventually at 10:15pm, we finally were in the room for good. And at that point, we all crashed just before midnight. At least with tomorrow, I wouldn't have to wake up early to do some early morning waterfalling. Instead, this would just be a castle touring day except the weather now was the big wild card, and experience tells me that it wasn't going to be a good one for photos nor for comfort, for sure.
Day 13 (June 25, 2018 – Fussen, Germany): "Disneyland Castles"
I awoke to my alarm (after multiple soundings) at 5:15am. And what I saw out the door wasn't encouraging as I saw that it was raining outside. My thoughts immediately turned to how we were going to deal with the weather while we'd be spending a good deal of time outdoors, especially since we were supposed to be visiting the King's Castles in Neuschwanstein and Hohenschwangau.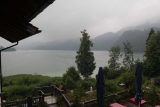 Julie and Tahia pretty much got to sleep in for as long as our pre-purchased tour times would allow, and we had our first tour at 9:55am for the Schloss Hohenschwangau, then we had our second tour at 1:05pm for the Schloss Neuschwanstein. The confirmation said that we needed to pick up our tickets no later than 8:55am from the ticket office. That said, we had no idea where this ticket office was nor did we have a concept of which of the parking lots we should pick.
So it wouldn't be until about 8:20am when we were in the car. We then drove to Fussen before following the signs to the Konigsschlossen (King's Castles), where we followed a caravan of cars and tour buses. We knew this was going to be a real touristy place going into this trip, and what we had observed on the road so far confirmed that in a big way.
At 8:35am, we wound up parking at the P1 lot because the signs made it seem like that was the thing to do. We had to pay 6 euros to park here, and the attendant was kind of coy in an annoying way as well as pushy about where we were supposed to park.
Of course with us not knowing much, we just paid the money, and he directed us to park in some spot nearly adjacent to the kiosk itself.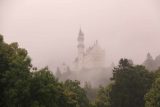 It was raining outside, and as Julie bolted from the car to go look for the ticket office to pick up the will call tickets in time, Tahia and I were busy trying to figure out what we should be bringing to the day's touring since there were supposedly strict regulations about the size of the backpacks (daypacks) that were allowed to be brought.
So to at least mitigate that concern, we only brought what we needed, and that also included leaving the big 1.5L bottle of water behind. We came armed with a rain poncho and two umbrellas borrowed from the accommodation.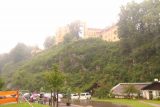 Then, Tahia and I tried to find our way to the ticket office as we were inundated with huge Chinese tours gathered in crowds before mobilizing as a swarm.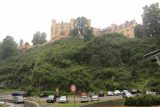 Eventually at some time after 9am, we caught up with Julie who had already received the tickets, and we did some more reorganizing of our belongings while going back to the car one last time to drop off what other things we felt like we needed to leave behind.
It was only after that that we were in position to start the day's touring.
With the rain, we could see that the Neuschwanstein Castle was mysteriously appearing amongst the mist and fog like some kind of building that was only revealing parts of itself while blending in with the clouds themselves. However, our first tour was for the Hogenschwangau Castle, and that one was a bit easier to photograph since it sat in a lower position right over the P4 parking lot.
Speaking of other parking lots, we clearly saw that there were way more spots than the P1 lot we stopped at earlier, and that P4 lot seemed to be the most strategic because it would have at least cut out a bit of the uphill walk to get there.
Regardless, we'd eventually be up in the courtyard of the Hohenschwangau Castle at around 9:30am, where we then tried to capture what we could of the castle while awaiting our scheduled tour time to enter, which wasn't until 9:55am.
There was an automated turnstile as well as a large screen letting us know the current tour that was allowed in along with the current time in giant numbers. Apparently, the tour number and scheduled time that was printed on our ticket would have to match what was in the big screen, and by the time it was our turn to use the turnstiles, we then had apparently 15 minutes before the tickets would be no good with no refunds for not being punktlicht (punctual).
It was actually a very efficient way to manage the tours while also assigning the right tour guide with the right groups. Clearly, they had this money-making machine down to a science.
Anyways, we were past the turnstiles and into the Hohenschwangau Castle by 9:55am as scheduled. Unfortunately, they didn't allow us to take pictures inside the castle, which was kind of annoying considering how much was paid for our tours. But I had a feeling that this was now par for the course since tourists could no longer be trusted to leave the flash off or not try to use photos of the furnishings and interior without consent for commercial purposes.
So the tour went from room to room as we started with the greeting rooms that showed some pretty fancy modern things like a wheelchair and a pool table as well as some fancy tapestries and paintings.
The Queen's rooms looked a little on the less decorated side (but still quite gaudy), and we would learn that Maria was the mother of Ludwig II who was the person responsible for overseeing and financing all of his castle projects that included Neuschwanstein and Hohenschwangau.
Tahia was one of the shorter people in the room so I had to lift her up so she could see some of what the tour guide was explaining to us. She definitely had this narration down to a science as I'm sure she had given this tour many times before even though she was quite young looking. But it had that sound like it was rehearsed though she did try to interject some personal humor to keep the audience engaged and not getting bored.
As we went through the queen's quarters, we then went upstairs to the quarters of the king(s). Much of the paintings and wallpapers as well as artifacts were originals. And each room was way more decorated and gaudy compared to the downstairs rooms, which was really saying something.
I think Rick Steves loved touring this building because of his interest in European history, and especially the artifacts that really made it easier to imagine what life was like thereby bringing the castle to life.
One of the key things we saw in our tour amongst the art was that the violent scenes of war lacked blood or other unpleasantries of the realities of armed conflicts. This was the result of the Romantic style that Ludwig II was into as well as the religious themes throughout which attested to his religious tendencies.
It made me wonder if Walt Disney had gone on one of these tours and was similarly influenced (or at least had an "aha!" moment) by the Romantic styles on display in here, then tried to apply that in a fairy tale kind of way that shaped many of our childhoods, and still does to this day for the current generation of children entranced by the fantasies that were so inspired by these Bavarian Castles.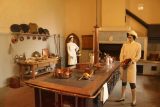 By 10:45am, we were done with the Hohenschwangau tour. However, it was also raining a bit more and foggy so Neuschwanstein was now harder to see, and the surrounding mountainsides were covered in clouds even more so than before (concealing some of the "steps" we noticed high on the mountains, which the guide said were rockfall mitigation measures and weren't actually trails).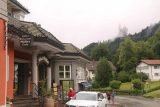 At 11:15am, Julie wanted an early lunch, and we wound up going this place called the Hotel Muller, which had a restaurant that she should at least have gluten free fare. Plus, despite the high prices, we should also be able to use our credit card since cash was so easy to burn through given how many places accepted cash only.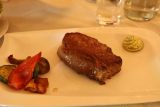 We wound up having the usual fare of beef rumpsteak as well as salmon while Tahia had what we were having. They also charged us 5.6 euros for a carafe of tap water (leitungswasser). Boy these places were really making sure they got the markup in the drinks since food was less of a moneymaker. It kind of made me realize that very few things were "free" in Germany, including the tap water.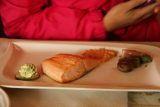 By about 12:05pm, we were done with our lunch, and then started to hike up to the Neuschwanstein Castle. The hike up was an uphill affair along the well-used paved road that were used by horse carriage as well as tractors and only vehicles that I guess were authorized to continue going up. There was a guy there who made sure no one would try to drive up unless they were guests at an accommodation up there, or were staff.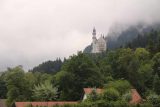 After passing by a bike trail junction that looked like it was headed to the Marienbrucke, we would eventually make it up to the entrance to the Neuschwanstein Castle while also checking out the castle's exterior as we got higher than the cafe area, and then up to some kind of waiting area with a view of the scaffolding of the front of the Neuschwanstein Castle.
At the lookout, I was hoping to see the Poellat Gorge Waterfall with the Marienbrucke, but the views were blocked by the castle itself. It appeared that there would be no other way to see them except from within the castle itself, except no photos were allowed inside. There was definitely no ability to see both the castle and the falls with bridge in one shot from the ground, and I suspected you would need a drone (not allowed) or something.
It started raining again (albeit lightly), and we wondered how that would impact the overall experience of Neuschwanstein.
Anyways, this castle was way more crowded than the Hohenschwangau Castle (which itself was also pretty busy), but we knew that the Neuschwanstein Castle was the main attraction here. Certainly we heard the many different languages being used as this was clearly an international attraction.
By 12:55pm, we were waiting at the timed entrance, where once again there were a pair of automated turnstiles accompanied with large screens showing when our tickets should be activated against those turnstiles.
They had tours at about five minutes apart, when really highlighted the efficiency by which they organized the chaos of all these people gathered around waiting to finally get to see the interior of the famed "Disneyland" castle, which we could clearly see how Walt Disney could very well have been heavily influenced by such places in his own Disneyland theme park.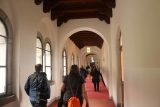 By 1:05pm, we were on our tour, where we were each given audio units so we could hear the tour guide speak into a mic in case he couldn't be heard given how many people on this tour he was addressing.
Once again, we went from room to room, but even the dimly lit hallways of this castle gave me that Pirates of the Caribbean feel that really made me wish we could somehow capture it all in pictures. That was a real bummer that we couldn't somehow take this experience away with us through photos.
Even though Ludwig II never finished this castle due to his untimely death at a lake near Munich at the age of 41, the rooms were really grand as they were a mix of Moorish architecture (reminiscent of what we had seen at the Alhambra in Granada, Spain) as well as the usual gaudy woodworkings, gold and silver pieces, tapestries, and paintings. Heck, there was even a re-created cave room, which showed the length at which Ludwig II went to really made this place a very grand vision aside from his plans of coming up with the Falkenstein Castle, which never even got started with the construction.
From seeing all these gaudy rooms and pieces, I came to realize that perhaps Ludwig II was killed under suspicious circumstances (despite his apparent lack of "mental" capability to rule politically) because of how he might have been blowing off the country's treasuries on these castle pet projects, and without a heir along his bloodlines, someone or some people saw a opportunity to get rid of him and pursue the power in their own way.
It also made me realize that all these gaudy castles that most of us were into was kind of double-edged sword when it came to how much wealth was concentrated to so few people. It was not unlike what we were seeing in today's society.
And that it required such concentration of wealth to see just how grand of things you can build given such resources at your disposal. Now I could really understand the struggle between the masses and the ruling classes as well as the political disconnect that can occur ever since history was recorded. It really hit home how the same issues we were seeing today were also experienced back then.
While you won't hear anyone talk about these regimes (that created these impressive castles that are now museums and tourist attractions) as corrupt regimes, just putting yourself in the situation of the masses as best as you can imagine it back then was really an eye-opening experience.
By the way, Neuschwanstein was opened up for touring as a museum just 6 days after Ludwig II's murder. Credit the Germans (or more accurately, the Bavarians) for being foresighted enough to know that this was a bon-a-fide moneymaker.
Anyways, we had quite a few floors to be going up and down but they were well timed with the narration so there were plenty of moments for rest and to have knowledge dropped on us.
Eventually, when we got to the last room, which was a huge hallway at the very top of the castle, this was perhaps one of the grandest rooms seen. But even of greater interest to me was that I could see through the windows the beautiful view of the Poellat Gorge Waterfall with the Marienbrucke above it.
It was really frustrating that we couldn't capture nature from this vantage point as I had a feeling there would be no other way to get this kind of view except from this part of the castle. So with no photos allowed, I was really wondering if we'd ever get to see the Poellat Gorge Waterfall in a satisfactory way (at least in a manner that I could share on the website).
But as the tour concluded at 1:45pm, I knew that such views weren't going to happen as we were then led back down the spiral steps for several flights before being deposited into a busy area with a cafe, a 3-D movie of the things that were never build or finished in this castle, and a balcony area that only let us have a partial view of the Poellat Gorge Waterfall and Marienbrucke.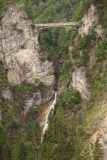 In one of the gift shops, Julie managed to get some decent shots through the windows on her iPhone, but with the huge lens of my DSLR camera, it was next to impossible for me to avoid the criss-crossing bars on the window with the view of the Poellat Gorge Waterfall and Marienbrucke. Even with one window cracked open, I tried to take my shots through it, but the person working there stopped me from taking any more pictures through that opening. Man, I would have thought the price of admission would be so much more in line with what you're getting had we been allowed to take a shot that was "for paying guests only".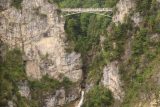 The rest of the way to the exit only led to a kitchen and some other displays of the entire model of the Neuschwanstein Castle as well as some kind of stove pipe that was very colorful and decorated.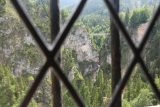 Once we left the last gift shop, we went through a one-way turnstile (with swinging doors), and we then finally were back outside at 2:45pm. This was when suddenly we saw that the sun was out and the weather was clearing.
After getting over the frustration of being unable to capture the Poellat Gorge Waterfall with bridge (let alone not being able to show both the castle and waterfall together), we then started the walk up towards the Marienbrucke, which looked very crowded even from the Neuschwanstein Castle.
Along this paved path that was well used with thousands of tourists at any one time, we also got a nice overview towards Hohenschwangau and the pair of lakes behind it. Looking backwards from this bend in the walking path, we also saw the Neuschwanstein Castle, which looked more interesting from this side than from the side by the entrance.
The walk continued on its uphill trajectory as we continued to make our way up to the Maria's Bridge (Marienbrucke), and we also passed by the top end of the shuttle bus, which now I could see what the extra euros would have bought us (though I didn't regret one bit doing this walk).
By the time we finally made it up to the Marienbrucke, the bridge was totally crowded with people trying to get their views of the Neuschwanstein Castle (by now we had learned that the castle was literally the "New Swan Stone" Castle given Ludwig II's love of swans and the symbolism behind them).
It was a bit of a struggle just to even maneuver on the bridge as lots of people were trying to take selfies while also trying to get their shots of the castle. Since the planks were wooden, it made me wonder just how many people could this thing support at one time because it didn't look like it was really built for the long haul.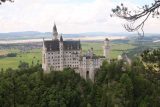 Regardless, after taking some awkward photos and really trying to squeeze through the mass of humanity on the bridge, we then continued to walk a hiking trail that eventually led to another overlook of the Neuschwanstein Castle.
However, I kept going well ahead of Julie and Tahia as I tried to pursue that view of both the Neuschwanstein and Hohenschwangau Castles backed by lakes and mountains. With the clear weather, I felt that I had to seize the moment now though I knew that there'd be no way Julie and Tahia would be getting way over there when I realized that this was actually a long and not-so-easy hike.
The fact that I was doing this on a punt without adequate preparation of water, sunscreen, and hat, was kind of nuts now that I think about it. Still, in my hot and sweaty state, I just kept going as I continued following the sanctioned trails and tried not to get too confused by the false trails and shortcuts.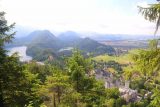 Eventually by 3:45pm, I finally made it up to a partial view of the two castles though trees were still kind of in the way. But ten minutes later, I had climbed up to an even higher view of the two castles with the view of the lakes behind. There were some German folks up here already enjoying the scene. And there was one couple who helped me take that "I was there" photo with my camera.
Even though there was still more to go on this hike, I ultimately declared this to be the turnaround point.
By about 4:15pm, I rejoined Julie and Tahia who were chilling out at the viewpoint of the Neuschwanstein Castle now with even more blue skies backing the scene. Clearly, it seemed like afternoon was a pretty good time to get the backlighting of this face of the castle.
After getting castled out and having one last go on the Marienbrucke (this time way less crowded than it was earlier, but still quite crowded), we then descended back to town and the car parks though we took the less scenic bike path thinking that it was shorter and more direct. Unfortunately, we skipped going back to the cafe Munchen where Julie had this craving for more wieners and potato salads.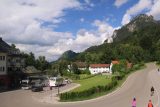 Regardless, it was about 5:20pm when we returned to the car. Along the way, now we could see the Neuschwanstein Castle backed by an impressive mountain behind it.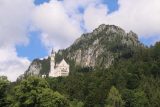 When we started to leave, we followed the signs, which actually took us quite a ways away towards the town of Schwangau before returning via the main road to Fussen. Along the way, there was a huge grassy area where I wished we would have parked or pulled over (there wasn't a sane spot to do it), and take pictures of both the Neuschwanstein and Hohenschwangau Castles backed by mountains.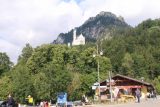 That was really impressive, especially with the decent afternoon lighting and blue skies now backing the scene.
Anyways, by 5:35pm, we then took the B17 road in the direction of Austria towards the Lechfall.
This was actually a roadside "waterfall" though this was really more of either a manmade cascade or a man-modified waterfall. Whatever the case was, this attraction was really more about the color of the water than it was about the waterfall itself.
So we didn't linger here for long, and by 5:55pm, we were back in the car.
Next, we then drove around Fussen looking for a place to grocery shop. There were a couple of Rewe's in town though there wasn't an Alnatura place that has more like a Whole Foods or Trader Joe's or Sprouts back at home.
We'd eventually park at one near the edge of town at 6:05pm, and then Julie promptly went into the market while I was watching Tahia napping in the car. It turned out that this grocery run took a lot of time, and it wasn't until 7:35pm when finally Tahia and I went into the market and helped Julie with bringing the groceries to the car.
By about 7:45pm, we were finally back at the Seespitz where we brought up the stuff, then by 7:55pm, while Julie was busy getting all the produce in the fridge and starting the dinner preparations, I was busy taking pictures over the lake while I was also helping to do the laundry, where there was a free facility downstairs.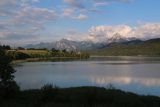 Tahia was helping me out, and while we were busy watching the laundry get done, we were playing ping pong in the billiard room down there (though the billiards required euros to get the ball out of the table so no one was playing that), and then once we loaded the drier after the washer was done, we then went upstairs to finally have our dinner after 9:30pm.
And with that, we could finally call it a day (though I still had to answer an email regarding my contractor dispute situation as I had yet another problem contractor on my website migration efforts but this time with TopTal instead of Codeable), and Julie was busy trying to figure out how to replenish our Orange Holiday Europe sim card plan since we still had another 4 weeks to go and our two-weeks of plan so far was due to expire this Wednesday (it was currently Monday night).
With the good weather, we were thinking that tomorrow would be the day to go to Zugspitze since Thursday through Saturday was predicting rain and pretty big rain at that…
Day 14 (June 26, 2018 – Fussen, Germany): "From The Top Of Germany To The Depths Of Hell"
It was about 4:45am when I awoke to my alarm. There had been a lot of things on my mind, especially regarding the potential loss of about $4k of contractor payments over work that was woefully incomplete. And now he was engaging in deceptive practices in trying to erase past records of correspondences and trying to cover his tracks by taking credit for his work as complete.
Thus, I couldn't go back to sleep anyways and decided to finish off the blogging the whole time that Julie would wake up an hour later, and Tahia would finally get up another hour after that.
At least Julie managed to make progress in getting our Orange Sim Card plan extended beyond a month, I believe. So we should be good with mobile coverage throughout the remainder of this trip. But we can't really know for sure until the upcoming expiration of the original 2 weeks of that sim card expires and we still see our service working beyond that (due to our top up paid for last night).
After having a pretty satisfactory brekkie of eggs, bacon, veggies, fruits, and kefir, we'd eventually leave in the car at 7:10am.
With such a beautiful morning, I had high hopes that our Zugspitze experience, which was planned for today, wouldn't disappoint.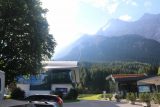 Eventually at about 8:05am, we arrived at the Tiroler Zugspitzbahn, which was the shorter cable car up to the Zugspitze summit compared to the more popular way of reaching the summit from the Garmisch-Partenkirchen side, which was in Bavarian Germany. It was also the cheaper option as parking was free and the tickets didn't cost as much per person. It made me wonder why the Bavarian side was more popular while the Tirolean side was quieter.
Anyways, we still had to wait for the first departure of the cable car, which wasn't until 8:40am. I guess that was a detail that somehow I had overlooked in this part of the trip. So we probably could have saved ourselves another half-hour of rushing to get here while the weather was still good. Yet with the early arrival, we were able to ensure that we'd be at the Zugspitze summit as early as possible from the Austria side.
So while letting Tahia and Julie sleep a little while longer, I was busy gearing up for cold weather up at the summit. So I put on my jacket, hiking boots, and then tried to read up a little more on what else we had planned for today – gorge hikes in both the Hollentalklamm and the Partnachklamm, which were pretty much within the Garmisch-Partenkirchen resort town.
Ultimately, Julie woke up and paid the kassa (that's how it was spelled here instead of kasse) to do the ascent, which wasn't cheap as we spent over 120 euros for the whole family but that also included an additional gondola ride down to the glacier as there was some snow sliding up there, which the ticket lady was probably correct in predicting that our little girl would be really into it.
Tahia then woke up when I told her about the snow sledding, which suddenly got her excited even though she wanted to sleep more in the car.
Sure enough, we'd eventually catch the 8:40am ascent with quite a few people who had already boarded and were awaiting departure. Meanwhile, the ride also included some fresh supplies in three different carts that also occupied much of the middle of the cable car. Plus, some staff showed up and went along in the ascent.
The ride up was quite a scenic affair as we could see for quite a while down into the valley we were just in within the Ehrwald vicinity. The jagged peaks could be scene and the clouds that were around were patchy at best.
Once we got off the cable car at the summit, the thin air was noticeable as we had to go up some stairs before we took a slight detour at the North Terrace to check out the views towards the cable car from the Bavarian side.
We talked with a local from Germany, who gladly shared with us that the Bavarian cable car had been re-opened or renovated a year ago. He also explained to us the lake that we saw below (called Eibsee), which was really clear and every bit as colorful as we had seen it up here near the summit of the Zugspitze.
Upon hearing that we had visited the Ludwig's Castles yesterday, he explained to us that Ludwig's homosexuality had a lot to do with his desire to isolate himself in the Bavarian Alps and build fanciful castles in dedication to his possible infatuation with Robert Wagner and his operatic works. Such dedication of course could also be seen as a bane to the rest of the people ruled under him so perhaps someone saw an opportunity to kill him (even though his death was still unexplained to this day).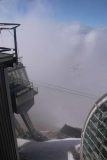 Anyways, we then eventually got up to the Austrian side of the summit at 2950m, where we had better views of what we had just seen at the North Terrace as we could see the resort town of Garmisch-Partenkirchen with the colorful Eibsee (that lake near Grainau) and the surrounding peaks, and we could see all the way back down to Ehrwald on the Austrian side.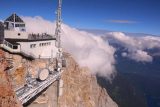 The local told us that a train had to get from Garmisch-Partenkirchen to Grainau before summiting to Zugspitze if we were to do the German side. So it still made me wonder why the Germany side was more popular than the Austrian side. There had to be a reason why.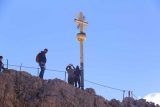 Regardless, with only a handful of people up here, it was delightfully pleasant.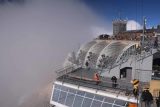 Once we had our fill of the Austrian side, we then walked across to the terrace on the Bavarian (German) side, which was noticeably a lot busier. It was also where we could look towards the glaciers except that there were clouds coming from there that kind of blocked any view we'd have of them from the summit.
In any case, Julie already saw gluten free eating opportunities at the eateries up here, and we spent a few more minutes checking out similar panoramas that we had seen earlier on the Tirolean side overlooking the lake and Garmisch-Partenkirchen.
We also noticed the actual summit of the Zugspitze, which involved a climb up a ladder onto the narrow rock with some kind of icon up there. We weren't sure it was wise to bring Tahia up to that so we were content to take photos of it from the relative safety of the wider platform that everyone else was on.
Once we had our fill of the summit from the Bavarian side, we then went down some stairs towards the glacier cable car. There was quite a bit of construction work going on here so it was a little tricky to tell what was ok for us to walk through and what was a work zone. But eventually, after finding the cable car turnstiles (we had first unknowingly gone to the German one before the staff directed us to the Austrian one), we then descended to the glacier area (which really felt more like they were snow fields as opposed to the massive ice fields we were more used to thinking about when it came to glaciers).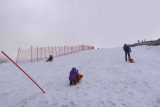 As we got out of the cable car, we then walked around trying to figure out where the sledding area was. We also spotted other buildings here that were probably for eateries or something. However, there was also a church of some kind that was built here as well though we didn't walk up to it as our minds were more focused on letting Tahia have her fun sledding.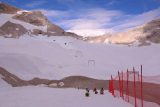 We'd eventually find that we had to walk up on some snowy slope before finding a bunch of yellow sleds. We each promptly grabbed one and started down the slope. It was a little awkward at first on how to steer ourselves, but we'd eventually get the hang of it. That said, I was worried about bruising my tailbone as it was quite a bumpy ride, especially at the bottom.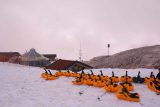 With it just being us three, we had a couple of runs before a handful of more people showed up to share the slope with us. What limited our ability to enjoy this slope at will was the "walk of shame" that we had to do in order to get back up to the starting point and sled down once again.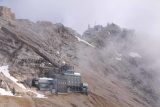 We probably did this for about a half-dozen times before it got really busy up here. So we returned the free sleds and then headed back to the cable car as we rode back up to the Zugspitze summit.
Julie decided that we should have lunch up at the summit since they had some pretty good eating options, and we ultimately settled on some indoor cafe at 11:05am, where we got rouladen, some potato salad, some veggies with kraut at its bottom, some kind of glorified hot hog, and some real tasty ravioli for Tahia. The lunch really hit the spot, and with a cost of somewhere around 30-40 euros for the whole thing, it was quite a good deal for the amount of food we had.
Indeed, this was one of those times where the morning probably couldn't have gone any better in terms of the planning and execution as Tahia was in a good mood, Julie got her food and enjoyed the experience, and I was glad they both enjoyed the experience.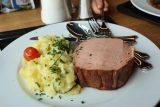 When we were done eating, we then walked through the terraces on the summit, which were now very busy. Yet, the clouds really overtook the summit so the views were nothing like they were earlier this morning. Again, I was glad for the early start.
Then, we waited for a bit for the cable car ride back down to Ehrwald on the Austria side. Clouds obscured all the views until we got low enough to see the valley below with the clouds overhead, where the views remained grand but they were quite subdued compared to what we had seen earlier this morning.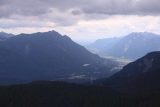 Tahia was especially loving the parts where the cable car would provide those little zero-G moments as it would descent briefly from the pylons (of which we counted about 3 of them) as it felt like a roller coaster ride to her.
Also during the ride, we spoke with a lady who was staying in Ehrwald who suggested that we visit the Eagle's Nest near Konigssee, which was similar to this experience of the Zugspitze as it would be very weather dependent.
She also warned us about the queues involved and that we'd have to plan ahead to determine our descent back down because of how crowded it could be up there. So I considered ourselves warned.
Anyways, we eventually got back to our car at about 12:30pm. And we promptly drove back down towards Ehrwald before heading in the direction of the Garmisch-Partenkirchen town, but then taking a detour in the direction of Grainau, where we followed the signs to the Hollentalklamm and wound up in a huge car park labeled P2 with lots of cars already parked here at about 1pm.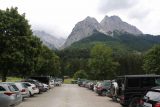 With Julie and Tahia wanting to sleep in some more, I geared up and started the hike (though at first I wasn't sure if I had gone to the right place or not considering that the signs suggested that it was a whopping 3.3km from here just to the start of the Hollentalklamm – Hell Valley Gorge).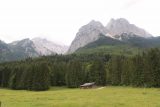 There was also a 5 euro parking machine to pay and display the ticket. It was good for 12 hours. There was also a 24-hour ticket at 8 euros. Clearly there were some hiking opportunities in these parts, and perhaps the public transportation options were more extensive so not only can you do Zugspitze from the German side, but you could also do hikes like the Hollentalklamm as well as the Partnachklamm, which we were supposed to do next after this Hollentalklamm excursion.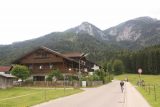 I proceeded to walk along the road towards the town of Hammersbach, which was where the actual trailhead was. At this point, I knew that this excursion would take much longer than the 2 hours that I had predicted as 3.3km one-way before even getting to the gorge itself was going to take some time. I hoped that Julie and Tahia could keep themselves occupied in the mean time.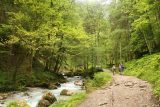 Once at the trailhead at Hammersbach (there was a bus stop here, further confirming my thinking that this side of the Zugspitze was more popular due to the transport connectivity), I then hiked uphill along the Hammersbach stream, which was gushing.
The uphill hike quickly became a sweaty affair as it was relentlessly climbing until I eventually got up to some Jesus on a crucifix next to a rest bench. Then, the trail went onto a flatter unpaved road as it bent back towards the partial views of the imposing cliffs and mountain peaks behind the trees around the trail itself.
Then, eventually the unpaved road ended, and then I had to walk another brutal rocky uphill stretch as I was starting to leave the treeline and get up to a more cliff ledge kind of trail.
Eventually, the ascent culminated in the entrance of the Hollentalklamm, where there was amazingly a cafe and turnstile here. I wondered to myself with such a difficult hike just to get to this point (I got here at about 2:30pm, which was 90 minutes after I had gotten started), how did they even establish such infrastructure in a place so remote and requiring so much effort to reach. Was I missing something?
Even more amazing was the amount of people on this trail. The whole time I was wondering if I had taken a more difficult route, but from what I saw on all the maps, I took the most direct way (unless I had taken the bus which would have dropped me off in Hammersbach directly).
Anyways, just the entrance area of the Hollentalklamm was beautiful in itself as there were a pair of waterfalls in the cliffs looking in the opposite direction of the entrance.
Once I paid my 5 euros to get in through the turnstile (it appeared they raised the price from 3 euros in the past), I was then greeted to even more waterfalls spilling into the steep and narrow gorge. And with each step I was taking, I kept seeing more beautiful spots and photographable spots as I kept stopping and going due to all the photo taking pauses.
Indeed, there were waterfalls spilling from the sides of the gorge, but there were also even more waterfalls within the Hammerbach itself. Many of them were of the cascading variety, but there were also at least three significant waterfalls that were more of the plunging variety.
The noise here was so loud due to all that crashing water, and the trail itself that passed through a combination of tunnels, bridges, and ledges really further added to the atmosphere. I bet Julie and Tahia would have liked it here, but the effort to get up to this point would have made it difficult for them.
It wouldn't be until around 3:30pm that I had finally made it to the upper end of the Hollentalklamm as the walls were widening up a bit but there was still more hiking trail that just kept on going. I was content to go back down at this point though since I knew that I had kept Julie and Tahia in the car long enough.
While I was going a bit faster on the way back down as I had taken about as many photos and videos that I could possibly take to take in this experience (possibly the best of the gorges that I had experienced to this point and definitely worth the price of admission), I did have to be careful of the slippery footing as I almost slipped and fell in one of the tunnels.
By about 3:55pm, I had made it back to the Hollentalklamm museum exhibit and then out of the turnstile to be back on the main hiking trail once again (the lady at the window recognized me so I didn't have to fumble through my receipt).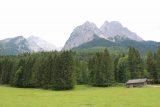 I then quickly hiked the all downhill path to the P2 parking lot eventually getting there at 4:35pm. With such an unexpectedly long hike, I was hoping that we could fit in the Partnachklamm excursion before they closed at 6pm and then go back to Seespitz.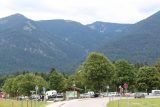 However, at 5pm, we saw that the Partnachklamm was closed. According to the schedule, it wasn't supposed to be closed now, but something was up that I wasn't aware of as the signs leading to the Partnachklamm Gorge suggested that the road to get there was closed as well.
So with that, we drove back to Seespitz. I was a bit disappointed that we couldn't fit in the Partnachklamm excursion which I knew was pretty well-known by Garmisch-Partenkircken, but sometimes you can't control these things.
Eventually at 6:10pm, we returned to the same Rewe that we were at yesterday in Fussen. Julie had to do another grocery run.
At least this time, Julie got back to the car at 6:30pm (so it wasn't a 90-minute grocery run like yesterday), and by 6:40pm, we were back at the Seespitz.
We then did some laundry while Julie was cooking dinner, and I had to endure the really hot room downstairs where the indoor pool was so we could let Tahia indulge in swimming down there while the laundry was running.
Eventually at around 9pm, we had dinner, and during that time, I learned from looking up the internet on the WiFi that the Parnachklamm was closed due to damage from extensive rain that had occurred on June 13 (just when we had arrived in Paris on this trip). I guess that would explain why we couldn't make our visit today, and such things could not be predicted nor controlled. In fact, there was even supposedly a loss of life in that incident so I'm sure this gorge would be closed for quite a while.
I also underscored the kind of danger that might be faced at the Leutaschklamm since I was headed there tomorrow where I expected some bad weather.
Anyways, we'd eventually crash by around 11pm. And so ended this eventful day…
Day 15 (June 27, 2018 – Fussen, Germany): "Racing The Bad Weather"
It was 4:45am when I awoke. I was worried about the weather for today as the forecasts all seemed to agree that today was going to be a wet day. However, from looking out the window of our apartment, it appeared that the weather seemed to be holding up just fine.
While I was hoping that we'd be out the door before 7am, it wouldn't be until about 7:30am when we finally left the garage and started the day. It was kind of customary now for Julie to be making breakfast and trying to resolve some issue with a lost library book that she had thought was returned prior to us going on this trip. So who knows what kind of fines we'll be paying since there's nothing we can do while we were abroad.
Anyways, we drove out in the now-usual route of going east in the direction of Fussen before taking a ramp going south on the A7 right when it was about to enter some tunnels and become the 179 as we were emerging from the tunnels in Austria. And once again, we'd be driving beneath this wide suspension bridge between the Ehrenburg Castle Ruins, which we had seen in Rick Steves videos but didn't really budget any time to explore them on this trip.
With the amount of clouds covering the mountains, for sure there was going to be rain today as predicted. However, it was a matter of when the uncomfortable conditions would turn out.
By around 8:25am, we had arrived at a car park that we weren't sure was for the Kuhflucht Waterfall (the target waterfall) as it contradicted what GoogleMaps that Julie had routed on the iPhone was doing. That said, my own GPS nuvi suggested that we drive out to this car park then try to drive onto what were clearly foot trails. It seemed that both GPSes were confused.
One thing I did suspect was right was that we had passed through the town of Farchant, which I knew was the correct town closest to the Kuhflucht Waterfall. However, upon Julie's strong urgings (as she saw that GoogleMaps said the falls was east of the A2), we left this car park and backtracked to the A2, where we then drove north into a tunnel that forced us to go all the way north to Oberau before we had to turn back and go back through the tunnel again to get back in the direction of Farchant.
Then, her GPS had us go further south away from Farchant so we could take some obscure route towards the Wankbahn Car Park, which I knew wasn't correct as it tried to take us on some narrow road that didn't appear to be valid for traffic.
There happened to be a couple of walkers passing by (who looked like locals who walked these mountains frequently as they were decked out in hiking gear while wielding trekking poles), and we asked them if they knew how we could get to the Kuhflucht Waterfall.
They explained to us that we had to go back to Farchant, and then try to ask for directions in there because it was not easy to explain verbally. That meant that the original way we had gone was correct (or at least much closer than what Google Maps tried to make us do). That just went to show us that sometimes GoogleMaps had better directions than the Nuvi, but at other times, the Nuvi performed better. All this served to confuse me from time to time.
In any case, when we headed back to Farchant, we took Hauptstrasse to Bahnhofstrasse (where we started to see tiny green signs pointing the way to Kuhflucht Wasserfalle). We then followed Bahnhofstrasse across the Loisach River (there was some construction work going on at the bridge there), before returning to the familiar Esterbergstrasse on the other side of the river.
At this point, we kind of lost the Kuhflucht Wasserfalle signs again, and we kept going south on this local street until we returned to the big car park area that we had turned around at earlier. By this time, it was 9:10am, and all the swirl that happened until know resulted in a costly 40-minute unnecessary detour.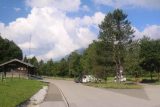 The weather was still holding up so far this morning as the skies were partly cloudy with the sun out, but there were some dark clouds starting to form in the surrounding mountains.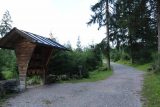 Anyways, I was headed out on this hike solo as I suspected it wouldn't be easy for Tahia nor for Julie to do. I figured that they could catch up on some sleep anyways since they weren't in the mood to wake up.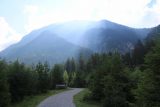 And so I was off. It wasn't encouraging that I didn't see Kuhflucht Wasserfalle signs until I got up to one of the junctions in the large park area just north of the large car park we were at. It pointed the way left past some interesting little fountain and rest benches. There were also lots of interpretive signs in German asking the would-be hiker questions like "How old am I?" or "How high will I be?" as clearly this path was meant for kids to try to get them to be curious about what they were seeing.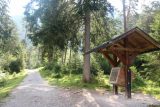 When I arrived at a trail junction at 9:35am, I realized that whatever trail I had just walked was the so-called "Philosophers Way", and that there was another trail that pointed left towards Farchant. I made a mental note to myself to go back this other way to see if we screwed up by not starting at the nearest car park.
Anyways, I then went upstream where I was looking against the sun. The path went uphill as it went past a gate. But then I started to see some smaller waterfalls on the Kuhfluchtgraben, which were attractive in their own right.
I also observed that the trail I was on was called the "Konigsweg" or "King's Way" because King Max II apparently walked here.
As the trail continued its ascent, it passed by a few more smaller waterfalls as each successive tier became more and more impressive. It would eventually reach a footbridge spanning the Kuhfluchtgraben where there were even more taller waterfalls as well as a very tall minor cascade spilling and converging alongside the main stream.
Unfortunately, there was some path before the bridge that led up to a lookout shelter that was roped off. It appeared to have a nice direct view of the waterfalls to the north side of the bridge.
I then continued further up the steps as I now wanted to see how much further this trail went.
At 10:15am, I'd eventually arrive at one dead-end on a spur path that revealed more impressive waterfalls in an almost gorge-like setting. The fencing was set up so I couldn't continue further on the ledge that I was standing on as it looked too narrow and slippery to not fall into the raging stream next to me. I wondered if that would have improved the waterfalls that I was seeing to this point given that the gorge walls were tight and they also kind of blocked some of the waterfalling action.
So I continued climbing up the now much steeper and narrower trail as a sign pointed the way to some hut.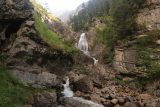 I'd eventually go up a few more very steep and now rooty switchbacks as I'd then encounter another spur trail that got me a closer look at the highest main tier on the Kuhfluchtgraben at 10:25am. At this point, the falls was still in some shadow against the sun that wanted to rise higher than the imposing cliffs on the other side of the stream.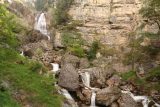 However, after having my fill of this spot, I looked at my pre-trip notes that I had brought with me, and they kept showing pictures of the source of the Kuhfluchtgraben where a waterfall occurred just as the stream was gushing out of the cliffs themselves through a hole or something. I thought that was interesting and worth pursuing, so I continued up the trail as it was now even more steeper, rootier, and all around just not easy.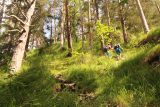 In this circumstance, I couldn't have imagined Julie nor Tahia doing this trail.
But then after about 10:45am, I had gone up so many switchbacks as I was a hot and sweaty mess that I started to wonder if I was chasing a red herring. After all, the trail continued to climb higher relentlessly, and it appeared to be moving away from the Kuhfluchtgraben. And with still more things to see and do like the Linderhof Palace and the Ettal Monastery as well as the Leutaschklamm Waterfall, I had to cut my losses and head back.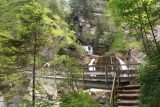 Eventually at 11:10am, I made it back to the part with the decent view of the Kuhflucht Waterfalls was. Thus, this detour wound up being a costly 45-minute red herring, and it didn't make the already busy day any easier. I knew that something would have to give, and with the darker clouds accumulating more and more as the day went on, I was worried that the other hike at Leutaschklamm would be in bad weather so I thought perhaps when I get back, I should do that hike and then do the touristy stuff at both Linderhof and Ettal at the end of the day provided they wouldn't close on us.
At 11:30am, I arrived at the Farchant car park, which was clearly the proper choice to start the Kuhflucht Waterfalls. So my suspiscions were correct that we screwed up by starting at the other car park further south along the Philosopher's Way.
And by 11:45am, I finally returned to the car (making our decision to park here another costly 30 minutes of extra walking time that probably wasn't necessary).
By this time, Julie was determined for us to do the Linderhof Palace and to forsake the Ettal Monastery. I guess since we were closer to those attractions, we mind as well have a lunch in Oberammergau, and then do the Linderhof Palace since Julie was into furnished historical buildings like castles and palaces.
By about 12:25pm, we had found parking in Oberammergau, which appeared to be free but time limited. That didn't concern us, however, as I didn't expect to be spending too much time here anyways. With the dark clouds around us, the window of good weather was quickly closing. Still, we saw that the main part of this town had some cute buildings but there wasn't any one part that stood out to us in the way that say Colmar did or other cute parts of old town centers that we had seen up to this point.
When we found this restaurant at the Wolf Hotel, Julie decided that we should at least try their sauerkraut there while having a chance to sit down at eat. We wound up getting this pork knuckle dish (that turned out to be more like a pork leg though it was very salty) and this venison ragout dish that seemed more like the dish we were expecting portion-wise (though this dish was very good).
Julie mistakenly ordered an extra bowl of sauerkraut which made the already big food volume even bigger. Yet when we paid the bill at around 30-something euros, it was actually quite reasonable for a sit down place. They didn't even charge us for leitungswasser (tap water), which was actually becoming more unusual these days (at least in Germany where beer seemed to be cheaper than the water).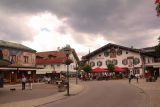 At 1:35pm, we returned to the car, and then we headed towards the Linderhof Palace. At this point, the clouds around us were getting even darker and there were already starting to sprinkle here and there as we made our way to the fairly remote residence of King Ludwig II.
By about 1:55pm, we parked at the Linderhof Palace and then proceeded to walk towards the ticket office. Once we got our tickets, we were told that our next tour was at 2:25pm. We wound up at the entrance to the Linderhof Palace at around 15 minutes before so we spent that time taking pictures of the fountain area. And in a way, it reminded us of some of the scenery seen in Versailles as well as the palace near Segovia (the name escaped me at this point).
After rushing to get into our 2:25pm tour, we then went from room to room within the Linderhof Palace as we were guided by a tour guide who probably had that stereotypical German-speaking-English accent (where the "w" sounded like "v" and the stresses of the syllables were a bit off). We had to concentrate a bit to understand what she was saying, but it was still good enough to follow and appreciate her dropping knowledge on us just as we were looking at the gaudy rooms.
Indeed, each room looked like they were golded out. And the furnitures seen appeared to be as exotic as they come.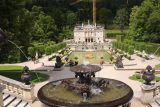 There was even a small hall-of-mirrors like room (after the one at Versailles Palace) except we could look at the infinity effect of mirrors reflecting towards another mirror and back-and-forth.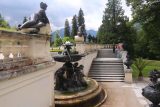 Perhaps the big takeaway from this visit was that there was a tiny dining table because apparently Ludwig II mostly dined by himself in the years that he lived here. Apparently, Richard Wagner never made it to the Linderhof Palace as he himself was a political refugee, and so apparently Ludwig could never really indulge in his true desires of being with the man he was infatuated with and wrote several letters to.
In a way, it was kind of a sad existence even considering all the gaudiness that this palace possessed. As here we had a guy who was homosexual but could never express it explicitly, and then he was naturally shy so he retreated to the mountains to get away from the persecution of others and that was how he got even deeper into his fantasies about eras past and dedicating his projects to people he admired like Richard Wagner as well as Louis XIV and Louis XV.
By the end of the tour, we then walked out in the direction of the Moorish Kiosk. There, we saw a kind of impressive building that brought us back to the days that we had toured Morocco. Indeed, the miniature recreation of one of the mosques was certainly worth the 10-minute walk to get there from the main part of the Linderhof Palace. However, it was starting to rain just as we were done with this part of the self-tour.
Next, we tried to go from dry spot to dry spot as the rain was coming down harder. I was lamenting that Julie underestimated the rain as she insisted that we didn't need the umbrellas nor the ponchos since she was worried about being turned back for carrying around more things than needed.
And now we were paying the price for it.
Eventually, we'd check out the Moroccan House, which was closer to the entrance. This was a pretty impressive miniature riad, where there was that familiar atrium with fountain inside. It made us very glad that we had gotten to see the real thing in Morocco back in 2015, and now we could see just how exotic it must have been compared to what else we had seen throughout Europe. Certainly, the European elites must have been similarly impressed the way tourists of today like us would have been.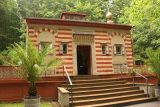 After that, we then headed back to the ticket office area where we followed the signs to the Grotto. Unfortunately, this was closed, and the ticket lady did say that the grotto had been closed for four years! Considering there was no meantion of that in a 2018 version of Rick Steves Germany, that seemed like a bad dropping of the ball in terms of keeping the info up-to-date, and it didn't sit well with Julie.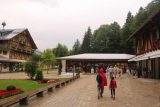 At 3:30pm, we finally retreated back to the car as the rain continued to fall. I was really hoping by this point that Leutaschklamm wouldn't be adversely impacted by this rain storm by the time we'd get there. And I was encouraged as the drive back into the direction of Garmisch-Partenkirchen was under the sun though there were definitely dark clouds building up in the surrounding mountains.
It wouldn't be until around 4:40pm that we would finally arrive at the parking at the southern end of the town of Mittenwald. We had spent around 15 minutes or so driving up towards the Austrian side's car park for the Leutaschklamm, but from looking at our GPS maps, it seemed like it was farther away from the Mittenwald approach.
And so just as I was getting ready to do yet another solo waterfalling tour while Julie and Tahia waited in the car, the rain started to come down hard.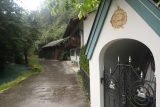 I was just putting on my rain poncho as I was already starting to get really wet. I even had to move my wallet out of my pants and into one of my shirt pockets where it would get a little better protection thanks to the poncho. I also got 5 euros worth in coins from Julie in case I had to pay to enter (which I suspected I would have to given what I had read in my pre-trip planning). I opted for the coins since I was worried that the notes might get too wet thanks to the downpour I was getting hit with this instant.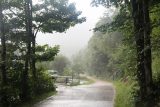 Indeed, just trying to take a picture under these conditions was a risky proposition as I didn't want to kill yet another lens or body of my Canon EOS DSLR due to water damage. So I had to pick and choose my spots, but the thought did cross my mind that I didn't want to be caught inside a gorge in a flash flood, which might have been what happened to some poor unfortunate soul caught in such a thing at Partnachklamm earlier this month.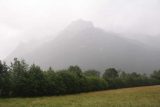 The walk was alongside a scenic and idyllic valley. If not for the drama of the heavy rain, this would have been quite the scenic spot to take pictures of farms fronting high alpine peaks.
By around 5:15am, I had arrived at the cafe and waterfall entrance. This sat at the mouth of the Leutaschklamm, which looked out across the valley floor. Even though people appeared to be trying to wait out the rain storm, I went ahead and paid the 3 euros to walk through the turnstile and proceed into the gorge.
As I was walking on the elevated wooden walkways within the gorge, I could see that the tall cliffs around me that were overhanging also provided some degree of rain relief. So I was able to snap some photos of the drama of the gorge – misty lens and wet camera and all.
It didn't take long before I got to the end of the path where I could look forward to see a gushing 23m waterfall that could only be partially seen as it was twisting and facing sideways given the cliff that was fronting it. Also, in terms of photographing it, I had to contend with the mist from the waterfall as its spray would blow out in my direction.
As I had my fill of this waterfall, I then started to walk back. Just then, I started to realize that the heavy rain had stopped, and there was even some sun starting to break through the clouds.
By about 5:45am, I had made it out of the Leutaschklamm Waterfall section, and then I proceeded to hike up the Geister Leutaschklamm trail that steeply ascended starting right next to the cafe area. At each of the switchbacks, there were interpretive signs going back in time chronicalling that formation of the Leutaschklamm.
By the time I made it up to what must have been like the 12th switchback or so, I took off my rain poncho and eventually made it to a part where the trail then descended some intimidating metal steps leading down the sturdy metal bridge spanning the gorge way above the Leutaschklamm. And from looking at the signage at the bridge, I could clearly see that I had made the right decision to start in Mittenwald as it was another 40 minutes walk just to get from this bridge back to the Austrian car park.
The views from the middle of the bridge were quite impressive, and this was especially true of the downstream view towards the imposing mountains across the valley (though that valley was barely visible given the imposition of the narrow gorge below concealing the broad valley itself).
In the distance, I started to hear some thunder, which made me wonder if there was another round of downpours that was about to come.
Eventually after having my fill of this bridge, I then continued on the blue path as it climbed a few more switchbacks before descending in a gentle manner going past some guesthouse and farm before ultimately going back down to the cafe that I was just at to start my loop hike along the blue path for the Geister Leutaschklamm.
By this point, I could clearly see that there were more dark and angry-looking clouds rolling in, and the thunder was so loud that it would echo and reverberate as they bounced off the valley walls. So I hastened my steps as I continued to walk towards the dark clouds on my way out.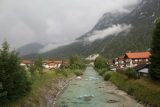 However, this was all delayed by me wanting to take pictures to still capture the beautiful scenery despite the drama of the incoming storm.
Eventually by 6:35pm, I returned to the car. It was just in time as the rain started to come down hard again just as I was putting stuff away in the car. And when I drove back the way we came to get out of Mittenwald, I could already see street flooding given the sudden volume of rain.
However, as we passed through Garmisch-Partenkirchen, the weather seemed to have let up, and by the time we were driving through Ehrenburg and Reutte once again, it seemed like the weather really cleared up as the sun was back out and I could even see large zones of blue skies.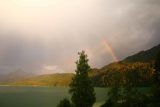 It wouldn't be until about 8pm that we were back at the Seespitz in Oberkirchen. Indeed, the weather was way calmer back here, and when we returned to our room, Tahia and I noticed that there was a rainbow over the lake.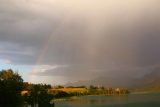 I promptly went out there and took the pictures though the rainbow was too large to try to capture the whole thing in one shot.
However, I could also see that there was a menacing squall appearing to head my way so I hastily took what shots that I could before it would drench me. That said, it apparently missed us even though there were some thick drops here and there. But I was content to call it a day at this point, let Tahia play in the sauna-like indoor pool downstairs for one last time as this was our last night here, and then have one last self-cooked dinner as we were trying to get organized with folding clothes and taking care of the usual end-of-day stuff before we all crashed in bed at around 11pm.
Day 16 (June 28, 2018 – Munich, Germany): "Es Regnet"
It was about 5:25am when I awoke. Outside, the weather looked like it was fair, but it didn't take long before the clouds overtook Oberkirch and it was raining lightly as predicted on the weather forecast.
We knew that it was supposed to rain all day today and tomorrow, so whatever we were going to do on this day was going to involve getting wet.
Since we couldn't leave early as we had to pay for our 4 nights stay at Seespitz and we never met face-to-face with the manager or owner at the registration the whole time (as they were open from 8am to 6pm and we were always away during those times), we weren't in much hurry to wake up early. I even slept in a little bit before I naturally got up.
After one last self-cooked breakfast consisting of eggs, wieners, grilled veggies, kefir, fruits, and leftover pork knuckle from the Wolf Hotel Restaurant at Oberammergau yesterday, we were quite sated when all was said and done.
It wouldn't be until 8:30am when we were finally in the car and started to leave Oberkirch (and Fussen) for good.
By now, it was raining quite non-stop and in heavy stretches as we were driving for over two hours to the east in search of the Josefsthaler Waterfalls, which was the first excursion of the day. I was kind of hoping that the rain might let up by the time we'd get to the town of Josefsthaler, especially given how long this drive was.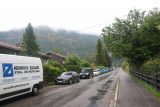 However, by 10:50am, we finally found some street parking in the town of Josefsthaler. We had passed by a sign with Josefsthaler Waterfalle arrowed signs that pointed the way to some residential road with no parking in it. So I had it in my mind that I was supposed to hike in that direction as soon as I got out of the car and started the hike.
It took me some time to get going, however, as the rain kept coming down. So I had to gear up, get some water (as I thought I saw a sign saying the falls was 50 minutes from that turnoff instead of the expected 15 minutes as I had read in the pre-trip research), and don waterproof pants (which was put on backwards as I was doing it inside the car), hiking boots, and a rain poncho.
I then proceeded to walk to the turnoff and residential road that immediately started climbing as it got to a dead-end where the road then became unpaved as I continued my hike. There were more switchbacks to ascend along this route, and there was even a tractor that made its way up behind me at one of the intersections of the unpaved roads.
It didn't take long for me to realize that these roads must have been logging roads, and that logging remains a staple of this town, apparently. That's because I saw stacks of cut up and felled logs and even the track I was on had apparently a logging heritage (at least that was the impression I got from my limited German and quickly gleaning from the pictures and bits and pieces of the text of the signs).
It seemed like the clouds kept descending on the trail I found myself hiking in the mist and fog, and it wouldn't be until around nearly noon when I finally started to see the more interesting cascades on the Hachelbach.
The steeply descending path was a bit tricky in the rain because the protruding rock surface was slippery. However, I managed to have my fill of the upper and lower cascades, which was somewhat nice though it probably wasn't worth the amount of time and trouble I had gone through to get here.
But the further down the trail I went, I started to notice that there was an even bigger waterfall further downstream. And when I descended the track down towards the base of that waterfall, that was when I realized that I had finally seen the legit Josefsthaler Waterfall. This one had more of a plunge and it was set in a peaceful setting.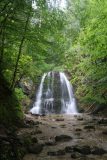 The trail continued to go downstream and eventually after passing a trio of ladies who were going the opposite direction (the first people I've seen on this trail), the more I realized that I wound up taking the rundweg (loop trail) instead of the direct waterfall trail that would have only been 15 minutes from town instead of the 1 hour 30 minutes going on the loop track I wound up doing.
It was yet another instance where the GPS misled me into thinking that I had to go the longer way, when in fact I could have saved a lot of time and trouble going the more direct way.
In any case, I was back at the car at 12:30pm, and it looked like the clouds were practically touching the base of the mountains surrounding the town. There were also a couple of logging trucks in the main street, which further convinced me that logging was a big part of the economy here.
And after getting back in the car, we then promptly headed out to the other waterfall for today – Tatzelwurm Waterfalls.
The drive east on the 307 was pretty uneventful though the rain kept coming down pretty hard. Eventually, we'd make it to the signposted turnoff and short spur to the large car park for the Tatzelwurm Waterfalls. We got there at 1:05pm.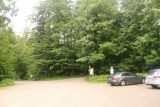 With the rain still coming down, Julie and Tahia once again stayed in the car. So I once again donned the rain gear and proceeded to walk on the short 5-minute trail along the Auerbach as the paved track descended to a bridge overlooking the Upper Tatzelwurm Waterfall along with a peek downstream at more waterfalls and bridges further downstream.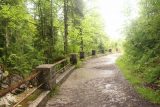 I knew keeping the DSLR out of the pouch for as long as I needed to take the photos and videos wasn't good for the camera given all this rain, at least this was easy enough to document to minimize that damage.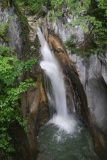 I then continued the downhill track until I was near some town or series of buildings. However, there was a spur track leading to my right to the "Unter Wasserfall", and that wound up going down some steep rock steps before eventually getting onto a wooden bridge to nowhere with a direct view at the Lower Tatzelwurm Waterfall as well as even more cascades further downstream heading towards the town.
There was one guy whom I had passed on the way down to this spot, and he was too preoccupied talking on his handy (cell phone) say hi or anything. But he must have been down there smoking before I showed up because there was that thick and annoying cigarette smoke smell. I guess even in Nature, it was hard to escape such a toxic American invention in Europe no matter whether it was in the city or in Nature like this.
Once I had my fill of the Tatzelwurm Waterfall, I then headed back up to the car park, and I managed to get there at around 1:45pm. Now, I could finally take off the rain poncho, the waterproof pants, and the wet hiking boots.
Now, we could finally drive towards Munich, where we'd be staying for the next three nights. Unfortunately, the weather forecast called for more rain all day tomorrow, and Saturday would be our only opportunity to perhaps experience Munich in fine weather.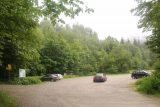 Anyways, the drive in the rain on the A93 and then the A8 went fairly smoothly considering the wet conditions. But once we got into Munich itself, the traffic was quite bad. We actually made it into the Munich city limits at around 3pm, but it then took us another 40 minutes just to finally arrive at the Carat Hotel Munchen, where they had their own garage that we promptly used straight away.
Parking was very tight in this garage, and it kind of made me not want to be going in and out of this garage too frequently. We were mulling whether to drive out to Dachau and Nymphenburg as Munchen activities that might be better off for self-driving, but with the traffic and the parking situation, perhaps it might not be a good thing. We'll have to do more research on that.
As we started to unload the car and prepare to bring our belongings up to the lobby and then our room, something went wrong with Julie's big blue luggage roller handle. It was stuck, and eventually, I managed to break off one side trying to make it unstuck. I wondered what else is going break on this trip (as I had broken the power connecctor on my ASUS laptop earlier on in Luxembourg).
I guess I'd have to manage Julie's luggage without the roller handle and try to roll it from a lower position that I'd be used to.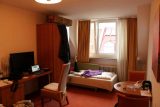 With that, we'd eventually get up to our room (though I did have difficulty trying to get out of the lift as the dolly we used made me stuck and unable to get out (since it required tilting to even get it to move and there was no room to do so). Other than that, we got into our cramped room (something we expected since space was a premium in the cities), and then we proceeded to get settled in at about 4:15pm.
At around 5pm, we then borrowed umbrellas from the hotel and proceeded to walk to the Altnatura Supermarkt that was a couple of blocks from where we were staying. With the rain still coming down hard, we had to get this order of business done first so Julie can cook tonight. Then, we'd play it by ear whether we should be sightseeing the innenstadt of Munchen after dinner even if it's raining.
We'll see how that plays out.
In any case, after buying nearly 80 euros worth of groceries (making me wonder whether we were really saving money on food by self-cooking), we then had to lug all this stuff back to our apartment-hotel room in the rain. Eventually by about 5:50pm, we were back in the room, and then Julie proceeded to get started on the dinner while Tahia and I were busy organizing the mini refrigerator to try to keep all the fruits and other refrigerated goods fresh.
And with that, we wound up calling it a day. It seemed like the first time on this trip that we had such a day that was light on activities, but certainly this persistent rain had something to do with it. If only the rain could let up tomorrow, but that was not in the forecast…
Day 17 (June 29, 2018 – Munich, Germany): "Work Will Set You Free"
It was about 5:40am when I awoke. Even though I had perhaps the most sleep (of at least 7 hours, I'd say as I was in bed by 10pm last night) on this entire trip, I probably could have slept in a little long if not for the hard sofa bed that I was on which kind of made my back sore. I wound up in this position because Tahia basically switched beds with me so she could be closer to Mommy.
Outside, it looked like there were clouds around, but it didn't look like it was raining at the moment. The forecast called for showers all day long again, and we were bracing for a repeat of yesterday's soggy weather.
In any case, Julie and I wasted no time in getting downstairs to the included breakfast (something that was new for us in all the accommodations we've stayed at throughout this trip so far). They started at 6:30am and we decided to go down there without Tahia so she could sleep in. Julie and I would then be able to have a rather peaceful breakfast while checking out what was offered downstairs.
However, when we went down there, we quickly saw that the breakfast buffet had all sorts of good stuff from cured prosciutto meats to sun-dried tomatoes and mozarella cheese balls, to the usual sausage and eggs, and even the local wurst. There were also lots of breads include giant pretzels as well as nutella spreads, and of course, there were the sugary indulgences like danish and donuts.
Indeed, this breakfast had it all, and Julie took it upon herself to go back upstairs to wake Tahia up so she wouldn't miss out on this breakfast. When she eventually came back downstairs, she seemed pretty wide awake (wonder what Julie promised her what she could have down here?), and we'd then proceed to stuff ourselves with as full of a breakfast as possible.
When we had our fill at 8am, we then went back upstairs to prepare for the day. That was wen I realized that we were supposed address the Austrian Toll Roads situation. I came to this realization when I saw that the weather was forecasted to be pretty good on most of the days we'd be in Salzburg. However, it wasn't straightforward how to properly pay for the Austrian toll, which was said to be a sticker that needed to be affixed to the top end of the driver-side of the windshield.
When we called the Hertz office at the Hauptbahnhof in Frankfurt (where we originally rented from), the guy who picked up the phone told me that we had to purchase one of these vignettes at a gas station. So that was that, and I'm sure when we check out of Munich, we'll be diligent about asking for one of these things on the way to Austria.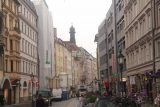 Eventually by about 8:30am, we started the day. I wore waterproof pants as my street pants in anticipation of rain. We also brought umbrellas loaned out by the Carat hotel-apartment, which took a deposit from us so we had to make sure to bring it back in one piece.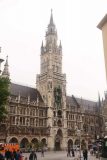 Anyways, after a brief struggle about figuring out which street to walk on to reach the Marienplatz and eventually the Residenz (which was the first sightseeing target of the day), we'd eventually make it to the famous plaza in the center of Munchen (Munich). There weren't too many people around at the time though just enough for them to show up in any miscellaneous photo to try to capture the small rectangular plaza with tall buildings (especially the Glockenspiel Tower) so trying to capture meaningful shots was tricky at best.
We continued walking in the general northbound direction from the Marienplatz, and eventually after some aimless wandering around trying to figure out how to get into the Residenz Munchen, we'd finally make our way in at 9:25am.
That was when we learned that there was some kind of jubilee or celebration going on, and therefore admission to the Residenz was actually free today! That was a little bit of a welcome relief considering how much we had been nickel-and-dimed for things like parking, admission fees, public transport, even a resort tax like in Baden-Baden. Indeed, we were burning through cash so quickly, and the above didn't even include restaurants where they wouldn't accept credit cards (and some of those dinners were pretty expensive!).
Regardless, we dropped off our bags and umbrellas, and then we proceeded to self-tour the main rooms and hallways of the Residenz.
As we went from room to room, we were immediately struck by how blinged out some of the hallways and rooms were. On the one hand, we could take pictures of what we were seeing which kind of made the experience more fulfilling so we could now have a record of what we saw and did, and thus we it wouldn't be left to memory or imagination of such experiences like they were for just about all the nice castles we had been inside like Hohenschwangau, Neuschwanstein, as well as the Linderhof Palace.
On the other hand, just about all of the rooms we saw were new recreations of the real thing, which apparently were done based on Nazi documentation and photographs of how they decked out these hallways and rooms. That kind of took the sheen off of what we were seeing since there can always be some degree of poetic license and interpretation whenever things get renovated or especially re-created (which seems to be one of those dirty little secrets for any historical building or artifacts, and why you always see scaffoldings as they try to keep the money-making objects intact and resisting the inevitable break-down process in order to keep the cash cow going).
Still, we spent a good deal of time following the red arrows (including the confusing ones as there were spots where multiple choices could be made of the route to go on) even though we probably rushed through them and spent about half the time a Rick Steves or someone of similar mind might have done.
By about 10:20am, we were done visiting the main residence part of the tour, and then we went into the Schatzkammer (or treasury). That was where we went through a lot of darker rooms where objects were encased in thick glass. Most of these objects were decked out in real gold, crystals, rubies, or other precious stones.
And like what we saw at the other castles that we couldn't take photos in, the objects were typically chalices, crosses, swords, crowns, or even smaller scale figurines. Given the amount of attention given by the caretakers to protect these things, I have reason to believe that these trinkets and objects were indeed the real thing and on display as if the whole treasury was like a museum (which of course it is being operated like so).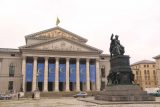 Both Julie and Tahia were quite impressed with the amount of bling they were seeing but we were also getting a bit tired from all the walking around and staring, and it was time to wrap up this part of the visit, which we did by 10:45am.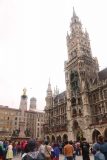 We were about to stroll over to the Cuvillies Theater, which was also part of the Residenz Museum experience, but it was closed until 2pm today. So we wound up strolling back towards the Marienplatz where we were going to then head over to the Viktualienmarkt, which was an outdoor market full of food shacks and kiosks.
When we showed up to the Marienplatz at 11am, there was a huge crowd gathered in the plaza and just about every tourist there were looking up at the Glockenspiel Tower expectantly as if something was about to happen. Sure enough, some musical chimes were playing and we started to see the upper part of the characters in the tower going around in circles as if a joust was happening.
Eventually after about three revolutions, one of the knights on the horse leaned backwards as if he had fallen off his horse as he lost this joust match. Apparently, the Bavarian always wins in this display.
Then, the show continued as the upper carousel stopped and the lower carousel started spilling with a bunch of dancers twirling around in jubilee.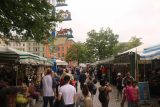 When the show ended, we even heard a good percentage of the onlooking tourists clap their hands in approval. Julie and I made the connection that this Glockenspiel Tower had that cuckoo clock feel to it that we saw a lot of in the Schwarzwald and in some touristy shops thereafter in Bavaria. It made us appreciate that the Bavarians sure know a thing or two about timed music boxes, which were essentially what these cuckoo clocks or glockenspiel grandfather clocks (if you will) really were.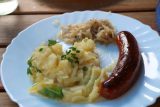 Now while all this commotion was going on, I also came to the realization that with all this attention given to the tower, this must be a haven for pickpocketers as there were indeed lots of people here perfectly distracted in the way magicians might do their slight of hand to pull off their magic without you knowing. And in that way, professional thieves who usually work in teams are quite adept at doing to make you lighter in your monetary or personal belongings…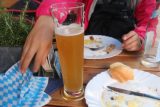 Anyways, we then walked over to the Viktualienmarkt, which was just a few blocks over to the south of the Marienplatz. There, we saw an atmospheric display of food kiosks as well as a pretty large outdoor beer garden that didn't seem to have a whole lot of activity given that it was still not noon yet. However, there were still an appreciable number of people having their giant glasses of beer while munching at a giant pretzel with it.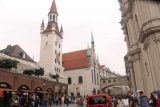 The walkways that weaved between these stands and kiosks were packed with people that were mostly from tour groups. Indeed, I definitely heard a lot more English than German in this section though there were enough locals and European tourists alike who lit up cigarettes as the second hand smoke was definitely there whenever there would be outdoor seating at cafes and food spots good for people watching.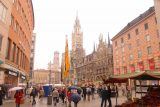 At 11:40am, Julie found some kiosk called the Kleiner Ochsn'brater, which served up gluten frei fare of wieners and sauerkrauts witn potato salads, and they did so at reasonable prices. Tahia and I even went back and got a giant pretzel (not gluten free so Julie couldn't have it) as well as me getting a locally-brewed beer (of which I'm not that much of a fan of, but "when in Rome", right?).
When we had our fill of our "lunch" which was really like eating when you're already sated after getting stuffed from the breakfast fare at our hotel, it was starting to rain though it wasn't so substantial to justify my wearing waterproof pants yet. Still, we hadn't walked around so much that the non-breathability of my pants were getting to me yet.
Next, we went to the U-bahn where we bought a family day pass at 15.60 euro, which was actually quite a steal when you consider that up to 3 adults or 2 adults and 4 kids could pile onto this one family day pass. Comparing that with a day pass ticket for an adult was 5.60 euro, you pretty much break even with the way we had it but that meant that we could use any public transportation within the first two zones (that included Dachau, which we were going to next).
By 12:25pm, we were waiting for the S2 train bound for Dachau. We knew that it might be a bit of a stretch to try to do both Dachau and Nymphenburg Palace on the same day to really take advantage of our day pass.
In any case, Julie really wanted to do the Dachau experience because Rick Steves gave it the max score of three triangles. However, we knew that this might be a bit of a confronting museum and experience for Tahia who wouldn't really understand what went on there. Plus, there could be graphic images of dead bodies, or starving people, in addition to concepts like torture, which was totally flipped around from the fantasies that were realized in the Ludwig Castles that ultimately inspired Walt Disney and the Disneyland theme parks.
And those were the kinds of fantasies that Tahia gravitated towards since she was pretty familiar with the castles she had seen in the Disneyland stories.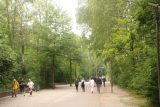 Eventually by 12:55pm, the train made it to the Dachau Station, where we then walked over to the Bus 726, and took that bus to the Dachau Gedenkstatte (Concentration Camps). By about 1:10pm, we finally got off the bus along with a crowd of other people (most of whom spoke American) and proceeded to walk about the grounds.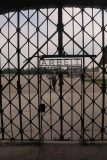 The signs clearly stated that going into the museum was not recommended for children under the age of 12, so I was a bit concerned about Tahia's state of mind after seeing such images. In any case, the first thing that struck both Julie and I after we walked through the gate saying "Arbeit machts frei" (Work will set you free) was how big the complex was.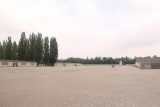 It was crazy to think just how many people were crammed in this section of the camp, and upon looking at a miniature model of the entire Dachau complex, this part was only about a third of the entire complex!
Of course, the ordeals chronicled in the museum regarding the pole hangings, the torture, the starvations, deprivations, experiments, intimidations, you name it, were definitely on full display. It was actually quite an unadultered look at what actually went on here, and it was an important point that we tried to emphasize to Tahia that sometimes life isn't all fantasies.
We visited the museum first, then went through the exhibits though we didn't do the 22-minute video as Tahia was already afraid to be seeing confronting images on a screen in motion.
Then, we checked out the perimeter fence where would-be escapees were shot dead on the spot.
Then, we checked out the barracks, where sleeping bunks (just wooden boxes) once had dividers for peoples' personal spaces before the later bunks didn't have any dividers and people were totally cramped together in them.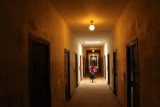 Finally, we then went to the bunker, which was really a very long prison cell. Just walking through these halls was a sobering reminder of what it must have been like to be stuck there for weeks without food, light, or any normal communications with other people except for the SS.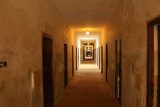 Indeed, the reality was that this did take place, and it took place here on the grounds we were walking on.
But more importantly, it wasn't so much about the anger and being upset that should be the takeaway of this experience. But it should be the why.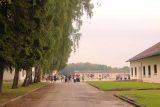 Why did it happen? What gave rise to Nazi radicalism? Why do we have to worry about the current Trump administration and the parallels between the far right Republicans who supported him and the Nazi regime that actually carried this out and started World War II? And what could be done to prevent it from happening again (especially the conditions that gave rise to these radical ideologies that eventually became action)?
By about 2:55pm, we were done with the Dachau visit. We easily could have spent more time here, but I think Tahia was bothered enough by being here that it was time to go. Sure we could have gotten more out of this visit, and we probably could have provided Tahia with better answers as she was shooting off questions to us as we tried to explain what she was seeing here to her, but only time and life experiences would ultimately bring her to understanding as she grows up.
It took quite a bit of waiting to catch the bus back to the Dachau Bahnhof, and then taking the train back to Marienplatz in the heart of Munich. It wouldn't be until around 4pm that we finally made it back to die Innenstadt (city center), where we then made a beeline for the Cuvillies Theater, which was part of the Residenz visit.
When we finally made it to the theater (after a bit of searching around), we went past a square courtyard cornered by some Greek-looking statues before entering the theater itself.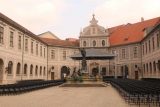 Inside the theater, we saw about 3 or 4 floors of balcony-type seats with a bunch of plush red velvet seats on the ground level, and a movie theater-like stage with some fake static scene projected onto the screen. In a way, this theater reminded Julie and I of the old opera venues that you would see in the movies like Eyes Wide Shut or something like that.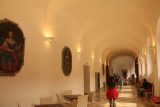 There was a lot of detail on the ceiling and on the railings as well as the wall decorations between the state and the balconies. It was too bad that they didn't let us onto the second or higher floors because that top down perspective would be something else.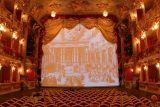 At least we did walk up to the front of the theater and look back for a sense of what performers might have seen against the stage lighting.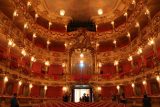 In addition, we also chillaxed a bit sitting on the theater seats trying to plot our next move for the rest of the evening.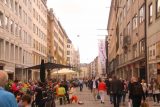 At 4:40pm, we were done with the Cuvilles Theater experience, and we got back our belongings before we headed back to Marienplatz. Julie had this idea of eating at the Ratskeller, which was pretty much beneath the courtyard behind the Glockenspiel Tower. She wound up making 7pm reservations there for dinner.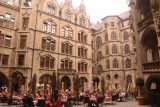 And so we then proceeded to make our walk back to the apartment. By now, the sun was well out, the rain that was predicted to come never really did come, and my legs were sweating from the inside out thanks to my waterproof pants not being breathable. So I was quite relieved when we finally did make it back to the apartment at 5:45pm so I could change out of these clothes and into more comfortable street clothes.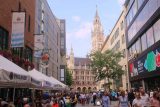 Meanwhile, Julie went back to Altnatura to pick up some more quark and water or other goods. We know we'd probably need one more grocery run since everywhere is closed on Sundays. Hopefully the stuff we buy would keep.
I was also spending time reading and responding to an email concerning my contractor dispute, which was a bit upsetting since the HR people and the problem-resolution personnel pretty much took the side of the contractor without considering the evidence I presented. I guess that wasn't too surprising since they need to save face as their contractor was the one who was giving them the bad reputation as far as my trying them out was concerned.
By 6:40pm, we then walked back to the Marienplatz, which was now very atmospheric with lots of locals and tourists alike. Even the walk to get there was quite atmospheric as the fusgangerzone (pedestrian zone) was quite busy with people dining at cafes and walking to and from the streets.
By 7pm, we were back at the Ratkeller, where the restaurant itself was quite busy (good thing we made reservations).
The food was pretty ok though it probably wasn't much better than the much cheaper food we had at the Viktualienmarkt, especially concerning the wiener with sauerkraut. That said, I did like the fish dish I had (Julie liked it too), and we liked the Beef Rouladen dish that Julie got though she wondered whether the thickness of its sauce meant that it had cornstarch or flour or something with gluten in it even though the menu said it was gluten frei. That was not good, and hopefully Julie doesn't react too severely to it.
Although the service was a bit on the impersonal and meh side, we did get out of the restaurant at 8:35pm. By that time, we decided to walk around looking for the Hofbrauhaus hoping to get a sense of ambience and jovial atmosphere that we saw in the Rick Steves videos and hoped to be experiencing ourselves.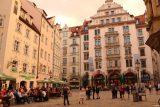 It took some time to figure out where it was since it was a little bit of a walk, but it turned out to be in a separate platz with arched entranceways leading to some double doors with lots of tourists and well-dressed people hanging out in the front (probably for a chat and a smoke) as well as inside.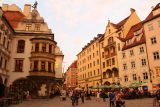 Speaking of the inside, it was busy with foot traffic as well as crowded with people having their giant beer mugs and grub. There was a band that was taking a break in the middle of the place where there appeared to be a library-looking thing further inside.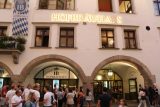 However with all this humanity crammed in this otherwise spacious joint (where Hitler apparently gave some of his earlier speeches prior to his rise to the head of the Third Reich), it was really stuffy hot in there as sources of 98.7F were coming out of everyone's orifices.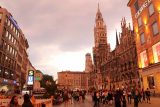 On the opposite corner of the Hofbrauhaus on the outside was this other happening spot called Augustiner or something like that. There was some boisterous and festive singing with music being played on the second floor, and we could see through the windows up there that something was going on, and it would have been fun to be a part of it.
We wondered if this was like a direct competitor to the more well known Hofbrauhaus, and it certainly seemed like the place to be on this happening night. In fact, there were other brew houses and restaurants that were full of people, and it gave me the sense that this was Munich at its liveliness, which is in the evenings on a Friday (and maybe Saturday night tomorrow).
That said, it was getting late, and eventually by 10pm, we were back at the apartment. I was hoping that someone from TopTal would be game for a phone call (or videoconference using my mobile), but that didn't come. So it will have to happen some time next week, and I hope that we could still accommodate these dispute resolution issues once we get settled in Salzburg (our next destination) and have a working battle rhythm in terms of our sightseeing with our precious daylight time, and the sacrifice of sleep that would inevitably have to happen at the end of the day.
At the end of the day, I did some more responding to TopTal and tried to prepare for this conference call that I hope would happen in the near term, but before I knew it, it was 2am when I was finally in position to sleep. I knew that this lack of sleep on a night when I should be sleeping in again like last night was going to come back and haunt us later on in this trip when I have to drive and be on the road again.
Well, at least, there's still a full day in Munich tomorrow, and hopefully, with what we accomplished today, that should make things easier in terms of the quantity of sightseeing on Saturday…
Day 18 (June 30, 2018 – Munich, Germany): "Munchin' On Munchen"
It was 5:45am when I awoke. Even though this had been later than I was normally waking up on this trip, I was still quite groggy since I didn't go to sleep until around 2am earlier in the morning.
In looking outside, I could see that the sun was already out so I knew that today was shaping up to be a pretty warm day. But with a lot of the Munich sites addressed yesterday, today promised to be a bit of a less hectic one though I no doubt had a feeling that we'd still be exhausted by the end of it.
It took some time for us to get ready for the day.
And it wasn't until after 7:15am that we finally went down for the included breakfast at the Carat Hotel. This time, however, the stuff that was on offer was quite different and not as good as what was there yesterday. So while we stuffed ourselves silly yesterday, this time around, we left a lot of room and didn't consume nearly as much.
So there weren't any more mozarella balls, sun dried tomatoes, and prosciutto. They now had stuffed bell peppers as well as stuffed peppercini.
Eventually, we'd be back at the room around 8am, and then it wouldn't be until about 9:15am when we finally headed downstairs to start our last full day in Munich.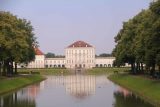 The first order of business was to take the tram out to the Schloss Nymphenburg (or Nymphenburg Palace). It wasn't until about 9:45am when we got off the tram car, which was right in view of the Nymphenburg Palace.
The entranceway which first followed along some stream full of catfish, ducks, and geese, soon gave way to a grand courtyard entrance that was reminiscent of the approach to the Versailles Palace in France. With the morning sun beating down on us, this felt like a pretty long walk, and we were already a bit hot and sweaty by the time we joined the crowds inside the gift shop and kasse (ticket cashier) right at the mouth of the massive U-shaped building.
We had to use one of the free lockers to put in Julie's backpack as well as her little purse-like pack (which she reluctantly did since it was no bigger than most purposes people were bringing inside).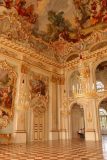 Anyways, after finally getting into the controlled area of the interior of the Nymphenburg Palace, we then turned a corner and immediately went into a very grand welcoming room with white but embroidered walls with super tall ceilings and several chandeliers hanging down from the dizzying ceiling heights. Given the sheer size of this room, it was hard to capture in a single photograph. Indeed, if leaving a first impression was the point of this room, it certainly did it.
Next, we had a choice of visiting 5 rooms to the left or 5 rooms to the right. Within the first five rooms we did to the left, we saw lots of fancy living rooms and bedrooms (though the furnishings of the bedrooms didn't have beds in most cases). We also had to contend with huge tours being narrated to by a German-speaking guide.
So we had to weave our way through these crowds and at the same time trying to beat them to some of the more emptier rooms before they'd inundate us. So that kind of hastened our visit, and without purchasing the audio guides, we pretty much gawked at the furnishings and the grandeur of some of the rooms. But we didn't learn much more about what we were seeing in real-time.
Next, we then went into the last series of rooms on the other side of the U-shaped building. The rooms in here were seemingly grander, and a couple of the rooms were furnished with beds.
Perhaps the most memorable of the rooms was the Room of Beauties or something like that. Apparently, there were about two dozen or more painted portraits of women of differing social classes. They were all brunettes and I wondered what prompted such a collection of women to be painted. Upon closer inspection of some of these portraits, there appeared to be some personality showing in some of the ladies.
Funny that the queen wasn't in this room, however. She was next door as she had a room dedicated to herself.
With all the French inspiration in the furnishings and the decorations in this palace, it kept bringing back our faded memories of the Versailles in the outskirts of Paris, France. In fact, it appeared that the Bavarian rulers at the time strategically partnered with Napoleon, who no doubt also imparted a lot of the French influence on this house.
In any case, this French Connection helped Bavaria grow into a larger state, and it was probably at that time that Bavaria was at the peak of its power.
Julie definitely enjoyed the experience as she loved these furnished historical places. However, she admitted that something was missing when it came to these spots that were closer to the city (Munich in this case) as they lacked the kind of magic experienced in more rural spots like Neuschwanstein, Hohenschwangau, and even Linderhof.
That was when we realized that location made all the difference. In cities, lots of liberties could be taken in the re-creation and restoration of the historical buildings. This was especially the case when important places were bombed during World War II or desecrated during the Nazi regime as they sought to transform things for their own purposes.
However, in the more remote places, the war didn't affect them as much so a lot of those buildings remained original. And it was that originality that kept the magic alive (not to mention the location where they had beautiful mountains and lakes as backdrops).
Even if we weren't allowed to take pictures in those places (which was frustrating because you couldn't take the experience with you), the magic was undeniable.
Personally, I wasn't too keen on dwelling and paying so much money for how much bling you can show off regarding displays of concentrated wealth. It just reminded me that the same problems we're experiencing today (when it comes to letting only a few control all the world's wealth) happened back then as well, and these gaudy displays were absolute proof of that.
And now, they're pretty much money making machines, which kind of lets perhaps those few live on indefinitely as it's their stories that get to be told and their names and faces that get remembered for as long as people continue to remember them.
Such is the disparity of life, I guess. Some people get all the breaks, while others can't catch one. And I'd like to think that most of us are stuck in between somewhere trying to make do with what we have as we get through this thing called life.
When our visit ended, Tahia's fascination with Ludwig II culminated in us buying a book for her to read about the guy and his castles. She also wanted us to visit the St Michael's church so we can visit the crypt where his body rested. So we had to make sure we'd get there before that crypt closes at 2:30pm today (since today was a Saturday).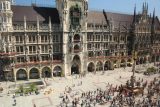 By about 10:55am, we were done with the tour and started the walk back towards the tram stop, and then we'd eventually return to the Marienplatz. We then made a beeline for the Glockenspiel Cafe, where it was quite busy up there. However, a large percentage of people who were there ate at a different terrace which didn't seem to have as much of a view but it did probably allow smoking since it was somewhat outdoors.
We went to the one with a direct view over the Marienplatz where we were almost eye level with the moving parts of the Glockenspiel Tower, which we were just in time to watch its performance at 12pm.
Perhaps the most striking thing about this perspective of the Marienplatz was watching all the people down in the square moving this way and that as the energy of this heart of Munich was undeniable.
As for the food, it was actually surprisingly decent (albeit expensive) as we shared beef medallion salad along with ravioli in pesto and basil. We also had a black forest cake for dessert though it lacked the rum punch that the one we had in Titisee had. It seemed like when it came to that cake, we kind of blew it by not having it in that famous bakery in Baden-Baden when we had the chance. For the further away from the Black Forest we went, not surprisingly, the more "made-for-tourists" that dessert seemed to be.
By 1pm, we were done eating, and then we headed back down into the Marienplatz to start the walk to the St Michael's church so Tahia could finally check off her bucket list item to see Ludwig II's final resting place.
We wound up walking along the Kaufingerstrasse, which was quite the busy pedestrian zone (seemed like Munich was full of these as they all converged on the Marienplatz; a very smart move in terms of city planning). Even though Julie's GoogleMaps navigation for walking led us to some quieter streets, it eventually brought us back to the Kaufingerstrasse and the mass of humanity moving this way and that on the fusgangerzone (Pedestrian Zone).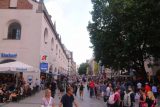 Inside the St Michael's Church, we saw the now-familiar grand hallway where services were usually held. But towards the front near the altar was the stairs leading down into the crypt. That was where we paid 2 euros per person but no photos were allowed. Tahia got to go in for free.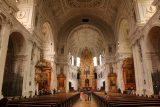 Within the crypt, it was basically a room full of coffins and plaques saying who was in the coffin and how long they lived. Of all the coffins that were here, the most decorated one was the one for King Ludwig II. As Rick Steves mentioned, his was the only one that had flowers at the foot of his coffin, and it remained that way today.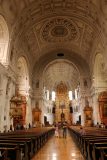 It also seemed to have the largest sized coffin, and it stood out directly opposite some kind of cross and altar across the room from it. The rest of the coffins were pretty much organized and placed close together as some of these coffins were for children (one looked like it might not have made it a year), while others were for longer living queens and kings and princes. The longest living ones appeared to go on until about 78 or even 83 years, which was pretty impressive given the high mortality rate at the time.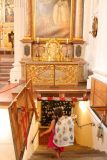 I guess it made sense that they don't allow pictures in this place because it was like taking pictures at a funeral. Something just seems off about doing that.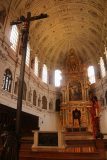 Well, with Tahia finally getting her bucket list item crossed off, we asked her if it was everything she expected?
She, of course, said yes. However, she did ask that we head out because she felt it was creepy down here. Apparently, she saw some skull resting on a one of the coffins (some detail that I missed), and it was pretty clear that she wasn't into dead things.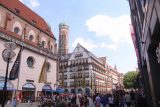 So we left the crypt and the church at 1:40pm, and then walked the really busy Kaufingerstrasse all the way back to Marienplatz, where we then asked the visitor center there what was the best way to get to the English Garden, which was kind of the last experience we sought out while in Munich.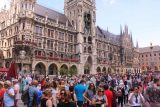 The info person said that if we were seeking out the Chinese Tower (which was what Julie pointed out to him), he said that the best exit was at Ameliastrasse or something like that. We had read that Universitat was the best stop to go off of and then walk the gardens, but we acted on the tourist info person as we didn't know any better.
We'd eventually get off the metro system at Ameliastrasse and then couldn't figure out which way to walk. When we thought we saw some green, we went in there, but it only led to a dead-end with some playground or something. Clearly, this wasn't the English Garden.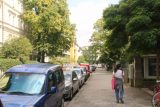 So we then crossed the busy street and went in the opposite direction. I managed to see a sign that pointed the way to the Englischergarten, and after what seemed like walking forever on quiet residential streets, we'd finally get to one obscure entrance into the vast English Garden, where we expected it to be like strolling through Central Park in New York, except this would be the German version of it.
In a way, we didn't have much expectations of this place, and kind of viewed it as an opportunity to just stroll through, get the general flavor, perhaps chillax for a bit, and then leave in time for dinner.
However, the deeper we strolled into the gardens (which was really a huge lawn area with lots of trees providing shade against the warm sun and mild humidity), the more activity we were seeing. Indeed, we saw more people riding bikes, going on strolls, and lots of others sun bathing. Still, there were others playing in the streams that zig zagged their way through various parts of the garden.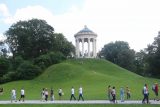 The first thing of note that we saw was some kind of Roman-looking circular structure (not unlike what the Apollo in Delphi, Greece would look like if it was still intact). Perched on a small hill, it provided a pretty nice view facing south I believe towards the vast grassy and tree dotted terrain spotted with thousands of people shirtless or just laying out on the grass (some doing PDA, which we've observed pretty frequently in Europe).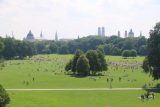 We got there at about 3:15pm, so it took us nearly 90 minutes to get from St Michael's Church to here, but it also illustrated what a roundabout route we took to get here.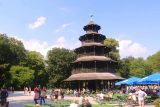 There was also some kind of wedding photography going on at this monument, so it must've been quite hot to be wearing a tux with coat as well as that wedding dress if you're the bridge in this pretty warm weather.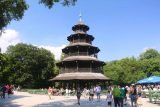 Next, we walked towards the Chinese Tower. It turned out that by the time we got there, we heard some band music being played, and we wound up at some kind of giant beer garden surrounding a good chunk of the wooden tower that was kind of shaped like a poor man's pagoda. We got there at about 3:50pm, and we couldn't help but get caught up in the festive atmosphere.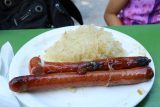 So we naturally went into one of the food kiosks there, grabbed some huge beef wurst and sauerkraut, and shared seating with a couple of guys having a chat in one of the emptier tables.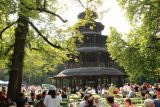 While the food was pretty good, the bigger takeaway from this experience was watching mostly Munich locals enjoying their weekend afternoons having these giant beer mugs full of beer accompanied with these even bigger pretzels. It gave new meaning to the term "Super Size". And we were taking all this in while a Bavarian band was playing band music in the Chinese Tower further adding to the ambience.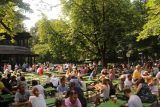 We were glad that we made it to this spot, and it was becoming an unexpected highlight of our time in Munich.
Finally at about 4:25pm, we started to head back to the apartment (or so we thought we'd be going that way perhaps to change). This time, instead of going back the way we came, we opted to continue strolling deeper within the English Gardens area towards where even more people were chillaxing and playing in some of the streams. We even let Tahia get to play in the water a bit but we did have to keep an eye on her because the current seemed fairly appreciable.
Ultimately, we'd get to a more trafficked and obvious entrance of the gardens, and we wondered why the tourist info guy made us go off at a different station instead of Universitat, which was where we were headed. The walking path and human traffic seemed so much more obvious and atmospheric going along this route, and in this instance, we should have stuck with TripAdvisor instead of the info given to us at the Tourist Info center.
Oh well, at least we got to experience it, and now it was time to continue back into the mass transit system. However, as time was running out before our dinner reservation at 6pm at this gluten free place, Julie instead had us take one of the U2 lines east of the city towards Trudering.
Eventually, we'd make it way out there, and then we had to walk for at least 10 minutes until we finally got to this place called the Gasthof Obermaier. It was actually a hotel, but there was a beer garden further down the road with the same name.
Their indoor seating wasn't happening so we had to sit in the garden itself where there were already quite a few people having a relaxing early dinner or siesta time snack over beer.
Of course, the issue with outdoor seating is the cigarette smoke, and thus the second hand smoke was pretty unavoidable.
That said, the crispy duck as well as crispy pork dishes hit the spot, despite already having eaten at the Chinese Tower not much earlier than now. I also tried their gluten free beer, which was really some kind of lemon-infused brew served out of a bottle (as opposed to a tap), which was kind of disappointing as I expected something more local.
Still, the beer tasted smooth like what I'd imagine a cider might be.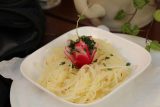 We ended off this last dinner in Munich with a dessert that took 25 minutes to prepare. It was basically some kind of apple egg-based dessert (hard to describe as it as neither a souffle nor a pie but something in between) served with a side of applesauce and sprinkled with powdered sugar.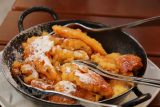 In the end, Julie said she loved her meal. And I enjoyed it too. Tahia just had what we had, and if it wasn't candy or some other bread or junk food, then she would just reluctantly eat it. And we also had to be busy eating on the one hand and swatting at flies buzzing around our food on the other hand.
And with that, we left for the apartment at 7:05pm. Eventually at 7:50pm, we were back at the room as we wound up taking the S2 line all the way to Sendlinger Tor, which was apparently a pretty popular stop. While I promptly returned to the apartment-hotel, Julie and Tahia made one last run at the Alnatura nearby for one last go at some organic goods before we'd have to do without when we get to Austria tomorrow.
Thus ended our time in Munchen, where it seemed like we a lot more eating in this city than any other. I definitely felt the bloat throughout the evening as the sugar high probably was a bit of a shock to my system. In any case, I found myself sleeping some time before 10pm, which once again should be giving me a good nights sleep for the long drive towards Salzburg tomorrow…
Day 19 (July 1, 2018 – Salzburg, Austria): "Of Eagles And Kings"
It was 5am when I awoke. With a pretty busy day being planned, we were hoping to be getting out of Munich by 7am, but we still had to pack and get our stuff together. We also had to wash all the dishes (and dry them and return them to the cabinets) as well as wash the fruits.
The early departure and busy day was because we were anticipating going to the Eagle's Nest (Kehlstein) as well as Konigsee (King's Lake) before checking into to our apartment in Salzburg.
However, as was becoming par for the course on this trip when you're dealing with more people (especially a child), we wound up not loading up the car until nearly 7am, and we decided to have the included breakfast one last time since they actually brought back the good stuff today (i.e. the mozarella cheese balls with sun-dried tomatoes, prosciutto, etc.).
So it wasn't until about 7:45am when we left the apartment, and headed back on the road for the first time in a few days. With the sun definitely out today, we were looking forward to getting good views at the Eagle's Nest, but from looking at the TripAdvisor reports, we knew that we were definitely going to have to deal with long queues and restricted time limits (as we would have to declare or stamp a return time once we were at the Eagle's Nest itself). So we were bracing ourselves for a not-so-great experience but we were hoping to get the views and compare with our Zugspitze experience.
One thing that was on my mind as we were driving the A8 towards Salzburg (which meant we'd be leaving Germany) was the Austrian toll system. Apparently, I was supposed to go to one of the border country gas stations and buy a 10-day vignette (like a windshield sticker) to put on the windshield of the rental car. I guess failure to do this meant a hefty on-the-spot fine.
This was something I didn't really appreciate when we were zipping in and out of Austria from Fussen to Garmisch-Partenkirchen for about three consecutive days. I wondered if the cameras would have spotted me and fined me without me knowing, or if I had gotten lucky during those days.
Regardless, as I was zooming along the A8 (just as the traffic seemed to be increasing thereby halting our momentum), I made a run at one of the crazy busy fuel stops. Even with the price of diesel at a whopping 1.513 euros per liter, I just topped up about a quarter-tank of gas while also purchasing the vignette.
Now with that out of the way, we continued on our way towards Salzburg.
However, during the drive (as things were moving swimmingly and we were going about 160km/h on the autobahn; never really comfortable gunning at 200km/h or higher), a warning came up complaining that we needed to fill the "diesel fuel exhaust fluid". I had never heard of this thing, and I figured that this was something we just needed to figure out how to fill up, but how?
So Julie called the Hertz rental car while I was driving, and the person said to stop by a nearest Hertz rental car center and they'd top it up for us. But with today being Sunday, hardly anyone was open except for the airport location on the outskirts of Salzburg, which was the direction we were headed anyways.
Eventually about 9:45am, we parked the car at the airport in Salzburg. Then we promptly went upstairs and spoke to the lady at the rental car kiosk about our concern.
She promptly left the desk, and we walked together downstairs to the garage, and then we went ahead and entered the car while telling me to ride along with her. Apparently, she was going to test drive the car. Meanwhile, Julie and Tahia were taking a restroom break so when they returned to the garage, they waited outside while the rental car lady was doing her thing.
That was when the rental car lady was at first messing with the controls (not sure if she was trying to suppress the message or something), and then a transformation took place as if all of the sudden the lady took on this possessed demeanor as soon as she started the ignition.
Next thing I knew, she was driving very harshly and gunning it in the parking lot while aggressively taking the turns to get out of the structure. Then, she drove a loop around the airport terminal still possessed as she was really gunning it (despite the speed bumps) and pounding on the horn to make an indecisive driver in front of us move out of the way.
Then, she promptly stopped the car before the entrance of another entrance to a parking lot, put on the emergency lights, and then said that it was ok to illegally park the car here to go get Julie and Tahia and get back to the car. She said there was nothing wrong with the car and that the issue could be ignored.
I guess what was lost in translation (since she was speaking to me in half-German and half-English probably since she picked up that I knew a few German words) was that I wasn't exactly sure why this was not a big deal to ignore the warning message.
When Julie and Tahia were picked up and we were back in the car and ready to go at 10:10am, we then spotted a BP gas station on the way out of the airport and decided to see if we can address the issue ourselves or ask someone there. However, when we got there and saw that there was no mechanic and that the lady working there was busy making takeout food and tending the cashier with a queue, I knew that we weren't going to get anywhere with her.
That was when Julie spotted a uniformed person looking like he might know something because he was dressed as if he was an airline pilot. When we showed him a phone shot of the warning message, he smiled and said something about the diesel fuel exhaust fluid was to make the diesel exhaust less polluting.
He then went on to say wryly that since this was a German car, it probably didn't make a difference in the amount of pollution created by the car whether we had the fluid in there or not. I was thinking this was in reference to the Volkswagen scandal where they doctored the emissions tests to make them seem cleaner than they really were.
That at least made us less worried about something being wrong with the engine without this fluid.
So that would explain why the rental car lady said it was no big deal and we could still drive the car fine. And so then we continued on our way at around 10:20am.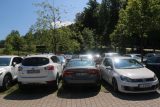 Next, we continued driving towards Berchtesgaden and eventually towards the Eagle's Nest parking lot. By the time we showed up to the large P1 and P2 parking lots, we knew that we would have to compete with a bunch of other cars looking for parking spots. When we showed up to one of the lower car parks that was an extension of the P2 lot, Julie managed to find a really tight spot between two small cars parked backwards. One of the cars was double-parked since this particular lot didn't have lines drawn.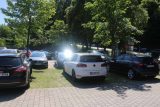 So with a bit of struggle, we managed to squeeze in between the cars, but it was hard to open the doors and get what we needed out of there. So we just took the bare minimum things, bought the day pass for 3 euros, displayed it on the dash, and then we were on our way. By now, it was about 11:10am. Hopefully, no one was going to key the rental car because we took matters into our own hands and found a way to park while dozens of other cars continued to circle the lots looking for a place to park.
When we showed up to the kasse, there was already a long line that stretched from the windows to the stairs. There was also a web cam that was showing that one side was cloudy while the other side was clear. That made us hesitate and wonder if we should go back to the car and drive to Konigssee and try to visit the waterfalls down there before coming back to do Eagle's Nest when the lines would be smaller but we'd be pushing it in terms of the last buses leaving before we'd show up.
We ultimately decided that we should just stick it out for better or for worse. And then hope that we'd still have time to do Konigssee when we were done with the Eagle's Nest. If not, then something would have to give on one of the three full days we had in Salzburg.
Anyways, we'd eventually get our bus tickets which was for 12:15pm, which was about 20 minutes from the time we finally purchased them. That left us some time to loiter around a bit (as well as having a conversation with an Austrian family who were waiting with us to ride the bus).
When the time came, we then boarded the bus, and then we were taking up switchbacking roads with a few tunnels as the vehicle made its way to the Kehlstein (Eagle's Nest). It seemed like the best seats were on the other side of the bus where they were getting good views of the Konigssee side while the bus itself was going fairly slow on its climb (so the pictures wouldn't look as blurry).
Regardless, when the bus finally arrived at the top, I promptly got right into line thinking that Julie and Tahia were right behind. But when I saw that I was at the window, Julie and Tahia were nowhere to be found! So I had to lose my place in line (mutter an expletive about why she wasn't there), and then go back in line when I finally saw them several dozens of parties further back in line. I was pissed off about that because I was thinking what could possibly cause that long of a delay if all we had to do was get off the bus and get in line. And with time limited, I knew this was going to be costly.
Well, when we finally got to the front of the line (again) but this time as a family, we then told the ticket person that we were planning on returning at 13:55, thinking that 90 minutes was plenty of time to experience the Eagle's Nest and then be back down in time for the bus. However, this went against the recommendation of at least 2 hours at the top (meaning we should have taken the 14:20 bus back instead), and the reason soon became apparent.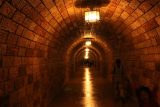 Once we got into the tunnel leading to the lift to go up to the Eagle's Nest, we were caught in a very long queue waiting to get past the bottleneck which was the lift itself. Now, we were really regretting not going for the 14:20 time as we probably only left ourselves barely 15 minutes or so to enjoy the Eagle's Nest instead of a more comfortable 45 minutes.
Indeed, as predicted on the TripAdvisor reviews, this wasn't a relaxing nor pleasant experience. And it should have been better because when we did go up to the Eagle's Nest, we were treated to views that were arguably better than Zugspitze, especially on the side containing the Lake Konigssee.
Even though that side was cloudier, we could still see the beautiful scenery. The webcam was set higher up on the mountain, so that was probably why it looked so cloudy. But we were glad we made it up here. We just weren't glad that we had to be back down before we could really get to enjoy this place.
I went ahead and bolted as high as I could go as there was a walk that went from the restaurant all the way to the cross, and even beyond into the rocks. On one path, there was a dead-end overlooking some other trail where it seemed people could still keep climbing (I wondered how far this trail went?). But I only contented myself to get this view, and briefly going up the other trail to get a more commanding top down view towards the Lake Konigssee side. The view over Salzburg was clear but it was a bit on the flat side and wasn't great.
The walk back to rejoin Julie and Tahia was also atmospheric as we could look down at the Kehlsteinhaus with the panorama below as the backdrop. There was also a bit of atmosphere here as there was some guy dressed in Bavarian threads with an accordian standing in front of the cross and yodeling while singing some song.
The views up here were so nice that Julie even said she would tolerate the second-hand cigarette smoke to chill out at a cafe here and soak in the views.
But alas, we were worried about the queue going back down the elevator, and so we made it back to the elevator (which didn't have a line when we showed up but that line quickly grew when we were queued up), and then we were back down to the bus stop at around 1:45pm just 10 minutes before our 1:55pm return bus time.
The tunnel queue was now going almost the full length of the tunnel, which was even longer than when we first queued up somewhere half-way in between. And when the fleet of buses showed up, we promptly got back on, picked the seats on the same side of the bus as we took up (so we'd now get the views we didn't get have on the way up), and then we were back at the lower bus stop in due time.
By now, it was a little after 2pm, and there was absolutely no line to purchase bus tickets though that was probably because it would be cutting it close as the last bus back down was an early 16:10 or something like that. So that wouldn't leave very much time to enjoy the top either.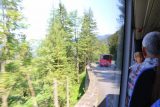 In that sense, I was glad that we stuck it out, but in hindsight, we could have just done Salzburg stuff today and do both Eagle's Nest and Konigssee tomorrow, when we could get the early start and really enjoy the day before the crowds, and then spend more time at Konigssee, where I already suspected that it was too late to do the longer hike to the base of the waterfall that would take around 3 hours round trip.
At 2:20pm, we were back at the car. No dents or keying of the car from what we could tell, and actually there were two different cars parked around us this time. One couple was appeared to be leaving the same time as us, which meant that they parked here in even less time than we did. That was kind of strange, we thought.
Regardless, without any shade, we were worried that anything we had kept that needed refrigeration had probably spoiled (even though they were vacuum sealed probiotic hand-made kraut and quark yogurts). And with Sunday's shut for just about all the grocery stores, we kind of knew that we couldn't be cooking on this day.
Anyways, we then decided to seize the moment to go over to Koniggsee and complete the Berchtesgaden National Park experience. By about 2:40pm, we finally found parking in the huge Koniggsee lot, and then we promptly walked towards the kasse where we caught a ticket for a boat ride some time after 3pm.
The boat ride was on the relaxing side as it was cruising along the lake. This was the experience that we didn't get at Kehlstein (Eagle's Nest), but we also knew that there was a bit of a time limit we were up against on this visit as well since the last boat back departed at 18:10.
We also apparently sat on the wrong side of the boat in terms of getting views of the Konigsbachfall, which was an attractive cascade tumbling towards the lake though not directly on it. Our side was kind of on the sunny side but at least could get some awkward views of the St Bartoloma Church with the mountainous backdrop.
On one moment during the boat ride, there was a guy playing a horn and he'd pause between a few notes so we could hear the echoes as if someone was playing the music back to him (or us). And for that little entertainment, he was going around looking for trinkgeld (tips).
Anyways, we didn't get off at the St Bartholoma stop though because it wasn't the cute town that I thought it would be, and we were pretty churched out. Instead, we stuck with the plan and kept going to the end, where we'd then get off the boat. And that didn't happen until about 4:10pm.
We were already able to see Rothbachfall partially as well as some other waterfall on our side of the boat. But it turned out that we could also get a good view of that other waterfall (Schrainbachfall) spilling directly into Konigssee when we were on dry land.
With that, Julie and Tahia went off on their own so Tahia could play in the shallow parts of the water for a little bit. Meanwhile, I went ahead and did the 15-minute hike past the cafes and past the junctions towards the mouth of Lake Obersee. There were lots of people on the trail, so it wasn't quite the quiet experience that one would expect in a spot as remote as this.
But I came to expect that sights all over Germany were popular, and they were also nickel-and-dimed and exploited to the hilt. So none of this really surprised me, and I had to make do with the circumstances.
That said, once I got to the mouth of Obersee, there was a gorgeous view across the mirror-like lake towards the impressive Rothbachfall with mountains in the backdrop. There was also a shack and dock at the lake that was a very popular photo subject and there was always someone tying up the dock taking their selfie shots or people shots or whatever.
I wasn't looking for that however, so I was busy taking videos and photos from this very spot before I started to head back and rejoin Julie and Tahia. And as much as I wanted to continue the hike for another 75 minutes to get to the base of Rothbachfall, I knew that there was insufficient time to pull that off, document the experience, and then make it back to the boat by 18:10 or 6:10pm. It was already 4:25pm, and it was simply not realistic to push it like that.
I was back at the dock at the head of Konigssee but I didn't see Julie and Tahia. Not sure if they had left without me or not, I just stayed behind and watched the queue continue to grow then shrink, then grow as boat after boat would come by and pick people up.
Eventually, I saw Julie and Tahia coming up from the trail and rejoin me in line for the boats back to the parking lot. Apparently, Julie and Tahia were at one of the cafes there, where Julie had the local trout. I must have missed them on the hike back, and it was yet another instance of missing them while they were at a cafe (like the lost and found episode back at Hinterstein between Lindau and Fussen.
Well, we were back on the boat, then we slowly cruised our way back to the parking lot (once again not getting off at the St Bartholoma stop). When it came time to take pictures of the Konigsbachfall, there was another boat that actually passed us and they were always in the photo as we were looking towards the Konigsbachfall.
I guess them being subjects in the photos wasn't such a bad thing.
Anyways, we'd finally make it back to the car at 6:35pm. Now, we kind of knew that whatever was in the car all this time that needed refrigeration, was probably spoiled or risk getting sick from.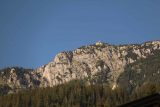 Still, we just continued on our way back to Salzburg and hope for the best.
After a bit of driving past some pretty cheap gas stations (though we had nearly a full tank by now, but at least mentally I knew where to go to fill up when the fuel tank would be low), we then navigated through the Salzburg streets before we'd finally find the Mirabellplatz parking garage.
We'd finally park the car at about 7:20pm, but we quickly saw that there was no lift. It was all man-power to lug our stuff from the parking garage and onto street level, and we'd have to do this in multiple trips with each flight of stairs. That wasn't fun since I was the one doing all the heavy lifting at those times.
Eventually at 7:50pm, after climbing more steps in the apartment (no lift in there either), we'd finally settle into our self-served apartment, which was refreshingly more spacious than the appart-hotel we stayed at in Munich. But with us being a hot and sweaty mess from the walk to get here (not to mention the heavy lifting), we got changed and then looked for a place to eat in town since it was too late to self-cook.
At least our apartment was right at the entrance to the old town and we could see that there was an open L'Osteria right downstairs in view from our room. However, we were sick of German and Italian food, and we decided to walk the half-mile to get an Indian Restaurant.
So we went downstairs at 8:30pm, and then embarked on a bit of an atmospheric walk through town en route to the restaurant.
Julie noted that the town lacked the old world feel that many of the German towns had, and we figured out that it was a lack of stone buildings or half-timbered buildings as well as the absence of frescoes. We suspected that this city might have been bombed during World War II so a lot of the places must have been re-built.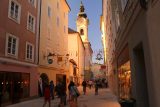 Another interesting thing we noted was the amount of American accents we had heard while walking about town. In fact, I swore we heard more American than German in town, and we wondered if this was a combination of the Sound of Music and the Rick Steves effect. Well, whatever it was, we kind of sensed that Austria would be quite a bit of a different experience compared to that of Germany even though the spoken language is the same (with a few regional slang and expressions that are different, I'm sure).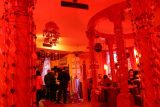 Anyways, we'd eventually get to the Taj Mahal Restaurant at 8:50pm. It was very busy inside so we knew that we might be here a while. Even though we didn't have reservations, they did seat us as soon as another table vacated.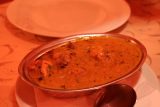 And with that, we had some chicken tikka masala as well as some kind of lamb dish goasht (sp?) along with a nan bread and a lot of basmatic rice. We could have eaten more, but we disciplined ourselves to just these two dishes.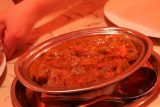 The quality was excellent, and it definitely hit the spot after having all this German and Italian food for much of this trip.
Eventually at 10:20pm, we were done eating, and then we had to hike back to our apartment. It was now dark outside, and I guess we were far south enough in latitude that it wasn't as bright at this time as say it was in Bacharach. Also, the days were getting shorter as we were now past the Summer Solstice, and it was already the first day of July.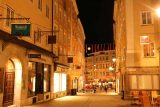 Finally at 10:40pm, we made it back to our apartment. The L'Osteria was still busy as we were passing by as it was one of the few places that was open this late on a Sunday (let alone being open at all!).
Anyways, we were all tired, and it was even a struggle to shower, brush, and other little errands as it was easy to just doze off, which we promptly did in short time. At least now with all the German excursions out of the way until Rothenburg at the end of the trip, we were now committed to the second half of the trip which was predominantly Austria…
Visitor Comments:
Got something you'd like to share or say to keep the conversation going? Feel free to leave a comment below...
No users have replied to the content on this page