Day 17 (June 29, 2018 – Munich, Germany): "Work Will Set You Free"
It was about 5:40am when I awoke. Even though I had perhaps the most sleep (of at least 7 hours, I'd say as I was in bed by 10pm last night) on this entire trip, I probably could have slept in a little long if not for the hard sofa bed that I was on which kind of made my back sore. I wound up in this position because Tahia basically switched beds with me so she could be closer to Mommy.
Outside, it looked like there were clouds around, but it didn't look like it was raining at the moment. The forecast called for showers all day long again, and we were bracing for a repeat of yesterday's soggy weather.
In any case, Julie and I wasted no time in getting downstairs to the included breakfast (something that was new for us in all the accommodations we've stayed at throughout this trip so far). They started at 6:30am and we decided to go down there without Tahia so she could sleep in. Julie and I would then be able to have a rather peaceful breakfast while checking out what was offered downstairs.
However, when we went down there, we quickly saw that the breakfast buffet had all sorts of good stuff from cured prosciutto meats to sun-dried tomatoes and mozarella cheese balls, to the usual sausage and eggs, and even the local wurst. There were also lots of breads include giant pretzels as well as nutella spreads, and of course, there were the sugary indulgences like danish and donuts.
Indeed, this breakfast had it all, and Julie took it upon herself to go back upstairs to wake Tahia up so she wouldn't miss out on this breakfast. When she eventually came back downstairs, she seemed pretty wide awake (wonder what Julie promised her what she could have down here?), and we'd then proceed to stuff ourselves with as full of a breakfast as possible.
When we had our fill at 8am, we then went back upstairs to prepare for the day. That was wen I realized that we were supposed address the Austrian Toll Roads situation. I came to this realization when I saw that the weather was forecasted to be pretty good on most of the days we'd be in Salzburg. However, it wasn't straightforward how to properly pay for the Austrian toll, which was said to be a sticker that needed to be affixed to the top end of the driver-side of the windshield.
When we called the Hertz office at the Hauptbahnhof in Frankfurt (where we originally rented from), the guy who picked up the phone told me that we had to purchase one of these vignettes at a gas station. So that was that, and I'm sure when we check out of Munich, we'll be diligent about asking for one of these things on the way to Austria.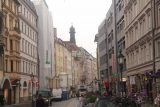 Eventually by about 8:30am, we started the day. I wore waterproof pants as my street pants in anticipation of rain. We also brought umbrellas loaned out by the Carat hotel-apartment, which took a deposit from us so we had to make sure to bring it back in one piece.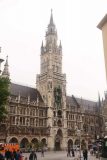 Anyways, after a brief struggle about figuring out which street to walk on to reach the Marienplatz and eventually the Residenz (which was the first sightseeing target of the day), we'd eventually make it to the famous plaza in the center of Munchen (Munich). There weren't too many people around at the time though just enough for them to show up in any miscellaneous photo to try to capture the small rectangular plaza with tall buildings (especially the Glockenspiel Tower) so trying to capture meaningful shots was tricky at best.
We continued walking in the general northbound direction from the Marienplatz, and eventually after some aimless wandering around trying to figure out how to get into the Residenz Munchen, we'd finally make our way in at 9:25am.
That was when we learned that there was some kind of jubilee or celebration going on, and therefore admission to the Residenz was actually free today! That was a little bit of a welcome relief considering how much we had been nickel-and-dimed for things like parking, admission fees, public transport, even a resort tax like in Baden-Baden. Indeed, we were burning through cash so quickly, and the above didn't even include restaurants where they wouldn't accept credit cards (and some of those dinners were pretty expensive!).
Regardless, we dropped off our bags and umbrellas, and then we proceeded to self-tour the main rooms and hallways of the Residenz.
As we went from room to room, we were immediately struck by how blinged out some of the hallways and rooms were. On the one hand, we could take pictures of what we were seeing which kind of made the experience more fulfilling so we could now have a record of what we saw and did, and thus we it wouldn't be left to memory or imagination of such experiences like they were for just about all the nice castles we had been inside like Hohenschwangau, Neuschwanstein, as well as the Linderhof Palace.
On the other hand, just about all of the rooms we saw were new recreations of the real thing, which apparently were done based on Nazi documentation and photographs of how they decked out these hallways and rooms. That kind of took the sheen off of what we were seeing since there can always be some degree of poetic license and interpretation whenever things get renovated or especially re-created (which seems to be one of those dirty little secrets for any historical building or artifacts, and why you always see scaffoldings as they try to keep the money-making objects intact and resisting the inevitable break-down process in order to keep the cash cow going).
Still, we spent a good deal of time following the red arrows (including the confusing ones as there were spots where multiple choices could be made of the route to go on) even though we probably rushed through them and spent about half the time a Rick Steves or someone of similar mind might have done.
By about 10:20am, we were done visiting the main residence part of the tour, and then we went into the Schatzkammer (or treasury). That was where we went through a lot of darker rooms where objects were encased in thick glass. Most of these objects were decked out in real gold, crystals, rubies, or other precious stones.
And like what we saw at the other castles that we couldn't take photos in, the objects were typically chalices, crosses, swords, crowns, or even smaller scale figurines. Given the amount of attention given by the caretakers to protect these things, I have reason to believe that these trinkets and objects were indeed the real thing and on display as if the whole treasury was like a museum (which of course it is being operated like so).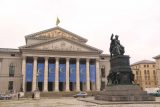 Both Julie and Tahia were quite impressed with the amount of bling they were seeing but we were also getting a bit tired from all the walking around and staring, and it was time to wrap up this part of the visit, which we did by 10:45am.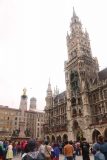 We were about to stroll over to the Cuvillies Theater, which was also part of the Residenz Museum experience, but it was closed until 2pm today. So we wound up strolling back towards the Marienplatz where we were going to then head over to the Viktualienmarkt, which was an outdoor market full of food shacks and kiosks.
When we showed up to the Marienplatz at 11am, there was a huge crowd gathered in the plaza and just about every tourist there were looking up at the Glockenspiel Tower expectantly as if something was about to happen. Sure enough, some musical chimes were playing and we started to see the upper part of the characters in the tower going around in circles as if a joust was happening.
Eventually after about three revolutions, one of the knights on the horse leaned backwards as if he had fallen off his horse as he lost this joust match. Apparently, the Bavarian always wins in this display.
Then, the show continued as the upper carousel stopped and the lower carousel started spilling with a bunch of dancers twirling around in jubilee.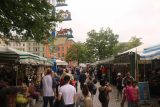 When the show ended, we even heard a good percentage of the onlooking tourists clap their hands in approval. Julie and I made the connection that this Glockenspiel Tower had that cuckoo clock feel to it that we saw a lot of in the Schwarzwald and in some touristy shops thereafter in Bavaria. It made us appreciate that the Bavarians sure know a thing or two about timed music boxes, which were essentially what these cuckoo clocks or glockenspiel grandfather clocks (if you will) really were.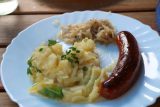 Now while all this commotion was going on, I also came to the realization that with all this attention given to the tower, this must be a haven for pickpocketers as there were indeed lots of people here perfectly distracted in the way magicians might do their slight of hand to pull off their magic without you knowing. And in that way, professional thieves who usually work in teams are quite adept at doing to make you lighter in your monetary or personal belongings…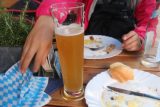 Anyways, we then walked over to the Viktualienmarkt, which was just a few blocks over to the south of the Marienplatz. There, we saw an atmospheric display of food kiosks as well as a pretty large outdoor beer garden that didn't seem to have a whole lot of activity given that it was still not noon yet. However, there were still an appreciable number of people having their giant glasses of beer while munching at a giant pretzel with it.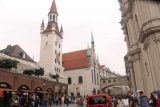 The walkways that weaved between these stands and kiosks were packed with people that were mostly from tour groups. Indeed, I definitely heard a lot more English than German in this section though there were enough locals and European tourists alike who lit up cigarettes as the second hand smoke was definitely there whenever there would be outdoor seating at cafes and food spots good for people watching.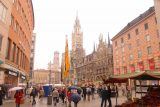 At 11:40am, Julie found some kiosk called the Kleiner Ochsn'brater, which served up gluten frei fare of wieners and sauerkrauts witn potato salads, and they did so at reasonable prices. Tahia and I even went back and got a giant pretzel (not gluten free so Julie couldn't have it) as well as me getting a locally-brewed beer (of which I'm not that much of a fan of, but "when in Rome", right?).
When we had our fill of our "lunch" which was really like eating when you're already sated after getting stuffed from the breakfast fare at our hotel, it was starting to rain though it wasn't so substantial to justify my wearing waterproof pants yet. Still, we hadn't walked around so much that the non-breathability of my pants were getting to me yet.
Next, we went to the U-bahn where we bought a family day pass at 15.60 euro, which was actually quite a steal when you consider that up to 3 adults or 2 adults and 4 kids could pile onto this one family day pass. Comparing that with a day pass ticket for an adult was 5.60 euro, you pretty much break even with the way we had it but that meant that we could use any public transportation within the first two zones (that included Dachau, which we were going to next).
By 12:25pm, we were waiting for the S2 train bound for Dachau. We knew that it might be a bit of a stretch to try to do both Dachau and Nymphenburg Palace on the same day to really take advantage of our day pass.
In any case, Julie really wanted to do the Dachau experience because Rick Steves gave it the max score of three triangles. However, we knew that this might be a bit of a confronting museum and experience for Tahia who wouldn't really understand what went on there. Plus, there could be graphic images of dead bodies, or starving people, in addition to concepts like torture, which was totally flipped around from the fantasies that were realized in the Ludwig Castles that ultimately inspired Walt Disney and the Disneyland theme parks.
And those were the kinds of fantasies that Tahia gravitated towards since she was pretty familiar with the castles she had seen in the Disneyland stories.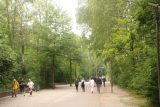 Eventually by 12:55pm, the train made it to the Dachau Station, where we then walked over to the Bus 726, and took that bus to the Dachau Gedenkstatte (Concentration Camps). By about 1:10pm, we finally got off the bus along with a crowd of other people (most of whom spoke American) and proceeded to walk about the grounds.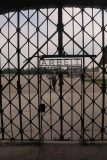 The signs clearly stated that going into the museum was not recommended for children under the age of 12, so I was a bit concerned about Tahia's state of mind after seeing such images. In any case, the first thing that struck both Julie and I after we walked through the gate saying "Arbeit machts frei" (Work will set you free) was how big the complex was.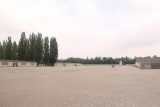 It was crazy to think just how many people were crammed in this section of the camp, and upon looking at a miniature model of the entire Dachau complex, this part was only about a third of the entire complex!
Of course, the ordeals chronicled in the museum regarding the pole hangings, the torture, the starvations, deprivations, experiments, intimidations, you name it, were definitely on full display. It was actually quite an unadultered look at what actually went on here, and it was an important point that we tried to emphasize to Tahia that sometimes life isn't all fantasies.
We visited the museum first, then went through the exhibits though we didn't do the 22-minute video as Tahia was already afraid to be seeing confronting images on a screen in motion.
Then, we checked out the perimeter fence where would-be escapees were shot dead on the spot.
Then, we checked out the barracks, where sleeping bunks (just wooden boxes) once had dividers for peoples' personal spaces before the later bunks didn't have any dividers and people were totally cramped together in them.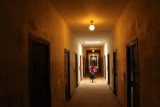 Finally, we then went to the bunker, which was really a very long prison cell. Just walking through these halls was a sobering reminder of what it must have been like to be stuck there for weeks without food, light, or any normal communications with other people except for the SS.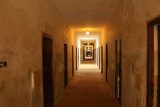 Indeed, the reality was that this did take place, and it took place here on the grounds we were walking on.
But more importantly, it wasn't so much about the anger and being upset that should be the takeaway of this experience. But it should be the why.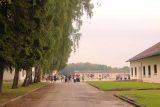 Why did it happen? What gave rise to Nazi radicalism? Why do we have to worry about the current Trump administration and the parallels between the far right Republicans who supported him and the Nazi regime that actually carried this out and started World War II? And what could be done to prevent it from happening again (especially the conditions that gave rise to these radical ideologies that eventually became action)?
By about 2:55pm, we were done with the Dachau visit. We easily could have spent more time here, but I think Tahia was bothered enough by being here that it was time to go. Sure we could have gotten more out of this visit, and we probably could have provided Tahia with better answers as she was shooting off questions to us as we tried to explain what she was seeing here to her, but only time and life experiences would ultimately bring her to understanding as she grows up.
It took quite a bit of waiting to catch the bus back to the Dachau Bahnhof, and then taking the train back to Marienplatz in the heart of Munich. It wouldn't be until around 4pm that we finally made it back to die Innenstadt (city center), where we then made a beeline for the Cuvillies Theater, which was part of the Residenz visit.
When we finally made it to the theater (after a bit of searching around), we went past a square courtyard cornered by some Greek-looking statues before entering the theater itself.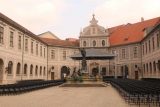 Inside the theater, we saw about 3 or 4 floors of balcony-type seats with a bunch of plush red velvet seats on the ground level, and a movie theater-like stage with some fake static scene projected onto the screen. In a way, this theater reminded Julie and I of the old opera venues that you would see in the movies like Eyes Wide Shut or something like that.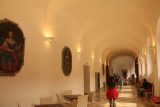 There was a lot of detail on the ceiling and on the railings as well as the wall decorations between the state and the balconies. It was too bad that they didn't let us onto the second or higher floors because that top down perspective would be something else.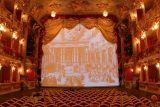 At least we did walk up to the front of the theater and look back for a sense of what performers might have seen against the stage lighting.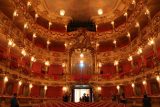 In addition, we also chillaxed a bit sitting on the theater seats trying to plot our next move for the rest of the evening.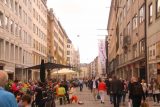 At 4:40pm, we were done with the Cuvilles Theater experience, and we got back our belongings before we headed back to Marienplatz. Julie had this idea of eating at the Ratskeller, which was pretty much beneath the courtyard behind the Glockenspiel Tower. She wound up making 7pm reservations there for dinner.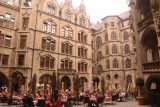 And so we then proceeded to make our walk back to the apartment. By now, the sun was well out, the rain that was predicted to come never really did come, and my legs were sweating from the inside out thanks to my waterproof pants not being breathable. So I was quite relieved when we finally did make it back to the apartment at 5:45pm so I could change out of these clothes and into more comfortable street clothes.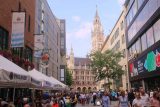 Meanwhile, Julie went back to Altnatura to pick up some more quark and water or other goods. We know we'd probably need one more grocery run since everywhere is closed on Sundays. Hopefully the stuff we buy would keep.
I was also spending time reading and responding to an email concerning my contractor dispute, which was a bit upsetting since the HR people and the problem-resolution personnel pretty much took the side of the contractor without considering the evidence I presented. I guess that wasn't too surprising since they need to save face as their contractor was the one who was giving them the bad reputation as far as my trying them out was concerned.
By 6:40pm, we then walked back to the Marienplatz, which was now very atmospheric with lots of locals and tourists alike. Even the walk to get there was quite atmospheric as the fusgangerzone (pedestrian zone) was quite busy with people dining at cafes and walking to and from the streets.
By 7pm, we were back at the Ratkeller, where the restaurant itself was quite busy (good thing we made reservations).
The food was pretty ok though it probably wasn't much better than the much cheaper food we had at the Viktualienmarkt, especially concerning the wiener with sauerkraut. That said, I did like the fish dish I had (Julie liked it too), and we liked the Beef Rouladen dish that Julie got though she wondered whether the thickness of its sauce meant that it had cornstarch or flour or something with gluten in it even though the menu said it was gluten frei. That was not good, and hopefully Julie doesn't react too severely to it.
Although the service was a bit on the impersonal and meh side, we did get out of the restaurant at 8:35pm. By that time, we decided to walk around looking for the Hofbrauhaus hoping to get a sense of ambience and jovial atmosphere that we saw in the Rick Steves videos and hoped to be experiencing ourselves.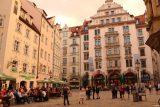 It took some time to figure out where it was since it was a little bit of a walk, but it turned out to be in a separate platz with arched entranceways leading to some double doors with lots of tourists and well-dressed people hanging out in the front (probably for a chat and a smoke) as well as inside.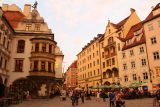 Speaking of the inside, it was busy with foot traffic as well as crowded with people having their giant beer mugs and grub. There was a band that was taking a break in the middle of the place where there appeared to be a library-looking thing further inside.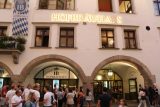 However with all this humanity crammed in this otherwise spacious joint (where Hitler apparently gave some of his earlier speeches prior to his rise to the head of the Third Reich), it was really stuffy hot in there as sources of 98.7F were coming out of everyone's orifices.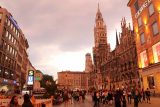 On the opposite corner of the Hofbrauhaus on the outside was this other happening spot called Augustiner or something like that. There was some boisterous and festive singing with music being played on the second floor, and we could see through the windows up there that something was going on, and it would have been fun to be a part of it.
We wondered if this was like a direct competitor to the more well known Hofbrauhaus, and it certainly seemed like the place to be on this happening night. In fact, there were other brew houses and restaurants that were full of people, and it gave me the sense that this was Munich at its liveliness, which is in the evenings on a Friday (and maybe Saturday night tomorrow).
That said, it was getting late, and eventually by 10pm, we were back at the apartment. I was hoping that someone from TopTal would be game for a phone call (or videoconference using my mobile), but that didn't come. So it will have to happen some time next week, and I hope that we could still accommodate these dispute resolution issues once we get settled in Salzburg (our next destination) and have a working battle rhythm in terms of our sightseeing with our precious daylight time, and the sacrifice of sleep that would inevitably have to happen at the end of the day.
At the end of the day, I did some more responding to TopTal and tried to prepare for this conference call that I hope would happen in the near term, but before I knew it, it was 2am when I was finally in position to sleep. I knew that this lack of sleep on a night when I should be sleeping in again like last night was going to come back and haunt us later on in this trip when I have to drive and be on the road again.
Well, at least, there's still a full day in Munich tomorrow, and hopefully, with what we accomplished today, that should make things easier in terms of the quantity of sightseeing on Saturday…