Day 18 (June 30, 2018 – Munich, Germany): "Munchin' On Munchen"
It was 5:45am when I awoke. Even though this had been later than I was normally waking up on this trip, I was still quite groggy since I didn't go to sleep until around 2am earlier in the morning.
In looking outside, I could see that the sun was already out so I knew that today was shaping up to be a pretty warm day. But with a lot of the Munich sites addressed yesterday, today promised to be a bit of a less hectic one though I no doubt had a feeling that we'd still be exhausted by the end of it.
It took some time for us to get ready for the day.
And it wasn't until after 7:15am that we finally went down for the included breakfast at the Carat Hotel. This time, however, the stuff that was on offer was quite different and not as good as what was there yesterday. So while we stuffed ourselves silly yesterday, this time around, we left a lot of room and didn't consume nearly as much.
So there weren't any more mozarella balls, sun dried tomatoes, and prosciutto. They now had stuffed bell peppers as well as stuffed peppercini.
Eventually, we'd be back at the room around 8am, and then it wouldn't be until about 9:15am when we finally headed downstairs to start our last full day in Munich.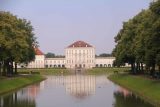 The first order of business was to take the tram out to the Schloss Nymphenburg (or Nymphenburg Palace). It wasn't until about 9:45am when we got off the tram car, which was right in view of the Nymphenburg Palace.
The entranceway which first followed along some stream full of catfish, ducks, and geese, soon gave way to a grand courtyard entrance that was reminiscent of the approach to the Versailles Palace in France. With the morning sun beating down on us, this felt like a pretty long walk, and we were already a bit hot and sweaty by the time we joined the crowds inside the gift shop and kasse (ticket cashier) right at the mouth of the massive U-shaped building.
We had to use one of the free lockers to put in Julie's backpack as well as her little purse-like pack (which she reluctantly did since it was no bigger than most purposes people were bringing inside).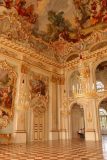 Anyways, after finally getting into the controlled area of the interior of the Nymphenburg Palace, we then turned a corner and immediately went into a very grand welcoming room with white but embroidered walls with super tall ceilings and several chandeliers hanging down from the dizzying ceiling heights. Given the sheer size of this room, it was hard to capture in a single photograph. Indeed, if leaving a first impression was the point of this room, it certainly did it.
Next, we had a choice of visiting 5 rooms to the left or 5 rooms to the right. Within the first five rooms we did to the left, we saw lots of fancy living rooms and bedrooms (though the furnishings of the bedrooms didn't have beds in most cases). We also had to contend with huge tours being narrated to by a German-speaking guide.
So we had to weave our way through these crowds and at the same time trying to beat them to some of the more emptier rooms before they'd inundate us. So that kind of hastened our visit, and without purchasing the audio guides, we pretty much gawked at the furnishings and the grandeur of some of the rooms. But we didn't learn much more about what we were seeing in real-time.
Next, we then went into the last series of rooms on the other side of the U-shaped building. The rooms in here were seemingly grander, and a couple of the rooms were furnished with beds.
Perhaps the most memorable of the rooms was the Room of Beauties or something like that. Apparently, there were about two dozen or more painted portraits of women of differing social classes. They were all brunettes and I wondered what prompted such a collection of women to be painted. Upon closer inspection of some of these portraits, there appeared to be some personality showing in some of the ladies.
Funny that the queen wasn't in this room, however. She was next door as she had a room dedicated to herself.
With all the French inspiration in the furnishings and the decorations in this palace, it kept bringing back our faded memories of the Versailles in the outskirts of Paris, France. In fact, it appeared that the Bavarian rulers at the time strategically partnered with Napoleon, who no doubt also imparted a lot of the French influence on this house.
In any case, this French Connection helped Bavaria grow into a larger state, and it was probably at that time that Bavaria was at the peak of its power.
Julie definitely enjoyed the experience as she loved these furnished historical places. However, she admitted that something was missing when it came to these spots that were closer to the city (Munich in this case) as they lacked the kind of magic experienced in more rural spots like Neuschwanstein, Hohenschwangau, and even Linderhof.
That was when we realized that location made all the difference. In cities, lots of liberties could be taken in the re-creation and restoration of the historical buildings. This was especially the case when important places were bombed during World War II or desecrated during the Nazi regime as they sought to transform things for their own purposes.
However, in the more remote places, the war didn't affect them as much so a lot of those buildings remained original. And it was that originality that kept the magic alive (not to mention the location where they had beautiful mountains and lakes as backdrops).
Even if we weren't allowed to take pictures in those places (which was frustrating because you couldn't take the experience with you), the magic was undeniable.
Personally, I wasn't too keen on dwelling and paying so much money for how much bling you can show off regarding displays of concentrated wealth. It just reminded me that the same problems we're experiencing today (when it comes to letting only a few control all the world's wealth) happened back then as well, and these gaudy displays were absolute proof of that.
And now, they're pretty much money making machines, which kind of lets perhaps those few live on indefinitely as it's their stories that get to be told and their names and faces that get remembered for as long as people continue to remember them.
Such is the disparity of life, I guess. Some people get all the breaks, while others can't catch one. And I'd like to think that most of us are stuck in between somewhere trying to make do with what we have as we get through this thing called life.
When our visit ended, Tahia's fascination with Ludwig II culminated in us buying a book for her to read about the guy and his castles. She also wanted us to visit the St Michael's church so we can visit the crypt where his body rested. So we had to make sure we'd get there before that crypt closes at 2:30pm today (since today was a Saturday).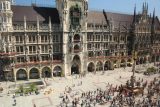 By about 10:55am, we were done with the tour and started the walk back towards the tram stop, and then we'd eventually return to the Marienplatz. We then made a beeline for the Glockenspiel Cafe, where it was quite busy up there. However, a large percentage of people who were there ate at a different terrace which didn't seem to have as much of a view but it did probably allow smoking since it was somewhat outdoors.
We went to the one with a direct view over the Marienplatz where we were almost eye level with the moving parts of the Glockenspiel Tower, which we were just in time to watch its performance at 12pm.
Perhaps the most striking thing about this perspective of the Marienplatz was watching all the people down in the square moving this way and that as the energy of this heart of Munich was undeniable.
As for the food, it was actually surprisingly decent (albeit expensive) as we shared beef medallion salad along with ravioli in pesto and basil. We also had a black forest cake for dessert though it lacked the rum punch that the one we had in Titisee had. It seemed like when it came to that cake, we kind of blew it by not having it in that famous bakery in Baden-Baden when we had the chance. For the further away from the Black Forest we went, not surprisingly, the more "made-for-tourists" that dessert seemed to be.
By 1pm, we were done eating, and then we headed back down into the Marienplatz to start the walk to the St Michael's church so Tahia could finally check off her bucket list item to see Ludwig II's final resting place.
We wound up walking along the Kaufingerstrasse, which was quite the busy pedestrian zone (seemed like Munich was full of these as they all converged on the Marienplatz; a very smart move in terms of city planning). Even though Julie's GoogleMaps navigation for walking led us to some quieter streets, it eventually brought us back to the Kaufingerstrasse and the mass of humanity moving this way and that on the fusgangerzone (Pedestrian Zone).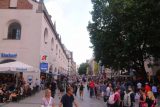 Inside the St Michael's Church, we saw the now-familiar grand hallway where services were usually held. But towards the front near the altar was the stairs leading down into the crypt. That was where we paid 2 euros per person but no photos were allowed. Tahia got to go in for free.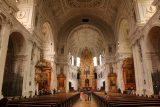 Within the crypt, it was basically a room full of coffins and plaques saying who was in the coffin and how long they lived. Of all the coffins that were here, the most decorated one was the one for King Ludwig II. As Rick Steves mentioned, his was the only one that had flowers at the foot of his coffin, and it remained that way today.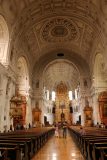 It also seemed to have the largest sized coffin, and it stood out directly opposite some kind of cross and altar across the room from it. The rest of the coffins were pretty much organized and placed close together as some of these coffins were for children (one looked like it might not have made it a year), while others were for longer living queens and kings and princes. The longest living ones appeared to go on until about 78 or even 83 years, which was pretty impressive given the high mortality rate at the time.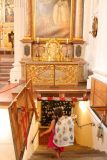 I guess it made sense that they don't allow pictures in this place because it was like taking pictures at a funeral. Something just seems off about doing that.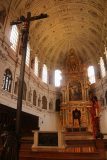 Well, with Tahia finally getting her bucket list item crossed off, we asked her if it was everything she expected?
She, of course, said yes. However, she did ask that we head out because she felt it was creepy down here. Apparently, she saw some skull resting on a one of the coffins (some detail that I missed), and it was pretty clear that she wasn't into dead things.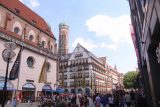 So we left the crypt and the church at 1:40pm, and then walked the really busy Kaufingerstrasse all the way back to Marienplatz, where we then asked the visitor center there what was the best way to get to the English Garden, which was kind of the last experience we sought out while in Munich.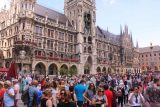 The info person said that if we were seeking out the Chinese Tower (which was what Julie pointed out to him), he said that the best exit was at Ameliastrasse or something like that. We had read that Universitat was the best stop to go off of and then walk the gardens, but we acted on the tourist info person as we didn't know any better.
We'd eventually get off the metro system at Ameliastrasse and then couldn't figure out which way to walk. When we thought we saw some green, we went in there, but it only led to a dead-end with some playground or something. Clearly, this wasn't the English Garden.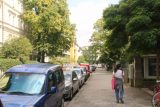 So we then crossed the busy street and went in the opposite direction. I managed to see a sign that pointed the way to the Englischergarten, and after what seemed like walking forever on quiet residential streets, we'd finally get to one obscure entrance into the vast English Garden, where we expected it to be like strolling through Central Park in New York, except this would be the German version of it.
In a way, we didn't have much expectations of this place, and kind of viewed it as an opportunity to just stroll through, get the general flavor, perhaps chillax for a bit, and then leave in time for dinner.
However, the deeper we strolled into the gardens (which was really a huge lawn area with lots of trees providing shade against the warm sun and mild humidity), the more activity we were seeing. Indeed, we saw more people riding bikes, going on strolls, and lots of others sun bathing. Still, there were others playing in the streams that zig zagged their way through various parts of the garden.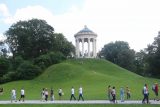 The first thing of note that we saw was some kind of Roman-looking circular structure (not unlike what the Apollo in Delphi, Greece would look like if it was still intact). Perched on a small hill, it provided a pretty nice view facing south I believe towards the vast grassy and tree dotted terrain spotted with thousands of people shirtless or just laying out on the grass (some doing PDA, which we've observed pretty frequently in Europe).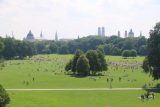 We got there at about 3:15pm, so it took us nearly 90 minutes to get from St Michael's Church to here, but it also illustrated what a roundabout route we took to get here.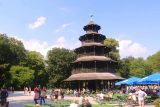 There was also some kind of wedding photography going on at this monument, so it must've been quite hot to be wearing a tux with coat as well as that wedding dress if you're the bridge in this pretty warm weather.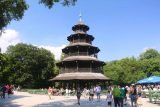 Next, we walked towards the Chinese Tower. It turned out that by the time we got there, we heard some band music being played, and we wound up at some kind of giant beer garden surrounding a good chunk of the wooden tower that was kind of shaped like a poor man's pagoda. We got there at about 3:50pm, and we couldn't help but get caught up in the festive atmosphere.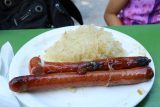 So we naturally went into one of the food kiosks there, grabbed some huge beef wurst and sauerkraut, and shared seating with a couple of guys having a chat in one of the emptier tables.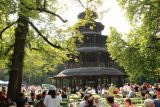 While the food was pretty good, the bigger takeaway from this experience was watching mostly Munich locals enjoying their weekend afternoons having these giant beer mugs full of beer accompanied with these even bigger pretzels. It gave new meaning to the term "Super Size". And we were taking all this in while a Bavarian band was playing band music in the Chinese Tower further adding to the ambience.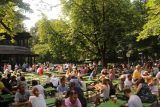 We were glad that we made it to this spot, and it was becoming an unexpected highlight of our time in Munich.
Finally at about 4:25pm, we started to head back to the apartment (or so we thought we'd be going that way perhaps to change). This time, instead of going back the way we came, we opted to continue strolling deeper within the English Gardens area towards where even more people were chillaxing and playing in some of the streams. We even let Tahia get to play in the water a bit but we did have to keep an eye on her because the current seemed fairly appreciable.
Ultimately, we'd get to a more trafficked and obvious entrance of the gardens, and we wondered why the tourist info guy made us go off at a different station instead of Universitat, which was where we were headed. The walking path and human traffic seemed so much more obvious and atmospheric going along this route, and in this instance, we should have stuck with TripAdvisor instead of the info given to us at the Tourist Info center.
Oh well, at least we got to experience it, and now it was time to continue back into the mass transit system. However, as time was running out before our dinner reservation at 6pm at this gluten free place, Julie instead had us take one of the U2 lines east of the city towards Trudering.
Eventually, we'd make it way out there, and then we had to walk for at least 10 minutes until we finally got to this place called the Gasthof Obermaier. It was actually a hotel, but there was a beer garden further down the road with the same name.
Their indoor seating wasn't happening so we had to sit in the garden itself where there were already quite a few people having a relaxing early dinner or siesta time snack over beer.
Of course, the issue with outdoor seating is the cigarette smoke, and thus the second hand smoke was pretty unavoidable.
That said, the crispy duck as well as crispy pork dishes hit the spot, despite already having eaten at the Chinese Tower not much earlier than now. I also tried their gluten free beer, which was really some kind of lemon-infused brew served out of a bottle (as opposed to a tap), which was kind of disappointing as I expected something more local.
Still, the beer tasted smooth like what I'd imagine a cider might be.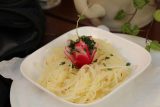 We ended off this last dinner in Munich with a dessert that took 25 minutes to prepare. It was basically some kind of apple egg-based dessert (hard to describe as it as neither a souffle nor a pie but something in between) served with a side of applesauce and sprinkled with powdered sugar.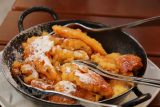 In the end, Julie said she loved her meal. And I enjoyed it too. Tahia just had what we had, and if it wasn't candy or some other bread or junk food, then she would just reluctantly eat it. And we also had to be busy eating on the one hand and swatting at flies buzzing around our food on the other hand.
And with that, we left for the apartment at 7:05pm. Eventually at 7:50pm, we were back at the room as we wound up taking the S2 line all the way to Sendlinger Tor, which was apparently a pretty popular stop. While I promptly returned to the apartment-hotel, Julie and Tahia made one last run at the Alnatura nearby for one last go at some organic goods before we'd have to do without when we get to Austria tomorrow.
Thus ended our time in Munchen, where it seemed like we a lot more eating in this city than any other. I definitely felt the bloat throughout the evening as the sugar high probably was a bit of a shock to my system. In any case, I found myself sleeping some time before 10pm, which once again should be giving me a good nights sleep for the long drive towards Salzburg tomorrow…