Day 19 (July 1, 2018 – Salzburg, Austria): "Of Eagles And Kings"
It was 5am when I awoke. With a pretty busy day being planned, we were hoping to be getting out of Munich by 7am, but we still had to pack and get our stuff together. We also had to wash all the dishes (and dry them and return them to the cabinets) as well as wash the fruits.
The early departure and busy day was because we were anticipating going to the Eagle's Nest (Kehlstein) as well as Konigsee (King's Lake) before checking into to our apartment in Salzburg.
However, as was becoming par for the course on this trip when you're dealing with more people (especially a child), we wound up not loading up the car until nearly 7am, and we decided to have the included breakfast one last time since they actually brought back the good stuff today (i.e. the mozarella cheese balls with sun-dried tomatoes, prosciutto, etc.).
So it wasn't until about 7:45am when we left the apartment, and headed back on the road for the first time in a few days. With the sun definitely out today, we were looking forward to getting good views at the Eagle's Nest, but from looking at the TripAdvisor reports, we knew that we were definitely going to have to deal with long queues and restricted time limits (as we would have to declare or stamp a return time once we were at the Eagle's Nest itself). So we were bracing ourselves for a not-so-great experience but we were hoping to get the views and compare with our Zugspitze experience.
One thing that was on my mind as we were driving the A8 towards Salzburg (which meant we'd be leaving Germany) was the Austrian toll system. Apparently, I was supposed to go to one of the border country gas stations and buy a 10-day vignette (like a windshield sticker) to put on the windshield of the rental car. I guess failure to do this meant a hefty on-the-spot fine.
This was something I didn't really appreciate when we were zipping in and out of Austria from Fussen to Garmisch-Partenkirchen for about three consecutive days. I wondered if the cameras would have spotted me and fined me without me knowing, or if I had gotten lucky during those days.
Regardless, as I was zooming along the A8 (just as the traffic seemed to be increasing thereby halting our momentum), I made a run at one of the crazy busy fuel stops. Even with the price of diesel at a whopping 1.513 euros per liter, I just topped up about a quarter-tank of gas while also purchasing the vignette.
Now with that out of the way, we continued on our way towards Salzburg.
However, during the drive (as things were moving swimmingly and we were going about 160km/h on the autobahn; never really comfortable gunning at 200km/h or higher), a warning came up complaining that we needed to fill the "diesel fuel exhaust fluid". I had never heard of this thing, and I figured that this was something we just needed to figure out how to fill up, but how?
So Julie called the Hertz rental car while I was driving, and the person said to stop by a nearest Hertz rental car center and they'd top it up for us. But with today being Sunday, hardly anyone was open except for the airport location on the outskirts of Salzburg, which was the direction we were headed anyways.
Eventually about 9:45am, we parked the car at the airport in Salzburg. Then we promptly went upstairs and spoke to the lady at the rental car kiosk about our concern.
She promptly left the desk, and we walked together downstairs to the garage, and then we went ahead and entered the car while telling me to ride along with her. Apparently, she was going to test drive the car. Meanwhile, Julie and Tahia were taking a restroom break so when they returned to the garage, they waited outside while the rental car lady was doing her thing.
That was when the rental car lady was at first messing with the controls (not sure if she was trying to suppress the message or something), and then a transformation took place as if all of the sudden the lady took on this possessed demeanor as soon as she started the ignition.
Next thing I knew, she was driving very harshly and gunning it in the parking lot while aggressively taking the turns to get out of the structure. Then, she drove a loop around the airport terminal still possessed as she was really gunning it (despite the speed bumps) and pounding on the horn to make an indecisive driver in front of us move out of the way.
Then, she promptly stopped the car before the entrance of another entrance to a parking lot, put on the emergency lights, and then said that it was ok to illegally park the car here to go get Julie and Tahia and get back to the car. She said there was nothing wrong with the car and that the issue could be ignored.
I guess what was lost in translation (since she was speaking to me in half-German and half-English probably since she picked up that I knew a few German words) was that I wasn't exactly sure why this was not a big deal to ignore the warning message.
When Julie and Tahia were picked up and we were back in the car and ready to go at 10:10am, we then spotted a BP gas station on the way out of the airport and decided to see if we can address the issue ourselves or ask someone there. However, when we got there and saw that there was no mechanic and that the lady working there was busy making takeout food and tending the cashier with a queue, I knew that we weren't going to get anywhere with her.
That was when Julie spotted a uniformed person looking like he might know something because he was dressed as if he was an airline pilot. When we showed him a phone shot of the warning message, he smiled and said something about the diesel fuel exhaust fluid was to make the diesel exhaust less polluting.
He then went on to say wryly that since this was a German car, it probably didn't make a difference in the amount of pollution created by the car whether we had the fluid in there or not. I was thinking this was in reference to the Volkswagen scandal where they doctored the emissions tests to make them seem cleaner than they really were.
That at least made us less worried about something being wrong with the engine without this fluid.
So that would explain why the rental car lady said it was no big deal and we could still drive the car fine. And so then we continued on our way at around 10:20am.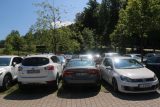 Next, we continued driving towards Berchtesgaden and eventually towards the Eagle's Nest parking lot. By the time we showed up to the large P1 and P2 parking lots, we knew that we would have to compete with a bunch of other cars looking for parking spots. When we showed up to one of the lower car parks that was an extension of the P2 lot, Julie managed to find a really tight spot between two small cars parked backwards. One of the cars was double-parked since this particular lot didn't have lines drawn.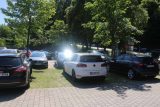 So with a bit of struggle, we managed to squeeze in between the cars, but it was hard to open the doors and get what we needed out of there. So we just took the bare minimum things, bought the day pass for 3 euros, displayed it on the dash, and then we were on our way. By now, it was about 11:10am. Hopefully, no one was going to key the rental car because we took matters into our own hands and found a way to park while dozens of other cars continued to circle the lots looking for a place to park.
When we showed up to the kasse, there was already a long line that stretched from the windows to the stairs. There was also a web cam that was showing that one side was cloudy while the other side was clear. That made us hesitate and wonder if we should go back to the car and drive to Konigssee and try to visit the waterfalls down there before coming back to do Eagle's Nest when the lines would be smaller but we'd be pushing it in terms of the last buses leaving before we'd show up.
We ultimately decided that we should just stick it out for better or for worse. And then hope that we'd still have time to do Konigssee when we were done with the Eagle's Nest. If not, then something would have to give on one of the three full days we had in Salzburg.
Anyways, we'd eventually get our bus tickets which was for 12:15pm, which was about 20 minutes from the time we finally purchased them. That left us some time to loiter around a bit (as well as having a conversation with an Austrian family who were waiting with us to ride the bus).
When the time came, we then boarded the bus, and then we were taking up switchbacking roads with a few tunnels as the vehicle made its way to the Kehlstein (Eagle's Nest). It seemed like the best seats were on the other side of the bus where they were getting good views of the Konigssee side while the bus itself was going fairly slow on its climb (so the pictures wouldn't look as blurry).
Regardless, when the bus finally arrived at the top, I promptly got right into line thinking that Julie and Tahia were right behind. But when I saw that I was at the window, Julie and Tahia were nowhere to be found! So I had to lose my place in line (mutter an expletive about why she wasn't there), and then go back in line when I finally saw them several dozens of parties further back in line. I was pissed off about that because I was thinking what could possibly cause that long of a delay if all we had to do was get off the bus and get in line. And with time limited, I knew this was going to be costly.
Well, when we finally got to the front of the line (again) but this time as a family, we then told the ticket person that we were planning on returning at 13:55, thinking that 90 minutes was plenty of time to experience the Eagle's Nest and then be back down in time for the bus. However, this went against the recommendation of at least 2 hours at the top (meaning we should have taken the 14:20 bus back instead), and the reason soon became apparent.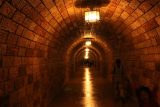 Once we got into the tunnel leading to the lift to go up to the Eagle's Nest, we were caught in a very long queue waiting to get past the bottleneck which was the lift itself. Now, we were really regretting not going for the 14:20 time as we probably only left ourselves barely 15 minutes or so to enjoy the Eagle's Nest instead of a more comfortable 45 minutes.
Indeed, as predicted on the TripAdvisor reviews, this wasn't a relaxing nor pleasant experience. And it should have been better because when we did go up to the Eagle's Nest, we were treated to views that were arguably better than Zugspitze, especially on the side containing the Lake Konigssee.
Even though that side was cloudier, we could still see the beautiful scenery. The webcam was set higher up on the mountain, so that was probably why it looked so cloudy. But we were glad we made it up here. We just weren't glad that we had to be back down before we could really get to enjoy this place.
I went ahead and bolted as high as I could go as there was a walk that went from the restaurant all the way to the cross, and even beyond into the rocks. On one path, there was a dead-end overlooking some other trail where it seemed people could still keep climbing (I wondered how far this trail went?). But I only contented myself to get this view, and briefly going up the other trail to get a more commanding top down view towards the Lake Konigssee side. The view over Salzburg was clear but it was a bit on the flat side and wasn't great.
The walk back to rejoin Julie and Tahia was also atmospheric as we could look down at the Kehlsteinhaus with the panorama below as the backdrop. There was also a bit of atmosphere here as there was some guy dressed in Bavarian threads with an accordian standing in front of the cross and yodeling while singing some song.
The views up here were so nice that Julie even said she would tolerate the second-hand cigarette smoke to chill out at a cafe here and soak in the views.
But alas, we were worried about the queue going back down the elevator, and so we made it back to the elevator (which didn't have a line when we showed up but that line quickly grew when we were queued up), and then we were back down to the bus stop at around 1:45pm just 10 minutes before our 1:55pm return bus time.
The tunnel queue was now going almost the full length of the tunnel, which was even longer than when we first queued up somewhere half-way in between. And when the fleet of buses showed up, we promptly got back on, picked the seats on the same side of the bus as we took up (so we'd now get the views we didn't get have on the way up), and then we were back at the lower bus stop in due time.
By now, it was a little after 2pm, and there was absolutely no line to purchase bus tickets though that was probably because it would be cutting it close as the last bus back down was an early 16:10 or something like that. So that wouldn't leave very much time to enjoy the top either.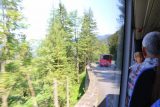 In that sense, I was glad that we stuck it out, but in hindsight, we could have just done Salzburg stuff today and do both Eagle's Nest and Konigssee tomorrow, when we could get the early start and really enjoy the day before the crowds, and then spend more time at Konigssee, where I already suspected that it was too late to do the longer hike to the base of the waterfall that would take around 3 hours round trip.
At 2:20pm, we were back at the car. No dents or keying of the car from what we could tell, and actually there were two different cars parked around us this time. One couple was appeared to be leaving the same time as us, which meant that they parked here in even less time than we did. That was kind of strange, we thought.
Regardless, without any shade, we were worried that anything we had kept that needed refrigeration had probably spoiled (even though they were vacuum sealed probiotic hand-made kraut and quark yogurts). And with Sunday's shut for just about all the grocery stores, we kind of knew that we couldn't be cooking on this day.
Anyways, we then decided to seize the moment to go over to Koniggsee and complete the Berchtesgaden National Park experience. By about 2:40pm, we finally found parking in the huge Koniggsee lot, and then we promptly walked towards the kasse where we caught a ticket for a boat ride some time after 3pm.
The boat ride was on the relaxing side as it was cruising along the lake. This was the experience that we didn't get at Kehlstein (Eagle's Nest), but we also knew that there was a bit of a time limit we were up against on this visit as well since the last boat back departed at 18:10.
We also apparently sat on the wrong side of the boat in terms of getting views of the Konigsbachfall, which was an attractive cascade tumbling towards the lake though not directly on it. Our side was kind of on the sunny side but at least could get some awkward views of the St Bartoloma Church with the mountainous backdrop.
On one moment during the boat ride, there was a guy playing a horn and he'd pause between a few notes so we could hear the echoes as if someone was playing the music back to him (or us). And for that little entertainment, he was going around looking for trinkgeld (tips).
Anyways, we didn't get off at the St Bartholoma stop though because it wasn't the cute town that I thought it would be, and we were pretty churched out. Instead, we stuck with the plan and kept going to the end, where we'd then get off the boat. And that didn't happen until about 4:10pm.
We were already able to see Rothbachfall partially as well as some other waterfall on our side of the boat. But it turned out that we could also get a good view of that other waterfall (Schrainbachfall) spilling directly into Konigssee when we were on dry land.
With that, Julie and Tahia went off on their own so Tahia could play in the shallow parts of the water for a little bit. Meanwhile, I went ahead and did the 15-minute hike past the cafes and past the junctions towards the mouth of Lake Obersee. There were lots of people on the trail, so it wasn't quite the quiet experience that one would expect in a spot as remote as this.
But I came to expect that sights all over Germany were popular, and they were also nickel-and-dimed and exploited to the hilt. So none of this really surprised me, and I had to make do with the circumstances.
That said, once I got to the mouth of Obersee, there was a gorgeous view across the mirror-like lake towards the impressive Rothbachfall with mountains in the backdrop. There was also a shack and dock at the lake that was a very popular photo subject and there was always someone tying up the dock taking their selfie shots or people shots or whatever.
I wasn't looking for that however, so I was busy taking videos and photos from this very spot before I started to head back and rejoin Julie and Tahia. And as much as I wanted to continue the hike for another 75 minutes to get to the base of Rothbachfall, I knew that there was insufficient time to pull that off, document the experience, and then make it back to the boat by 18:10 or 6:10pm. It was already 4:25pm, and it was simply not realistic to push it like that.
I was back at the dock at the head of Konigssee but I didn't see Julie and Tahia. Not sure if they had left without me or not, I just stayed behind and watched the queue continue to grow then shrink, then grow as boat after boat would come by and pick people up.
Eventually, I saw Julie and Tahia coming up from the trail and rejoin me in line for the boats back to the parking lot. Apparently, Julie and Tahia were at one of the cafes there, where Julie had the local trout. I must have missed them on the hike back, and it was yet another instance of missing them while they were at a cafe (like the lost and found episode back at Hinterstein between Lindau and Fussen.
Well, we were back on the boat, then we slowly cruised our way back to the parking lot (once again not getting off at the St Bartholoma stop). When it came time to take pictures of the Konigsbachfall, there was another boat that actually passed us and they were always in the photo as we were looking towards the Konigsbachfall.
I guess them being subjects in the photos wasn't such a bad thing.
Anyways, we'd finally make it back to the car at 6:35pm. Now, we kind of knew that whatever was in the car all this time that needed refrigeration, was probably spoiled or risk getting sick from.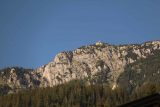 Still, we just continued on our way back to Salzburg and hope for the best.
After a bit of driving past some pretty cheap gas stations (though we had nearly a full tank by now, but at least mentally I knew where to go to fill up when the fuel tank would be low), we then navigated through the Salzburg streets before we'd finally find the Mirabellplatz parking garage.
We'd finally park the car at about 7:20pm, but we quickly saw that there was no lift. It was all man-power to lug our stuff from the parking garage and onto street level, and we'd have to do this in multiple trips with each flight of stairs. That wasn't fun since I was the one doing all the heavy lifting at those times.
Eventually at 7:50pm, after climbing more steps in the apartment (no lift in there either), we'd finally settle into our self-served apartment, which was refreshingly more spacious than the appart-hotel we stayed at in Munich. But with us being a hot and sweaty mess from the walk to get here (not to mention the heavy lifting), we got changed and then looked for a place to eat in town since it was too late to self-cook.
At least our apartment was right at the entrance to the old town and we could see that there was an open L'Osteria right downstairs in view from our room. However, we were sick of German and Italian food, and we decided to walk the half-mile to get an Indian Restaurant.
So we went downstairs at 8:30pm, and then embarked on a bit of an atmospheric walk through town en route to the restaurant.
Julie noted that the town lacked the old world feel that many of the German towns had, and we figured out that it was a lack of stone buildings or half-timbered buildings as well as the absence of frescoes. We suspected that this city might have been bombed during World War II so a lot of the places must have been re-built.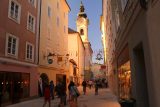 Another interesting thing we noted was the amount of American accents we had heard while walking about town. In fact, I swore we heard more American than German in town, and we wondered if this was a combination of the Sound of Music and the Rick Steves effect. Well, whatever it was, we kind of sensed that Austria would be quite a bit of a different experience compared to that of Germany even though the spoken language is the same (with a few regional slang and expressions that are different, I'm sure).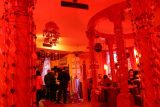 Anyways, we'd eventually get to the Taj Mahal Restaurant at 8:50pm. It was very busy inside so we knew that we might be here a while. Even though we didn't have reservations, they did seat us as soon as another table vacated.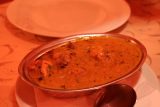 And with that, we had some chicken tikka masala as well as some kind of lamb dish goasht (sp?) along with a nan bread and a lot of basmatic rice. We could have eaten more, but we disciplined ourselves to just these two dishes.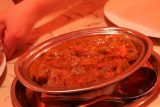 The quality was excellent, and it definitely hit the spot after having all this German and Italian food for much of this trip.
Eventually at 10:20pm, we were done eating, and then we had to hike back to our apartment. It was now dark outside, and I guess we were far south enough in latitude that it wasn't as bright at this time as say it was in Bacharach. Also, the days were getting shorter as we were now past the Summer Solstice, and it was already the first day of July.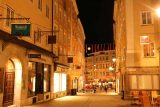 Finally at 10:40pm, we made it back to our apartment. The L'Osteria was still busy as we were passing by as it was one of the few places that was open this late on a Sunday (let alone being open at all!).
Anyways, we were all tired, and it was even a struggle to shower, brush, and other little errands as it was easy to just doze off, which we promptly did in short time. At least now with all the German excursions out of the way until Rothenburg at the end of the trip, we were now committed to the second half of the trip which was predominantly Austria…