Day 9 (June 21, 2018 – Freiburg, Germany): "Going Cuckoo For Cuckoo Clocks"
It was about 5am when I awoke. I was still tired from getting only three hours of sleep last night as I hadn't gone to bed until about 2am. The sleep was further interrupted by some outside banter that had to have gone on in the early morning hours between midnight and pre-dawn.
Julie would get up nearly an hour later, but with her late start, I was afraid that something was going to give in terms of today's itinerary (i.e. we wouldn't be able to fit the target sights planned for this day). And those target sights included the Triberger Waterfalls, Titisee, and the Hell Valley Gorge.
It still took me quite a while to wrap up the blogging from a very eventful and drama-filled day yesterday. Meanwhile, Julie prepared some bacon, eggs, avocado, and tomatoes in addition to pouring some kefir topped with some fresh berries.
It wouldn't be until about 8:20am when we returned to the car and paid for last night's stay. Then, we were finally headed into the Black Forest for some touring for the day. In hindsight, I wondered if I would have been better off doing some early morning touring of the Todtnauer Waterfall while letting Julie and Tahia sleep in. But it didn't work out that way, and I needed some cash just in case something required cash payment if I was going it alone.
Anyways, the streets were already busy at this hour. Even when we headed out as we drove north of town on the Route 3, we were behind slower cars and buses causing a bit of a backup for long stretches. Eventually, when we veered onto the Route 294, I managed to pass a slow tour bus and then I was pretty much home free driving within the forested terrain of the Schwarzwald.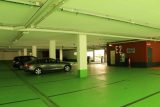 The drive was pretty uneventful until we eventually entered the town of Triberg and parked in a structured parking garage named Wasserfalle at 9:25am. Being only one of two cars in this somewhat spacious car park made me wonder if we made the right move by parking here, but I also knew that it was a warm day and being in the structure meant that nothing would heat up too much that was left in the car.
I'm sure the parking rates here would be pretty expensive though I wasn't sure if there were cheaper alternatives.
When we walked out of the car park, we weren't totally sure which way we were supposed to walk. However, we saw a large group of students going uphill and that was where we determined we ought to be going.
Sure enough, we saw signage past some of the moai statues pointing the way to the "highest waterfalls in Germany". And after crossing the busy street, we then walked further up the hill towards the eingang, where we paid 10 euros for the whole family (Tahia was free).
At that point, the scenery shifted from development to a much cooler forested terrain. The paved path continued to ramp uphill revealing partial views of the Triberg Waterfalls, and as we continued our ascent, we saw that there appeared to be more tiers further upstream.
Eventually after going up a couple of short switchbacks, we then took a shorter steeper path that got us quickly to the spur to the lookouts at the base of the waterfall. This appeared to be the most impressive and tallest series of drops so they were quite photogenic.
However, with shadows creeping onto the falls, I wanted the budding thunderclouds overhead to cover the sun for the most optimal photographs thanks to the more even lighting and disappearance of shadows. There were some moments where the clouds cooperated, but it did so only for short stretches.
After having our fill of the base of the falls, we then gradually made our way up to successive lookouts. Then, we continued climbing higher as we started to see more hidden tiers that weren't as readily visible from the base or from the first few lookouts.
There were also bridges spanning the higher tiers so that kind of spurred us on to continue climbing to experience more of the falls. However, we opted not to do any of the other trails (one went to some church and another continued climbing steeply towards some hydro facilities way uphill and upstream).
So when we determined that we had reached the top tier of the Triberger Waterfalls, we then quickly made our way back down to the exit. Indeed, this place was quite popular as there seemed to be a bit of an international feel to the falls as German wasn't the only language being spoken in this attraction.
In fact, there were a group of elderly ladies having a seat near the lowermost tier of the falls and I greeted then with "Guten morgen". Then they returned the "Morgen" before they then said "Bon jour" after a pause. I then said that back to them since I was a bit more comfortable with my French than my German at this point.
At 11:05am, I was chilling out while watching Tahia and Julie playing around with some tall swings at the Spielplatz near the ausgang (exit).
Afterwards, we slowly made our way to the parkingplatz though we spent a few minutes checking out this shop that had wooden bears performing something right above the shop entrance. I think the place was called something like 1000 Clocks, and it harbored an impressive collection of the wooden cuckoo clocks, which really captured Tahia's imagination.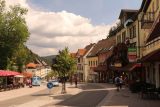 In fact, she wanted us to explore the whole shop and I'm sure she wanted us to spend hundreds of euros to buy one. Of course, we refrained. Yet there was one particular jeweled cuckoo clock that was around 23k euros. We figured that was probably for baller Chinese people with money to burn. I even wondered how such an intricate device like the cuckoo would survive the journey overseas.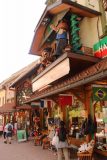 There were also other neighboring cuckoo clock shops though none were as successful as the 1000 Clocks joint. I guess that's how much the work on the entrance made all the difference in terms of taking the lions share of the business or not.
So, it wouldn't be until about 11:30am when we returned to the car, where we had to pay 4.5 euros for the couple of hours that we were parked in the sheltered lot. The upper deck that was exposed to the sun was full. I wondered if the possible disparity in parking rate was why the sheltered lot was emptier.
Oh well, what's done was done.
Next, we then drove towards Titisee, which was where we planned on having a lunch while checking out the attractive and popular lake. It wouldn't be until around 12:40pm when we finally made it to Titisee, but that wasn't before we were forced to take a somewhat costly (time wise) 7km detour that was due to road construction that blocked off the main throughfare along the B500.
Nonetheless, we managed to find parking near the pedestrian zone, and then we proceeded to walk it towards the lakefront. Eventually, we ate at this place called Bergsee Restaurant, where Julie was convinced that they ought to have some gluten free options.
Once we got seated, we got some pretty nice views out towards the lake while also being treated to a meal of steak, local lake trout, and a hamburger (for Tahia). For dessert, we managed to try out the Black Forest Cake, which was quite a bit creamier than I had envisioned, but for sure, the cake itself had enough of a rum taste in it (as well as that alcoholic sting). The raspberry layer was also a bit of a difference maker, and I could see the hype behind the famous cake that was known in the Schwarzwald.
There was also an apparent medical emergency as an ambulance showed up down by the foot traffic area, where Julie noticed that some Asian tourist was reclined on the ground. That seemed to have caused quite a bit of a scene both amongst restaurant patrons as well as passer-bys on the fussgangerzonen (pedestrian zone).
When we paid the bill, we were surprised that we were charged 2 euros by the large glass for tap water. I think that was the first time that we were ever charged for it. We were probably better off buying multiple half-liter bottles of mineral water if that was the case.
Anyways, we managed to chill out a bit on the shores of Titisee, where Tahia got to put her foot in the water and examine some of the young trout that were in the lake and even swimming around the shore near her.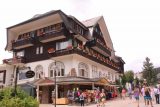 On the way back to the car, we made more stops into some cuckoo clock shops at Tahia's urging. Julie also picked up some kind of Bratkartoffeln which was a sour cream combo with some crispy fried potato medallions or pieces. Julie tried only a few pieces but I wound up eating the rest, which was making me really full. I was also afraid of getting sleepy on the drive back to Freiburg given all this potential food coma.
Then, Julie managed to let Tahia have some machine-operated popcorn since Julie thought that Germany had banned GMO corn so it might be an opportunity to enjoy corn once again (especially since the US was pretty much ruled by Monsanto regarding the corn issue).
By about 2:35pm, we finally made it back to the car, where we wound up paying about 4 euros for the two hours that we were there. Once again, it was pretty pricey, but then again, perhaps it shouldn't have been so surprising as apparently Titisee was a well-touristed spot.
Next, we drove the 31 all the way back into Freiburg. Along the way, I had originally planned to make a stop and explore the Hollensteig and Ravennaschluct, but we figured that we were short on time and opted not to do it. I hoped that I wouldn't be regretting this decision.
Instead, we found ourselves stuck in traffic entering Freiburg as we were stuck in a long tunnel for what seemed like forever. I was getting sleepy behind the wheel during this congestion and Julie even caught me about to rear-end a stopped truck as I was edging forward unconsciously. So she fed me cherries that we had kept in the car this day until now.
Eventually at 3:30pm, we finally returned to the Karlsbau parking garage, where there were definitely a lot more cars in there than last night.
At 3:45pm, we made it back to our apartment, where we dropped off some of the stuff we had brought with us to our circular tour of the Schwarzwald as we were preparing to tour Freiburg for the remainder of the evening. We held out hope that we might visit Staufen after dinner, but I wasn't sure how likely that might be.
Anyways, we headed back downstairs at 4:05pm. The first order of business was to walk towards the large cathedral at the Munsterplatz. We figured that given the massive size of the building as seen from the outside last night, the interior ought to be quite grand as well.
Sure enough, when we went in, there were stained glass windows flanking the sides of the hallway while there was a huge altar with a hanging crucifix with Jesus on it above the altar. We also took advantage of Tahia giving both Julie and I little massages while we were resting on some of the church benches. Her gesture was kind of cute.
In any case, our visit was short, and we then spent the next hour or so meandering around following the Rick Steves tour pretty much. Tahia was enjoying herself walking in any of the gutters or canals that had water in it. She was too busy trying to kick water at us with her wet shoes.
As she did this she got the news that the water wasn't as polluted as we had thought. Actually, those canals were firefighting mechanisms from back in the day, where the easy access to water meant that the wooden structures or buildings wouldn't be burning for long or at least not be spreading.
As we were starting to get tired from our day of touring, we eventually finally found the Schusterstrasse, which ultimately led us towards the visitor center. This time, the motivation of our visit was to seek out a place to exchange some cash for euros, which was something that was turning out to be quite the difficult find.
We were eventually directed to go to the Sparkasse, which was a bank and not really a bureau de change though apparently they did offer this service. It was somewhat hidden away in one of the streets we hadn't explored previously, and we thought to ourselves like it was little wonder that we had little luck in finding such places with good exchange rates.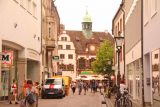 Speaking of the rates, they were charging some $1.205 USD for each euro, which was actually a pretty good rate. They did charge 5 euro commission since we weren't members of the bank, but that still didn't up the rate too much and so we changed the rest of our US notes in possession at this moment since it seemed like so many places accepting payment only took cash.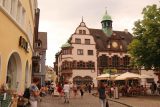 After finally getting the injection of euros, we then went to the Alnatural organic supermarket, where we picked up some fruits, some chicken, kefir, and a few other snacks. Eventually, we pulled a divide and conquer where I took the organic goods back to the apartment while Julie and Tahia did some additional shopping at the next door Rewe.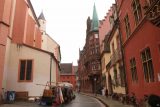 That afforded me some time to be back at the apartment at 6:25pm to try to tend to some blogging on the day (using the new flow which was frustratingly suboptimal though at least I could still do stuff mostly independent of the old laptop that was unable to charge up using power).
Julie and Tahia eventually got back to the apartment at around 7:30pm, and that was when Tahia started to draw and enjoy some time out on the balcony of the apartment while Julie was making dinner. She could at least control what went into the abendessen (dinner) while also saving a bit of money from eating out, which was proving to be quite expensive on the week-and-half that we've been on this trip so far.
And so ended this day. Tomorrow, I was intending to do the divide-and-conquer approach for the first time on this trip, where I'd go out to pursue the Todtnau Waterfalls solo and let Julie and Tahia sleep in, which was something that was missing from this trip also.