Day 11 (June 23, 2018 – Ulm, Germany): "Working From Behind"
It was about 5:35am when I awoke. While I did hear the alarm that went off at 5am, I thought that I could sleep in for a bit since I didn't need to visit the Geroldsauer Waterfall this morning after having done it the day before.
I spent the better part of the morning getting caught up on the blogging, and that was when I noticed that Julie didn't get up until about 6:30am. She didn't get started with the breakfast preparations until after 7am, and at that point, I knew that we were running late as we were supposed to be out the door at around 8am.
I was willing to make concessions with Julie since all of the sudden she changed her mind about doing one of the spas in town though she wouldn't be able to do the Roman Irish bath but the Curacalla modern bath instead. Apparently, Tahia was old enough to go in while accompanied by Julie or something like that. However, I think Tahia's expectations were that of a kiddie pool, and like with most of Baden-Baden's attractions, it really wasn't catered towards kids.
Anyways, it wouldn't be until about 9:40am when we finally got into the car. Before we left, I thought that we could go to the Konig Bakery to try some high end Black Forest cake, but Julie had this expectation that we could drive in front of it, which was totally false. And instead of letting me street park a little bit set back from the U-turn spot, we ultimately got in a bit of an argument over Julie's wishy-washiness, and we simply decided to forget about having the cake and keep moving.
By now, we were 2 hours behind, and I was really worried about having a rushed day trying to visit the Bad Uracher Waterfall as well as the Lichtenstein Castle, and then try to visit the Ulm Muenster before they closed their doors (some website said that they were closed at 4:45pm today, or something like that).
So once we left Baden-Baden, we then headed north towards Karlsruhe on the A5 (where I kept hearing about traffic announcements on the German radio stations). And sure enough, there was some stop and go traffic en route to Karlsruhe before we finally headed east on the famous A8, which was an east-west corridor that connected say Karlsruhe all the way east to Munich and even going beyond towards Vienna, I believe.
It didn't take long before we ran into more congestion on this stretch of freeway, and that further exacerbated our tardiness in getting to the Bad Urach area.
That said, there were also stretches of the autobahn where there were no speed limits. And while such stretches of the high speed motorways could be opportunities to test how fast one can drive, the truth was that these stretches weren't that extensive. So in my mind, they really weren't that big of a deal.
After a few more stretches of high speed driving and some slow down stretches, we'd eventually leave the A8 and then head south on some route towards Bad Urach. The Bad meant "bath", which suggested that this was a spa town.
However, the main reason for us to go there was to visit the Bad Uracher Waterfall. We were also planning to visit the Lichenstein Castle, which was kind of an unplanned attraction except it was close enough to the Bad Urach Waterfall that we mind as well visit it. In fact, little did I realize that this castle was a popular one apparently due to its resemblance to the Rapunzel Castle with a tall tower from which she would have to climb down using her own hair.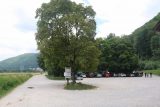 Nevertheless, it wouldn't be until about 11:35am when we finally arrived at the P23 car park, which was very busy. We drove all the way towards the end of the road, where I saw some signage suggesting that there was one waterfall that was over 4km away while another waterfall was under 2km in each direction.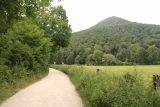 Some website blogs suggested that this hike was only about 30 minutes in each direction. And so Julie and I decided that I should solo the hike while Julie and Tahia went looking for a lunch while they were waiting for me.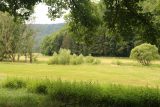 It was a shame that I couldn't do the whole 10km loop to take in the Bad Uracher Waterfall as well as the Gutersteiner Waterfall. Indeed, I had to stick to the plan and just get to the Uracher Waterfall only.
The hike was quite flat and pleasant as there were numerous families with both elders and kids sharing the same wide and flat track. Many of the families made frequent stops along the trail so the kids could go into the stream that was alongside one side of the trail.
There were plenty of spots that afforded me views across the green value with some cattle grazing in the distance. After a bit of similar scenery walking, there was one last pair of turns before I saw the Uracher Waterfall up in the distance where a tall plunging tier was most visible from the trail with lots of people gathered around the base, where I suspect it was possible to make a viewing there.
As I got closer to the base of the falls, the upper tiers were becoming blocked by trees in the foreground. But once I got at the base of the steps, I saw that I could get a fairly clean view of the upper drop of the Uracher Falls as well as some percolating cascades further downstream.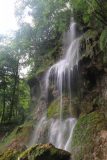 This waterfall kind of reminded me of the Escondido Falls back home in California, where it was kind of a mix of limestone waterfall with lots of algae and long-haired grasses growing in the stream creating that weeping look and feel.
As I climbed up the steps to get up to where a bunch of people were chilling out near the base of the falls, I managed to get different angles of the falls. And when I got up towards the top, there was a daughter and father that had already made it to the end before I did.
From that vantage point, it was possible to say you were behind the Uracher Waterfall though I'd argue that could be a bit of a stretch.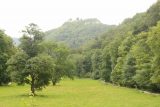 Once I had my fill of the precarious backside of the main drop of the falls, I then made my way back down the steps. I purposefully ignored the spur paths that seemed to continue the trail or go elsewhere. I ultimately made it back down to the bottom of the steps, where I made one last look back up at the Uracher Waterfall before going back the way I came on the wider track.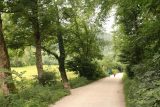 It wouldn't be until around 12:55pm when I made it back to the car park, where I saw our rental car, but no one was inside. So that meant that Julie and Tahia were probably still eating lunch somewhere, and now I had to look around to see.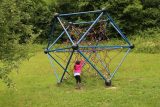 Fortunately, the search didn't take long as I saw Julie and Tahia waving at me from the Maisentalstuble Restaurant (actually more of a beer garden). When I got to them, Julie was still taking supplements while Tahia was too busy playing on some jungle gym that she could hang from. Meanwhile, they left me some leftovers of the wieners sold there as well as some cooked sauerkraut.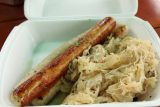 Julie said that she had some local trout, which she liked. When I tasted the leftovers, I also liked the food, and it was surprisingly good considering how much we had paid for the fare (only around 20 euros, which was dirt cheap compared to anything other time we've eaten out, which tended to be in the 40 euros and up range).
So it wouldn't be until about 1:10pm when we were back in the car. I actually left some of the leftovers since I wanted to try the kraut with mustard that we had left in the car.
Anyways, we next had to make our way quickly to the Lichtenstein Castle. As we were still behind by 2 hours, I was afraid that time was running out.
And as we were driving away from Bad Urach, it seemed like we were headed further to the west, which made me think that perhaps I had made a mistake going to the waterfall first. We probably should have gone to the castle first, and then go to the Uracher Waterfall later since now it seemed like we were backtracking. So I felt that we were losing more precious minutes as the aim was to climb the Ulm Muenster before closing time.
Anyways, it wasn't until about 1:35pm when we arrived at a car park near the Schloss Lichtenstein. We paid 2 euros to park in one of the spots by the cafe we first noticed while driving up. There was a speed trap in one of the small villages on the way to get here, and I was worried that I might have triggered it in my haste to get to the castle.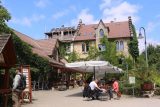 When we got out of the car, we then continued walking uphill along the road. And that was when we found another car park that actually had some spaces! Not only that, but that car park was free!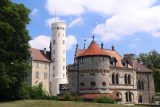 Oh well, in the grand scheme of things, I guess 2 euros wouldn't make a whole lot of difference, but it wasn't a good feeling knowing that we paid for something that wasn't necessary.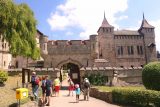 There was another restaurant up at this lot, but we had no time for a sit down place. Plus, we were looking for that black forest cake, but this place didn't have it (at least it wasn't shown on the menu that was on display there).
We then went up a walking path that headed towards the Lichtenstein Castle, finally. As we walked further towards the entrance gate, we could see the tall "Rapunzel" tower, and it hastened our steps even more.
Next, we paid about 13.5 euros (each adult was 5 euros and the child was 3.5 euros for just the courtyard; the guided tours of the interior were only in German), and then we promptly walked the grounds and went to the famous lookout spot that was looking back at the impressively tall but narrow castle perched right on an outcrop above a tall cliff.
Without a whole lot to do in the grounds, we spent most of our time taking pictures from this vantage point. Then, we briefly walked around and checked out some of the other buildings in the courtyard before we headed back down to the car. We managed to get there at around 2:20pm, and that was when I ate the rest of the leftovers from the Maisentalstuble back at the Uracher Waterfall car park.
It wouldn't be until about 2:30pm when we finally left and headed towards Ulm.
The drive back out was a bit of a hasty affair as we were taking a series of local roads (mostly the 465) before we finally got back onto the main road leading towards the A8 autobahn. Then, we continued on the freeway until we followed the signs (and the GPSes) right into the city center of Ulm. Eventually at around 3:30pm, we made it right next to the Hotel Rote Lowe in Ulm, which was where we were staying.
The parking lot that we found was what we assumed was for the hotel, and it was tight. So we promptly got out of the car, got our belongings out, and then checked in. When I saw the security cameras in the lobby, I noticed that the car park surveillance videos looked nothing like what we had just parked at. So I knew that we'd have to move the car.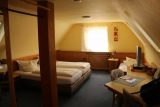 After getting settled into our room, I then moved the car into the actual hotel garage, and eventually at 4pm, I could finally rejoin Julie and Tahia back at our hotel room, which was actually a room at the very top floor. There was one flight of stairs that we had to lug the belongings in, which was a bit of a challenge, but we managed (quite par for the course in Europe).
At this point, Julie had already called the Ulm visitor information center and we were told that the last admission in the Ulm Muenster Tower was actually at 6pm and not at 4:45pm (or before) as the internet had previously led me to believe. So perhaps we rushed unnecessarily. But you never know with these things, and I knew that doing this cathedral was a must in town.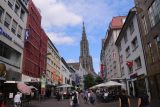 So it wouldn't be until about 4:15pm when we left our room and headed right for the Ulm Muenster. Julie actually wanted to go to the supermarket, but the way she asked the receptionist, she thought Julie was going for an ordinary market or shopping lane because she asked "Where is the market?" So she only marked the Hirschstrasse but when we were down there, there was no supermarket on the busy walking street to be found.
However, we did see the info center itself, and they indicated that it was not in the immediate city center. Thus, we wouldn't have water to go up the Ulm Muenster.
It wouldn't be until about 4:40pm that we finally used the coin op machine to get our tickets and get up the Ulm Muenster Tower. It was already a pretty tight spiral, but it also seemed like it was one-way traffic so we were able to go up with pretty descent speed. Tahia was busy claiming that this climb was easy (even before making it to the top).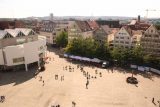 It wouldn't be until about 4:50pm when we finally made it to the first "rest stop", which was basically the end of the initial set of spiral steps while we were checking out some opening looking down at a church bell while also looking through cages to see how high up we were. There were directions leading us to the next set of spiral steps though we had to avoid going down a different set of steps that led the way down.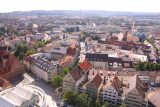 And so we continued our ascent, which kept going up and up. There was an Indian couple that was really struggling in this series of steps. So Julie, Tahia, and I had to pass them.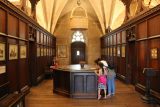 The ascent continued pretty much seemingly endlessly as we started to notice things like human-like gargoyles stretched out overlooking some spire with the Ulm buildings looking really tiny beneath.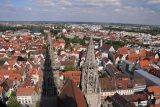 It wouldn't be until about 5pm when we finally made it up to the second "rest stop", where it seemed like we were literally on some slanted rooftop. There was a warden up here, who was apparently directing traffic. Apparently, the last series of steps was bi-directional so he was trying to minimize the amount of traffic jams up there.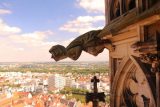 Thus, we had some time to chat with the warden, who was a young lad interested in our American accents. He (like someone else we spoke with) said that the Texas drawl was difficult to understand. He also said that he liked the Scottish accent. Apparently, he hadn't visited the US yet, and he spoke longingly of wanting to travel to our country.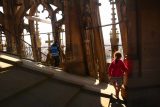 He also asked what we were doing in Ulm as apparently he wasn't used to seeing many American tourists. That was when I told him that I had a co-worker who used to work in Munich, and that he recommended that we check out Ulm due to Einstein and that cathedral, which we were standing in right this instant. I knew that we wouldn't have the bandwidth to do the Einstein stuff, but the cathedral was the top priority and then the Fisher's Quarter.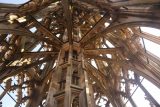 Eventually, he let us through to go up the last series of steps. After going up perhaps about half-way or more, there were a couple spots of traffic jams where we had to let people coming down squeeze through. However, by 5:10pm, we ultimately made it up to the top, where even up here, there was limited real-estate.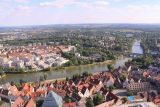 So we pretty much made a loop of the top in the clockwise direction taking in the views. Perhaps the most interesting views were over the Donau River. However, even though it was sunny and beautiful on this day, we couldn't see any of the Alps in the distance as apparently there was either too much haze, too many clouds in the distance, or a combination of both. I guess this was another case of the internet creating unrealistic or inaccurate expectations.
Still, it was pretty cool to be looking down at everything from this vantage point. There weren't that many cathedrals in our experiences that let us experience the city from such a high vantage point where Tahia thought everything down below looked as small as candy bars.
When we finally had our fill of the top, we then made our way down the spiral steps. Once again, there was a group of people making their way up, but we once again paused to let them pass. And when we made it to the bottom (or "rest stop 2"), we then saw that there were lots of people waiting to get up.
Next, we continued making our way down the steps towards the "rest stop 1" as we got there at about 5:30pm. And it wouldn't be until about 5:50pm that we were deposited into a gift shop (ala Disneyland style) where we then entered the main hall of the cathedral, and we were quite impressed with the collection of stain-glass windows, frescoes, and statues inside the grand interior.
This was turning out to be one of the better cathedral visits that we had been on given how much we were allowed to experience and how impressive its interior was. We even noticed an Ulm Muenster replica made out of Legos, which was certainly something we wouldn't be seeing in Legoland.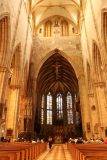 And after all the drama and haste of getting here, we were glad to finally get this out of the way, and we were certainly glad to have finally done the Ulm Muenster. Now, we could do the rest of the sightseeing of the city as well as get groceries, and looking for a dinner spot.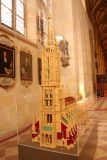 It wouldn't be until about 6:30pm when we got back to our hotel room to put things away. We really had to discipline ourselves to not buy anything that wouldn't keep since we had such a small refrigerator, and it would be difficult to keep things from spoiling after another long day of driving and touring tomorrow.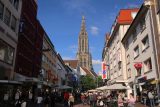 Further complicating the issue was that tomorrow was Sunday, where even the supermarkets would be closed. So that was going to pose quite a bit of a challenge in terms of what we could and couldn't eat tomorrow. I guess we'll have to cross that bridge when we get there.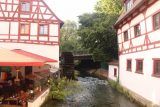 Regardless, with that out of the way, we then went back downstairs and into the Fischersviertel (Fisher's Quarter) in the historic part of Ulm. There were already people starting to gather in the bars and around the big screens to watch the World Cup match where we knew that Germany was going to play today. Even the plaza around the Ulm Muenster was starting to be cordoned off by security people as apparently they were setting up for some kind of live event there (we saw the stage being set up and the barriers surrounding the plaza).
Eventually, we got into the charming Fisher's Quarter which involved some old half-timbered houses flanking the canal passing through. It already drew camera clicks from us, but we still had to find a place to eat.
Julie's first choice was to eat at this place called Zum Forelle. However, they were booked out. So we wound up going to this other place called Zunfthaus, which was inside another historical 15th century building so its interior was quite interesting and quaint.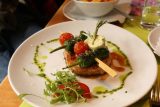 We wound up getting some pretty good food consisting of Swabian Pork Steak as well as a local trout. We couldn't get leitungswasser (tap water) unless I ordered a drink, so I got a local beer recommended by the waitress.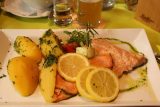 When I wound up drinking the beer, it was actually quite smooth and foamy. As for the taste, I was never a big fan of drinking beer and this still had that yeasty beer taste, but it was quite good. It was certainly nothing like Sam Adams, or any of the cheaper beer brands back at home that I would have a much harder time tolerating.
From the limited German that I knew, the waitress explained that the pork was raised 9 months out of the year to be free roaming in the forest. However, they would be captive the remaining 3 months out of the year. So this way of naturally raising the pork was the method of Swabian-style pork, and we could certainly taste the difference.
It wouldn't be until around 8pm that we were finally done with our meal. We asked the waitress about termites or how buildings can stay intact after so many centuries, and she told us that there were fire-resistant chemicals as well as insect-resistent chemicals to treat the structures. They didn't really have termite problems, but they did have wood worms.
Afterwards, we wandered around the Fischersviertel some more, and we'd eventually find the old tilting house, which was said to be dated from around the mid 1400s. It looked like you could actually stay here, as this building was said to have been reinforced in the 19th century to keep it from falling into the canal.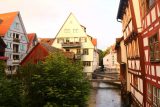 We'd continue taking our time slowly walking and photographing the Fischersviertel before we got back into the commotion of the World Cup as large crowds were gathered at each bar in the quarter, and of course, there was the big viewing going on at the Ulm Muenster's plaza.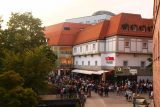 It wouldn't be until about 9:10pm when we finally returned to our hotel room. We happened to show up just in time to see Germany tie the score against Sweden.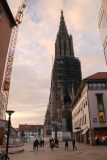 And with our day ending, we then let Tahia play in the small indoor swimming pool since she had not had the opportunity to play in a pool on this trip to this point.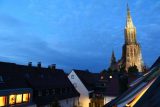 Eventually by 10pm, we were back up in the room, and that was when we finally cleaned up and called it a day. With a lot of noise going on outside, we had to close some of the windows to keep most of the TV noise and banter to a minimum, but we also had to let some heat out as it could get quite stuffy up here.
Before we knew it, we crashed and slept some time after 11:30pm as it was the end of another long and busy day of touring. Yet the hits wouldn't stop as we were in for more sightseeing action tomorrow as we'd have to drive to Fussen but not before taking the time to check out Lindau in Lake Constance as well as checking out some waterfalls en route…