Day 12 (June 24, 2018 – Fussen, Germany): "Lost And Found"
It was 4am when I woke up. In this instance, I didn't even need my alarm because there was quite a bit of chatter going on outside.
I guess some people didn't sleep all night as they were probably busy celebrating the Germany versus Sweden World Cup soccer match, which was quite a big deal.
As if that weren't enough, then the Ulm Muenster church bells well off shortly thereafter, and that pretty much made it so I couldn't go back to sleep.
So the next couple of hours were spent getting all packed and ready to go. Julie got up at 5am, and we got Tahia up to at least get brushed and ready to go. She could sleep in the car.
So by 6:15am, we got into the car and started to leave the quiet town of Ulm. Actually, it was quiet because today was a Sunday, and that kind of worked to our detriment because we knew that we couldn't do any grocery shopping on this day (Julie really wanted to self cook and not eat out tonight), and that the cheap gas stations (we were looking at about 1.21 euros per liter) that we stumbled upon on the way out of town were closed until at least 9am or 10am.
Thus, we headed right onto the A7 then the A96. And on this morning's drive, the autobahn was mostly without a speed limit so we were flying at over 160km/h though we could have pushed it more if we wanted to. I just wasn't comfortable with the consequences of going too fast with the precious cargo in the car with me.
Indeed, this was what guys back at home dream about, where you can fly in a car with not much restrictions on how fast you can go. Still, there were some sections with construction and/or tunnels that meant we had to slow down or else get caught by one of the traffic cameras. But other than that, this drive was uneventful as we eventually left the A96 at B308 and then headed east away from Lindau towards the Scheidegger Waterfalls.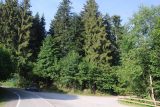 We got there at about 7:45am, which was early as we were the first ones to arrive. Julie and Tahia still wanted to stay asleep so I geared up and headed towards the waterfalls. However, there was an admission fee to pay, technically. It was just that no one was there and there was a drop slot that accepted 2 euros; yet I didn't have anything smaller than a 5 euro note. So I kept going in.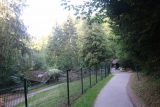 The gate was locked at the animal farm so I kept to the right and descended into a playground area with some interpretive signs about someone who harnessed hydroelectric power. Since all the signs were in German, I couldn't readily read them in real-time. But I knew enough and saw enough to realize that it had a role here.
Anyways, I first headed to the waterfall panorama, and after a few minutes of walking, I got to a spoint where I not only saw one of the drops of the "big" waterfall, but I also saw a lower drop though that one was harder to see due to overgrowth. I wondered how people were able to see that lower falls with less foliage obstructions given that the route appeared to end at this point.
I then backtracked and took a different path on the other side of the Scheibenbach (or is it the Rickenbach?) where I had to look against the sun for a top down view of the upper drop of the "big" waterfall, and then I had to climb up before going down a bunch of steps (part of the 273 total steps if my German interpretation was correct) towards several lookouts.
I noticed there was another family that showed up just as I started to check out the overlooks on this side of the creek. So I wasn't totally alone on this visit.
Next, I continued descending until I found myself in front of the lower drop of the "big" waterfall. There were some interesting rock formations hinting at the geology behind the formation of this falls. And this was the lowest point of the hike. So then I returned back the way I came, and when I got back to the playground area, I then followed the path to the "small" waterfall.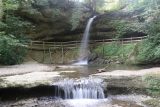 This time, I was on a longer path that took me upstream along the Scheibenbach (or is it the Rickenbach?) until I eventually crossed a bridge then followed it towards the small drop that I knew was close to the car park. It also appeared that the bridge and the small falls were on separate streams so perhaps the waterfall was on the Scheibenbach but the stream beneath the bridge and the combined streams for the larger waterfalls was the Rickenbach.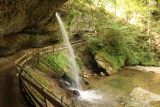 Regardless, the smaller waterfall let me go behind it. However, on the other side, there was a locked gate that probably passed into the animal farm before returning to the playground area and kiosk/cafe. In order not to go back on the same long hike to leave, I scrambled up a very steep (but clearly well-used) path leading back up to the car park at 8:50am.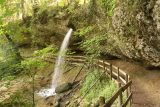 At this point, I felt like I needed to use the toilet so I went back to the kiosk, where it appeared that the owners had finally showed up. I gave them my 5 euros so I could get change back and pay for my visit. However, they told me that the toilet was not ready for a while as they had just started opening shop.
I guess we could have taken off without paying, but my search for the toilet break at least cleared my conscience.
Next, we drove back west towards the town of Lindau. This was my excuse to visit the Bodensee (Lake Constance) area, and the town of Lindau was on an island that promised to offer nice views of the lake, which was fringed by the Alps on the eastern and southern end of the lake. Unfortunately, that was also where we were looking against the sun.
After a bit of driving around, we managed to park the car near the lighthouse and lion statue at about 9:20am.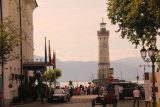 There was a pay-and-display machine that didn't work that was charging 0.55 euros per half-hour, but since the parking was enforced everyday, we had to go to another machine that was working, but it was charging double the price. On top of that, it didn't give back any change so we wound up paying about 3.5 euros (instead of 3.3 euros) for 90 minutes.
There was also a rail station here with public toilets that were free so we took advantage of that too.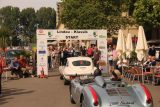 Finally at around 9:30am, we were able to start touring Lindau. The first thing we noticed besides the attractive small lighthouse and lion statue was that there was a crowd of people gathered around the start of a "race" where various cars you see in "Herbie Goes Bananas" were waiting to get their start.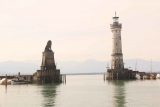 It was apparently called the Lindau Classic according to the signage around the starting point. In my mind, this was probably more of an exhibition of these cars than it was an actual race.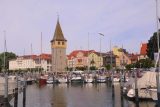 Regardless, we managed to catch the very end of this "race" before the crowd dispersed and the waterfront we were on was back to its normal self for a Sunday.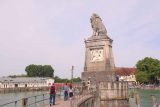 I took some time to walk onto the jetty where I could get up to the Lion Statue and look back towards the tower and the pastel-colored buildings backing the marina and the outdoor cafes.
This place definitely felt a little more touristy as there were Chinese visitors as well as Spanish being audible (probably from visitors from Spain).
We then walked randomly down some alleyways before we encountered the old town hall building (rathaus) that looked quite decorative. We checked it out from the side where cars could drive, but once we passed towards its other side, that was when we saw how attractive it was. And not surprisingly, we saw people already starting to take pictures of it.
There were also people carrying musical instruments as they were going upstairs and into the rathaus. I wasn't sure if they were performing something or if they were rehearsing.
Anyways, we then continued to walk more of the pedestrian zone (though some vehicles were driving through here), as it was lined with shops, and there was already a performer on stilts painted silver and looking for tips.
We'd ultimately stop at a plaza where there were two churches as well as a statue and a museum. We took some time to check out the church, which apparently would have some kind of service going on at 11am (it was about 10:45am by now), and then go next door into the slightly bigger cathedral, which was a bit more ornate and grander looking than the church we had stepped into earlier.
The church bells then went off at around 10:50am, which was a bit of a raucous clanging, and I wondered if that was to gather the people for worship as it was clearly nothing to do about letting everyone know the time.
This pretty much ended our walking tour, and then we headed back towards the rathaus, where Julie decided to eat at this place called Zum Altes Rathaus. By now, it was about 11:20am, and Julie and Tahia went ahead and got seated while I hiked back to our car to feed the meter once again. This time, I paid about 2.5 euros, which was good until about 12:22pm, which I figured ought to be enough time to allow us to eat lunch.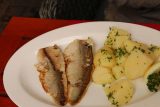 When I returned to the restaurant at 11:25am, Julie had already ordered some trout and some pork as well as a small bottle of mineralwasser as apparently they didn't do leitungswasser here.
The meal was German though this place had a decidedly Italian feel to it. In fact, we noticed lots of German-Italian restaurants and cafes. And if it weren't for Julie's gluten avoidance, we'd probably be eating a lot more Italian food when we'd get sick of German food.
After the meal (and not a moment too soon as someone sitting next to us started smoking), we then walked back through the busy pedestrian zone as many more people were now out and about by now. We made a quick stop at a gelateria, where I noticed black vanilla. I tried it out and the taste was definitely vanilla.
However, I wound up getting some cookies (and cream) flavor as well as standard vanilla. Tahia got lemon sorbet, which she was loving and asking for each time we'd stop for gelatos.
It wasn't until about 12:25pm when we finally got back to the car, and now we could head to the next waterfall on the way to Fussen (or at least around there).
The GPS was acting up and never really acquiring anything while it kept going to random places. So I couldn't rely on that and had to navigate with the GoogleMaps app on my cell phone. I eventually had to shut off the Garmin unit and then turn it back on in order to finally reacquire and behave properly. And by then, we were already on the B12 moving at a fairly good clip until we then headed south on the B19.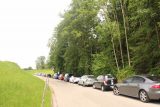 We then got off the highway and headed towards Altstaden, and eventually to the small village of Hinang. Once there, we had to circle through town as the GPS apparently wanted us to drive up some really narrow alleyway. It didn't seem right, and when we eventually got back onto the main road and backtracked, we saw that there were parked cars below the bridge we were on, and I knew that had to be the trailhead for the Hinanger Waterfall.
So we then went back into the Hinang town, and then followed Hochweilerstrasse, which then went beneath the highway we were on before we found some shoulder parking behind the already packed line of cars here at 2pm.
We then geared up and proceeded to walk onto the initially paved path as it passed by some mill or some big group of chopped logs. Around this spot, there was a sign pointing the way to continue the hike to the waterfall as it crossed a bridge over the Hinangerbach before following this stream.
Eventually, the path ascended up some steps, and that was when we started to see parts of the waterfall as it was cascading through several steps that could only be seen partially. However, looking up ahead towards the top, I could see the main drop through the trees.
The ascent ultimately took us right in front of the main drop, where it was flanked by percolating weeping springs as well as some alcoves that appeared to house a tiny natural bridge and a tinier natural arch. For Julie and Tahia, this was the end of the line as they were captivated by the characteristics of this falls that had all the properties of limestone waterfalls that we were pretty familiar with back at home.
Meanwhile, I went a little further to see where the trail went as it was now hugging some overhanging cliffs. I would eventually make it to a stile on the other end as the cliffs ended, and I decided that that was the end of the line for this excursion so I went back.
Back at the falls, there was a slight rainbow in the weeping part of the falls. The main drop of the falls was tall enough and the viewing was close enough that it was hard to get it all in one shot.
There were other families and visitors here as this was apparently quite a popular spot (at least on a Sunday). Yet it didn't seem like there were many foreign tourists in these parts.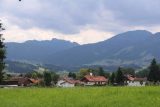 After having our fill of this interesting falls, we then returned to the car at 3:05pm. The weather remained partly cloudy though the sun was bright enough to break through create those bright cloudy skies. Yet in the distance, we could clearly see that there were darker clouds, and I had a feeling that the weather was going to turn after we had been enjoying pretty good weather for this first 1.5 weeks of our epic Germany/Austria trip.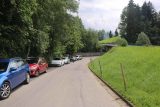 Next, we continued to drive in the direction of Fussen as we then caught the B308 east. However, we then took a detour near Bad Hindelang towards the Zipfielsbach Waterfall except there was road construction that killed off the direct route on Ostrachstrasse.
And after some aimless driving around trying to figure out how to get past this detour, we'd eventually get onto the Ostrachstrasse after going through Bad Oberdorf.
By about 3:45pm, we made it to the Zipfielsbach Falls car park, which was between the town church and some firefighter area/non-functioning brewhouse. The lot here was a pay and display with 3 hours max, I think. However, we saw that there was free parking closer to the school for 2 hours. I didn't expect that we'd be here for that long.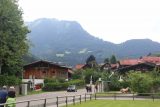 I went ahead and geared up and started walking at around 3:50am. Apparently Julie and Tahia said they were going to check out the falls since the research notes suggested that this was a 15-minute hike, but they'd have to do it on their own since I was taking off first.
I could already see parts of the tall Zipfielsbach Waterfall from town, which was impressively tall, and it made me wonder if it should challenge the notion that the Triberg Waterfall was the tallest in Germany. Still, it was hard to see satisfactorily from way down here given the trees and the buildings that could be in the way.
In any case, the town was a classical picturesque alpine village and I could see nice jagged peaks (some still with a little snow on them) and that kind of let us know that we were indeed in the (Bavarian) Alps.
Anyways, I went ahead and ascended the path, which quickly went into the forest. At a junction before a bridge, I then ascended a steeper rockier path, and it didn't take long before I made it to the lowest of the Zipfielsbach Waterfall.
This drop didn't appear to be that visible from town but it was attractive though a bit steep to get down to from the sanctioned path. I spent some time here, and then I headed back down to the trailhead before I took some time to explore a bit of the scene around town, especially further to the south where I got some decent valley shots.
When I returned to the parked car at around 4:45pm, I noticed that Julie and Tahia weren't in the car. Since Julie had both the mobile with the sim card and the car keys, plus there wasn't a note left or anything, I presumed that perhaps I went down a different path from the first falls and missed them going up for that first falls. So I then headed back up to see if they were there.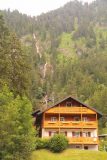 So within the next 15 minutes, I was back up at that first waterfall, and Julie and Tahia were still not there. So I then returned to the bottom and then went back to the car park by around 5pm and still didn't see neither Julie nor Tahia. Now, I was starting to get worried.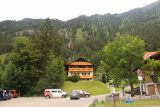 As my nervousness grew, I then started to wonder if they foolishly tried to go up past the first waterfall. So I next went back up to that first waterfall (I was getting sick of seeing this by now), and then I continued ascending up the steeper path. I wasn't sure where it was going, and I wasn't sure how much time I should invest in this chase, but I just kept pushing on not sure if I'd find Julie or Tahia way up here.
Ultimately, I'd arrive at a bridge fronting the impressive second waterfall, which featured an attractive vertical plunge as well as more cascades further downstream. There were also hints of nice top down views over the town of Hinterstein though the trees around me kind of ensure that the views weren't sweeping.
Even though I was a bit distressed at not finding Julie nor Tahia (as well as not seeing any note or anything of the sort at the car letting me know where they went), I still tried to stay in the moment and savor this unexpected bit of sightseeing. In fact, when I got up here, I was not alone as there was a lone middle-aged German visitor as well as a group of younger guys up here as well.
Anyways, I was not a hot and sweaty mess, and I then promptly headed back down the trail, eventually going past the first waterfall yet again, and then ultimately back down to the village. When I returned to the rental car yet again, Julie and Tahia were still nowhere to be found.
At this point, I then walked back through the village and started asking people if they had seen "eine frau und eine tochter". The firefighters near the trailhead said they hadn't seen them.
However, when I eventually went up to the Cafe Gumpe Bistro Bar, the proprietor there who spoke perfect English said that the "wife and cute kid" went looking for me about 15 minutes ago. So that at least gave me some idea that perhaps they might have started hiking just after I was going up and down the trail looking for them.
After going back to the car one last time to see if they might have returned (and not seeing them there), I then finally went back to the trailhead one last time. This time, I saw other hikers, and I asked them, "Haben Sie eine frau und eine tochter gesehen?" (i.e. "Have your seen a woman and daughter?")
When one family who didn't speak English confirmed it, and then another family who did speak some English confirmed it, too, then I proceeded to walk up yet again but this time with confidence.
When I heard Tahia screaming for me, I then returned the reply, and before long, I saw Julie and Tahia descending the track while busy picking wild strawberries. Apparently, Julie and Tahia had spent time eating at the cafe and assumed that I would go there to meet them. Little did she know that the path by the cafe wasn't the only path to take on the hike.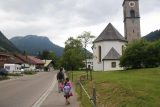 Anyways, she said she liked the food there and it was reasonably priced. I would have liked to have eaten there, too, as I had run out of water and I was getting hungry. However, it was now about 6pm and we were worried about getting shut out for checking into our apartment in the Fussen area since the check-in was said to be closing at around 8pm.
So instead of going back there to the Gumpe Cafe to eat, we decided to eat at the restaurant by the accommodation, which I knew wasn't going to be cheap.
At least the wild strawberries that Julie and Tahia were busy finding were quite good and sweet even though they were bright and tiny. Given their wild nature, I knew we wouldn't have to contend with pesticides.
Eventually at 6:05pm, we returned to the car, and then we headed out. As we were driving on the B308 near Bad Oberdorf, it was starting to rain. As we climbed higher up the mountain road, I could see there was a cloud burst in the valley below, and that definitely made me realize that the weather was turning.
After the first 1.5 weeks of at least decent weather throughout this trip so far, we were now going to have to deal with rain. And with tomorrow being the planned visit to the famous Ludwig Castles, we had to accept the fact that our visit was going to have to be in the rain.
Finally at 6:55pm, we arrived at the Appartement-Hotel Seespitz, which was where we were staying. It wasn't actually in the town of Fussen, which would have been more convenient location wise (it was actually in the small town of Oberkirch on the western shore of Weissensee). However, Julie picked this place because it was supposedly more kiddie friendly.
There were definitely signs of rain when we arrived, but it wasn't really raining at the moment.
So it seemed like we had to self-check-in essentially then lug our stuff into our aparthotel, where we'd be staying for the next four nights. For the first time on this trip (with the exception of Freiburg and Bacharach), we were not vagabonding in Germany, and we should finally be able to enjoy the benefits of staying in an apartment.
After getting settled and finally figuring out how to open the garage so I could park the car, we then ate at the Osteria.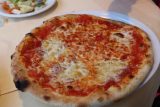 We were deceived by the waitress that the lamb dish I got wasn't a lot of food. Julie also got some kind of prawns dish (pretty good). However, given that deception, we also got a full-sized pizza so I could finish what Tahia couldn't.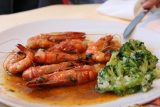 Yet when the food came out, we had enough food to feed a lot of people. Not only that, but we had to pay nearly 50 euros in cash as they didn't take credit card here. So that wasn't good at all, and it kind of left a bad taste on the overall experience. In hindsight, we definitely should have eaten more at the Gumpe Bistro back in Hinterstein, which was far more reasonably-priced and probably with friendlier people.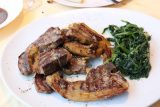 In fact, this was something I had noticed in the past few days – that in smaller towns that aren't as well touristed by foreigners, we do get friendlier people and better attention like at Ulm last night and apparently at the Gumpe cafe in Hinterstein. However, in more touristed places like Fussen and surroundings, no such dice. I guess that's kind of universal, and it's yet another benefit to going off the beaten path to find waterfalls.
Finally at 8:35pm, we were back in the room to call it a night. I was getting pretty tired from all the hiking (especially the back-and-forth search for Julie and Tahia at the Zipfielsbach Waterfall), but Tahia and Julie still wanted to use the pool room downstairs.
Since Julie wanted to use the sauna, I had to supervise Tahia in the swimming pool. Unfortunately for me, the room was quite warm, and I felt like I wanted to pass out given that I was also probably dehydrated.
Eventually at 10:15pm, we finally were in the room for good. And at that point, we all crashed just before midnight. At least with tomorrow, I wouldn't have to wake up early to do some early morning waterfalling. Instead, this would just be a castle touring day except the weather now was the big wild card, and experience tells me that it wasn't going to be a good one for photos nor for comfort, for sure.