Day 13 (June 25, 2018 – Fussen, Germany): "Disneyland Castles"
I awoke to my alarm (after multiple soundings) at 5:15am. And what I saw out the door wasn't encouraging as I saw that it was raining outside. My thoughts immediately turned to how we were going to deal with the weather while we'd be spending a good deal of time outdoors, especially since we were supposed to be visiting the King's Castles in Neuschwanstein and Hohenschwangau.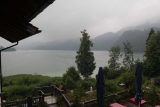 Julie and Tahia pretty much got to sleep in for as long as our pre-purchased tour times would allow, and we had our first tour at 9:55am for the Schloss Hohenschwangau, then we had our second tour at 1:05pm for the Schloss Neuschwanstein. The confirmation said that we needed to pick up our tickets no later than 8:55am from the ticket office. That said, we had no idea where this ticket office was nor did we have a concept of which of the parking lots we should pick.
So it wouldn't be until about 8:20am when we were in the car. We then drove to Fussen before following the signs to the Konigsschlossen (King's Castles), where we followed a caravan of cars and tour buses. We knew this was going to be a real touristy place going into this trip, and what we had observed on the road so far confirmed that in a big way.
At 8:35am, we wound up parking at the P1 lot because the signs made it seem like that was the thing to do. We had to pay 6 euros to park here, and the attendant was kind of coy in an annoying way as well as pushy about where we were supposed to park.
Of course with us not knowing much, we just paid the money, and he directed us to park in some spot nearly adjacent to the kiosk itself.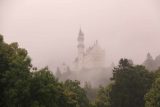 It was raining outside, and as Julie bolted from the car to go look for the ticket office to pick up the will call tickets in time, Tahia and I were busy trying to figure out what we should be bringing to the day's touring since there were supposedly strict regulations about the size of the backpacks (daypacks) that were allowed to be brought.
So to at least mitigate that concern, we only brought what we needed, and that also included leaving the big 1.5L bottle of water behind. We came armed with a rain poncho and two umbrellas borrowed from the accommodation.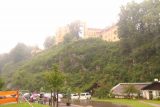 Then, Tahia and I tried to find our way to the ticket office as we were inundated with huge Chinese tours gathered in crowds before mobilizing as a swarm.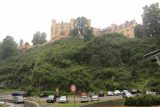 Eventually at some time after 9am, we caught up with Julie who had already received the tickets, and we did some more reorganizing of our belongings while going back to the car one last time to drop off what other things we felt like we needed to leave behind.
It was only after that that we were in position to start the day's touring.
With the rain, we could see that the Neuschwanstein Castle was mysteriously appearing amongst the mist and fog like some kind of building that was only revealing parts of itself while blending in with the clouds themselves. However, our first tour was for the Hogenschwangau Castle, and that one was a bit easier to photograph since it sat in a lower position right over the P4 parking lot.
Speaking of other parking lots, we clearly saw that there were way more spots than the P1 lot we stopped at earlier, and that P4 lot seemed to be the most strategic because it would have at least cut out a bit of the uphill walk to get there.
Regardless, we'd eventually be up in the courtyard of the Hohenschwangau Castle at around 9:30am, where we then tried to capture what we could of the castle while awaiting our scheduled tour time to enter, which wasn't until 9:55am.
There was an automated turnstile as well as a large screen letting us know the current tour that was allowed in along with the current time in giant numbers. Apparently, the tour number and scheduled time that was printed on our ticket would have to match what was in the big screen, and by the time it was our turn to use the turnstiles, we then had apparently 15 minutes before the tickets would be no good with no refunds for not being punktlicht (punctual).
It was actually a very efficient way to manage the tours while also assigning the right tour guide with the right groups. Clearly, they had this money-making machine down to a science.
Anyways, we were past the turnstiles and into the Hohenschwangau Castle by 9:55am as scheduled. Unfortunately, they didn't allow us to take pictures inside the castle, which was kind of annoying considering how much was paid for our tours. But I had a feeling that this was now par for the course since tourists could no longer be trusted to leave the flash off or not try to use photos of the furnishings and interior without consent for commercial purposes.
So the tour went from room to room as we started with the greeting rooms that showed some pretty fancy modern things like a wheelchair and a pool table as well as some fancy tapestries and paintings.
The Queen's rooms looked a little on the less decorated side (but still quite gaudy), and we would learn that Maria was the mother of Ludwig II who was the person responsible for overseeing and financing all of his castle projects that included Neuschwanstein and Hohenschwangau.
Tahia was one of the shorter people in the room so I had to lift her up so she could see some of what the tour guide was explaining to us. She definitely had this narration down to a science as I'm sure she had given this tour many times before even though she was quite young looking. But it had that sound like it was rehearsed though she did try to interject some personal humor to keep the audience engaged and not getting bored.
As we went through the queen's quarters, we then went upstairs to the quarters of the king(s). Much of the paintings and wallpapers as well as artifacts were originals. And each room was way more decorated and gaudy compared to the downstairs rooms, which was really saying something.
I think Rick Steves loved touring this building because of his interest in European history, and especially the artifacts that really made it easier to imagine what life was like thereby bringing the castle to life.
One of the key things we saw in our tour amongst the art was that the violent scenes of war lacked blood or other unpleasantries of the realities of armed conflicts. This was the result of the Romantic style that Ludwig II was into as well as the religious themes throughout which attested to his religious tendencies.
It made me wonder if Walt Disney had gone on one of these tours and was similarly influenced (or at least had an "aha!" moment) by the Romantic styles on display in here, then tried to apply that in a fairy tale kind of way that shaped many of our childhoods, and still does to this day for the current generation of children entranced by the fantasies that were so inspired by these Bavarian Castles.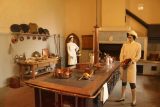 By 10:45am, we were done with the Hohenschwangau tour. However, it was also raining a bit more and foggy so Neuschwanstein was now harder to see, and the surrounding mountainsides were covered in clouds even more so than before (concealing some of the "steps" we noticed high on the mountains, which the guide said were rockfall mitigation measures and weren't actually trails).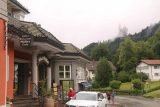 At 11:15am, Julie wanted an early lunch, and we wound up going this place called the Hotel Muller, which had a restaurant that she should at least have gluten free fare. Plus, despite the high prices, we should also be able to use our credit card since cash was so easy to burn through given how many places accepted cash only.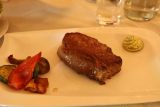 We wound up having the usual fare of beef rumpsteak as well as salmon while Tahia had what we were having. They also charged us 5.6 euros for a carafe of tap water (leitungswasser). Boy these places were really making sure they got the markup in the drinks since food was less of a moneymaker. It kind of made me realize that very few things were "free" in Germany, including the tap water.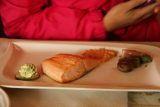 By about 12:05pm, we were done with our lunch, and then started to hike up to the Neuschwanstein Castle. The hike up was an uphill affair along the well-used paved road that were used by horse carriage as well as tractors and only vehicles that I guess were authorized to continue going up. There was a guy there who made sure no one would try to drive up unless they were guests at an accommodation up there, or were staff.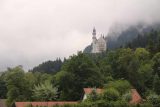 After passing by a bike trail junction that looked like it was headed to the Marienbrucke, we would eventually make it up to the entrance to the Neuschwanstein Castle while also checking out the castle's exterior as we got higher than the cafe area, and then up to some kind of waiting area with a view of the scaffolding of the front of the Neuschwanstein Castle.
At the lookout, I was hoping to see the Poellat Gorge Waterfall with the Marienbrucke, but the views were blocked by the castle itself. It appeared that there would be no other way to see them except from within the castle itself, except no photos were allowed inside. There was definitely no ability to see both the castle and the falls with bridge in one shot from the ground, and I suspected you would need a drone (not allowed) or something.
It started raining again (albeit lightly), and we wondered how that would impact the overall experience of Neuschwanstein.
Anyways, this castle was way more crowded than the Hohenschwangau Castle (which itself was also pretty busy), but we knew that the Neuschwanstein Castle was the main attraction here. Certainly we heard the many different languages being used as this was clearly an international attraction.
By 12:55pm, we were waiting at the timed entrance, where once again there were a pair of automated turnstiles accompanied with large screens showing when our tickets should be activated against those turnstiles.
They had tours at about five minutes apart, when really highlighted the efficiency by which they organized the chaos of all these people gathered around waiting to finally get to see the interior of the famed "Disneyland" castle, which we could clearly see how Walt Disney could very well have been heavily influenced by such places in his own Disneyland theme park.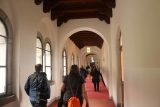 By 1:05pm, we were on our tour, where we were each given audio units so we could hear the tour guide speak into a mic in case he couldn't be heard given how many people on this tour he was addressing.
Once again, we went from room to room, but even the dimly lit hallways of this castle gave me that Pirates of the Caribbean feel that really made me wish we could somehow capture it all in pictures. That was a real bummer that we couldn't somehow take this experience away with us through photos.
Even though Ludwig II never finished this castle due to his untimely death at a lake near Munich at the age of 41, the rooms were really grand as they were a mix of Moorish architecture (reminiscent of what we had seen at the Alhambra in Granada, Spain) as well as the usual gaudy woodworkings, gold and silver pieces, tapestries, and paintings. Heck, there was even a re-created cave room, which showed the length at which Ludwig II went to really made this place a very grand vision aside from his plans of coming up with the Falkenstein Castle, which never even got started with the construction.
From seeing all these gaudy rooms and pieces, I came to realize that perhaps Ludwig II was killed under suspicious circumstances (despite his apparent lack of "mental" capability to rule politically) because of how he might have been blowing off the country's treasuries on these castle pet projects, and without a heir along his bloodlines, someone or some people saw a opportunity to get rid of him and pursue the power in their own way.
It also made me realize that all these gaudy castles that most of us were into was kind of double-edged sword when it came to how much wealth was concentrated to so few people. It was not unlike what we were seeing in today's society.
And that it required such concentration of wealth to see just how grand of things you can build given such resources at your disposal. Now I could really understand the struggle between the masses and the ruling classes as well as the political disconnect that can occur ever since history was recorded. It really hit home how the same issues we were seeing today were also experienced back then.
While you won't hear anyone talk about these regimes (that created these impressive castles that are now museums and tourist attractions) as corrupt regimes, just putting yourself in the situation of the masses as best as you can imagine it back then was really an eye-opening experience.
By the way, Neuschwanstein was opened up for touring as a museum just 6 days after Ludwig II's murder. Credit the Germans (or more accurately, the Bavarians) for being foresighted enough to know that this was a bon-a-fide moneymaker.
Anyways, we had quite a few floors to be going up and down but they were well timed with the narration so there were plenty of moments for rest and to have knowledge dropped on us.
Eventually, when we got to the last room, which was a huge hallway at the very top of the castle, this was perhaps one of the grandest rooms seen. But even of greater interest to me was that I could see through the windows the beautiful view of the Poellat Gorge Waterfall with the Marienbrucke above it.
It was really frustrating that we couldn't capture nature from this vantage point as I had a feeling there would be no other way to get this kind of view except from this part of the castle. So with no photos allowed, I was really wondering if we'd ever get to see the Poellat Gorge Waterfall in a satisfactory way (at least in a manner that I could share on the website).
But as the tour concluded at 1:45pm, I knew that such views weren't going to happen as we were then led back down the spiral steps for several flights before being deposited into a busy area with a cafe, a 3-D movie of the things that were never build or finished in this castle, and a balcony area that only let us have a partial view of the Poellat Gorge Waterfall and Marienbrucke.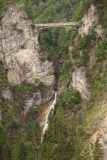 In one of the gift shops, Julie managed to get some decent shots through the windows on her iPhone, but with the huge lens of my DSLR camera, it was next to impossible for me to avoid the criss-crossing bars on the window with the view of the Poellat Gorge Waterfall and Marienbrucke. Even with one window cracked open, I tried to take my shots through it, but the person working there stopped me from taking any more pictures through that opening. Man, I would have thought the price of admission would be so much more in line with what you're getting had we been allowed to take a shot that was "for paying guests only".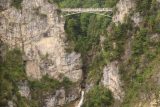 The rest of the way to the exit only led to a kitchen and some other displays of the entire model of the Neuschwanstein Castle as well as some kind of stove pipe that was very colorful and decorated.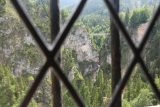 Once we left the last gift shop, we went through a one-way turnstile (with swinging doors), and we then finally were back outside at 2:45pm. This was when suddenly we saw that the sun was out and the weather was clearing.
After getting over the frustration of being unable to capture the Poellat Gorge Waterfall with bridge (let alone not being able to show both the castle and waterfall together), we then started the walk up towards the Marienbrucke, which looked very crowded even from the Neuschwanstein Castle.
Along this paved path that was well used with thousands of tourists at any one time, we also got a nice overview towards Hohenschwangau and the pair of lakes behind it. Looking backwards from this bend in the walking path, we also saw the Neuschwanstein Castle, which looked more interesting from this side than from the side by the entrance.
The walk continued on its uphill trajectory as we continued to make our way up to the Maria's Bridge (Marienbrucke), and we also passed by the top end of the shuttle bus, which now I could see what the extra euros would have bought us (though I didn't regret one bit doing this walk).
By the time we finally made it up to the Marienbrucke, the bridge was totally crowded with people trying to get their views of the Neuschwanstein Castle (by now we had learned that the castle was literally the "New Swan Stone" Castle given Ludwig II's love of swans and the symbolism behind them).
It was a bit of a struggle just to even maneuver on the bridge as lots of people were trying to take selfies while also trying to get their shots of the castle. Since the planks were wooden, it made me wonder just how many people could this thing support at one time because it didn't look like it was really built for the long haul.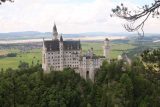 Regardless, after taking some awkward photos and really trying to squeeze through the mass of humanity on the bridge, we then continued to walk a hiking trail that eventually led to another overlook of the Neuschwanstein Castle.
However, I kept going well ahead of Julie and Tahia as I tried to pursue that view of both the Neuschwanstein and Hohenschwangau Castles backed by lakes and mountains. With the clear weather, I felt that I had to seize the moment now though I knew that there'd be no way Julie and Tahia would be getting way over there when I realized that this was actually a long and not-so-easy hike.
The fact that I was doing this on a punt without adequate preparation of water, sunscreen, and hat, was kind of nuts now that I think about it. Still, in my hot and sweaty state, I just kept going as I continued following the sanctioned trails and tried not to get too confused by the false trails and shortcuts.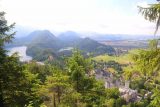 Eventually by 3:45pm, I finally made it up to a partial view of the two castles though trees were still kind of in the way. But ten minutes later, I had climbed up to an even higher view of the two castles with the view of the lakes behind. There were some German folks up here already enjoying the scene. And there was one couple who helped me take that "I was there" photo with my camera.
Even though there was still more to go on this hike, I ultimately declared this to be the turnaround point.
By about 4:15pm, I rejoined Julie and Tahia who were chilling out at the viewpoint of the Neuschwanstein Castle now with even more blue skies backing the scene. Clearly, it seemed like afternoon was a pretty good time to get the backlighting of this face of the castle.
After getting castled out and having one last go on the Marienbrucke (this time way less crowded than it was earlier, but still quite crowded), we then descended back to town and the car parks though we took the less scenic bike path thinking that it was shorter and more direct. Unfortunately, we skipped going back to the cafe Munchen where Julie had this craving for more wieners and potato salads.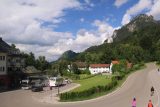 Regardless, it was about 5:20pm when we returned to the car. Along the way, now we could see the Neuschwanstein Castle backed by an impressive mountain behind it.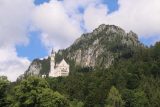 When we started to leave, we followed the signs, which actually took us quite a ways away towards the town of Schwangau before returning via the main road to Fussen. Along the way, there was a huge grassy area where I wished we would have parked or pulled over (there wasn't a sane spot to do it), and take pictures of both the Neuschwanstein and Hohenschwangau Castles backed by mountains.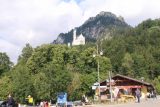 That was really impressive, especially with the decent afternoon lighting and blue skies now backing the scene.
Anyways, by 5:35pm, we then took the B17 road in the direction of Austria towards the Lechfall.
This was actually a roadside "waterfall" though this was really more of either a manmade cascade or a man-modified waterfall. Whatever the case was, this attraction was really more about the color of the water than it was about the waterfall itself.
So we didn't linger here for long, and by 5:55pm, we were back in the car.
Next, we then drove around Fussen looking for a place to grocery shop. There were a couple of Rewe's in town though there wasn't an Alnatura place that has more like a Whole Foods or Trader Joe's or Sprouts back at home.
We'd eventually park at one near the edge of town at 6:05pm, and then Julie promptly went into the market while I was watching Tahia napping in the car. It turned out that this grocery run took a lot of time, and it wasn't until 7:35pm when finally Tahia and I went into the market and helped Julie with bringing the groceries to the car.
By about 7:45pm, we were finally back at the Seespitz where we brought up the stuff, then by 7:55pm, while Julie was busy getting all the produce in the fridge and starting the dinner preparations, I was busy taking pictures over the lake while I was also helping to do the laundry, where there was a free facility downstairs.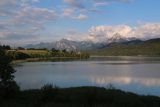 Tahia was helping me out, and while we were busy watching the laundry get done, we were playing ping pong in the billiard room down there (though the billiards required euros to get the ball out of the table so no one was playing that), and then once we loaded the drier after the washer was done, we then went upstairs to finally have our dinner after 9:30pm.
And with that, we could finally call it a day (though I still had to answer an email regarding my contractor dispute situation as I had yet another problem contractor on my website migration efforts but this time with TopTal instead of Codeable), and Julie was busy trying to figure out how to replenish our Orange Holiday Europe sim card plan since we still had another 4 weeks to go and our two-weeks of plan so far was due to expire this Wednesday (it was currently Monday night).
With the good weather, we were thinking that tomorrow would be the day to go to Zugspitze since Thursday through Saturday was predicting rain and pretty big rain at that…