Day 14 (June 26, 2018 – Fussen, Germany): "From The Top Of Germany To The Depths Of Hell"
It was about 4:45am when I awoke to my alarm. There had been a lot of things on my mind, especially regarding the potential loss of about $4k of contractor payments over work that was woefully incomplete. And now he was engaging in deceptive practices in trying to erase past records of correspondences and trying to cover his tracks by taking credit for his work as complete.
Thus, I couldn't go back to sleep anyways and decided to finish off the blogging the whole time that Julie would wake up an hour later, and Tahia would finally get up another hour after that.
At least Julie managed to make progress in getting our Orange Sim Card plan extended beyond a month, I believe. So we should be good with mobile coverage throughout the remainder of this trip. But we can't really know for sure until the upcoming expiration of the original 2 weeks of that sim card expires and we still see our service working beyond that (due to our top up paid for last night).
After having a pretty satisfactory brekkie of eggs, bacon, veggies, fruits, and kefir, we'd eventually leave in the car at 7:10am.
With such a beautiful morning, I had high hopes that our Zugspitze experience, which was planned for today, wouldn't disappoint.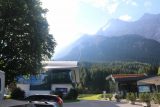 Eventually at about 8:05am, we arrived at the Tiroler Zugspitzbahn, which was the shorter cable car up to the Zugspitze summit compared to the more popular way of reaching the summit from the Garmisch-Partenkirchen side, which was in Bavarian Germany. It was also the cheaper option as parking was free and the tickets didn't cost as much per person. It made me wonder why the Bavarian side was more popular while the Tirolean side was quieter.
Anyways, we still had to wait for the first departure of the cable car, which wasn't until 8:40am. I guess that was a detail that somehow I had overlooked in this part of the trip. So we probably could have saved ourselves another half-hour of rushing to get here while the weather was still good. Yet with the early arrival, we were able to ensure that we'd be at the Zugspitze summit as early as possible from the Austria side.
So while letting Tahia and Julie sleep a little while longer, I was busy gearing up for cold weather up at the summit. So I put on my jacket, hiking boots, and then tried to read up a little more on what else we had planned for today – gorge hikes in both the Hollentalklamm and the Partnachklamm, which were pretty much within the Garmisch-Partenkirchen resort town.
Ultimately, Julie woke up and paid the kassa (that's how it was spelled here instead of kasse) to do the ascent, which wasn't cheap as we spent over 120 euros for the whole family but that also included an additional gondola ride down to the glacier as there was some snow sliding up there, which the ticket lady was probably correct in predicting that our little girl would be really into it.
Tahia then woke up when I told her about the snow sledding, which suddenly got her excited even though she wanted to sleep more in the car.
Sure enough, we'd eventually catch the 8:40am ascent with quite a few people who had already boarded and were awaiting departure. Meanwhile, the ride also included some fresh supplies in three different carts that also occupied much of the middle of the cable car. Plus, some staff showed up and went along in the ascent.
The ride up was quite a scenic affair as we could see for quite a while down into the valley we were just in within the Ehrwald vicinity. The jagged peaks could be scene and the clouds that were around were patchy at best.
Once we got off the cable car at the summit, the thin air was noticeable as we had to go up some stairs before we took a slight detour at the North Terrace to check out the views towards the cable car from the Bavarian side.
We talked with a local from Germany, who gladly shared with us that the Bavarian cable car had been re-opened or renovated a year ago. He also explained to us the lake that we saw below (called Eibsee), which was really clear and every bit as colorful as we had seen it up here near the summit of the Zugspitze.
Upon hearing that we had visited the Ludwig's Castles yesterday, he explained to us that Ludwig's homosexuality had a lot to do with his desire to isolate himself in the Bavarian Alps and build fanciful castles in dedication to his possible infatuation with Robert Wagner and his operatic works. Such dedication of course could also be seen as a bane to the rest of the people ruled under him so perhaps someone saw an opportunity to kill him (even though his death was still unexplained to this day).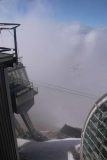 Anyways, we then eventually got up to the Austrian side of the summit at 2950m, where we had better views of what we had just seen at the North Terrace as we could see the resort town of Garmisch-Partenkirchen with the colorful Eibsee (that lake near Grainau) and the surrounding peaks, and we could see all the way back down to Ehrwald on the Austrian side.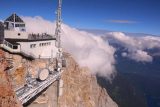 The local told us that a train had to get from Garmisch-Partenkirchen to Grainau before summiting to Zugspitze if we were to do the German side. So it still made me wonder why the Germany side was more popular than the Austrian side. There had to be a reason why.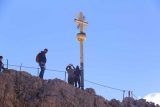 Regardless, with only a handful of people up here, it was delightfully pleasant.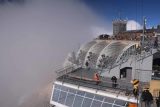 Once we had our fill of the Austrian side, we then walked across to the terrace on the Bavarian (German) side, which was noticeably a lot busier. It was also where we could look towards the glaciers except that there were clouds coming from there that kind of blocked any view we'd have of them from the summit.
In any case, Julie already saw gluten free eating opportunities at the eateries up here, and we spent a few more minutes checking out similar panoramas that we had seen earlier on the Tirolean side overlooking the lake and Garmisch-Partenkirchen.
We also noticed the actual summit of the Zugspitze, which involved a climb up a ladder onto the narrow rock with some kind of icon up there. We weren't sure it was wise to bring Tahia up to that so we were content to take photos of it from the relative safety of the wider platform that everyone else was on.
Once we had our fill of the summit from the Bavarian side, we then went down some stairs towards the glacier cable car. There was quite a bit of construction work going on here so it was a little tricky to tell what was ok for us to walk through and what was a work zone. But eventually, after finding the cable car turnstiles (we had first unknowingly gone to the German one before the staff directed us to the Austrian one), we then descended to the glacier area (which really felt more like they were snow fields as opposed to the massive ice fields we were more used to thinking about when it came to glaciers).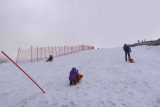 As we got out of the cable car, we then walked around trying to figure out where the sledding area was. We also spotted other buildings here that were probably for eateries or something. However, there was also a church of some kind that was built here as well though we didn't walk up to it as our minds were more focused on letting Tahia have her fun sledding.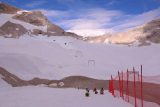 We'd eventually find that we had to walk up on some snowy slope before finding a bunch of yellow sleds. We each promptly grabbed one and started down the slope. It was a little awkward at first on how to steer ourselves, but we'd eventually get the hang of it. That said, I was worried about bruising my tailbone as it was quite a bumpy ride, especially at the bottom.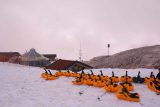 With it just being us three, we had a couple of runs before a handful of more people showed up to share the slope with us. What limited our ability to enjoy this slope at will was the "walk of shame" that we had to do in order to get back up to the starting point and sled down once again.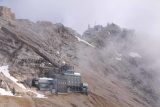 We probably did this for about a half-dozen times before it got really busy up here. So we returned the free sleds and then headed back to the cable car as we rode back up to the Zugspitze summit.
Julie decided that we should have lunch up at the summit since they had some pretty good eating options, and we ultimately settled on some indoor cafe at 11:05am, where we got rouladen, some potato salad, some veggies with kraut at its bottom, some kind of glorified hot hog, and some real tasty ravioli for Tahia. The lunch really hit the spot, and with a cost of somewhere around 30-40 euros for the whole thing, it was quite a good deal for the amount of food we had.
Indeed, this was one of those times where the morning probably couldn't have gone any better in terms of the planning and execution as Tahia was in a good mood, Julie got her food and enjoyed the experience, and I was glad they both enjoyed the experience.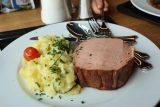 When we were done eating, we then walked through the terraces on the summit, which were now very busy. Yet, the clouds really overtook the summit so the views were nothing like they were earlier this morning. Again, I was glad for the early start.
Then, we waited for a bit for the cable car ride back down to Ehrwald on the Austria side. Clouds obscured all the views until we got low enough to see the valley below with the clouds overhead, where the views remained grand but they were quite subdued compared to what we had seen earlier this morning.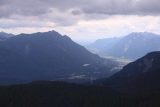 Tahia was especially loving the parts where the cable car would provide those little zero-G moments as it would descent briefly from the pylons (of which we counted about 3 of them) as it felt like a roller coaster ride to her.
Also during the ride, we spoke with a lady who was staying in Ehrwald who suggested that we visit the Eagle's Nest near Konigssee, which was similar to this experience of the Zugspitze as it would be very weather dependent.
She also warned us about the queues involved and that we'd have to plan ahead to determine our descent back down because of how crowded it could be up there. So I considered ourselves warned.
Anyways, we eventually got back to our car at about 12:30pm. And we promptly drove back down towards Ehrwald before heading in the direction of the Garmisch-Partenkirchen town, but then taking a detour in the direction of Grainau, where we followed the signs to the Hollentalklamm and wound up in a huge car park labeled P2 with lots of cars already parked here at about 1pm.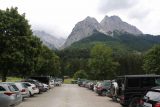 With Julie and Tahia wanting to sleep in some more, I geared up and started the hike (though at first I wasn't sure if I had gone to the right place or not considering that the signs suggested that it was a whopping 3.3km from here just to the start of the Hollentalklamm – Hell Valley Gorge).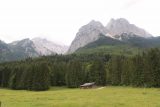 There was also a 5 euro parking machine to pay and display the ticket. It was good for 12 hours. There was also a 24-hour ticket at 8 euros. Clearly there were some hiking opportunities in these parts, and perhaps the public transportation options were more extensive so not only can you do Zugspitze from the German side, but you could also do hikes like the Hollentalklamm as well as the Partnachklamm, which we were supposed to do next after this Hollentalklamm excursion.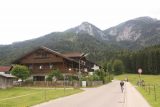 I proceeded to walk along the road towards the town of Hammersbach, which was where the actual trailhead was. At this point, I knew that this excursion would take much longer than the 2 hours that I had predicted as 3.3km one-way before even getting to the gorge itself was going to take some time. I hoped that Julie and Tahia could keep themselves occupied in the mean time.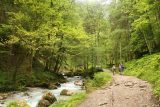 Once at the trailhead at Hammersbach (there was a bus stop here, further confirming my thinking that this side of the Zugspitze was more popular due to the transport connectivity), I then hiked uphill along the Hammersbach stream, which was gushing.
The uphill hike quickly became a sweaty affair as it was relentlessly climbing until I eventually got up to some Jesus on a crucifix next to a rest bench. Then, the trail went onto a flatter unpaved road as it bent back towards the partial views of the imposing cliffs and mountain peaks behind the trees around the trail itself.
Then, eventually the unpaved road ended, and then I had to walk another brutal rocky uphill stretch as I was starting to leave the treeline and get up to a more cliff ledge kind of trail.
Eventually, the ascent culminated in the entrance of the Hollentalklamm, where there was amazingly a cafe and turnstile here. I wondered to myself with such a difficult hike just to get to this point (I got here at about 2:30pm, which was 90 minutes after I had gotten started), how did they even establish such infrastructure in a place so remote and requiring so much effort to reach. Was I missing something?
Even more amazing was the amount of people on this trail. The whole time I was wondering if I had taken a more difficult route, but from what I saw on all the maps, I took the most direct way (unless I had taken the bus which would have dropped me off in Hammersbach directly).
Anyways, just the entrance area of the Hollentalklamm was beautiful in itself as there were a pair of waterfalls in the cliffs looking in the opposite direction of the entrance.
Once I paid my 5 euros to get in through the turnstile (it appeared they raised the price from 3 euros in the past), I was then greeted to even more waterfalls spilling into the steep and narrow gorge. And with each step I was taking, I kept seeing more beautiful spots and photographable spots as I kept stopping and going due to all the photo taking pauses.
Indeed, there were waterfalls spilling from the sides of the gorge, but there were also even more waterfalls within the Hammerbach itself. Many of them were of the cascading variety, but there were also at least three significant waterfalls that were more of the plunging variety.
The noise here was so loud due to all that crashing water, and the trail itself that passed through a combination of tunnels, bridges, and ledges really further added to the atmosphere. I bet Julie and Tahia would have liked it here, but the effort to get up to this point would have made it difficult for them.
It wouldn't be until around 3:30pm that I had finally made it to the upper end of the Hollentalklamm as the walls were widening up a bit but there was still more hiking trail that just kept on going. I was content to go back down at this point though since I knew that I had kept Julie and Tahia in the car long enough.
While I was going a bit faster on the way back down as I had taken about as many photos and videos that I could possibly take to take in this experience (possibly the best of the gorges that I had experienced to this point and definitely worth the price of admission), I did have to be careful of the slippery footing as I almost slipped and fell in one of the tunnels.
By about 3:55pm, I had made it back to the Hollentalklamm museum exhibit and then out of the turnstile to be back on the main hiking trail once again (the lady at the window recognized me so I didn't have to fumble through my receipt).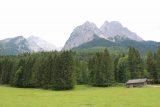 I then quickly hiked the all downhill path to the P2 parking lot eventually getting there at 4:35pm. With such an unexpectedly long hike, I was hoping that we could fit in the Partnachklamm excursion before they closed at 6pm and then go back to Seespitz.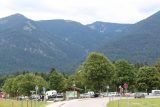 However, at 5pm, we saw that the Partnachklamm was closed. According to the schedule, it wasn't supposed to be closed now, but something was up that I wasn't aware of as the signs leading to the Partnachklamm Gorge suggested that the road to get there was closed as well.
So with that, we drove back to Seespitz. I was a bit disappointed that we couldn't fit in the Partnachklamm excursion which I knew was pretty well-known by Garmisch-Partenkircken, but sometimes you can't control these things.
Eventually at 6:10pm, we returned to the same Rewe that we were at yesterday in Fussen. Julie had to do another grocery run.
At least this time, Julie got back to the car at 6:30pm (so it wasn't a 90-minute grocery run like yesterday), and by 6:40pm, we were back at the Seespitz.
We then did some laundry while Julie was cooking dinner, and I had to endure the really hot room downstairs where the indoor pool was so we could let Tahia indulge in swimming down there while the laundry was running.
Eventually at around 9pm, we had dinner, and during that time, I learned from looking up the internet on the WiFi that the Parnachklamm was closed due to damage from extensive rain that had occurred on June 13 (just when we had arrived in Paris on this trip). I guess that would explain why we couldn't make our visit today, and such things could not be predicted nor controlled. In fact, there was even supposedly a loss of life in that incident so I'm sure this gorge would be closed for quite a while.
I also underscored the kind of danger that might be faced at the Leutaschklamm since I was headed there tomorrow where I expected some bad weather.
Anyways, we'd eventually crash by around 11pm. And so ended this eventful day…