Day 15 (June 27, 2018 – Fussen, Germany): "Racing The Bad Weather"
It was 4:45am when I awoke. I was worried about the weather for today as the forecasts all seemed to agree that today was going to be a wet day. However, from looking out the window of our apartment, it appeared that the weather seemed to be holding up just fine.
While I was hoping that we'd be out the door before 7am, it wouldn't be until about 7:30am when we finally left the garage and started the day. It was kind of customary now for Julie to be making breakfast and trying to resolve some issue with a lost library book that she had thought was returned prior to us going on this trip. So who knows what kind of fines we'll be paying since there's nothing we can do while we were abroad.
Anyways, we drove out in the now-usual route of going east in the direction of Fussen before taking a ramp going south on the A7 right when it was about to enter some tunnels and become the 179 as we were emerging from the tunnels in Austria. And once again, we'd be driving beneath this wide suspension bridge between the Ehrenburg Castle Ruins, which we had seen in Rick Steves videos but didn't really budget any time to explore them on this trip.
With the amount of clouds covering the mountains, for sure there was going to be rain today as predicted. However, it was a matter of when the uncomfortable conditions would turn out.
By around 8:25am, we had arrived at a car park that we weren't sure was for the Kuhflucht Waterfall (the target waterfall) as it contradicted what GoogleMaps that Julie had routed on the iPhone was doing. That said, my own GPS nuvi suggested that we drive out to this car park then try to drive onto what were clearly foot trails. It seemed that both GPSes were confused.
One thing I did suspect was right was that we had passed through the town of Farchant, which I knew was the correct town closest to the Kuhflucht Waterfall. However, upon Julie's strong urgings (as she saw that GoogleMaps said the falls was east of the A2), we left this car park and backtracked to the A2, where we then drove north into a tunnel that forced us to go all the way north to Oberau before we had to turn back and go back through the tunnel again to get back in the direction of Farchant.
Then, her GPS had us go further south away from Farchant so we could take some obscure route towards the Wankbahn Car Park, which I knew wasn't correct as it tried to take us on some narrow road that didn't appear to be valid for traffic.
There happened to be a couple of walkers passing by (who looked like locals who walked these mountains frequently as they were decked out in hiking gear while wielding trekking poles), and we asked them if they knew how we could get to the Kuhflucht Waterfall.
They explained to us that we had to go back to Farchant, and then try to ask for directions in there because it was not easy to explain verbally. That meant that the original way we had gone was correct (or at least much closer than what Google Maps tried to make us do). That just went to show us that sometimes GoogleMaps had better directions than the Nuvi, but at other times, the Nuvi performed better. All this served to confuse me from time to time.
In any case, when we headed back to Farchant, we took Hauptstrasse to Bahnhofstrasse (where we started to see tiny green signs pointing the way to Kuhflucht Wasserfalle). We then followed Bahnhofstrasse across the Loisach River (there was some construction work going on at the bridge there), before returning to the familiar Esterbergstrasse on the other side of the river.
At this point, we kind of lost the Kuhflucht Wasserfalle signs again, and we kept going south on this local street until we returned to the big car park area that we had turned around at earlier. By this time, it was 9:10am, and all the swirl that happened until know resulted in a costly 40-minute unnecessary detour.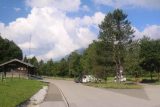 The weather was still holding up so far this morning as the skies were partly cloudy with the sun out, but there were some dark clouds starting to form in the surrounding mountains.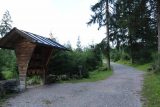 Anyways, I was headed out on this hike solo as I suspected it wouldn't be easy for Tahia nor for Julie to do. I figured that they could catch up on some sleep anyways since they weren't in the mood to wake up.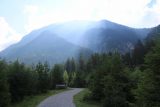 And so I was off. It wasn't encouraging that I didn't see Kuhflucht Wasserfalle signs until I got up to one of the junctions in the large park area just north of the large car park we were at. It pointed the way left past some interesting little fountain and rest benches. There were also lots of interpretive signs in German asking the would-be hiker questions like "How old am I?" or "How high will I be?" as clearly this path was meant for kids to try to get them to be curious about what they were seeing.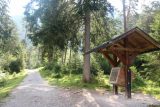 When I arrived at a trail junction at 9:35am, I realized that whatever trail I had just walked was the so-called "Philosophers Way", and that there was another trail that pointed left towards Farchant. I made a mental note to myself to go back this other way to see if we screwed up by not starting at the nearest car park.
Anyways, I then went upstream where I was looking against the sun. The path went uphill as it went past a gate. But then I started to see some smaller waterfalls on the Kuhfluchtgraben, which were attractive in their own right.
I also observed that the trail I was on was called the "Konigsweg" or "King's Way" because King Max II apparently walked here.
As the trail continued its ascent, it passed by a few more smaller waterfalls as each successive tier became more and more impressive. It would eventually reach a footbridge spanning the Kuhfluchtgraben where there were even more taller waterfalls as well as a very tall minor cascade spilling and converging alongside the main stream.
Unfortunately, there was some path before the bridge that led up to a lookout shelter that was roped off. It appeared to have a nice direct view of the waterfalls to the north side of the bridge.
I then continued further up the steps as I now wanted to see how much further this trail went.
At 10:15am, I'd eventually arrive at one dead-end on a spur path that revealed more impressive waterfalls in an almost gorge-like setting. The fencing was set up so I couldn't continue further on the ledge that I was standing on as it looked too narrow and slippery to not fall into the raging stream next to me. I wondered if that would have improved the waterfalls that I was seeing to this point given that the gorge walls were tight and they also kind of blocked some of the waterfalling action.
So I continued climbing up the now much steeper and narrower trail as a sign pointed the way to some hut.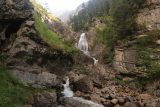 I'd eventually go up a few more very steep and now rooty switchbacks as I'd then encounter another spur trail that got me a closer look at the highest main tier on the Kuhfluchtgraben at 10:25am. At this point, the falls was still in some shadow against the sun that wanted to rise higher than the imposing cliffs on the other side of the stream.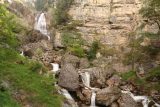 However, after having my fill of this spot, I looked at my pre-trip notes that I had brought with me, and they kept showing pictures of the source of the Kuhfluchtgraben where a waterfall occurred just as the stream was gushing out of the cliffs themselves through a hole or something. I thought that was interesting and worth pursuing, so I continued up the trail as it was now even more steeper, rootier, and all around just not easy.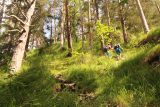 In this circumstance, I couldn't have imagined Julie nor Tahia doing this trail.
But then after about 10:45am, I had gone up so many switchbacks as I was a hot and sweaty mess that I started to wonder if I was chasing a red herring. After all, the trail continued to climb higher relentlessly, and it appeared to be moving away from the Kuhfluchtgraben. And with still more things to see and do like the Linderhof Palace and the Ettal Monastery as well as the Leutaschklamm Waterfall, I had to cut my losses and head back.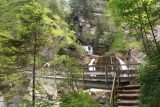 Eventually at 11:10am, I made it back to the part with the decent view of the Kuhflucht Waterfalls was. Thus, this detour wound up being a costly 45-minute red herring, and it didn't make the already busy day any easier. I knew that something would have to give, and with the darker clouds accumulating more and more as the day went on, I was worried that the other hike at Leutaschklamm would be in bad weather so I thought perhaps when I get back, I should do that hike and then do the touristy stuff at both Linderhof and Ettal at the end of the day provided they wouldn't close on us.
At 11:30am, I arrived at the Farchant car park, which was clearly the proper choice to start the Kuhflucht Waterfalls. So my suspiscions were correct that we screwed up by starting at the other car park further south along the Philosopher's Way.
And by 11:45am, I finally returned to the car (making our decision to park here another costly 30 minutes of extra walking time that probably wasn't necessary).
By this time, Julie was determined for us to do the Linderhof Palace and to forsake the Ettal Monastery. I guess since we were closer to those attractions, we mind as well have a lunch in Oberammergau, and then do the Linderhof Palace since Julie was into furnished historical buildings like castles and palaces.
By about 12:25pm, we had found parking in Oberammergau, which appeared to be free but time limited. That didn't concern us, however, as I didn't expect to be spending too much time here anyways. With the dark clouds around us, the window of good weather was quickly closing. Still, we saw that the main part of this town had some cute buildings but there wasn't any one part that stood out to us in the way that say Colmar did or other cute parts of old town centers that we had seen up to this point.
When we found this restaurant at the Wolf Hotel, Julie decided that we should at least try their sauerkraut there while having a chance to sit down at eat. We wound up getting this pork knuckle dish (that turned out to be more like a pork leg though it was very salty) and this venison ragout dish that seemed more like the dish we were expecting portion-wise (though this dish was very good).
Julie mistakenly ordered an extra bowl of sauerkraut which made the already big food volume even bigger. Yet when we paid the bill at around 30-something euros, it was actually quite reasonable for a sit down place. They didn't even charge us for leitungswasser (tap water), which was actually becoming more unusual these days (at least in Germany where beer seemed to be cheaper than the water).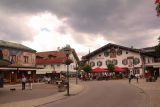 At 1:35pm, we returned to the car, and then we headed towards the Linderhof Palace. At this point, the clouds around us were getting even darker and there were already starting to sprinkle here and there as we made our way to the fairly remote residence of King Ludwig II.
By about 1:55pm, we parked at the Linderhof Palace and then proceeded to walk towards the ticket office. Once we got our tickets, we were told that our next tour was at 2:25pm. We wound up at the entrance to the Linderhof Palace at around 15 minutes before so we spent that time taking pictures of the fountain area. And in a way, it reminded us of some of the scenery seen in Versailles as well as the palace near Segovia (the name escaped me at this point).
After rushing to get into our 2:25pm tour, we then went from room to room within the Linderhof Palace as we were guided by a tour guide who probably had that stereotypical German-speaking-English accent (where the "w" sounded like "v" and the stresses of the syllables were a bit off). We had to concentrate a bit to understand what she was saying, but it was still good enough to follow and appreciate her dropping knowledge on us just as we were looking at the gaudy rooms.
Indeed, each room looked like they were golded out. And the furnitures seen appeared to be as exotic as they come.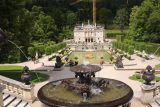 There was even a small hall-of-mirrors like room (after the one at Versailles Palace) except we could look at the infinity effect of mirrors reflecting towards another mirror and back-and-forth.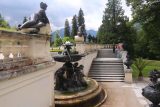 Perhaps the big takeaway from this visit was that there was a tiny dining table because apparently Ludwig II mostly dined by himself in the years that he lived here. Apparently, Richard Wagner never made it to the Linderhof Palace as he himself was a political refugee, and so apparently Ludwig could never really indulge in his true desires of being with the man he was infatuated with and wrote several letters to.
In a way, it was kind of a sad existence even considering all the gaudiness that this palace possessed. As here we had a guy who was homosexual but could never express it explicitly, and then he was naturally shy so he retreated to the mountains to get away from the persecution of others and that was how he got even deeper into his fantasies about eras past and dedicating his projects to people he admired like Richard Wagner as well as Louis XIV and Louis XV.
By the end of the tour, we then walked out in the direction of the Moorish Kiosk. There, we saw a kind of impressive building that brought us back to the days that we had toured Morocco. Indeed, the miniature recreation of one of the mosques was certainly worth the 10-minute walk to get there from the main part of the Linderhof Palace. However, it was starting to rain just as we were done with this part of the self-tour.
Next, we tried to go from dry spot to dry spot as the rain was coming down harder. I was lamenting that Julie underestimated the rain as she insisted that we didn't need the umbrellas nor the ponchos since she was worried about being turned back for carrying around more things than needed.
And now we were paying the price for it.
Eventually, we'd check out the Moroccan House, which was closer to the entrance. This was a pretty impressive miniature riad, where there was that familiar atrium with fountain inside. It made us very glad that we had gotten to see the real thing in Morocco back in 2015, and now we could see just how exotic it must have been compared to what else we had seen throughout Europe. Certainly, the European elites must have been similarly impressed the way tourists of today like us would have been.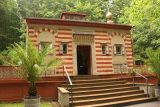 After that, we then headed back to the ticket office area where we followed the signs to the Grotto. Unfortunately, this was closed, and the ticket lady did say that the grotto had been closed for four years! Considering there was no meantion of that in a 2018 version of Rick Steves Germany, that seemed like a bad dropping of the ball in terms of keeping the info up-to-date, and it didn't sit well with Julie.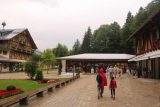 At 3:30pm, we finally retreated back to the car as the rain continued to fall. I was really hoping by this point that Leutaschklamm wouldn't be adversely impacted by this rain storm by the time we'd get there. And I was encouraged as the drive back into the direction of Garmisch-Partenkirchen was under the sun though there were definitely dark clouds building up in the surrounding mountains.
It wouldn't be until around 4:40pm that we would finally arrive at the parking at the southern end of the town of Mittenwald. We had spent around 15 minutes or so driving up towards the Austrian side's car park for the Leutaschklamm, but from looking at our GPS maps, it seemed like it was farther away from the Mittenwald approach.
And so just as I was getting ready to do yet another solo waterfalling tour while Julie and Tahia waited in the car, the rain started to come down hard.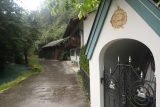 I was just putting on my rain poncho as I was already starting to get really wet. I even had to move my wallet out of my pants and into one of my shirt pockets where it would get a little better protection thanks to the poncho. I also got 5 euros worth in coins from Julie in case I had to pay to enter (which I suspected I would have to given what I had read in my pre-trip planning). I opted for the coins since I was worried that the notes might get too wet thanks to the downpour I was getting hit with this instant.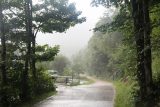 Indeed, just trying to take a picture under these conditions was a risky proposition as I didn't want to kill yet another lens or body of my Canon EOS DSLR due to water damage. So I had to pick and choose my spots, but the thought did cross my mind that I didn't want to be caught inside a gorge in a flash flood, which might have been what happened to some poor unfortunate soul caught in such a thing at Partnachklamm earlier this month.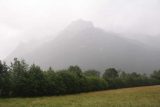 The walk was alongside a scenic and idyllic valley. If not for the drama of the heavy rain, this would have been quite the scenic spot to take pictures of farms fronting high alpine peaks.
By around 5:15am, I had arrived at the cafe and waterfall entrance. This sat at the mouth of the Leutaschklamm, which looked out across the valley floor. Even though people appeared to be trying to wait out the rain storm, I went ahead and paid the 3 euros to walk through the turnstile and proceed into the gorge.
As I was walking on the elevated wooden walkways within the gorge, I could see that the tall cliffs around me that were overhanging also provided some degree of rain relief. So I was able to snap some photos of the drama of the gorge – misty lens and wet camera and all.
It didn't take long before I got to the end of the path where I could look forward to see a gushing 23m waterfall that could only be partially seen as it was twisting and facing sideways given the cliff that was fronting it. Also, in terms of photographing it, I had to contend with the mist from the waterfall as its spray would blow out in my direction.
As I had my fill of this waterfall, I then started to walk back. Just then, I started to realize that the heavy rain had stopped, and there was even some sun starting to break through the clouds.
By about 5:45am, I had made it out of the Leutaschklamm Waterfall section, and then I proceeded to hike up the Geister Leutaschklamm trail that steeply ascended starting right next to the cafe area. At each of the switchbacks, there were interpretive signs going back in time chronicalling that formation of the Leutaschklamm.
By the time I made it up to what must have been like the 12th switchback or so, I took off my rain poncho and eventually made it to a part where the trail then descended some intimidating metal steps leading down the sturdy metal bridge spanning the gorge way above the Leutaschklamm. And from looking at the signage at the bridge, I could clearly see that I had made the right decision to start in Mittenwald as it was another 40 minutes walk just to get from this bridge back to the Austrian car park.
The views from the middle of the bridge were quite impressive, and this was especially true of the downstream view towards the imposing mountains across the valley (though that valley was barely visible given the imposition of the narrow gorge below concealing the broad valley itself).
In the distance, I started to hear some thunder, which made me wonder if there was another round of downpours that was about to come.
Eventually after having my fill of this bridge, I then continued on the blue path as it climbed a few more switchbacks before descending in a gentle manner going past some guesthouse and farm before ultimately going back down to the cafe that I was just at to start my loop hike along the blue path for the Geister Leutaschklamm.
By this point, I could clearly see that there were more dark and angry-looking clouds rolling in, and the thunder was so loud that it would echo and reverberate as they bounced off the valley walls. So I hastened my steps as I continued to walk towards the dark clouds on my way out.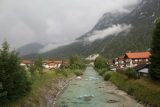 However, this was all delayed by me wanting to take pictures to still capture the beautiful scenery despite the drama of the incoming storm.
Eventually by 6:35pm, I returned to the car. It was just in time as the rain started to come down hard again just as I was putting stuff away in the car. And when I drove back the way we came to get out of Mittenwald, I could already see street flooding given the sudden volume of rain.
However, as we passed through Garmisch-Partenkirchen, the weather seemed to have let up, and by the time we were driving through Ehrenburg and Reutte once again, it seemed like the weather really cleared up as the sun was back out and I could even see large zones of blue skies.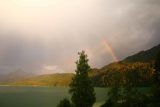 It wouldn't be until about 8pm that we were back at the Seespitz in Oberkirchen. Indeed, the weather was way calmer back here, and when we returned to our room, Tahia and I noticed that there was a rainbow over the lake.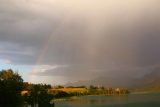 I promptly went out there and took the pictures though the rainbow was too large to try to capture the whole thing in one shot.
However, I could also see that there was a menacing squall appearing to head my way so I hastily took what shots that I could before it would drench me. That said, it apparently missed us even though there were some thick drops here and there. But I was content to call it a day at this point, let Tahia play in the sauna-like indoor pool downstairs for one last time as this was our last night here, and then have one last self-cooked dinner as we were trying to get organized with folding clothes and taking care of the usual end-of-day stuff before we all crashed in bed at around 11pm.