Day 16 (June 28, 2018 – Munich, Germany): "Es Regnet"
It was about 5:25am when I awoke. Outside, the weather looked like it was fair, but it didn't take long before the clouds overtook Oberkirch and it was raining lightly as predicted on the weather forecast.
We knew that it was supposed to rain all day today and tomorrow, so whatever we were going to do on this day was going to involve getting wet.
Since we couldn't leave early as we had to pay for our 4 nights stay at Seespitz and we never met face-to-face with the manager or owner at the registration the whole time (as they were open from 8am to 6pm and we were always away during those times), we weren't in much hurry to wake up early. I even slept in a little bit before I naturally got up.
After one last self-cooked breakfast consisting of eggs, wieners, grilled veggies, kefir, fruits, and leftover pork knuckle from the Wolf Hotel Restaurant at Oberammergau yesterday, we were quite sated when all was said and done.
It wouldn't be until 8:30am when we were finally in the car and started to leave Oberkirch (and Fussen) for good.
By now, it was raining quite non-stop and in heavy stretches as we were driving for over two hours to the east in search of the Josefsthaler Waterfalls, which was the first excursion of the day. I was kind of hoping that the rain might let up by the time we'd get to the town of Josefsthaler, especially given how long this drive was.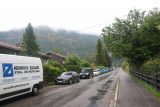 However, by 10:50am, we finally found some street parking in the town of Josefsthaler. We had passed by a sign with Josefsthaler Waterfalle arrowed signs that pointed the way to some residential road with no parking in it. So I had it in my mind that I was supposed to hike in that direction as soon as I got out of the car and started the hike.
It took me some time to get going, however, as the rain kept coming down. So I had to gear up, get some water (as I thought I saw a sign saying the falls was 50 minutes from that turnoff instead of the expected 15 minutes as I had read in the pre-trip research), and don waterproof pants (which was put on backwards as I was doing it inside the car), hiking boots, and a rain poncho.
I then proceeded to walk to the turnoff and residential road that immediately started climbing as it got to a dead-end where the road then became unpaved as I continued my hike. There were more switchbacks to ascend along this route, and there was even a tractor that made its way up behind me at one of the intersections of the unpaved roads.
It didn't take long for me to realize that these roads must have been logging roads, and that logging remains a staple of this town, apparently. That's because I saw stacks of cut up and felled logs and even the track I was on had apparently a logging heritage (at least that was the impression I got from my limited German and quickly gleaning from the pictures and bits and pieces of the text of the signs).
It seemed like the clouds kept descending on the trail I found myself hiking in the mist and fog, and it wouldn't be until around nearly noon when I finally started to see the more interesting cascades on the Hachelbach.
The steeply descending path was a bit tricky in the rain because the protruding rock surface was slippery. However, I managed to have my fill of the upper and lower cascades, which was somewhat nice though it probably wasn't worth the amount of time and trouble I had gone through to get here.
But the further down the trail I went, I started to notice that there was an even bigger waterfall further downstream. And when I descended the track down towards the base of that waterfall, that was when I realized that I had finally seen the legit Josefsthaler Waterfall. This one had more of a plunge and it was set in a peaceful setting.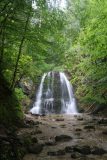 The trail continued to go downstream and eventually after passing a trio of ladies who were going the opposite direction (the first people I've seen on this trail), the more I realized that I wound up taking the rundweg (loop trail) instead of the direct waterfall trail that would have only been 15 minutes from town instead of the 1 hour 30 minutes going on the loop track I wound up doing.
It was yet another instance where the GPS misled me into thinking that I had to go the longer way, when in fact I could have saved a lot of time and trouble going the more direct way.
In any case, I was back at the car at 12:30pm, and it looked like the clouds were practically touching the base of the mountains surrounding the town. There were also a couple of logging trucks in the main street, which further convinced me that logging was a big part of the economy here.
And after getting back in the car, we then promptly headed out to the other waterfall for today – Tatzelwurm Waterfalls.
The drive east on the 307 was pretty uneventful though the rain kept coming down pretty hard. Eventually, we'd make it to the signposted turnoff and short spur to the large car park for the Tatzelwurm Waterfalls. We got there at 1:05pm.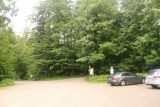 With the rain still coming down, Julie and Tahia once again stayed in the car. So I once again donned the rain gear and proceeded to walk on the short 5-minute trail along the Auerbach as the paved track descended to a bridge overlooking the Upper Tatzelwurm Waterfall along with a peek downstream at more waterfalls and bridges further downstream.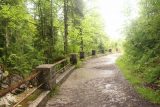 I knew keeping the DSLR out of the pouch for as long as I needed to take the photos and videos wasn't good for the camera given all this rain, at least this was easy enough to document to minimize that damage.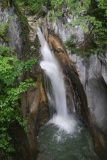 I then continued the downhill track until I was near some town or series of buildings. However, there was a spur track leading to my right to the "Unter Wasserfall", and that wound up going down some steep rock steps before eventually getting onto a wooden bridge to nowhere with a direct view at the Lower Tatzelwurm Waterfall as well as even more cascades further downstream heading towards the town.
There was one guy whom I had passed on the way down to this spot, and he was too preoccupied talking on his handy (cell phone) say hi or anything. But he must have been down there smoking before I showed up because there was that thick and annoying cigarette smoke smell. I guess even in Nature, it was hard to escape such a toxic American invention in Europe no matter whether it was in the city or in Nature like this.
Once I had my fill of the Tatzelwurm Waterfall, I then headed back up to the car park, and I managed to get there at around 1:45pm. Now, I could finally take off the rain poncho, the waterproof pants, and the wet hiking boots.
Now, we could finally drive towards Munich, where we'd be staying for the next three nights. Unfortunately, the weather forecast called for more rain all day tomorrow, and Saturday would be our only opportunity to perhaps experience Munich in fine weather.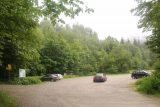 Anyways, the drive in the rain on the A93 and then the A8 went fairly smoothly considering the wet conditions. But once we got into Munich itself, the traffic was quite bad. We actually made it into the Munich city limits at around 3pm, but it then took us another 40 minutes just to finally arrive at the Carat Hotel Munchen, where they had their own garage that we promptly used straight away.
Parking was very tight in this garage, and it kind of made me not want to be going in and out of this garage too frequently. We were mulling whether to drive out to Dachau and Nymphenburg as Munchen activities that might be better off for self-driving, but with the traffic and the parking situation, perhaps it might not be a good thing. We'll have to do more research on that.
As we started to unload the car and prepare to bring our belongings up to the lobby and then our room, something went wrong with Julie's big blue luggage roller handle. It was stuck, and eventually, I managed to break off one side trying to make it unstuck. I wondered what else is going break on this trip (as I had broken the power connecctor on my ASUS laptop earlier on in Luxembourg).
I guess I'd have to manage Julie's luggage without the roller handle and try to roll it from a lower position that I'd be used to.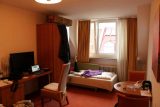 With that, we'd eventually get up to our room (though I did have difficulty trying to get out of the lift as the dolly we used made me stuck and unable to get out (since it required tilting to even get it to move and there was no room to do so). Other than that, we got into our cramped room (something we expected since space was a premium in the cities), and then we proceeded to get settled in at about 4:15pm.
At around 5pm, we then borrowed umbrellas from the hotel and proceeded to walk to the Altnatura Supermarkt that was a couple of blocks from where we were staying. With the rain still coming down hard, we had to get this order of business done first so Julie can cook tonight. Then, we'd play it by ear whether we should be sightseeing the innenstadt of Munchen after dinner even if it's raining.
We'll see how that plays out.
In any case, after buying nearly 80 euros worth of groceries (making me wonder whether we were really saving money on food by self-cooking), we then had to lug all this stuff back to our apartment-hotel room in the rain. Eventually by about 5:50pm, we were back in the room, and then Julie proceeded to get started on the dinner while Tahia and I were busy organizing the mini refrigerator to try to keep all the fruits and other refrigerated goods fresh.
And with that, we wound up calling it a day. It seemed like the first time on this trip that we had such a day that was light on activities, but certainly this persistent rain had something to do with it. If only the rain could let up tomorrow, but that was not in the forecast…