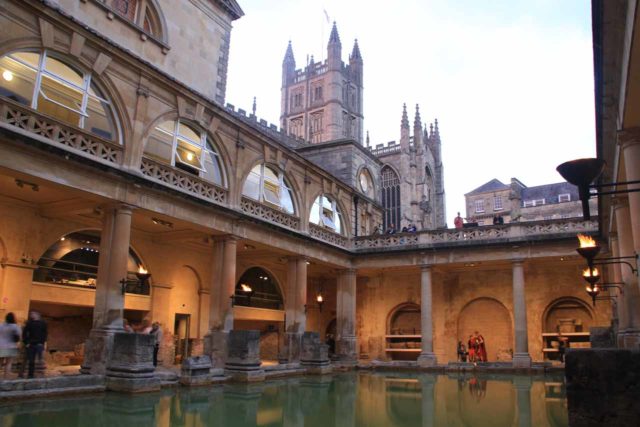 12-August 2014 to 19-August 2014:
Outside, I could hear rain hitting the roof and the windows. The winds were also blowing pretty hard. The thought did cross my mind that I could very well do the 2.5-mile hike from the town of Clapham all the way to the hole of the Gaping Gill, only to find out that the winch would be cancelled due to bad weather. But another thought was also that if I was going to be wet anyways from being winched down into the cavern containing a waterfall with possibly the tallest uninterrupted drop in all of England, why can't I be a little wet from the hike to get me to the winch meet?
Indeed, it was times like these that the doubt in my mind was also what made adventures like this all the more memorable and rewarding. And so it was that I was going to stubbornly press on despite the forecasts for the wind and rain…
Days 0-1: THE STORM BEFORE THE CALM
After a fairly relaxing morning (by our standards) for a travel day, we ultimately made our way to LAX at around 2:45pm thinking that we had made good time for our scheduled 4:55pm flight out to London Heathrow via Virgin Atlantic (as opposed to British Airways) this time. We were wondering whether this experience might be noticeably different in a positive way than with an American Airlines partner.
By about 3:15pm, we made it to our gate after getting through security. It kind of sucked that we learned our flight was already delayed by 20 minutes right off the bat because apparently the craft hadn't arrived yet. Anyways, the security process was noticeably different this time around as we were told to keep all of our stuff in our bags and empty out our pockets. So this time, liquids and laptops didn't need to be taken out. We didn't even have to take off our shoes. Strange how just two months earlier when we flew to DC, we were supposed to go by the old post 9/11 security measures.
To make a long story short, our flight boarded a little bit behind schedule even behind the delayed 5:15pm departure, but then we had another hour long wait before takeoff as we ended up taxiing from one end of LAX to the other since there were some pop-up thunderstorms that prevented our normal route from happening. So it ended up not being until well after 6:30pm that we finally took off. Bummer because we knew that this would impact how much time we would have to do a little reconnaissance of Bath before coming back some two- to three weeks later.
Well, after a little bit of rough turbulence in the start that spilled some of our cups of water, the rest of the flight went pretty smoothly while we were in the air. I happened to use the 9-hour flight to watch the second installment of the Hobbit as well as the second installment of the Hunger Games. Both of those movies were long and they also felt like they ended with the story incomplete. Then, I fell asleep through most of the Wolf of Wall Street (something I hope I might be able to catch later on the way back to LA). The sleep wasn't easy, and Tahia was kicking both Julie and I as she was totally restless until she eventually wore herself out.
By about 12pm, the plane finally landed, but now we were waiting to de-plane. And it wasn't until 60 minutes later when the line finally started moving. Apparently, there was some issue with the bridge linking the gate with the doors of the plane. So it really seemed like we were experiencing one delay after another. Even the crew and the guy making announcements seemed a bit exasperated by these developments.
By about 2:35pm, we waited at the Central Bus Station. It turned out after a bit of walking around with all of our luggage, we made one big circle because we had thought there was a direct train from Heathrow to Bath. But it turned out there was only a bus that made this connection. So that wasn't until 3:15pm when the bus would get us to where we needed to go.
Finally at about 6pm, we checked into the Royal Bath Hotel as I had predicted. Finally, indeed!
We were dropped off pretty close to the Bath Spa Station, which was right across the street from our hotel. Then once we got the key, we awkwardly made our way to the lift given that we were carrying lot of stuff and there wasn't much room. However, we were told that having Tahia with us would cost us another 15 pounds for the night even though we didn't need another bed. I guess Julie didn't want to create unwanted attention by having Tahia staying with us, but in this instance, the lift was right in front of the reception and there was no way around this situation.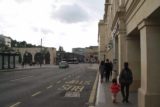 After dropping off our stuff, we then had a quick and pretty satisfying dinner at Nando's, which was right by the Bath Spa Train Station. We knew all the food prices were practically double of what we were used to paying, but the portions of this place was enough to allow us three to share one meal with a couple of greens.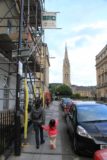 By about 7:20pm, we were done with dinner and made a beeline for the Bath Spa and Bath Abbey as they seemed to be the main attractions of the town of Bath. I wasn't expecting to do any sightseeing on this night in Bath, but I guess just the fact we were able to pull this off today was a bonus.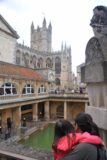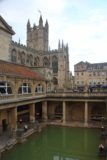 After a little bit of wandering through the so-called Southgate Mall, we then found ourselves on the north side of the Bath Abbey before finally finding the entrance to the Bath Spa. It was now about 7:30pm and we had about a half-hour before they wouldn't allow any more tourists into the facility.
After paying nearly 20 pounds per adult (nearly $40 USD per person by my rough estimation), it was turning out to be an awfully expensive visit. At least Tahia was free. Anyways, we then walked through what seemed to be a sinuous self-guided tour through the facility showing much of the Roman influence in the facility. We even saw outflows plus some steam coming out of the thermally heated waterfalls internal to the corridors here.
But the real star of the show was the rectangular bath itself. From the top floor, we were taking plenty of shots of the pool while trying to get the Bath Abbey as the background. But we somehow got the feeling that it was more photogenic further down below where we saw even more people.
There wasn't a straightforward way of getting down to the lower level as we had to get through the tour maze. But once we made it down to the bottom, we went nuts taking even more photos from the lower level with the twilight setting along with the soft artificial light along with torch lighting really making our long exposure photos atmospheric.
I think we ended up taking around 170 photos or more in just this one place alone. It made us pretty satisfied with our visit and we really got the sense that we had just seen the best of Bath on this evening. Julie and I could totally see why Bath was a famous historical place in Great Britain.
We left the Bath Spa at 8:45pm, and along the way back to the hotel, we picked up some gelato. It was 9:05pm when all was said and done.
All of us were pretty tired from the unrestful night and day we had been having from the traveling. Hopefully, we would be able to sleep soundly on this night and wake up in time for breakfast as well as the next bit of drama in picking up the rental car as we would leave Bath and head towards York through the Cotswolds.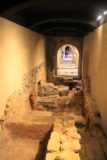 We'll see how I'll manage driving the roads of Great Britain, while driving stick shift left handed, and getting into the same kind of groove that I was in when I drove France and Italy. Lots of things to do after getting the rental car (like getting groceries, Julie getting her sim card, etc.). Plus, there was the added complication of whether accommodations would be accommodating of us having Tahia with us as the first place already raised a stink about it. So I was a little anxious about all these uncertainties as we were still feeling our way around the UK…
Day 2: TO LET IT BE, OR NOT TO LET IT BE…
We awoke to my 6:45am alarm very reluctantly as it was only the day after we arrived in Great Britain from LA so surely our jetlag remained in our body clocks. As I looked out the window, I could see there were plenty of wet spots so it looked like it had rained last night.
It was a somewhat hectic morning as we had to get packed up and ready to go again. But not before we get an included breakfast at the Royal Bath Hotel. I was a little anxious about having to do this meet and greet to pick up our car from Europcar, but then my anxieties increased about the having to get accustomed to driving in the UK. After all, I hadn't driven extensively on the left side of the road since Japan in 2009. And, I hadn't driven a stick shift left-handed since I had hired a high-clearance 4×4 in the Northern Territory of Australia in 2006 (though on that trip, the backroads were closed due to a late-season cyclone which kept the estuarine crocodiles in the water holes that would normally be safe for exploring by the Dry Season).
The brekkie at the hotel was actually pretty satisfying. Julie got some eggs benedict, and I got some kippers. All that was accompanied with some pretty good crispy croissants which totally reminded Julie of the flaky and rich varieties that we had experienced back in France in 2012.
We were finally done with our pretty full meal by about 8:35am. Then, I took some time to awkwardly get our luggage back downstairs amongst the cramped quarters of the tiny elevator and narrow hallways. Then, Tahia and Julie joined me as Julie was checking out. The receptionist helped us call the Europcar in Bath, and as we walked over to the pick-up and drop-off area behind the Bath Spa Train Station at 9am, about 10 minutes later, the guy showed up and we were headed to the office.
It was raining fairly hard, which contrasted quite a bit from the mild weather we were getting yesterday afternoon. Julie and I were having that feeling of deja vu as the last two long European trips we had together were inundated with lots of rain. "Here we go again," we thought…
At 9:25am, we were at the Europcar office. It seemed quite a ways away from the city center, and I guess it made sense why they would have to do a meet and greet. At least we knew that getting to this place wouldn't be that chaotic since the traffic was noticeably lighter out there than in the city center.
It took some time to get set up with our hire car, and then get our luggage in the boot (trunk), then get Tahia's car seat set up, and finally get the GPS all good to go as well. So it wasn't until about 10:05am when we finally headed out of Bath. By this time, we were already about an hour later than I was hoping for based on our pre-trip itinerary we had set up and planned for three months ago.
The drive out involved driving in a mix of rain (sometimes heavy) along with periods of sun breaking through some of the clouds. Yet the refreshing thing was that mostly the roads were delightfully in good condition despite all the rain, and the traffic was mostly light. I guess that was the very reason why we chose to fight the jetlag and drive from Bath to York at the beginning of the trip rather than start the trip in the chaos of London. Perhaps our unorthodox idea was a wise move after all!
Anyways, as we were unknowingly driving through an area known as the Cotswolds (said to have gotten its name from a bygone era of wealth-building through the wool trade) we started encountering cute towns with stone buildings and houses having an interesting look that resembled the guidebook pictures. We managed to pass through a charming town called Tetsbury during this stretch of driving, and as we were about to leave the outskirts of that town, we noticed a Tesco with its own lot at 11am. So we spontaneously pulled over there and immediately went shopping for food and water knowing that we had to do this at some point.
At about 11:35am, we resumed driving now that we were pretty much fully stocked with groceries, including some fruits. Now we could go touring without this errand hanging over us.
Eventually at 12:10pm, we finally arrived at our first Cotswolds target town called Bibury. It was a small and quaint place best known for a row of old stone homes known as Arlington Row. It was said to be the most photographed part of the Cotswolds and the parking situation kind of reflected that. As we made one out-and-back circuit before noticing one guy pulled out, that was when we got a spot to park.
Then, we immediately walked along the watercourse separating the main road and the high-grassed pastures fronting the historic homes of Arlington Row. We eventually passed over a bridge traversing the watercourse (we were told by someone that an otter was playing around near the bridge but we didn't see it) then were right in front of the attractive row of homes.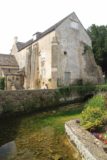 Unfortunately, there were a couple of cars (probably belonging to locals) parked towards the end of the homes and that kind of put a rather unfortunate modern and unsightly twist to the otherwise very photogenic homes. The conspiracy theory in me thought that perhaps that was intentional so perhaps tourists might feel more compelled to buy local post cards or something. Or locals living there just didn't want people crowding the place to take photos as long as those unsightly things were there.
So we then walked past the homes and into the woods as we looked back out towards the main road across the pastures, before we ended up at the other side of the walk that put us face-to-face with some historical looking mill, which was also next to some trout farm. We would eat a lunch at this trout farm before concluding this part of the Cotswolds visit at 1:15pm.
All the while we were walking back, we were trying to take a few more photos of Arlington Row now that there was a hint of sun and color. The attraction itself definitely drew our attention throughout, but it was kind of an anticlimax I thought, and if that was the most photographed part of the region, it made me wonder whether I made the right move in merely passing through the Cotswolds instead of devoting at least a night to stay there and let the place sink in even more.
I guess the Cotswolds was already turning out to be one of those things where it was more about the atmosphere and experience rather than going there looking for photo subjects like most people would do when they go sightseeing some of the more famous spots.
As we resumed our driving through more small rural roads, we would pass through a town called Stow-on-the-Wold before we would ultimately end up at another Cotswold town called Chipping Campden at 2:05pm. In my pre-trip planning, I favored Chipping Campden over Stow-on-the-Wold given what both guidebooks said, but I did notice that Stow-on-the-Wold was also a cute market town that was seemingly busy and bigger than the place we were about to self-tour.
We'd eventually reach some large car park area (because parking on the main High Street was hard to come by), and perhaps that was a good thing because we found ourselves near some attractive church before descending into the cute market town.
With all the cars along High Street, the place wasn't as photogenic. But both Julie and I could totally see why the place got the accolades that it did as High St was surrounded on both sides by more of those cute Cotswold-stone business buildings and monuments or churches. Tahia was in a little bit of a fussy mood because her nap was being disturbed so I had to carry her around in the carrier.
We ended up picking up some desserts from a French bakery here before the overcast weather started giving into a little bit of rain. And by 3:10pm, we were back in the car.
Next, we resumed our driving towards Stratford upon Avon. With it getting pretty late in the day, I had this bad feeling that we wouldn't be getting to York until very late. So we pretty much left all of the touring of the town to tomorrow it had appeared. Hopefully that was enough time.
At 3:40pm, we ended up at the target of our visit to the vicinity of Stratford upon Avon, which was the Anne Hathaway Cottage. No, it wasn't the attractive young actress who beared this name (most likely a stage name, anyways), but it was actually the wife of William Shakespeare. We knew that this was said to be the most pleasant of all the Shakespeare trust historical attractions, and now after we had made our arrival, we could see why.
Around the home was a very colorful garden, which made taking photos of its exterior quite a treat. Admission wasn't cheap though as Julie and I had to pay nearly 30 pounds between the two of us (probably close to $50 USD!). The clouds were darkening and threatening as we got to the cottage, especially now that we were hearing some angry rolls of thunder.
There was a tour bus crowd that fronted us as we got to the entrance of the main part of the cottage tour. And when we went inside, there was a young lady who was already getting into talking about the history of this cottage before letting everyone tour the cottage on their own. Tahia was given a clipboard with a sheet of mice. She was supposed to find and match the mice she would find then note them down on that sheet. I guess that was an ingenious way of engaging little kids on a tour like this. And indeed, she was all into it.
At 4:40pm, we were back at the car. But it wasn't before we got a bunch of photos and that it was starting to rain fairly hard. At this point, we were on schedule to get to York some time after 7pm, but this visit got Julie wondering whether we would regret not seeing the so-called birthplace of William Shakespeare in the town center of Stratford upon Avon.
So we made a spontaneous decision to just go for that place despite the rain and despite the fact that we would most certainly be arriving in York quite late (at least well after 8pm by my estimation).
It wasn't until about 5:05pm when we finally got somewhat oriented and fought the traffic before parking about a couple of blocks from Henley Street, which was the pedestrian street that contained the house that Julie was targeting. Clearly it was too late to do a tour inside the house, but this really seemed like an old home amongst some more contrived boutique businesses and the house itself was an anticlimax.
Perhaps it was the rain that made Tahia cranky (well, she was complaining about not being able to handle the umbrella), but we would eventually have ourselves a cornish patsy then a subpar dinner and ice cream before returning to the car park at 6:40pm. One African-British family that was leaving the restaurant we had dinner at wanted to chat with us because of our "accents" and our Asian ethnicity, and upon learning that we were headed to York, he was delighted to see that we were literally seeing the best of Britain for the month we were here (having learned that we arrived here from Bath and headed to York). That really amped up our anticipation of seeing the city.
By the time we left, the sun was back out at Stratford upon Avon, and the traffic was noticeably lighter.
At least now we could finally head to York, which was where we were staying, but I knew that we still had another 2.5 hours of driving before finally getting there. Sure enough, the GPS predicted that we'd be there at 9pm, but with the amount of construction-related congestion, it wouldn't be until about 9:20pm that we would finally arrive in the Park Inn by Radisson next to the river within view of the York City Center. And to our relief, this place didn't even care that we were bringing Tahia along (unlike the Royal Spa Hotel in Bath).
We couldn't wait to finally see the city that all the guidebooks (and Rick Steves) was raving about. But that would have to wait until tomorrow when it was be light again…
Day 3: THE ORIGINAL YORK
It was 7am when we awoke to Julie's alarm. Facilitating the wake-up was the early morning sun that was shining right into the room. It was unusual to see such a pronounced sun against blue skies because we hadn't seen sun and blue skies together like this for the whole time we had been in the UK so far.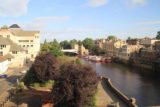 So we took our time to get ready, and since we didn't have an included breakfast at this accommodation, we were headed downstairs to begin our anticipated tour of York at 8:30am. It was a little nippy in the morning but it didn't take long before we were warming up from the walking.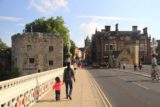 After crossing one of the bridges to get to the center of York, we picked up a not-so-good croissant at Costas for breakfast, and then we saw the giant York Minster up ahead.
So we headed straight for it, but something was different as we saw lots of uniformed officers and some military personnel standing guard next to some tanks. We also saw quite a few uniformed men on horseback. So we knew something was going on here, and we wondered whether that would affect our tour of the York Minster.
By about 9am, we found ourselves gathering towards a crowd of more uniform officers standing together in some formation. Now we knew that there was definitely something going on as there were bagpipes and drums being played with some professional photographer taking photos of the gentlemen.
Clearly we wouldn't be entering the massive abbey from this side of the building (the south side I'd imagine) so after spending a few more minutes watching this ceremony (along with other people doing the same), we then swung back towards the main entrance on some advice from a local who directed us towards the main entrance when we asked.
Actually, he also broke down to us that the procession was for some military personnel who had just returned from a tour of duty and now the city of York was welcoming them back. He joked that the small crowd watching the scene was all that was left of the city that cared (which mostly consisted of tourists and family now) for there was a fine line between Nationalism and supporting the troops coming home.
At 9:30am, we went into the York Minster where the next Tower Tour wasn't until 10am. Meanwhile, we had some time to check out the internals of the abbey where there was someone rehearsing with the grand organ. The place definitely wasn't crowded but I wasn't sure whether to attribute this lack of crowds to the procession that was going on or if this place just didn't attract nearly the number of tourists as what we had seen in Italy last year.
We learned that Tahia couldn't go up the tower because she was not 8 years old. So Julie with Tahia split up with me so I could go up the tower. We agreed to meet at the front entrance of the cathedral at 10:30am.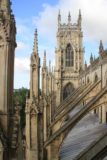 Since it was still around 30 minutes or so of waiting, I was on my own killing time taking photos while just wandering the halls. This place lacked the punch of some of the grand Roman interiors of duomi (or cathedrals) in Italy, so killing this time wasn't as easy.
Eventually at 10am, I joined a group of people also eagerly awaiting going up. We couldn't just go up on our own because it turned out that the spiral steps going up were very narrow and the ceilings were low. There was absolutely no way Tahia would have made it up with me without getting squeezed or knocked on the head. So I now appreciated the precaution that the caretakers made in coordinating tours (seemingly every 45 minutes) to limit the congestion as well as the toddler-prohibition to prevent claustrophobia or some other incident involving them.
This kind of reminded me of the stairs going up to some view over Siena, where there were spiral steps going up to some outdoor interlude before going back inside up more steps and finally leading up to the tower itself. The tower was caged all the way around to prevent someone from losing stuff or falling over. However, there were holes cut into the cage to make photography easier.
After having my fill of this place, I headed back down to the tower entrance, then I quickly made my way through the undercroft area of the Minster to see some treasures and some Roman artifacts.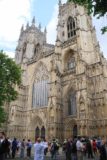 Eventually, I was back out of the Minster and waiting for Julie and Tahia at about 10:30am as we had agreed. Now there was a crowd of people before the York Minster, but it wasn't until about 10:50am when we finally saw each other again. Apparently, they were also looking for me as somehow we missed each other initially (probably due to the crowds or something).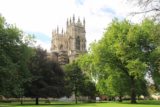 Well regardless, we all headed towards the City Walls to check it out. And after a few minutes of walking to the fringes of the York City Center, we attempted to go up the steps to one of the City Wall entrances so we could do a free walk along the ramparts.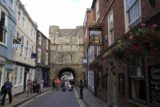 But initially the gate up the entrance we were at (I think it was called Bootham Bar) was locked according to Julie.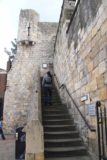 So we lingered there wondering what we should do next when we noticed a large group of tourists following a tour bus to get in the very door we were turned back from, and we followed them in. Then, we snuck out the opposite entrance and we were on the northeast part of the city walls, which seemed to have views back towards York Minster (some against the sun) over some gardens.
It was a pretty relaxing way to enjoy the city of York, and I'm sure we could have continued our city wall walk experience all the way around (a distance of about 4 miles or so).
But we headed back downstairs after seeing there was some kind of manned Richard III exhibit (around Monk Bar, I think) so we couldn't see a way to continue on.
Thus, we were back down into the town center at 11:35am, and now it was time to look for some small things to buy like a scissor for cutting Tahia's bangs when they get too long, and for Julie to pick up a toothbrush, which she had forgotten to bring on this trip.
As we walked further into the large interconnected shopping arcades of the York City Center, we then stumbled upon the block known as the Shambles, which was basically an old-school cobblestoned narrow walking alley flanked by really old buildings. Some of those buildings looked like they were leaning out towards the walkway and in danger of toppling over. And I guess it was that bit of dysfunction that made this part of York charming and historical at the same time.
By about 12:05pm, we found ourselves at a pub called the Punch Bowl, which was said to date back to the 1700s or so. All we had in here was a fish and chips as Julie had a craving, but it was probably going to be the last time we were going to get something this greasy. So I guess Julie got her fix and now she knows that English fish and chips aren't really anything that special.
Unfortunately, she also spilled the pretty good apple cider we had purchased onto me so we didn't really get our full money's worth of the grog before the rest of it ended up on my lap and on the floor. Next, we then continued walking around the shopping arcade area before arriving at this place called Betty's for some afternoon English tea at 2:15pm.
We figured we mind as well do this experience since we had the time to do it (not realizing that it didn't take that long to really experience the city of York as I had originally thought). We also knew it wouldn't be cheap, but sometimes it's about experiencing what you can't do at home, so I thought why not despite the 20-minute wait to get seated.
As we were finally starting to get served our tea and some desserts at about 2:30pm, the skies looked like they were not only threatening, but they were producing rain again. At least Julie and I (carrying a napping Tahia in our child carrier) were in the cozy upstairs area just having a conversation amongst ourselves and soaking in the atmosphere away from the weather outside.
We definitely got a lot of attention carrying our little daughter around. Even one of the workers inside the tea house was complimenting us saying that our scheme was very organized as it was quite the conversation starter.
By about 3pm, we had left Betty's and headed back to the Radisson for a siesta. It turned out there was another Betty's that seemed bigger but lacked the cozy atmosphere. So we were glad that we stumbled upon the place that we did. We then walked by the Shambles again along with some other parts of the city center of York (which pretty much saw lots of foot traffic no matter where in the pedestrian zone we were in), and then we eventually were back in the Radisson at 3:30pm.
With all of us totally tired, siesta was the natural course of action, though Tahia's siesta was done when she realized we were back in the hotel room. So she was out and about pretending to make coffee for her stuffed animal while Julie and I crashed for our siesta. Who knows what kind of mess Tahia would make in the room while we were knocked out?
At about 6:15pm, we decided to head back into town after seeing some attractive photos of Clifford's Tower on TripAdvisor and being troubled about not having seen it yet.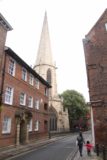 We thought we mind as well seize the moment to check that place out before returning to the Shambles then finding a place to eat. Of course, we wouldn't be getting the blue skies contrasting the tower as the skies were well overcast and threatening rain again.
And so we headed towards Bridge Street where we then went past some smaller churches and towers before seeing Clifford's Tower, which was right in front of some museums or official-looking buildings that saw pretty much no traffic. Apparently, we were also a little late to go up to the tower by about an hour.
With the dark skies behind the tower, our photos of the tower were on the anticlimactic side though they did provide a bit of moodiness.
But we didn't linger long before we then returned to the Shambles, which was much less busier than it had been earlier in the day.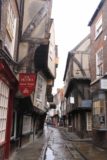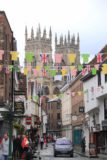 As we walked through the narrow old street, we saw this Italian restaurant called Bari's that was serving dinner with an early-bird special on pizzas and pastas. So we just decided to go in there knowing Tahia would eat the pasta without issue.
We made it there at 6:50pm, which was within the 6-7 window. And as we had the food, we saw that it was raining outside. But when we were done with the dinner at 7:35pm, it had stopped raining. Although the cobblestone street was wet, the Shambles was very quiet again and we took a few more atmospheric photos in twilight of the place.
After a little bit of more wandering around the York City Center, especially looking for the town's tiniest street in Whip-ma-whap-ma-gate, we then returned to the Radisson Hotel via Bridge Street to call it a night at 8:15pm. It was a pretty long day, but now it was time to wind things down and get ready to be back on the road again as we would be heading towards the Lakes District as well as the Yorkshire Dales…
Day 4: FORCING THE ISSUE
It was about 6:30am when I awoke to the alarm. Looking out the huge window of our room, I could see that the sun was somewhat peeking out through the partly cloudy skies. The sun's rays made for a pretty good wake-up call for Julie as the sun shone right on her face.
Yet even with the early wake-up, it still took us some time to get all packed and ready to go, and it wasn't until about 8:15am when we were finally leaving. It was raining slightly when we left, and I guess that was going to be a foreshadowing of the kind of weather we're probably going to experience today.
I had planned on taking a southern approach from York to Kendal, where we were going to spend the next four nights. But upon realizing our late start, I thought maybe it was a bit ambitious to do some hiking to both the Gordale Scar and the Ingleton Trail, and so I decided to cut right through the heart of the Yorkshire Dales targeting Aysgarth Falls, Hardraw Force, High Force, and Cautley Spout.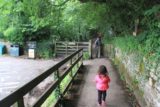 It wasn't until 10am when we finally arrived at the Aysgarth Falls car park. I was a bit dumbfounded as to why the signage for the falls led us away from the A684 just west of Wensley and following a narrow and twisty path to eventually get us to the car park for the National Park Centre. This was one of those rare instances where the GPS was correct as it stayed on the A684 all the way to the town of Aysgarth.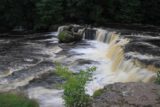 So that deviation probably incurred an additional 15 minutes, and I wondered if the signage led us in this way to avoid congestion on the A684 possibly. Who knows?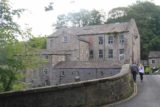 But with that out of the way, we paid our 2.5 pounds to park the car. Given that it was pretty close to $2 USD for every pound, that means we're paying almost $5 USD to park the car here. Pretty pricey, and all these nickel-and-dime prices for every excursion we took and every place we parked was adding up.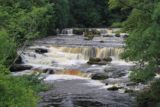 Then, after using their pretty family-friendly toilet facilities (Julie was especially surprised to see diaper changing areas in some of the toilet rooms), she then picked up some scones fresh out of the oven. And with that bit of quick brekkie, we proceeded to walk the 340m towards the Upper Aysgarth Falls. The track went near the road before going past some muddy wide path before leading to an honesty box gate, and then to the brink of the upper falls. The falls itself was wide but not tall. All the frontal views were partially obstructed, but the most open view was only from its side.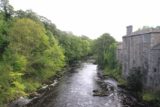 So we didn't linger here long, but we were quite surprised to see how popular this spot was as there were easily more than a dozen people or so trying to photograph this small but wide falls.
When we headed back to the car park, we made a brief detour onto the A684 where there was a stone bridge that afforded us a more frontal view of the Upper Aysgarth Falls with some lower cascades as well. The only bad thing about getting this view was that we were essentially part of the road traffic as it wasn't meant for pedestrians.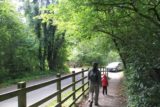 Next, we walked past the car park, then continued downhill crossing the A684, then going past another fence before the trail passed through a wooded area. Barely 230m from the car park (and not much longer after the fence we had passed through), we then descended some steps leading to a lookout area of the Middle Aysgarth Falls. Like the upper one, it was somewhat sideways and angled. The sun was breaking through when we got here so the falls was becoming blindingly bright when the sun did get through. There was also some tower hidden behind some of the trees in the background. I wasn't sure what that was though.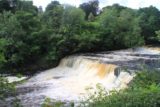 Then, we continued walking further downstream along the main trail as the scenery went from woods to briefly open hills, before going back through another fence as the trail descended through more dense woods towards a couple views of the Lower Aysgarth Falls. The first view from the trail was angled and downwards. The last view was right at the brink of perhaps the biggest tier though it did have about two or three drops to it. There were some smaller ones further downstream but out of sight from our viewing spots.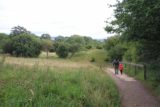 Again, there were quite a few people enjoying the falls here, underscoring just how popular this place was even though we had walked about 830m from the car park to get here. The water of the River Ure had a tinge of brown, and perhaps that had something to do with the rains we had been getting the whole time we were on this trip (thanks to the remnants of Hurricane Bertha).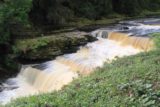 By about 11:35am, we had returned to the car park. And when we did, the parking lot was completely full! Even though we thought these falls weren't that impressive, we were still surprised at how popular this place was!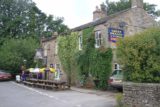 So we proceeded to drive back onto the A684 (should have never deviated from it in the first place), and we headed towards Hardraw Force. The drive was through even more rolling hills of the Yorkshire Dales as these rolling hills were full of sheep and some cows. It wasn't until about 12:05pm when we had arrived at the village of Hardraw and the Green Dragon Inn, which owned the access to Hardraw Force. It was now drizzling, and the weather kind of amplified the cozy effect of being inside the Green Dragon Inn.
We decided to have a hearty lunch of a chicken pot pie and some chicken soup before going to the waterfall. We sat at a table next to the fireplace and not far from the parlour. The place was already a little bustling with people having ales or just lounging around, as it definitely had a bit of that friendly neighborhood pub atmosphere that Julie and I had seen captured in one of the Rick Steves shows on the UK. So we soaked in this experience, and I'm sure the passer-bys were also amused with Tahia being Tahia in this warm and cozy place.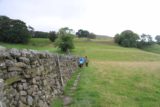 Apparently, the public footpath (FP) to Simonstone, which weaved in between some residence and the Green Dragon Inn made it seem like the waterfall was a long hike or something because Hardraw Force was nowhere in sight. I wasn't sure what was out there worth hiking to on this footpath, but it did weave through some attractive pastures with sheep and some stone walls seemingly there to keep the sheep confined as well.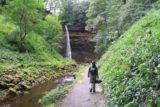 After having our lunch, we finally paid our 5 pounds in cash (for both Julie and I) and walked through a maintained area (seemingly still under construction to further improve the already easy footpath to make it even easier and more dummy proof. So we walked past some closed cafe, then past a camping area (Julie wondered how these folks could camp under such crummy weather), and then passed through an open area with some picnic tables before finally being on a path alongside the watercourse under partial shade of cliffs and trees. And not much later, we were face-to-face with the impressively tall Hardraw Force.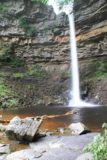 This waterfall seemed to be enclosed by a three-sided cove with vertical cliffs around it. Thus, the falls was photogenic and there was enough shade from the tall trees around us to keep the increasingly heavier drizzle and rain somewhat at bay. Thus, I had greater confidence in getting the tripod set up (especially since the lighting was rather dark to take photos without a tripod anyways). Julie and I thought this waterfall was deserving of at least a 2.5 or a weak 3.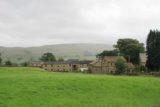 When we had our fill of this falls, we quickly returned the way we came and ended up back at the car at 1:50pm. It was a bit later than I had anticipated when I planned on a day like this. But nonetheless, I knew that the next place to go would be High Force, which also had set hours of admission. I figured I'd do Cautley Spout last since I knew that one didn't have such a time limit.
So we made the nearly 20-mile drive further north into Durham County near this place called Forest-in-Teesdale. The weather seemed noticeably calmer out here than the somewhat increasing drizzle and high winds further south. The drive went through more rolling hills that apparently the Dales were known for, though we definitely had to be careful driving there as the B6276 road had a lot of sheep grazing right besides the corridor making it quite prone to collisions.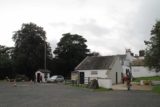 Eventually at about 3pm, we made it to the well-signed car park for High Force. The lady there collected 2 pounds for the right to park the car, then we had to pay another 3 pounds (for both Julie and I) to access the waterfall. Again, the prices were definitely adding up! But that didn't stop the many dozens of cars that were already parked here to enjoy the falls, attesting to its popularity.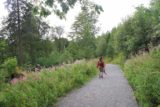 After crossing the B6277 road (lots of cars were zooming by here at high speeds), we then went downhill on a gravel path that descended into the woods. Further down, the path then revealed an attractive distant view of High Force, which really hastened our pace to get closer. And within minutes, we descended some steps and ended up right in front large and turbulent plunge pool of the gushing High Force.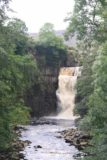 There were signs saying that the path to the top of the falls was closed and the gate there would remain locked due to liability and safety reasons. But that didn't stop what appeared to be a handful of people standing above the falls who obviously somehow made their way up there past the closed gate. We didn't bother with that option as we were pretty content with the frontal view of High Force.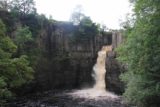 The waterfall itself seemed to look shorter from close up that it did in the distance, but it had a satisfying flow that was almost Moxie Falls like up in Maine. In any case, we busted out the tripod and took a few more family photos and long exposure photos before heading back up to the car park again.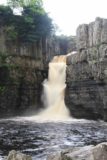 And by 4:25pm, we were back and ready to go to Cautley Spout before we would finally check into our apartment at Kendal.
So we drove back through the same roads it took to get here from Hardraw, but then we'd ultimately take a road leading towards Sedbergh. Along the way, I saw the Cautley Spout Waterfall in the distance out of the corner of my eye to the right. But there was certainly no obvious signage nor were there obvious pullouts. After circling back then checking the laptop's research notes for how to access the falls, I eventually figured out that the pullout fronted by a camera sign (looking like the ones they warn you about for speed cameras) was where we should stop the car and photograph Cautley Spout from a distance.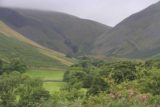 So I went ahead and stopped the car at the pullout at about 5:35pm. However, I wasn't that satisfied with this very distant view so I decided to put on my boots and backpack, then walk along the A683 road towards this place called Low Haysgarth. At first I thought it was going to be trespassing to proceed further, but then I saw public footpath signage, and so I headed down the driveway and closer to the falls.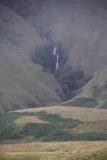 The winds were definitely blowing pretty hard at this time and the skies were threatening to dump more rain once again. But I never needed a rain poncho or jumper the whole time. When I got to what seemed to be a car park, I once again got a few more distant views of Cautley Spout fronted by power lines, but then I continued on the trail past another fence I had to open-and-close, and then I was stopped suddently by a wide and deep ford.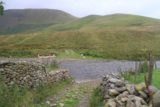 There was no way I was prepared to cross this, and with Julie and Tahia waiting back at the car, this was a strong hint to me that I shouldn't proceed any further. Perhaps under better conditions weatherwise, I might have given this a shot with more time. But at least now I could understand why Cautley Spout was not a popular walk despite it said to be England's tallest waterfall at 133m. I guess without obvious infrastructure like a car park with adequate signage and bridges, it would remain an excursion for those prepared and keen to go an adventure.
By about 6:05pm, I was back at the car. This "hike" ended up being shorter than I anticipated, and to be quite frank, I was a little relieved given the windiness and threat of bad weather. And with the daylight starting to fade to darkness, it was finally time to head to Kendal and check into our apartment.
We'd eventually get to the apartment at 6:45pm under some drizzling rain. Tahia was excited to see there was a playground here, and really wanted to do it, but it was dinner time, and the wet weather wasn't conducive to playing right now.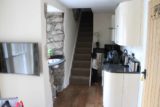 Once we got the keys to the apartment, we saw that it was kind of like a loft where the kitchen and living area was downstairs, while the bed and bathroom was upstairs under the slope of the roof.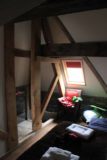 It was easy to bump our heads on some of the beams, but it had the kind of charm that Julie liked despite there being lots of stairs that posed a risk to Tahia as well as all the luggage I had to lug up these steps as well. Still, as impractical as that was, the charm overcame that. And we wouldn't mind one bit that we'd be spending the next four nights here.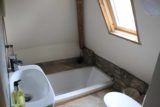 A little after 7:30pm, the restaurant at Romney's Apartments was too busy. So we were told to drive into town for a bite. We'd end up settling on a Little Thai Cafe in downtown Kendal (which looked surprisingly charming and pedestrian-friendly), and we were eating in this take-out place with a view of some pub called George and Dragon. It was entertaining to see some people dressed up in costume and just chatting it up over a smoke at its entrance. But other than that, we had a reasonably-priced Thai meal that reminded Julie of Thai food that we might find back home in LA.
Eventually at almost 9pm, we were back at the apartment. Finally able to call it a day. But with the foul weather persisting in the forecast, I was still thinking hard about which excursions we should be doing next. But that was why we were allocating so many days here as I tried to build in flexibility in case of bad weather, and in the Lakes District, it was said to be the rainiest part of England…
Day 5: WHEN TWO WORLDS COLLIDE
I awoke to a 6am alarm. Knowing that Julie had slept late last night, I knew she was in no mood to wake up and start the day this early. And since I had slept a little past 1am, I knew that five hours of sleep wouldn't cut it for Julie (and she slept later than me so it's even less time)! The whole reason why I decided to go for an early morning wakeup was that I decided that today would be the day to do the Gaping Gill. It was basically a cave containing a very tall waterfall, and it required a bit of a hike just to get to the mouth of the hole we needed to enter. Then once at the hole, it would require descending into it by a winch, which was a chair fastened to steel cables and powered by diesel engine to raise and lower the chair.
I was going to seize the moment knowing that I didn't want to procrastinate on this must-do activity that was the very reason why I timed our trip for mid-August through mid-September instead of in September exclusively or even in May exclusively. Because this was only done twice a year for roughly a week or so at a time, and we happened to be right at their August Bank Holiday winch, which was ran by the Craven Pothole Club.
Outside, I could hear rain hitting the roof and the windows. The winds were also blowing pretty hard. The thought did cross my mind that I could very well do the 2.5-mile hike from the town of Clapham all the way to the hole of the Gaping Gill, only to find out that the winch would be cancelled due to bad weather. But another thought was also that if I was going to be wet anyways from being winched down into the cavern containing a waterfall with possibly the tallest uninterrupted drop in all of England, why can't I be a little wet from the hike to get me to the winch meet?
Indeed, it was times like these that the doubt in my mind was also what made adventures like this all the more memorable and rewarding. And so it was that I was going to stubbornly press on despite the forecasts for the wind and rain.
So at 6:25am, I took off. I knew that the first descent of the winch meet would be at 8am so it was highly unlikely that I would be there for the first winch.
So I drove out of Kendal, and made a beeline for the town of Clapham. The rain I was experiencing near Kendal wasn't encouraging as I drove east, but as I passed through the towns of Cowans Bridge and Ingleton among others, I finally entered the town of Clapham.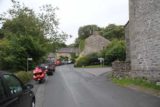 Eventually at 7am, I would park the car where I saw a lot of cars already parked along the street leading to the National Park Centre. But I didn't park at the National Park Centre because I saw that there was a pay and display machine. Since I didn't have spare change with me (only enough bills to do the winch at 15 pounds), I was hoping that the street parking that I found would mean I wouldn't need to pay the pounds or be prone to penalty for not doing it.
I saw what appeared to be a few more people hastily making their way on the trail as well. I'm sure I'd be seeing them again at the Gaping Gill, but first thing's first. I was going to eat a hasty breakfast of cherries and an apple that I had brought, while also trying to awkwardly take photos as I was doing all this just to document the excursion.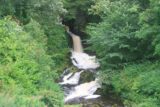 So they went ahead of me, as I was photographing a surprise waterfall in town called the Clapham Falls, which was quite close to the entrance to the Ingleton Estates where the public footpath continued.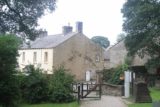 When I got past the pavement while walking the streets of Clapham to get here, I noticed that there was a machine again asking for payment for using this trail. Seriously?
They wanted 65p per adult for this, but once again I didn't have spare change on me so I just continued on up knowing that I wasn't going to go back into town and bogusly order something only to get spare change to feed this machine. Not when time is of the essence at this point.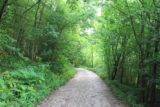 The trail immediately started going uphill, but it went into some wooded area that eventually flanked some manmade lake. It wasn't until about 7:45am that I made it past this wooded area and over a stile just beyond the entrance and cafe for the Ingleborough Caves.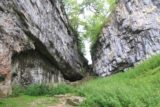 While sharing the path with some sheep, it was still climbing beyond the stile as I was sharing the trail with sheep. And when I crossed over another stile to leave this farm I was passing through, that was when I found myself steeply climbing up before I encountered a mini-chasm closing in on the footpath before the converging cliffs pinched into a steep climb above these very cliffs.
Beyond this section, the trail then continued ascending on a very rocky and uneven surface as the strong winds kind of created somewhat of a welcome relief for me as I was now entering the moors. Despite the cold weather, I was hot from the lack of wind up to this point, but the winds blowing over the exposed moors helped to temper all this built up body heat. It was at this point that I could see the dark clouds quickly zooming by but not producing much rain for now. I would ultimately make it to yet another stile but accompanied by a sign saying that the Gaping Gill was only another quarter-mile away.
Along the way, I saw the sun starting to peek through some of these clouds, and I swore it was the first sun that I saw on this day. Anyways, the winds continued blowing pretty hard, but by about 8:25am, I finally made it to the Gaping Gill, which was surrounded by fencings to keep people from being tempted to go closer and fall into the Gaping Gill opening itself. There were also lots of tents around this area so apparently this Craven Pothole Club pretty much owned these tents out here to set up and run their operation.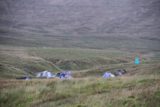 I was told that I still had another 30 minutes (though I thought I had heard one hour and thirty minutes) so I spent that time chatting with some of the fellow visitors as well as a couple of our tour guides about random topics. There might have been roughly two dozen or so people here already in which half seemed to be staff and the other half seemed to be visitors (I was the only American as the rest seemed to be from around the Yorkshire Dales).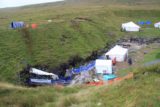 So I went into the main tent and paid my 15 pounds while also signing a card that literally meant that if something were to happen to me, "it's not our fault", said one of the employees. Then I spent another pound for a clear plastic rain poncho just in case my own poncho was starting to fail at its waterproofing due to its age (probably at least 10 years old now).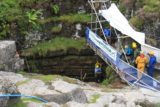 While talking with one of the guys who ran this operation originally, I learned that all this equipment being sent up here came at a price. Plus, the machinery was said to last for just enough days (10 days I believe) with so many visitors each day that they'd have to discard a lot of the infrastructure that was here simply due to the equipment being unable to last beyond this temporary operation. So I could see how expensive having all this stuff could be.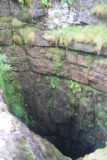 Actually, I learned that doing this winch meet didn't make much money (about 1.5 pound per visitor), and that it was really more to bring more attention to caving in Britain, especially since most caving news tended to be from rescues or fatalities so there was a real image problem to the sport.
Upon learning that I was into waterfalls, one of the employees was telling me how his father (or grandfasther?) once helped to build the Livingstone Memorial Bridge by Victoria Falls back when Zimbabwe was still called Rhodesia.
I had been asked on several occasions by others whether I was into caving. I told them that I was more into waterfalls than caving and it was the waterfalls within the Gaping Gill that lured me to this place. Indeed, it really felt like this excursion was where two worlds would collide. One world came from caving as a passion. The other world was where we were at as it concerned waterfalling. So I'm sure waterfallers would be paying more attention to this cave activity, and perhaps cavers might be more open to waterfalls given this attraction had at them.
Part of me wondered about the intervention needed to even enable touring a waterfall cave like this. After all, they had to divert one of the waterfalls so there wouldn't be too much water going into the hole entrance. Then, they had to put in LED lighting inside the cave or else the place would be pitch black. I instantly thought of Ruby Falls near Chattanooga, Tennessee, and recalled how totally commercialized that was. This one was much more humble as it was organized by cave enthusiasts. Either way, some intervention was needed. So while the ethics of all this could be debated, there was no denying the strong urge to get a taste of caving to witness one of Britain's most spectacular waterfalls.
At about 9am, my number showed up. Now, I descended the steps and queued up for the winch. One by one as each person soaking wet got winched back up and the next one in line got winched down, it was obvious it was going to be very wet and cold down there. Roughly another 15 minutes later, it was my turn to sit on the chair while clutching my tripod and making sure my camera was within the shelter of my two layers of waterproof ponchos.
Initially, the chair was slowly going down as I could see that the cave walls were very close. No wonder why they had to keep the winch speed low initially since the descent with vertical and the hole was narrowest at the top, but once the cave really opened up as I was getting sprayed by one of the waterfalls, the winch speed was much faster. And before I knew it, I was on the floor quickly being led to a waiting area for more people coming down the winch.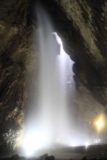 While my eyes were getting adjusted to the low light, I could see that there were actually three waterfalls plunging into the Gaping Gill Cave. The tallest one was the lightest flowing one but that was due to the stream diversion to even enable this excursion to be possible. Still, the scene was just too surreal to process. It was too bad that the waiting area was still within a zone with a lot of spray so I couldn't take any pictures during this meeting period.
And while all that was going on, it was starting to get a bit chilly since we were just standing around with mist getting on us. But eventually after another 5 more people were winched down, that was when we were led past the spray of the three waterfalls to an area opposite the larger part of the chamber. The guide noticed my DSLR and talked cameras with me. He was proud of his best caving photos and suggested composition and settings for me to use. It was a good thing because he reminded me to shoot RAW (though his suggestion came shortly after my first series of photos from the guides' recommended favorite spot).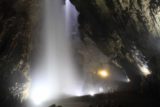 Even though he contended this first spot was the best spot, the falls did fill quite a bit of the frame. In any case, I needed all 30 seconds of exposure to even get a reasonable photo of the waterfalls and cave context. After about five minutes or so, we then walked across to the larger part of the chamber where I was able to look back and get a more contextual view of the waterfalls. So I spent the remainder of my time getting the tripod set up, and following up on the guide's suggestion of shooting in RAW so the photos could be blown up.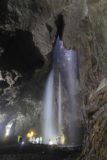 When I had my fill, I had to get closer to the mist and wait again for my turn to go back up. It was way too misty to take photos from this spot, but the view up the open part of the shaft was surreal. I wanted to at least take a movie, but I knew my camera wouldn't like all this water. Perhaps a GoPro was what was needed to capture the chaos of the scene. In any case, during my movie, it didn't take long before my DSLR lens was dominated by water droplets, and the movie was covered with hexagonal droplets when looking against the light from the opening.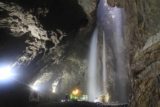 Eventually by about 10:30am, I was back up at the top at the end of my winch. My tripod bag was soaked and my Gore-tex hiking boots were dark with all the water, but otherwise, only the waterproofs had droplets as everything else was dry beneath the waterproofs.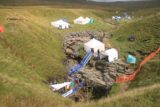 I noticed that the waiting number was now at 52 instead of 28 (which was my number). After making some small talk with people who were waiting now for 45 minutes or so, the sun was definitely out and I couldn't believe how if I started off believing the forecasts, this excursion wouldn't have happened. So the adventure was indeed a success on this morning.
Anyhow, I started off back towards the car. The weather went from sun breaking through some dark clouds to rainy then back to light drizzle. I was back at the car at 11:45am, and I could see at this time that all street parking was full. Even the National Park Centre car park was pretty full. So as mom would say, the early bird gets the worm!
At 12:30pm, I was finally return to Romney's Apartments where Julie and Tahia were still in the room. Along the way here, the weather seemed to have gotten progressively worse the further west I went. Also, there was quite a bit of traffic heading west on this day despite the weather. So the 16 miles or so to cover still took me 45 minutes. So there was no opportunity for Tahia to play in the playground, which she had been asking for the past two days.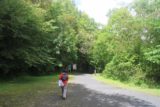 Regardless, Julie, Tahia, and I had a pretty decent lunch at the Romney's Restaurant downstairs, and then by 1:45pm, we finally headed out back towards Ingleton to do the Waterfalls Trail. It looked less likely that I might be able to fit in the Gordale Scar excursion given that we wouldn't even be starting the hike until probably 2:30pm. And at 2:25pm, we ultimately made it to the trailhead for Ingleton Waterfalls Trail.
The lady manning the car park was pretty insistent about collecting the fees from us, which was a steep 14 pounds for the three of us (even though Tahia was only 3 years old, she still costed an extra 2 pounds, which was a first on this trip). This was certainly one of the pricier excursions to do, and I'd even go so far to say that it bordered on being a rip off. But as we were finding out with much of the UK, there was lots of private land, and I guess each owner gets to impose what they think the market will bear.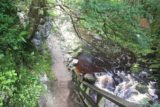 Since Tahia insisted on getting a ride, I would now do it with her on my back. Initially, our plan was to just go to the Thornton Force before coming back, so we parked all the way towards the start of the trail.
At first, the trail followed along the River Twiss. It had been running pretty high thanks to the rain so there was definitely a twinge of brown in the water. There was also a bit of mud on the track, but there were also enough stony sections to keep from getting stuck in the mud.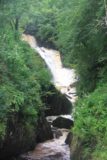 And at 3:20pm, we finally made it to the first Pecca Falls, which was viewable from the Pecca Bridge affording us a frontal view of it.
This one had a couple of powerful tiers, but we wondered whether this was an instance of too much water making the falls less attractive – kind of like the Herisson Waterfalls excursion that we did in the Jura Mountains of eastern France a couple of years ago.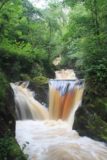 As we continued going up the steps (each one burning my legs thanks to carrying Tahia), we would see more waterfalls tumbling alongside the trail. And just a few minutes later, we would see the Pecca Twin Falls, which had a pair of falls side by side, and just above that was the Hollybush Spout, which was a short top tier. The in-between tiers beneath Pecca Twin and First Pecca didn't appear to have names.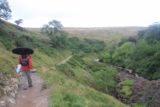 When we climbed higher above the Pecca Twin Falls, there were still more steps as we were ascending above the tree cover. So if it was raining (as it did in spots), we would no longer have the cover of the trees to absorb most of the rainfall.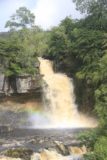 By this point, Tahia was complaining that she was getting cold. So she was busy asking for Mommy whenever she was momentarily ahead of us. It didn't dawn on me at the moment, but she was freezing because she wasn't moving as much as Julie and I, but the coolness of being around waterfalls might have been unbearable for little girl.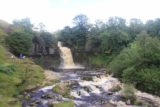 At 3:50pm, we finally swung around and was face to face with Thornton Force, which seemed to be the main waterfall of this Waterfalls Circuit. But the sign showed Thornton Force with lesser yet more attractive flow that what we had seen at this moment. And again, we thought less is more in this case.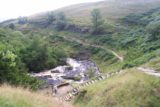 We debated whether to turn back at this point or whether to just finish the whole waterfall circuit. Returning now would mean the whole hike would be 3 miles return. But continuing on would mean the whole circuit would be 4.5 miles loop. So ultimately, we decided to just make the 14 pounds worthwhile and kept going up past Thornton Force. The route was relentlessly climbing but we happened to be at a spot in the weather where the rolling hills were glowing with the sun.
However, there were dark ominous clouds in sight headed our way so we eventually made our way up to what looked to be a local road where there was a refreshment truck. With Tahia really complaining at this point, I figured out that her ankles were exposed to the elements thanks to her low socks, and by holding onto them, I would at least keep that part warm.
At 4:20pm, we rewarded little girl with ice cream from that refreshment stand for being a trooper, but her pink umbrella was destroyed from the high winds (so we were pretty much exposed to the temporary squally horizontal rain that suddenly passed over us). So much for her playing with her little pink umbrella she wanted to have on her own.
Eventually after crossing through someone's farm buildings (made of stone, which made us realize that buildings in Europe were made of stone because they didn't have any more trees), we'd ultimately make it to a toilet facility at 4:45pm, which was surprisingly quite clean! I guess it had better be for the amount of money we had been paying to get here.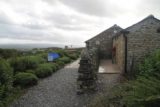 We also saw that there was a closed up office here, where signs said that if you hadn't paid to get on this hike, then please pay at this office. Anyhow, with the winds still howling here, we were eager to get into the cover of trees along the River Doe, which was the last river we were to follow on the way back to Ingleton and the car park.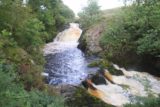 Both Julie and Tahia were walking rapidly ever since the refreshment stand to try to help Tahia warm up. But once we got into the tree cover by Beezley Falls at a little before 5pm, it was time to carry little girl again. Beezley Falls was a short pair of angled falls and it was made to look even shorter thanks to the brownish full spate flow from the rains.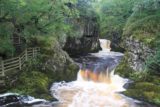 At about 5:10pm, we had gone past the pretty small Rival Falls and Triple Spout before getting down to the Baxenghyll Gorge, which itself had some attractive tiny falls within a narrow gorge spanned by a viewing bridge. And at 5:20pm, we thankfully made it to Snow Falls, which was the last one of the lot despite the trail being surprisingly up-and-down, which again was killer on my thighs with Tahia on my back.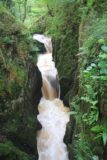 As we kept walking down the trail, Julie started to get a little annoyed with seeing even more signs urging walkers to pay for their visit. Boy did these folks really want to have their money off this trail!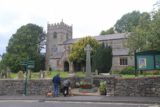 By 5:50pm, we made it back to the end of a road so now we were walking on pavement as we were descending further down into Ingleton Town. It was at this point that it dawned on us that perhaps this was why there were so many signs urging walkers to pay since perhaps locals of people who have found other ways to park elsewhere then walk here wouldn't be subject to their high admission fees.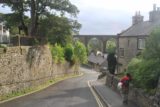 Eventually at 5:55pm, we found a co-op in town where Julie went to pick up some groceries so we could peruse the stove and range in the apartment and make some brekkie before going out on the road towards the Lakes District tomorrow. And at 6:15pm, we finally made it back to the car park. There was the lady manning the gate who was relieved to see us as I was sure she was anxious to call it a day.
By 7pm, we finally were back at Romney's. Again, the weather had gotten worse when we were in Kendal. And so we warmed ourselves up with some Indian food, which actually turned out to be pretty good in downtown Kendal. Everyone was pretty satisfied with their dinner including Tahia (despite the really slow service). And so by 8:55pm, we were finally done and returned to the apartment as we were pretty dead tired from the day's activities…
Day 6: LAKELAND FORCES
It was 8am when I awoke. Given how late both Julie and I had slept last night (definitely closer to 1am; probably 2am for Julie), I still wouldn't have counted this as sleeping in. In any case, we had some eggs and toast for brekkie as we utilized the kitchen facilities, but given all that, it wasn't until about 9:50am when we finally left the apartment.
It was a shame because the weather was partly cloudy or otherwise fine at this time of day. I knew that the rains would pick up later in the afternoon, and I'm sure we squandered an opportunity to enjoy a few more hours of relatively fine weather (as UK standards go). Nonetheless, we followed a caravan of cars from Kendal to Windermere, then took a narrow road leading towards Ullswater.
Along the narrow road, there were some surprise pullouts and a car park where it might have been possible to get a nice view of the lake by Windermere from a higher perspective. But given our late start, I passed on it. Though in hindsight, I kind of regret not doing it because it would turn out that we wouldn't have a decent view (let alone photograph) of any of the lakes we would encounter on this day.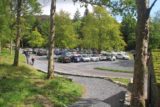 It wasn't until about 10:45am when we finally arrived at Aira Force. The car park here was very crowded. The pay and display machine also wanted 5 pounds here. Ouch!
Still, that didn't stop this place from being as busy as it was with many families out and about. Clearly, this was one place where the British go holidaymaking as this place was surprisingly bustling even though it was a weekday (in August though).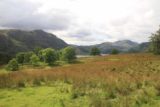 The hike up to Aira Force (I keep wanting to say air force for some reason) seemed to be pretty family friendly as it seemed almost every group or party had at least one or two kids or more. Tahia was walking with both Julie and I even though she really wanted me to carry her. Not wanting her to be used to the idea of me giving her a ride everywhere we went, both Julie and I held her hands instead to keep her engaged in other ways.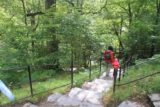 And even though it was busy and full of families on the trail, it was still uphill with quite a few rocky and rooty parts. Along the way, we saw there were some fake squirrels for little kids to spot as well as a small little lookout with a view of Ullswater in the distance (not the greatest view though given how partial it was).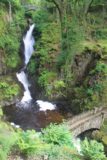 Eventually, we reached some stairs that led down to a viewpoint then the base of the multi-tiered Aira Force. The hike was said to be about a mile (not sure if that was round trip or one way). In any case, I saw there was a bridge at the top of the falls and I told Julie to meet me at the bottom while I went to scout the top.
But when I got to the top of the falls, I noticed that both Tahia and Julie went back up. So that forced my hand to backtrack towards our original split off place at the top of the first stairs to the base of the falls.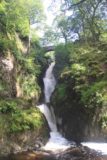 It turned out that Tahia had a nature call and there was no way she could accomplish that on the narrow trail and steps down to the base of the falls. But back at the top, it was possible to do this discretely. Anyways, I went ahead and proceeded down the same steps, and perhaps it was a fortunate set of circumstances that Tahia had to go because I saw that this path to the base of the falls yielded the better frontal views of Aira Force whereas the other stairs to complete the loop trail did not.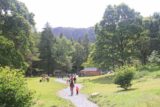 So after gladly taking the photos of this fairly impressive waterfall, Julie and Tahia caught up to me, and we all went down to the bottom where we took a few more photos against the misty base. After having our fill of this falls (seemed like we had to act fact before we would create a bit of a backup as other people wanted to get down here), we would complete the trail and be back at the car park at 11:55pm. By this time, the rain started to show up in earnest and that was pretty much the end of what we were hoping to be a somewhat fine day. So far on this trip, we still had yet to see a rain free day.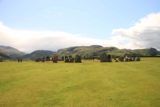 Next up, we drove towards the town of Keswick by another lake called Derwent Water. On the way there, we targeted visiting the Castlerigg Stone Circle, which we got to at about 12:25pm. The weather was already becoming a mixed bag of sun then squally rain. But when we got to the stone circle, it was sunny yet we did see dark and threatening clouds headed our way.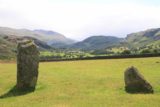 In that time, we took a few family photos, then tried to figure out how best to capture this stone circle in a meaningful way. There were plenty of fell backdrops surrounding the sheep pastures in which this stone circle was located. But there were also lots of people sticking around so we never were able to get a decent photo of selected stones with meaningful backdrop. And there was certainly no way it would be possible to get a comprehensive shot with all the people around.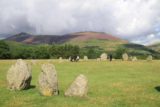 At 12:55pm, the dark clouds were just about over us and the rain started to come down. By that time, we were practically back at the car. About ten minutes later, we were then near the Keswick Town Centre where we managed to find parking in the main lot after making one loop. It was definitely crazy busy at this time despite the rain that was falling at the time.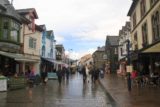 We paid a couple of pounds for one hour's worth of parking. So that pretty much limited our options of touring the town center to just a takeaway lunch and some limited walking around to get a flavor of the place. It was kind of hard to do with the rain falling as somewhat hard as it did, but such was the story of this trip so far.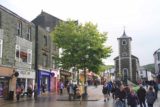 We ended up getting some pulled pork sandwich and a not-so-great steak sandwich from the Sandwich Shop in the town center itself. Not wanting to pay the extra pound and change per item to eat at one of their tables, we just took it away and sat on one of the wet benches strewn about the main area.
By about 2:10pm, we were back at the car and headed towards the Taylor Gill Force, which was another waterfall in the vicinity of Keswick that we targeted. However, the road heading south into Borrowdale Valley alongside Derwent Water was pretty narrow almost all the way there. It was hard to go above 40mph, especially when half the time the oncoming traffic tended to creep into my lane.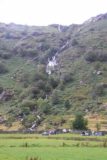 Eventually at 2:40pm, we made it to the road's end at the Seathwaite Farm where we could see the tall tumbling mountain cascade of Taylor Gill Force. Julie wasn't impressed with it saying it was "one of THOSE waterfalls" as mountain cascades weren't her thing. So she and Tahia stayed in the car (Tahia was napping anyways), and I went out alone to see if I could get a better look at the waterfall than roadside behind the tall fence here.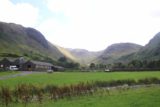 At first, I awkwardly went towards a campground past a sign that said "Not A Footpath". And it was from there that I probably took the best photos of Taylor Gill Force that I could attain (or at least the most contextual of them all). But the experience felt unsatisfying and after exploring this campground a bit more, I noticed that there was indeed a footpath that cut right through the farm between some stone walls; where the path ultimately led to a footbridge then up a path that appeared to go up to the top of the falls or something.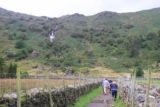 But it started to rain pretty hard again, so I had to retreat to the car to pick up my rain poncho, then I went into the Seathwaite Farm complex where I saw there was a gate going through a tunnel passing through a farm building and onto the path I saw earlier. There was another group of people looking to get closer to the falls, and they figured out that the gate could be opened (when I thought it was locked).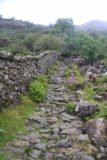 They sounded like they had an American accent.
In any case, I followed them onto the path leading up to the falls. They then paused at a couple of the footbridges right at the base of the falls, but the falls itself wasn't very photogenic from there. Still, there was time for some pause I managed to speak to the father and son of the family group, where I learned that they were from near St George, Utah. Apparently, the father has some business dealings in the UK, and the Lakes District was the last of his explorations of the country.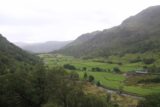 Anyways, the path deviated from the footbridges then crossed a stile before going up a stone path climbing alongside the cascade of Taylor Gill Force. The path got increasingly steeper the higher we went, and with the rain now coming down pretty hard, the stone path was also a bit slippery (and dangerous).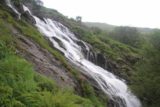 I would only go as high as a spot where I could get a sideways view of what appeared to be the main drop of Taylor Gill Force before gingerly heading back down on the slippery stones (almost reminding me of how slippery some of the boulders in the Virgin River of the Zion Narrows could be). And during the descent (and ascent) on the stone part, I was getting some very impressive views in both directions of the Borrowdale Valley. In fact, in one direction, I was looking at the very head of the valley which had a few thin temporary cascades along with some rounded fells. Meanwhile in the other direction, there was a hint of sun returning as well as lots of pastures being surrounded by more fells.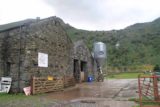 I'd argue that this waterfall excursion was more for the views than the waterfall itself.
By about 3:45pm, I was back at the car. Now, we had to drive back towards Keswick before driving south towards Ambleside for the last waterfall of the day – Stock Ghyll Force. However, making this drive wasn't smooth sailing as we had to go back through the narrow roads to return to Keswick (especially slow since we were behind a caravan of cars or at least one camper), then there was an even larger caravan of cars heading south between Keswick to Ambleside.
When we got to Ambleside, there was quite a bit of a traffic jam in town. It felt like the longest two miles as cars were slowly in single file trying to get through the town. Eventually, we would get into the town, but we noticed a subtle "Waterfalls this Way" sign that suggested we go onto a narrow one-way road between buildings.
They seemed to be more footpath than public road, and I actually missed the turn I was supposed to take. And I might have gone the wrong way on the next turn. But in any case, I then proceeded up the steep road where we were passing walkers headed to the waterfall we knew was there. And we kept going up the road to its end where the GPS said we were right at the falls. However, we could see that there were no places to park the car.
So we went back down, then we saw parking spaces on the road for "Disc Parking" which the American from St George Utah told me about at Taylor Gill Force. He said we could have picked up such permits from a shop in town, then park close to the falls. But I figured by now that we mind as well do as what most people would or should do, and go back to the main car park before walking up to the falls, then having a dinner in town.
And so by about 5pm, we had finally found parking in the main car park after returning to the main part of the town, then backtracking to the car park that we had missed while we were searching for Stock Ghyll Force. And after paying to display 4 pounds paid for 3 hours (right up till they stopped enforcing the parking at 8pm), Julie noticed an outfitters where she bought Tahia a replacement umbrella as well as some wool socks that should help with her slightly oversized rain boots.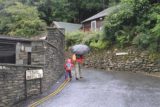 During this shopping excursion, the rain was coming down pretty hard. So I had to secure a rain poncho to try to keep myself and my camera (among other things) dry during this downpour. And with Tahia all decked out in waterproof gear, we proceeded to walk through town and into that one-way alleyway next to the Market Hall Center before walking up the familiar road we had just driven.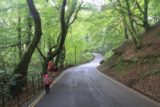 Even with the heavy tree cover above us, the rain was coming down hard enough to still get us wet. And by 5:45pm, we finally would make it to the official start of the trail as we left the pavement and entered the dirt and stone path. Under such wet conditions, I should have worn my waterproof pants in hindsight, but I didn't think the rain would be this bad at this time of day. Guess I was wrong, and I was already feeling that my shin and possibly my wallet was starting to get wet despite my rain poncho being on.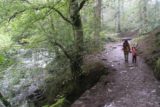 Still, Tahia was walking the entire time while carrying her own umbrella. I was holding her hand to make sure she wouldn't slip and fall on the stones and roots on the trail. But by 6pm, we would finally get to the Stock Ghyll Force viewing area, and both Julie and I were quite proud of Tahia for making it up here.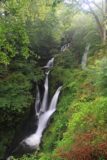 As we were taking photos of the falls, another group of folks showed up and took the upper viewing area. Julie opted for this informal lower viewing area just a few paces from them because it seemed to reveal more of the falls without obstructions. We would eventually have our fill of this spot down here, then I went up to join the group to see what this view was like.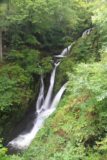 Julie was right about the obstructions, but at least there weren't branches or leaves coming into the frame from the top.
By now, the rain had subsided again. We followed a sign saying it led to some revolving gate. And sure enough it was but a few paces before we passed through the gate, then got onto the pavement, where it took us back to the familiar end-of-the-road that we turned the car around at earlier.
I'm sure if we really wanted to, we could have cheated and parked illegally up here very briefly (maybe with someone in the car watching), then quickly get down to the view of the falls before returning.
Nonetheless, we would walk down the road then eventually get back into the town center of Ambleside. Julie spotted a Tesco, and that was where she picked up some peanut butter for the bread that we had bought a few days earlier. She also noticed in this so-called "Keep Way" a place called Sheila's Cottage, which seemed to be a decent place to eat. Actually, I pointed out to Julie that they served Sticky Toffee Pudding dessert, and that pretty much sealed the deal for us to come here at 6:45pm and chill out for the rest of the evening in town.
We ended up splurging (or spending Houston's-like prices given the currency exchange rates with the US dollar) having a local Cumbrian Rib-eye Steak along with Cumberland Sausage as the mains. But the sticky toffee pudding dessert with two scoops of ice cream (they didn't serve them together) were the indulgences that we were looking for while in the UK that we had looked forward to. Finally, after all this time, we got to say that we had the sticky date or sticky toffee pudding dessert in the place they invented it (supposedly in Northern England, which was where we were at).
So with the dinner out of the way, we walked back through the now-quiet center of Ambleside before returning to the car at 8:30pm. And with a much smoother drive back to Kendal, we would get back to our apartment at 8:55pm. With this night and one more night in this apartment, I decided that tomorrow, I would do the Gordale Scar excursion myself wit Julie and Tahia back at the apartment, and then we'd try to hit Windermere for lunch before returning to Kendal for the rest of the late afternoon and evening. We'll see how it all goes though given the unpredictable weather and traffic as well as other unforeseen delays I'm sure that might come about…
Day 7: THE FIRST RAIN FREE DAY OF THE TRIP
It was about 5:55am when I awoke. I noticed when I looked out the window that the sun still had not breached the horizon. And by 6:15am, I left the apartment with Julie and Tahia sleeping in on this day. I noticed that the weather was partly cloudy but there were a lot of blue skies. I hoped that Tahia and Julie wouldn't squander this opportunity of good weather by not spending all of their time in the apartment.
Given that I had regrets of not taking some lake shots on the narrow road between Windermere and Ullswater, I decided to go back there real quick to try to capture that shot. I'd eventually get there some time around 6:45am, but the view wasn't as good as I had thought. So I took my shots, then hastily headed back east towards the village of Malham and the Gordale Scar.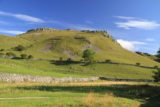 It wasn't until about 8:10am when I would finally arrive at a limited parking area near Janet's Foss. The "parking" appeared to be unofficial, and there seemed to be a slightly more accommodating spot for cars except a cone was put there saying it was reserved for Malham Refreshments. Even then, just having this space was saying something because it seemed like most of the roads around Malham were single track. So that made for some interesting driving since the single track roads were supporting bi-directional traffic.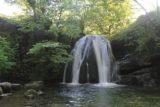 As I got out of the car, I could see right away that the skies were blue and the colors of the fell against the deep blue sky was attractive. Still, I came here to hunt waterfalls, and the first thing I did was to walk through the gate near the signpost for Janet's Foss. Barely a few more minutes later, I found myself in a shelter area where I gladly took photos of the diminutive but attractive waterfall. There was even what appeared to be a cave across the plunge pool from the trail.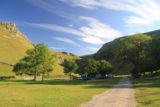 After having my fill of this waterfall (good thing the trees were there to block the sun from shining right in my eyes), I went back towards the car, then saw that a footpath near my parked car was signposted to go to the Malham Cove in about a mile. But then, I saw a camping area in the distance further down the road, and so I pursued that area in the hopes that this would take me to the Gordale Scar.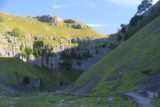 Upon getting right at the entrance of the camping area, I crossed a gate then passed through the camping area before continuing on a short trail that headed right towards there the really tall cliffs were converging up ahead. Even though the morning was creating half-shadows (so the photos wouldn't be the most optimal), I was eagerly proceeded forward as I could see the Gordale Scar was going to be impressive indeed.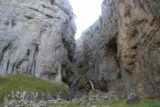 The trail eventually rounded a corner, and that was when I was face-to-face with the waterfalls of the Gordale Scar, which sat right at the base of the impressive gorge head while being flanked by very tall cliffs. So I took my time taking lots of photos and movies of the scene. As I got closer to the waterfalls, I then found out that the falls had an upper tier that was mostly hidden from view until I got close to the right side of the scar walls.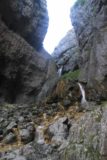 That was when I could see the upper waterfall was apparently falling through a pothole right above it. That would make this one of those rare natural bridge or natural arch waterfalls, but when I inspected my pictures more carefully, it didn't seem to be the case that there was a pothole up there.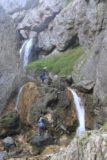 After spending nearly 20 minutes in this divine spot, a group of boys showed up, and they immediately headed right up the lower waterfalls. Although the climb looked doable, I wasn't going to take unnecessary risks, especially when I wasn't expecting to do the entire loop hike.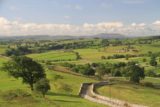 So by about 8:55am, I had left the Gordale Scar and returned to the car twenty minutes later. However, I thought I had some time to spare so I decided to pursue the Malham Cove, which was only a mile away from this spot. I thought, what the heck? Why not?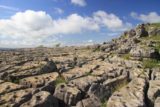 And so I was immediately ascending a mostly grassy trail going in and out of paddocks and stiles and onto the public footpath. It wasn't until around 9:50am when I would finally arrive at the Malham Cove. What was seemingly unusual about this attraction was the cracked white rock formations above the vertical drop of the cove itself. I could also see the sheer vertical walls making up the cove itself with what appeared to be one part of the wall that was stained with the former flow of water.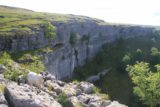 I somehow thought that the sign by my car said this was the way to the Malham Tarn. However, I ended up returning back the way I came when it was clear to me that seeing the tarn itself would require a much longer time and energy commitment that I couldn't commit to with Julie and Tahia back at the room.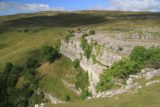 The whole trail was uphill on the way to the cove. The trail was pretty easy to follow except I spent some effort to try to avoid stepping on sheep dung, which were strewn about everywhere. I also crossed a handful of stiles and even crossed one of the single lane roads flanked by stone walls.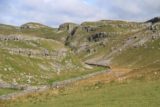 At about 9:50am, I finally made it up to the top of Malham Cove, which afforded me panoramic views towards pastures and the village of Malham itself. I definitely tried to stay as far back from the cliffs as possible so I wouldn't become another death statistic.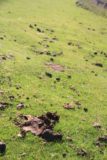 Still, I hastily made my way back to the car at 10:25am. I did what I could to ensure there wouldn't be residual sheep dung on my clothing or my equipment. For some reason I had misinterpreted the trailhead sign for Malham Tarn instead of Malham Cove. But in any case, I saw the cove, and the tarn was too far away.
So I fought some congestion on the way back to the Romney Apartments. But I'd ultimately get back there by 12pm. I probably went on an unnecessary 15-minute detour, but I wanted to make sure that I was driving more of the main roads instead of the really narrow single-track roads that I took to get to Malham in the first place.
And with the Gordale Scar excursion out of the way, we had the rest of the afternoon to do whatever. Eventually, Julie decided that we should do Sizergh Castle, then Kendal Castle, and finally check out the town of Windermere time permitting.
Once again, we decided to lunch at Romney's Apartments. For some reason, we didn't know until this meal that Romney's served sticky toffee pudding with ice cream scoops. Having learned that sticky toffee pudding originated in the Lakes District of England, we had to get our fix again knowing that we may never have it again for the next several years (or at least until we go to a Commonwealth country that would have them).
Anyways, we had the same pub food deal that we had yesterday except this time, Julie and I each got a whole helping of beef stew in Yorkshire Pudding while Tahia got her Chicken Goujoun. Then we had the sticky toffee dessert. And while we were waiting for the food to arrive, Tahia finally got to play in the slide area now that the weather was fine.
At about 1:50pm, we would finally leave the Rommey Apartments and head towards Sizergh Castle. At about 2pm, we got there, and we were quite surprised to see that even a place as obscure as this was busy! Still, this excursion was really a house tour through a lot of posh possessions and chambers, and by about 3:10pm, we were back at the car. But that wasn't before we checked out the garden area and got a few shots of the castle (or state home) itself being reflected in the pond.
After having our fill of Sizergh Castle, we had a different castle experience at Kendal Castle, which we got to at around 3:30pm. There was a bit of a traffic jam in the town centre of Kendal, which was not made any easier with Tahia acting really fussy at this time, but eventually, we'd get to a car park for the Snowsports Club though we really weren't sure if we were supposed to park here for the short hike up to the top of the hill where the Kendal Castle ruins were located.
The path seemed to have a bit of poison ivy overgrowth plus it was all uphill with a few muddy patches. All those things conspired to make the walk surprisingly trickier than I had originally thought.
Nonetheless, the ruined castle actually had a bit of an atmospheric feel as sometimes the well-kept and manicured attractions of re-created castles made the improvements seem contrived. But in the case of Kendal Castle, we really felt like we were witnessing the real deal. Plus, it was even better in that it was free.
At 4:10pm, we had our fill of the Kendal Castle and returned to the car.
Next, we drove straight to Windermere. This was the last of the main Lakes District towns, and we figured we mind as well try the hike up to Orrest Head, and then head back down into town for a final dinner in the Lakes area.
We eventually got to the Windermere Visitor Centre at 4:55pm, where we decided to park the car. With a little help from the worker there, Julie get a map of the town, which we would need after the hike up to Orrest Head, which was the first target site.
After getting past the busy traffic of the A591, we climbed relentlessly up to the Orrest's Head. This exercise was made even tougher by Tahia napping in the child carrier that I was carrying. So my thighs were burning with the amount of reps they had to do to get up each step of the trail. But eventually by about 5:30pm, we would make it up to the top of Orrest Head where sure enough we got expansive views of all of the lake by Windermere. However, we also got fully 360 degree panoramas where we could see out in the distance that some spots were still getting squally showers. But at least none of those were hitting us on this day, making this the first rain-free day of this trip.
Even this late in the afternoon, there were quite a few people sharing this place with us. Tahia even awoke from her nap though we wouldn't put her down as she insisted that she stay in the carrier. So when we had our fill of the viewpoint, we headed back into town looking for a place for dinner.
After making our rounds of this fairly small town (but bigger than most of the other towns we had seen in the Lakes District), we liked the menu at Francine's and tried to eat over there. However, upon learning that Francine's was fully booked until 8:30pm, we settled at this place called Ellerays, which was pretty much a pub. We got some locally made pub food, which turned out to be not so good, but at least we had one last go at sticky toffee pudding (though that too wasn't anywhere as good as Romney's or that place in Ambleside that we dined at yesterday evening).
By about 7:55pm, we were back at the car. And by 8:25pm, we had returned to the apartment for our last night here. Tomorrow we would head to the borderlands and then into Scotland. Hopefully the good weather that we were due today would bring good tidings for the Scotland part of the trip…
Visitor Comments:
Got something you'd like to share or say to keep the conversation going? Feel free to leave a comment below...
No users have replied to the content on this page