Day 48 (July 30, 2019 – Visby, Sweden): "I Love Visby"
It was about 4:25am when I awoke to my alarm. I also heard sounds of the ferry docking and unloading cargo as well as letting vehicles go free.
Julie and Tahia got up some time after 5am, and that was when the hectic rush to get to breakfast by 6am started so that we could walk across the street to get to the ferry terminal at least an hour before departure time at 7:55am.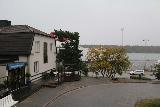 So we did that, got to the fairly decent breakfast (considering we were at a pretty basic accommodation) by 6am as desired, and then we checked out and got our stuff to the car by about 6:35am.
The issue now was that it was raining when we were lugging stuff to the car. I could have sworn that the forecast called for mostly cloudy skies, but I guess you never really know if the thick clouds would produce rain or not.
And in this case, it did. So Julie's luggage (the one that we consolidated our stuff into to pack light) was a bit wet.
Anyways, we then put the rest of the stuff we thought we wouldn't need into the car.
Then, we promptly rushed our way into the ferry terminal to both avoid the rain and to ensure that we would be on the ferry without issue.
It was pretty much like the airport check-in procedure as we had to check in the larger luggage while we hand-carried the rest of the stuff. I also stuffed extra clothes and my laptop into my day pack, while we hand-carried the breakables and insulated grocery bag along with Julie's little pack full of meds and Tahia's pack.
By about 6:50am, we were waiting to board the ferry, which became gradually busier the closer it got to the departure time.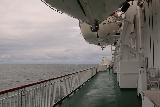 We ultimately got onto the ferry and our assigned seats, which was a bit tighter than most of the airplanes we've been on (well, mostly the US carriers, which was saying something), and then the boat promptly took off.
During this time, I was intending to do some blogging and choosing photos, but it turned out that all of us dozed off during the three-hour journey. So I didn't really get anything done, but I guess our bodies collectively needed to sleep as well.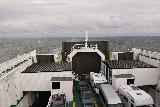 By about 10:55am, after some announcement that the car deck was available and that they were landing in about 10 minutes more, everyone queued up and we followed along.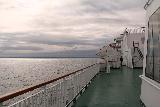 As people were going into the car deck, I was wondering whether I should have brought the car onto Gotland Island because I kept seeing pictures of picturesque sea stacks and a natural arch at sunset. But I knew that we would only be able to go there with a car.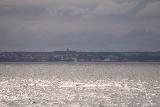 And since we were only spending two nights in Visby, I wasn't sure if it would be too rushed to try to pull that off and still adequately experience the medieval town of Visby.
So in the end, I knew it was a hard decision to make, but I sure hoped that I made the right one.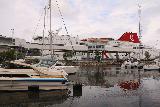 I still held out hope that maybe we might be able to rent a car last minute while on Gotland Island, but we'd have to play that by ear whether it was still economical to still salvage a car on Gotland as opposed to eating the extra $100 USD to bring the car onto the ferry.
Once people started to disembark from the ferry, we were walking through corridors in much the same way that we'd be doing when we'd be leaving an airplane. Heck, we even got to a baggage claim area so we could claim our lone checked baggage.
Then, when we recovered that, we went on a bit of a walk along the docks to get towards the town of Visby. We were already able to see some of the attractive buildings from the cruise ship, but we were now approaching them with luggages in tow.
We eventually got to a Tourist Information Kontor at 11:35am. Unlike other parts of our trip where we had our Rick Steves Scandinavia guide to help us decide what to do and how to go about exploring cities or towns, for some reason, our book didn't have Visby even though we saw him cover it on a DVD borrowed from the library.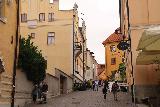 So we actually relied on the information provided by a clerk at the TI center, who gave Julie a map marked with the suggested walking route. He also helped us do a stored luggage service for 40 SEK, which we went ahead and did since we didn't know if we'd have a place to put them had we taken it up to the apartment that we were staying at.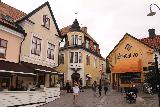 Once we dropped off the luggages, we then went up to a lunch spot, where Julie wanted to eat at this place called the Strykjarnet Creperie and Logi.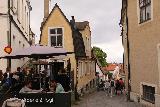 There was a bit of a queue to get seated and to eat. So Julie did a little scoping out of other restaurants as well as looked for our apartment in the mean time.
She eventually found the apartment, and so we got out of the long line for the creperie and went to the apartment hoping that we could at least get the keys early rather than later.
It turned out that there was one key in the locker, but it didn't seem to be ours. There was one cleaning lady who showed up with keys and asked if we needed one. It turned out that she did have the keys to our apartment, and thus we were allowed to check in as it was around 12:15pm at the time.
So in hindsight, it turned out that we didn't need to spend 40 SEK to do luggage storage, but regardless, we at least dropped off some of the extra stuff we didn't need to lug around that we didn't do luggage storage for (like my laptop, my extra clothing, and some other nick nacks).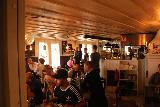 Then, we went back to the creperie where the line was slightly shorter than when we first showed up. And after perhaps another 20-30 minutes more, we then were finally seated at around 12:50pm.
Inside the creperie, it was a charming little place as if we were eating inside someone's house. Of course, it was a bustling restaurant as it seemed to be the most popular joint in town.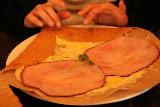 We wound up ordering a galette madame (which had an assortment of seafood prepared with cream sauces) and Julie got some kind of crayfish galette except it too had cream in it so she couldn't really have it.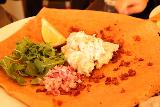 Tahia got a ham, cheese, and egg galette. Plus, we got a Normandie Apple Cider glass though this Cidre Deux bottle was so good that I wanted to have another one (though Julie talked me out of it).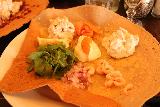 Since Julie couldn't really eat her galette with the cream-smothered crayfish, she had to order another galette with chicken. So it was kind of like over-ordering, but I knew that she had some hard luck when it came to foodie experiences (like when she anticipated but couldn't have GF Belgian Waffles in Copenhagen).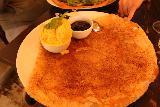 So while Tahia and I got a dessert crepe of saffron with some kind of cinnamon and brown suger inside it (they wouldn't do flambee since Tahia wasn't old enough for rum), Julie got her chicken galette though I'd still have to eat what she couldn't finish (so I was also due for overeating as well).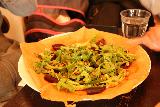 In the end, we paid just under 900 SEK, which was close to a $100 USD meal, but I swore that if we ordered this kind of quantity in either Denmark or Norway, we'd have paid up through the nose. So this further reinforced in my mind that Sweden was actually a bit of a bargain compared to the other Scandinavian countries.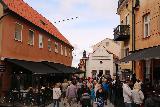 By about 2:05pm, we were done eating and headed back down to the Tourist Information Center so we could pick up our luggages and bring them back up to our apartment.
We ultimately accomplished that at around 2:35pm, which was quite a workout as we had to walk a bit uphill just to return to the apartment, and then we had to go up three or four flights of stairs.
It was a good thing that we minimized the amount of luggages to bring along as a result.
Only after we got our stuff back up to our apartment did we return to the Tourist Information Center to finally start our suggested walking tour of Old Visby.
We began by walking the Strandgatan towards some archway that took us towards the Tage Cervins gata. We saw some kind of Burmeister House, which was closed when we showed up.
We then walked across the Almedalen Park, which was busy with families letting kids play in a jungle gym there, but we also caught a look across the park and its fountain towards some church spires way in the distance.
Next, we walked along the Fiskarporten, which was just outside the medieval walls of Old Visby. There, we saw what appeared to be a sea wall (if there was a beach there before, it would have been long since gone due to the sea wall not letting new sand in).
Then we went back inside the walls and walked along the the Studentallen and city walls while noticing one particular alleyway that was lined with roses and a view of the same dark church spires we had seen earlier on.
This alleyway was probably cuter than the Mollerstien that we saw in Copenhagen a few days ago. That said, lingering around here was probably bordering on intrusion of privacy for the residents who still live along this alleyway.
It wasn't easy to get people shots because Tahia tried to ruin them, but people also tended to get in the way since it was a narrow alley strip that was very compelling for anyone to want to come in and linger around.
So once we had our fill of this spot, we then continued walking north along the city walls into the Botaniska tradgarden, which was a cute little botanical garden with an impressive display of an assortment of flora as well as ducks and a pagoda as well as a diamond-shaped floral arrangement in the center of the park.
We then continued north along the city walls towards an opening in the corner where we then examined the city walls from the outside.
We managed to swing around to the Snackgardsporten, where we got in and climbed up some wooden walkways to get a look from higher up one of the few towers that we got to interact with.
This experience kind of reminded me of our Bacharach experience in the Rhine part of Germany last year.
After having our fill of the tower, we then went back outside the walls and headed east getting a look at the other towers and some of the wall breaches.
Right around this time, the weather seemed to be changing from mostly cloudy to the sun starting to break through.
Unfortunately, we were looking against the sun towards this side of the wall, and we eventually returned into the Old Visby town via the Norderport.
From there, we walked along the Odalgatan towards the St Nicolai Church, which was one of the oldest ones around as it was said to be built by Domenicans in around 1200 AD, I think.
We couldn't go inside this particular churh ruins because there was some kind of function being set up.
Next, we swung around the church and walked the St Nikolaigatan towards the St Clemens church ruins. Inside that church, we did get to go inside and take a few photos. Apparently, this one was typically only open in the mornings, but there must have been a function or event that allowed this place to stay open.
After having our fill of the St Clemens Church, we then walked towards the churches of St Drottens as well as St Lars.
The St Drottens was another ruin that we could go into to take pictures but little else.
However, the St Lars ruins was more impressive, and it appeared that they let you go up some narrow steps onto a second level, where we were then able to walk around half the entire church and get more elevated views towards the center.
I don't know how many other church ruins that let you do that, so that was a pretty cool experience.
After having our fill of the St Lars Church, we then walked towards the Stora Torget, which I knew must have meant the Big (or Great) Square.
And indeed, this square was happening as there were tent stalls dominating one side of the fairly sizable square. It was also surrounded by cafes and a grocery store that we knew we were going to pay a visit to so we could self cook and save a little money later on.
There was also the ruins of the Santa Katarina Church, which was closed because there were some kind of singing rehearsals going on.
While the lighting wasn't the greatest for taking pictures across the square towards the church, it was pretty nice for looking in the other direction towards the dark towers that apparently belonged to the Domkyrkan Santa Maria.
So we then walked towards that church, where we then spent some time inside its fairly open interior. Where most of the other churches charged for admission and didn't allow photos, this particular one was pretty lax about that stuff.
Thus, we lingered for a bit before we then went up some steps towards an overlook at the Kyrkberget. There, we got decent light towards the church, but we were pretty much looking against the sun across the rest of Old Visby. Clearly, it was a better view in the morning, and I'm sure we could get there when we start touring tomorrow.
It was clear that there was no way we'd finish the suggested walk today as it was getting late in the afternoon at this time. We only managed to do about half of it so the rest of the walking tour would have to be finished tomorrow.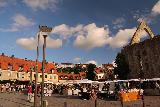 The suggested walking tour was pretty spot on and atmospheric, and we were hoping to get similar results on the walk tomorrow.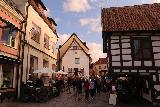 That pretty much sealed the deal in terms of justifying my choice of not bringing the car because this would have been way too rushed to try to pull that off without a third night on Gotland.
Anyways, once we were done with the sightseeing, we then headed back down to the Stora Torget where we then went into the ICA for a grocery run at about 6:05pm.
We ended up buying quite a bit of stuff for tonight and tomorrow's breakfast, but we'd probably have to come back for a second dinner unless we change our minds and eat out again.
We even indulged in buying some local Gotland-produced organic ice creams as well as apple cider fermented from locally-produced apples (wondering how much different that would be compared to the Normandie-produced ciders from France).
Once all was said and done, we finally made it up to the apartment at 7:05pm. And thus we could finally carry on as if we were temporary locals in Old Visby (as we had been doing throughout the trip).
With the trip winding down, we were intending to take it easy for the rest of the night, but Tahia then remembered that we had promised to take her to a playground while Mommy was cooking.
And that time was now.
So I ended up going back downstairs with her at around 8:35pm and we headed straight down towards the Almedalen playground.
Along the way, I could see that the sun was about to set. So while Tahia was euphoric about playing on the slides and the swings, I snuck over to the sea wall area to try to photograph the sunset.
There weren't any nearby objects that I could use as subjects with the sunset so I'm sure my shots were just miscellaneous shots with a setting sun.
However, after the sun had set some time after 9pm, it was the magic of the purple skies that occurred during the magic hour afterwards.
So when it came time to come back to the apartment as we had to eat dinner and keep it from getting too cold, we had an opportunity to capture some of the magical twilight amidst the Old Visby town.
It started with having Tahia pose in front of the attractive #ILoveVisby sign fronting the tourist information center backed by an ivy-covered building.
It continued with more twilight alleyways as we went up the slopes back up towards the action near our apartment.
In the end, we had returned to the apartment at about 9:20pm. I wished I had another half-hour or so of trying to find other photographic spots that presented themselves in the magical twilight hour, but alas, it was family time around the dinner table.
I'd imagine we'd be having similar low key evenings for the remainder of this trip as we were looking forward to returning to the creature comforts and familiarity of home.
Of course, I'm not looking forward to the bills and the work that face me upon our return. I guess you can't have it both ways in life.
There's always something to bum about, but at least we'd gotten this trip packed with invaluable moments that I'm sure we'll still be experiencing as we try to savor what's left of this trip…
Visitor Comments:
No users have replied to the content on this page