Day 49 (July 31, 2019 – Visby, Sweden): "Head Fakes"
It was about 7am when I awoke as I had totally allowed myself to sleep in. I had thought about how this was going to be a very light touring day of the rest of Visby, which wasn't a big city (or at least the old city wasn't big).
So I took a lot of time picking photos (I was still behind by almost two weeks), and then Julie eventually woke up to prepare a full breakfast.
There were blue skies when I looked out the window throughout the morning, but when we finally headed out at 10:30am, it seemed like there were plenty of clouds surrounding the town.
We had come out of the apartment thinking we would finally have a day of shorts and T-shirt, but alas, it was windy and a bit nippy.
I didn't bring my jacket so I was busy trying to stay in the sun as we were walking towards the overlook above the St Maria's Church.
We ultimately got there and managed to take pictures with the sun behind us towards Old Visby and the waterfront. We also took pictures of the St Maria Church once again with favorable morning light as well.
Once we had our fill of this utsikt, we then returned to the apartment so we could get a jumper and put on long pants.
After doing that, we then headed back to the Stora Torget, where we went back to the Bakyilkan Restaurant at 11am. I think the nice lady at the restaurant reception recognized us, and she was very nice to us when she tended to our table (though she had to tend to all the other tables as well).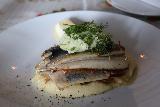 Although they didn't have some of their dinner menu items like the rainbow trout, they did have the fried herring as well as the fish soup. Both of those dishes, this place was famous for according to TripAdvisor.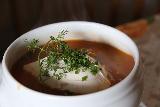 We also got some peelable shrimp, and all of the food was made to be gluten and dairy free as well as for the bread that they gave us. The bread was thick but had enough crunch from toasting to be appealing.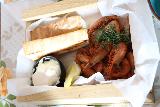 It turned out that we couldn't finish all the bread, but it was good enough to take away in one of the plastic covers that came with a different food we bought from the ICA while Julie went there while Tahia and I were waiting for the food to show up.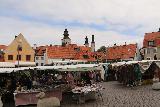 By the time we were done eating the reasonably-priced lunch, the skies had overtaken the Stora Torget (let alone all of Visby), and thus the blue skies and sunny Summer heat were not to happen on this day.
We then returned to the apartment so we could put back some stuff that we didn't need (like Julie's meds).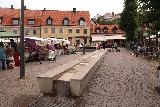 Once we got back there at 12:10pm, we then took out most of Julie's meds from the backpack I was carrying. We also got rid of some Tahia's swimwear since we knew that we weren't likely to need them on this gray day.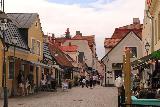 As soon as we left the apartment, we went past the Creperie and Logi towards an utsikt. The one that the info center suggested turned out to be the very same one that I captured while we were waiting in line to eat at the Creperie and Logi yesterday at lunch.
Julie thought this viewpoint wasn't as good as the one we had just visited by the St Maria Church (mostly because it lacked the ruins that the other one featured), but we got our pics nonetheless.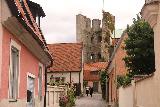 Next, we made a stroll along Adelsgatan from the Wallersplats all the way to the Soderport (a gate in the wall of Old Visby). Along the way, there were more eateries and shops in typical European city center outdoor mall-type fashion.
Things got interesting towards the Soderporten as we saw a house (now a boutique) built right into one of the town walls as well as a walkway and platform that used to have access and the ability to look back at the square and Adelsgatan from a higher vantage point.
Unfortunately, we couldn't get up to that platform anymore as it appeared to have been locked and overgrown for a while.
We then went back within the confines of the city walls as we sought to complete the suggested walk though we had to start deviating at this point. The TI person suggested we follow along the city walls towards the ferry terminal where we could get some ice cream.
However, a different tourist map suggested visiting the ruins of St Hans. So we ahead and started in that direction as we walked back along Adelsgatan and then Bergrand as we were lured by some building with a couple of spires.
It turned out that that building happened to be some kind of theater. The streets that ran by it seemed very quiet compared to the main throughfares of Old Visby.
Apparently, only locals go to this theater.
Anyways, we then walked along the Vardklockegatan, which ultimately led us back to Wallersplats and the Creperie and Logi.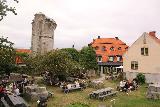 However, we then briefly went down the St Pers grand, where we walked by some crooked leaning houses before arriving at the ruins of St Hans.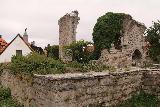 Apparently, this used to be the biggest church in Visby, but now what was left were a pillar and some wall with an arch in it. There also appeared to be some kind of restaurant activity going on here.
While it wasn't as visually appealing as some of the other ruins that we saw in the northern and central parts of Old Visby, it was still a worthwhile diversion nonetheless.
But now we pretty much completed the self-guided walking tour of Old Visby, and now we had a whole afternoon to spare. So we spontaneously decided to go down to the Avis Office by the Tourist Information Center to see if the office was open.
Lo and behold, when we went down there at about 1pm, they were open this time! So we walked in and asked the lady working there if they had a compact car available.
They only rented for 24 hours at a time so we had to eat a 1080 SEK fee that included insurance, but that was adequate and roughly the same as what it would have costed us to bring our own rental car onto the ferry back at Nynashamn.
After going through the formalities and making our payment, we got the car at 1:25pm and then we were on our way to Faro, which we were warned of the ferry wait times as there was a crossing to get onto that island.
The drive out of Visby was for the most part uneventful. Even though I didn't have my GPS with me (and I felt naked without it as I had relied on it for just about this entire trip), the directions were straightforward enough to follow the Route 148 all the way to Farosund, which was the town that had the free ferry crossing to the Faro Island.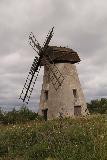 We ultimately got to the queue for the ferry over to Faro at about 2:20pm. There were lots of cars waiting to get onto the ferry, and we happened to be parked in the queue next to some broken windmill.
Julie managed to take a few shots from the car, but I was kicking myself for not taking the time to get out of the car and getting better photos of that windmill. To my defense, I was worried about leaving the car and then the ferry line would move without me.
Anyways, we wouldn't be onto the ferry until about 3:05pm. Then, when we were deposited on the other side of the crossing, we instantly saw how long the line was to return.
Indeed, the line was very long, and I had to guess that it was at least a two-hour wait to get through all that. So we definitely weren't looking forward to that wait time.
We eventually followed the route into the hamlet of Faro, where we saw a signed turnoff leading to Lauterhorn. That was where we'd eventually reach the Digerhuvund, which was said to be the most famous of the sea stacks or rock formations along the coast of Gotland.
After getting through some of the narrow roads reminiscent of the Norwegian roads that didn't have center divider lines, we then took the single-lane paved road (with unpaved shoulders to allow for scooting by each other) until we eventually got to whatever the iPhone suggested we should stop at.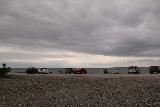 We ultimately wound up at one of the handful of stops signed for Digerhuvund at around 3:35pm, and here under the overcast skies, we saw lots of formations and tide pools.
Clearly, the tides had gone higher but now it was apparently low tide.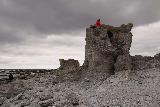 We did some scrambling around as I was hoping that the natural arch that I saw in the post cards for this area would ultimately be here. However, after several minutes of trying to find it, apparently, we came to the realization that the natural arch I was seeking was not here at all.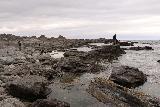 Fortunately, we still got some phone signal at Digerhuvund, and we ultimately found out that the arch we were seeking was at Gamlehamn. We also saw that there was a bigger arch at Lergrav, and after seeing where it was on the map (it wasn't on Faro Island), we were targeting a visit there on the way back to Visby.
So when we got to the car at 4:05pm, we then made our way in that direction, which was back towards the ferry crossing.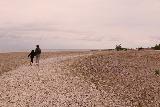 After finding the signed turnoff for Gamle Hamn, we then followed another similar semi-narrow road that led to a car park and trailhead at around 4:25pm.
It turned out that the trail to the Coffee Pot Arch or whatever the signs here suggested it be called, was quite tame. And we had no trouble finding the interesting arch formation.
After getting our people shots and having our fill of the arch, we then got back to the trailhead by about 4:50pm.
We ultimately drove back towards the 148, and it didn't take long before we were caught in the very long queue to get back on the ferry and get back across this channel. Our arrival in the queue was roughly at around 5:05pm.
After waiting for what seemed like forever (it was actually about an hour before even getting to a sign saying it was another 30 minutes from that point), we'd eventually get to a part where we could photo another windmill near the waiting line for the ferry.
It wouldn't be until about 6:25pm when we finally boarded the ferry. It turned out that they were running at least three ferries at the same time now. So that probably helped to facilitate the movement of the lines in both directions.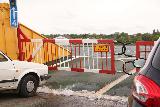 Once we finally got off the ferry, we then drove towards Lergrav.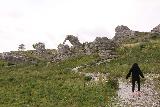 We ultimately got there at about 6:45pm without incident. There was one other car parked here right across from the Lergrav Fisk and Cafe.
But more importantly, we saw that there was the arch up the hill accompanied by many other rock stacks.
So we wasted no time in getting past the fence and going right up the span of the impressive arch. We had the flexibility to maneuver around to see how we could compose the arch in our photographs while revealing something interesting through the arch's span.
By about 7:05pm, we were back in the car. Julie and Tahia lingered a bit longer outside the car so they could pick some berries that they discovered alongside the trail.
Granted, these berries were a bit on the sour side, but I had a feeling that they were going to be used with our kefir or Icelandic skyr (if available) when we'd make that part of our healthy breakfast in the morning tomorrow.
Eventually at 8pm, we'd finally return to the Old Visby town and return the rental car in the tight lot behind the Avis office.
There was no one at the door as it was closed so I used their key drop slot to make it official that we were about to part ways with our one-day rental.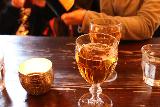 By about 8:15pm, we had walked up the familiar streets leading the way to the apartment, where we'd drop off the stuff we wouldn't need to carry with us for an evening meal.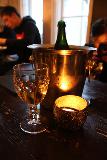 Since Julie thought that it was too late to go grocery shopping and for cooking tonight, we ultimately decided to eat back at the Creperie and Logi since there wasn't much of a queue anymore at this time of the evening.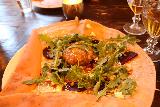 So it didn't take long for us to get seated, and we ultimately ordered a full bottle of Cidre Doux, a lamb patty galette with beetroot, a chicken galette with beetroot made dairy and gluten free (and almost served without the chicken!), and some kid-sized ham-and-cheese crepe.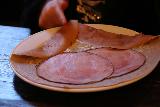 The food was filling and it definitely hit the spot, but Julie thought after this second go that the galettes here were only mediocre compared to authentic French standards, which we had just experienced back at Copenhagen a few days ago.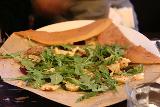 Still, the aim was to try some of the locally-produced ingredients, and we at least did that with the seafood galettes yesterday and now the lamb patty galette today. We ultimately decided against getting a dessert crepe. So the bill was about about 2/3rd of what it was yesterday.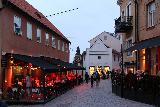 By about 9:15pm, we were back at the apartment again.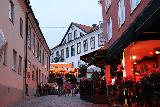 And with that, Julie and Tahia made one last grocery run at the ICA in the Stora Torget, while I was the first in the family to relax and try to get caught up on the blogging and photo selecting. When she came back, she said the square was quite alive, and I figured given that Europe tends to be festive at night, but here we were winding down and missing that action as we were dead tired.
And so ended this day that was full of head fakes. After all, we had thought we were finally going to get a blue-sky-dominated weather only to be overtaken by clouds barely an hour into our walking tour continuation.
There was also the thinking that we'd have shorts and T-shirt to wear, but instead, we had to wear long sleeves and a jacket as the temperatures were a bit on the nippy side.
And then, we didn't think we'd be driving around Gotland before leaving tomorrow, but we did. And we were glad we did so we finally felt like we got to complete the Gotland experience besides just staying in Visby.
Now, we were looking forward to returning to the mainland, where our final stop before returning home was Stockholm.
We had to do some more research on opening and closing times of various palaces and outdoor museums.
We had targeted Drottningholm Palace, Kunlingaslot, and Skansen, and so it looked to be pretty busy back in Stockholm. But that was par for the course on this trip, and we sure hoped that there'd be no more closures and weird scheduled events unlike the first time we were here over a month ago…
Visitor Comments:
No users have replied to the content on this page