Day 50 (August 1, 2019 – Stockholm, Sweden): "Back To The Familiar"
It was about 6:10am when I awoke. This wake-up didn't involve an alarm, but I did hear the sounds of vehicles moving from outside the apartment so there was definitely some degree of activity going on in terms of shopowners and restauranteurs getting ready for the day.
As I looked outside, I saw that there was wet ground, which meant that it must have rained just like it did a couple of days ago when we showed up.
Anyways, since we opted to take the later ferry instead of the 7:05am ferry back to Nynashamn, we had some time to kill.
So I spent a bit of time organizing photos from the Norway part of the trip (I was now about 10 days behind), while Julie was preparing a pretty full breakfast.
By the end of all the morning's activities, we had finally checked out and left the apartment at about 10:40am.
We then took the scenic route by going down to the Stora Torget where Julie made one last run inside the ICA Torgkassen there, and picked up a small bottle of olive oil. It looked like they didn't stock the little dessert that had nutella filling inside a chocolate-covered cookie or biscuit or something.
Anyways, we then continued back through the city streets of Old Visby as we headed in the direction of the Tourist Information Center before continuing along the long walk towards the ferry terminal.
We made one stop to look at the ice cream place that was suggested by the TI person, but it turned out that Julie discouraged us from having ice cream in the morning. So we didn't do it.
Eventually we made it to the ferry terminal by around 11:20am, and we had plenty of time to chill out before it was time to board the ferry. That settling part didn't happen until about 12:45pm.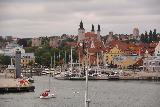 Once on the boat, I took some time to go to the sun deck to look back towards Old Visby for a bit of an elevated perspective that we didn't get when we came into Visby.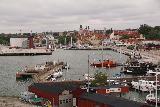 Then, after having my fill of photographing Old Visby from the boat, I then retreated to our assigned seating, where I spent the next 90 minutes or so choosing photoraphs and trying to get caught up while Julie waited in the long queue to buy lunch on the ferry boat.
Tahia was being a bit of a pest as she was bored from both Julie and I each doing different things that didn't directly involve her.
It didn't take long for the boat to start moving.
After Julie came back with the food, which consisted of some smoked salmon salad dishes among other things, I then fought to stay awake to tend to business during this three-hour cruise.
However, not long after eating what Julie brought back, I too, was overwhelmed with fatigue and wound up sleeping on the ferry cruise. In fact, all three of us slept during this time, which kind of acted as our afternoon siesta.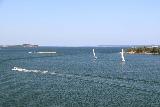 By the time we all woke up, it was just about 3:15pm, which was roughly 30 minutes before docking at Nynashamn.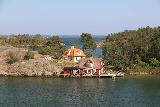 When we looked out the window, we could see that there was land, and so I figured that I could quickly go out to the sun deck for a few minutes before returning to gather our belongings and joining the crowd waiting to get off the ferry.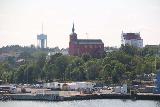 Surprising all of us, there was suddenly blue skies and not many clouds overhead! Indeed, it was almost as if the veil of clouds hovered over only Gotland.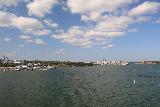 Anyways, the ferry docked as scheduled at 3:45pm and then we promptly got back to the car with our belongings at 4pm.
However, we noticed that there was a yellow parking ticket attached to our windshield wiper, and now we were trying to figure out why as we clearly had our avgift displayed. Did we park in the wrong lot?
So Julie went over to the hotel to ask the owner why. Meanwhile, we drove the car around to the front so Julie wouldn't have to walk back over.
Just as Tahia and I were waiting for Julie to do her inquiry, I couldn't help but notice that there was a lot of activity going on at the parking lot at this time. I could it was check-in time and indeed there was definitely a lot of competition for the parking spots in the front of the hotel, where we tried to look for parking a couple of days ago.
So we definitely had no shot of getting any of these spots with the way things were going given this observation.
When all was said and done, Julie came back with a receipt that said that we had to pay 80 SEK for the owner to "take care of it."
She basically left the owner our parking ticket, and in good faith, it would be resolved. Apparently, the ticketing cop wrote on the violation that "he didn't see the permit", which was strange because it was in plain sight right where he placed the ticket on the windshield.
Anyways, this made me a bit nervous that we could be out another 80 SEK and still be forced to pay the 550 SEK fine as well as being out another 200 SEK for the two additional nights of parking there (in the worst case scenario).
I guess with all the expenses paid so far on this trip, it figures that we'd be having to pay even more for this trip.
So with that, we finally headed back to Stockholm. This time, unlike a couple of days ago, we took the Hwy 73, which was pretty much a freeway. In hindsight, we should have continued on the E4 towards Stockholm, then taken the 73 to Nynashamn given how smooth this drive was (even if it was a slightly longer route).
As we were driving north to Stockholm, we knew that it was a pipe dream to try to visit any of the palaces in Stockholm since they all closed early at around 5pm. However, we did read that the Skansen was closed pretty late.
That said, we kind of suspected that most of the period actors as well as the buildings with the interesting historical re-creations might be closed by the time we get there, too.
Still, it was a bit much to try to fit in everything onto tomorrow, especially if we wanted to visit the Drottningholm Palace, which involved an hour-long boat ride in each direction. We also wanted to visit the Kunglingasslot, which was only open until 5pm, and everything pretty much opened late at 10am (including the boat ride so it wouldn't be until 11am when we'd get to the Drottningholm Palace if we tried to be as efficient as possible).
Anyways, by the time we got into the Stockholm city limits, we then followed Julie's iPhone directions since we knew that it was a long walk to the Djurgarden Island, which was where we walked to the Vassamuseet back at the beginning of the trip.
We didn't have the luxury of doing that walk again, especially since it was getting late in the afternoon and we still wanted to have a crepe dinner, and we also needed to check into the Lady Hamilton Apartments in the Gamle Stan again.
So we promptly followed the tricky driving directions and drove the very route that we had walked. Indeed, familiarity with this area was good because I would have been overwhelmed with confusion had I not had this orientation earlier on in this trip.
I could totally understand why Rick Steves said that you must be a Swedish Meatball to want to drive around in Stockholm, as there were tunnels as well as trams that took the right-of-way even if we had a green traffic light (something that wasn't obvious).
There were also lots of pedestrians walking around, which further complicated the driving, especially when we had to cross the very crosswalks that we had walked before during our first two days of this trip.
By about 5:05pm, we finally made it to some Q-park surface parking lot. Unfortunately, we couldn't download the app that they used since we weren't from Sweden, I guess. So we had to pay for parking the old fashioned way, which also meant that we had to project when we'd be done.
We wound up paying for 3 hours at 70 SEK per hour, which wasn't cheap, but it was yet more parking fees to be paying on this day where we were surprisingly getting hit hard with parking fees (both sanctioned and unsanctioned).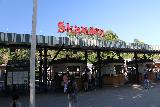 We then quickly walked to the Skansen, where we got in for 500 SEK for all of us, but the ticketing person warned that most of the buildings were closed for the day (as we had feared).
Still, he was very helpful to us in that he gave us a map and pointed out which buildings might still be open until 7pm. So that pretty much set the itinerary that we were going to do while in Skansen.
After walking up the steps (not knowing that there was an escalator leading up to the charming Village Quarter), we saw that there were already nice views back in the direction of the amusement park and Skansen entrance.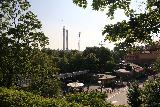 Speaking of which, so far, the Skansen entrance area reminded us of a theme park, which made us a little weary about the overall experience compared to the other outdoor museums that we had visited throughout Scandinavia.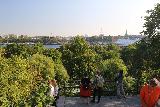 But then again, this concept of outdoor museums was something that we had never experienced before until we showed up to Scandinavia, and it grew on us. We actually had a chance to visit Skansen at the beginning of the trip, but we didn't know how much we'd enjoy the experience.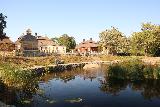 So now that we were trying to make up for it, I had the feeling that we'd still be not quite getting the full experience that we had hoped like we did at Aarhus or Oslo or even Bergen. Indeed, in hindsight, we should have done the Skansen after the Vasamuseet since we had the whole day to experience it back then (especially after having walked that far).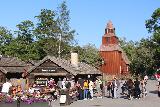 Regardless, we're here now, and we were trying to make the best of the situation knowing that tomorrow would be an all palace day.
As we walked around the restaurant at the top of the stairs, we noticed that there was a stage set up and lots of people lining up. Apparently, there was some kind of concert going on here or something.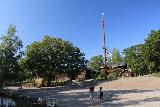 We then made a beeline for Bollnas Square, which was an atmospheric center of the Skansen even though all but the cotton candy stand were closed.
We then promptly headed over to the Deslbo Farmstead. Inside there, was one open door where we poked in our heads and saw an interesting room where a period actor was making linens.
She initiated the conversation with Tahia explaining how much labor went into making the linens from the hard fibers all the way to the soft hairy thing after lots of treatment was done. Only then could they use the loom to make more elaborate things.
The lady also showed a few toys (including one made out of pine cones) to illustrate what kids did back then to keep themselves occupied.
It was an engaging and informative conversation, and it once again affirmed why the Scandinavians did it right with the outdoor museum idea. I'm sure Tahia got something out of that visit.
Next, we walked over to the Bollnas House, which turned out to be another farmstead. Inside was a younger lady dressed in the period, and we had a friendly conversation with her about the house and where it was from.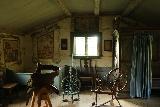 Apparently, this farmstead was moved (or reconstructed) from the center of Sweden (not quite as far north as Lappland), and that the period was around the 1800s.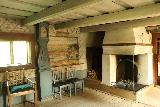 While these period actors didn't really act as if they were from the times they were representing, it was nice to be able to engage with them to learn about what it was like here.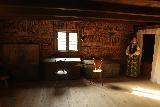 The people in Aarhus were definitely acting their part but it also made them less engaging according to Tahia.
I guess it was kind of a subjective call how much in character you want people to be versus how much engagement you want.
Next, we then headed over to the Kyrkhult Farmhouse, where there was a gentleman dressed in white talking about how this house once housed 12 farmer families. It was roomy with a fireplace as well as makeshift beds where dressers had a dual purpose.
This particular house came over from the south of Sweden, where we were familiar with considering that it was muggy and humid down there when we went to the Forsakar Waterfall.
After having our fill of this house, we then went next door to the Seglora Church. The door was open here as well, and we went inside to take pictures, but we didn't talk to the lady in period here as she was talking with someone else and we didn't really have an interest in learning more about the church.
Next, we then went over to the Printer's home, but that building wasn't open. It was closer to the exit and instead of this building, we wound up going to a different building where the Iron Monger's house was.
That particular one next door to the printer was open, and it was the 1930s so we could clearly see the more modern applicances. There was a lady in there who we spoke to briefly as the owner of this home also had a daughter with some interesting portraits on display as well as a daughter's room.
After having our fill of this place, we then went looking for a WC and wondered what we should do next.
At first, Julie wanted to eat at a cafe overlooking the Engineering workshop and Furniture Factory. However, I knew that we still had time to let Julie have her crepe fix and still check in if we were pretty much already done with our Skansen visit.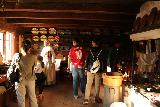 So as we made our decision to wrap up our Skansen visit (over an hour earlier than how much we had paid for parking), we then noticed that there was one more circled building on our map that we hadn't visited yet.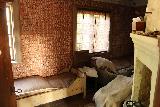 It was about 6:45pm at the time so we only had about 15 more minutes before they'd close.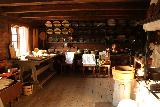 Thus, we went ove to the Skogaholm Manor, where there was one open door amongst the four buildings there, and inside, we saw there were two period actors. One was an older lady preparing food and there was a younger man who was also helping out.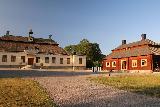 It turned out that this was an aristocratic home, where we learned that they had a more varied diet than the poorer farmers who had a far less varied diet and subsisted on dried herring and some porridge.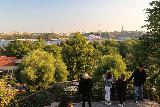 Of course, the food we saw on the table was more aristocratic food since it was nothing like what she was describing for poor folk.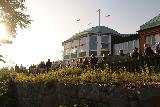 We also saw some of the kitchenware made of copper (something we were familiar with when we had visited Roros), and that got Julie into asking about whether the famous Swedish donuts were made from these very things back then in this 18th century home.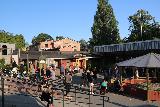 When all was said and done, we left the Skansen complex at around 7:05pm. We didn't get a chance to visit the lynx nor the wolf (which Tahia wanted to do), but we knew that those weren't the focus of this visit and we were running out of time.
Anyways, it was a good thing that we left when we did because now the lines for the concert as well as getting into the Skansen itself got really long. In fact, they were so long that they even bled towards the Q-park that we had parked at.
So it was a bit tricky driving to get out of there, and then there was more tricky driving back through the city as we were now headed towards the crepe place, which we thought was too far of a walk south of the Gamlestan.
Eventually at about 7:30pm, we finally made it to the Creperie Fyra Knop. It was a good thing that we had gotten familiar with the parking signs so we knew that there was free parking in front of the restaurant after 7pm.
Inside the quaint and cozy creperie, we had ourselves genuine French galettes of Kapten Haddock (basically smoked salmon and other toppings), some kind of ground beef crepe wth spinach and cheeses taken out so Julie can have it both gluten and dairy-free, and then Tahia had the typical complet crepe without the fried egg.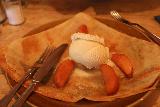 I also got an apple cider though even the sweetest one here was a bit on the hard side compared to the one we had in Visby.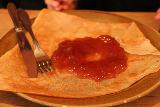 Tahia and I also each got a dessert crepe, where I got one with Cavalros (sp?) with the Normanden (basically fried apple and vanilla ice cream) while Tahia got a simple crepe with strawberry marmelade.
Julie finally got her fix as she was very happy with this place. I guess you knew that you were going to get good galettes when the primary language spoken by the workers here was French.
And so this was probably the last such fix we were going to have as places like this simply doesn't exist back in the States.
By about 8:40pm, we were back in the car and finally headed to the Lady Hamilton Apartments to check in.
By about 8:55pm, we finally made it back to the front of the familiar Lady Hamilton apartments, where we promptly checked in and dropped off all the stuff from the car.
Unlike the first time we were here, we only had to walk across the street to a studio apartment. So that made things very easy in terms of getting the car unloaded and emptied out.
Once the car was emptied out, Julie and Tahia stayed in the apartment while I went to park the car. When I got over to the lot by the Riddarholmen at 9:20pm, I used the EZ-Park app to set up the parking for the next full day and night, but there was a 24-hour time limit here.
It also costed about 514 SEK to park for this 24-hour period, and there was no free parking in this part. I guess given the 550 SEK parking ticket for the two-day parking in Nynashamn, it was actually more expensive to park in Gamlastan for the same period – and this was sanctioned parking!
I wondered how much the parking violation fee was for this area, but I sure wasn't interested in finding out the hard way.
Just as I started to leave the car, I couldn't help but notice the attractive twilight lighting at the waterfront here. I didn't have my DSLR with me so I had to use my iPhone instead.
And thus, I took my time to get back to the apartment while trying to take pictures during this magic hour.
By about 9:45pm, I finally made it back to the apartment, where Julie and Tahia were in a rush to get to the grocery store as they were closing up at 10pm, which was only in 15 minutes!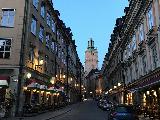 So we made a beeline back to the familiar grocery store by the Gamlastan Metro station, and we promptly picked up some veggies and chicken, but there were no eggs and no kefir.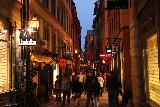 One lady overheard our lamentations about how everything was gone or non-existent in the grocery store, and she explained to us how things were here regarding how perhaps the egg delivery guy simply didn't make his delivery or something or had an accident.
Regardless, that little dialog turned into a very interesting post-shopping dialog with her about living in Sweden as she was apparently an ex-patriot from the Boston area though she also lived in Berkeley for a while (including getting a few mosquitoes trying to get free shots at us as we talked).
We learned a bit about the Swedish mentality as well as some of the politics that worried her, especially when the topic of conversation gravitated towards the US politics. She even worried about how some politicians in Poland suggested that Auschwitz didn't even happen!
I guess history easily repeats itself, and we definitely were in some trying times, especially with regards to Global Warming as it hit Stockholm pretty hard. She said that we had just missed a heat wave, which was kind of the story of our trip actually, as it was chilly and rainy for just about our entire trip.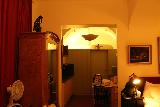 Anyways, when the conversation ended at around 10:30pm, we were back in our apartment about 5 minutes later but not before picking up the elusive eggs from a 7-11, as Julie managed to snag the last one that just happened to be organic!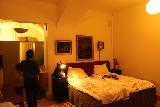 With that, we finally could get cleaned up and settled in the apartment.
Both Julie and Tahia were really looking forward to going home (especially Tahia) though Julie was also trying to pre-book tickets for the Drottningholm Palace visit first thing tomorrow morning as she was determined to have one last go at really experiencing Stockholm before going home the day after…
Visitor Comments:
No users have replied to the content on this page